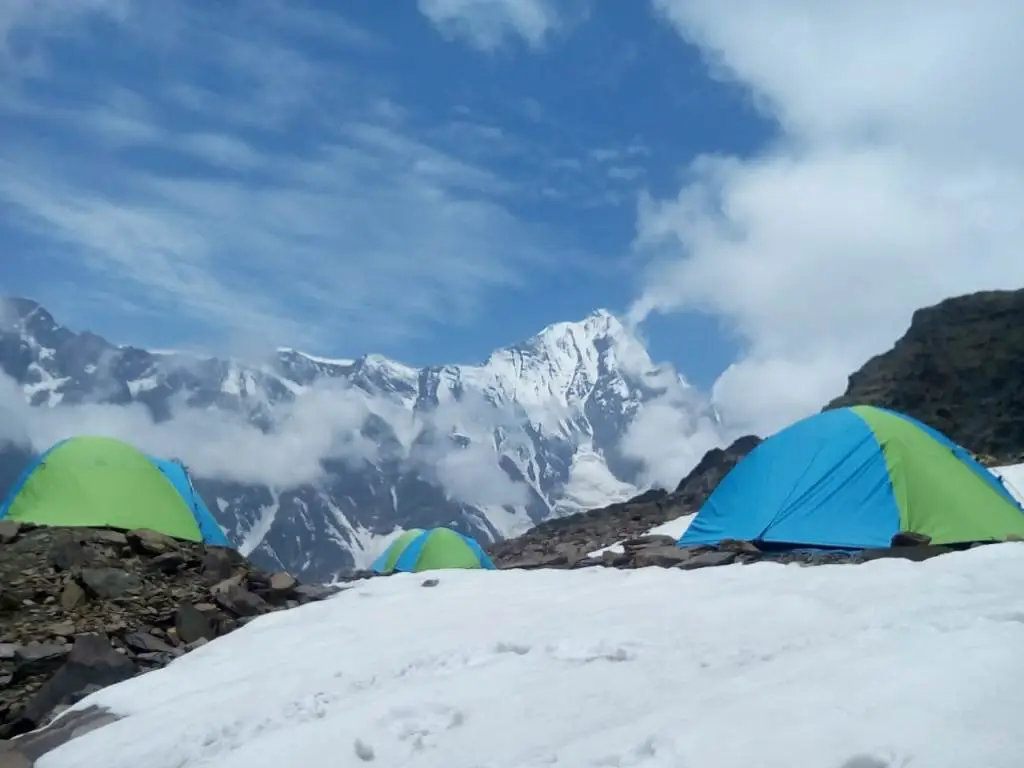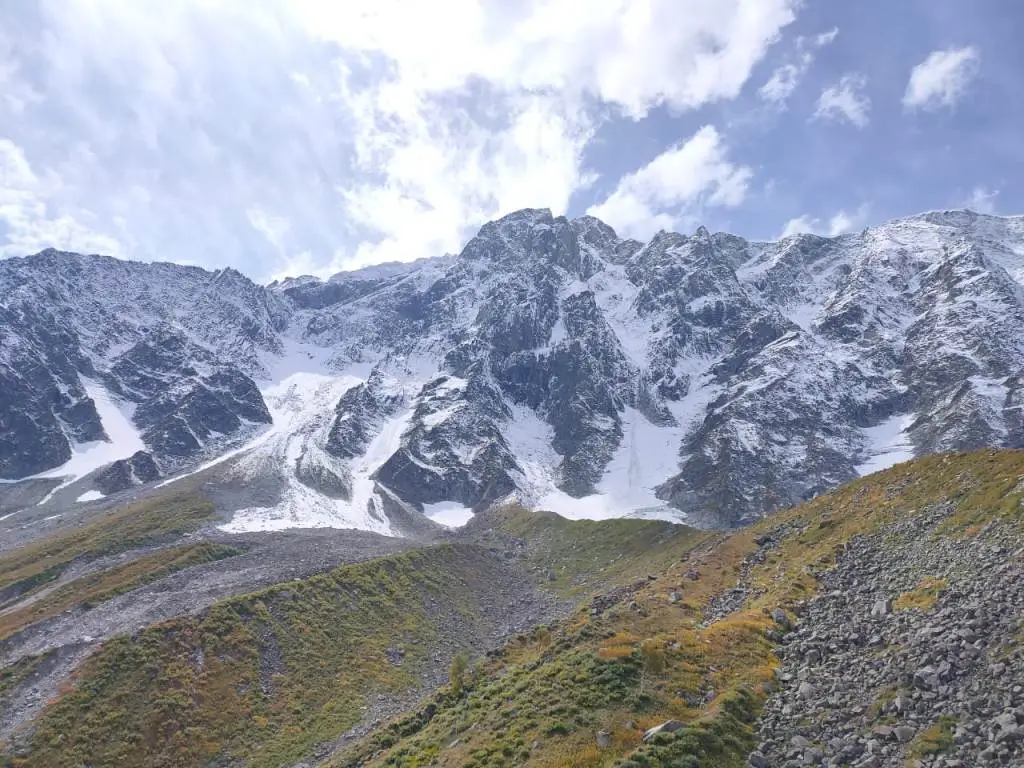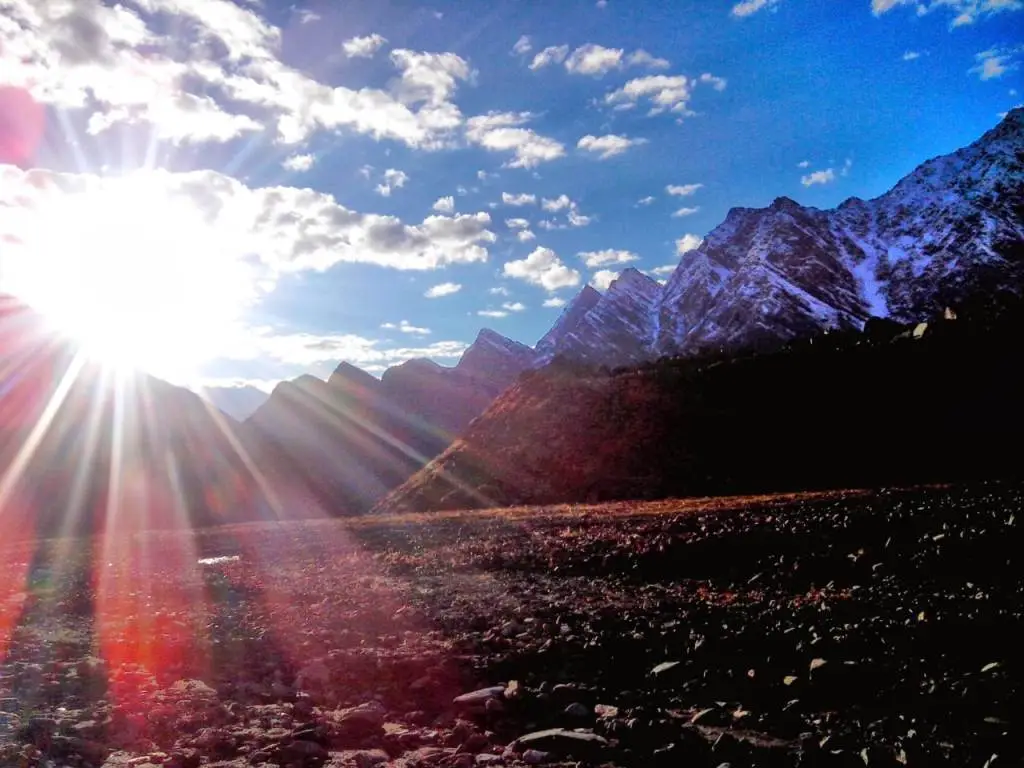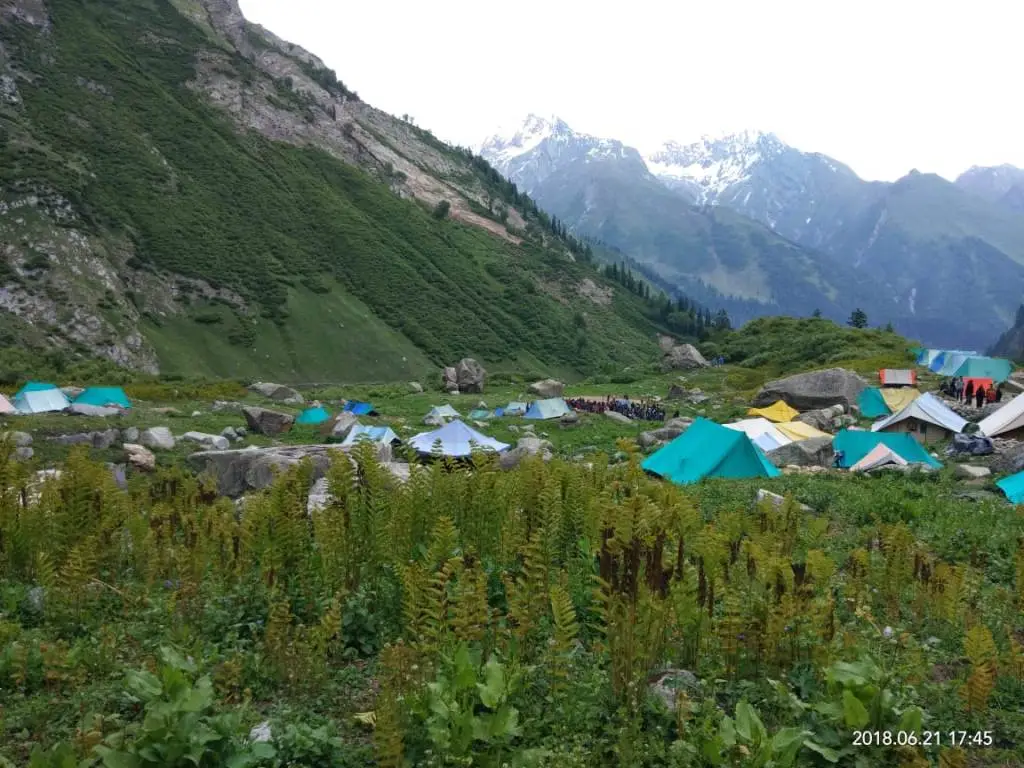 About Beas Kund Trek
Placed around Manali, the Beas Kund Trek is another term for fascination. Beas Kund Trek is not only popular among trekkers and wanderlusts. But it also attracts nature lovers. Beas Kund is a lake that is nestled in the lap of the mountains of Himachal Pradesh. At an altitude of 12,772 ft, the Kund is the origin point of river Beas. The location makes for an amazingly picturesque travel destination and an even better summer trek, to rewind and rejuvenate amidst nature.
Manali is not just known for its natural charm, it is the place where one of the most mesmerising trek trails resides. The Beas Kund Trek is one among the most undertaken treks, and the location also makes for an enthralling weekend getaway. This trek is an ensemble of natural beauty, view of the mountains, interesting landscapes, and serenity. The trail of this trek ranges from easy to moderate, which makes it manageable even for the beginners.
The Beas Kund trek offers you with a short weekend trek over the Beas river, that lets you experience overwhelming views of the Pir Pinjal mountain ranges. As you hike your way to the glacier-fed lake, Beas Kund, you get mesmerized with the outstanding sights of Dhundi and Bakarthach along with several peaks that make your weekend trip all the more interesting.
About Beas Kund
Beas Kund is a beautiful lake in the Himachal Pradesh region, on the Kullu valley amidst the Pir Panjal Range. The trek to the Beas Kund is a beautiful yet quick 3-day trek that starts right from Manali, which happens to be a short 16km away. Because of its proximity to a serene and heavenly place like Manali, the trek trail has all the more calm and mesmerizing ambience that attracts hikers and trekkers from all over the world. Even though it is right next to Manali, the Beas Kund trek is still relatively unexplored by the Indian trekkers, which ensures that you will enjoy a lovely trek in your holiday, if you are someone who is wishing to step out of the crowd of the city hoping for a weekend getaway amidst nature.
The Beas Kund trek has lots of natural features that are the gift to the trekkers as they get to experience the gifts of nature in its full glory. Considering the fact that the trek route being right outside Manali, Beas Kund has rich green mixed forests of deodar and alpine. In the trail you will experience stretches of forest that are rich in flora and fauna, that open up to clearings, grasslands, and valleys with mesmerizing views. And it is in these very valleys where you will be camping during the trek, which sure is a memorable experience for any trekker and thus becomes one of the key attractions of this trek.
Along with the lavish green forests and deep valleys, the major factor that makes the Beas Kund trek so attractive is summit views. Beas Kund is the advance camps and the initial stages of the major trek routes like the Ladakhi peak, Hanuman Tibba, The Friendship Peak, Pir Panjal Mountains, Dhundi, Indrasan Peak, Deo Tibba, etc and many more. This means that starting from the valley, you will be surrounded by monumental mountains that engulfs your horizon, making this trek one of a kind. This also ensures close proximity to those peaks and summits, giving you a view that is every trekker's dream.
About Beas Kund Trek
The Beas Kund trek is one of the most famous treks around Manali as it takes you right to the source of the river Beas through lush green forests, vibrant grasslands and deep valleys and places you right in the lap of the rough-terrain mountain peaks of Pir Panjal range. The trek takes you to a height of 12,772 ft, as you make your way to the source of the river Beas. Being a short 3-day trek that offers gorgeous views of different features of nature, the trek is considered a relatively easy trek in terms of difficulty. Although the trek route is of 47km – 49km in distance, most of the route is drivable. This lets us drive up to the campsite at Bakarthach with major highlights along the way, after which you trek your way up to the lake, with enough breaks in between.
Your experience of the trek to the thousand-year-old lake, placed at an altitude of 3810 meters above the sea level, is promised to be memorable for the serenity it offers. This is where the river Beas originates. Likely so, according to the Hindu mythology, it is said that Rishi Vyas had meditated here in the banks of river Beas before writing the Hindu epic Mahabharata. Your camping experience at the campsite of Bakarthach, under the star-studded sky, as you are surrounded by high mountains will be an experience worth remembering. Its setting makes it a trek that is loved by beginners as well as the ones who are experienced trekkers, as its short duration makes it perfect for a quick weekend getaway, but its multitude of trekking features also ensures that you have a complete trekking experience.
The first day of the trek starts with driving from Manali, your basecamp to Dhundi, via Solong valley. This region is famous for being the starting point of many treks and also has one of India's finest slopes for skiing. As you hike on either side of Beas river down the Solong valley, you get to experience beautiful scenes. After an easy 7km trek, you reach a quaint village. It is a beautiful place with a landscape complemented by mountains and wild-flowers. With the Dhundi road being drivable, we will drive from Dhundi to Bakarthach which is a 6 km drive. This is where we will set our camps for the night here. Bakarthach being a high-altitude meadow, its captivating beauty and the cool breeze is bound to ease away your fatigue. The sight of sheep grazing around in such a setting also acts as a calming experience.
The second day begins by climbing up a small ridge through Bhoj Patr that takes you to Beas Kund. With the region being filled with wild flora and fauna including a variety of birch trees it has a unique setting. After spending a considerable amount of time, you make your way back to Bakarthach in the evening.
On the third day, you trek from Bakerthach to Dhundi, after which you are dropped off to Manali.
Quick Facts
Region- Kullu valley, Pir Panjal Range
Trek Altitude- 12,772 feet
Trek Difficulty Level- Easy
Trek Duration- 3 Days
Total Distance- 47km (approx)
Starting Point- Manali
Ending Point- Manali
Base Camp- Manali
Best time to visit- From June to September
Temperature- Summers are quite pleasant with the temperature ranging from 20 degrees Celsius to 3 to 4 degrees but it does dip after sunset. In winter seasons, as it snows, the temperature is bound to deep below 0 degrees.
Nearest Railway Station- Jogindernagar railway station
Nearest Airport– Bhuntar Airport
Last ATM– Manali
Network– Unavailable during the trek
How to Reach Beas Kund
Manali is well connected to the major cities of India, which also serves as the basecamp and meeting point for this trek. You can travel to Manali by road, railways or road.
By Road-

Manali is well-connected with most of the major cities of India like Delhi, Mumbai, Kolkata, etc. by road. There are Volvo bus services available from Delhi as well.

By Train-

Manali's nearest railway station is Jogindernagar railway station which is well-connected to all the major cities of India like Delhi, Mumbai, Kolkata, etc. by train. From Joginder Nagar railway station, you can opt for a bus or a car service to Manali, which is a 4 hours 20 mins drive.

By Flight-

You can reach Manali by flight as well as Bhuntar Airport serves as its nearest airport. There are regular flights available to Bhuntar Airport from all the major cities of India. On reaching, you can opt for taxi or car services that are available from the airport to Manali and will cost about Rs. 700- Rs1000.
Weather and Temperature
Being 3810m above sea level, the region is cold and temperate. This region does get a fair bit of rainfall and the average temperature is considered to be around 4 °C. The warmest month of this region in a year in July, which has an average temperature of about 13 °C and the lowest average temperatures in the winter months is experienced in January, with around minus 7 °C.
Best time to visit
Beas Kund trek's best time is from Mid-May to September. The weather remains favourable during these times for an unforgettable trekking experience. After October, trekking here gets difficult as the region gets covered by snow. During these months, the day hours experience pleasant temperatures of around 20 degrees but expect the temperature to drop to 3 to 4 degrees Celsius during the night.
Highlights about Beas Kund Trek
You can experience beautiful picturesque landscapes, comprising of magnificent mountains, forests, grasslands and beckoning valleys along with a spell-bounding view of a glacier-fed lake.
Close up view of great mountain ranges and peaks like Friendship Peak, Shitidhar, Ladakhi, Hanuman Tibba, Mt Indrasen, Deo Tibba along with few more peaks from the Pir Panjal range.
Throughout your trek, you will get to see numerous small streams.
You can pay a visit to the Vashisht Temple.
You can get to interact with the local people and get to learn the folklores and mythological stories related to this region.
Day 1: Pickup at Manali and drive to Bakarthach
Early morning pickup from Manali at 8 a.m at Ram Bagh.
Breakfast is not included in the package
1 hour drive from Manali to Dhundi via Solang, followed by trek to Bakarthach from Dhundi
This trek distance is 5-6km which takes approximately 5 hours.
Packed lunch is provided at Dhundi
At Bakarthatch, evening snacks will be there.
Altitude, Bakarthach campsite- 10800 ft
Nearby attractions: Pir Panjal range, Hanuman Tibba, seven sister's range
Accommodation and dinner at camps
Day one of the trek comprises of- heading out from the base camp Manali to Solang and finally reaching Dhundi. Manali is the base camp for this short trek. Solang is a short drive of about 15 kms, from Manali. From there we drive up to the Dhundi road link. The drive shortens the duration of the trek and saves time. Solang is the base point for a lot of treks in and around Himachal Pradesh. Once in Solang, the trek vibe sets in. It is popular for adventure sports like skiing and paragliding. Apart from skiing, the scenic beauty of Solang is quite the attraction, with en-route spotting and viewing of the Pir Panjal peak, seven sister's range, and Hanuman Tibba. There is an ascent from Solang that leads to Dhundi, and the trail is accompanied on one side by the Beas stream. Dhundi is a quaint village hamlet, one may not find a lot to do and explore here, but the serenity this place has to offer cannot be compared. Since Dhundi road link is drivable, we will drive from Dhundi to Bakarthach. 6 kms from Dhundi, lies the charming site called Bakarthach. The word itself means, the shepherd's field. The 'Gaddi' tribe lives here and one can get the taste of living in the meadows. An overnight stay in the meadows is one of the main delights of this excursion. Bakarthach is a base camp for other excursions to Hanuman Tibba, Ladakhi peaks, etc. We will set up the tents at Bakarthach campsite. Meals at the camp, are inclusive of the package. While city visits, eateries outside the camp, are not covered in the package. Explore Bakarthach, relax for a few hours and prepare for the next day's excursion.
Day 2: Trek from Bakarthach to Beas Kund, and return trek to Bakarthach
After breakfast, at 8 am start the trek from Bakarthatch to Beas kund and back. Total distance/time taken- 7km/4-5 hours to and fro.
Hot lunch at Bakarthatch.
Altitude, Beas Kund-12,772ft
Moderately difficult terrain
Nearby attractions: Friendship peak, Dhauladhar range
Dinner and stay in tents
The trek proceeds from Bakerthach to Beas Kund and wraps up, just like the way it unfolds. The next length of the trek spans over 6-7 kms, and you will start from Bakarthach to reach Beas Kund. This is the most important portion of the entire journey. You can witness boulders, spruce trees and some patches of rough terrain en- route. A short walk and a minimal climb will lead to Bhoj Patr, and further onto Beas Kund. Beas Kund, a thousand- year old glacial lake placed at an altitude of 3810 metres above the sea level, lends mythological and natural significance to this region. As per the Hindu mythology, it is a belief that Veda Vyasa, the author of the Mahabharata, once meditated on the banks of the river Beas. Once the Beas plateau has been explored, we start on a return trek. Due to the lack of campsites at Beas plateau, it is convenient to return to Bakarthach for night stay. Food will be provided at the campsite.
Day 3: Drive from Bakarthach back to Manali
After breakfast, start from Bakarthatch to Dhundi 5-6 km/ 4 hours trek, followed by drive from Dhundi to Manali and drop at Ram bagh.
1 hour return drive
Book Bus ahead from here for Delhi/Chandigarh.
Some of the things that you should pack for this trek are a flashlight, sleeping bag, comfortable footwear, drinking water, sunscreen, personal medicines, raincoat, etc. Carry an extra set of clothes and a pair of warm clothes, irrespective of the season you are choosing for the trek. Beas Kund glacier is one of the natural attractions of the Himachal region. Apart from holding a mythological significance and rustic natural charm, the Beas Kund trek makes for one of the most exciting, adventurous and well-timed treks.