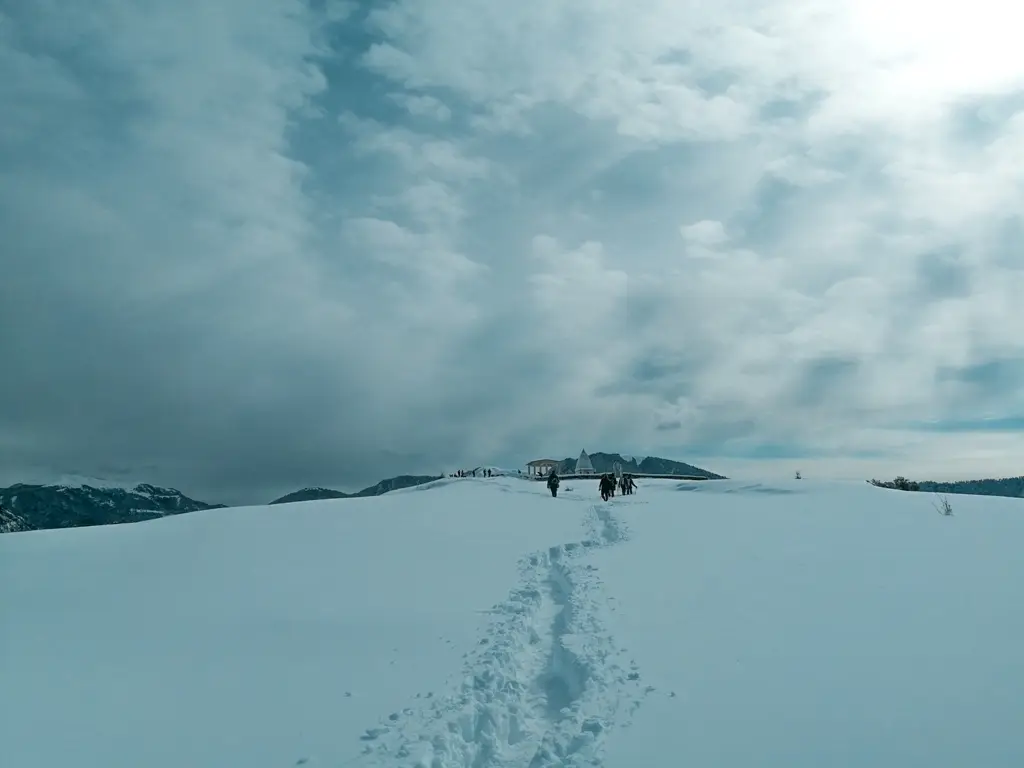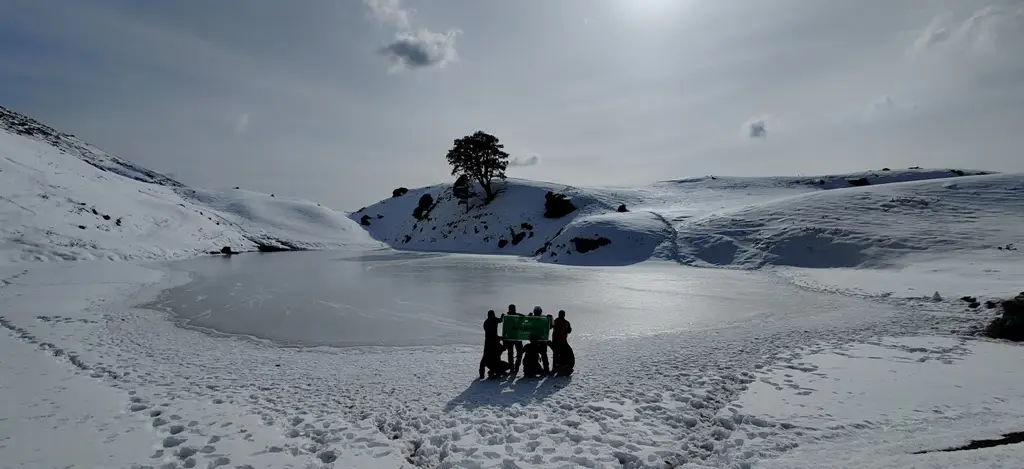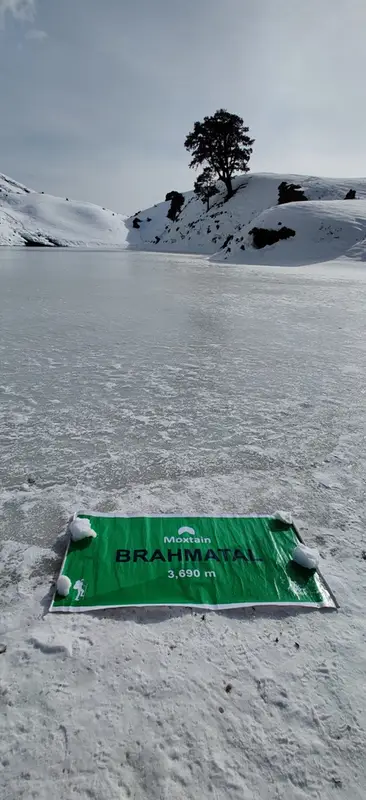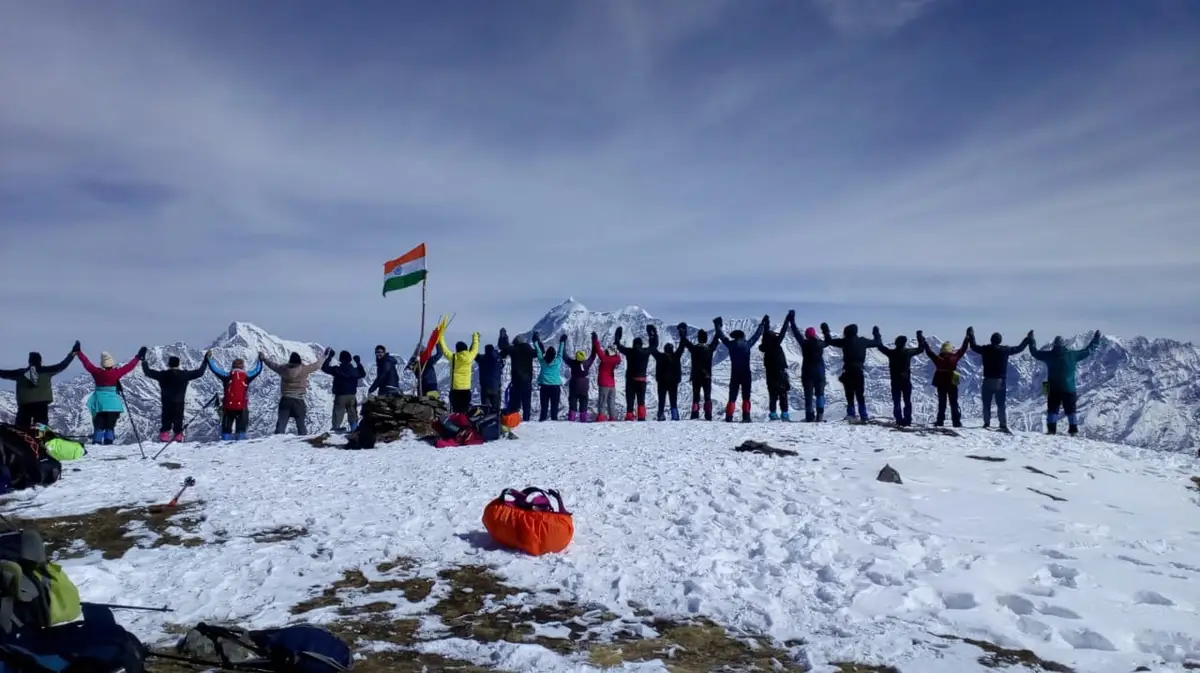 About Brahmatal Trek
With the daily chaos of life taking a huge toll on mental peace, people look for a change in pace from their monotonous schedule. What's better suited for a break from the concrete jungle than the mighty Himalayas! The Himalayas have always been the favourite destination of people to get their energy replenished by treating their eyes with the gift of nature and enjoying the peace and tranquillity it offers. But with many people opting for the same destination as a change of pace, you might not get the peace of solitude that you were looking for in your holiday.
Welcome to Brahmatal trek. Offering breathtaking views with a serene ambience at an astounding altitude of 12,250 ft, Brahmatal trek provides a memorable experience to seasoned trekkers as well as beginners in trekking. Being a relatively new trek route, Brahmatal trek remains quite underrated but filled with unexplored areas that are not yet popular. What this means is that if you are looking for a calming trip away from people, this trip is perfect for you .
This enchanting trek takes you to a staggering altitude of 12,250 feet through a trekking distance of 24 km. The trek commences at Lohajung, which is at a distance of 216 km from Kathgodam. It takes 8 hours from Kathgodham to reach Lohajung. The next lap of the trek traverses from Lohajung to Bekaltal and then to Brahmatal. Your onward journey traverses through treacherous trails at Chota Jhandidar and Bada Jhandidar and brings you to Brahmatal summit which flatters you with a front-seat view of grandiose Himalayan peaks which rise above 7,000 metres.
In addition, this trek also treats you to a beautiful vista of the Roopkund trek trail(along the Brahmatal ridge) including views of Ali Bugyal, Bedni Bugyal, and Junargali.
At such a height, like in any other Himalayan trek, you get snow-covered trails and experience snow during the trek. What makes Brahmatal trek so unique is the view that it offers not only at the summit but during the trek route. Located in the Chamoli district of the Garhwal Himalayan region in Uttarakhand, Brahmatal summit offers an excellent panoramic 360˚ view of several mountain ranges lined up perfectly quite close to it. The list of peaks that one can see from Brahmatal is endless – from peaks of Kumaon division to Trishul, Nanda Ghunti, Hathi-Ghoda peaks and so on. The sight of the sun shining on the ice-capped peaks is breathtaking besides don't forget the view of the beautiful meadows and valleys.
A quick glance to some amazing facts of Brahmatal Trek
Region- Chamoli district of the Garhwal Himalayan region
Trek Altitude- 12,250 ft
Trek Difficulty Level- Moderate
Trek Duration- 6 Days
Trek Distance- 24 km
Base Camp- Lohajung
Temperature- Average day temperatures vary from 10 degrees Celsius to 3 degrees Celsius and average night temperatures vary from 3 degrees Celsius to 10 degrees Celsius.
Network connectivity– Lohajung is the last spot where you will find a network. With increasing altitude, you might not get a network on your cell phones.
Last ATM- Lohajung (but prone to unavailability of cash). It's better to enter Lohajung with cash and not rely on an ATM. You will find working ATMs and banks in Dewal, which is 25kms away and on the way to Lohajung.
Nearest Railway Station- Kathgodam Railway Station & Dehradun Railway Station
Nearest Airport- Pantnagar Airport(for Kathgodam) and Jolly Grant Airport(for Rishikesh)
Trek Details
Start Point- Kathgodam or Rishikesh-Lohajung
Departure Time from Rishikesh on Day 1- 6am
Pickup point from Rishikesh- Natraj Chowk/ Old Zostel Hotel, Tapovan
Departure Time from Kathgodam on Day 1- 6:30am
Pickup point from Kathgodam- Kathgodam Railway Station
End Point- Kathgodam or Rishikesh
Arival time on Day 6 at Kathgodam or Rishikesh- Approximately 6pm
Cloak room: There is no seperate cloak room available. You can handover your luggage to our team and collect while returning. We will be keeping it safely at Lohajung in the same Homestay.
The shared vehicle will be Tata Sumo, Bolero, or similar and may be shared with a few other local passengers. The cab will be arranged from Rishikesh/Kathgodam to Lohajung and Lohajung to Rishikesh/Kathgodam.
We charge Rs.950/- per person each side.
The cab is a 7-seater.
The whole cab costs 7500/- from Kathgodam/Rishikesh.(one way)
Trekkers may choose to travel by bus or local cab to reach Lohajung.
The forest permits for international clients will be as actual and is to be paid by the trekker at the basecamp only.
Which is the better option to reach Lohajung? Rishikesh or Kathgodam.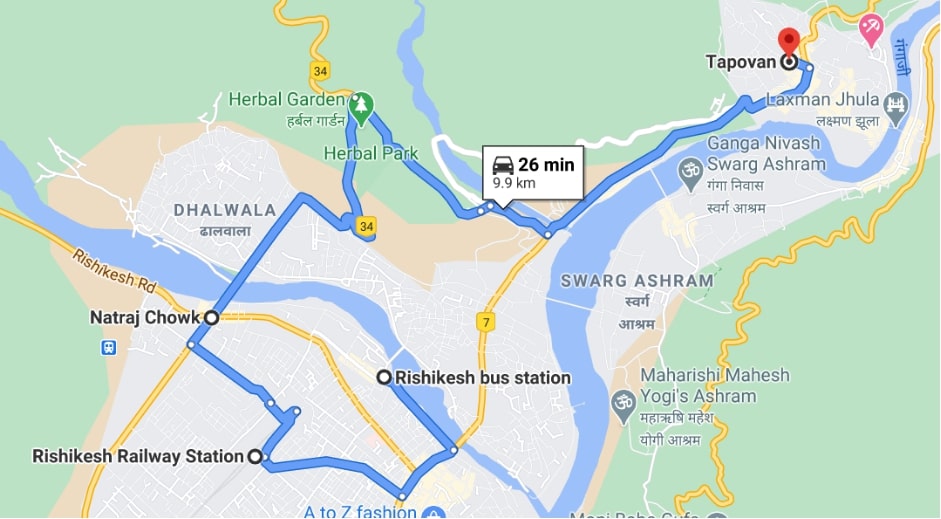 Map to show pick up points in Rishikesh
Pickup points at Rishikesh
1st Point: Natraj Chowk
2nd Point: Old Zostel Hotel, Tapovan
Old Zostel Hotel, Tapovan is 6Km ahead of Natraj Chowk
About Brahmatal trek
1 day (drive from Kathgodam to Lohajung) + 4 days (trek from Lohajung- Brahmatal summit-Lohajung) + 1 day (drive from Lohajung – Kathgodam)
Brahmatal trek trail is unique for the range of colours one gets to see during the trek for the flowers that are blossoming on either side of the trail, soothing the eyes of a trekker with nature's beauty. Brahmatal trek's speciality also lies in its trek route, you experience not one but two distinctive mountain glacial lakes at such a great height – Brahmatal Lake and Bekaltal Lake, with each having their unique features in terms of beauty and ambience.
At a height of 3,734 m above sea level, Brahmatal Lake is a frozen alpine glacial lake. As said in Hindu mythology, the lake gets its name from Lord Brahma, who is said to have meditated here. Hence the name Brahma-Tal, or Brahma's Lake. The beauty of Brahmatal trek lies in the abundance of mountain glacier-fed lakes you find in this route. On your way to Brahmatal Lake, you will come across another lake, Bekaltal. Surrounded by evenly spread out beautiful oak trees, Bekaltal has a beauty of its own. According to locals, Bekaltal is where Lord Brahma hides. Well, after seeing the beauty and the serene ambience of the lakes, the local myths and the legends seem even more believable as these majestic creations of nature seem perfect to be a God's abode.
Brahmatal trek is of mainly 6 days, covering a distance of about 24 km. What makes Brahmatal trek so special is that it is probably the best trek route one can experience that has forest, meadows, lakes as well as summit. The trek route gives you an experience of a walk through the heavy canopy of forests of silver oak and rhododendrons, beautiful colourful meadows with vibrant flowers, lakeside camping and stargazing at Bekaltal, the serene ambience of Brahmatal lake, the humbling sight of humongous mountain peaks against the backdrop of a spectrum of colours on of the evening sky. The trek starts from Kathgodam. After a car ride, it then involves a brisk trek from Lohajung, which serves as the base camp of the trek to Bekaltal, Brahmatal to Brahmatal Top via Tilbudi and back through Khorurai, in 6 days.
With the trek route being comfortably distributed between 6 days, and the trek route having a low gradual incline, Brahmatal trek is an easy to moderate trek in terms of difficulty. Also, with the trek route being so eventful throughout, Brahmatal trek stands perfect for a first-timer as the varying changes in view and experience keep a mind distracted from any kind of fatigue of the trek, eventually acting as an energy replenisher.
Mythology
Rooted deep in mythology, Brahmatal trek allures you with a mystic charm which is hard to resist.
The name Brahmatal owes its origin to Lord Brahma, the Creator who meditated here.
You get astonishing views of the sacred Nanda Devi peak, abode of Goddess Nanda Devi, Mount Trishul resembling a sacred trident (Trishul) and Mount Kamet, the sacred mountain of the Hindus.
Lohajung, the base camp for Brahmatal trek prides itself with the fact that Goddess Parvati had a fight with Lohasur and killed him at this place. The name Lohajung translates to fight (Jung) with demon Lohasur.
How to reach Brahmatal
For Brahmatal trek, Lohajung serves as a base camp. Since Kathgodam is better connected with other cities like Delhi (320km) and Dehradun (277km), Kathgodam serves as the starting and ending point of the trek. Contact our team at Moxtain to get details about the transport we have arranged to and from Lohajung.
By Flight

Nearest Airport – Pantnagar Airport (PGH). Several popular airlines offer direct and indirect flights between Delhi and Pantnagar, which will cost a minimum of around Rs. 2600. It's better to book round trip flights since it's more economical. Kathgodam is within a 1-hour driving distance (31Kms) of Pantnagar . There are buses, shared cabs, and private cars available from Pantnagar. On reaching Kathgodam, you can take a bus or a private car ride to Lohajung which is an 8 to 10 hours' ride of 250kms through the serene towns of Ranikhet, Kausani, Gwaldam, and Dewal.
By Train

Several trains are connecting Kathgodam railway station (Brahmatal's nearest railhead) with all the major cities of India. On reaching Kathgodam which is a 320km or a 6hour 20mins drive from Delhi, you can take a bus or a private car ride to Lohajung which is an 8 to 10 hours' ride of 250kms through the serene towns.
By Road

Lohajung is accessible with all the major cities of India by road and there is bus service available to Lohajung via Kathgodam from most of the major cities. On reaching Kathgodam which is a 320km or a 6hour 20mins drive from Delhi, you can take a bus or a private car ride to Lohajung which is an 8 to 10 hours' ride through the serene towns of Ranikhet, Kausani, Gwaldam, and Dewal.
There's also an alternate way to reach Lohajung via Rishikesh. Daily buses ply from Rishikesh to Lohajung leaving at 5-5:30 am and share cabs which leave at 6 am but you need to book a seat in advance as the seats are subject to availability.
Highlights of the trek
Forest trails, glacial lakes and a summit – all these in one trek. At an altitude of 12,250ft, Brahmatal trek offers you three distinctive features all combined in one beautiful trek. Sadly, and thankfully for you, Brahmatal remains one of the 'undiscovered' treks. What it means for you is that you get to experience the untouched, pure beauty of nature in all its glory.
Having a steady incline and a gradual slope, Brahmatal is a smooth - paced trek with marvellous sights to offer of mountains and ridges like that of Trishul massif, Ronti saddle and so on. The gradual slope of the trek route means that on your reaching to the top of the Brahmatal summit, a brand new picturesque sight opens right in front of you with beautiful snow-capped mountains laid out all around you. To stand true to its calling of 'Dev Bhoomi' or 'Land of Gods', the sight of the sun shining on the panorama of peaks Mount Trishul, sacred Mount Nanda Ghunti, Mount Chaukhamba, Mount Neelkanth, Mount Shivling and Mount Hathi Ghoda and so on. To beautify the majestic view and Roopkund trek route being in the near vicinity, you have the magnificent sight of Ali Bugyal, Bedni Bugyal, and Junargali along with various other meadows.
The Brahmatal trek route stands out for not being just a mountain trek but also the forest trails through which the route passes . Meandering through the high and dense snow-covered canopy of silver oak, rhododendron, and other mountain trees, the trek route offers you the experience of a jungle trek as well. In the non-winter seasons when the rhododendron flowers bloom along with the wildflowers, expect a vibrant range of colours to be thrown on your way to the summit as the meadows and forest get lit up with freshly bloomed flowers.
While Brahmatal Lake and Bekaltal Lake takes its own place in the mesmerising sight that this trek has to offer, it's this lakeside campsites that comes as a bonus. With a vista of colours of the laid out tents on the fresh white snow under the star-studded sky, in a land that's surrounded by thick forest vegetation is a sight that's treat to your eyes and warms up your heart as the campsite feels like a dream come true with marvellous mountain ranges in the backdrop.
The base camp for Brahmatal, Lohajung is related to the mythical stories of Goddess Parvati having a fight with Lohasur in this place. Hence, Loha-Jung derived from the name of Lohasur. A hidden hamlet in the mythic tales, the place has a calming vibe of its own. This village is worthy of exploring and the stories of the locals is an icing on the heavenly trek.
Best Time to Visit
While most winter treks close down because of heavy snowfall, the Brahmatal trek route stands out as it can be done in the peak winter months of January and February. The best time to visit brahmatal is from December to March. On the other hand, it can be done in the other months as well(except the rainy season). Having a forest trail en route gives you an entirely different experience depending on the season you visit thus making it a trek which multiple trekkers come back to.
Winter in Brahmatal starts from November and lasts till February. Being a winter trek, it's obvious for you to expect snow and it's something you will get in abundance. In winter, your trek route will be filled with fresh soft snow and the sight of the trees on your trail being covered with snow and the sunlight falling on it creates an ambience which is worth experiencing. During the day expect the temperature to be around 3˚C to 6˚C and at night expect the freezing temperatures of around 3˚C to -10˚C.
In the Non-winter seasons, i.e. spring, summer, autumn(all trek routes are closed during the monsoon season) expect Brahmatal to be in a different qarb altogether. With rhododendron flowers blooming along the jungle trail and the valleys being filled with bright flowers, the trek trail itself is a treat to the eyes. Along with the melting glaciers, small waterfalls and streams this scenic beauty is a marvel in itself. During these seasons expect the temperature to be within a range of 10˚C to -4˚C.
Tips for the trek
Fitness

Since this is a trek of easy to moderate difficulty, you will have to walk about 7-8kms a day. With a gradual and steep climb and a trekking bag on your back, this may not be as easy as it sounds. This means that you will need your lungs at full capacity and that means you will have to do away with smoking at least a month before the trek. Not really necessary but to have a smoother trekking experience and enjoy it to the fullest, you can do morning jogs every day and build up your stamina meanwhile. Trust me on this. The whole experience of the trek and the view from the top of the summit is worth way more than all of this.
Trek Essentials

Being a winter trek, expect snowfall. And snow means getting yourself soaked when it melts. So to protect yourself and your trek essentials, it's important that your shoes and your trekking bag are waterproof or at least have a rain cover. Wear good trekking shoes to experience maximum comfort during the trek. Expect freezing temperatures, so carry thermals and layer up to fight the cold winds. Carry a raincoat or a poncho to protect yourself from the snow. Also, you can contact our team at Moxtain if you want shoes, trekking bags, trekking pole and ponchos for rent.
During the trek, keep drinking water to stay hydrated. With changing altitude, it's important to keep yourself hydrated. Keep snacks and energy bars in hand during the trek to recharge your energy as it gets drained. Above all, keep your morals high, stay energised and have a memorable trek.
Day 1: Kathgodam(1,483 feet)/ Rishikesh(1,220 feet) to Lohajung (7,600 feet)
Start from Kathgodam Railway station at 6:00 a.m.,to Lohajung the distance is around 210 km.
8-10 hours long drive from Kathgodam to Lohajung.
Explore the local market, know the culture at Lohajung.
Overnight stay at a guesthouse in Lohajung.
The trek route starts from Kathgodam with Lohajung serving as the base camp. The journey from Kathgodam to Lohajung involves 8 to 10 hours of a scenic drive with views of majestic mountains. Mt. Trishul, Maiktoli, Nanda Devi, Nanda Khat, Hathi Parvat and Ghora Parvat are few of the mountains that you get to see on the way, while hill stations like Almora, Bhimtal, Baijnath and Kausani offers you a picturesque view during the drive. A pick up will be arranged at Kathgodam, and the pick-up point along with timings will be communicated to you by email before your bookings of the trek. The booking will not include lunch for the day and transportation from Kathgodam to Lohajung. And from Lohajung, we will take care of your meals and lodging.
Day 2: Lohajung (7,600 feet) to Bekaltal (9,885 feet)
Trekking distance of 6 km.
Trekking time around 4.5-5 hours.
Trek through villages and dense forests of oak and rhododendrons.
Moderate ascent.
Overnight stay in tents at Bekaltal campsite.
The trek begins! Expect an early start to the day with a heavy breakfast. After a warm-up session, we will give you a basic idea of what your plan for the day will be. Today's trek route will be 6kms which will take about 4 to 5 hours. Allow your body to adjust and prepare for the changing altitude and the trekking. As if to build-up to the summit day, Brahmatal trek starts with its magnificence from the first day itself. As you go the jungle trail through the dense vegetation of silver oak and the vibrant rhododendron foliage and you come out of the forest to stand in front of an arresting view with the white wall of Trishul mastiff! As you walk towards Bekaltal, keep your eyes open to get mesmerised by the feeling of mountain peaks filling up the horizon.
After several water breaks in between and 4 to 5 hours of trekking, you will reach your destination, Bekaltal Lake. With a beautiful lakeside campsite, marvel at the beauty of nature and its masterstroke in the ambience. During the Spring, when the rhododendrons are fully bloomed, expect a day under the pink flowery roof and a similar sight surrounding the lake and the campsite.
Day 3: Bekaltal (9,885 feet) to Brahmatal (10,440 feet)
Trekking distance of 7 km.
Trekking time around 6 hours.
Steep ascent and gradual descent through oak forests, rhododendron groves and expansive meadows leading to Brahmatal Lake.
Indulge in bird watching, star-gazing or simply soak in the surreal ambiance of the scenic lake.
Overnight stay in tents at the campsite.
A brand new day with another lake in mind through another forest trail, yet so very different. Today we will be trekking 7km for 6hours. The trek route will be through the dense forests of oak trees and rhododendron. Expect to catch sight of flocks of pretty colourful birds, especially Monal. The dense forest has trees that aren't quite tall enough, but their canopy does form a roof over your head, with snow-covered forest floors giving you a feeling of adventure in this jungle trail. Once you come out of the forest you are dropped right in front of vast meadows like Telindi top.
The sight of the frozen shores of Brahmatal Lake with a solitary oak tree on one corner is a sight that's worth the climb. With a white snow cover all around the lake, frozen shores and the peaceful ambience of the lake makes you realise why the myths say that Lord Brahma chose this place to meditate.
By now you are in the perfect height to be experiencing the majestic beauty of the Himalayas. You see the vast stretches of white snow-covered fields and valleys of the Garhwal region with the horizon filled with undulating slopes of the Himalayan mountains.
This also helps you anticipate the view you will experience the next day once you reach the top of the summit.
Day 4: Brahmatal (10,440 feet) to Brahmatal Top (12,250 feet) and on to Khorurai (9,160 feet)
Total trekking distance (to and fro) of 8 km.
Trekking time around 7-8 hours.
Moderate ascent and easy descent through rhododendron groves and oak forests.
360-degree view of colossal Himalayan peaks from the top; magical and alluring.
Overnight stay in tents at the campsite.
This is the day that holds the moment of the trek. With a day that has 8 km of the trek ahead of you for about 8hours, there are a lot of experiences planned throughout the day. Today you climb to the Brahmatal top. After a bit of steep climb, experience a bird's-eye view of the Himalayas. It's something like you are being dropped in the middle of the ranges and all around you are covered with white snow-covered huge mountain ranges, that's reflecting the golden glow of the sun and giving off a hue of colours. Take a moment for yourself as you experience it all. The breathtaking close-up views of mountains Mount Trishul and Mount Nanda Ghunti that have been your companion throughout this trek is worth all the climb. Along with that, you have the view of Mount Chaukhamba, Mount Neelkanth, Mount Shivling, and Mount Hathi Ghoda and so on. From the top, you can see the Roopkund trek route being in the near vicinity along with various other meadows.
After a breathtaking experience, you will have an easy descent back to your campsite at Khorurai. Expect some stretches being a little slippery and steep. It's always wise to be a little more careful while descending.
Day 5: Khorurai(9,160 feet) to Lohajung (7,600 feet)
Total trekking distance of 3 km.
Trekking time around 3-4 hours.
Gradual descent to Lohajung.
Build rapport with locals and learn about their simple life, explore Lohajung, try the local cuisine.
Overnight stay in the guesthouse.
As if to proclaim that the trek isn't over yet, the trek route from Khoruai to Lohajung transverses through vast stretches of alpine and oak forest and meadows. Watch out for the snow-covered edges of the mountain ranges as they change colour from crimson red to golden shades of yellow as the day passes. Also, the sight of some small streamlets and streams make this day even more beautiful. On reaching Lohajung, enjoy the local food and do not forget to interact with the locals as it's an experience that gives the final brush strokes to a perfect story.
Day 6: Lohajung (7,600 feet) to Kathgodam (1,483 feet)
Head back to Kathgodam, 210 km.
Around 8-10 hours long drive.
You can buy herbal tea at Kausani.
Explore Kathgodam, indulge in local shopping, buy some souvenirs.
After soaking in the lap of grandeur views for 5 days you head back to Kathgodam on day 6. Driving back along the same breathtaking locales gives a feeling of deja vu. The trip officially ends here but you can still make the most of the day by indulging in some shopping, eating and exploring Kathgodam. Enroute you can take a short halt at Kausani to pack a few bags of herbal tea.