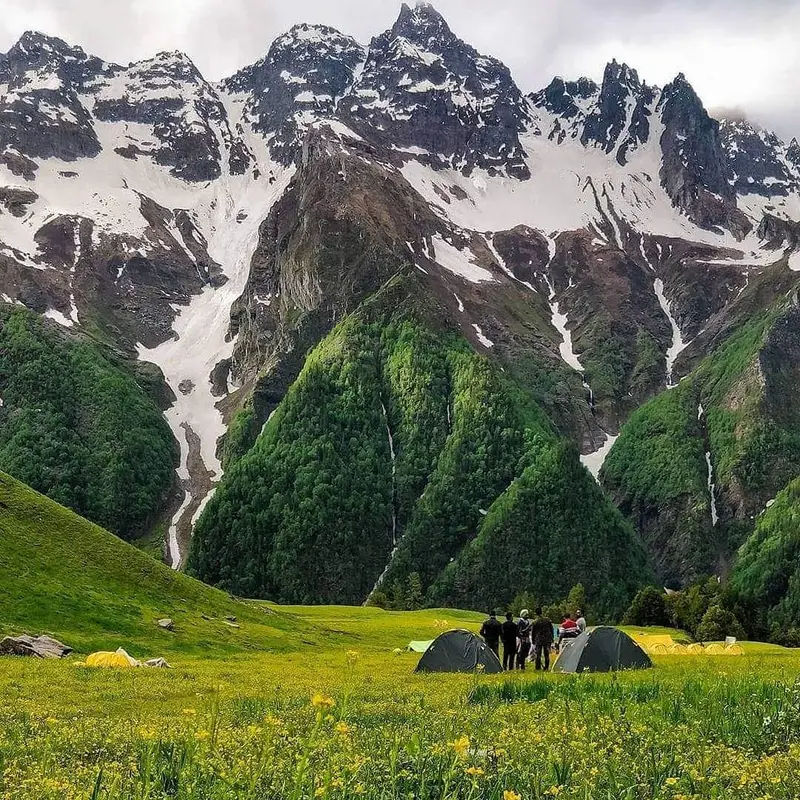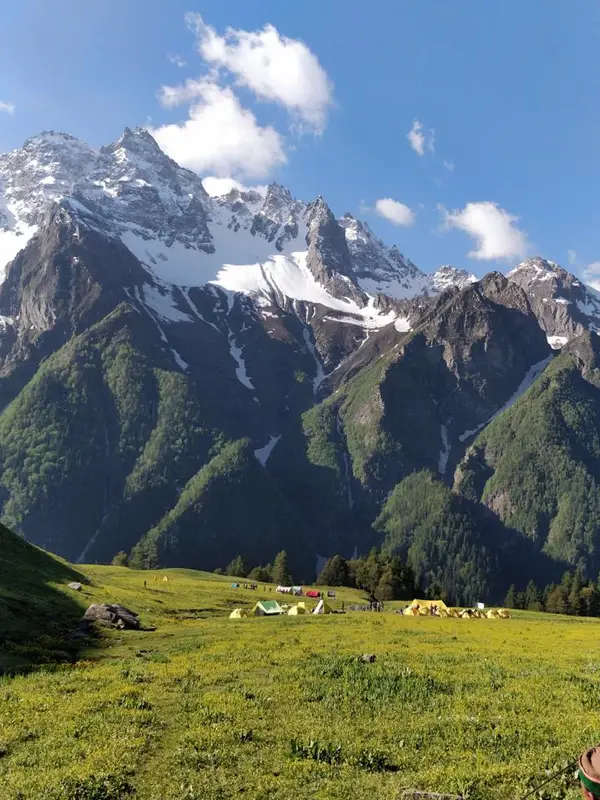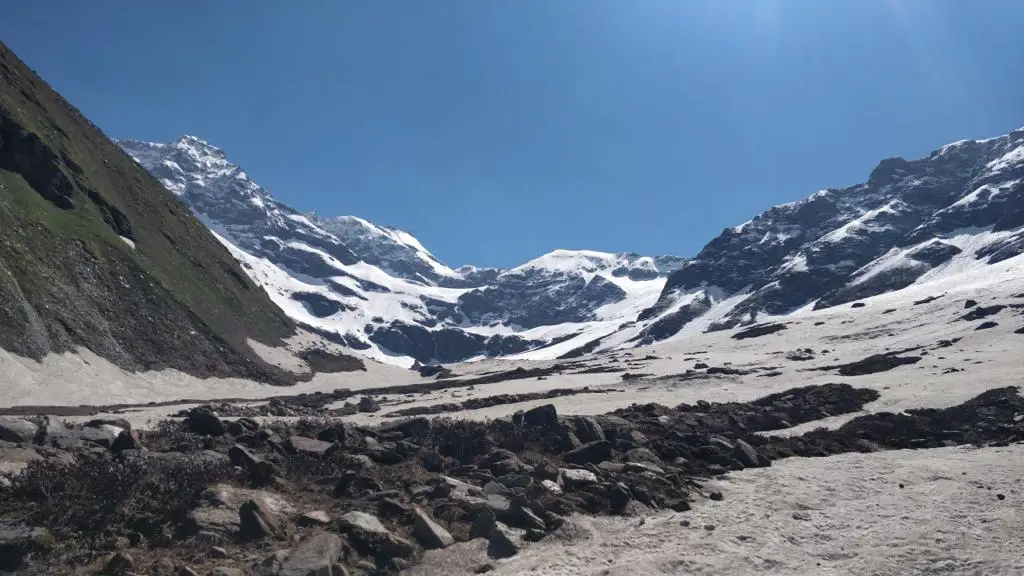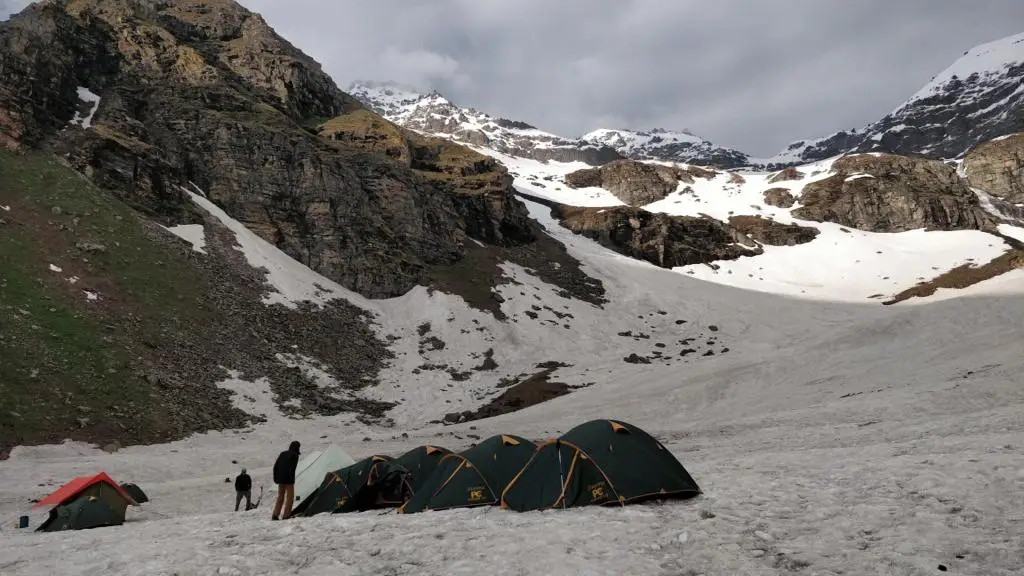 About Buran Ghati Trek
Buran Ghati is the mother treks of all the treks combined. If you want to taste the adventure of mountains, grasslands, forests, snow peaks and quaint villages? altogether, you should book your package for Buran Ghati right away. This is a tailor-made trek for the thrill-seekers to test their adrenaline rush and the shutterbugs who want to capture the tiniest bit of the splendid nature. The views of Buran Ghati trail is simply unmatched and will refresh you with multiple stunning landscapes, a long stretch of Pine and Oak, widespread green meadows, snow-clad peaks, glacial lake, small gushing stream, sharp edges at the high altitude, polaroid perfect villages and the contrasting Chandranahan lake. This glacial lake is the major highlight of this trek which is considered sacred by the locals in this area and remains frozen for the most part of the year.
Also famous as Barua Pass, this trek starts from Shimla. You can reach there via Delhi or Chandigarh through the local buses which keep running in every half an hour or you can take a train from Chandigarh to Kalka which is nearest station to Shimla in Himachal Pradesh. The nearest airport is the Shimla airport from where you can drive ahead.
For those seeking an exciting adventure, the Buran Ghati also known as Burando Pass hike at a staggering height of 15,000 ft above sea level is the ideal option. Beginning in the traditional Himalayan town of Janglik, the path ascends steeply towards a pine and oak forest until it opens up onto the stunning Dayara Meadows.
You will witness the most exotic and glistening floral world along the trail. There are also many winter fruits that grow in abundance in this region, including pears, apples, peaches, apricots and more. You can simply pluck it fresh out of the plant and relish it along the way, it acts as a great trekking snack. The upward climb offers you the umpteenth beauty of Dhauladar range along with the pristine panoramic view of Kinner-Kailash peaks. After you've reached the apex point crossing the enchanting views of nature and picturesque villages, there comes the best part of the trek- The Descent!
Woodlands and pastures line the path leading to Litham, making it a treat for outdoor enthusiasts everywhere. The beautiful Dhauladhar Range opens out as you go to Litham. Its popularity among hikers and photographers is due to the unmatched beauty of the landscape. The walk has a lot to offer, including dense stands of Oak and Pine as well as a profusion of rare Himalayan plants.
There is a fascinating 400-meter ice wall descent followed by six long snow slides at an altitude of 15,000ft that will surely bring out the child in you. There are also some patches where you need to get a bit technical and use ropes to go down against gravity. The descent will give you the adventure dose for a whole lifetime and will take away all the exhaustion of the ascent at one go.
Buran Ghati has absolutely stunning trails which can be visited throughout the year but since the trail consists of a lot of muddy traces, it becomes hard to cross the sections in the rain as it becomes too slippery and muddy. Apart from the monsoon months, if you want to enjoy the chills and the pleasant sun rays together pick the month of May or mid-June. After the last week of June, you will witness heavy snowfall in this region which goes on till late October and the entire green meadows turn pure white. However, the snow does make the last patch of climb difficult and hard to cover.
Besides the pristine Chandranahan Lake, which is nearly perpetually frozen, several other streams shimmer in the verdant meadows. Villages that appear unaffected by civilization and provide a glimpse of mountain life will be passed by as you go. The same hike will take you past apple, peach, pear, and apricot orchards close to the Barua town and provide you with incredible views of the Buran Pass.
One of the main draws of this walk is the Chandranahan Lake, which is further enhanced by the stunning alpine scenery that surrounds it. This lake is revered by the people, who believe it to be a gift from the gods. Buran Ghati is a superb Himalayan hiking excursion because of the rolling hills, lush forests, and mountainous traditions.
The last bit of urban civilization that you will get along with the varied medical and ATM services is going to be Rohru. The next stop Janglik has very basic medical facilities available but does not have any technical shops around. In Janglik region, you get the traces of mobile networks for BSNL, Vodafone, Airtel, and Idea some time. As you move ahead in the trek, most of the signals get weak but at some spots in Lithum camp, you will get the availability of Airtel. After this point, the next section where you will receive any kind of network will be Barua the ending segment of the trek.
On the basis of the total distance covered during the trek, trail time of each segment, water source availability, maximum altitude, road connectivity, technical pieces of equipment and gears used, this trek is ranked as a moderate to difficult trek. It is recommended that people who have previously done multiple days Himalayan trek only should choose this trek as it requires some amount of familiarity and physical endurance to do it.
About Buran Ghati
If you are someone who seeks adventure in their journey or trip if you love blood pumping, heart racing activities you will definitely adore Buran Ghati, it is a hidden jewel of Himalaya, very few people know about this trek because it is situated at height of 15,000ft and it is little difficult for the beginners, this trek involves more than just walking and climbing as, it is full of adventurous activities like sliding and rappling down on the snow.
Buran Ghati offers an overall mountain range experience, from dense forest to numerous water streams and grasslands. There will be no such part in this trek which will disappoint you.
Buran Ghati trek is located at an altitude of 15,000 ft. It is situated in the Pabbar Valley in the region of Himachal Pradesh. The trek is full of wonderful and refreshing landscapes. This trek will take you through the lush green Dayara meadows where you will find beautiful wildflowers and picturesque of snow-capped mountains, there will be thick and dense pine and oak forests. You will come across many beautiful and glistening brooks and streams which will amaze you. Chandranahan lake is another attraction of this trek, this glacial lake remains frozen from most part of the year. Buran pass also offers 360-degree views, from the top of the pass you can see the panoramic view of Kinner Kailash peaks. you will find many fruit trees near Barua village such as apple, apricot, pear, and peaches This amazing trek starts from Janglik village which is approx. 150km. from Shimla and ends in Barua village, it takes about 7 to 8 days to complete this trek.
Trek Details
Pickup Point on Day 1- Shimla old Bus Station
Departure time from Shimla old bus Station on Day 1- 7a.m.
One-way cab from Shimla to Janglik at standard traveling charges INR 1,200/- per person
One-way cab from Barua Village to Shimla at standard traveling charges INR 1,200/- per person
The vehicle model will be informed a day prior to your trek date.
The vehicle model depends on availability and the group size.
Trek Starts from Janglik on Day 2
Distance from Shimla to Basecamp, Janglik- 160 km takes around 8-10 hours.
Treks ends at Shimla on Day 7 at around 11p.m.- 12 a.m.
Departure to Shimla on same day at around 3 p.m., 220 km takes around 8-10 hours.
Arrival time on Day 7 at Old/new Bus station Shimla- 11 p.m.
Drop Point on Day 7- Old/new Bus station Shimla
Buses are available for Chandigarh and Delhi from New Shimla Bus Stand.
If you are planning for a stay in Shimla, Old Shimla bus station will be a good option.
Distance between Old to New Bus stand is 4.5 km, takes around 15 minutes.
Cloak room: There is cloak room available in Shimla.
Highlights of the trek
Meadows of Dayara Bugyal:

Walking through thick, dense green forest throughout the day you will have no idea what to expect next and suddenly the vast green meadow will welcome you with its magnificent scenery decorated with snow-capped mountains and beautiful wildflowers.

Chandernahan lake:

This lake is considered sacred by many locals, there is mythical story related to this lake, the local people believe that the moon of lord shiva dip in this lake that's why the name of this lake is Chandernahan lake, this lake is also the source of Pabbar river.

Rappelling on snow wall:

This is the most exciting and thrilling part of the trek and most challenging. This part will surely give you the adrenal rush, there will be 400m steep snow wall which you have to rappel.

Barua village:

This village is located in Kinnaur district of Himachal Pradesh, here you will see the Buddhist flag outside the wooden houses of Barua village. Here you will find the cultivated lands and many fruit trees.
Best time to visit Buran Ghati trek
During the monsoon season, the trek becomes difficult and risky the trail can be slippery the roads are not in good condition during this season due to heavy rain and at such altitude, you shouldn't take any risks, so the best and the safest month to undertake this trek is during April, May to mid-June, September, and October.
April to June– During the month of April and May the weather is pleasant in Pabbar valley, you can witness the best scenic beauty of Kinnaur –Garhwal Himalayan ranges, the weather remains stable during these months. The sky is clear with low clouds, the views of the mountain range, valley, hills are clear and bright everything looks colorful, the famous wildflower rhododendron blossoms during this season. In the month of June, you will find a good amount of snow on the trail.
September to October– In September the snow melts which makes climbing easy and also the sky is clear there is no cloud even during the nights that's why this month is famous for astrophotography. The chances of rainfall are very less. At night the temperature reaches 0 degrees Celsius so better carry warm clothes.
Difficulty level of Buran Ghati trek
The Buran Ghati trek is a somewhat challenging hike, it is rated as a moderately difficult trek. With an average daily hiking duration of 5 to 6 hours, you have to ascend 5,800 feet over the course of eight days. The trek's first two days are comparatively simpler. Both physical condition and mental fortitude are essential for the Buran Ghati hike. If you are physically fit, the journey is marvellous and you can experience the whole panorama of the rugged mountains and the magnificent scenery variations to the fullest. Along with cardio, put an emphasis on mobility and muscle toning. Plan to jog 10 km in 60–70 minutes to adequately prepare for the challenging pass crossing day. Prior to starting the journey, use this as your fitness baseline.
In addition to stamina, emphasis is on muscle conditioning and suppleness since Buran Ghati is a moderately challenging hike.
The difficulty level of the Buran Ghati trek is Moderate to Difficult. This trek is easy for experienced trekkers but for beginners, it is quite difficult as it involves more than just mere walking. The trail consists of steeps and descent which is not easy and there is the use of a rope that can get technical at times. People who workout daily or have done trekking even once can trek Buran Ghati.
How to reach Buran Ghati
By Air - The two of North India's busiest airports are Chandigarh International Airport and Delhi Airport. All major flights have connections from various Indian states as well as abroad. You can board your desired flight here and reach the destination, Shimla. From the airports you need to take a bus to Shimla. From Chandigarh, Shimla is approximately 4 hours away by bus. After reaching Shimla, you can take a cab to Jhanglik, the base camp for this trek. It is a 6 hour long ride. We also provides cab services to Shimla on a chargeable basis. Another major nearby airport is Jubbarhatti airport which is 22km away from Shimla this airport is well connected to various cities.
By Rail – About 8 kilometres separate the Chandigarh train station from the city's core. Regular trains run between the railroad station and many Indian cities. Connectivity to New Delhi is maintained by the trains namely, Jan Shatabdi, Shatabdi, and Himalayan Queen. Other significant trains operating on the line linking Chandigarh with other cities are the Paschim Express, Chennai Express, Sadbhavna Express, and Kerala Sampark Kranti. You can take any of these trains to reach Kalka, the nearest rail station to Shimla from where you can board a scenic toy train ride to Shimla. Reaching Shimla, you can just take a 6 hour long cab ride to the base camp of the trek. You can take the train from New Delhi to Kalka it will take approximately 4hours. After reaching Kalka you can hire a cab to Shimla it will take about 1 hour to reach there.
By Road - There are several bus services that run from Delhi to Shimla every day, you can take a luxury air-conditioned bus from ISBT to Shimla. The journey is of about 11 hours. From Chandigarh, it takes roughly 4 hours to go to Shimla. The RSRTC operates daily, regular bus service between Chandigarh and Shimla. Reaching Shimla, you just have to take a car ride to the base camp of this trek, Jhanglik.
IS BURAN GHATI TREK SAFE?
When travelling with a reputable trekking crew, which you should know before making your own reservations, the Buran Ghati Pass Trip is indeed a safe trek. It is crucial that you understand whether the trekking group you are travelling with is legitimate. We provide you with the best services and the most competent trekking guides making your journey exceptionally fantastic and unforgettable.
The tricky terrains of Buran Ghati requires you to be cautious and careful to keep yourself away from perilous accidents. In this trek, snow rappelling is a necessary activity so prior experience with mental preparations are a must.
Buran Ghati Pass trekkers must be at least 14 years old and not older than 55. Your level of fitness determines the remaining factors.
ATM Services And Mobile Connectivity
It would be better if you withdraw money at Shimla, after that there are only 2 ATM points – Rohru and Chirgaon.
Mobile connectivity: The network will be available till diude, there is no network ahead.
Frequently asked questions
How to reach basecamp from Delhi and Chandigarh?
To reach the basecamp, Jhanglik, you need to reach Shimla from Delhi or Chandigarh via trains, buses or flights available. Upon reaching Shimla, you will get cabs directly to Jhanglik.
How to reach Jhanglik on your own?
You can follow the same process as mentioned above. You can also come to Tangnu from Shimla from where you can walk your way to Jhanglik. From Shimla, we also provide a cab services to reach the basecamp. Buses are less available so cabs and jeeps are the best choices.
What is the fitness level required and how to get fit for Buran Ghati trek?
Stamina and physical endurance are one of the most essential requirements for hiking Buran Ghati trek. Run, bike, and engage in cross-training are a few strategies to increase your stamina. Even Aerobics and Zumba are beneficial if you practise them three times a week. Furthermore, you can jog on a treadmill or within a park.
Day 1: Shimla to Janglik
Drive from Shimla to Janglik.
Drive distance:160 Km
Drive Duration: 9 to 11 hours approximately
Pick up: Shimla bus stand.
Your stay is in a guest house for the night.
Altitude: 9,200 ft
This part of the trek will be totally covered by a car drive.
Water source: Carry water from Janglik, you can refill in the Pabbar river
Driving from Shimla takes you via Rohru, from which point the route follows the Pabbar River's azure waters. The route ascends the Pabbar gently, altering the landscape quickly as it travels. Driving through charming towns and mixed woodlands, you eventually arrive at the pine trees dotting Tangnu.
Impressive, luscious valleys begin to appear. From this point forward, the towering peaks become particularly discernible. At Tangnu, the gravel road traverses the Pabbar, descends to the river, and then quickly ascends to Diude. Diude is within a quick stroll from Janglik.
Day 2: Janglik to Dayara Thatch
Trek from Janglik to Dayara Thatch
Trek Grade: Moderate ascent.
Distance covered:4Km.
Trek Duration: 5-6 hours.
Stay type: Tents in the camping ground.
Altitude: 11,150 ft, Altitude gain: 1950 ft
Attraction of Day: Pine forests and the magnificent meadows of Dayara Thatch.
Water availability: Carry 1 to 2 liters of water from Janglik and refill in the streams along the way.
Trail description: Gradual ascent of a couple of hours followed by an easy flat walk which goes ahead to a gradual ascent into a forest which opens up to the meadows after an hour of gradual descent.
The first day of your hike today may be the best picture - perfect one you'll ever walk on Leave Janglik by ascending past the expertly designed wheat fields, which have lovely wooden farm houses lining their boundaries. Despite being gorgeous, the ascent quickly gains altitude.
Following sometime, the route ascends into the alpine woodlands after skirting an opening. The steep route balances off as you advance farther into the forest, continuing to be a gentle, enjoyable ascent. A creek crossing the route gives you a spring in your step as you walk beneath the dark and cool woodland trees.
The path that emerges from the tree line progressively drops and the route is wide and clearly marked. It is imperative to savour the opportunity to step on the murky, wet ground that has been covered with a brown blanket of foliage. The route progressively ascends into the forest before emerging from it once more to arrive at the dazzling Dayara campground.
Day 3: Dayara Thatch to Litham
Trek from Dayara Thatch to Litham.
Altitude: 11,800 ft. Altitude Gain: 650 ft
Trek Grade: Easy
Distance covered:3 Km.
Trek time: 3-4 hours.
Stay type: Tents in the camping ground.
Attraction of Day: Silver birch forest and Chandranahan waterfall.
Water availability: Carry 1 to 2 liters of water from Dayara and refill along the way.
Trail description: Gradual easy ascent followed by stream crossing then moderate descent through beautiful silver birch forest opening up to the meadows.
Spend the first part of the day visiting the Dayara meadows. As it wallows in the early sun's golden radiance, it appears especially glitzy.
A 737-foot elevation rise is experienced over the course of three hours as you go from Dayara to Litham through forested mountains, expansive verdant pastures, roaring torrents, and tiny brooks. Within sometime leaving the Dayara campground, a track that slowly ascends leads into another patch of pine woodland.
After crossing the creek, the route ascends out of the jungle and twists a large bend to reclaim perspectives of the Gunas Pass and the snow-capped sweeping vistas of the Dhauladhar range. As you go, the route enters a more stunning forest, this one made up of Silver Birch trees. The silver birches in the ancient woodland are withered from age.
A second perennial stream can be found in a mountain fold by gradually descending through the forest. After rehydrating, crawl out of another fold to get your first good look at Litham. The route descends to the Chandranahan brook over the meadows, which you must cross before pitching a tent at Litham.
Day 4: Acclimatization day, visit to Chandranahan Lake
Altitude: 13,800 ft.
Distance covered:3Km back and forth.
Trek time: 6-7 hours.
Stay type: Tents at the same campsite.
Attraction of Day: Chandranahan Lake.
Water availability: You can refill your bottles at Chandranahan Lakes.
Trail description: Difficult steep ascent and descent past the waterfall.
Just before reaching the Litham campground, you will come across a brook. Follow the shepherd's track upstream until you reach the top of a ridge. Most hikers believe Chandranahan Lake to be near to the waterfall's snout, however it requires an additional hour of hiking to reach the glacier valley.
Notwithstanding the lake's modest size, its location more than makes up for it. The lake is nourished by the surrounding snowfields and is tucked away in a bowl-shaped alpine canyon.
There are green spots that protrude out of the snow in between. Before returning the same route you arrived at Litham, take some time to take in the surroundings. From the lake to Litham, there is a significant drop in elevation.
Day 5: Litham to Dhunda
Trek from Litham to Dhunda.
Altitude: 13,100 ft. Altitude gain: 1300 ft
Distance covered: 4 Km.
Trek time: 5-6 hours.
Stay type: Tents at the campsite.
Attraction of Day: Pristine views of Dauladhar range.
To get to the Dhunda campground, there is a moderate incline for about two hours in the valley followed by a steep uphill.
Buran Pass is readily seen from this location.
Spend a minute admiring the majesty of the pass and anticipating the excitement for tomorrow.
Water availability: Refill your bottles along the stream trails.
Trail description: Gradual easy ascent for around 1 to 2 hours followed by a steep moderately difficult ascent towards Dhunda.
The ascent to the pass takes only two hours. The surroundings are magnificent. The route is overshadowed by the Dhauladhar range, and the Gunas pass looks lovely perched above the snow-covered sides of the drab grayish mountains.
It has a monochromatic background of grey and white, with the lush greenery of Litham to the left and the rocks of the neighbouring Rupin valley to the right. A steeper rise is made by the path.
The Buran Ghati will first be visible to you on your left as you continue up the left bank and the route enters a valley like a U. Spend a minute admiring the serenity of the mountain and anticipating the excitement of tomorrow.
Day 6: Dhunda to Munirang (River camp) via Buran Ghati Pass
Trek to River campsite (Munirang) via Buran Ghati.
Munirang Campsite: 11,800 ft, Buran Ghati Pass: 15,000 ft, Altitude loss: 1,300 ft.
Distance covered: 7 Km.
Trek time: 10-11 hours.
Stay type: Tents at the campsite.
Attraction of Day: Buran pass and the snowline descents.
Water availability: Carry enough water from Dhunda itself there are no water sources on this trail.
Trail description: The gradual ascent over boulders for an hour till the pass base followed by a steep climb of an hour over fresh snow. An exhilarating ascent to the pass and a daring drop from 15,000 feet. Beyond, a swath of mountains looms large over the scene.
To reach a brook that requires leaping over rubbles, descend for an additional hour.
This climactic aspect of the trek is totally covered by trudging and descending on foot.
The Buran Ghati trek's descent is fast, and the journey to the end of the snow line takes roughly two hours. The trail descends a slope covered with evergreens and magnificent flower-topped plants as you emerge from the snow line. Overlooking the vista is a broad range of mountains.
To reach a brook that requires jumping over, descend for a further hour. You spend the night here by the river and set up camp.
Day 7: Munirang (River camp) to Barua village, Drive to Shimla
Trek from River campsite to Barua.
Drive to Shimla.
Altitude: 6,600 ft.
Altitude gain: 5,200 ft.
Distance covered: 5 Km.
Trek time: 4-5 hours.
Attraction of Day: Barua Kund village.
Water availability: Refill the bottles at the river camp and streams along the way.
Trail description: Moderate ascent of 4 hours followed by a difficult steep ascent.
The route is an exquisite marvel since it has so many unexpected variations in the landscape. Another trip with such a wide range of terrain is hard to discover when descending.
A diverse canopy of many other species substitutes the high-altitude pines as the route swiftly lowers through them.
Till Jhanglik you have to trek on foot and from the base camp, cars will be arranged to Shimla directly.
Because of the complexity and variety of the foliage, the descent to the Barua town is outstanding. Take the route that culminates to the Barua Khud. A mixed forest of other trees replaces the high-altitude pines as the route quickly descends through them.
The route enters Barua town through an arch. The route bends and lowers for a significant portion of the distance through the settlement. The descent quickens until it reaches the centre of the settlement. There will be transportations available from Barua to Shimla once you reach the road bridge over Barua Khud.