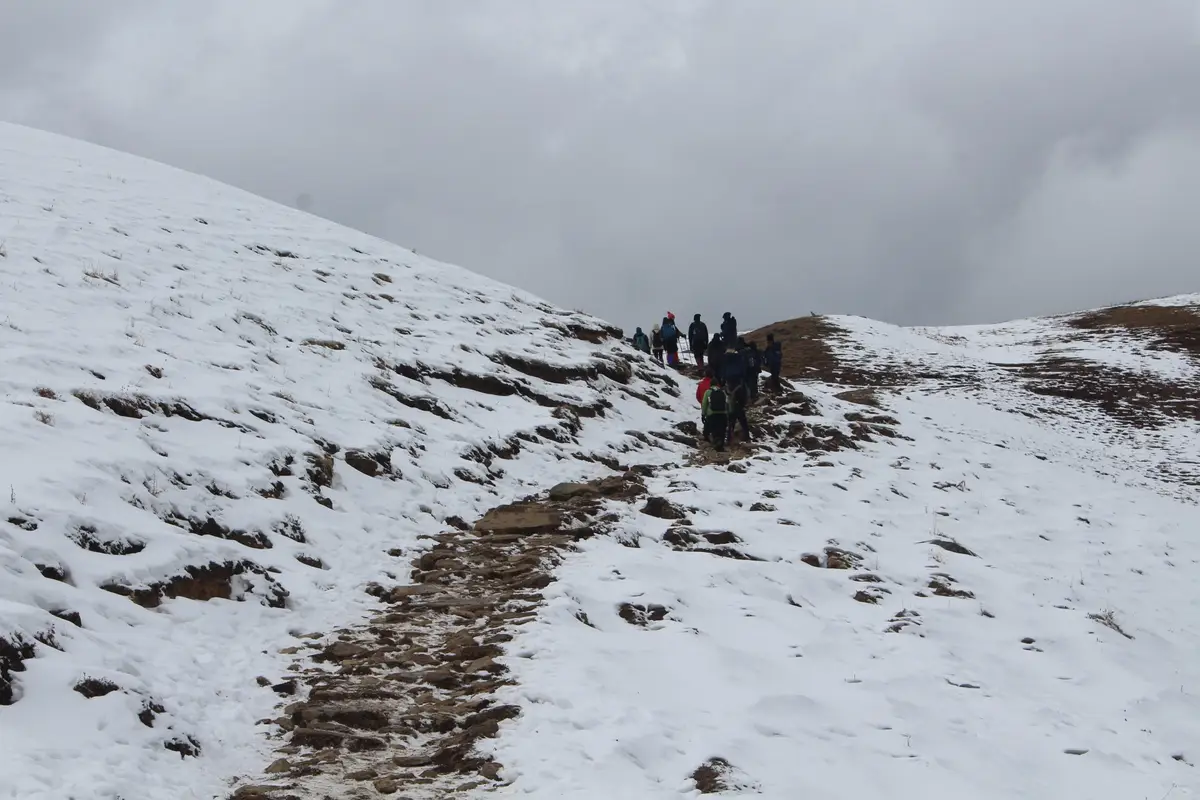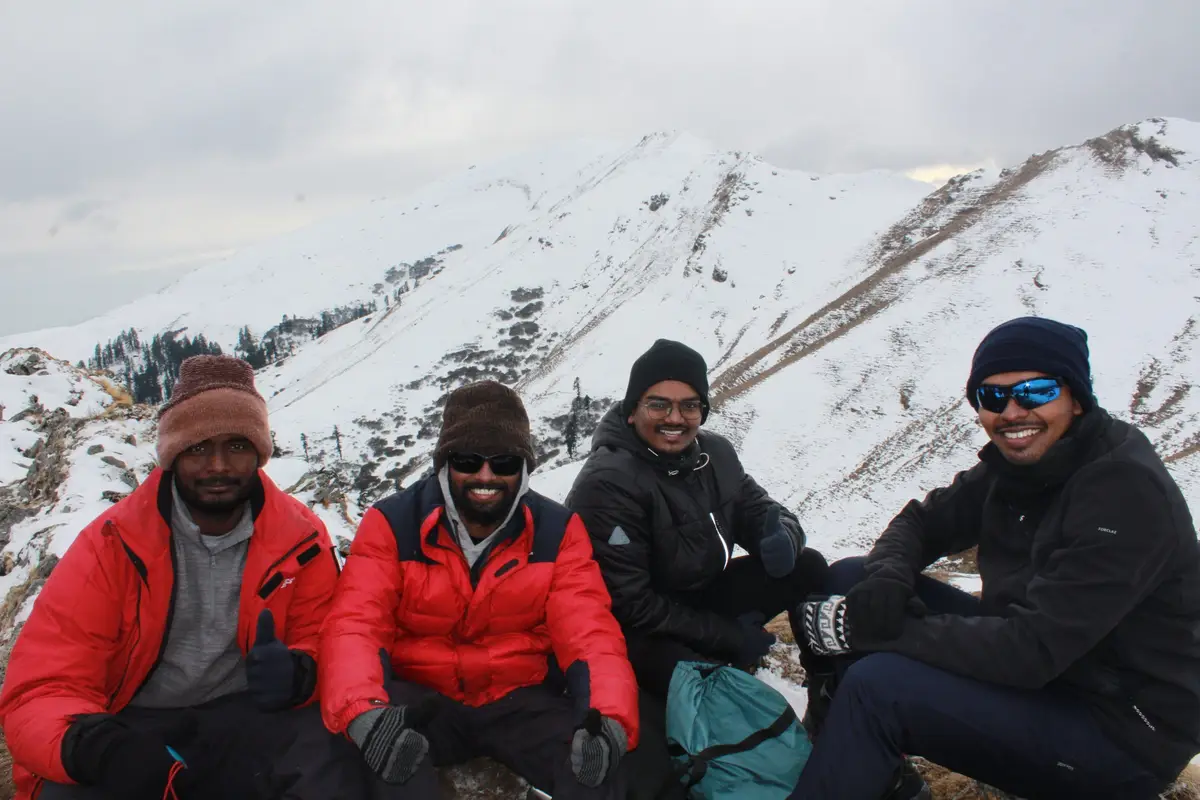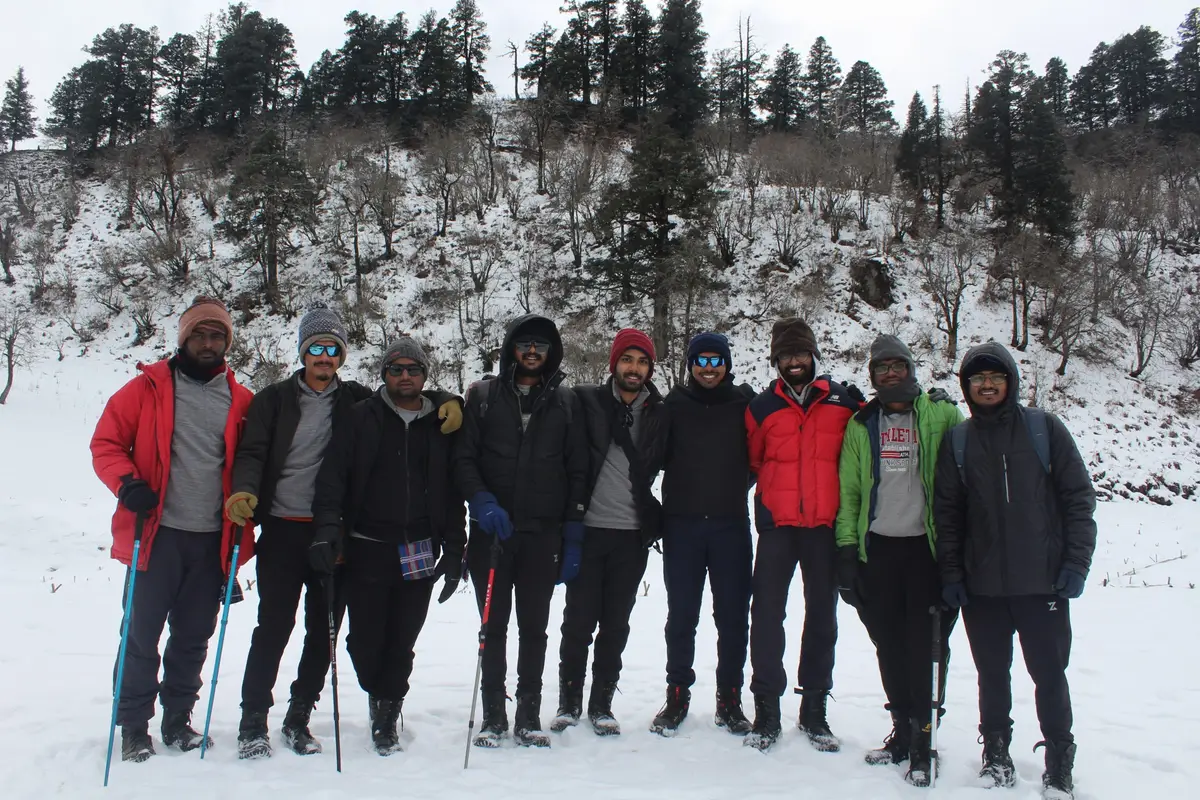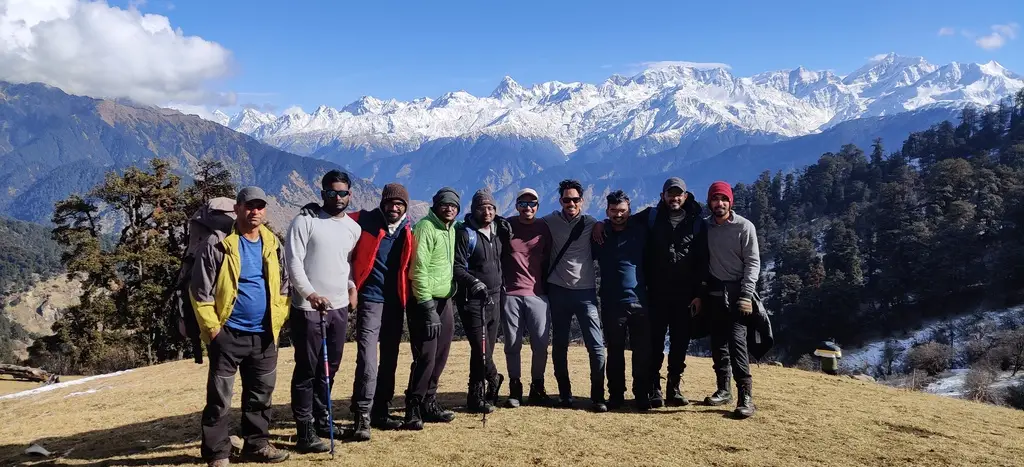 About Dayara Bugyal Trek
As famously observed by John Muir, "In every walk with nature, one receives more than he seeks."
Dayara Bugyal is one such trek that floors you with much more than you can dream of. Whether you are seeking a blissful walk through dense alpine forests or dreaming of setting up a camp in the scenic campsites or simply willing to explore the rich culture of quaint mountain villages, Dayara Bugyal leaves no stone unturned in surprising you with its generous offerings.
This amazingly beautiful and lavish grassland cradled between gigantic Himalayan peaks extends as far as one can see. Add to this the thrilling hikes to beautiful summits surrounded by scintillating mountain views and endless expanses of Alpine meadows, Dayara Bugyal is one mountain destination with all the ingredients of a perfect Himalayan Trek. To top it all, it is an easy-moderate trek, an incredibly rare combination!
Mixed forests of oak, pines, walnut, maples and rhododendrons, trails running through meadows of Bakaria Top and Dayara Bugyal and the colossal Gangotri range with the imposing Bandarpoonch inviting you in an open embrace, make Dayara Bugyal in Uttarkashi district, an enthralling trekking locale. The misty mornings of Dayara Bugyal make for the most spectacular settings.
Gradual ascents (barring a few tricky ascents) and fairly easy descents of Dayara Bugyal trek are just ideal for beginners.
Dayara Bugyal can be reached from village Raithal or village Barsu by road and further 9 kilometres by trekking.
Highlights of Dayara Bugyal Trek:
Marvellous Meadows

One of the most expansive meadows in the country, Dayara Bugyal stretches across an area of 28 square km. This vast expanse of green bedecked by gigantic Himalayan ranges rising as high as 20,000 feet is an absolute delight.
Ravishing Ranges

En route you are treated to ravishing views of exotic mountain ranges of Mount Srikanth, Draupadi ka Danda, Jaonli and Bhagirathi. The colossal mountain called Bandarpoonch is a constant companion through most of the trek. The wholesome view of this majestic mountain is the star highlight of Dayara Bugyal trek.
Terrific Trails

Dayara Bugyal offers one of the most terrific trekking trails that meander through thickets of trees, meadows, mountain streams, villages, and temples.
Village Life

You get a chance to explore the rustic life in the small and scenic hamlet of Barsu, the base camp for the trek. Get acquainted with the customs and traditions of this mountain village beautifully nestled in the mountains of Uttarakhand.
Butter festival

Butter festival or "Anduri" festival is a typical festival celebrated by locals to thank God for His blessings and keeping their cattle healthy. It is a gesture of their gratitude towards the magical Dayara Bugyal and its environs, where villagers leave their cattle to graze healthy grass and herbs. The Butter festival is usually celebrated in the month of August.
Barnala Tal

A trek of 4 km from Barsu leads to the scenic Barnala Tal which is a clear water lake surrounded by mighty oak trees. The crystal clear waters of the lake reflecting the mighty Himalayan ranges make for the most picturesque scene.
Bakaria Top Summit

Bakariya top is the highlight of the Dayara Bugyal trek. A little challenging sharp ascent leads to this beautiful summit which showcases the awe-inspiring magnificence of vast Dayara Bugyal and a 360-degree view of some of the most exotic Himalayan mountains.
Gangotri Temple and Harsil

Trek to the nearby Gangotri Temple located at an elevation of 10,500 feet. The sacred temple located on the banks of the Bhagirathi river is visited by thousands of Hindus every year. Visit the scenic and serene quaint village of Harsil located by the side of the Bhagirathi river. You can even trek to Sat Tal, meaning Seven Lakes, from Harsil.
Landscape Photography

The splendor of Bugyal is akin to some European fantasy land. Photography enthusiasts go wild to experience such grandeur in real life, the sheer magnificence of the place leaves them awestruck. Exotic flora and fauna, unexplored topography and the amazingly beautiful mountain villages are an absolute delight for photographers.
Quick facts about Dayara Bugyal Trek
Region- Uttarakhand Himalayas
District- Uttarkashi
Altitude- 12,000 feet
Duration- 6 days
Trekking Distance- 24 km (to and fro)
Difficulty level- Easy to moderate
Start Point- Dehradun
End Point- Dehradun
Base Camp- Barsu
Nearest Railway Station- Dehradun Railway Station
Nearest Airport- Jolly Grant Airport, Dehradun
Last ATM- Uttarkashi and Bhatwari en route Barsu have the last ATM
Mobile connectivity- Idea network is available at Barsu. Almost all other networks are available on the main road at Bhatwari. There is poor connectivity in the mountains.
Best time to visit- September to June
Difficulty Level of Dayara Bugyal Trek
Being an easy to moderate trek, Dayara Bugyal is an ideal choice for beginners. It is the perfect destination for someone looking for soft thrill and adventure. The trek can be easily undertaken by first-timers without any prior trekking experience.
Dayara Bugyal trek difficulty level is considered an easy gradient one. Regardless of the notion that the summit is fairly low in height, physical stamina and a good fitness condition are recommended.
Is Dayara Bugyal Trek safe?
Dayara Bugyal is an easy trek that journeys through tiny mountain villages. The locals inhabiting these villages are simple down to earth people who lead a primitive lifestyle. Dayara Bugyal is one of the safest Himalayan treks.
Dayara Bugyal is a fairly safe hike that you may undertake without hesitation.
Water availability in Dayara Bugyal Trek
Freshwater is available at Barnala campsite and Dayara Bugyal campsite. It is recommended that you carry a water bottle all through the trek.
About Dayara Bugyal
Alpine meadows or pasture lands are known as bugyals in the local dialect. The divine state of Uttarakhand is blessed with many such bugyals which are also known as "Nature's Own Gardens". Mostly flat or sloped, the high-altitude bugyals snuggled in the laps of Himalayan ranges offer a tranquil respite from the mad rush of city life.
Dayara Bugyal height is, located at an astounding height of 12,000 feet. Bejewelled by majestic Himalayan ranges of Bandarpoonch, Kala Nag Shrikhand Mahadev, Mount Shrikhand and Gangotri peak, Dayara Bugyal floors you with distinct views in each season.
While summers boast of expansive meadows covered in glossy greens and lined with seasonal wildflowers, winters transform the meadows into beautiful ski slopes, covering an area of 28 square kilometres. Dayara Bugyal trek distance is 24 kilometres long in total. The virgin wilderness and untamed beauty of this high-altitude meadow make for an ideal trekking destination.
How to reach Dayara Bugyal?
The total distance between Delhi and Dayara Bugyal is 445 km. Out of this distance, 433 km is covered by transport. Only the remaining distance of 12 km is covered by trek.
Dayara Bugyal, in Uttarkashi district, is one of the most accessible hiking sites. This beautiful emerald green cruising altitude meadow may be reached after about 9 kilometres of walking from Barsu Village. Uttarkashi is 45 kilometres away from Barsu village.
By Train- Dehradun is well connected with most of the major cities of India like Delhi, Lucknow Kolkata, etc. by train. Driving to Barsu from Dehradun, takes around 6 hours 30 minutes.
By Road- The distance between Delhi and Barsu is 440 km and can be covered in around 12 hours by road. You can also reach Dehradun by train and then drive to Barsu from Dehradun. The distance between Dehradun and Barsu is 186 km and can be covered in 6 hours 30 minutes.
By Flight- Reach Dehradun from Delhi by flight. There are daily flights available between the two cities, with the flying time of around 55 minutes. Driving to Barsu from Dehradun, takes around 6 hours 30 minutes.
Best time to visit Dayara Bugyal Trek
This all-season trek is best visited in the spring, summer, fall and winter season.
The best time to visit Dayara Bugyal is during the months between May and November.
In the spring months, the landscape is freshly inviting with new grass, glossy leaves, blazing red rhododendrons and a mix of yellow, violet and white wildflowers.
Summer months treat you to the picture-postcard view of this magical land. The beauteous Dayara Bugyal looks heavenly with the display of bright wild and seasonal flowers against the backdrop of lush green landscape, cows grazing on the mountainside and cool mountain breeze to fill your senses.
Fall months of September to November exhibit a wide variety of flora and wild plants that change hues from shades of cognac to orange, red and brown. You can even find walnuts strewn on the forest trail during the fall season. The meadows look absolutely stunning as they turn golden.
In winters (December-March), the expansive meadow covered in powdery snow gets transformed into a skiing wonderland. The 28 square km expanse with undulating slopes makes for a wondrous skiing ground.
Dayara Bugyal Weather
Dayara Bugyal is an all-season trek. Blessed with salubrious atmosphere throughout the year, Dayara Bugyal weatheris ideal for trekking in all seasons except monsoons when the region experiences heavy to moderate rainfall. The weather remains cloudy and the terrain becomes slippery, making trekking a trifle complicated.
In January, the landscape in Dayara Bugyal is blanketed in snow. Dayara Bugyal temperature in January ranges from around -5 degrees Celsius, respectively. In February, the weather in Dayara Bugyal is likely to be snowy.
Dayara Bugyal Temperature
Spring months of March and April- Temperatures range from 0 degrees minimum to +15 degrees maximum. These months boast of pleasant and clear weather.
Summer months from May to June- Temperatures vary from +5 degrees minimum to +23 degrees maximum. The weather remains pleasant and clear.
Monsoon months of July and August- The temperatures range from +9 degrees minimum to +25 degrees maximum. The weather is cloudy and rainy.
Fall/Autumn months of September to November- Temperatures range from +9 degrees minimum to +21 degrees maximum. The weather remains pleasant and clear.
Winter months of December to February-Dayara Bugyal trek in December is quite chilly. Temperatures range from -5 degrees minimum to +13 degrees maximum.
Dayara Bugyal is covered with snow and February also has chances of snowfall.
How to prepare for the Dayara Bugyal Trek?
It is recommended to prepare yourself well in advance before undertaking any trek. "How to dress up" and "how to get fit" should be important aspects while undertaking any Himalayan trek.
Despite being an easy to moderate level trek, Dayara Bugyal still requires some basic preparation.
Ensure that you are physically fit to undertake the trek. Improve your cardiovascular strength by running, swimming, jogging or taking brisk walks at least one week before going for the trek.
The trekkers should have sufficient stamina to trek a distance of 5 kilometres in 45 minutes and carry a backpack of 10 kgs.
It is advisable to have an experienced guide accompanying you to help you through the trekking route.
It is recommended that you trek in a group, with 3-4 people.
Be well equipped with all trek essentials such as trekking gear, proper clothing, and trekking accessories so that you are comfortable doing the trek.
Day 1: Drive from Dehradun to Barsu
Distance- 186 km drive
Time taken- 6.5 hours
Altitude- 10,000 feet
Enjoy the scenic views through Mussoorie bypass, view of massive Tehri Dam is simply amazing, explore the tiny settlement of Barsu famous for its buckwheat fields and poppy beds
Overnight stay at Barsu in a guest house.
Drive from Dehradun to Barsu is soaked in divine beauty. You pass through the zig-zag mountain terrain alongside the bubbling Bhagirathi river. The towns of Chamba, Uttarkashi, Bhatwari enthrall you en route as you finally reach the quaint yet progressive village of Barsu. There is a tiny reservoir in Barsu.
Explore the scenic hamlet of Barsu which is the base camp to Dayara Bugyal trek and Gidara Bugyal trek. It is also home to some exotic mountain birds like a black eagle. Watching the sunset casting its orange hues over the peaks of John Lee and Draupadi ka Danda is a surreal experience.
Day 2: Trek from Barsu to Barnala Tal
Distance- 4 kilometre
Time taken- 4 hours
Altitude- 8,530 feet
A mix of gradual and steep ascents from Barsu leads to Barnala, trek along the beautiful landscape of rhododendrons, pine, silver oak, and Deodar forests, soak in the tranquil ambience of Barnala Tal
Overnight stay in camps.
After feasting on a hearty breakfast at Barsu, you are geared to head towards Barnala Tal. The total trek distance of 4 kilometres takes around 4 hours. Mixed trek of gradual and steep hikes through the beautiful forest of rhododendron, walnut, maple and oak trees brings you to a point where the pristine meadows begin to appear. The endless expanse of meadows nestled beautifully in the great Himalayan ranges is a sight straight out of Yash Chopra films. The serene Barnala Tal perched at a height of 8,000 feet captivates you with crystal-clear waters in summer and incandescent frozen beauty in the winter season.
Overnight stay at a campsite near Barnala meadows. Camping under the starry sky lit with the crescent moon is an experience to die for. Light a bonfire, indulge in some bonhomie with friends before retiring for the night.
Day 3: Trek from Barnala to Dayara Bugyal
Distance- 5 km
Time taken- 4 hours
Altitude- 9,980 feet
Ascending trek leads to Dayara Bugyal, explore the beautiful lavish meadow, relish the splendid views of majestic Himalayan peaks.
Overnight stay in camps.
After a heavy breakfast, you are set to undertake the 5 km trek from Barnala to reach Dayara Bugyal. This is the most exciting and beautiful day of the trek. The steep trek of around 4 hours brings you to the majestic meadow bedecked with imposing Himalayan peaks of Bandarpoonch, Kala Nag, Gangotri range, Jaonli, and Srikanth.
During the summer months, you can camp overnight near the bugyal. Winter months will require you to camp around 1 km before the Dayara Bugyal campsite as the grounds near bugyal are covered with sheaths of snow.
Day 4: Trek from Dayara Bugyal to Bakariya Top and back to Dayara Bugyal
Distance- 3 km
Time taken- 3 hours
Altitude- 12,000 feet
Ascending trek of 3 km brings you to the highest elevation Bakaria Top, enjoy the views of snowy peaks and green valleys, trek back to Dayara Bugyal
Overnight stay in camps at Dayara Bugyal campsite.
Today you explore every nook and corner of this ravishing offering of nature. Dayara Bugyal showcases a unique and distinct panorama from each angle. Click some picture-perfect shots, explore the length and breadth of the lavish bugyal before undertaking a steep climb to reach Bakaria Top, the highest point of this trek. The splendid view of the snow-capped mountains, deep valleys, 360-degree view of the entire Himalayan range is simply out of the world. Watching the setting sun cast its magical glow on the beautiful Himalayan peaks is a once in a lifetime experience. Trek back to Dayara Bugyal after spending some memorable moments at Bakaria Top. Overnight camping at Dayara Bugyal.
Day 5: Trek from Dayara Bugyal to Pichkiya
Distance- 8 km
Time taken- 6 to 7 hours
Altitude- 7,873 feet
A mix of ascents and descents through Alpine meadows, dense forests and mountain streams brings you to Pichkiya.
Overnight stay in camps at Pichkiya campsite.
After witnessing an absolutely stunning sunrise at Dayara Bugyal and having a hearty meal, you trek 8 km downhill to reach Pichkiya, perched at a height of 7,873 feet. A 6 to 7-hour trek of easy ascents and descents through beautiful meadows, forests and rivulets brings you to the campsite of Pichkiya where you camp overnight.
Day 6: Trek from Pichkiya to Barsu and Drive from Barsu to Dehradun
Distance- 4.5 km trek/ 186 km drive
Time taken- 3 hours trek/ 6.5 hours drive
Descend to Barsu through a well-laid trail enclosed by thickets of trees, explore the mountain village
Revel in the memories of Day 1 as you drive back from Barsu to Dehradun
Gorge on a heavy breakfast. On the last day of trekking, you undertake a descending trek of 4.5 kilometres through a well-defined trail running through a thicket of trees. In about 3 hours, you reach the splendid mountain village of Barsu.
Explore this high mountain village and learn about the local culture. The locals are involved in farming and raising cattle. The beautiful terrace fields are the highlight of this village.
Stay overnight in the village or drive back to Dehradun the same day.