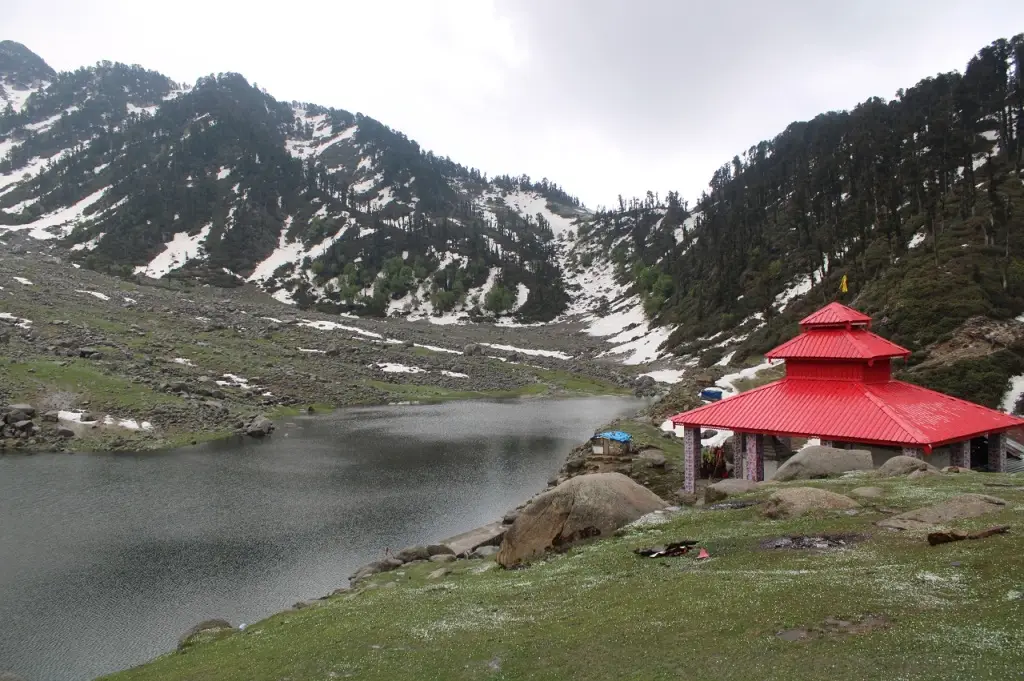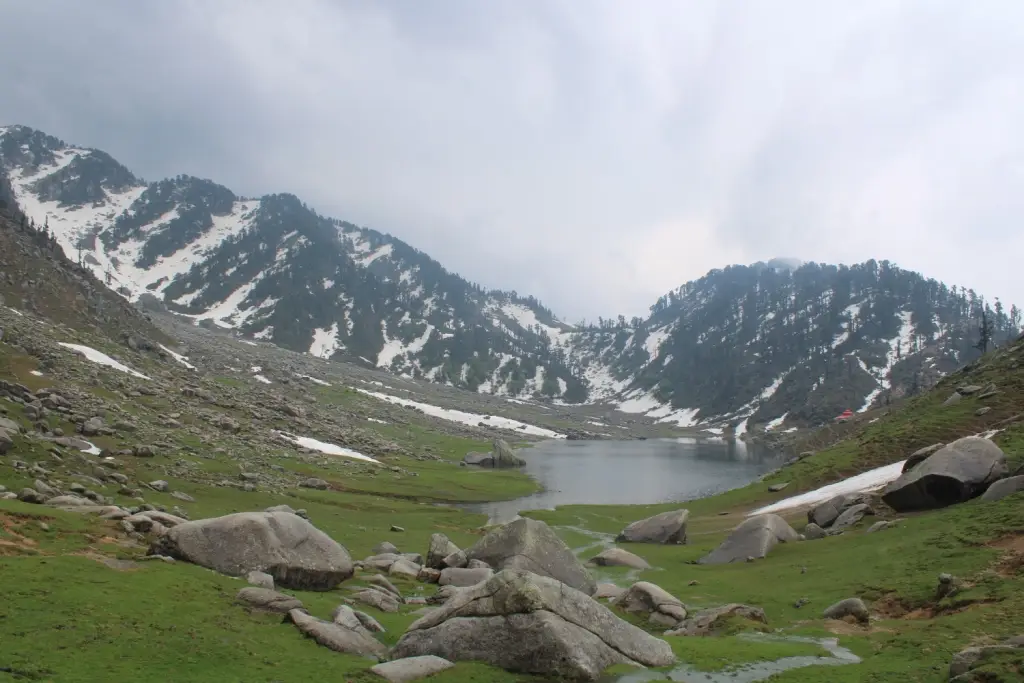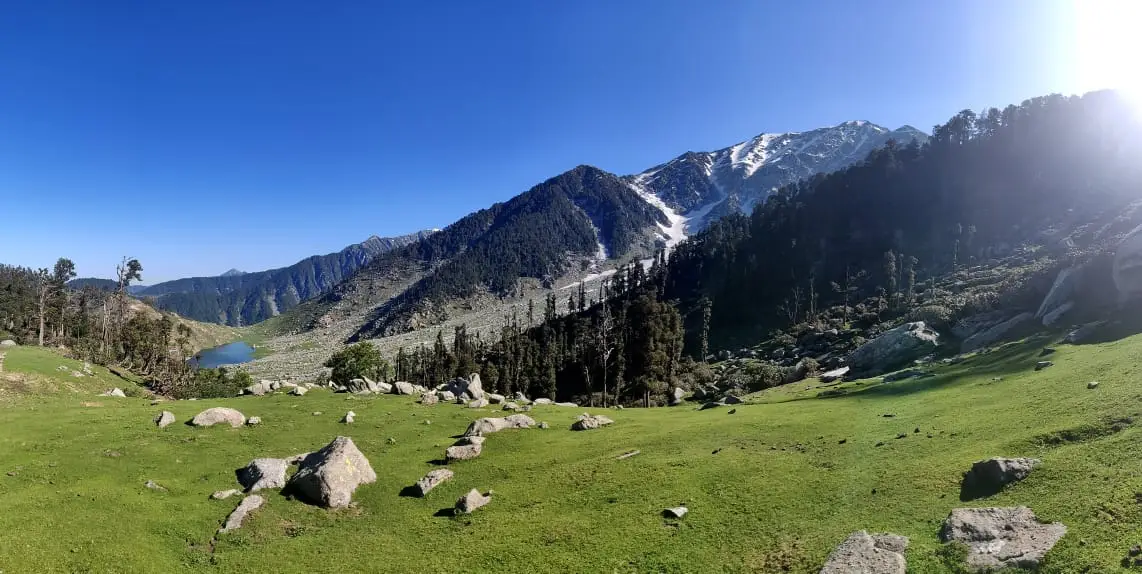 About Kareri Lake Trek
The mighty Himalayas are concealed with some of the most amazing high altitude lakes around the world. Crystal clear water flowing down the valley formed by melting of the glaciers surrounded by luxuriantly growing grass fields, small villages, dense forests playing their songs adds charm to these beautiful hidden gems of Himalayas whose captivating beauty can only be experienced by their own, no words or picture describe it. The trek to Kareri Lake is one such experience, heavenly walk through scenic pathways with tranquilizing weather which can sometime change its mood suddenly takes to a different space and time.
Kareri Lake Trek
Kareri Lake is an high altitude fresh water lake, it is a shallow lake located south of Dhauladhar mountain range in Kangra district of Himanchal Pradesh. It is situated at an altitude of 2900 mtrs above sea level and the lake is mostly frozen during winters. The lake is fed by the melting of ice from surrounding Dhauladhar range due to which its water is crystal clear with very high visibility; one can see lake bed very easily most of the time. The trek to Kareri Lake passes through beautiful valley; lush green meadows with babbling stream water make it one of the best trek alpine style trek in Himanchal Pradesh and a perfect weekend getaway. Elegant shepard villages en route have its own way of defining life. Due to surrounding forest with lake in its centre makes it perfect place for migration of several rare species birds every year. Abundance of flora and fauna together at Kareri Lake creates a mesmerizing scenic background view for a picture which is worth capturing for lifetime with beautiful smile on face. Shiva temple looking over the lake located on top of the peak adjacent to lake is a place to visit before spending night looking over the beautiful night sky with billions of stars and a lonely moon.
Kareri Lake Trek will take you through the most breathtaking views and scenery which you will cherish throughout your lifetime. If you are planning to explore the Himalayan Trekking world then Kareri Lake Trek is a great option. The lake is significantly shallow and due to the fresh melting snow the water visibility is crystal clear, the lake bed can also be spotted frequently. You can also witness the lake to be completely frozen if you choose to trek in the winter season. Nevertheless, it's not everyone's cup of tea to hike on a thick snow bed.
The Lake itself is peppered by stones, which could be used to navigate upon it. The mighty mountains look down upon you in their eternal majesty as you embalm your footsteps amidst the serenity of the lake. In the distance, one can chance upon a Shiv Temple, and we can't say we are surprised. The enmeshed beauty and calmness of the lake is simply augmented by the peace that is enshrined in the temple. The gleaming pool of otherworldly beauty is held in high esteem throughout the local land, while the Minkiani pass looms large like a specter of untold mysteries. This hallowed land can be reached by traversing upon a serpentine road that takes you through the clouds, while the view below would shame even the greatest of artists. The pool in itself is transparent, making it viable for us to see life underneath the orb of serenity. There are few places as beautiful, and exquisite as the Kareri lake, and we can't stress enough that one ought to give it a visit.
Kareri Lake History :
Talking about the formation of Kareri Lake, melted snow water from Minkiani Peak serves as the primary source of the lake. The lake is named after the Kareri village, through which it flows. But what is most astonishing about this lake is the exquisite calmness that stills the land. For miles on end, one would hardly see any living creature twittering happily amidst nature. This lake is quite the secluded one, which means you can expect a lesser crowd.
Kareri Lake Weather :
Interestingly, the temperature all throughout the year stays chilly. Freezing rather. It is definitely quite an experience of a lifetime to camp under open skies in 0 degrees, isn't it?
Mostly from December to March, the temperature remains between zero degrees to -10. From April to the rest of the year, the temperature fluctuates between 1 degree to 15 degrees maximum.
It is an extraordinary relief to escape to such a location in the inexorable summer heat.
About Kareri Lake Trek :
The trek to Kareri Lake is an easy level trek which involves no mountaineering skills except walking with ease and can be done easily by a healthy person of any age group. The trek is accompanied by lake fed Nuyund nallah covering a total distance of 15-17 km on one side with . This trek to Kareri Lake starts from Kareri Village which is 2 hrs by road from Dharamshala from Kareri Village next stop is Liyoti which is a 6 km uphill climb passing through forest and grasslands filled with wide variety of vegetation and flowers capturing imagination and vitalizing up for trek ahead. Next day is from Liyoti to Kareri Lake which is a 4-5 hours trek with stretch of steep climbs passing through dense forests and spending night at Lake side camps. During April to May snow is present from Liyoti To Kareri Lake. Last day is back from Kareri Lake to Kareri Village.
Your treks duration is of 3 days. The distance covered on foot will be approximately 26 km. The journey to this beautiful abode starts from Kareri Village which is located at a distance of around 26.3 km from Dharamshala. It takes around 1 hour 10 minutes by road.
Speaking of which, as we are meeting in Dharamshala we can also say that from Dharamshala, Kareri Lake is 44.7 km far.
Usually, you will see the Kareri Village or the Ghera Village as the base camp for many backpackers. Fuel up for your journey ahead and purchase all the necessary items, as your trek begins from here. You must also ensure that you make all your calls beforehand and let your friends and family know about your whereabouts as mobile networks may not be available.
From Kareri Village our first stop is Liyoti, it will be a 6 km uphill climb passing through forests and grasslands filled with a wide variety of vegetation and flowers. You will spend the night camping in Liyoti.
Vitalizing up for trek ahead, the next morning after breakfast you will proceed from Liyoti towards Kareri Lake. It will be a 4-5 hours trek of 7 km with a stretch of steep climbs. You will finally witness the ever so stunning Kareri Lake in its unrealistic avatar. You will camp the night by the riverside accompanied by lots of delish food.
The last leg of the trek will be completed the next morning. After freshening up, we will head back to Kareri Village from Kareri Lake. The trekking distance will be 13 km which should be covered by 6 hours. Next, we will drive back to Dharamshala and that marks the end of the trek.
Throughout the route, you are treated to the magnificent views of Dhauladhar ranges, awe-inspiring views of high altitude mountains and rivers that will cleanse your mind of all negativity.
Difficulty Level of Kareri Lake Trek :
The trek is fairly easy to moderate and can be done by almost anyone who fulfills the basic fitness criteria. The difficulty ranges from easy in spring, summer, and fall season to tough in the winters. Kareri Lake Trek gives you a chance to acclimatize well to the changing altitudes as you gain elevation slowly. Therefore, it is beginner-friendly.
Is the trek Safe?
Yes, it is absolutely safe. Whether you are a beginner or a professional mountaineer, this trek is a splendid option. Nonetheless, it is always advisable to be extremely careful and vigilant at all times as accidents are unpredictable.
Best time to visit Kareri Lake :
Every trek beholds a pleasant time and a challenging time. The most common question in the minds of the hikers would certainly be 'when is the perfect time to go to this place?' While, some people would like to attempt treks in a hassle-free weather condition some people,( the more adventurous ones of course) would like to do the contrary. Well, kudos to both. But we shall tell you when is the perfect time -
Indian summers would be the best time to visit Kareri Lake. There are fewer chances of running out of breath while making steep climbs. The summers, on the other hand, will give you plenty of opportunities to indulge in outdoor activities You must also strictly avoid monsoon season at all costs as hilly regions experience frequent landslides and devastating rains. What fun is it risking your life!
May - June is an ideal time to visit as the daytime is clear and bright. The night skies are too charming indeed with the stars twinkling above you.
September - October is another time when you can plan your trip. Usually, monsoons end by the first week of September and it's the beginning of autumn. The vibe is different, the aura is mysterious and there are places waiting to be explored.
How to reach Kareri Lake?
Nobody likes their trip to be troublesome; let us look at the best ways to reach Kareri lake :
By Air:

Gaggal Airport also known as Kangra Airport is the nearest to Dharamshala. You can also break your journey by taking a direct flight to Delhi (international airport) from any part of the city or world and thereafter taking a direct flight to Gaggal Airport (less than 2 hours) which in fact is much cheaper. You could also take a direct flight from Chandigarh. (1 hour)

By Railway:

Pathankot is the nearest railway station to Dharamshala. You can thereafter take a cab to reach Dharamshala. You could also take a direct overnight train to Pathankot from Delhi (approx 10 hours)

By Road:

Dharamshala is well connected with all the major cities in North-India which includes Chandigarh, Delhi,(approximately 10 hours) Manali, Srinagar, and Dehradun.

You can easily find comfortable overnight Volvo buses from Delhi to Dharamshala. (Approx 12 hours)
Kareri Trek Highlights :
Get a chance to inspect the variety of tiny hamlets and river streams throughout the trek.
Treat your eyes as you witness the charm of the whole region from the very top.
Explore the art of camping outdoors in the lap of high summits and the clear starry night.
Take delight in bonfires with your friends and family.
Trek through the glorious alpine trees and forests of Spruce-Fir, Rhododendron, and Oak.
Get a chance to observe the intermittent flora and fauna of this region from your trekking trails.
The majestic view of the Dhauladhar ranges surrounding you, are sure to leave you awe-struck.
Engage with the local people and listen to their tales while sharing a cup of steaming hot tea.
Ditch hotels and indulge in the traditional way of living outdoors in tents.
Taste the authentic and flavorful, simple yet delicious, local cuisines of this region.
Day 1: Dharamshala to Liyoti via Kareri Village
1450m/4750ft Dharamshala to 2450m/8000ft Liyoti via 1800m/ 5900ft Kareri Village.
Pickup at Dharamshala bus stand by our Vehicle at 10 a.m.
Travel from Dharamshala to Kareri Village.
1-2 hours travel time from Dharamshala to Kareri Village, 25km.
Trek from Kareri Village to Liyoti,4-5 hrs trek, 6 km.
Some stretch of steep climbs.
Staying at Tents at Liyoti.
Our vehicle will pick you up at Dharamshala in the morning. From there we will proceed towards Kareri village which is 25 km from Dharamshala and a 1hr 10 min drive. The trek leaders will hold a short session upon your arrival at Kareri Village, where they will share information regarding your journey. You should also carry enough freshwater as it is not advised to drink water from streams. From here it is a 6 km trek with some stretch of steep uphill ascents passing through meadows and forests. Throughout the 4-5 hour journey, trekkers are going to experience the best time of their lives, they'll stroll along the riverside, cross bridges and walk on boulders. Lioti, which is going to be the camping area for the day, is a stunning alpine grassland situated at an associate elevation of 8038 feet above sea level. Dinner and overnight stay will be in Lioti base camp. Packed lunch will be served along the way followed by evening snacks and dinner.
Day 2: Liyoti to Kareri Lake
2450m/8000ft Liyoti to 2950m/9650ft Kareri Lake.
4-5 hours of trek, 7km.
Staying in Kareri Lake side camp in tents.
Walking on boulders and meadows.
On the next day, we will be reaching Kareri Lake which is at an altitude of 10,800 ft. Morning breakfast will be served with tea before starting the trek in the morning. This is the day that finally all your patience will pay off. We will make our way to Minkiani Pass, the place where the lake awaits. For initial kilometers, trekkers will walk on a tapered, bumpy and grubby path, aligned with dense and thick wooded mountains on one aspect, and a river clough on the opposite. Since it is a high altitude trek, here you can see the assorted evergreen and deciduous forests clung to the mountains while clouds encompassing the height. With every step, attitudes and the level of difficulty keeps increasing. We shall reach the campsite within 5 hours. The trails can get quite rough; trekkers will have to cross these paths. You can also take a dip in the lake if you're brave enough. The camping site at night will be another pleasant meadow, from here you will be able to see Minkiani Pass, Baleni Pass and a valley below.
Day 3: Kareri Lake to Kareri Village and Back to Dharamshala
5-6 hrs trek, 13km.
25km drive from Kareri Village to Dharamshala in company vehicle, 1-2 hrs.
Reach Dharamshala by evening.
After morning breakfast and spending some time exploring places near the lake we will move back to Kareri Village. As you will descend from above, they will see a drastic change in topography, forest and vegetation will begin to urge dense with every step. Lunch will be served in Kareri Village. From Kareri Village we will drive back to Dharamshala. This commences the end of the trek.