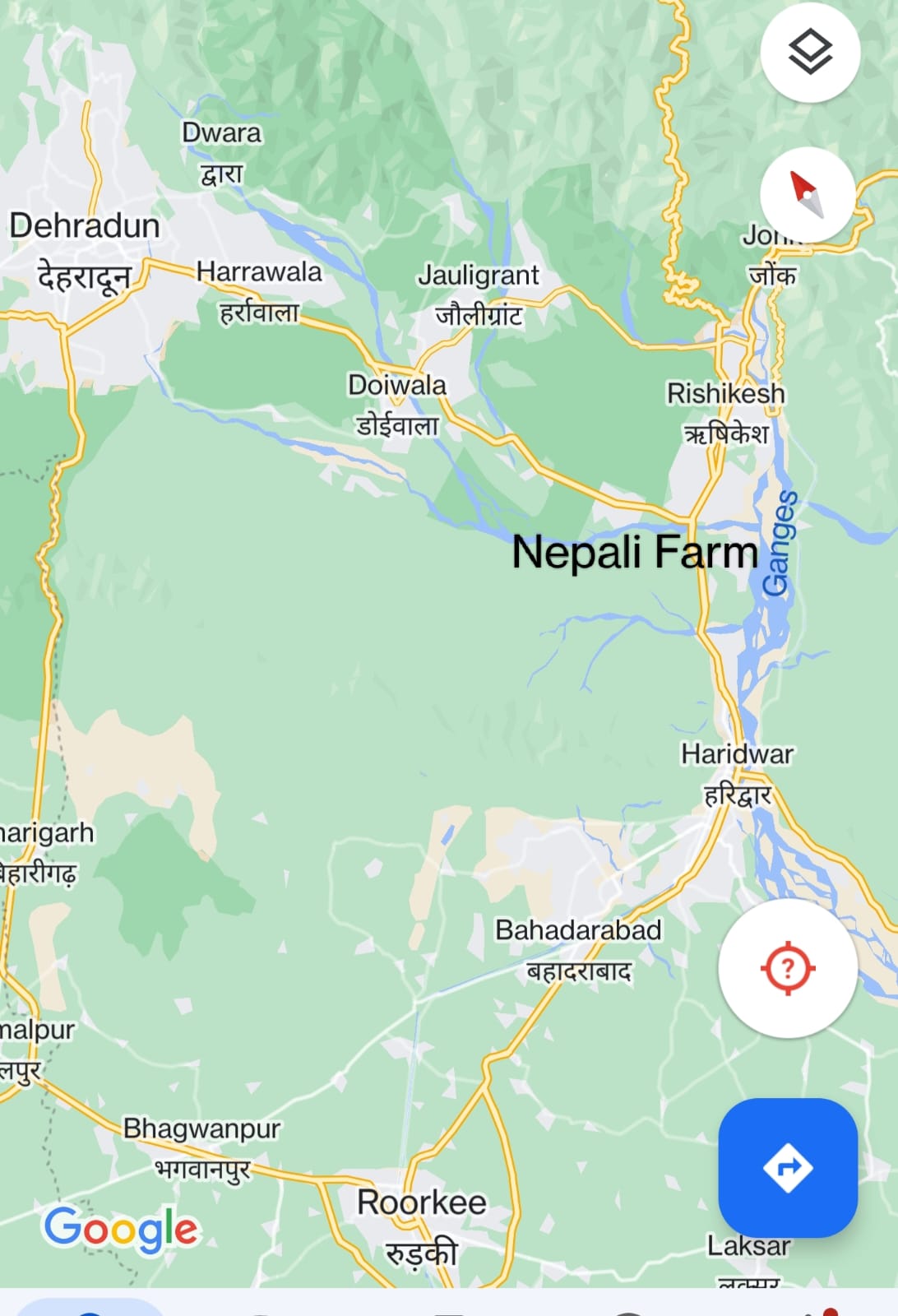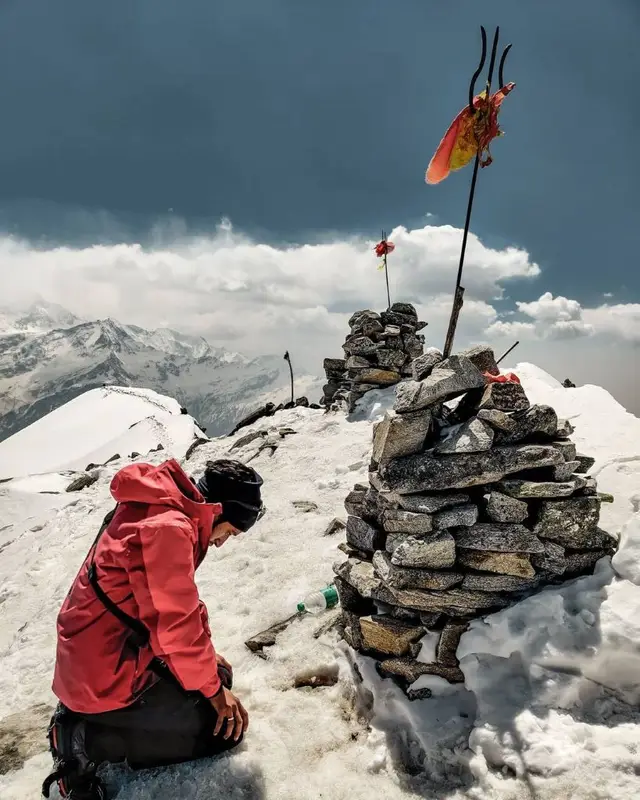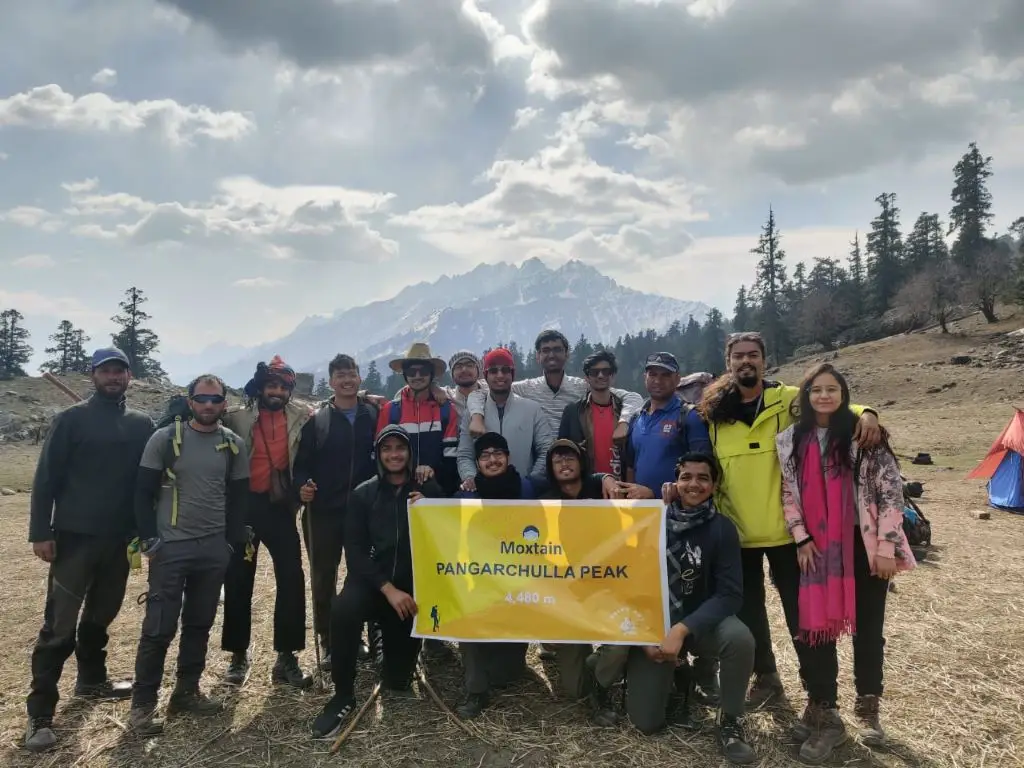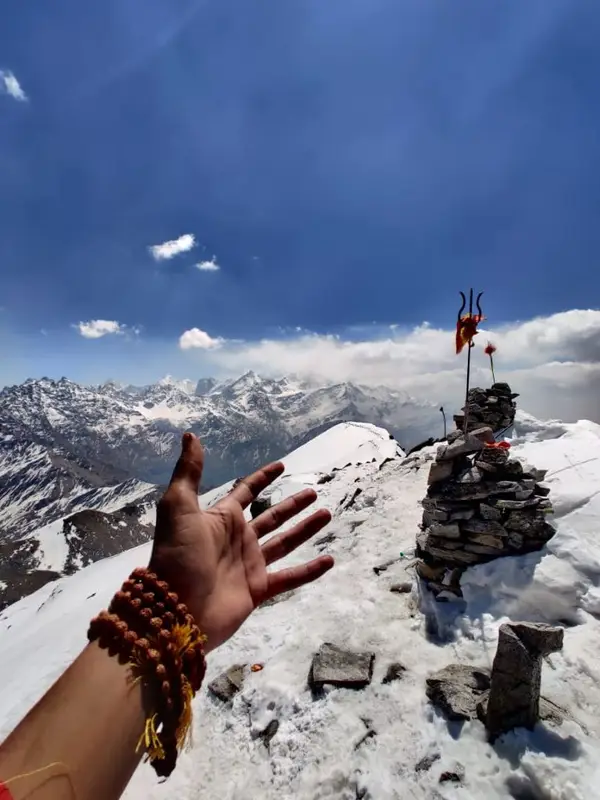 About Pangarchulla Peak Trek
Even the thought of trekking in the Himalayas is sure to send excitement down your veins! The resplendent beauty of the woods, exotic species of birds, animals, plants, and flowers, snow-capped mountains, and the authentic cultural cuisines and dishes, what else does anyone need? If you want a taste of heaven, you must trek in the Himalayas at least once in your life.
About Pangarchulla
Uttarakhand offers a variety of trekking options to choose from but today, we will discuss one such location which is not only packed with adventure but also offers breathtaking views of the Himalayan summits. In the Garhwal region, it is believed that Pangarchulla Trek is the most exhilarating among other popular treks like Dayara Bugyal, Pindari Glacier, Nag Tibba, Kedarkantha, Kuari Pass or Har Ki Dun. Its fame lies in the splendid views which are a part of the Nanda Devi Sanctuary.
The Pangarchulla Peak trek leads you from the lush green meadows better known as the Bugyals through dense forest cover and stunning snow-covered peaks. If you are looking for a short exciting vacation then Pangarchulla will definitely not let you down.
Places like these are too precious, they are to be left untouched and unexploited by mankind. The fresh air of nature will dissolve all your dilemmas away. Pangarchulla will definitely fulfill all your trekking dreams if you are an adventure enthusiast. Climbing is the closest thing you can come to flying. This is a sport which is absolutely worth the time and money. India is certainly glorified by the resplendent mountain trails which metamorphose into sheer beauty in the colder months, coursing through snow-covered lanes and frozen trees and streams. During these months you can absolutely forget your trips abroad and hop on the car to explore the incredible India.
About Pangarchulla Peak Trek
Pangarchulla Trek Height
Pangarchulla may also be commonly known as the 'chimney peak' of India. It stands tall at the high altitude of 15,069 ft (4575m) above sea level. You could catch a glimpse of the neighbouring peaks like Mount Dronagiri ( 7066 m ), Nanda Devi ( India's second-highest peak - 7816 m ), Hathi-Ghori Parbat ( 6,727 m and 6,708 m respectively ), Chaukhamba ( 7138 m ), Neelkanth ( 6,597 ), you also get a sight of Kamet, Mana, Mandir, Barmatia, Lampak I and II.
Also, you get to see the aura of Mt. Trishul (7,120 m) and Nandaghunti (6,309 m). Imagine being surrounded by all this heavenly sights. The journey to this beautiful abode begins from the holy place of Haridwar and goes all the way to Joshimath, Dhak, Gullingtop, Khullara and finally the Pangarchulla Peak. These are all our checkpoints.
Pangarchulla Trek Difficulty
It must be mentioned that if you are a beginner and are new to the trekking world, you shouldn't take the risk of attempting this trek. This particular trek requires more endurance and physical and mental strength. It is usually classified as a moderate to difficult trek considering the different terrains you have got to grips with.
The path is rocky and steep, often covered with thick snow and accompanied by rain even, depending on the weather conditions. Fitness must be a top priority and a stout heart is a prerequisite. Few other winter treks in India might be accessible for a shorter period but it would not be wise to consider them as easy in those extreme climatic conditions.
The technical difficulty of this trek and the gradients make it a perfect training ground for novices. If you have attempted a few treks before, this shouldn't be much of an inconvenience. You will begin at an altitude of 7000 ft approx and trek until you reach the highest point i.e 14,700 ft.
Pangarchulla Trek Distance
The Pangarchulla trekking distance can be between 30 to 35 km. Put on your snow boots, fuzzy jackets, gloves, hats, and scarves, and get ready to take a long romantic walk to the mountains and embrace the winter wonderland. If you are lucky, you might get to spot the footprints of either the Himalayan Bear or Leopard.
Quick facts about the amazing Pangarchulla Trek
Region - Chamoli, Uttarakhand.
Base Camp - Joshimath/Loer Auli
Duration - 7 days
Minimum and Maximum temperature - Day (14°C to 18°C) Night (-2°C to -5°C)
Altitude - 15,069ft (4575 m)
Distance - 40 kms
Difficulty - Moderate to Difficult
Starting point - Haridwar/Rishikesh
Ending Point - Haridwar/Rishikesh
Last ATM point - Joshimath/Auli



Trek Details
Pickup Point on Day 1- Natraj Chowk or Tapovan, Rishikesh
Departure time on Day 1- 6am
Drop Point on Day 7- Natraj Chowk or Tapovan, Rishikesh
Arrival time on Day 7- 6pm
Base Camp- Joshimath/Lower Auli
Distance from Rishikesh to Basecamp, Joshimath- 260 km
Cloak room: There is no separate cloak room available. You can handover your luggage to our team and collect while returning. We will be keeping it safely at Joshimath/Lower Auli in the same Homestay.
The shared vehicle will be Tata Sumo, Bolero, or similar and may be shared with a few other local passengers. The cab will be arranged from Rishikesh to Joshimath/Lower Auli and back.
We charge Rs.1200/- per person each side per person.
The cab is a 7-seater.
The whole cab costs 7500/- from Rishikesh.
Trekkers may choose to travel by bus or local cab to reach Joshimath.
The forest permits for international clients will be as actual and is to be paid by the trekker at the basecamp only.
In the spring and summer, the temperature ranges from 6 degrees to 15 degrees during the day and 2 degrees to 9 degrees during the night.
In the winters, the temperature could be anywhere between 0 degrees to -2 degrees during the daytime and -4 to -6 degrees in the night respectively.
How to Reach Rishikesh from Haridwar via Nepali Farm -
If a trekker is coming from Roorkee or Haridwar via a bus or local transport and wants to reach Rishikesh then sometimes you might have to change the vehicle at Nepali farm which is a T-point or T-junction. From here you get local buses or local transport to reach Dehradun and Rishikesh. From the Nepali farm, Rishikesh is approximately 7-10 km away. If you wish to go to Dehradun then take the left turn from the T point while coming from Hardiwar and reach Dehradun via Doiwala.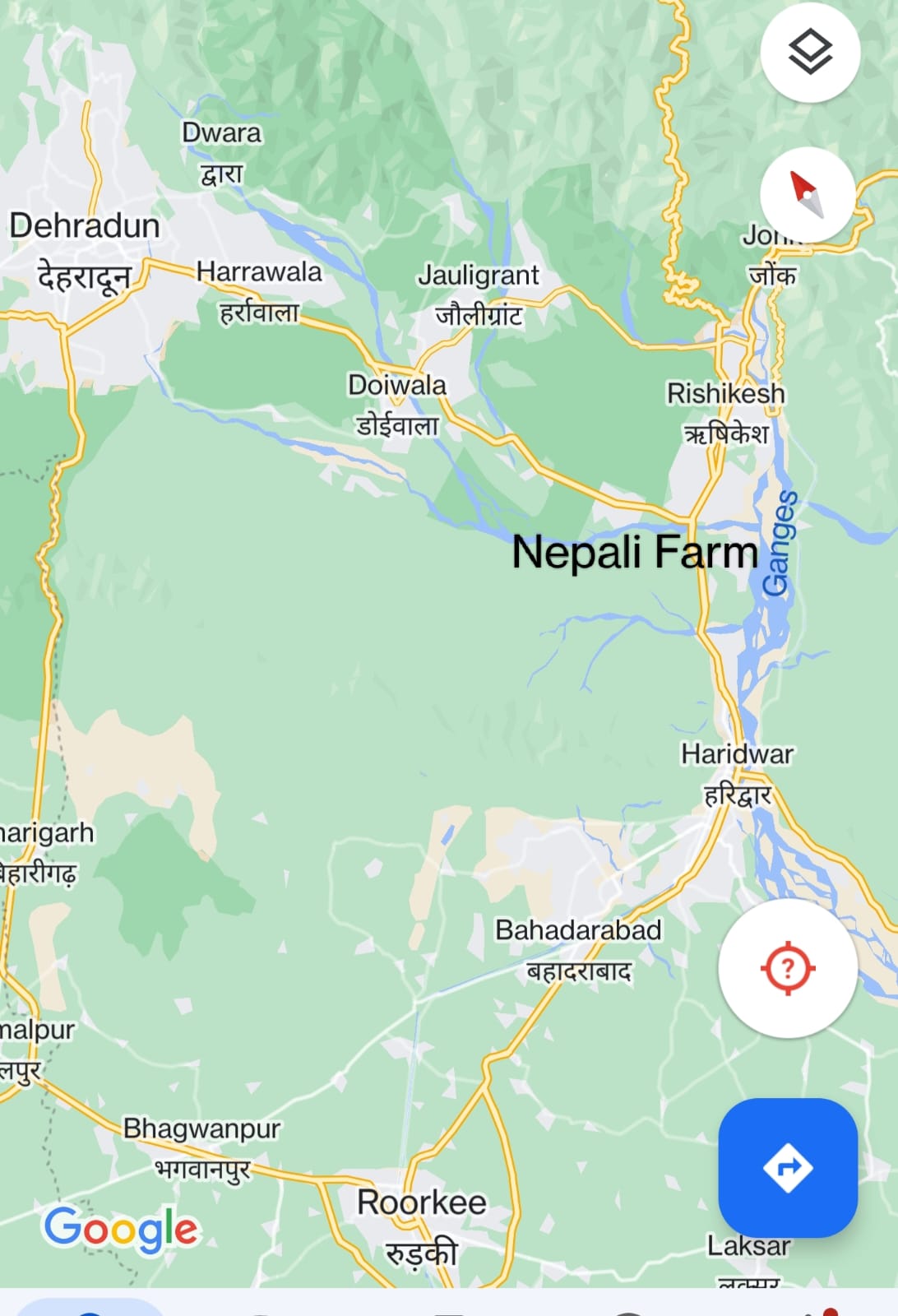 Best time to visit Pangarchulla.
Is there a perfect time to do a particular trek? You ask. Well. You need not spoil your precious time thinking about it, for we are always there to help you make the perfect choice in matters of trek-timing.
To begin with, it is always winter in Pangarchulla all through the year. If you live in the extremely hot and humid part of the country, this trek will turn out to be a cool balm for your mind and soul.
Pangarchulla Trek In April
This trek is accessible for a very limited amount of time. April and May are considered to be the most ideal time. Without snow, the trek is not very interesting; snow eases the rough paths and provides a smooth surface to hike on. April and May are the time when winter retreats and therefore it will not freeze you to death. The weather remains pleasant during the daytime. During this period, you will also get to experience crystal clear lively views of the peaks and landscapes, not to forget the beautiful starlit sky.
Pangarchulla Trek In December
As December progresses, the snowfall becomes more abundant, and the encrusted snow will make navigation difficult. Further to that, the Pangarchulla peak summit is positioned at 4,550 m/14,925 ft., which is quite a high altitude. In the winter, expect knee-deep snow towards the summit. This part will undoubtedly be gruelling.
Pangarchulla Trek In October
If you are daring enough, you could try the trek in October, after the monsoons have retreated. But there may not be much snow. It is better to think twice before taking up this trek during this time
How to reach Pangarchulla?
As mentioned earlier, we will leave from Haridwar, so it's important to gather at Haridwar. The journey can also commence from Rishikesh. Haridwar being the most popular religious place in India is easily accessible from all parts of the country. Let's see how you can get there :
By Air -

The city of Haridwar does not have its own airport. The nearest domestic airport is Jolly Grant Airport, in Dehradun, which is only 35 km from Haridwar. The nearest international airport is Indira Gandhi International Airport, in Delhi.

By Rail -

The Haridwar Railway Station has direct connectivity with all the major cities of India such as Delhi, Mumbai, Kolkata, Chennai, Hyderabad, Ahmedabad, Jaipur, Indore. However, it lacks a direct link with the minor cities in India.

By Bus -

Haridwar is well-connected through many Highways. National Highway 58, passes through Haridwar and connects it to Delhi, Muzaffarnagar, Roorkee, Ghaziabad, Meerut, and Badrinath. National Highway 74 originates from Haridwar connects it to Kashipur, Pilibhit, Kichha, Nagina, and Bareilly. Various public and private buses ply through these routes. You can choose AC, non-AC, deluxe, ordinary, semi-deluxe and there are some other options.

By Road -

The national highway no 45 connects Haridwar to the state as well as other cities. The national highway 58 passes through Haridwar and connects with Ghaziabad, Meerut, Roorkee, Muzaffarnagar, Badrinath. National highway 74 originates from Haridwar and connects with Kashipur, Kiccha, Nagina, Pillbhit, and Bareilly.

Is Pangarchulla Trek safe?

The Pangarchulla Peak Trek's difficulty stems primarily from its terrains and routes. Until Khullara campsite, the trek follows the Kuari Pass route, which is relatively safe. The protruding stretch from Tali to Gorson Bugyal is considered as one of the more difficult sections. This trek's summit climb is extremely difficult and this makes the journey thrilling. The victory of your strenuous summit climb will be determined by your ability to handle these tricky sections with physical and metal prowess, and how well you put to use the advice and equipment offered by Moxtain.

Weather And Temperature on Pangarchulla Trek

During April, the weather on the Pangarchulla Peak Trek is comparable to that on most of the Uttarakhand treks. In the spring season, the Pangarchulla Peak Trek is characterised by sunny days and somewhat chilly evenings. Temperatures will be around 15 °C during the day. Temperatures will dip to -5 °C after sundown. However, as you trek higher, the wind tends to become very chilly and therefore the temperature gets colder on the summit day. As a result, extra outfit planning for the summit ascent is strongly advised.
Pangarchulla Peak Trek

 9900
Day 1: Rishikesh to Joshimath/Lower Auli
An early start from Rishikesh at 6:30 am.
251 km of drive to Joshimath.
Altitude 6150 feet.
10 hrs of travelling.
Expected arrival time at 5 pm.
Accommodation and dinner at the Guest House.
A pickup will be arranged at Rishikesh early morning at 6:30 am, from where we will begin our drive towards Joshimath. Joshimath is 251 km from Rishikesh. It is located at a height of 6150 feet (1875 m) It will take approximately 10h+ with halts for meals. Breakfast and lunch may be taken from roadside inns and will be exclusive of the trek charges. The journey will take you through Devprayag, Srinagar, Rudraprayag, and Karnaprayag. The slopes of the mountains along the fierce river look uniquely picturesque with the confluence of Devprayag. The roads are beautiful and serene. There won't be a moment when you'll get bored of looking outside. After arriving, around 5 pm at Joshimath, you will be accommodated in a Guest House, this will be your stay for the night. You must make sure to call all your friends and relatives as mobile networks won't be available from the next day. You can enjoy the evening relaxing inside the blankets and gossiping, along with a warm cup of tea. Dinner will be served by us. Pack all the necessary equipment for the trek the next day. A briefing session will also be conducted by the trek leader.
Day 2: Joshimath/Lower Auli to Dhak to Gulling top
Start at 9 am.
12 km drive to Dhak Village.
Altitude 9600 feet.
Trek towards Gulling top for 6 km, approx 4 hours.
Expected time of arrival at 1 pm.
Camp at Gulling top.
In the morning after breakfast, we will begin with a drive towards a very small village called Dhak. This is the last road ahead. It will take us 30 minutes to cover 12kms to reach Dhak. From Dhak, we will begin the first phase of our trek. We will trek for 6 km until we reach Gulling Top which is at an altitude of 9600 feet. Enlighten your senses in the lush greenery of the farms. Be sure to hydrate all the way for a good climbing experience. You will find water points at the villages where you can fill up bottles. You will come across Tugasi village which is authentic in the Garhwali culture with beautiful wooden houses. You will also see farmers and shepherds engaged in their daily chores. The trail can be described as a mix between steep and gradual ascent, through these lovely villages. Traces of civilization will fade and the real thrill of the journey will start to accumulate as you begin getting closer and closer towards your destination. You can spot the stunning peaks of Dronagiri, Hathi Parvat, and Gauri Parvati. We will make our way towards the hamlet of Gulling. We will camp at Gulling top. You can enjoy hot lunch and dinner at the campsite. Observe the entire scenery light up during golden hour, giving the mountains a youthful glow.
Day 3: Gulling top to Camp 1/Khulara
Start at 8 am, after breakfast.
Begin trekking towards Khullara campsite.
Altitude 11,800 feet.
4 km to be covered in 5 hours.
Expected arrival time at 1 pm.
Lunch and dinner inside the camp.
In the morning at 8 am, after a hearty breakfast we will start trekking towards our next campsite Khullara. Prepare yourself for a moderate rough hike. It will take roughly 5 hours to cover 4 km of the trek. There will be numerous water points available. Watch out for mud. Khulara is situated at an opening of a clearing amidst rhododendron forests, silver birch green pines, oaks and walnut trees. Since the path will take you through dense forests there won't be any mountains in sight. Look out for the varieties in bird-species in the woodland. You can also find chestnut, maple and deodar trees. Khullara Top is a gorgeous campsite surrounded by the mountains of Dronagiri, Changabang, Kamet, Kedarnath Peak, Kedar Dome, Chaukhambha, Balakun, Neel Kantha, Mukut Parvat, Abhi Gamin, Mana I, Ghori Parvat, Hathi Parvat, Kalanka, Nanda Devi, Nanda Ghunt. Set up the camps and indulge in delicious lunch and dinner with a view you'll remember for a thousand lifetimes. Next day's journey is long and will require a lot of energy.
Day 4: Camp 1/Khulara to Kuari Pass and back to Camp 1/Khullara
Start at 8 am, after breakfast.
Begin trekking from Khullara campsite.
There is an initial altitude gain uphill from 11,800 ft to 12,750 ft (3,900 m)
Time taken for the trek is approx 9-10 hours
Total distance covered is 14 km
Expected arrival time at 1 pm.
Lunch and dinner inside the camp.
In the morning at 8 am, after a hearty breakfast we will start trekking towards Kuari Pass. Prepare yourself for a moderate rough hike. There will be no water points available. This day is an acclimatization day with acclimatization walk to Kuari Pass.
The trail further from Khullara is a steep ascend. 1-1.5 hour of climbing takes to you to the ridge which is a part of Lord Curzon's trail. This point offers you a 360-degree view of the Himalaya. From here, you can see Chaukhamba, Neelkanth, Dronagiri, Nilgiri, and Hathi Ghoda peaks on one side and Trishul and parts of Nanda Devi right ahead of you.
Day 5: Camp 1 /Khulara to Pangarchulla Peak and back
Start at 8 am, after breakfast.
Begin trekking towards Pangarchulla.
Altitude 14,700 feet.
14 km to be covered in 6-7 hours.
Expected arrival time at 1 pm.
Lunch and dinner inside the camp.
Brace yourselves, today's the day where all your hard work will come to fruition. We will start at the first light of the morning on fresh snow by 4 am. Prepare yourself for multiple steep and rigid climbs. It will be a very tiring and long day ahead. It is advised to fill your water bottles beforehand. You may be even required to cut snow as you progress, to make a path. You must be extra careful as your foot may dig deep into the snow making it rather. About 1 hour into the trek, you will see the scenery change from shadowy trees to large open meadows. The trails take you through beautiful dark forests which will captivate your mind and soul. Beautiful clear skies and miles and miles of empty land. The climb will take 6 hours more to reach Pangarchulla. Upon reaching, you will get a magnificent 360° view of the entire Garhwal mountain range. Standing at an astonishing altitude of 14,700 feet, Pangarchulla is enclosed by river gorges of Dhauli Ganga, Rishi Ganga, and Alaknanda. Kedarnath, Kharchakund, Chaukhamba, Parvati Parbat to the west, Nilkantha, Arwa tower, Avalanche Peak to the north. Saraswati, Kamet, Mana Mandir, Deoban, Rataban, Nilgiri, Ghori, Hati, Dunagiri can also be seen. Celebrate your victory, capture as much as you want, this is the moment of ecstasy. We will eat packed lunch, which is going to taste extra delicious after all that hard work. After a while, we will begin to descend back to our camp at Khulara, hiking for another 6 plus hours. Overnight stay at Khullara. This is also the last day we stay at a camp.
Day 6: Camp 1 /Khullara to Dhak to Joshimath/Lower Auli
Begin after breakfast at 8 am.
Altitude: 6,724
Trek back to Dhak Village.
Approximately 11 km trek, will be covered in 8 hours.
Lunch on the way.
Drive to Joshimath - 12kms.
Dinner and overnight stay at Guesthouse.
Now we will go all the way back to Joshimath. We will begin after breakfast at 8 am from our Khullara Camp. We will follow the same route via Gulling Top and descend back. It is relatively easier and quicker to plunge down from the hills. Take pleasure in seeing and feeling nature so close to you for one last time before you go back. Have your lunch on the way. Trek till Dhak village and drive back to the guest house. Dinner and overnight stay will be arranged there.
Day 7: Joshimath/Lower Auli to Rishikesh
Start at 7 am after breakfast.
10+ hours of travelling.
Distance : 251 km.
Halt for lunch at roadside inns.
Back to Rishikesh
Arrival at 5 pm
It is the last day of our journey, we will leave for Rishikesh at 6:30 am after breakfast. You will certainly get nostalgic about the trek just done, so indulge in all the happy memories throughout your ride back. Soak in all the views from your window-side and bid goodbye to the mountains. Lunch at roadside inns. We will reach around 5 pm and that will be the end of our services.