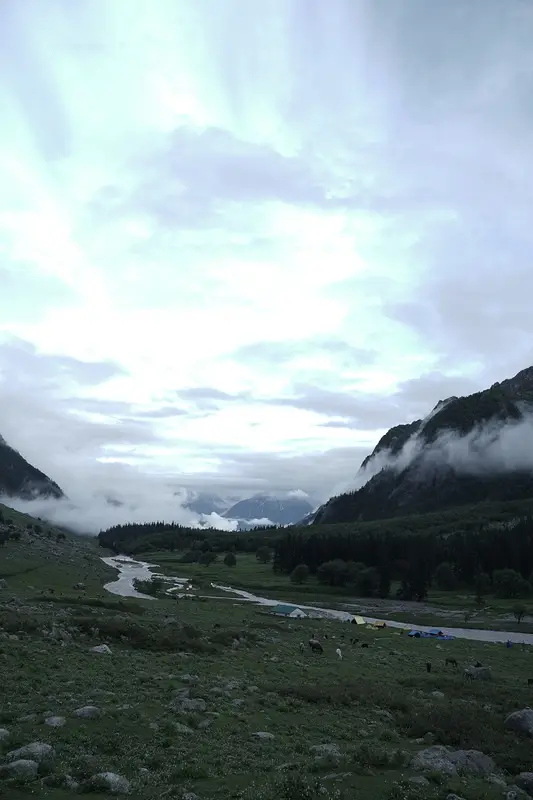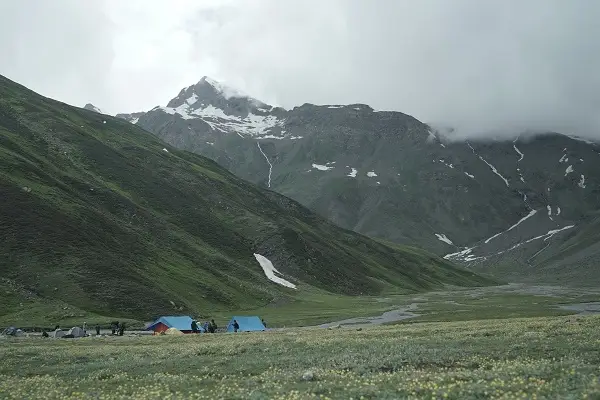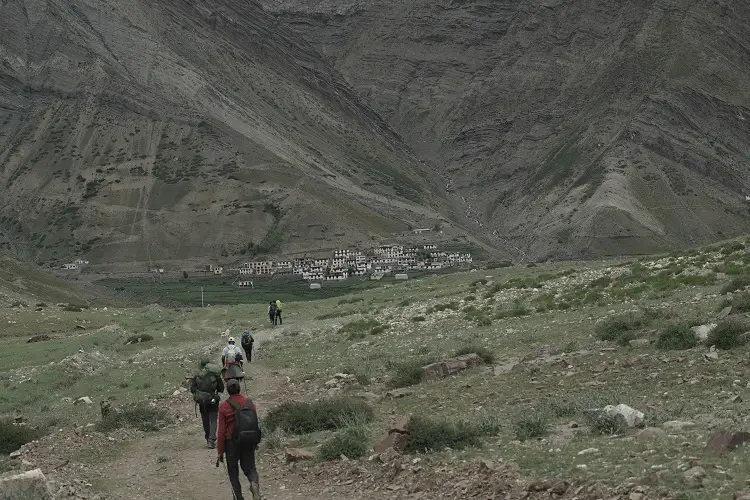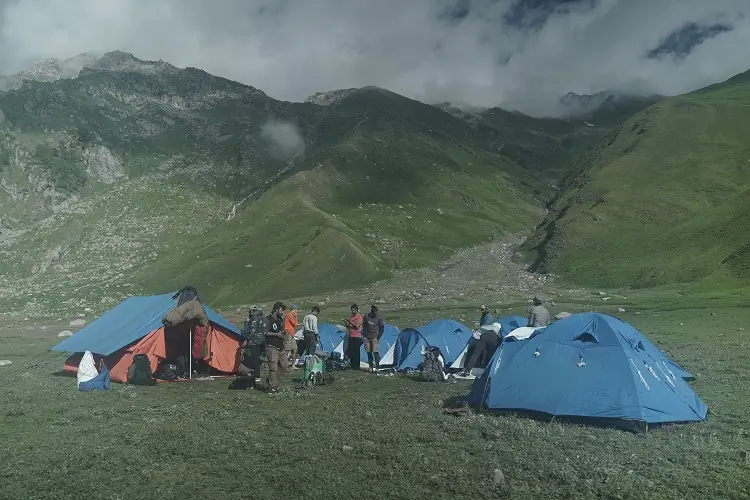 About Pin Bhaba Pass
Pin Bhaba Description
The Pin Bhaba Pass Trek connects the lush green, vibrant Bhaba Valley, Kinnaur, to the deserted, cold, and dry Pin Valley in Spiti. This trek includes passing through thick coniferous forests, crossing river bridges, trekking through glaciers, screes, moraines, and camping at beautiful campsites. The landscape constantly changes on this trek, but the only constant is the turquoise Bhaba River that gives us company throughout.
There is no denying that the Pin Bhaba Pass Trek is the most loved crossover trek in India. The trekking trail starts in a tiny hamlet Kafnu in Kinnaur and ends in a rustic village Mudh in Spiti Valley. It is a visual treat to experience the two extremes of nature coexisting and gives you a wonderful insight into the two distinct Himalayan cultures.
However, the most rewarding part of this trek is when we reach the Pin Bhaba Pass at 16,100 ft. and get a complete view of both these worlds. It is a blessing to be standing on snow and getting to appreciate the diverse beauty of nature- greenery on one side, browns on another.
If you have made up your mind to go on this trek, there are a few things that you need to consider. The Pin Bhaba Pass Trek is a high-altitude trek and will be difficult to cover. The other factors contributing to the difficulty level are passing through diverse landscapes, long distances, and facing rapid altitude changes. To combat these challenges, you need to work on your fitness. A prior experience in Himalayan trekking will also be beneficial.
Some Quick Facts About Pin Bhaba Pass trek
Duration: 7 days
Maximum Altitude: 16100 ft.
Trek Distance: 112 km.
Difficulty Level: Difficult
Best time to visit: June to September.
Base camp: Kafnu
Start point: Shimla
End point: Manali
Weather and Temperature:Summer: Day:13°C to 18°C, Night: 0°C to 7°C. Post monsoons: Day: 5°C to 12 °C, Night: 5 °C to -1 °C.
Mobile Connectivity: There is no mobile connectivity on the Pin Bhaba trek, except for in Kafnu and Kaza.
Last ATM: Old Shimla Bus Stand is the last place where you can take out cash.
How to reach:
By Air:
The nearest airport to Shimla is the Chandigarh (IXC) Airport. It is 59.3 km away and is the most convenient and time-saving way to reach Shimla. Many flights fly to and fro from all states to Chandigarh.
You can also take a flight to Dehradun Airport(140 km). If these two options turn out to be expensive, Delhi Airport, which is 283km away from Shimla, is also a good choice. It will take around 5 hours 30 minutes to reach Shimla.
Another lesser-known option is the Jubarhatti Airport which is only 23km from Shimla.
By Train:
The Chandigarh railway station lies at a distance of 8 km from the city center. It is connected to all the major cities by railway.
If you want to come from Delhi, you can avail Jan Shatabdi, Himalayan queen and Shatabdi. Trains that connect Chandigarh to other cities include Sadbhavna Express, Paschim Express, Kerala Sampark Kranti, Chennai Express etc.
By Road:
If you want to come from Chandigarh, you can take a bus from Sector 43. RSRTC runs the buses of this route daily. Ticket booking is easy and hassle-free, and it takes only 4 hours to reach Shimla. You can also take a bus from Delhi ISBT Kashmere Gate. It is advisable to book the tickets early as the journey lasts 10-11 hours. But if you want privacy and an added comfort, you can also take your private car or rent a cab.
Weather and Temperature
The summer temperature lies between 13°C to 18°C in the day and drops down 0°C to 7°C at night. Monsoons are windy and refreshing with temperate weather. Post monsoons, the temperature ranges from 5°C to 12 °C in the daytime and 5 °C to -1 °C at night. Winters are freezing, and one cannot trek during this time.
Best time to visit Pin Bhaba Pass Trek:
June to September is the ideal time to go on the Pin Bhaba Pass trek. It is one of the few Himalayan treks that are still accessible during monsoons and gives you a chance to experience monsoons like no other. The rich flora and fauna, lush greenery, and snow-capped summits make the region look similar to Switzerland.
Day 1: Drive from Shimla to Kafnu
The pick is at 6:30 in the morning from Shimla old bus station
Short briefing and instructions with document collection
The 200kms drive starts from Shimla, the duration is around 7-8 hours
Expected time of arrival at Kafnu is in the afternoon by 2-3pm
Breakfast and Lunch are excluded.
Dinner and stay is in the guest house
We will arrange a pick up from the old Shimla Bus stand early at around 6:30 am. Keep your documents in hand as we will collect them at this stage, and give a short briefing about the trek and instructions that you have to follow. The journey from Shimla to Kafnu takes around 7-8 hours, and we cover 200 km. En route, we cross Rampur, Narkanda, and the Hydel Project at Wangtoo. The beautiful Bhabha River, stunning valleys, and dense coniferous forests add to the beauty of the journey.
We reach Kafnu in the afternoon around 2-3 pm and stay the night at the guest house. Kafnu is a small hamlet in the Bhavna valley, Kinnaur, and the base camp of this trek.
Day 2: Trek from Kafnu to Mulling
After morning tea and breakfast short briefing by the trek leader.
11 km trek from Kafnu to Mulling
Time taken is 8-9 hours
Altitude gain from 7,900 ft to 10,700 ft.
Packed lunch is provided during the trek
Evening snacks, dinner and stay at Mulling campsite
We have early breakfast and then leave for the trek to Mulling. After we walk 200 m from the Kafnu village, we will spot India's first underground dam- the Bhaba Hydro Project. We continue to walk for about 2.65 km on a motorable road. It is a long and steady incline with patches of plain and gradual descent. The stunning Janglik range, thick coniferous forests, and the beautiful Bhabha river accompany us throughout this muddy terrain. But the crossing of multiple rivers with the help of unsupported wooden logs as bridges makes the experience even more thrilling. If you are scared of water, this may be a little intimidating.
We have our lunch and then continue to navigate our way through the forest until we reach a point of descent and arrive at a lush green meadow. The bright sun rays truly act as a reward of endless walking underneath closed canopies. Colorful tents and little streams of the Bhaba river distributed on the meadow welcome us as we move further towards Mulling.
Mulling, our first campsite, is rich in beauty. The horses, vibrant flowers, trees, and the mesmerizing view of the Bhaba river make this an ideal campsite. It also marks the end of the line of trees. You can explore this place on your own, but make sure you get enough rest. We stay the night here at the campsite of Mulling.
Day 3: Trek from Mulling to Kara
Today is the short and easy trek from Mulling to Kara
Altitude gain from 10,700 ft to 11,700 ft
6 km of trekking in 4-5 hours.
Hot Lunch will be available for the day at Campsite.
Evening snacks, dinner and camping at Kara Campsite.
The trek from Mulling to Kara is an easy short trek, and the distance is almost half of yesterday. The day's challenges include crossing a ghastly river with rapid icy cold water and taking a sharp hike of 300 m. The trail to Kara is clear, and we need to follow the river upstream.
After half an hour of walking, we hike up and arrive in the woods. We cross the forest and come to the other side of the mountain. From here, we navigate our path through boulders, most of which act as stairs and make the trekking experience less tiresome. We then continue to zigzag for the next couple of hours through the snow-clad mountains and take a gradual hike before we reach our campsite.
Scintillating peaks in the backdrop, shepherds grazing their cattle, a water stream, and a lake in close vicinity enhances the beauty of Kara. We camp and stay the night here.
Day 4: Trek from Kara to Pushtirang campsite
Early Morning tea and breakfast at Kara Campsite.
Altitude gain from 11,700 ft to 13,500 ft.
Moderate walk with stream crossing is the attraction of the day.
Total distance is 5 km of trekking in 3-4 hours.
Peaks visible are Hansbeshan Peak, Nimish Khango, Tari Khango and Pin Bhaba Pass
Lunch, evening snacks and dinner at Pushtirang campsite.
Day 4 has the shortest distance to cover but can be a little heavy on the legs. There is a steep ascent, river crossings, and streams zigzagging through the verdant meadows. To reach the dry land, we need to cross around six glacial streams, requiring a team effort. Once we make our way out of the chilling waters, the landscape around us also gains vibrancy and structure.
From here, we hike for an hour and cross many glacial walking sections that require balance and attention. We then arrive at another sharp hike and continue on it for the next 40 minutes. En route, a beautiful water stream greets us, but the trek gets hard from here. We have to cross a narrow trail that rests on loose rocks before it drops us on the valley that lies on the other side. It is advisable to keep moving on tricky sections like these, as halting may result in accidents due to rocks slipping down.
At last, we enter the land of meadows lying at the backdrop of glaciers. A short climb and we reach the Lower Pushtirang campsite. If there is more snow around, we camp here. If not, we hike for 20 minutes more and camp at Upper Pushtirang. Tari Khango, Nimish Khango, Hansbeshan Peak, and Pin Bhaba Pass are the visible peaks. We camp the night here.
Day 5: Trek from Pushtirang campsite to Mangrungse via Pin Bhaba Pass and back to Mangrungse
Early Morning tea and breakfast at Pushtirang campsite.
Difficult day as the climb is steep and tiring.
12 km trek from Pushtirang to Mangrungse (13,600 ft) via Pin Bhaba Pass (16,100 ft).
This takes around 10-11 hours.
Packed lunch is carried for the day.
Attraction of the day:Pin river is seen from the pass.
Trek back to Mangrungse campsite.
Stay and dinner at Mangrungse campsite.
We start early in the morning after having breakfast. It will be a long, tiring day with steep ascents and High Mountain passes. If you love snow, you will enjoy today's trek the most. It includes conquering the sharp slopes that connect the Pin Valley to the Bhaba valley, Kinnaur. After a long, tedious climb, we reach the highest point of this trek, Pin Bhaba Pass.
The continuous change in the landscape that is visible from here is breathtakingly beautiful. You can also spot the Pin river from the top. But like all good things, we have to leave the greenery of Bhaba valley behind and move to the deserted region of the Pin valley. The descent is quite tricky as it includes trekking through scree, glacier, and moraines.
After a 2 km descent, we get to the Pin river and cross the river to reach its right bank. We then slowly descent another 5 km through moraines and screes and arrive at the place that gives a distant view of the Mangrungse campsite. The scintillating mountains of the Spiti and the gushing sound of the Pin river make Mangrungse an ideal choice for camping. We stay the night here.
Day 6: Drive from Kaza to Manali
Morning tea and breakfast at Kaza.
It is a 200 km drive in approx 10-11 hours
Expected arrival at Manali around 6-7 p.m., subject to road traffic also.
Lunch on the way not included in the package.
We have breakfast and morning tea at Kaza and then leave for Manali. The drive is 200 km and will take around 10-11 hours. If the traffic is not much, we expect to reach Manali around 6- 7 pm. make sure you keep some bite snacks and fill your bottles well.
So if you want a week where you can bask in nature's goodness and challenge your love for adventure, look no further. The Pin Bhaba Pass Trek is an ideal choice for you.
Day 7: Trek from Mangrungse to Mudh/Kaza
Morning tea and breakfast at Mangrungse campsite.
17 kms trek from Mangrungse to Mudh/Kaza.
Easy but long descent.It takes around 7-8 hours.
Packed lunch for the day.
Dinner and stay at Mudh/Kaza guest house.
Day 6 is the last trekking day, and we cover 17 km today. Make sure to fill your bottles before starting the journey. It is an easy but long descent, and we need to start early in the morning. We trek from Mangrungse and make our way to the campsite of Bara Boulder, which is 4 km away and take the descent from there. The purple-hued summits, meandering water streams, and vibrant meadows make this trek a visual treat.
On reaching the Bara Boulder campsite, we cross the Pin river tributary and arrive at a flat land that offers a view of the rustic hamlet of Mudh. We cross the suspension bridge over the Pin river, take a short climb and reach Mudh. We either stay the night here or drive to Kaza and spend the night at a guesthouse.