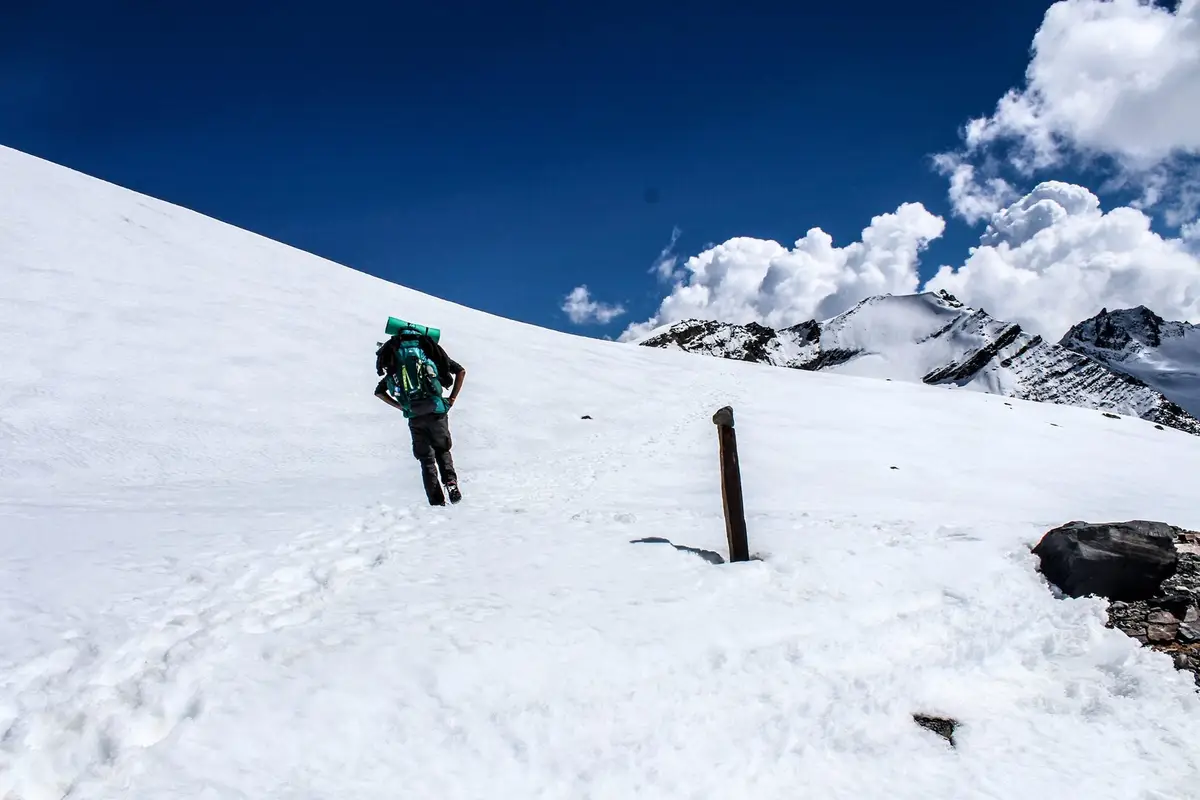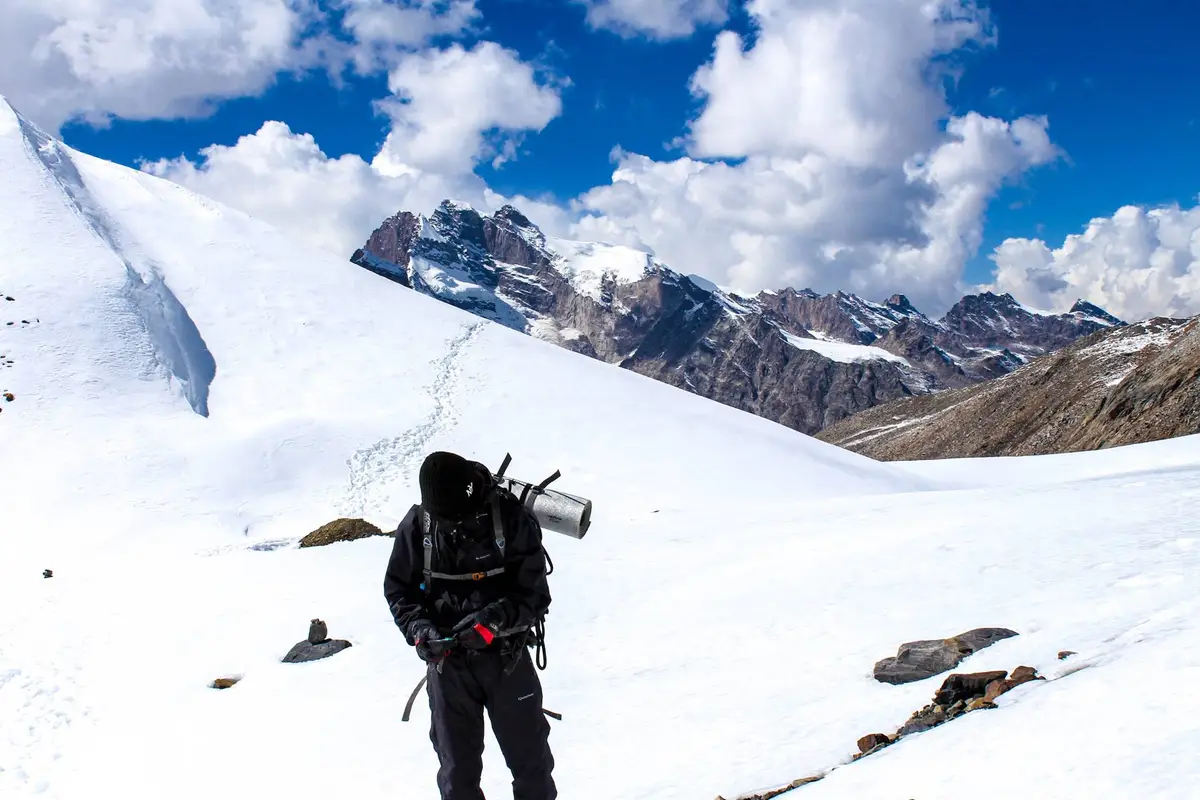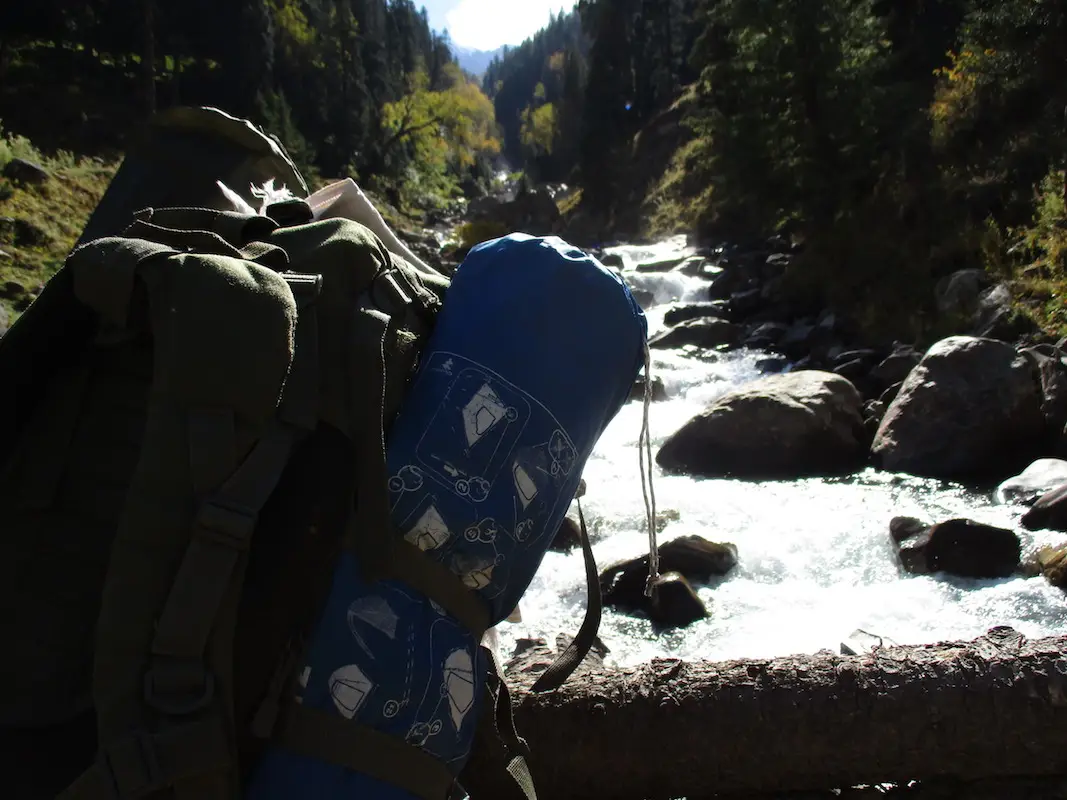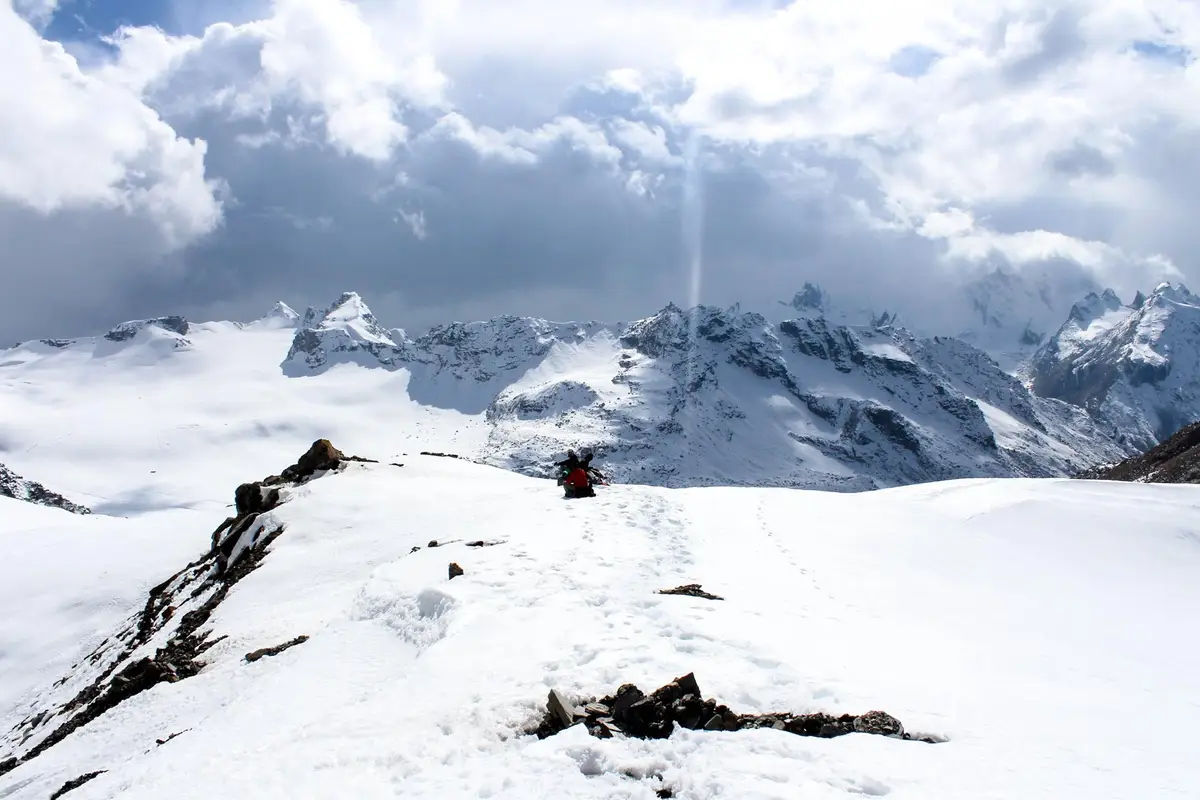 About Pin Parvati Pass
Are you a story-teller parched for miraculous existence for inspiration, or a seasoned trekker yearning for a hair-raising, eye-popping adventure?
Well then, how about a tremendous 17,457 ft pass at an altitude of 5,319 meter closer to the sky, nuanced with a shifting panorama of the lush prairies of Parvati Valley at one end of the spectrum and Buddhist hamlets in the wintry dry desert of the Trans-Himalayan region of Spiti on the other end, painting the mural of luscious geography with an assortment of vivid culture, and diverse flora and fauna.
Do you belong to the generation that is oblivious to the taste of pristine water? Wish to hop in the peas and barley terraced fields of the Pin Valley? May be the luminescent moonlands of Spiti are the pages your story long for! Who knows, in the midst of dangling from pulley bridge at Tunda Bhuj, endeavoring way out of the quagmire of Mantalai swamps, gasping at the colossal pastures of Odi Thach, savoring hermitage in the dense forests near Kheerganga, and freezing at the glacier near the Pass, you may find your adventure, a companion….perhaps, even a story worth telling. What warms you up against the chilly glacier and seals the joyful experience in you is the relaxing dip of numb feet in the hot springs at Parvati Kund at Kheerganga. What an unwinding last lapse! The sweet fragrance of Losar and Brahmakamal flowers travels home with you and lingers on to leave an everlasting smile.
The 11 days of sheer exhilaration begin at Kullu; a drive through the panoramic frame of dense alpine forests decorated with wild flowers, pristine lakes, wide glacier crests, and lavish meadow leads to Barsheni Village; the hot springs at Kheerganga, devoted to Lord Shiva, warm the spiritual self, this is followed by a camp amidst tall Birch trees in the bowl of mountains, Tunda Bhuz. The Kanawar Wild Life Sanctuary at Thakur kuan welcomes one after covering a distance of 5 hours. An 8-hours trek leads to the Pin side base camp above the Pin Parvati Pass at a height of 17,500ft.
Incessant snowfall, monsoon rains, and ill-defined trails at higher altitude can leave even the most seasoned trekkers confounded. More precaution is called for as one reaches closer to Wichkurung Thatch. The treks fades into the 9-hours of picturesque hamlets as one treks from Kaza towards Manali for an overnight stay. If you have been intrigued enough to consider, let's gallop to the modalities.
Day 1: Drive from Kullu to Barsheni and Trek to Rudranath Camp Site.
Hire a shared cab or bus from Kullu to Barsheni and trekking till Rudranath waterfall.
2 to 3 hours drive to Barsheni and 4 to 5 Hours Trek.
Accommodation and food in Tents near Rudranath Waterfall.
The Day 1 of Pin Parvati Pass trek involves a drive from Kullu to Barsheni Village, followed by a trek to the campsite at Rudranath. For this, you need to reach Kullu a day before and have an overnight rest for this initial leg of your journey. So as the trek begins with a drive from Kullu to Barsheni village, it takes you through some of the magnificent views of the valley.
The path for vehicle to the village has been recently laid. It would take about 4-5 hours to reach the village where the road ends. From here onwards, the tail begins. In some time, you would reach Kagla Village, from where another half an hour of trek would take you to Rudranath, your first camping site. Along the way, you would come across the confluence of Tos and Parvati rivers and get to trudge on a bridge over the Tos River. This is followed by a trail through the village dwellings and a township at Nakthan. It takes some fifteen minutes of steep ascent and an hour of level walk to reach Nakthan. You would be trekking along the Parvati River while following some curved paths. At Rudranath, you would be pitching your tents and would have ample of time to enjoy the waterfall or to pay a visit to a local temple dedicated to Lord Shiva.

Day 2: Rudranath to Kheerganga
8,600 ft to 9,130 ft.
5 Km Trek.
3 to 4 Hours duration.
Lunch at Kheerganga.
Accommodation and food in Tents..
Apart from being fairly easy, the day 2 trek brings to you some of the most spectacular feats of nature in the form of hot water springs at Parvati Kund. While the trek takes just 2-3 hours to reach Khirganga, the offerings of nature would require you to have some more time on this trek and admire the spectacle of nature.
On leaving the campsite at Rudranath, the flat terrain continues till you reach a temporary bridge built over the Parvati River. Then you enter a dense forest laden with pine trees and from here onwards, the trail begins to gain inclination. On your way, make sure that you hydrate yourself adequately as clear streams of waters make their way past your trail. Once you reach a local dhaba, it would be another 20 minutes or so of fairly inclined climb followed by another 20 minutes of level walk. For here, trail would enter steep, muddy and slippery tracts. You'll reach Khirganga after crossing another dabha. This will mark the conclusion of trekking for day two. Once you unwind yourself here, you may have some rest and take some time out for a hot water sauna at the natural springs of Parvati Kund.

Day 3: Kheerganga to Tunda Bhuj
9,130 ft to 10,500 ft.
12 Km Trek.
8 to 9 Hours duration.
Camping in Tunda Bhuj by 3 PM
Accommodation and food in Tents
The Day 3 of this trek involves five hours of trekking through some of the traditional routes taken by shepherds for grazing their animals. Further, there would be several waterfalls and make-shift bridges along this route to make your journey more absorbing as well as fascinating. With farm animals routinely plying on this route, you would find much of the terrain muddy and hence difficult to tread.
Beginning with a steady climb, the trail goes through a series of up and down climbs. On reaching a stream , you will come across a bridge and get to enter a forest after some thirty minutes. Further march through the forest would lead you to a meadow where you would find some local vendors selling refreshments. From here, the trail bends right and following the route, you would find another stream with a makeshift bridge. As you enter another forest, you would find the ascent quite steep and muddy and about 30 minutes later, exit the forests where your trail heads to vast fields. The real climb begins from here as you head towards a hilltop that offers you clear views of Parvati Valley. Some more trekking and you cross the final bridge over a stream to reach Tunda Bhuj to conclude the trek for day 3.
Day 4: Tunda Bhuj to Thakur Kuan
10,500 ft to 11,600 ft.
8 km Trek.
6 to 7 Hours Duration.
Camp in Thakur Kuan by Lunch.
Accommodation and food in Tents.
Taking you to an elevation of about 11, 600 ft, day four involves 5-6 hours of thrill-filled trekking. The trail begins with level lands of Tunda Bhuj with the shimmering River Parvati flowing downhill to your left. The first of the two bridges of Day 4 comes shortly after as you trudge for some time. This is a wooden bridge, not quite sturdy, but good enough to take you through to the other side.
The rugged terrain of mountains offers bumpy experience for the trekkers as they march ahead. Nevertheless, you'll always have pleasant sight of the gifts of nature as the beautiful wild flowers would enthrall your mind. After crossing the Parvati River via Pulley Bridge, another half an hour of ascent would lead you to flat meadows of Thakur Ganj, your next campsite for the trek.
Day 5: Thakur Kuan to Mantalai via Odi Thach
11,600 ft to 13,800 ft.
12 Km Trek.
8 Hours Duration.
Camp by lunch in Mantalai Campsite.
Accommodation and food in Tents.
This leg of Pin Parvati trek is perhaps the most challenging one; more so as it takes about 9-10 hours to complete this trek. Starting from Thakur Ganj early in the morning, the rail begins with inclined meadows followed by tracts of sand. Some 45 minutes into the trail and you'll get to cross the River Parvati through a huge rock. Another such rock - Pandu Pull - will help you cross the river again. Then comes the climbing part as it takes you to Odi Thach. The meadow gives you some mesmerizing views of Mt Kullu Eiger, several other unnamed peaks and a chain of waterfalls.
The final section of Day 5 trek leads you to Mantalai which stands at well over 13,000 ft. The journey is filled with murky tracts strewn with boulders. Along the river basin, you'll be crossing a series of ridges and swamp lands. Mantalai is right behind the last ridge and a mountain crest not quite far from Mantalai would give you brilliant views of Mantalai lake. There is a small temple near the river bank that is dedicated to Lord Shiva. You'll be walking to the left of this bank to reach your campsite.
Day 6: Rest day for Acclimatization
Enjoy scenic View of Parvati Peak.
Can see Avalanche from a safe distance if lucky enough.
Enjoy Star Gazing in Night.
Accommodation and food in Tents.
Day 6 is the day for some rest and acclimatization along the campside at Lake Mantalai. So ensure that you repose yourself adequately to brace yourself for the future journey. This is more important as the Day 7 trek would take you to a height of about 15,000 ft. With declining oxygen levels and more challenging weather, it is always important to keep altitude sickness at bay. So few exercises and mild walks here and you would have a better understanding of the weather and physical demands of nature.
Day 7: Mantalai to Parvati Upper Base Camp
13,800 ft to 15,450 ft.
7 to 8 Km Uphill Trek.
7 to 8 Hours duration.
Camping at Parvati Upper Base Camp.
Accommodation and food in Tents.
Day seven is a relatively tough venture and involves some 7 to 8 kms of trekking. So begin with the trek early and at the beginning, it would be level walks as half an hour of trail would introduce you to boulders and moraines. On crossing chilled streams of water, you would find a mountain base from where the journey becomes steeper and snow patches beginning to show up. It takes some five hours to reach the mountain top that gives spectacular vista of the Parvati Valley.


En route, you would find exotic plants and flowers like Losar and Brahmakamal. With climb now becoming literally uphill, it becomes all the more important to tread carefully as rocks tend to become flimsy at this height. You will reach your next base camp named after the Parvati River. It is located on a plateau at the height of over 15,000 ft and offers breathtaking panorama of the Pyramid Peak, the Parvati South and the Snow Peak.
Day 8: Parvati Base camp to Pin Valley Base camp via Pin Parvati Pass
15,450 ft to Pin Parvati Pass at 17,500 ft and back to 15,800 ft at Pin Valley Base Camp.
Full day Trek that includes trekking is Glacier as well.
9 Hours Duration.
Camping at Pin Valley Base Camp.
Accommodation and Food in Tents.
Day 8 is perhaps the main feature of this trek as it takes you through the Pin Parvati Pass before the day finally ends at Pin Valley base camp. So you'll be reaching the apex point of this trek, the eponymous pass sitting at about 18,000 ft above the sea level. This 12 km-long ascent takes some 5-6 hours and features bumpy terrain and glacial drifts of rocks and clays.
You would be trekking to the left of the glacier to reach a plateau that faces a huge rock. Trudging along the path between the plateau and the rock, you'd reach open snow field. From here, it would be a mountain climb and one would have to proceed cautiously as snow crevasses could be found lurking beneath the surface. It would require another two hours of climbing to reach the Pin Parvati Pass. From the pass, you may easily spot the Pin Valley, Srikhand Mahadev and the Kinner Kailash. Similarly, you may also get to see other peaks like Bara Shrigiri, Parbati Goat Head Peak, Fluted Peak Kulu Makalu, etc.
After some rest, you would be heading down to the base camp of Pin valley via Spiti Valley. The campsite sits at a little less than 15,800 ft.
Day 9: Pin Valley Base Camp to Tia(Cheen Patt)
15,800 ft to 13,000 ft.
12 Km Trek
6 Hours Duration.
Camping at Tia.
Accommodation and Food in Tents.
Few minutes into Day 9 trek and you'll come across the meeting point of the river Pin with a rivulet. From hence, you would be climbing a glacier and come across a nallah as you descend down from the glacier. It originates from a river which maybe a bit of a challenge to cross and involves climbing another glacier. As you reach Rampur Bhusarh, it takes about an hour more to reach Wichkurung Thatch, a meadow at an elevation of 12,600 ft. The entire spectacle of this area features cattle grazing field, vibrant flowers, animals, etc.
Day 10: Tia to Mudh Village
13,000 ft to 11,800 ft.
10 Km Trek
5 Hours Duration.
Stay in Mudh Village.
A hot shower and accommodation in Guest House.
Day 10 involves a descending trail where you would come across rugged terrain filled with pebbles and rocks. The sight of wild yaks and bharals grazing the grasslands would be a great delight. Mudh lies at about five minutes from Wichkurung Thatch and the national park here features animals like Tibetan gazelle, Blue Sheep, Ibex, Tibetan Wolf, Snowy hare, etc. The colorful mountain peaks here are basically the reflections of wild flowers. You would find village dwellings at Mudh and Gompa
Day 11: Drive to Manali via Kaza enroute Spiti Valley
Full Day Journey.
Enroute Colorful Spiti Valley.
Try to reach Manali by time.
You may hire a cab that would take you to Manali via Kaza. The drive from Kaza to Manali takes about nine hours as you would find many roadside dhabas for some sumptuous meals. This whole journey is a colorful journey enroute Spiti Valley. The arrival at Manali would marks the end of Pin Parvati Pass Trek and here you may find several places for rest and stay.