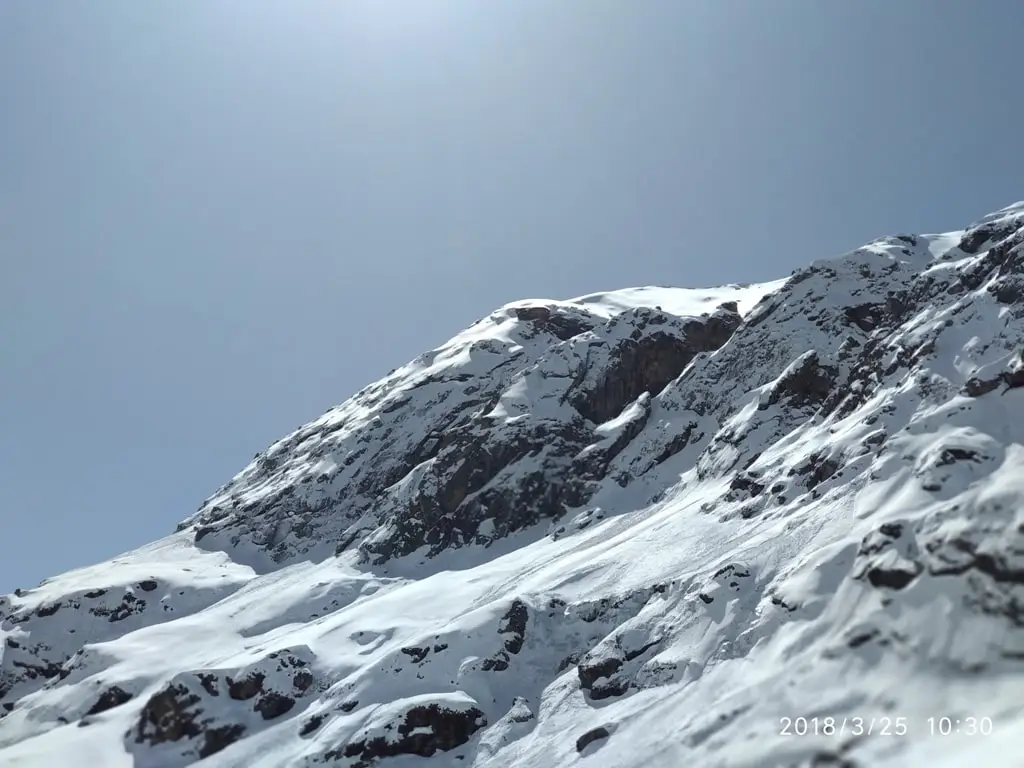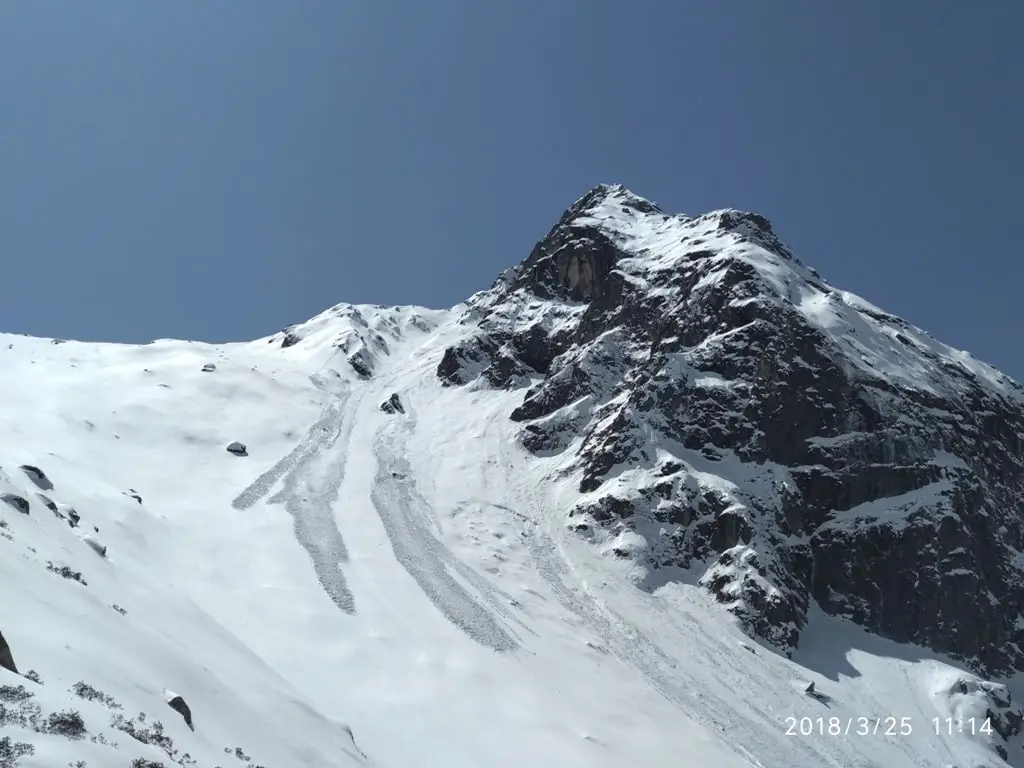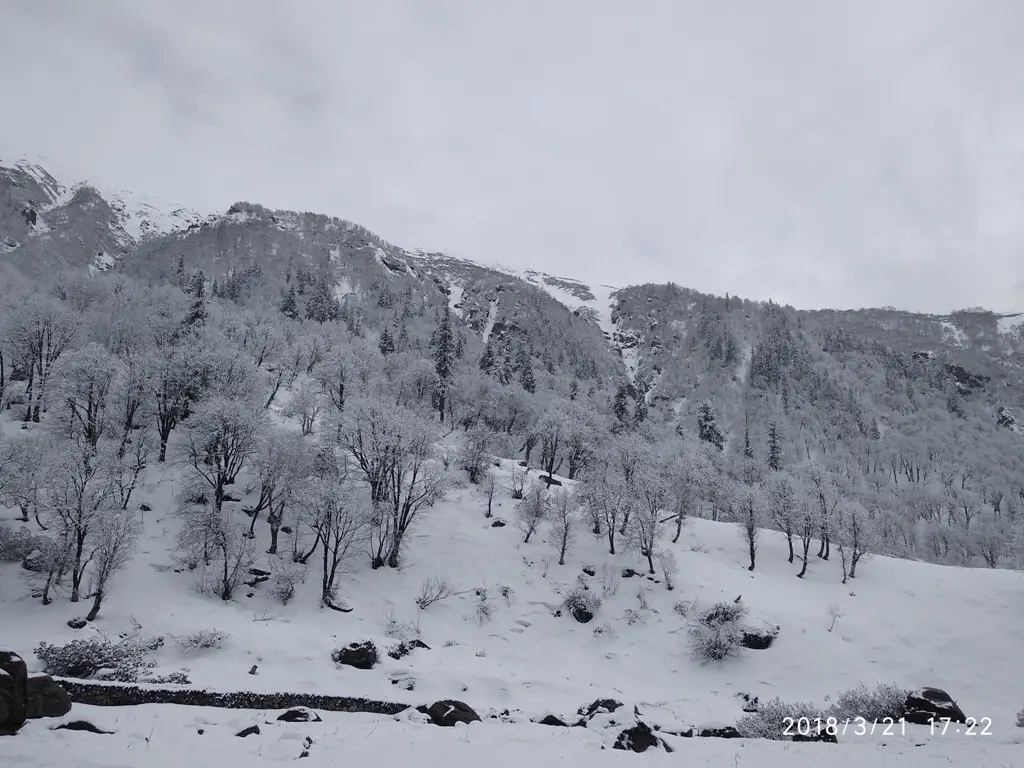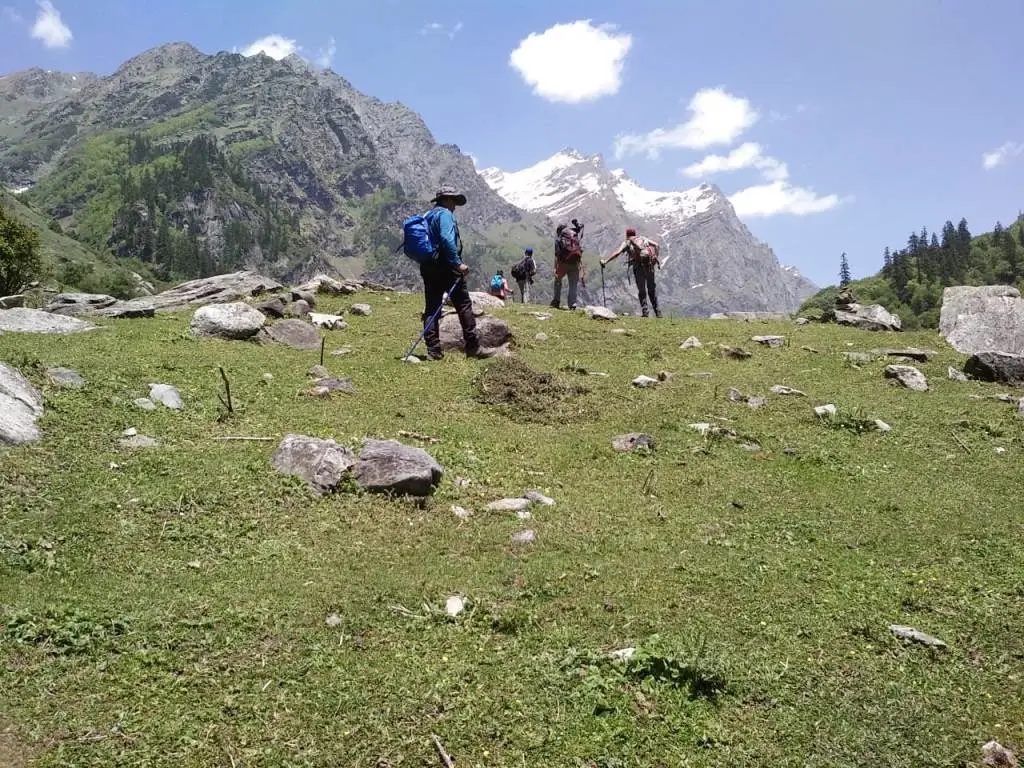 About Deo Tibba Basecamp
Himachal Pradesh is one of the most popular destinations amongst trekkers. Being the home of multiple beautiful treks, it has always been in the top list of travelers and adventure seekers for years. The wide variety of landscape and nature trails in unmatched to any other state of India. Ranging from easy to mediocre to the strenuous level of a trek, this place holds the miraculous trekking experience for beginners and professionals both.
Quietly seated in the mountains of Himachal is the thrilling 75 km long trek of Deo Tibba. Situated at an altitude of 6100m above the sea level, this trek is beyond beautiful with its sprawling views, dangling glaciers, picturesque mountains, lush green meadows and bare rock faces touching giant cliffs; Deo Tibba stands to be a fascinating trek featuring extensive geography that every trekker wants to explore once in their lifetimes.
Deo Tibba name has arrived from Hindi language where Deo means God(s) and Tibba means hill. Hindu mythology believes that the Deo Tibba is shaped like a dome where the God sits as they are a part of the meeting that Indra, the Kind of Gods and Heaven conducts while sitting in his throne. Overall, Hindus believe that Deo Tibba is a place where Gods gather.
The base camp of Deo Tibba lies in the quaint villages of Manali region which takes you through the green pin forests, sprawling lush meadows, silver and oaks birches laying against a mesmerizing landscape. Trekkers will cross various snowcapped peaks including Deo Tibba, Norbu peak and the Jagatsukh peak along with the pristine clear blue emerald water of Chotta Chandratal at the foot of Deo Tibba peak which stands to be the biggest attraction of this trek.
It is a total of six days trek which along with providing you with the immense beauty of landscapes, waterfalls and lake will also test your endurance and will power. A lot of people have a misconception of just being physically fit to complete the trek. Physical strength is no doubt of the utmost importance, but the key is your will power. Everything depends on your mental strength, if you are positive since the start and ascend with the aim of touching the peak, you will achieve the heights overcoming all the hurdles that come your way.
The entire trail of Deo Tibba trek is simply bliss to all your senses, especially the sight. With the hundreds of rhododendrons visible in the whole stretch of stunning meadows, silver birch teasing the scented junipers throughout the way and not to forget the profoundly standing snow covered peaks easily makes this trail one of the most beautiful and picturesque treks in the country. The best part about the trek is along with giving you the sights of lush valleys and warbling water bodies, it also is easy and moderate trek to cover.
The trail commences from the ancient village of Jogidugh which is supposed to be the home of 'Thakshag Nag' or the Serpent God along with all the other eighteen Gods and the views are straight away from a beautiful canvas painting. The trek opens up to the expeditors for grazing pastures of Gaddi shepherds and moves along the Bhanara cave, which is famous for being the abode of Pandavas when they were exiting. The endpoint goes towards Prini which holds the scenic beauty of one of its kind again.
About Deo Tibba Base Camp
Deo Tibba region is mostly covered with now during the months of January to mid-August and the snow starts to melt by August. During the onset of monsoon, the areas of Kullu Manali experience very heavy rainfall and the roadways towards this region connecting the cities usually remains shut. However, whether in the higher regions of Spiti and Lahaul have warmer days and colder nights. Finally, the mid-September and October is an ideal time for trekkers to experience exciting yet pleasant weather with traces of snowfall. As the October takes off, the temperature starts dropping as the day starts passing off towards winter. The days time during these months will be chilly and windy, however the temperature in the nights can get as low as minus 4 degrees.
Day 1: Drive from Manali to Bara Hazar and trek to Chikka
Altitude: 8858ft (2700m) to 10498ft (3200m)
Time taken: 2-3 hours of trek.
Total distance covered: 5 Km Approx.
Total distance covered: 5 Km Approx./li>
Water Sources: Carry sufficient water bottles as there are plenty of waterfalls and streams along the trail to refill the bottles whenever required.
Accommodation and food: Tents in the camping ground of Chikka
The first day will include an initial drive of about from Manali to Jagat Sukh by bus for about 12.7 km which would take around 45 to 50 minutes to reach and then from there on, we will be arranging a vehicle towards the trekking point till the start of Bara Hazaar. Once you reach Bara Hazar, look for a Duahngan Dam Control Room, this will be situated towards the right of the valley connected with the help of a bridge. As you will make your way across the bridge, a trail leading into the woods will stand there waiting for you to start. Follow this path and look for a bridge connecting towards the left side of the valley. After you cross the bridge, be prepared to face steep climb for about 15 to 20 minutes which will then convert into an easier gradual walk. Witness the captivating waterfalls and charming streams as you cross the trail reaching your very first camp base at Chikka.
The interesting thing about this trail is at certain points the whole trail cocoons and and gets covered with canopies making darker and greyer as walk past it but as you go ahead a few hundred meters or so, it opens up to the beautiful meadows. Once you walk ahead for a half an hour more through the closings, the trail opens up to a wide enchanting valley. After a gradual ascent and small hike through the meadows, you will spot a few muddy houses built alongside each other, set your camp for the night here.
Day 2: Chika to Seri
Altitude: 10498 ft (3136m) to 12795 ft (3900m)
Total Time taken: 5-6 hrs
Total distance covered: 6km
Trek ascent: Initially a moderate ascent through marked forest trail and meadows but gradually followed by a steep climb on boulders/li>
Water Sources: You can refill your bottles here from the multiple water sources that you will carry along the way towards your next campsite.
Accommodation and food: Tents in the camping ground of Seri
Mornings at Chikka are such a delight to experience, the mesmerizing sunrise, and the cold breezy air that fills up your face. Have an early morning and begin walking towards your next stop for the day, Seri. The trail commences after a straight walk through the forest which is well marked with stones and cairns throughout the way. After you?ve walked for an hour, you will notice a stream and little ahead of the water lies a small segment of boulders. Usually the rain showers tend to make these boulders slippers and crossing this segment becomes a little difficult when it?s pouring. However, you can take gradual and steady steps while keeping your grip firm as you cross this segment to avoid any falls and slips. There also lies a very steep climb ahead as you cross the boulder section, make sure you have your eyes open when you are passing through and keep switching your steps and avoid straining your knees a lot.
After crossing a distance of around 3 km, you will reach a tiny meadow called Panduropa. There?s a water source here where you can refill your bottles and take a break for 5 to 10 to catch your breath for a few minutes before getting back to the trail. After walking for an hour from Pandora, you will again reach a boulder section but this will not be as difficult as the last time as the trail is pretty prominent here. But make sure you cross the boulder slowly to avoid any chances of falls. Once you have crossed the boulder section, your next campsite Seri will await surrounded by grassland, patches of sand and gigantic mountains in the backdrop. After the tiresome trek to Seri, spend your afternoon chilling and laying around the field while soaking in the beauty of neighboring peaks of Jagatsukh, Norbu and Malana Pass. If you look closely, you can also get a faint view of Deo Tibba base camp from this point. Call it a day after having a fulfilling dinner and sleep peacefully or you can also stargaze as long as you want.
Day 3: Seri to Deo Tibba Base Camp
Altitude: 12795 ft (3900m) to 13684 ft (4171m)
Time taken: 4-5 hrs
Total distance covered: 4 km
Trek ascent: Moderate climb in the start through a simple and plain marked trail which gradually turns into a steep ascent through a rocky path by the end./li>
Water sources: Make sure you carry at least of water per person by refilling from the water sources around in Seri as you leave for Deo Tibba base camp, there are no water sources available in that area.
Accommodation and food: Tents in the camping ground of Deo Tibba basecamp
The next morning is going to be a considerably easy start with the lush grassy meadow of Seri. The pleasant sunrays will give you the much-needed warmth in the midst of the cold breeze that will hit your face. Today is the day we will be doing the Deo Tibba base camp and the trail will be one of the exciting ones so far. You will walk along the flowing river in the direction of a sparkling waterfall and after a point of time, you will be able to notice a cairn. Cross the river when you reach this spot and continue to trace the trail. After a while, you will notice a trail moving upwards, mind your steps closely from this point as the trail gets steeper for the next 2 to 2.5 hours. As you reach the topmost point, soaking in the realms of nature will give you a sigh of relief embracing you with the beautiful escapade. As you see around the place, you will not only be physically at peace but will also feel spiritual lightness and contentment from within.
From this point onwards till the next campsite, it?s a simple trek that follows the bank of the river till the point where you reach big boulders, the trail ends there. You will need to cross the river here and keep marching towards the meadows till you find an ideal spot where the tents will be pitched by us. You will find multiple water sources available on your way, thus you can be flexible about your choice of spot to camp.
Day 4: Deo Tibba Base camp to Chotta Chandartal and back to base
Altitude: 13684 ft (4171m) to 14698 ft (4480m) to 13684 ft (4171m)
Time taken: 2-3 hrs
Total distance covered: 2 km
Trek gradient: A modest climb through rocks & boulders. However, make sure you cross it slowly and gradually if it is raining or it has rained. The Boulders tend to get extremely slippery post rain showers.
Water sources: Make sure you have enough water when you leave from Seri itself as the glacier stream ahead is not reliable to classify as drinking water
Accommodation and food: Tents in the camping ground of Deo tibba base camp.
The next morning we will start with the trek towards Chota Chandratal. An enchanted lake surrounded by snow-covered peaks and situated at the altitude of 4500m is one of the well-kept secrets of the Himachal region.
The pathways to Chota Chandratal is a bit confusing as the walk passes through multiple sections of rocks and moraines. You can commence your trek from the left side of the small stream and take the next steep inclination which is slightly difficult. You will not find a proper laid out trail till Chota Chandratal, hence you will have to believe the navigation skills of the guide. However, if you move towards the direction of Norbu Peak which is the highest peak in the region, you will be able to find a pathway that walks upstream towards Chota Chandratal.
While you?re passing through the trail, you will get the visual treat of Norbu, Deo Tibba base camp and Jagatsukh peak in your left direction. After a few meters, you will reach towards the lake where you will start seeing the traces of the trail again. As you walk for about one hour following the same marked trail at a gradual steady pace, you will finally reach Chota Chandratal situated at the altitude of 4480 meters. If you are not too exhausted after reaching the camp, you can move ahead and explore the better parts ahead of Bada Chandratal which is bigger and more gorgeous than Chota Chandratal.
You can spend the rest of your time exhilarating the views of nature and soaking in all the fresh vibes of the surroundings. Once you are all through with the views of both the lakes, you can begin to descend using the exact same route that you came up from. The descending trail is a bit more difficult and tiresome as compared to the ascent. The route would be similar, however as you proceed further, the entire weight of your body falls heavy on the lower part of your body, straining your knees. Make sure you move slowly and steadily as you cross the rocky terrain, moraine and the boulder section to avoid any slips and injuries.
Day 5: Deo Tibba Base to Seri
Altitude: 13684 ft (4171m) to 10286 ft (3136m)
Time taken: 3-4 hrs
Total distance covered: 4 km
Trek gradient: Commence with an easy flat meadow walk followed by a slightly difficult steep descent down the rocks
Water sources: Carry 2 litres of water from Seri as there is no water source available till the Deo Tibba base camp.
Accommodation and food: Tents in the camping ground of Seri
Start your day with a hypnotizing sunrise and witness the sky unfold from dark blue to tangerine orange to bright blue as the sun shines above you. After a delicious hot piping breakfast served along with a hot cup of chai, commence walking towards the meadows followed by crossing the stream. You will be initially taking the same route which you took while coming up. Watch your step though as you move downwards, the descent might get really steep gradually. Avoid crossing the trail while it?s raining and be cautious while you cross the same post a shower as the boulders get extremely slippery and one wrong step can lead you to an aggressive fall. The decent is followed by crossing the river and opens towards a beautiful grassland that leads to the Seri campsite.
Day 6: Seri to Manali Via Baara Hazar
Altitude: 10286 ft (3136m) to 8858ft (2700m)
Time taken: 5hrs
Total distance covered: 8.6 km
Water sources: Carry 2 litres of water from Seri as you will find the water sources here, you can also refill your bottles at Panduropa & Chikka as you move ahead with the descent.
Trek gradient: Moderate and easy gradual descent through alpine forests, meadows passing through boulder section.
Trail description: Today is the last day of the trek as you will descend back towards Baara Hazar today from Seri campsite which was the starting point of your Deo Tibba base camp trek. As you follow the same trail while going down, the trek is going to be an easy one since it?s a walk on the plain grassland. It will take about 5 to 6 hours to reach Baara Hazar. If you start early after having your breakfast in Seri, you will easily reach Baara Hazaar until lunch time. After having your lunch at Baara Hazaar you can leave for Manali the same day which will take about an hour of drive or if you wish to explore this little village with plethora of culture to offer, you can take a day halt here to rejuvenate yourself from all the exhaustion of the day and just have a day off before you head back to your respective places. Himachal is the ultimate trekking destination of India and with an abundance of hidden gems and untouched precious spots that feels too good to be true. Finishing Deo Tibba base camp trek will give you that experience of a lifetime where you will fall in unconditional love with nature.
Note
Trekkers who want to leave on same day can catch bus from Manali bus stand. Buses usually leave from 2 Pm onwards till 6 Pm from bus stand