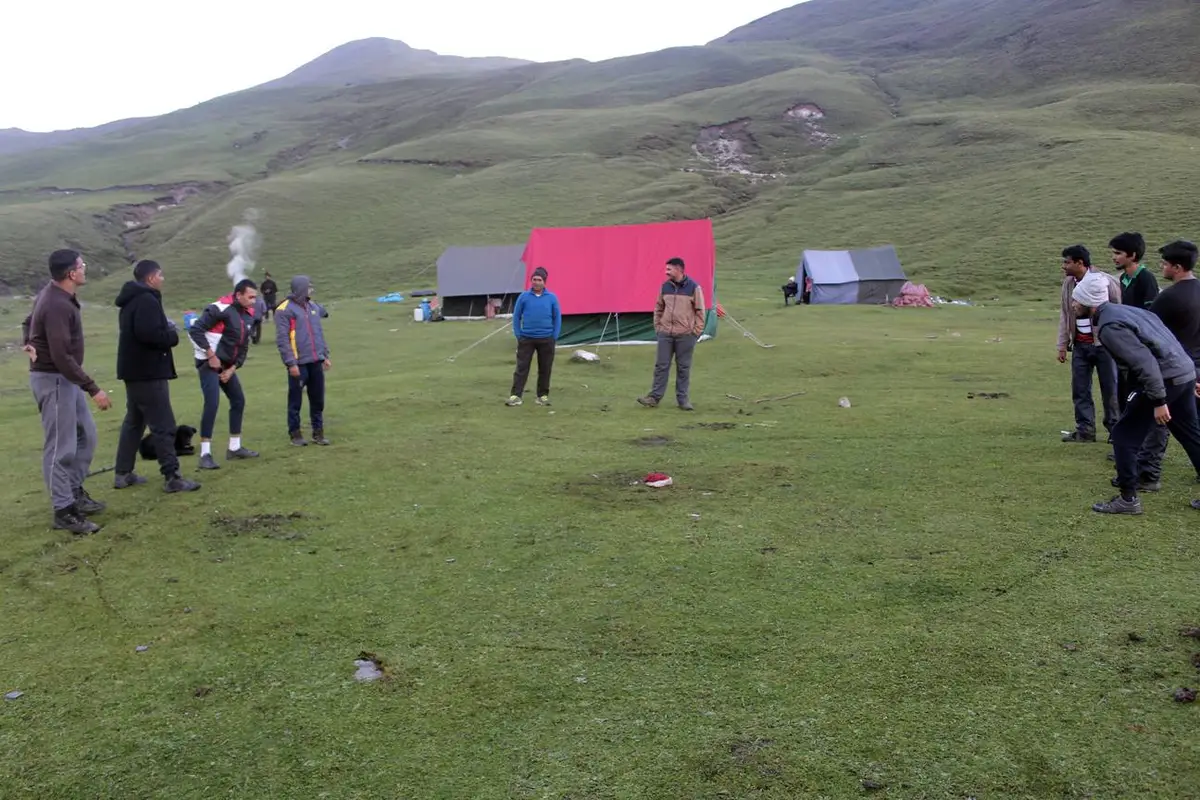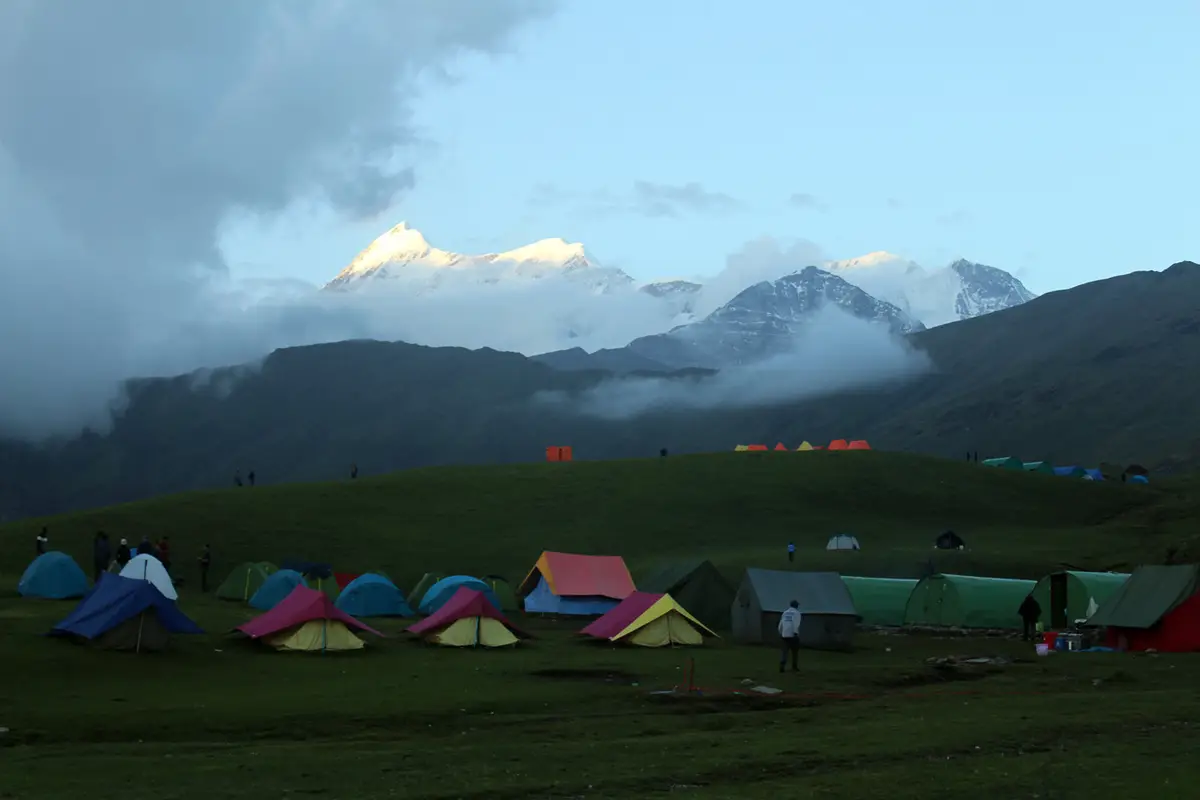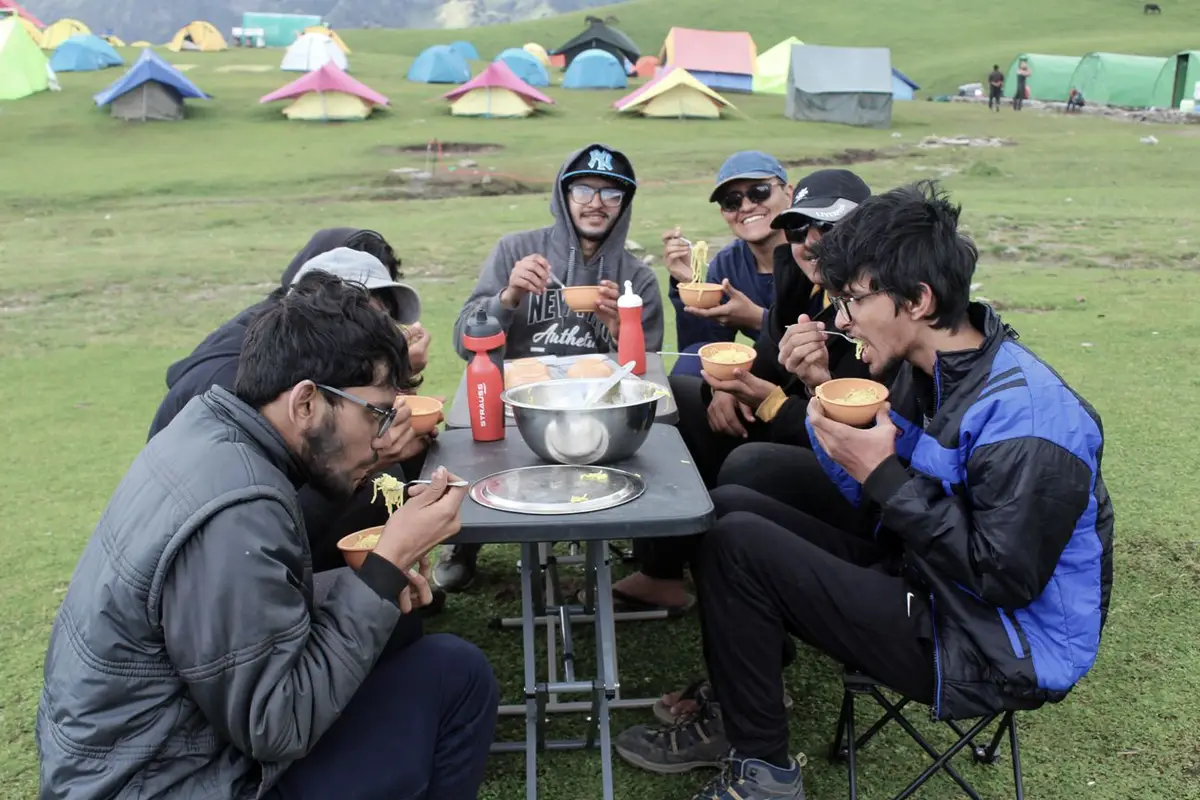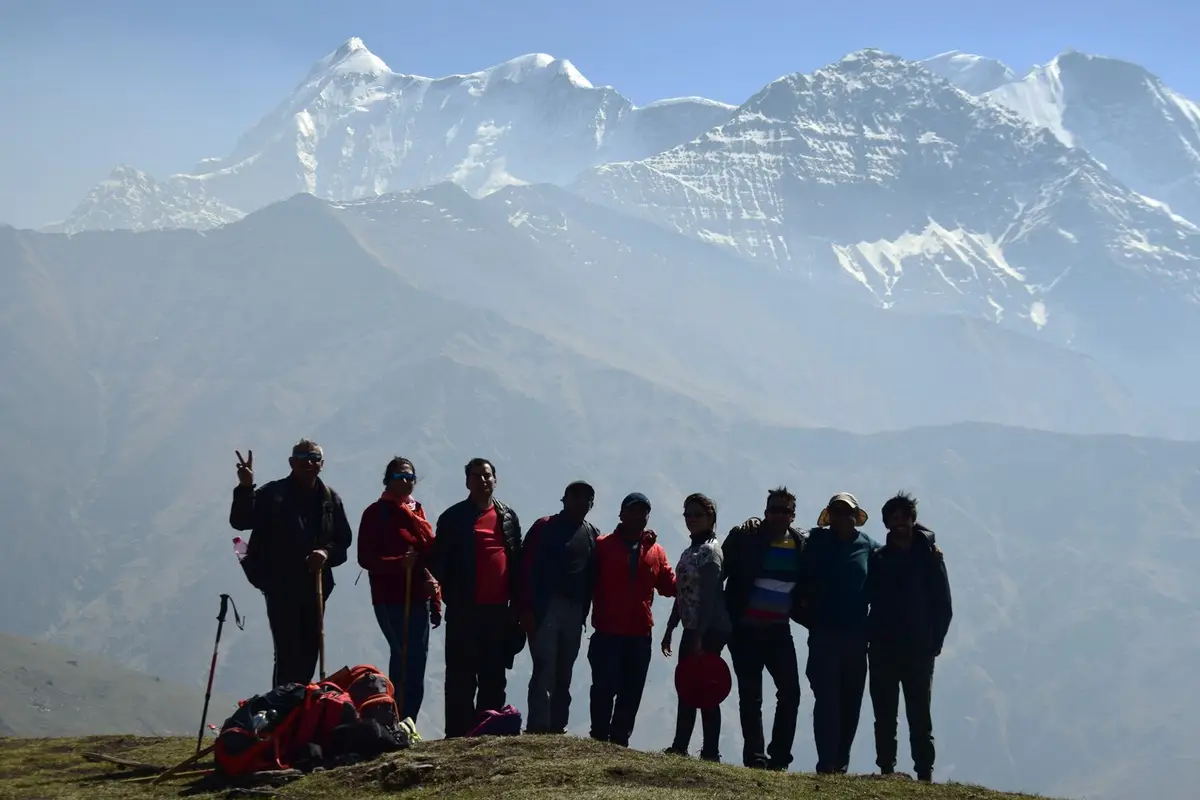 About Roopkund
There are some iconic trekking destinations that people do talk about from time to time and Roopkund Trek makes it almost every list. The trekking experience lies in the Gharwal region of the Himalayas present in the Indian state of Uttarakhand. It is mostly known for the mysterious glacial lake which reveals its hidden skeletal remains as the ice melts. The trek is also known for the difficulty and it is perfect for those who are up for a great adventure. So, let us know a little more about this coveted trekking trail.
About the Roopkund Trek
The Roopkund trek will take you at a maximum altitude of 5,000 m or 15,700 ft. and its main location is in the Chamoli district of Uttarakhand. This is a long duration trek that lasts for almost 8 days and a participant needs to trek for 53 KM in total. This trek is considered a difficult trek because of the terrain that one needs to pass to reach the lake. The path remains closed during the winter months because of the extreme weather conditions.
Wan is the base camp for the Roopkund trek and one will find it easy to reach from nearby towns of Haldwani and Kathgodam. One needs to pass the village of Lohajung when they are on the way to reach Wan, the place from which the real trek takes place. It takes a trek of 6 days to finally reach the beautiful glacial lake. The stops and campsites included in this trek are Ghairoli Patal, Bedni Bugyal, Patar Nachauni, Bhagwabasa, Roopkund, and Junargali.
The rise in altitude from 8000 ft. to 15,700 ft provides you with the experience of having a look at different types of terrains and you also get acquainted with the vegetation and wildlife. The Bugyals or vast stretches of alpine meadows are eye-soothing for the trekker. Along with that, you will also cross dense forests especially in the first days of the trip.
An amazing view of different peaks such as the Chaukhamba range, the Neelkanth peak, the Kedarnath and the Kedar Dome peaks make the whole trek worthwhile. Mt Trishul and Mt Nanda Ghunt are the most prominent peaks when you are on your way to the Roopkund Lake.
Quick Facts about the Roopkund Trek:
Min/Max Temperature: Day: 12 to 18°C and Night: -5 to 7°C
Altitude: 5,000 m or 15,700 ft.
Distance: 53 KM
Difficulty: Difficult
Starting/Ending point: Wan Base Camp
Last ATM: Wan
Base Camp: Wan
Duration: 8 days
Region: Chamoli District, Uttarakhand, Garwhal Himalayas
Highlights of the Trek:
Whenever we are planning to go on a trek, the very first things that we think about are the experiences that we are going to have. The Roopkund trek is often known for the mesmerizing views and the diverse terrain. So, here are some of the highlights of the trek:
Bugyals
The alpine meadows that the trekkers get to see in the form of the Bedni Bugyal, as well as the Ali Bugyal, are breathtakingly beautiful. These bugyals stretch over a large area and they act like pastures for the animals living nearby. The greenery of the bugyals will entice any person and make them stay for a long time. They look mesmerising at the right time as flowers make the meadows appear more colourful. These bugyals are unique to the eco-system of the Garwhal region and because of their fragility, conservation methods are being utilised by the government.
Forest and Streams:
Forests and streams are quite important when you go on a trekking tour. The eco-system of the mountains is distinct and it is completely different from the plains. In the Roopkund trek of Uttarakhand you embark on the journey from Wan and as you are on the way to Ghairoli Patal you will pass the 'Ran ka Dhar' which is a stream. To reach your destination you will also pass forests of Oak and Rhododendrons. You will also get to see another stream when you are on your way to Patar Nachauni from Bedni Bugyal.
Peak View:
As we have already said above, one of the main highlights of the Roopkund trek is the peaks that you are going to experience. Mt. Trishul and Mt. Nanda Ghunt are the dominant peaks that you can spot throughout the journey. When you reach Roopkund Lake, you can also spot the Neelkanth peak, the Kedarnath peak along with a distinct view of the Chaukhamba range. The view of the white peaks will always stay in your mind.
Glacial Lake:
The main highlight of the Roopkund trek has to be the glacial lake which will be your prime destination. The lake may have approximately 500 or more human and animal skeletal remains and it has always been an interesting topic that pulls more people towards it. The lake is situated at an altitude of 5,000 m and it is surrounded by glaciers and other high mountains. The Lake remains covered in ice most of the time. The human skeletons are definitely an attraction, but people should definitely refrain from picking up a piece for themselves.
Campsites:
When you are on the Roopkund trek you will get to enjoy the campsites that allow you to live right under nature. The mesmerizing view of the surrounding areas along with the pollution-free sky lets you see the stars which you may not have experienced before. On top of that, the campsites allow you to have a personal connection with nature. In the Roopkund the base camp, Wan, in itself is a beautiful sight to behold. The campsites at Patar Nachauni allow you to have a wholesome view of the nearby peaks and mountain ranges.
What is the best time to visit Roopkund Trek?
There are mainly two dominant times for availing the Roopkund Trek. One is definitely during the summer months of May and June and the second one is from September to mid-October. If you are someone who would like to see snow, then we will recommend you to visit during the summer months as you can still see the traces of snow, especially near the Lake. But the post-monsoon months of September and October offer a great view of the Bugyals as they are full of greenery and the flowers are blooming. You should always avoid the monsoon season as they make the trails slippery which may lead to accidents. So, choose a time according to your interest. Roopkund trek has always been a favourite of those who wanted to beat the heat of the summer months.
How to reach Roopkund?
The journey to Roopkund takes you 6 days if you start from Wan which is the base camp. If you are coming from Delhi, then you will need to take a train, a bus or a car to either Kathgodam or Haldwani and from there you have to travel to Wan which is generally via a car and takes about 11 hours. On the next day, you will need to trek from Wan to Ghairoli Patal which takes about 4 hours. On the third day, the trekking is from Ghairoli Patal to Bedni Bugyal which lasts for about 3 hours. On the fourth day, you have to trek from Bedni Bugyal to Patar Nachauni via Ghora Lotani and you can see the green surroundings turning into a rockier terrain. On the fifth day, the trek is from Patar Nachauni to Bhagwabasa, which is a small village and on the way you can pay your regards at the Kalu Vinayak temple. The next day is the most eventful as you will final trek to the Roopkund Lake from Bhawabasa but it is also one of the most difficult treks in the whole journey because of narrow ways and high-altitude.
Roopkund Weather:
When you are visiting a place it is quite important to find out about the weather. This helps you in deciding on the time when you want to go on the trek. As Roopkund trek is a high-altitude trek it is quite obvious that you are going to find cold weather over here.
The summer season which lasts from April to June is quite popular among trekkers. In the daytime the weather is pleasant and it does get chilly at night, so people should definitely pack well when they are preparing for the trek. It is best to avoid the months of July and August as there is torrential rain and the weather isn't favourable for trekking activities. During this time, snow is still present in the upper part of the trek.
The next best season for visiting Rookund is during the autumn months of September and October. The weather is chilly but the lake doesn't freeze yet and it will reveal the skeletons present in it. The weather is better during the autumn months and fewer crowds are present.
Roopkund Temperature:
Knowing the temperature of a place helps to decide on the things that one needs to carry with them. When you are on trekking to Roopkund you should always make sure to carry enough warm clothes as it does get chilly by night.
During the summer months of May and June, the temperature during daytime can be anywhere between 18 degrees Celsius to 12 degrees Celsius but during the night it can drop to 7 degrees Celsius to -5 degrees Celsius.
During the autumn months of September and October, the usual daytime temperature is 20 degrees Celsius to 9 degrees Celsius and during the night is alters between 4 degrees Celsius to -8 degrees Celsius
In the winter months, at night the temperature can even fall to -26 degrees Celsius.
So, here are some of the things that you need to know about the mesmerizing Roopkund trek which is known for its campsites along with the great experience that it provides to the trekkers. We think that people who find trekking interesting should definitely try it out at least once in their life.
Day 1: Kathgodam pickup and drive to Wan
Hire a shared cab or bus from Kathgodam Railway Station.
210 Km Journey.
10-11 hours drive to Wan.
Accommodation and food in Guest House in Wan.
It is a 10-11 hour journey from Kathgodam to Wan. Wan is a small campsite 12 kms ahead of Lohajung. The stay at Wan will be at a Guest House. As you reach, you get a glimpse of Mt Nanda Ghunti and Trishuli, welcoming you for this wonderful winter trek.

Day 2: Trek from Wan to Ghairoli Patal
8,005 ft to 10,005 ft.
6.5 Km Trek.
4 to 5 Hours duration.
Lunch at Ghairoli Patal Campsite.
The Trek for the day is mostly climb, but before that a small ascent to Ran ka dhar and another half hour descent to Neel Ganga and from here onwards, it's a straight climb of 3 hrs. From Wan, the initial trail is cement route and through a few houses. This is a small walk of not more than 10 minutes and leads you into a jungle. From here, we will move up to the Latu Devta temple. Latu Devta is a deity worshiped by the locals. Before the starting of the Nanda Devi Jat Yatra, Latu Devta is worshiped by the people taking part in the yatra. While crossing the temple, you will find many trekkers visiting the temple, and your guides and helpers will even suggest you the same for a happy and safe trek. Ran ka Dhar, is a point half an hour from here, from where you have a complete view of the valley you left behind. The name 'Ran aka Dhar' means stream of blood, which was the result of the battle goddess Parvati had with the demon Lohasur. The trek further continues to Neel Ganga bridge, which gives a refreshing point on your trek. This trek further moves up to Ghairoli Patal through a forest of Oak and Rhododendron. There are lush green alpine meadows dotted with wild flowering plants, evergreen whispering and raging forest and varied landscape to simply grab the imagination of every trekker, and further the view of Trishuli is an icing on the cake as you enter Ghairoli Patal.
Day 3: Trek from Ghairoli Patal to Bedni Bugyal
10,005 ft to 11,484 ft.
4 Km Trek.
3 Hours duration.
Camping in Bedni Bugyal
Accommodation and food in Tents
The trek today begins with a steep climb into an oak and rhododendron forest which leads you to a huge meadow. This further after walking for around 2 hrs leads you straight to one of the most beautiful alpine meadows in India, Ali Bugyal. The mesmerizing beautiful meadows at Ali Bugyal spread in every direction. The sight of this meadows gives you a rewarding feeling after all that exhausting trek. The sight is no less than what you get at a windows XP wallpaper. Further, move ahead to Bedni Bugyal in mildly descending trail which then turns into a gentle trail of around one hour which ends at another beautiful campsite Bedni Bugyal.
Day 4: Bedni Bugyal to Patar Nachauni
11,484 ft to 12,700 ft.
4 Km Trek.
6 to 7 Hours Duration.
Camp in Patar Nachauni by Lunch.
Accommodation and food in Tents.
Today, the trek will be a straight trail all the way to the meadows of Ghora Lotani, the mules are not taken further. Ghora Lotani makes an excellent campsite not only in terms of beauty but also slows down your altitude gain to a halt. Also, a clear stream on the side, keeps it one point ahead as a campsite. But we will be choosing Patar Nachauni as our campsite for the day. The trail from here is a climb to Kalu Vinayak. Patar nuchani is where you get your first sight the snow.
Day 5: Patar Nachauni to Bhagwabasa via Kalu Vinayak
12,700 ft to 14,102 ft.
4 Km Trek.
5 Hours Duration.
Camp by lunch in Bhagwabasa.
Accommodation and food in Tents.
Today we carry atleast 2 litres of water along, climb since there will be water sources on the way and the day is a bit challenging as compared to previous days, the approach is laborious, but not difficult. The trek will be a high elevated 1.5 hrs climb to Kalu Vinayak resulting in a rapid altitude gain. This section need to be negotiated slowly. Take small breaks while climbing up the steep path. These breaks are important as going up very fast could mean inviting AMS. In these breaks take rest while taking support of your walking stick as sitting down causes your muscles to relax and makes it difficult to get back on track. This is a crucial height where most trekkers feel the thinness in the air. You get breathless very soon and sometimes even feel dizzy. Trekkers give their best today but it becomes a problem later when the altitude gain for Roopkund starts. Kalu Vinayak, the black Ganesha figure in a stone temple just as you finish the climb from Patar Nachauni. The trail further from Kalu Vinayak to Bhagwabasa is a simple 2 kms gradual decent. Snow patches will start accompanying you on trail from now onwards. Bhagwabasa is a place something small than a village. The people here also provide beds for the night stay and even also fooding is available, at an additional cost.
Day 6: Bhagwabasa to Roopkund and Junargali and back to Patar Nachauni
Bhagwabasa,14,102 ft. to Roopkund at 15755 ft, Junargali at 16000 ft and back to Patar Nachauni at 12,800 ft by 5PM
15 Km Trek.
10 Hours duration.
Early Start and Breakfast at Roopkund , Lunch at Bhagbasa and Camping in Patar Nachauni.
Accommodation and food in Tents.
This is the day we will reach Roopkund Lake and return back to Patar Nachauni. We will start our trek in the early morning. One need to climb while the snow is still hard. There's plenty of snow even in the middle of summer. In the daytime, the snow becomes soft and your feet start sinking in, which needs to avoid this. Our initial walk includes a 5 kms gradually ascending walk which will leads us to the Roopkund lake which takes about 2½ hrs to climb up to Roopkund. Take small breaks while climbing up the steep path. These breaks are important as going up very fast could mean inviting AMS. In these breaks take rest while taking suppport of your walking stick as sitting down causes your muscles to relax and makes it difficult to get back on track. The last stretch of climbing in the snowy requires support of all four limbs and is exhausting but is not long. Depending on the snow depositions, the team may be required to rope up. After reaching the Roopkund, enjoy the breathtaking sight of the lake and its surroundings. After spending some time here, we will descend without delay as the weather at these high altitudes changes suddenly. It can get windy up here and possibility of sudden rain cannot be ruled out. We also might attempt Junargali if the weather permits, as it doesn't take much time. The Roopkund lake is a mysterious lake. The human bones spread all over the area are what accounts for its mysteriousness. It has been a surprising element to the scientist and historians. After the summit to the lake or further up to Junargali, trekkers often find getting down from Roopkund difficult. Reach Bhagwabasa in around 3 hours. And from here a 5km descend from Bhagwabhasa to Pathar Nachauni which you will cover in 3 hours. You can camp at Pathar Nachauni for the night.
Day 7: Patar Nachauni to Wan.
12,800 ft to 7,650 ft.
Full Day Trek , Drive from Wan to Lohajung
Accommodation and food in Guest House
Today retrace your path all the way back to Wan, at the last day of this exhausting yet exciting trek. On the way back, you get astounding views of Mt Trishul on a clear day
Day 8: Wan to Kathgodam
210 Kms, 10 to 11 hours Drive.
Try to reach at Kathgodam by 6 PM.
It's time to bid farewell to Wan and its mountains. Today, we board a vehicle that drives us to Kathgodam through Kausani and Ranikhet. Depart from Wan after an early breakfast. Kathgodam, is well connected to Delhi by a number of Buses and Trains, and you can move further as per your convienience.