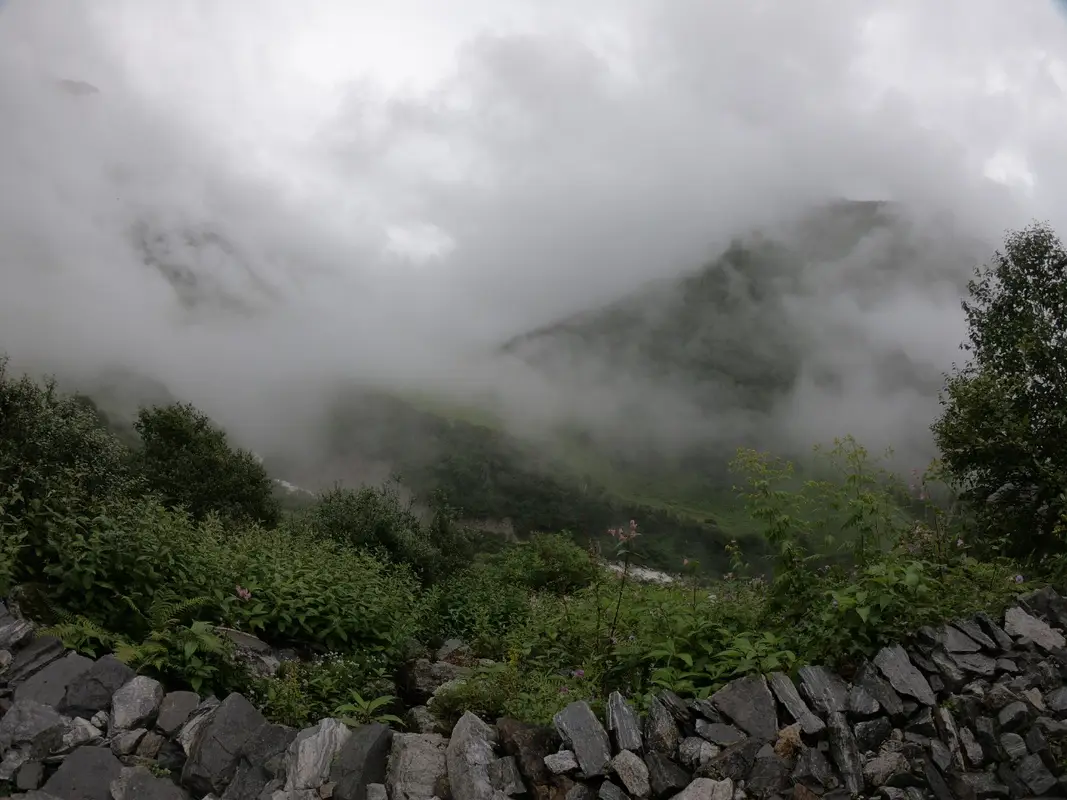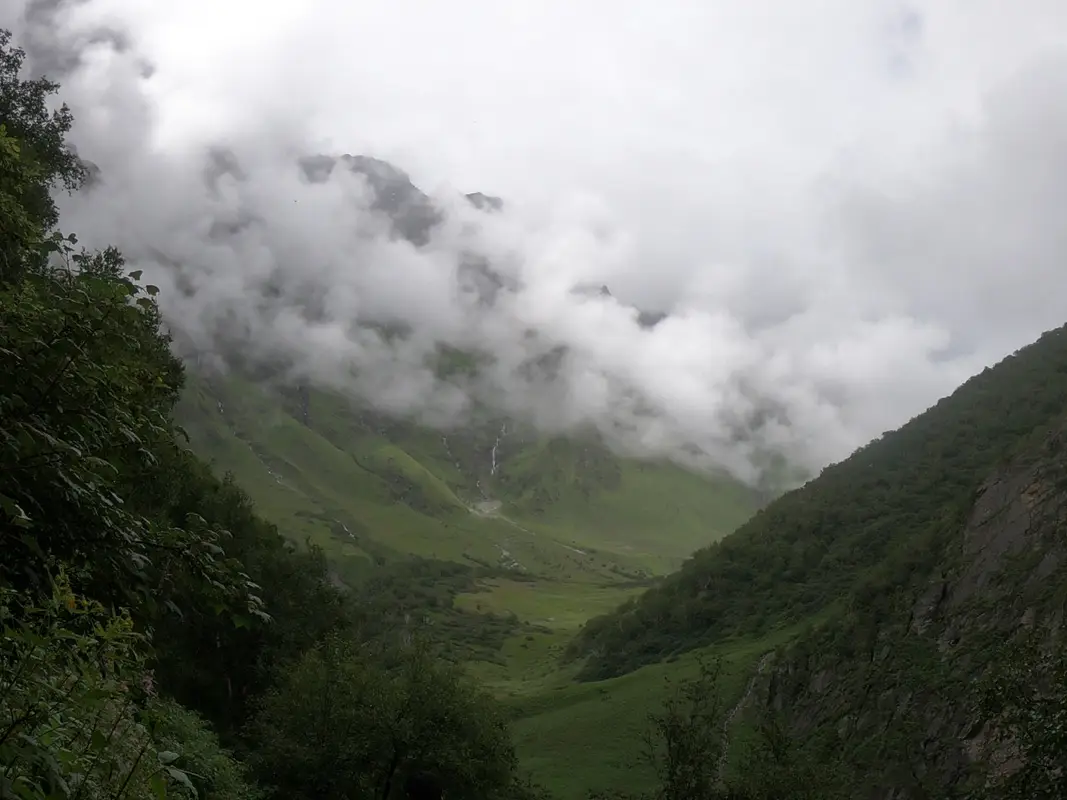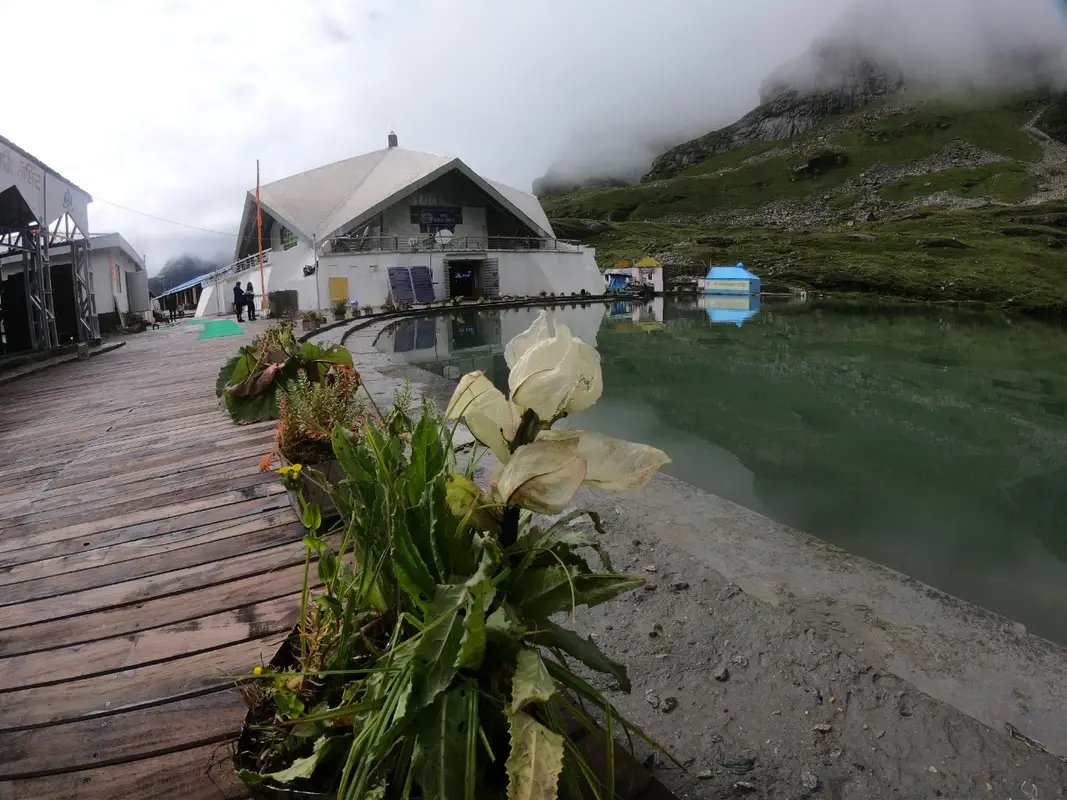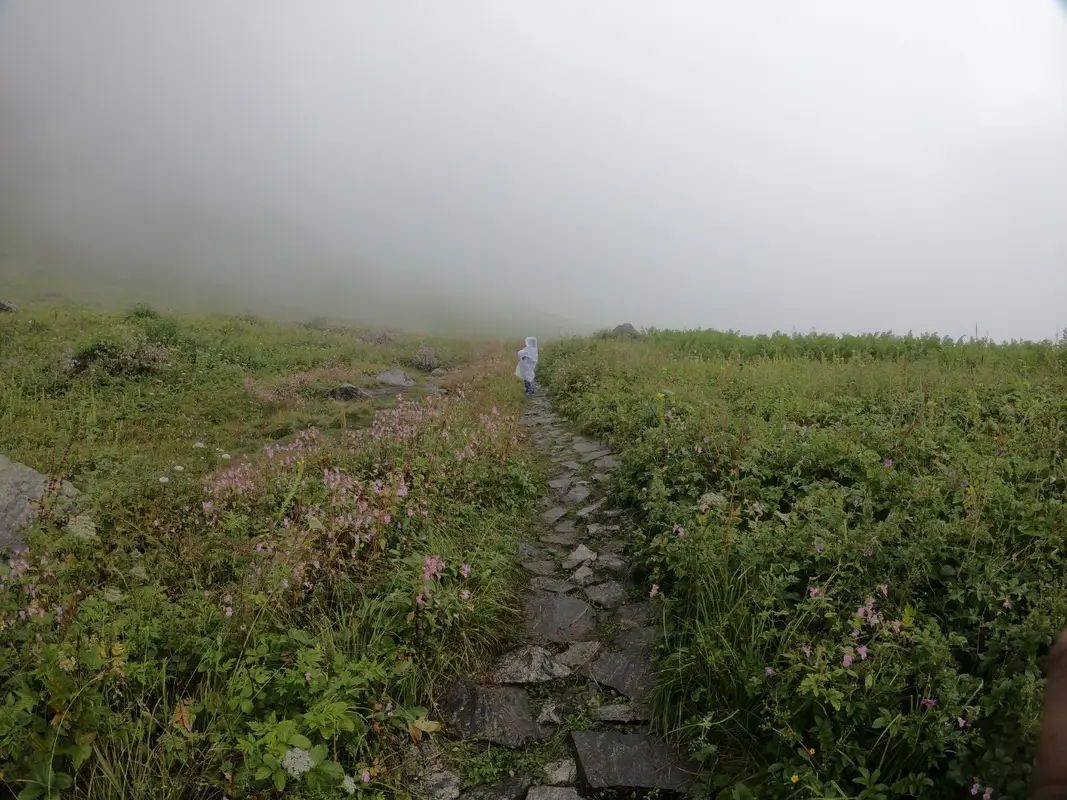 About Valley of Flowers Trek
Touted as one of the most beautiful Himalayan treks, the Valley of Flowers is one of those few trekking expeditions that can be enjoyed during the monsoon season. The Valley of Flowers trek is a well-crafted package, wrapped in the colours of bliss.
Valley of Flowers "Foolon ki Ghati" is one of the most famous monsoon trek located in Uttarakhand, Himalayas. Best time to visit here in July to August. This valley was declared as National Park in 1982 and is famous for its rich flora and fauna, which includes a variety of colorful flowers along with rare and endangered species.
This whole vibrant valley is a combination of panoramic mountain ranges, lush green meadows, colorful flowers and clouds which all together make it the best destinations for nature lovers, photographers, and Botanists. There are so many fairy tales associated with this valley and the most common of them is falling unconscious from the scents of flowers. Valley of Flowers trek starts from the pilgrimage trail of Govind Ghat, Uttarakhand.
It can easily be called the most colourful Himalayan Odyssey for the innumerable flower patches of vivid colours embellished with meandering mountain streams, dewy meadows snuggled in the lap of snow-capped mountains, a high altitude placid lake, holy rivers, and sacred pilgrimage sites.
The colossal beauty of this amazing array of colourful blossoms, which boasts of the largest collection of wildflower species, remains etched in your memory for the rest of your life. The Valley of Flowers opens on 1st June till 31st October.
Quick Facts about Trek
Region- Uttarakhand
District- Chamoli
Altitude- 14,100 feet
Duration- 6 days
Trekking distance- 38 km
Difficulty level- Easy to moderate
Start point- Joshimath
End point- Joshimath
Base Camp- Ghangaria
Nearest railway station- Haridwar
Nearest airport- Jolly Grant Airport, Dehradun
Last ATM- At Joshimath
Best time to visit- July to August
Trek Details
Start Point- Rishikesh.
Departure Time from Rishikesh on Day 1-6am.
Pickup point from Rishikesh- Natraj Chowk/Old Zostel Hotel, Tapovan.
End Point-Rishikesh
Arrival time at Rishikesh on Day 6- Approximately 6pm.
Base camp-Joshimath
Distance from Rishikesh to Basecamp, Joshimath is 250km takes around 8-10 hours.
Treks ends at Rishikesh on Day 6 at around 6 pm.
Cloak room: There is no seperate cloack room available. You can also handover your lugguage to our team and collect while returning. We will be keeping it at safely at Joshimath in the same Homestay.
The Shared vehicle will be Tata Sumo, Bolero or similar and may be shared with a few other local passengers. The cab may be arranged partly from Rishikesh/Haridwar to Joshimath and Joshimath to Rishikesh/Haridwar.
The cab is a 7-seater.
We charge Rs.1200/- per person each side per person.
The whole cab costs 7000/- from Rishikesh for one-side.
Trekkers may choose to travel by bus or local cab to reach Joshimath.
The forest permits for international clients will be as actual and is to be paid by the trekker at the basecamp only.
Distance between Delhi and the Valley of Flowers
The total distance between New Delhi and the Valley of Flowers is 519 kilometres.
You can travel to Govindghat from New Delhi in your own car. It takes around 15 hours to cover a distance of 500 kilometres. However, this can be an expensive and very tiring journey. Also driving is not permitted after 8 PM on this route.
From Govindghat, you trek a distance of 19 kilometres to reach the Valley of Flowers via Ghangaria.
About Valley of Flowers
Very true to its name, the Valley of Flowers floors you with infinite flowers in full bloom. One can actually rename the trek as a floral fairytale romance!
An aesthetic valley bejewelled with a never-ending expanse of the flowers-the fascinating landscape of the Valley of Flowers is like a dream come true. The exquisite meadows peppered with endemic alpine flora are bedecked between the rugged mountain ranges of Zanskar and Great Himalayas.
Privileged as a UNESCO World Heritage site, the area was declared a national park in 1982. Dotted with colourful blooms of pink, yellow, purple, red, blue and orange hues, the infinite expanse of exquisite flora is the highlight of this trek. The floral fragrance from the carpeting flowers entices you throughout the trek. The virgin beauty of the valley allures botanists, flower lovers, bird watchers, wildlife photographers, trekkers, nature lovers and adventure lovers from all over the world.
Valley of Flowers History/Story
Do you know that this trek was an accidental discovery by the British hiker, Frank Smith in 1931? It sure must have been the most beautiful accident of his life! For centuries, this enchanting fairyland lay undiscovered till Frank Smith and his two mountaineer friends went astray from their trekking path and accidentally reached a valley blanketed with flowers. They were left absolutely awestruck by this floral splendor and aptly named it "The Valley of Flowers". Smitten by its beauty Frank Smith even penned a book named the Valley of Flowers. All trekking enthusiasts thank him for his most beautiful flawless accident!
Mythology about the valley
The local population always knew about the existence of this valley. To this date, they believe that the valley is inhabited by fairies and Gods. It was initially believed that whoever visited the valley was captured by the fairies and never returned back.
How to reach the Valley of Flowers
By train-

The nearest railway station is Haridwar which is well connected to the major cities of India. Nanda Devi Express is the best train to travel to Haridwar from Delhi.

From Haridwar, it takes around10 hours by cab to cover the 280 km distance to reach Joshimath.

If you are looking for a pocket-friendly option then buses are your best bet to travel to Joshimath from Haridwar. 3 Non-AC regular buses from G.M.O.U. Pvt. Ltd. ply daily from Haridwar to Joshimath.
By road-

Haridwar is easily accessible by road. The distance between New Delhi and Haridwar is around 218 kilometres. The fastest way to reach Haridwar from New Delhi is by cab and takes 3 hours 50 minutes.

You can even get buses for Haridwar from Anand Vihar ISBT, New Delhi. The buses leave at regular intervals every day and the journey takes around 6 hours. This is the cheapest option to reach Haridwar from New Delhi.

From Haridwar, you can hire a cab or take a bus to traverse the 280 kilometres journey to reach Joshimath.
By flight-

You can reach Dehradun from Delhi by flight. There are daily flights available between the two cities, with the flying time of around 55 minutes. Dehradun is also well connected by flight with other cities like Mumbai, Kolkata, and Lucknow.

There are plenty of cabs/taxis available from Dehradun to Haridwar. It takes around 1 hour 45 minutes to reach Haridwar from Dehradun by cab.
Star attractions of the Trek
Nanda Devi Biosphere Reserve-

Sprawling in an area of 87.5 square kilometres, measuring 8 km in length and 2 km in width, Nanda Devi biosphere is a kaleidoscope of colourful flowers. One of the most spectacular wilderness in the lap of Himalayas, Nanda Devi biosphere is flanked by Nanda Devi, India's second-highest peak. This World Heritage site is blessed with unique climate and soil conducive to diverse habitat, species, and ecosystem. According to a legend, Lord Hanuman had collected Sanjivani Buti at this place to revive Lakshman.

Flowers, flowers and more flowers -

Valley of Flowers treats you to a floral paradise, with a countless variety of blossoms carpeting the meadows and lacing the trekking trails. The quilt of blossoming flowers infuses new life into the valley; rich with colour and fragrant aroma of floral species! This Himalayan jewel is habitat to millions of wild flowers-poppies, calendula, daisies, Himalayan balsam, Himalayan hogweed, Himalayan Whorlflower, Himalayan Thyme, Marsh marigold, zinnia, petunias, lilies and many more.

Himalayan Whorlflower's fragrant flowers change colours from pale pink to rosy red with time. Edelweiss flower, a symbol of purity and beauty, captivates you with its woolly white flowers. Edelweiss and Trailing Bellflower form a cluster and grow low on the ground. Spotting blue flowers in abundance are the rarest sight as blue is an unusual colour for flowers. Blue geraniums, blue poppy, blue daisy-like flowers, and tiny beautiful blue forget-me-nots invite visitors from all over the world. Some of the celebrated flowers like the Brahma Kamal, blue poppy and cobra Lily are the rarest floral offerings of the valley.

Among the countless varieties of Himalayan blossoms, Blue Primula, known to be the most beautiful Himalayan flower can be seen blooming in infinite numbers in the valley. The monsoon season from mid-July to mid-August infuses a colourful kaleidoscope into the valley. You can witness the most amazing landscape when the valley is lit with the brightest hues against the contrasting patches of green grass and azure skies.

Amazing fauna-

Valley of Flowers lies in the core zone of the Nanda Devi biosphere which is home to rare and endangered species of animals, exotic mountain birds, and butterflies. Animals like Asiatic black bear, Musk deer, brown bear, snow leopard, blue sheep and many more have made this biosphere their habitat.

Sacred rivers-

The beauteous road journey from Haridwar to Joshimath is flanked by the holy Ganges, gurgling below the cliff in a mystic green avatar. The pristine aura of the white-sand bed on the banks of Ganges is highly captivating. You witness the confluence of Bhagirathi and Alaknanda river to form the holy river the Ganges. The emerald green waters mesmerize you with the prolific abundance of their sheer beauty. It is magical to see the two rivers in different shades of green come together to form a single water body.

Confluence of Pushpawati and Himganga rivers holds you in awe with their wondrous beauty. In addition to these two large confluences, you also witness three small river confluences on your eye enticing road journey from Haridwar to Joshimath.

Sacred lake-

The awe-inspiring high altitude lake Hemkund Sahib, at an elevation of 14,100 feet is a sacred site for Hindus and Sikhs. Hemkund means "The Lake of Snow" and true to its name the lake remains frozen for seven months in a year. The beautiful glacial lake lies huddled in the laps of Hathi Parvat and Saptarishi peaks as the glaciers originating from the peaks feed the lake. The crystal clear waters of Hemkund reflecting the view of surrounding seven snow-clad peaks and their glaciers is a sight to behold. The best view to watch out for is a small mountain stream called Himganga flowing out of the lake. As the weather gets warmer and the snow melts, there are sprouts of wildflowers, ferns, and moss on the banks of the lake. The glorious and elusive Brahma Kamal grows in plenty in the rocks on the banks of the lake. Legend has that Guru Govind Singh, the tenth Guru of the Sikhs had meditated on the banks of this lake. Taking a dip in the holy waters of this serene lake is considered sacred.

Gurudwara and Temple-

Pay obeisance to the revered Guru Nanak Dev Sahib at the Shri Hemkund Sahib Gurudwara, the highest Gurudwara of the Sikhs, located at an elevation of 14,210 feet. Enjoy delicious langar in the Gurudwara premises, which are adjacent to the glacial lake of Hemkund. The lake is also flanked by a Lakshman Temple where you can offer prayers. These are the highest places of worship in India. People from all across India and the world visit this place of religious and spiritual parallelism to perform religious practice and seek salvation. Hemkund is inaccessible between the months of October to April because of snowy paths and glaciers.

Joshimath-

The sacred town of Joshimath is the winter seat of Lord Badri. Lord Badri's idol is brought from Badrinath temple to Vasudeva temple at Joshimath during winters. This holy town is an important pilgrimage centre for the Hindus.

Ghangaria village-

Perched at an elevation of 10,200 feet, this cosy hamlet lies snuggled in the Himalayan embrace. The last human settlement on the Bhyundar valley, Ghangaria is flanked by the confluence of river Pushpawati (coming from Valley of Flowers) and river Himganga (coming from Hemkund Sahib). Watching the rustic life of people in this village brings you closer to nature. Learning about their culture, daily lifestyle, rich Pahari cuisine, and folk songs while sipping a cup of tea with them is a cherry on the cake.
Valley of Flowers best time
The Valley of Flowers remains open from the months of June to October. Though every month showcases a new vista with varying shades of colours, mid-July to mid-August is considered the best time to visit valley of flowers trek when hundreds of blooms splash the valley with vibrant hues of luminous colors against the lush green backdrop.
As the snow melts and the weather gets warmer, the months of July and August are also alive with cascading waterfalls and beautiful glaciers.
Valley of Flowers weather
Summer months of April to June
Summer months infuse crisp freshness in the mountain air when the snow from the winter begins to melt. With rare sightings of mountain birds along with their melodious chirping, the place is a heaven for bird lovers during this season. The flowers just begin to bloom and the fragrance in the environment is palpable.
Winter months of October to February
Winter months from November to February showcase an entirely different landscape when flowers dry up and the once colorful region transforms into a frosty wonderland. The valley is not accessible during these months as it shuts down on October 31st. Visit the region if you are a snow lover and enjoy solitude in the company of glittering snow.
October can treat you to see the fall colours, when the last lot of blooming flowers have bid adieu for the year.
Monsoon months of July to September
With the onset of monsoon, the valley is infused with fresh life and comes alive with vivid hues. The never-ending carpets of vibrant blossoms make for the perfect destination during this season. You witness the rarest and most beautiful of floral species; the colourful expanse akin a picture taken from a book. Amidst this bouquet of flowers, the glossy green patches of fresh grass cast a magical glow to the place. The snow-clad mountains rising from a blanket of bright flowers seem to be kissing the sky. The whole valley emanates with the splendid aroma of floral species.
Exotic Himalayan birds and animals love the crisp ambience of the season and can be spotted in good numbers.
The temperature is conducive during these months for touring the valley.
Valley of Flowers temperature
Temperature in summer months
The average temperature ranges from a minimum of 17 degrees Celsius to a maximum of 29 degrees Celsius.
Temperature in winter months
The average temperature varies from a minimum of 0 degrees Celsius to a maximum of 15 degrees Celsius. The days are warm but nights are bone-chilling.
Temperature in monsoon months
The average temperature ranges from a minimum of 20 degrees Celsius to a maximum of 26 degrees Celsius.
The difficulty level of the Valley of Flowers
A very well paved trek, The Valley of Flowers is moderate to easy. The trek gradient is steep at some places, especially in the first and last 3 kilometres between Govindghat and Ghangaria but mostly the trek journeys through moderate ascents and descents. One can even take ponies or helicopter ride up to Ghangaria, the base camp of the trek. However, due to foggy and rainy weather conditions, the helicopter service is often interrupted during the monsoon season. From Ghangaria the only choice to reach the Valley of Flowers is by trekking. One can still get dolis or palanquins take the elderly and kids from Ghangaria to the valley.
It is an easy trek as there are good facilities available throughout the trekking route.
Mobile connectivity at the Valley of Flowers
Bharat Sanchar Nigam Limited (BSNL) has installed a mobile tower at Ghangaria village and 2G mobile services are available within a 4 km radius from Ghangaria. Tourists visiting Hemkund Sahib and the Valley of Flowers can enjoy this 2G mobile service.
Is Valley of Flowers trek recommended for beginners?
An easy to moderate trek, it is an absolute favourite among beginners/amateurs as well as avid trekkers. Interspersed with some steep paths, it is recommended that beginners come with good physical stamina and mental endurance to revel in this bounty of nature. Remember not to push yourself and compete with fellow trekkers. Enjoy the trek at your own pace and comfort.
Fitness required for Trek
Any trekking activity requires one to be physically and mentally fit and the same holds true for the Valley of Flowers trek. It is advisable to start a 4-week fitness routine before undertaking the trek.
How to prepare for Trek
Getting fit is one of the important criteria to consider before undertaking any activity that is physically and mentally demanding. Let's find out what goes into preparing for this trek.
One can prepare for the Valley of Flowers trek by following a simple regimen for 4 weeks. Start with a 10-minute brisk walk followed by a 10-minute jog and 10-minute slow walk in the first week.
In the second and third weeks, reduce brisk walks to 5 minutes followed by an increased jogging time to 15 minutes and finally a 5-minute slow walk.
In the 4th week, increase your stamina by doing a 5-minute brisk walk followed by a 25-minute jog.
Dressing up and trek essentials are some of the important points to be kept in mind while undertaking any trek.
Among things to carry - warm shirt, full sleeve t-shirt, thermal inner wear, water-resistant trekking pants, windproof and water-resistant jacket, waterproof gloves, raincoat, muffler, woolen cap, thick woolen socks, and comfortable hiking shoes are an absolute must.
Sunglasses, sunscreen lotion, lip balm, sturdy walking stick, torch, and some essential medications are the trek essentials required for this trek.
Is Valley of Flowers Trek safe?
Uttarakhand is a land of simple people. Rooted deep in their culture, the inhabitants of Uttarakhand are down to earth people, very humble and polite. They are known for their warm hospitality. The valley of flowers is considered one of the safest treks.
Water availability at Valley of Flowers
It is extremely important to stay hydrated during any trekking activity. It is recommended that you carry a water bottle for the trek. There are numerous streams, taps and water en route the trek and you easily refill your water bottle.
Valley of Flowers Trek

 7699
Day 1: Pickup at Haridwar and drive to Joshimath
Early morning(7AM) Pickup from Haridwar and arrival at Joshimath by evening.
290 Km Journey.
10 hour drive via Devprayag
Altitude- 6,000 feet
Nearby attractions: Nav Durga and Narsingh Temple.
Highlights- Cruising through the curvy roads of Uttarakhand in the lap of towering mountains and the Ganges bubbling along, enjoying the beauty of tiny local hamlets, the confluence of Himalayan rivers
Accommodation and food in Hotel.
You reach Haridwar on Day 1 and feast on a sumptuous breakfast before taking a cab to Joshimath. After travelling a distance of 290 kilometres in 10 hours you reach Joshimath.
The perfect road trip from Haridwar to Joshimath treats your mind and soul with its sheer spectacle. You will journey through beautiful valleys and hills via Rudraprayag, Devprayag, and Karnaprayag. Devprayag treats you to the emerald green confluence of the river Mandakini and Alaknanda river.
There are three more river confluences between Haridwar and Joshimath, which are smaller as compared to the confluence of river Mandakini and Alaknanda.
Day 2: Drive till Govindghat and trek to Ghangharia
Altitude- 6,000 feet to 10,200 feet
Distance- 40 kilometre drive and 9 kilometre trek distance
Time taken- 44-minute drive and 5-hour trek
Highlights- Exploring the villages of Govindghat Ghangaria, enjoying the confluence of Pushpawati and Himganga rivers at Ghangaria
Accommodation and food in Lodge.
Gorge on an early morning breakfast and take a cab to drive till Govindghat follwed by another 4 km drive till Pulna. It is the last motorable point for this trek. At a distance of 22 kilometres from Joshimath and perched at an altitude of 5,500 feet, Govindghat is a famous pilgrimage Centre for the Sikh community. It is the nearest town to the famous Hemkund Sahib Gurdwara and Hemkund lake.
From Pulna you trek 9 kilometres to reach Ghangaria (10,200 feet),which is the base camp for the Valley of Flowers. The trek traverses through a well-maintained stone path that can either be covered by walk or on a pony. After a walk of 5 km you get to see the clear and astonishing view of Hathi Parvath.
Day 3: Ghangaria to Hemkund Lake and Gurudwara and back to Ghangharia
Altitude gain- 10,000 feet to 14,200 feet
10 Km Trek.
7 Hours duration.
Highlights- Soul-touching and life-enriching experience at Hemkund Sahib Gurdwara and Hemkund lake
Accommodation and food in Lodge.
Start your day early in the morning after having a hearty breakfast. A 10-kilometre trek, aka Hemkund Sahib Yatra, takes you to Hemkund Sahib Gurudwara and Hemkund lake. Hemkund Sahib Gurudwara is the world's highest Gurudwara located at an altitude of 14,200 feet.
The last 5 km trek from Ghangaria to Hemkund Sahib is a steep climb. Many people prefer taking the uphill journey on a pony. Overnight stay is not allowed at Hemkund Sahib. It is advisable that you leave Hemkund Sahib by 2 p.m. so that you reach back Ghangaria before nightfall.
Day 4: Ghangaria to the Valley of Flowers and back to Ghangaria
10,000 feet to 12,800 feet
5 Km Trek.
4 Hours Duration.
Highlights- Soaking your soul in the fresh and colourful ambience of the Valley of Flowers
Accommodation and food in Lodge.
You start your day early so that you get ample time to spend in the beautiful Valley of Flowers. Today's 5-kilometre trek is not very steep and journeys through almost the same level throughout. It brings you to the most colourful valley bedecked with exotic flowers of various hues. This colourful panorama complemented with snow-clad mountains, white clouds and gliding river crossing through the valley is like a painted canvas.
Being a biological reserve, ponies are not allowed to enter the valley.
Spend some time in this bounty of nature before heading back to Ghangaria for an overnight stay.
Day 5: Trek from Ghangaria to Govindghat and then drive to Joshimath
14 km trek distance and 22 kilometres drive
14 km trek distance and 22 kilometres drive
Highlights-Reliving Day 2, enjoying the scenic vistas of Govindghat, Ghangaria, and Joshimath
Accommodation and food in Lodge/Hotel
On Day 5 we will trek back to Govindghat, which is a 14 Km/5 Hours trek. After reaching we drive back to Joshimath and stay overnight at local hotels/guest house.
Day 6: Drive from Joshimath to Haridwar
Breakfast in Joshimath
290 Km Journey
10 hour drive
Will reach Haridwar by 7 PM
Drive back to Haridwar enjoying the scenic landscape of Uttarakhand, rejoicing the idyllic views and reliving the memories of your six-day adventure in the pristine Himalayan valley. This 10-hour road trip can be your ideal affair with the Himalayas as you can make quick stops to click pictures, explore the tiny hamlets en route and feast on the sumptuous Pahadi cuisine on the roadside dhabas.