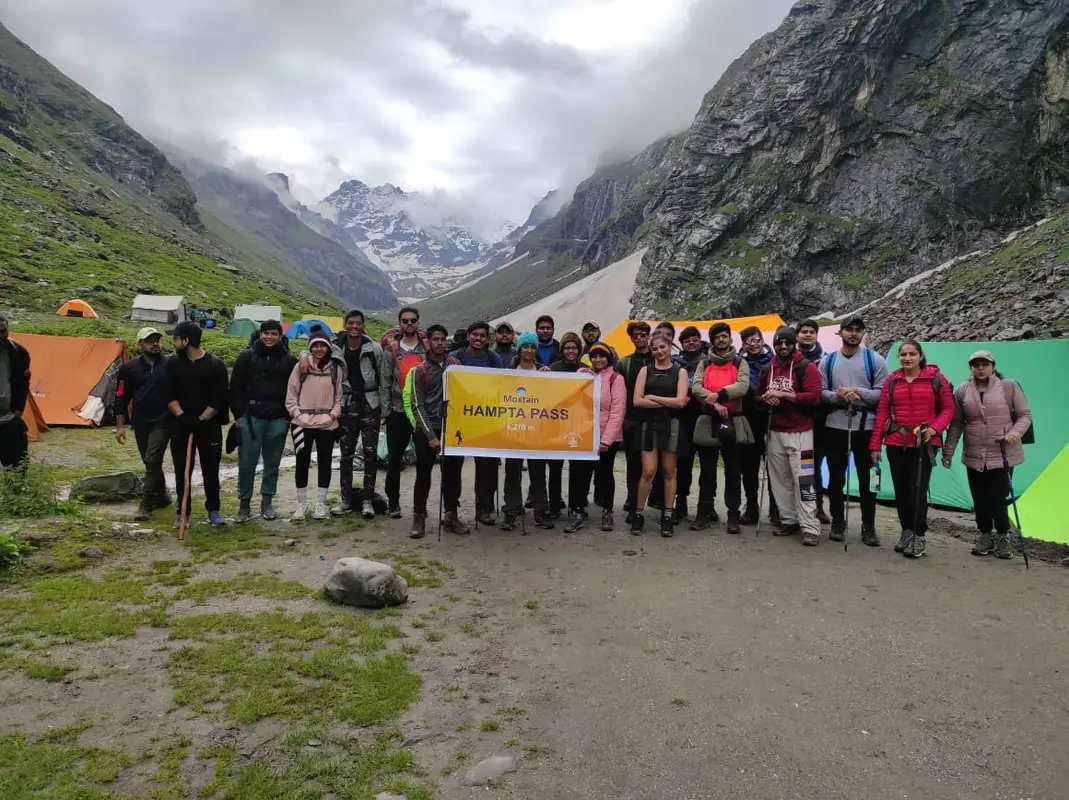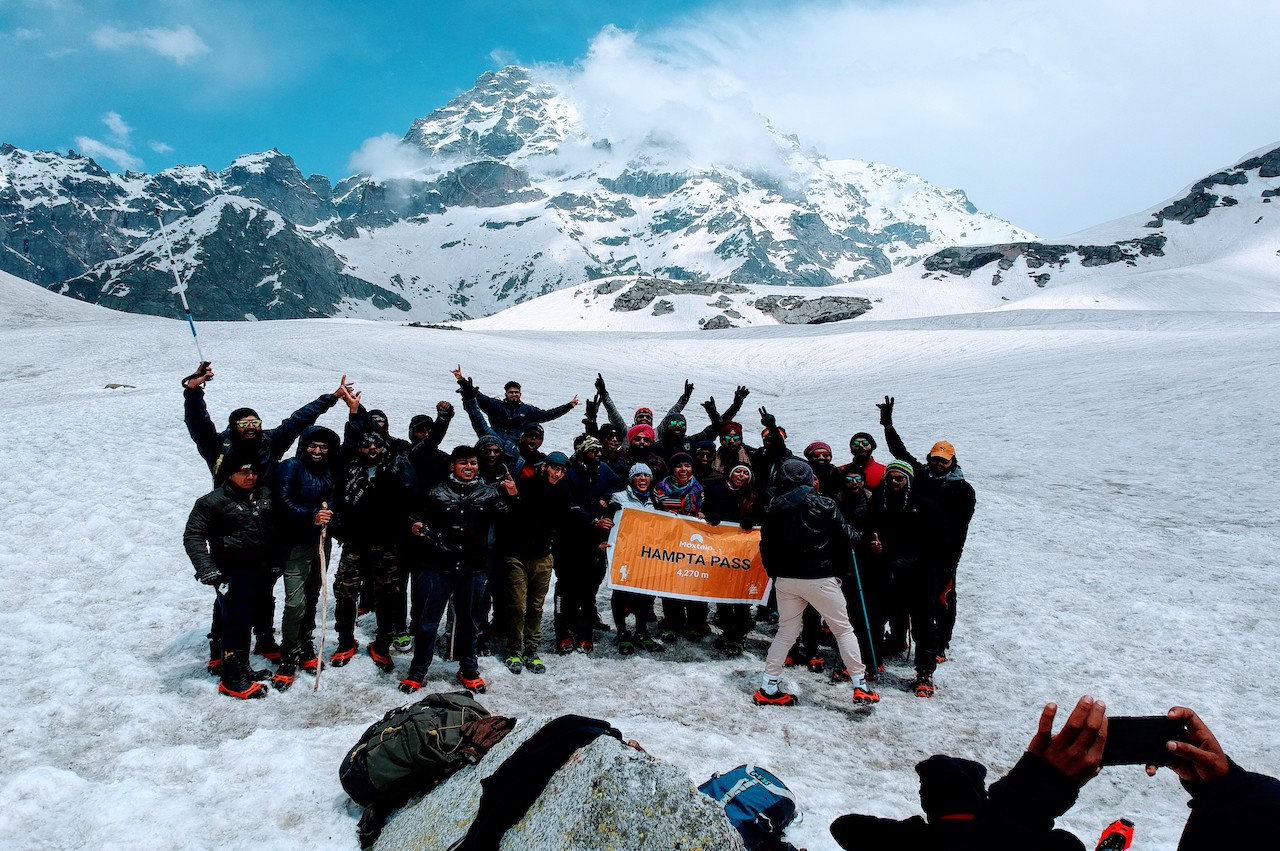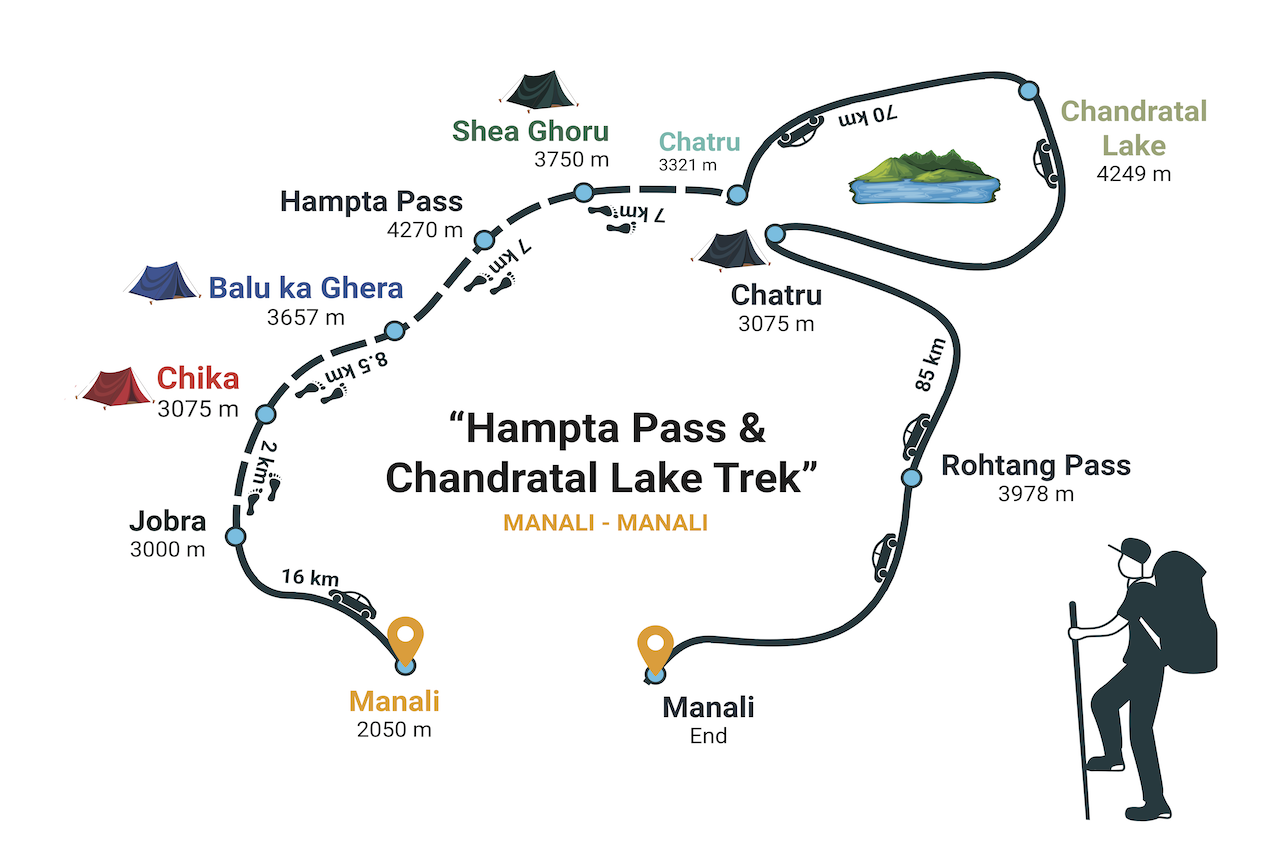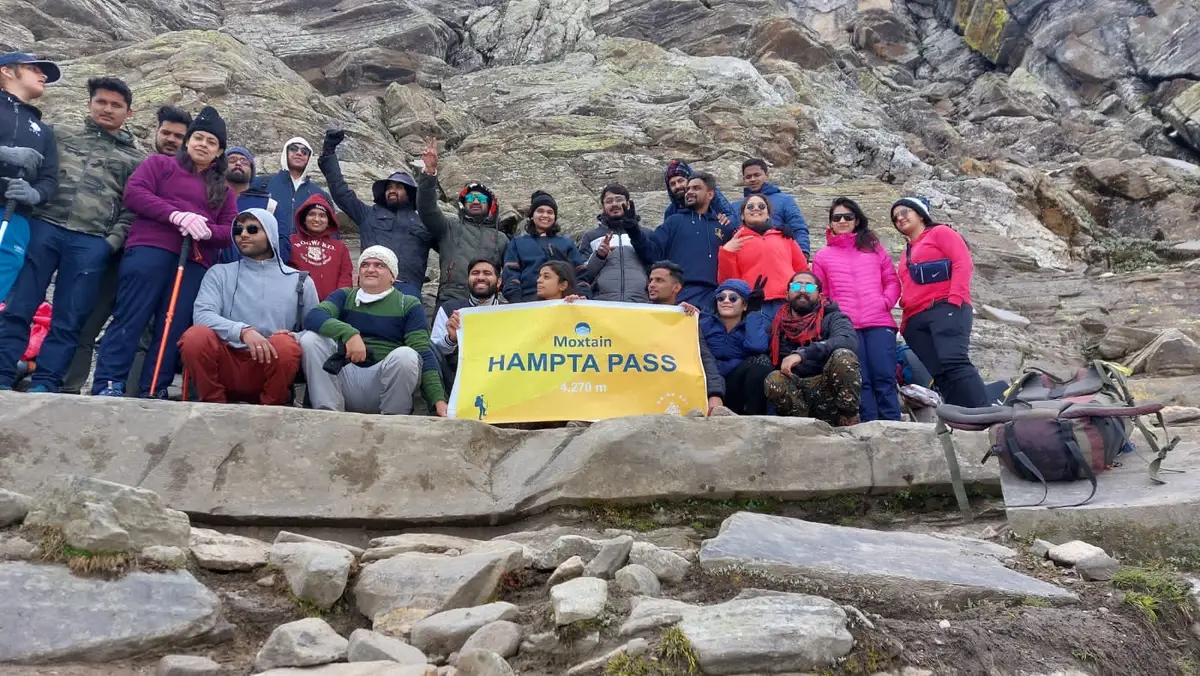 About Hampta Pass Trek
A trek of dreams, Hampta Pass treats you to an amazing display of diverse landscapes in a 5-day mountain rhapsody. The stark contrasting sweeps of topography varying from lush green mammoths to crisp contrasting expanses of deserted wilderness hold you in awe. The sheer drama of this cross over trek is simply intriguing.
Located in the Pir Panjal Range of the Himalayas, Hampta Pass is a live canvas painted in the distinctive settings of Himachal Pradesh.
Trek Details
Pickup Point on Day 1- Nehru Park at the upper end of Mall Road, near Manali Govt Bus station
Drop Point on Day 5- Nehru Park
Departure time from Nehru Park on Day 1- 12:00 noon
Arrival time on Day 5 at Nehru Park- 4:00 pm (might vary due to traffic hindrance).
The package cost includes transportation costs from Manali to Jobra, Chattru to Chandratal, and back to Manali.
How to reach Manali to Join for Hampta Pass: Start, a day before, from Kashmiri Gate Bus station at Delhi at 6-7 p.m. It takes somewhere around 14-15 hours to reach Manali from Delhi, considering the traffic hindrance as well. The bus will drop you at Manali somewhere around 10:00 a.m.
A number of private and govt buses flock between Manali and Delhi.
Private bus station is around 5 km from govt bus station. If you are taking a private bus, take a local cab or auto to reach the meeting point.
Cloak room: There is a cloak room available at govt bus station and its chargeabale on a daily basis. You can also handover your luggage to our team and collect while returning.
Tents are available on triple sharing basis for individuals and friends, and on twin sharing basis for couples. There is no provision for a seperate tent for an individual.
The forest permits for international clients will be as actual and is to be paid by the trekker at the basecamp only.
All this plus the grandeur of vertical rock walls, glossy grasslands, gurgling streams, silver waterfalls, hanging glaciers, overhanging mountains rising above 19,700 feet and the most scenic campsites, Hampta Pass trekking route unfolds the splendor of the Himalayan region like no other.
In this cross over trek, you'd journey to the beautiful Chandra Valley in Lahaul Spiti from the Kullu Valley
This dynamic trek can be completed in 4 days but usually, trekkers add one more day to visit Chandra Taal, the absolutely beautiful blue-water lake. Hampta Pass-Chandra Taal trek is the most sought-after trek of Himachal Pradesh.
About Hampta Pass Trek
At an altitude of 14,010 feet, Hampta Pass is one of the most stunning trekking options that Himachal Pradesh has to offer. Although it has a comparatively moderate level of difficulty, Hampta Pass trek is a fantastic opportunity for amateurs and veterans alike.
It is bound to captivate the trekkers with its alluring landscapes and spectacular vistas. Dense pinewood forests, endless green meadows, rustling mountain streams, vibrant wildflowers, daunting mountains, beautiful valleys, serene lakes, and pools. The entire trail of Hampta Pass trek is dotted with everything you can dream of to witness on a trek.
Landscapes change vividly every few hours of walking on the Hampta Pass trekking trail. The lack of any treacherousness in the trail is compensated by the abundance of natural beauty, which will take you by surprise at every twist and turn of the trek. It begins with a drive from Manali to the basecamp of the trek, Jobra. From there, the incredible journey on foot begins.
True to its promise, the trek will first take you on a voyage through some of the most beautiful sweeps of nature's endless bounty that Himachal has to offer. The zestful forests of pines, maples, and birches on the way from Jobra to Chika, the vast green meadows catering to mountain cattle and bright are some of the iconic moments of the trek.
The colourful rhododendrons and other wildflowers en route to Balu ka Ghera, the rocky cliffs and shallow lakes that pave the road to Hampta Pass, and finally the haunting panorama of Pirpanjal from the gateway to the pass is nothing short of a soulful odyssey.
At the topmost point, it seems like the Himalayas have opened up their deepest secrets for the trekkers to peek into. The breathtaking views of the mountains, gliding down into the abyss of melancholic valleys and rising into the sky with snowy white peaks, reflecting the sun unabashedly, is quite a well-deserved and hard-earned reward for making the easy but exhausting trek.
But the journey is yet not over. The dynamic experience continues during the descent to Shea Goru. Here you will find the most difficult part of the trek – a steep downhill walk along narrow, rocky pathways.
The last treat for the eyes and the spirit on this trek is Lake Chandratal. It is nestled between lofty peaks of the Pirpanjal at a height of 4,250 metres. But before that, a chilling encounter with a mountain stream awaits you – quite literally.
Before you make your way to Chhatru, your last campsite for the trek, a small stream by the campsite of Shea Goru needs to be crossed early in the morning, when the water is low and currents are weak. A simpler walk through pastures and rocky paths take you to Chhatru, where vehicular access is restored.
The drive to Lake Chandratal is as stunning as the lake itself. How the crescent-shaped mass of sparkling water will look to you depends on the time of the day you visit it.
During day time, it reflects the turquoise blue of the sky, while dusk paints it with a shade of deep emerald. Upon nightfall, it turns glistening black. Here too, you can get the opportunity to see local shepherds graze their herds, in the lush greens dotted with wildflowers that surround Lake Chandratal.
About Hampta Pass
Hampta Pass is a small corridor between Chandra valley of Lahaul and Kullu Valley of Himachal Pradesh. It is a fascinating crossover from Manali to Spiti.
At Hampta Pass, the breathtaking view sweeps you off your feet. Colossal Mount Indrasen, Deo Tibba and numerous snow-laden peaks rising as high as 19,700 feet stand tall at a distance and welcome you into a magical embrace. The arid landscape of Lahaul Valley interspersed with naked mountains presents the most widely panoramic sweep, down below.
Tucked in between the majestic folds of the Pir Panjal Range of the Himalayas. The moniker of the valley comes from a beautiful hamlet of the same name. Hampta Village is located below Sethan Village, which falls on the way of the trek to Hampta.
Hampta Pass trek is known for its higher grasslands, which the trekkers would eventually cross on their journey up to the highest point. Sometimes, these patches of open land are used as campsites as well.
These meadows are visited by shepherds from the foothill regions during the summer months when the cold, deserts of Lahaul Valley are left too barren for the cattle to graze. The locals also believe that a certain kind of grass that grows in this region, which they call 'Neeru', is a great source of nutrition for the herds and therefore is a good feed.
History and Mythology
Hampta Pass derives its name from the tiny hamlet Hampta, snuggled in the laps of the Kullu Valley.
According to a legend, Hampta Pass also got its name after a Rishi, Hampta Maharishi who meditated there.
According to the Hindu mythology Mahabharata, this trek route was travelled by the Pandavas on their quest for heaven. In fact, the route from Hampta Pass to Chandratal is often touted as the 'staircase to heaven'.
Quick facts
Region- Himachal Pradesh Himalayas
Altitude- 14,010 feet
Duration- 5 days
Trekking Distance- 28 kilometres
Difficulty Level- Easy to moderate
Start Point- Manali
End Point- Manali
Base Camp- Jobra
Nearest railway station- Pathankot
Nearest airport- Bhuntar
Last ATM- At Manali. It is recommended that you carry enough cash for the trek as there are no ATMs available beyond Manali.
Best time to visit- mid-June to mid-October
How to reach Hampta Pass from Delhi
The best way to reach Hampta Pass from Delhi is via Manali. Reaching from New Delhi to Manali is probably the easiest part of the whole trip. The distance between Delhi and Manali is around 537 kilometres. There are three options available-
By train-

There is no direct train to Manali. From Delhi, you can either take a Shatabdi train to Chandigarh or a train to Pathankot and then hire a cab or take a bus to Manali.
By road-

The distance between Delhi and Manali is around 537 km. The distance between Chandigarh and Manali is 305 km. You can either take a direct bus from Delhi to Manali or reach Chandigarh from Delhi and then take a bus from Chandigarh to Manali.

There is a flight of buses that run between these cities and Manali. From Delhi, it takes around 13 hours to reach Manali by bus. It takes around 8 hours to reach Manali from Chandigarh by bus.
By flight-

Fly to Bhuntar. Located 52 kilometres away from Manali, it is the nearest airport to Manali. There are many private and Indian Airlines flights to Bhuntar that operate on a regular basis. From Bhuntar, you can either take a cab or a direct bus to Manali.
Manali to Hampta Pass
From Manali, you can hire a cab and reach Jobra. From Jobra, it is a 2-day trek to Hampta Pass.
Mobile Connectivity
Mobile connectivity is available till Jobra. However, the connection is not very stable. As you are away from civilization, it is suggested that you take a technology-detox and keep your mobile aside to enjoy this beautiful trek.
Highlights of Trek
Elevation-

The trek takes you to an elevation of 14,010 feet but the trek is nowhere close to being as dangerous as treks to this high altitude usually are. There are hardly any treks that reach such a staggering elevation in a short span of 5 days.
Mountain Villages-

Splendid mountain villages nestled in the lap of Himalayas are ideal places to relax, unwind and lose yourself in oblivion! Perched at an elevation of 8,860 feet, Sethan is one such village that allows you to relax and just be! Located at a 45-minute drive from Manali, this small Buddhist town surrounded by the towering Dhauladhar ranges, is like a paradise set on earth. During winters, when snow fills the ground, the place is blanketed in a white sheet of pure bliss. You get a chance to explore the distinct Buddhist culture of the inhabitants of Sethan who are original migrants from Tibet and Spiti Valley.

Hampta village, located below Sethan village, is supposed to be the track to heaven. It is widely believed that Yudhishthir took this route on his journey to heaven.

You also get to observe the distinct culture of the local populace of Lahaul and Spiti, the high-altitude marvels of nature.
Distinct terrain-

Hampta Pass is exclusive and rare because of the vastly divergent landscapes that it offers it in a span of just 5 days. Just as you cross over the lush green Kullu Valley, the expansive stretches of the deserted and barren Lahaul Valley becomes visible with their sheer spectacle.

Alpine forests and green meadows are constant companions in most Himalayan treks. What sets this trek apart is Lahaul's barren wilderness and sparse vegetation along with the cold deserts of Spiti.
Exotic flora and fauna-

The trek treats you to a unique variety of Himalayan flora and fauna. The grasslands are dotted with pretty wildflowers in myriad hues. The dwarf rhododendrons lining the forest trails cast a rosy-pink contrast to the glossy green landscape of Pinewood, Deodar, Maple, Silver Birch, and mighty oak trees.

After savouring the beauty of the glossy grasslands of Kullu Valley, the dry and cold deserts of Lahaul and Spiti will transcend you to a paradise with a virgin wilderness.

You will encounter Shepherd dogs, sheep, colourful Himalayan Birds such as white-capped redstarts and whistling thrushes that inhabit the Alpine forests.
Imposing mountain ranges-

Imposing Pir Panjal range, colossal mountains of Dhauladhar range and the solitary mountains of Lahaul and Spiti stun you with their contrasting beauty.

The spellbinding views of Deo Tibba, Mount Indrasen and its glaciers from the top of Hampta Pass are sure to have a hypnotic impact on your senses.
Scenic campsites-

Camp at new spots every night, every camping spot tangentially different from the other.

Chika, the first campsite, sits beautifully on the banks of Rani Nallah and floors you with the confluence of two streams emerging from one waterfall. It is a beautiful campsite blessed with the immense natural beauty of effervescent rivers, exotic vegetation of dwarf rhododendrons, birch trees, and glossy grasslands, and splendid view of trekking trail.

Balu ka Gera, meaning heaps of sand, is actually a level campsite of lush expansive ground surrounded by the mighty Dhauladhar ranges. You are treated to the Bandarpoonch peak of the Dhauladhar range on the far side of the campsite. It is located right below the Hampta Pass on the banks of a river.

Shea Goru, the verdant green campsite is flanked by colossal rocky mountains on one side and snow-capped mountains on the other. It is one of the coldest campsites of this trek. A chilly mountain river flows near this amazingly beautiful place. Shea Goru offers the most alluring view of Mount Indrasen peeking through the clouds.

Chatru campsite, at an elevation of 12,900 feet is a colourful valley that treats you to an amazing camping experience. Also known as "oasis in the cold desert", Chatru is encompassed by myriad mountain ranges. Bubbling Chandra river flowing nearby is like a cherry on the cake of this beautiful campsite.
Stream crossing-

River crossing experience on the Hampta Pass trekking route is one of its kind and you need to exercise caution while crossing the effervescent mountain rivers. Crossing the high current rivers requires swift maneuvers, careful navigation, and agility. It is advised to cross the streams in the early hours of the day because the water level is low. Wading through ice-cold waters is both exciting and painful.
Hampta Pass-

A Pass at a height of 14,010 feet is a wide plateau flanked by towering cliffs on the eastern side and the west, it curves and drops down to the magnificent Spiti Valley. The incredible twist in the scenery from green and snowy valleys to the virgin landscape of Spiti Valley is spellbinding and opens a stark new universe at your face. Many shepherds uses this trail to travel to Spiti Valley from the Kullu region.
A crossover trek-

This dramatic crossover trek journeys through Kullu Valley, crosses Hampta Pass, and finally reaches Rohtang Pass via Lahaul and Spiti Valley. Hampta Pass is a mind-blowing trans-Himalayan crossover trek that simply stuns you with crisply opposite landscapes. You walk on green grasslands, forest trails, loose rocks, moraines, boulders, glaciers and vast blankets of snow and are also treated to the most deserted panoramas. This wholesome Himalayan trek is simply a surreal experience!
Interesting valleys and passes-

The melancholic Lahaul and Spiti valleys, which are a part of tribal Himachal Rohtang Pass treat you to a magically mysterious beauty that haunts you for life!

The return journey takes you to the famous Rohtang Pass which is a hub of activity with hordes of tourists swarming the pass from all across the globe. It is in stark contrast to the deserted stretches where you have spent some previous days of this trek.

With colossal mountains standing against the translucent skies and never-ending slopes of snow, Rohtang Pass has allured Bollywood directors to its raw splendor. The pass has witnessed the shootings of many Bollywood blockbusters.
Chandra Taal lake-

Glorious Chandra Taal, the glistening crescent-shaped lake surrounded by the harsh brown mountains, is the most exotic jewel that this trek has to offer. It is literally icing on the top as this high altitude glacial lake actually sits on top of Hampta Pass.

According to Hindu mythology, Chandra Taal is the point from where Yudhishthir ascended to heaven. This deep moon lake mesmerizes you with its pristine beauty. It sparkles like a shiny turquoise jewel on Spiti's otherwise lusterless crown.

The legendary lake has many tales associated with it. According to one legend, this is the actual spot at which Lord Indra's chariot took Yudhishthr to heaven.

According to another legend, the blue-water lake stands as a mute spectator to the tragic love that blossomed between the lake fairy and a shepherd. It is believed that the descendants of the shepherd still visit the lake in the hope of finding the fairy.
Best time to visit Hampta Pass
Mid-June to mid-October offers the best time to visit Hampta Pass. Higher regions of the pass may have some snow in the early days of the season but it melts down completely by August.
It is one of the few treks that can even be enjoyed during the monsoon time, however with some caution. With snow having melted, the lakes and streams brim with sparkling water in the monsoon season. Silver waterfalls gushing down the mountains is a sight to behold. The meadows are glossy with fresh grass and the salubrious mountain air, soak your senses with a unique freshness.
Chandra Taal lake is easily accessible during these months and this is one of the prime reasons for trekkers to undertake this trek from mid-June to mid-October. Sometimes it may happen that the roads to the lake are not open in the starting month of June.
Difficulty Level Hampta Pass
The trek is of easy to moderate difficulty level and a good fit for beginners as well as seasoned trekkers. One should have an optimum level of fitness for undertaking this trek. It has fewer challenges as compared to other treks of this elevation.
Even though some of the trails are moderately challenging, there are hardly any long stretches of treacherous trekking. Only a few terrains require steep ascends and carefully descends. The difficulty level of this trek is mostly weather dependent.
Is Hampta Pass Trek recommended for beginners
For trekkers who don't have an advanced experience but some prior experience in trekking, Hampta Pass is that perfect destination with one-in-all ingredients of a mountain adventure. This trek is the most rewarding experience in terms of dynamic landscapes, connectivity, difficulty level and the potpourri of trekking elements that it has to offer.
It is advisable that you take a guide with you to show you the path and guide you through rough weather.
Water availability during trek
The ever-flowing streams of pure water are a delight. One can actually place a water bottle in the gushing water to fill it up. The Water is so pure and crystal clear and so fresh! You get enough water on Day 1 and Day 2 of the trek. On the third day of the trek, carry sufficient water from Balu ka Gera as you won't find any water sources till your next destination. On Day 4, you will again get enough water sources on the way.
Day 1: Manali to Chika Via Jobra
Altitude gain from 6,725 ft. to 10,090 ft.
16 Km / 2 Hours Drive from Manali.
2 Km Trek from Jobra to Chika.
Accommodation and food in tents at Chika.
We will begin from Manali in the morning after briefing about the trek. Timing for arriving in Manali will be coordinated to you by mail as you make booking for the trek. From here transportation will be arranged by us, and the vehicle will take you from here.
The drive from Manali will take around 2 hrs/ 16 kms and curls around the 42 hairpin bends, each bend marked with the number. it's an easy trek to the Chika campsite on the banks of Rani Nallah, a 2 km trek that walks you into a mixed forest of pine, green maple and birch trees.
Day 2: Chika to Balu Ka Ghera
Altitude gain from 10,990 ft. to 12,000 ft.
8.5 km, 6 hours of Trekking.
Lunch and Snacks at midpoint. Accommodation and food in Tents.
The trek today begins from Chika and takes you through grasslands and rocky paths, after crossing a few streams to the next site. Carry enough drinking water along with you and keep yourself hydrated.
The picturesque views start from the beginning of the day. The trail leads from the grasslands which is basically a simple grazing ground in the pre-monsoon season but in the post monsoon, these grasslands are covered all over with beautiful colorful wildflowers. This mesmerizing beauty made me wonder, when this unrecognized place has this immense beauty, one day I will surely visit the valley of flowers, so to actually identify, what level of beauty does it take to get an international recognition.
At Chika, This point is itself a great view point, as you look behind and find the Rani Nallah dividing into small streams along a green endless pasture, you just walked through. To the opposite side of the river from your viewpoint, the vegetation includes dwarf Rhododendrons and Birch trees exactly contrary to what you find on your side, and what is that?
It's nothing, just simple grasslands and that too not enough to serve as grazing fields for cattle herds. The trail further leads you through boulders and you encounter a small stream of about 10 ft, with ice cold water and current enough to disturb your balance. Take precautions while crossing the stream, remove your shoes, as getting yourself wet may ruin your further days.
The trail will last about an hour walk with gradual ascent, initially walking through a path of meadows and then leading you to a path carved between the boulder, and lifts you up to the beginning of the flat trail to Balu ka Ghera.
Balu means sand, which gives you a clear identification to your destination. It's a flat plane composed of sand brought down by this stream Rani nalla. The gushing sound of the river also follows along the trail as we ascend but as the slope decreases the gushing also dampens. The trail further walks in to the flat area, covered with sand depositions, and you realize that you are not far away from your destination.
The flat area is surrounded by sky high rocky cliff and a number of random waterfalls arising from them as many of these cliffs are covered with snow and remain the same throughout the year. A Half an hour walk further leads you to your campsite.
The campsite is beautiful and has a number of small streams which further sum up to form the Rani nallah stream. The site is surrounded from three sides by high cliffs, among which one of them will be your path for tomorrow's trek. The fourth side is your route you crossed till now and far away on this side you can see the Bandarpunch peak of the Dhauladhar Range.
Day 3: Balu Ka Ghera to Shea Goru via Hampta Pass (4270 meter)
Altitude gain from 12,468 ft. to 14,010 ft.
7 km, 6 hours of Trekking.
Lunch and Snacks at midpoint. Accommodation and food in Tents.
The ascent from Balu ka ghera is the most serious incline you face in the entire trek. Today's trek is the final ascent to Hampta Pass; but that's not all, the descent further to Shea ghoru is itself a challenging task.
Before leaving the campsite carry sufficient drinking water,as in this final ascent to 4270 meters you don't want to get yourself dehydrated and spoil the trek to the summit. So, keep drinking enough water throughout the ascent.
Also, for the inexperienced trekkers, walk at a constant pace and don't exhaust yourself. Take rest at equal intervals and replenish your body with water and other snacks like dry fruits etc., take rest on something like walking poles, don't sit as it makes it difficult to start again. On descending from the Pass, be careful. Take firm steps, make grip, because falling here spoils the fun of crossing the Pass. Also the path is carved on scree and that makes your fall, a rough one.
The initial walk starts with a gradually increasing slope, and takes you into a flat area that looks like a widespread beautiful lake, exactly not a lake and not even half a foot deep.
The slope, now onwards is a tough one, pre-monsoon it snows a stretch up to the Pass, itself. The steep snow makes the route a little adventurous. Post monsoon, the route trails through a rocky path. Between the Pass and these rocky steep incline, you encounter two ridges which are steep and you gain altitude rapidly as compared to your earlier ascents.
Crossing these ridges takes you to U-turn to the left from the second ridge and this is your gateway to The Hampta Pass. Reaching the Pass is a rewarding feeling. The panoramic view of several sky high snow clad peaks mesmerizes you.
The snow clad Mt Indrasan peak standing tall justifies the true meaning of its name, 'the throne of the rain god'. Just behind it, stands mighty " Dev Tibba ", the gods abode.
From here, trace the route you came along and you will realize your potential, this accomplishment surely doesn't fill your pocket but it surely boosts your determination, power and confidence.
And now once you realize your potential, this experience will surely benefit you in facing the big mountain challenges that you face in your careers and life.
At the Pass, stay and relax for a while, but do not take long, leave the place and descend. It is advised to avoid staying for too long at the summit points, as sudden weather changes are usual at this height, and in case of fog and rain, the route becomes difficult.
The descent from the Pass is a difficult one, carved on screen and needs to be negotiated carefully. It is seen that most of the accidents happen at the time of descending as this is the time when a person is least careful. So, take care and walk by firm steps.
Also take care, to not make any rock fall by your carelessness as it might hit and cause someone a serious injury.
With the required precautions, we walk safely to our next campsite, Shea Ghoru. It's the coldest place in your trek so keep yourself packed with woolens. It's a levelled pasture surrounded by huge rocky cliffs, with a stream flowing next to your campsite. You need to cross this ice chilled water stream tomorrow in the morning, as at that time the water current will be weak.
Day 4: Shea Goru to Chhatru / Visit Chandrataal (13,943 ft.)and return to Chhatru campsite
Altitude gain 12,303 ft. to 13,943 ft.
7 km, 4 hours of Trekking.
Lunch and Snacks at Chhatru.
Drive to Chandrataal and return to Chattru Campsite.
Accommodation and food in Tents.
The trek starts a little early for the day, because after reaching our campsite which is not more than 2-3 hours from here. We utilize the way by taking a sightseeing road trip to The Chandrataal lake.
Today's trail is a simple descent up to Chatru,the last campsite nearby the road connecting Manali to Kaza. But the start of the day, includes all the fun. The stream flowing by your campsite, which added beauty to the boring campsite otherwise.
This stream need to be crossed, in this chilling hour. It is advisable to cross the river in the early hours of the day, as at this time the water level is low, as the low temp in the night prevents the ice from melting.
Hence, low water level and also weak water current makes the morning hours the best time to cross a stream. Ice chill water cannot be avoided, though it does no harm and add one more thrilling experience to your trek memories.
The trek, further, after crossing the river is a simple path carved in grasslands and further along some boulders. At the end, there is a little steep descent, but this time it's a piece of cake for you as you crossed the tougher one earlier while descending from the Pass.
Further, crossing a small stream, across a small bridge, be careful here, it's a weak one so cross one person at a time. And then plane tour along the Chandrabhaga river lands you to your last campsite, Chatru. Take some rest and refresh yourself, as after that we leave for the sight-seeing to the Chandratal lake and return in the evening. After returning from the lake, we will halt at the Chatru campsite for the night.
Day 5: Drive back from Chatru to Manali Via Atal Tunnel
Breakfast at Chattru campsite.
85 Km Drive to Manali via Atal Tunnel.
4 Hours drive (expected arrival time 1:30 PM, traffic conditions may increase driving time).
Trekkers can make further travel plans accordingly after reaching Manali.
Next day, after morning breakfast at Chatru campsite, transportation will be arranged for trekkers accordingly and we will bid our goodbye to marvellous Spiti Valley and head back to Manali which is a 4-5 hours drive from Chatru.
We will have a halt at any midpoint for lunch (exclusive of trek cost). Once we reach Manali, trekkers can make their further travel accordingly.