Reputation precedes the name of the state of Himachal Pradesh when it comes to offering picturesque trekking trails for the adventurous souls. One such stellar route that is close to the heart of many veterans and an excellent learning experience for amateurs, is the Hampta Pass Trek in the Himanchal region of the great mountains.
Posed as a small but quite significant passage corridor connecting the valleys of Lahaul, Spiti, and Kullu, Hampta Pass brings forth to the explorers the unabashed, rustic charm of the Pirpanjal Range.
Hampta Pass Trek
Hampta Pass is the kind of trail that calls you back to itself time and again, and every time you go back with your heart full yet unsatisfied – such is the beauty of the trek. Despite being located at an altitude of 14,100 feet (4,230 metres), Hampta Pass trek is moderate in difficulty and comprises of a total distance of merely 25-26 kilometres at most. The entire journey can be covered in 5 days of trekking, including an excursion to the crescent moon-shaped Chandrataal Lake. There are not more than 16-17 hours of walking and climbing, excluding the hours of a meal, rest and drive.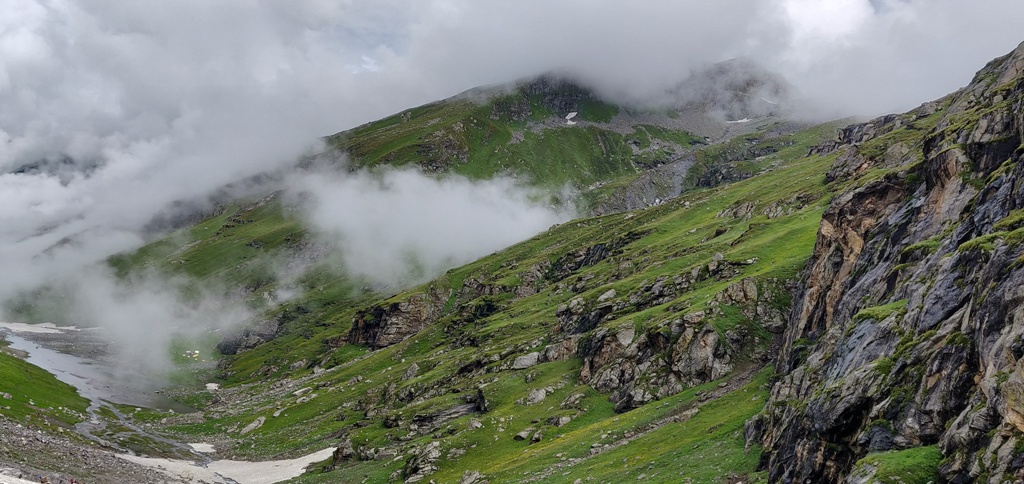 Like most trails of Himachal Pradesh, the basecamp of Hampta Pass trek too can be reached by a drive from Manali. The small village of Jobra, from where the trek starts towards the pass, is around 20 kilometres away from Manali and takes 1.5-2 hours to reach. The best and easiest way to reach Manali is via Delhi, irrespective of your choice of transport.
There are a few Air India flights from Delhi to the nearest airfield to Manali which is at Bhuntar Airport. It is around 52 kilometres away from Manali and can be traversed in hired cabs and state buses. Planes fly to Bhuntar from Chandigarh as well, although less in number and frequency than from Delhi.
However, the better-suited and highly preferred mode of transport by most trekkers is a roadway. There are way more buses going directly to Manali, both during the day and overnight. There are state buses, the last of which leaves at 8:30 PM and more luxurious Volvo buses which commute between 5 AM and 11 PM. Car rides are easily available from any major cities, including Delhi, Chandigarh, Shimla, Dharmshala, Dalhousie, Hardwar, Dehradun et cetera.
Once you reach Manali, a two-hour drive featuring 42 hairpin bends and accompanied by the twisting and turning Rani Nallah River tearing through the glistening Kullu Valley, introduces you to the beauty of nature that you can expect from the trek. The car ride drops you off at Jobra, from where your exciting walking experience through the lovely landscape of Pirpanjal begins. The road leading you from Jobra to your first campsite Chika is dotted with the most charming abundance of silver birches, maples, and birches as you make your way through the thick wilderness of floras.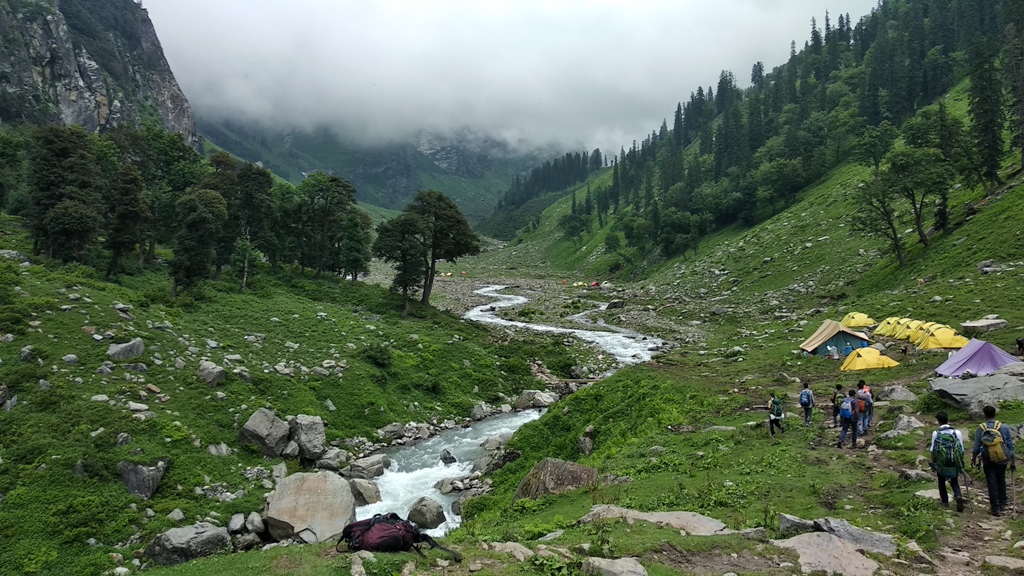 Chika presents to you with a night under a starlit sky – one of the best things to witness on the trek. The next day brings a stunning diversity to the terrain, as the first half features open meadows, green pastures and river banks with hilly shepherds grazing their cattle here and there. But the second-half before reaching Balu ka Ghera is sand-ridden and much more arid. The next day brings the opportunity of a difficult uphill climb through possibly snow-covered lands to finally arrive at the gateway to Hampta Pass.
The panoramic vista from the top of the pass is an unmatched, unparalleled treat to the eyes, as the Lahaul Valley reveals itself in all its boundless beauty. The snow-clad crown of Mount Indrasan stands tall amidst other smaller peaks, and from behind that peeks Deo Tibba Peak, playing hide-and-seek with the clouds.
The way back down is far more treacherous than the climb was. The path sloping down towards your penultimate stop Shea Goru is steep, rocky and often quite narrow. Once that barrier is over, an excursion to the Chandrataal Lake awaits you before your descent to the last and final stay at Chhatru.
Best time to visit Hampta Pass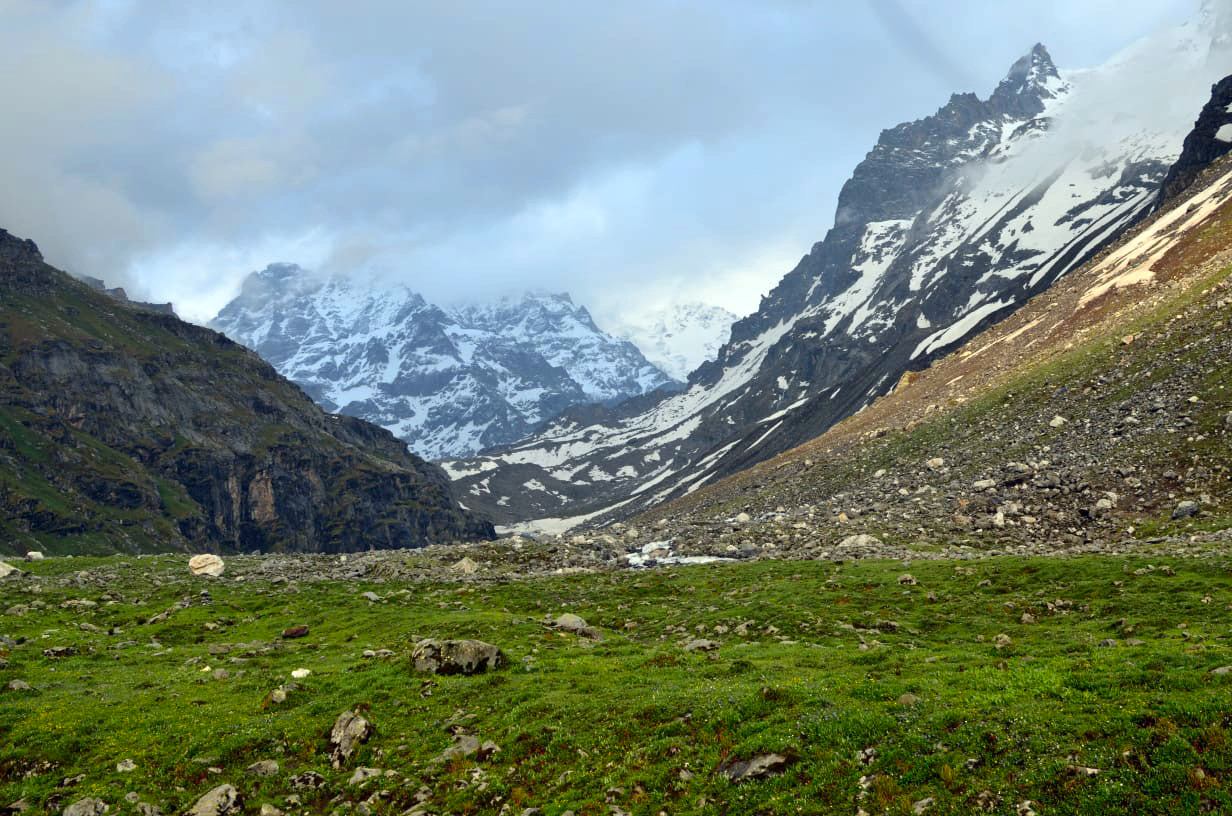 Hampta Pass stays open for trekkers from May to October. The other half of the year is too snow-laden for anyone to walk, along with freezing, sub-zero temperatures. The best time to visit Hampta Pass is from mid-June to October. Trekkers can get some snow during the months of May-June or September-October, and August is the sunniest month right until it starts raining. Therefore the seasonal window for a Hampta Pass trek is quite short, but the experience is a thousand times worth the effort. During the entire stretch of six months, temperatures stay around 12 degrees Celsius to 20 degrees Celsius during daytime and drop to 0 degrees Celsius -5 degrees Celsius at night.
Hampta Pass Trek in May
May is when you can still see quite a lot of snow on your way up along the trek. Most groups conduct this trek from the next month, but if you are up for a May trip, then you will have to be ready for a few things. First of all, the temperatures remain around -4 degrees Celsius to 0 degrees Celsius at night, while during the day it is still quite cold at 8 degrees Celsius to 10 degrees Celsius. Moreover, the snow can alter the landscapes which might be trouble even for the most veteran of trekkers. Loose rocks, landslides, and otherwise chilling weather definitely pose an existential threat if you choose to be the first trekkers of the season. As a final blow, you might find your return path from Chhatru back to Manali via Rohtang Pass closed unless the snow from the previous season is not cleared. Hence, it will be quite a risky venture to try the Hampta Pass trek in May.
Hampta Pass Trek in June
June is when most trekkers prefer to go for Hampta Pass trek. It is the ideal time for a number of reasons. The temperature rises up to bearable levels, averaging around 12 degrees Celsius to15 degrees Celsius more or less. There are patches of snow to be enjoyed and the rivers are still frozen in most places. A good part of the trek will be over alpine glaciers. However, there are clearings too where the ice thaws to make space for camping. Some of the mountain streams and brooks melt as well, providing a source of drinking water if needed. By the month of June, most passes and roads are cleared off snow and opened for walking through, so there should not be any problem with the commute. If you go at the end of June, you might even see the first growth of green in the valleys, with tiny flowers stretching their colourful heads above the snow.
Hampta pass Trek in July
July treats you with more heat and thus a better climatic condition to complete the trek. However, you will miss out on most of the snow, especially if you go around the end of the month. But on the other hand, you can get to see the famous green carpets of Himalayan meadows, all green and covered in wildflowers in your welcome. If in luck, you will be able to see the Himalayan cattle grazing as well. Camping and finding water sources become much easier, and there is hardly any chance of snow blocking your path upwards.
Hampta pass Trek in August
August is the sunniest month in the valley, but it also begins to rain around this time. There will be no snow, and the daytime temperature hovers around 18 degrees Celsius to 20 degrees Celsius for a couple of weeks at least before it starts dropping again in September. When the sun shines, the valleys of Lahaul and Spiti look the most beautiful, with the fields all fresh and green, the yellow, red and pink flowers bobbing their head and the streams flowing freely with the ever-beautiful gurgling noise. However, one should be very careful when it starts to rain, for obvious reasons. The path gets muddy and slippery, especially around river beds. It becomes hard to camp at night on wet ground. You should consider all such pros and cons before you book yourself a trek to Hampta Pass in August.
Hampta pass Trek in September
If you are one of those trekkers who are not that much into snow and ice but prefer a greener, rain-washed ambience on the trail, September is the perfect month for you. Towards the middle and end of September, monsoon almost goes away, leaving the region covered in a fresh new carpet of green. The temperature begins to drop below 10 degrees Celsius again, but the skies are clear and the breeze is chilly, making it near-perfect for experienced Himalayan trekkers. In places where the grass is absent, snow and mud clear off completely to reveal the rugged barrenness so typical to iconic trekking routes. Finding water and spots for camping should not be a problem at all.
Hampta Pass Trek in October
Come October, it has already started to feel like winter in Hampta Pass. There are no signs of rain and trekkers can expect clear weather at all times for the first half. The sun shines bright during the daytime, but at night temperature falls to 5 degrees Celsius -7 degrees Celsius regularly. But the second half of the month is particularly tricky, as the paths get narrower due to snowfall and roads begin to close for winter, especially the return path through Rohtang Pass. Temperature falls under zero as well. The weather starts acting erratically during this time, and despite being a trek of moderate difficulty, Hampta Pass becomes a difficult venture. Go for it at this time only if you are an experienced and veteran trekker and have confidence in yourself.
Book Now