Trek Overview
At an altitude of 14,010 feet, Hampta Pass is one of the most stunning trekking options that Himachal Pradesh has to offer. Although it has a comparatively moderate level of difficulty, Hampta Pass trek is a fantastic opportunity for amateurs and veterans alike. It is bound to captivate the trekkers with its alluring landscapes and spectacular vistas. Dense pinewood forests, endless green meadows, rustling mountain streams, vibrant wildflowers, daunting mountains, beautiful valleys, serene lakes, and pools – the entire trail of Hampta Pass is dotted with everything you can dream of to witness on a trek.
Landscapes change vividly every few hours of walking on the Hampta Pass trekking trail. The lack of any treacherousness in the trail is compensated by the abundance of natural beauty, which will take you by surprise at every twist and turn of the trek that spans over 5 days. It begins with a drive from Manali to the basecamp of the trek, Jobra. From there, the incredible journey on foot begins.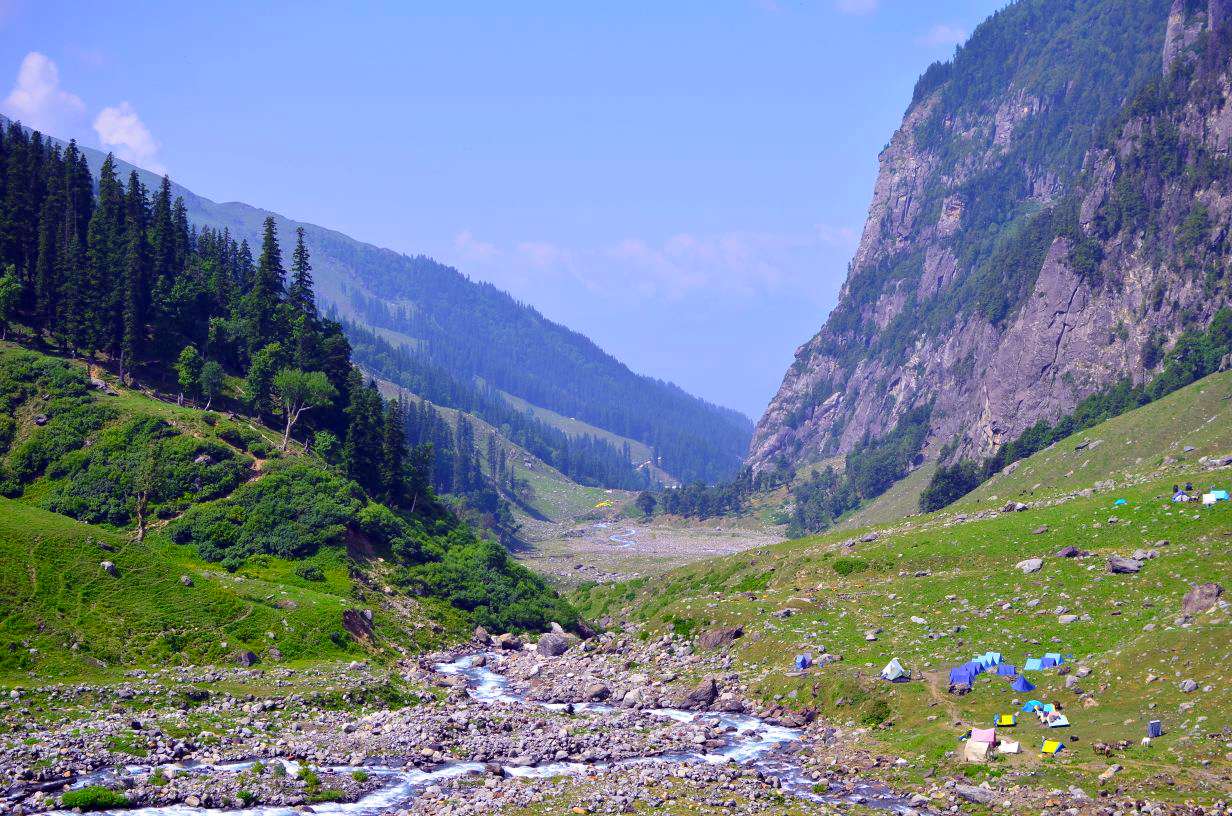 Campsite at Hampta pass
True to its promise, the trek will first take you on a voyage through some of the most beautiful sweeps of nature's endless bounty that Himachal has to offer. The zestful forests of pines, maples, and birches on the way from Jobra to Chika, the vast green meadows catering to mountain cattle and bright, colourful rhododendrons and other wildflowers en route to Balu ka Ghera, the rocky cliffs and shallow lakes that pave the road to Hampta Pass, and finally the haunting panorama of Pirpanjal from the gateway to the pass – the whole trail is nothing short of a soulful odyssey.
At the topmost point, it seems like the Himalayas have opened up their deepest secrets for the trekkers to peek into. The breathtaking views of the mountains, gliding down into the abyss of melancholic valleys and rising into the sky with snowy white peaks, reflecting the sun unabashedly, is quite a well-deserved and hard-earned reward for making the easy but exhausting trek. But the journey is yet not over. The dynamic experience continues during the descent to Shea Goru. Here you will find the most difficult part of the trek – a steep downhill walk along narrow, rocky pathways.
The last treat for the eyes and the spirit on this trek is Lake Chandratal, nestled between lofty peaks of the Pirpanjal at a height of 4,250 metres. But before that, a chilling encounter with a mountain stream awaits you – quite literally. Before you make your way to Chhatru, your last campsite for the trek, a small stream by the campsite of Shea Goru needs to be crossed early in the morning, when the water is low and currents are weak. A simpler walk through pastures and rocky paths take you to Chhatru, where vehicular access is restored.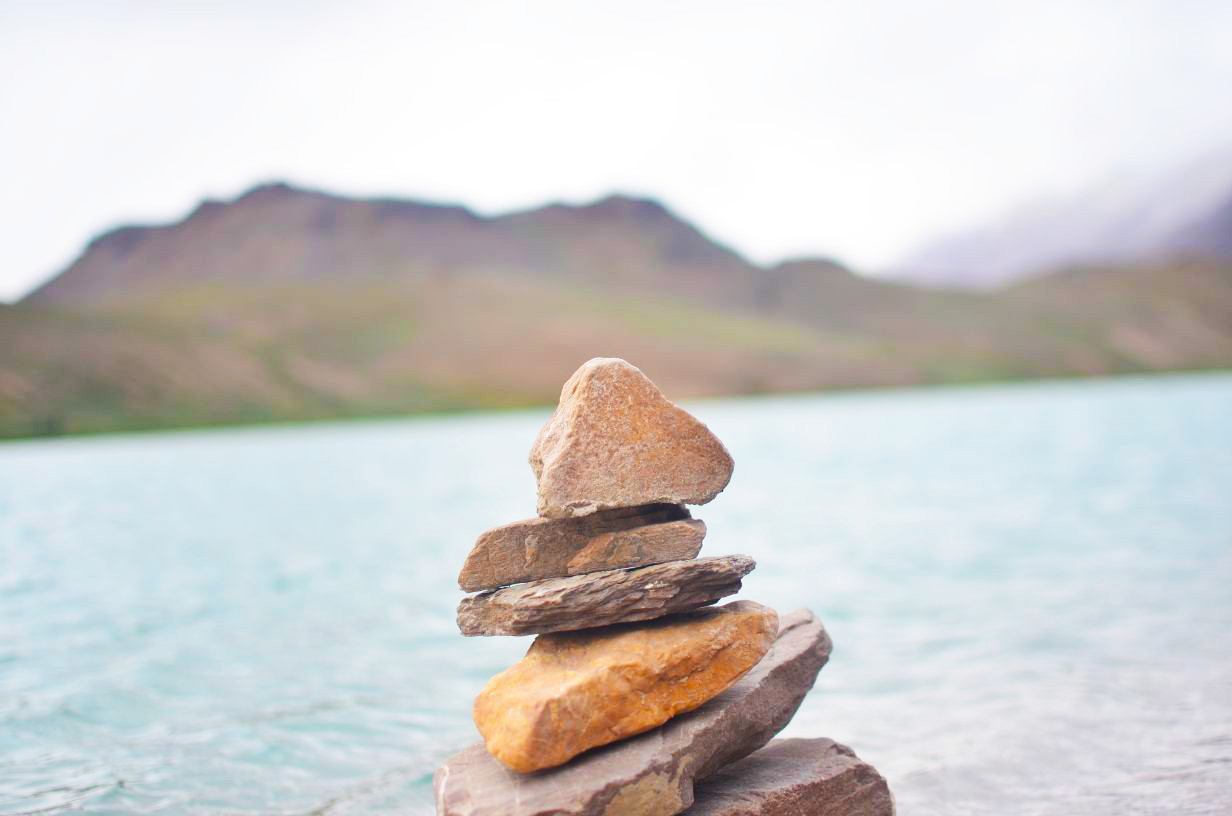 Chandratal Lake
The drive to Lake Chandratal is as stunning as the lake itself. How the crescent-shaped mass of sparkling water will look to you depends on the time of the day you visit it. During day time, it reflects the turquoise blue of the sky, while dusk paints it with a shade of deep emerald. Upon nightfall, it turns glistening black. Here too, you can get the opportunity to see local shepherds graze their herds, in the lush greens dotted with wildflowers that surround Lake Chandratal.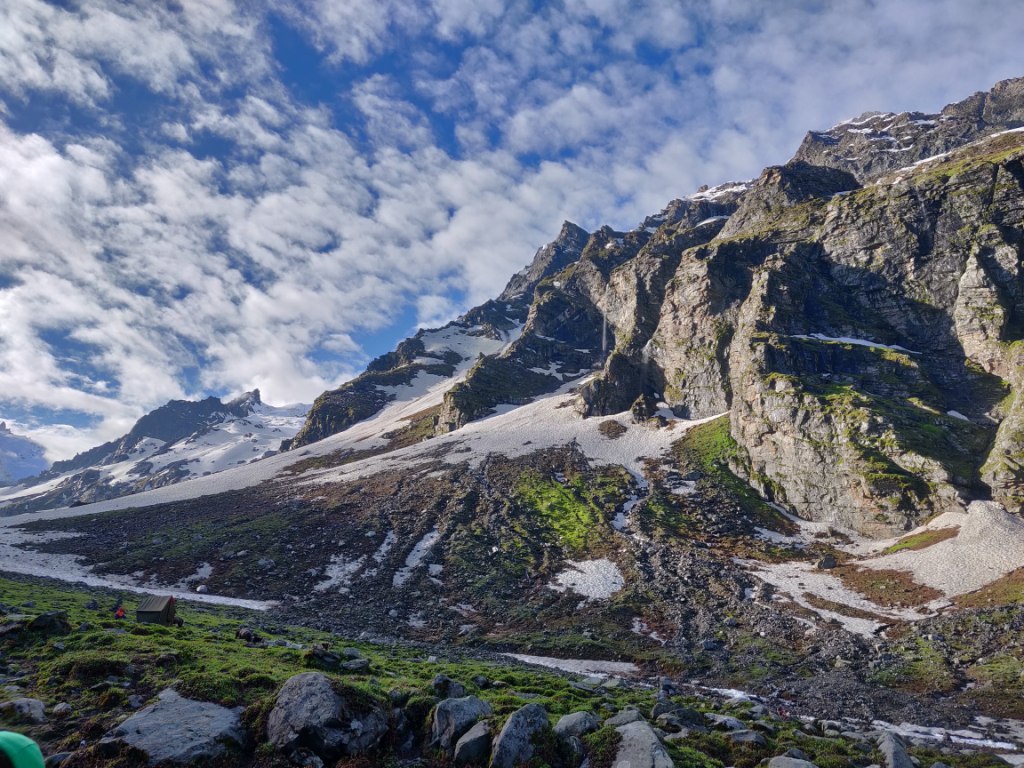 About Hampta Pass
Tucked in between the majestic folds of Pirpanjal Range of the Himalayas, Hampta Pass happens to be a small but significant corridor connecting the valleys of Lahaul, Spiti, and Kullu. The moniker of the valley comes from a beautiful hamlet of the same name. Hampta Village is located below Sethan Village, which falls on the way of the trek to Hampta.
Hampta Pass is known for its higher grasslands, which the trekkers would eventually cross on their journey up to the highest point. Sometimes, these patches of open land are used as campsites as well. These meadows are visited by shepherds from the foothill regions during the summer months when the cold, deserts of Lahaul Valley are left too barren for the cattle to graze. The locals also believe that a certain kind of grass that grows in this region, which they call 'Neeru', is a great source of nutrition for the herds and therefore a good feed.
How to reach Hampta Pass
Reaching from New Delhi to Manali is probably the easiest part of the whole trip. You can avail one of the several direct bus services between the two cities. Most of them are comfortable Volvo bus services and take around 12 hours 30 minutes overnight journey to reach the destination. For a cheaper but longer ride, you can take a train from New Delhi to Ambala Cantonment Station, and then a State bus from there to Manali. However, if you don't mind spending money and time is of the essence to you, then taking a flight to Chandigarh and then a car will take you to Manali in less than 9 hours.
Facilities
Before embarking upon any journey, it is essential to know what you have in hand and what you don't. We offer top-notch quality gear, full medical support, hygienic and delicious vegetarian meals on time and coverage of permits and camping charges completely. There will be certified trek leaders and experienced support staffs to guide and assist you along throughout the journey. Other nuances of the trek will be made clear to you before the group sets off for the trek.
Itinerary
What's Included
Inclusions
Mountain course certified and experienced Trek Leader.
Supporting staff.
All meals on scheduled time(Vegetarion and Delicious Only )
Quality equipments for Trekking.
Fully equipped medical kit and safety equipments.
All kind of permits and camping charges.
Exclusions
Personal expenses done by the trekkers while on the trek.
Food items purchased by trekkers during the trek at local canteens or during the drive.
Mules or porters to carry personal luggage.
Anything not mentioned in Inclusions.
Health and Safety
For any Himalayan Trek, Ideal BMI for a trekker should be 18.5 to 24.9
To keep a check of this please calculate BMI here
Below given Safety checks should be done to get prepared for any Himalayan Trek.


Balance : As well said a balanced mind and body gives out best in every condition and that too works in Himalayan treks as well.
Legs Strength : Body and Legs Strength is required to carry body weight as well as the backpack while trekking in uneven multi terrains. Generally, a good strength on legs works out good in any Trek. One can gain legs strength by doing simple Squats.
Muscle Flexibility : While trekking in Trans Himalayan region with a flexible body one can easily achieve full range of movement and this can be really helpful for trekkers as well as trek leads. A good flexible will be an advantage while walking on trails, climbing and river crossing etc. Flexibility can be achieved by simple stretching, yoga etc.
Cardiovascular Endurance : Cardiovascular endurance is defined as the ability of lungs and heart to transmit oxygen to the body muscles. All Himalayan treks are basically ascending descending the slopes and for this trekkers should be having a good cardiovascular endurance. Anyone planning for a Himalayan trek can attain this capacity by doing any cardio exercise like running, swimming, cycling etc.
Cancellation
Cancel up to 30 days before trek start date and get full refund.
Cancel up to 15 days before trek start date and get 70% refund.
Cancel up to 7 days before trek start date and get 50% refund.
Cancel within 7 days of trek start date and the cost of the full reservation is non-refundable.
Refunds will be processed within 7-10 working days from the date of cancellation.
In case of refund, 2.5% (Payment processing charges) will be applicable.
Eligible refund amount will be calculated from the total trek fee offered, in case you have made partial payment only.