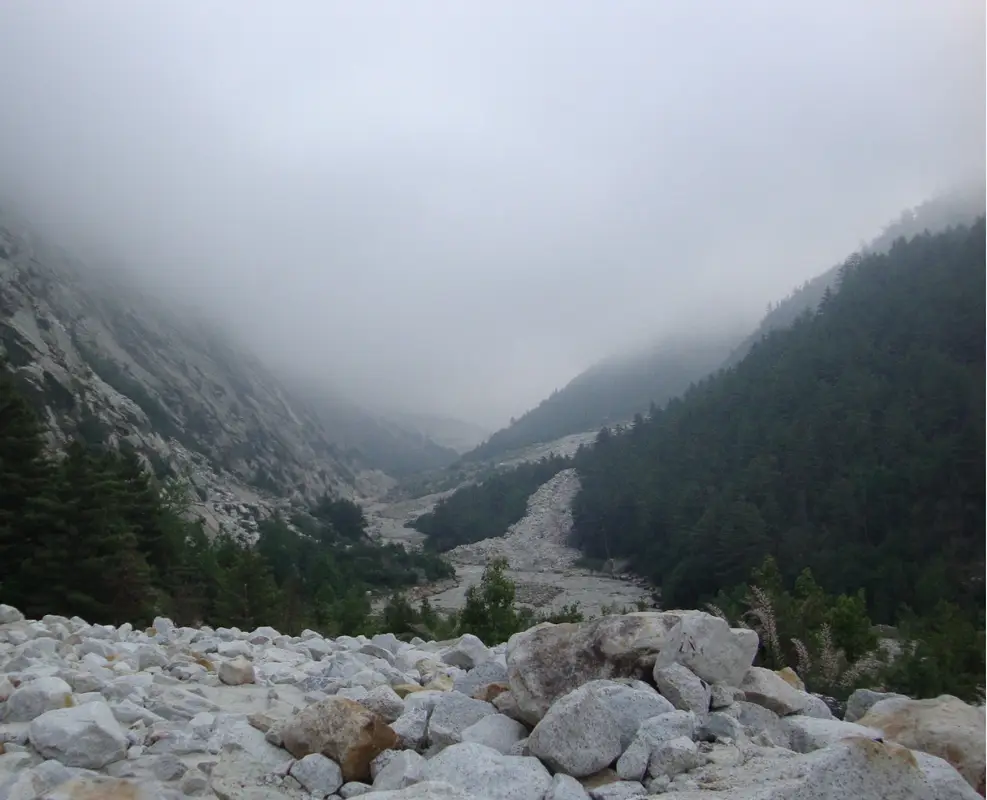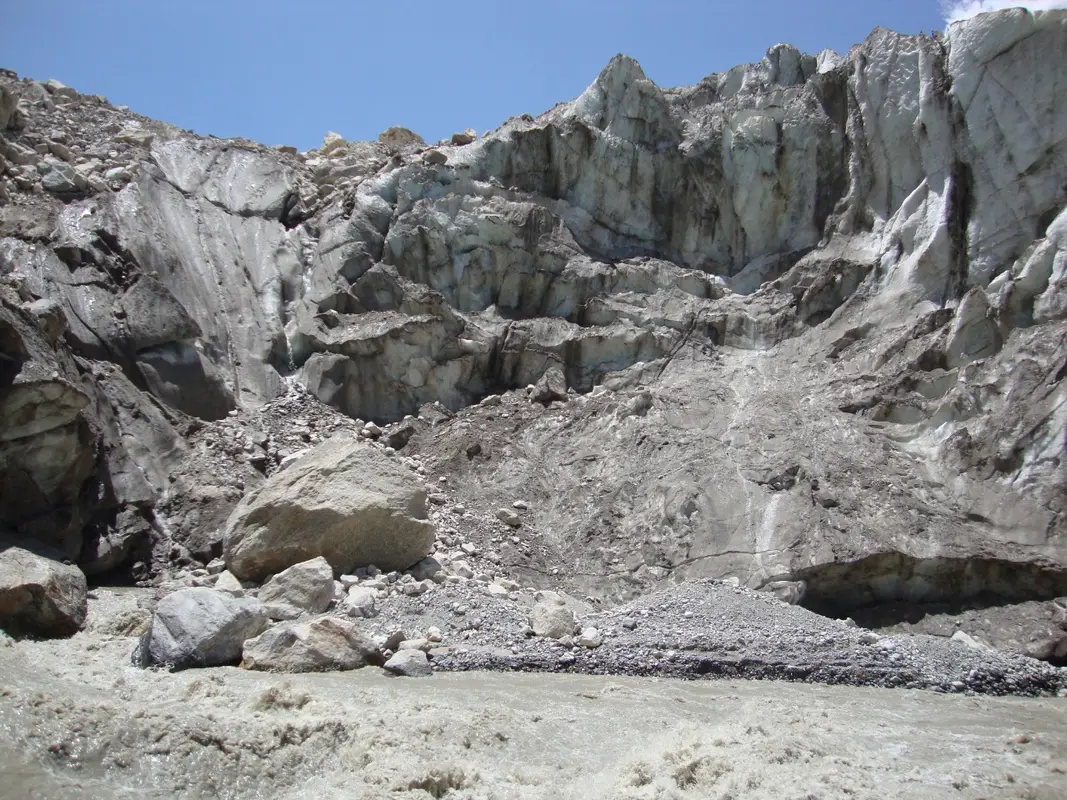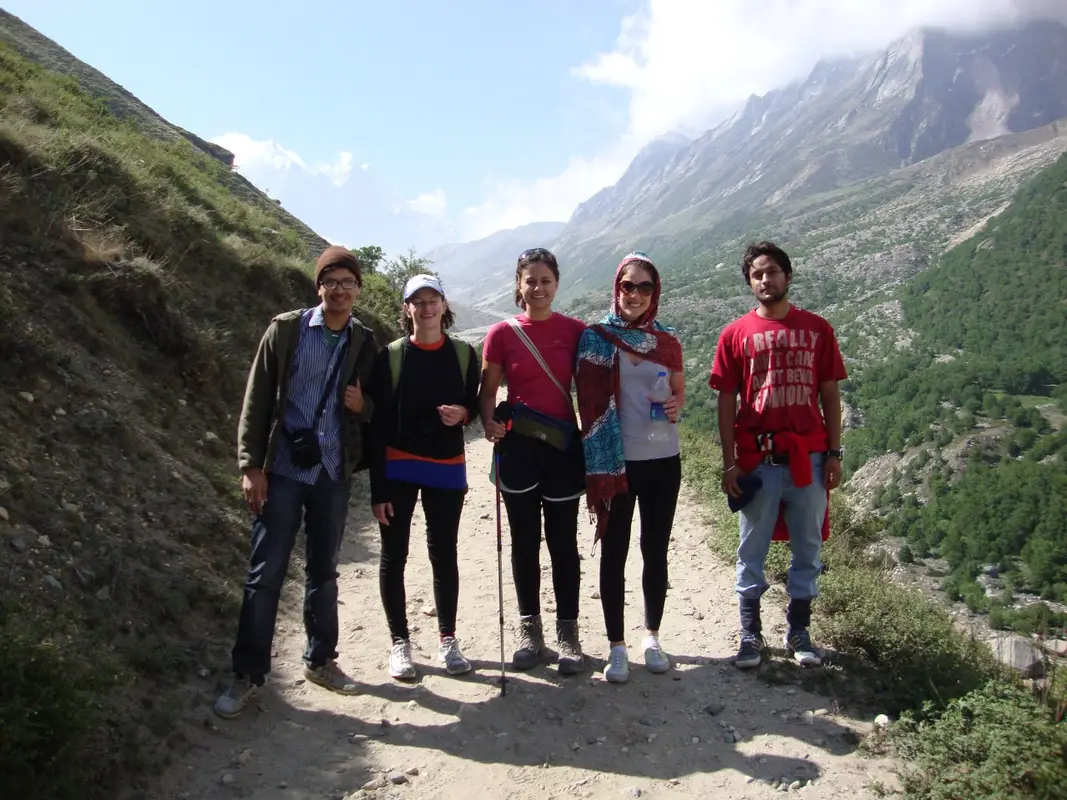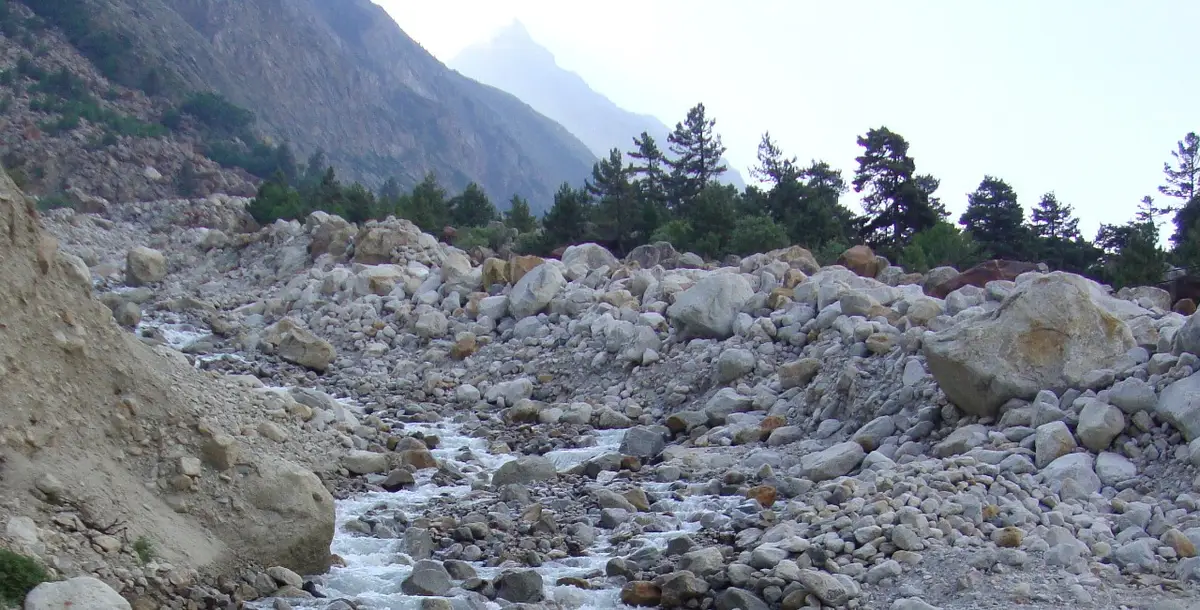 About Gomukh Tapovan
Ganga, often worshipped as Goddess in India, a sign of purity and spirituality serves as a lifeline to millions of Indians who live along its course and depend on it for their daily needs. Gomukh, a place in Gangotri glacier located at an elevation of 3889m is the birth source to river ganga. Witnessing Ganga's birth source has always been a golden opportunity for people and the shine in their eyes while having the dip in the Gomukh is never less than a million dollars. Gomukh means mouth of a cow. Why is this place referred to mouth of a cow, I asked to a pilgrim who was standing next to me looking flawlessly at the people who were in water, The sages called it 'Gomukh', because it probably appeared like a cow's mouth in the past., he added.
The element of trek from Bhojwassa to Gomukh is amazing, the essence of panoramic view of Bhagirathi group of peaks is pure enough to energize one to follow his commitment to Gomukh glacier. I felt it's not just the religious spirit that energizes one after a dip in such chilling water, but also the natural scenic beauty that is responsible for an appraisal to such a wonderful experience!
Gaumukh-Tapovan is a moderate-difficult trek. While the Gangotri-Gaumukh trail is fairly moderate and is often used by pilgrims, the Gaumukh-Tapovan trail demands experience. One who have done a couple of high-altitude treks like Roopkund can opt for it but a beginner must never prefer it.
About Gaumukh Tapovan Trek
Gaumukh Tapovan trek combines mythical significance, divinity, and ethereal beauty. This trek is one of the most gratifying and rewarding treks in India. Gaumukh trekking is an irresistible call for those nature lovers who genuinely want to engage themselves with mountaineering, hiking, and traversing the awe-inspiring glaciers. The altitude of Gaumukh stands tall at 3889m. It is the terminus of the Gangotri glacier from where the Bhagirathi River originates. This river is known as Bhagirathi at the source and takes the name Ganga from Devprayag onwards. Gangotri to Gaumukh trek distance marks up to 18 km, presenting a wild topography throughout this stunning trek.
The trekkers flock to Gaumukh to embrace the holy and pure air. It is in Gaumukh where you can find the pristine river Ganges gushing out from the glaciers. The Gaumukh glacier is the most fascinating point of Gaumukh trekking. The ground of this gigantic glacier pulsates with the continuous fall of the big chunks of the ice from the mouth of the glacier. The deep crevasses on the glacier make it all the more mysterious. One should be very careful and attentive while navigating through these crevasses.
Gaumukh acquired its name from the sages, meaning cow's mouth as the opening of Gaumukh appears like the mouth of a cow. This place has an immense religious significance to the Hindus. Gaumukh is thronged by the devotees every year who come here for repose and take blessings from Maa Ganga. Gaumukh is considered one of the very important aspects of Hindu Mythology.
It centers on the river Ganga which has undergone rebirth after sage Bhagirath's insistence. He wanted his ancestors to get rid of their committed acts of guilt, making them walk the path to heaven. Gaumukh, often termed as Ganga's birth source is considered as a golden opportunity for all the pilgrims and devotees and other trekkers who want to wash away their sins and acts of guilt by having a dip in Gaumukh, and attain mental peace.
The trek trail from Bhojbasa to Gaumukh is delightful passing through the snow-capped Bhagirathi Sisters and the enchanting alpine meadows. This surreal location also keeps you entertained with the mesmerising views of the elegant Mt. Shivling.
Tapovan Uttarakhand is high-altitude grassland in India, emerging as one of the most popular trekking destinations. Tapovan is a Sanskrit word that means penance and religious austerity. In Tapovan you can indulge in meditation or any spiritual practice. It will help you discover your own true self. This enchanting grassland, enveloped with lush green forests is quite a difficult uphill trek and is located close to the famous Gangotri Shrine. Nestled in the lofty Shivling Peak, Tapovan Uttarakhand is home to a number of sages. The trek trail traverses through the beguiling meadows, sparkling streams, and the arduous majestic mammoths.
The Gaumukh Tapovan trek distance is 46 km long, perched at an elevation of 14,600 ft above sea level. This trek is a visual thrill with rising mountain peaks such as the Bhagirathi Sisters and Mt. Shivling. Located in the Uttarkashi district of Uttarakhand, this trekking trail snakes through a beautiful orchard of coniferous pine trees at Chirbasa, birch trees at Bhojbasa, and the well preserved Gaumukh National Park. Exploring and delving deep into the mystical beauty of the Gaumukh glacier, just 4 km ahead of Bhojbasa is an unforgettable visit.
You have to have a Gaumukh trek permit before venturing out on this stellar journey. The Gaumukh trek permit can be sanctioned by the District Forest Officer in Uttarkashi. It can also be obtained from the Forest Officer in Gangotri. A daily quota of 150 permits per day is maintained and strictly followed. The Gaumukh trek permit is issued on a first-come-first-served basis.
Camping at the base of Mt. Shivling, termed as "Matterhorn of Garhwal" can be a superb idea. Here you can gaze at the star-lit night sky, against the backdrop of the lofty mountains and the virgin landscapes. Sunrise from the picturesque campsites offers a hypnotic view of the sunlight illuminating the peaks and landscapes with its amazing hues.
Quick Facts About Gaumukh Tapovan Trek
Region: Uttarakhand
Trek Altitude: 14,600 ft
Trek Difficulty Level: Moderate To Difficulty
Gaumukh Tapovan Trek Duration: 8 Days
Gaumukh Tapovan Trek Distance: 46 km
Start Point: Gangotri
End Point: Gangotri
Base Camp: Gangotri
Best Seasons: May to June, September, and October
Temperature: 13 degrees Celsius to 20 degrees Celsius (Daytime), 5 degrees Celsius to 7 degrees Celsius (Night)
Nearest Railway Station: Dehradun
Nearest Airport: Jolly Grant
Avalilibility of ATM: Urrarkashi
How to Reach the Basecamp?
By Road:

From Delhi, you can take a bus to Dehradun from Delhi's ISBT Kashmere Gate. It usually takes around 5 hours 15 minutes to reach, covering a distance of 245 km. The fare ranges from INR 400 to INR 4200 depending upon the comfort and luxury desired.

The distance from Dehradun to Gangotri is 240 km, which will take about another 8 hours to reach. From Dehradun, you have to take a cab to Uttarkashi. It will take about 5 hours to reach, covering a distance of 142.7 km. The cab fare is around INR 2500 approximately. From Uttarkashi, you can board a bus or take a shared taxi to Gangotri. It will take about 3 hours to reach, covering a distance of 99.5 km. The bus fare from Uttarkashi to Gangotri will be INR 75 to INR 100 approximately.

From Haridwar, you can hire a taxi to Uttarkashi. It is quite a long 187.5 km journey, from Haridwar to Uttarkashi, requiring 6 to 7 hours to reach. The taxi fare will be around INR 6000 to INR 7000. You can then a bus to Gangotri from Uttarkashi as mentioned above.

From Rishikesh, you can take a bus to Uttarkashi. It will take you approximately 5-6 hours to cover the distance of 169.3 km approximately. The bus fare will be around INR 250 to INR 300 approximately. From Uttarkashi, you can again take a bus to Gangotri as mentioned above.

By Rail:

From Delhi, you can board the Jan-Shatabdi SPL which departs at 3:20 PM and reaches Dehradun at 9:10 PM. It runs on all days in a week. The fare is INR 490 per head (CC). Then from Dehradun, you need to take a cab to Uttarkashi and then again board a bus or take a shared taxi to Gangotri as mentioned above.

By Air:

You have to take a flight from Delhi to Jolly Grant Airport. It is just 30 km away from Dehradun approximately. It takes you about 1 hour to reach by flight. The flight fare per head will be INR 2,350 approximately. Take a taxi from the airport which takes about 50 minutes to reach Dehradun usually. The taxi fare hovers around INR 1800 to INR 1900. After reaching Dehradun, you will again have to book a cab to Uttarkashi and then board a bus to Gangotri as mentioned above.
Best Time to Visit Gaumukh Tapovan
The Gaumukh Tapovan best time is during the two seasons in a year. The summer and the autumn seasons are categorized as the Gaumukh Tapovan best time. During the summer season, the Gaumukh Tapovan trek is done from the middle of May to the end of June. As far as the autumn season is concerned, this trek is conducted from September to the end of October. Winters in Tapovan Gaumukh are extremely harsh and frigid. The heavy snowfalls make the route inaccessible to the trekkers and pilgrims, thereby prohibiting them from entering the glacier region.
Gaumukh Tapovan in Summer:
The trekkers who are addicted to trekking in snow can choose this season for their trek. In early summers, the trekking trails contain snow and you can also cross the Bhagirathi River over the snowy bridges. By the middle of the season, the snow melts giving way to the green lush vegetation of the area. As the snow melts, the Bhagirathi River overflows with the speedy current. It is advisable to undertake the trek till the month of June. The month of July brings with it erratic downpours which make trek routes susceptible to perilous rockfalls and landslides.
Gaumukh Tapovan in Monsoon:
Monsoons are quite dangerous in the mountains. It receives heavy rainfall during July and August. The trek route is extremely perilous as it brings with it the risks of avalanches, boulders dropping, and skidding of vehicles. The vegetations and the meadows also remain muddies and rain-drenched. So, it is best to avoid monsoon season and start off the trek once the rain subsides. The Gangotri temple and Gaumukh are a part of the Char Dham Yatra. This Char Dham Yatra is done by many devotees during the months of May to October. Though the monsoons have its perils, the devotees still visit the temple and Gaumukh when the trek is not done. So, even when trekking is not favorable during the monsoon season, some parts of the trek always remain open for pilgrimage purposes and for the devotees.
Gaumukh Tapovan in Autumn:
The autumn season in Gaumukh Tapovan is ideal for treks, with its immaculate weather and clear and brilliant views of the entire valley. With the onset of the autumn season, the vegetation of the valley becomes very vibrant with the thickening shades of yellows and browns. The flow of the Bhagirathi River becomes quite calm and gentle in contrast to the summers. The autumn season does not stay for long, extending to just 4 or 5 weeks. Wrap up your trek by all means within the end of October as the winters make the Gaumukh trek untenable.
Gaumukh Tapovan in Winter:
Winters in Gaumukh Tapovan are quite difficult to endure. It also hampers the scope of income from adventure sports such as skating and skiing during the winter. It comes to a halt as the weather gets worse in December and this pious region experiences heavy and dangerous snowstorms. The trek trails are fraught with dangers in the winter season due to the big chunks of snow accumulating from the constant snowfall taking place. It also leads to the blockages of the roads posing obstacles for the local life. It is strictly advised not to embark on this trek during the harsh winter season.
Weather and Temperature
The weather is quite unpredictable during the summers. There are chances of rainfall and late spring snowfall during this season too. The temperature during the day is close to 20 degrees Celsius but at night it gets quite cold, sometimes even dropping to 5 degrees Celsius. In Tapovan, the temperature during the day is close to 15 degrees Celsius but at night it can fall to 0 degrees Celsius also. An ample amount of woolens and a warm set of clothes should be kept handy always.
During the autumn season, it is a few degrees colder than the summers but the weather is quite stable, unlike the summers. The temperature during the day in Gaumukh is around 15 degrees Celsius which is quite pleasant. At night, the temperature drops to 0 degrees Celsius. In Tapovan, at night, during this season, the temperatures often go below 0 degrees Celsius.
The first snowfall arrives sometime around November, blocking the roads and trekking paths and disrupting all the adventure sports.
How Difficult is Gaumukh Tapovan?
The Gaumukh trek falls under the category of a moderate to difficult trek. Trekking 14,600 ft is quite a daunting one. The trek commences at Gangotri which in itself is perched at an altitude of 11,204 ft, making the trek quite challenging. Due to this height acclimatization becomes a necessity.
The routes of the Gaumukh trek are pretty straightforward and moderate and are mostly visited by the pilgrims. The amateur trekkers can also take part in the Gaumukh Tapovan trek but with proper preparation. You can remain physically fit by indulging in speedy walks and brisk joggings. It will increase your blood circulation and improve your cardio. It will also help you to endure long stretches of walking and strenuous uphill treks.
For trekking in Tapovan, you will need permits and an experienced trek guide. The path to Tapovan is quite steep and dangerous. As it is a high altitude trek, you will need to acclimatize yourself by stopping at different spots due to its height and the weather. You will have to cross the glacier which is quite unsafe and you will need a team and a guide to help you throughout. It is recommended that you spend a day at a beautiful campsite in Tapovan, from where you will get a complete panoramic view of Mt. Shivling and other peaks.
Be patient, prepare yourself physically and mentally and embark on this enthralling trek to the holy, divine pilgrimage site, Gaumukh Tapovan.
Is Gaumukh Tapovan Safe?
This place is mostly visited by devotees and occasionally by trekkers. This trek should not be taken lightly as it is a high-altitude trek. You should be spirited enough to have a go at this trek.
There are small sections of the Gaumukh trek where you need to coarse through the large boulders while going from Gangotri to Chirbasa. You should be very careful and alert while passing through this region. Do it under strict guidance and with a team. There are 4 to 5 sections of Kachha Dhaang on this route. These are especially the places that are prone to landslides and rockfalls. Be supremely attentive and steady while crossing this path.
The weather plays spoilsport, especially during the summer. At such an altitude, rainfall and snowfall can happen anytime but it is absolutely unforeseeable. The paths become slippery and sometimes your trek plans go awry due to the vagaries of the mountain weather. Resume your trek when it is safe, and with proper assistance. Acute Mountain Sickness (AMS) while trekking or mountaineering is quite common and the symptoms are basically dizziness, headaches, and nausea, and muscle troubles. You should certainly consult a doctor if you find these symptoms. Take proper care and be under medication. Also, oxygen is thin at this trekking zone being at high altitude, so take your time to be in sync with the prevailing weather otherwise the consequences can be hazardous.
This trek is safe and blissful as long as you follow the rules and take guard against any mishap.
Day 1: Dehradun to Gangotri Drive (241 kms/ 8-9 hrs)
Altitude gain from 14,33 ft. to 10,114ft.
241 Km / 8-9-hour drive.
Acclimatization Day at Gangotri, stay at Guest House / Hotel.
Day 1 involves a long drive of 241 Km which usually takes 8-9 hours to reach the destination of the day, Gangotri. This long drive will take you through many famous hill stations of Garhwal Himalaya region. First, very famous hill station along the way after 35 km of the drive is Mussoorie followed by Dhanulti and Chamba. Mussoorie situated at an altitude of 6580 ft. is an ultimate destination to local tourists and tourists across all over India, which offers a complete view of Dehradun Valley along with some good views of Shivalik ranges. There will be a short lunch break at mid-point of Mussoorie to Chamba. After covering 144 km/ 5hours of the journey from Dehradun we will reach Uttarkashi. Uttarkashi district has its own significance as a holy city situated at banks of river Bhagirathi. Riding along the roads beside the holy river and mountains has its own advantage and you will feel lost just in seeing views outside of the window. After 3-4 hours of the journey via the beautiful Harsil valley which is no doubt, famous for its Wilson Apples and Cedar forests we will reach Gangotri in the evening. Gangotri town has its own charm in the evening full of Hindu temples and pilgrims walking along the streets of the river. Today we will halt our journey and take rest in pre-booked guest house/hotels/ homestay.
Day 2: Buffer Day
This day is the buffer day and will be used only if needed
If the weather is unfavorable then this day can be used for any day, it also depends on the fitness level of the trekker.
This day is not covered in package cost
If buffer day is not used during the trek then it can be used to explore Gangotri or places near Gangotri. 
Day 3: Gangotri to Chirbassa
Altitude gain from 10,114 ft. to 11,680 ft.
5 Km Trekking.
3-4 hours of Trekking.
Lunch and Snacks at midpoint.
Accommodation and food in tents.
On Day 3 after having a proper breakfast we will start our trek early morning from Gangotri to Chirbassa campsite. The trail starts from Gangotri bus stand and enters the pine forest. After walking approx. 2 Km you will reach forest check post. As the whole day trail goes through Gangotri National Park hence permits will be checked at check point. After getting permits checked we will start walking alongside the Bhagirathi river. One can easily spot majestic Sudarshan Parbat (21350 ft.) throughout the trail. There will be many waterfall & melting glaciers along the way adding the serenity to the surrounding views. Today?s trail comprises of gradual ascents with easy level of trekking. After 4 hours of trekking trail will pass from a makeshift bridge, cross the bridge and you will find an open valley on your right side. After few minutes of walking we will reach our campsite at Chirbassa. This campsite is one of the most beautiful campsite without any doubt with Bhagirathi river flowing flawlessly on the right side with the view of mighty Baghirathi Sisters [Bhagirathi I, II, III].
Day 4: Chirbassa to Bhojwassa
Altitude gain from 11,680 ft.to 12,441 ft.
8 Km Trekking.
4-5 hours of Trekking.
Lunch and Snacks at midpoint.
Accommodation and food in tents.
Today's trails widen up further taking you closer to Bhagirathi Sisters. The element of further trek to Bhojwassa slowly flattens out and is followed by a sudden dip to reveal Bhojwassa with a small temple and a campsite near the river. After crossing some landslide section which is an easy gradual ascent we will reach Bhojwassa campsite which is the widest section of the valley with Bhagirathi river flowing on the right side. Bhojwassa campsite is the point from where you will get first glimpse of Mt. Shivling. (6543 mt.). You will spot men made settlement on the campsite including police post and igloo shape huts which is a rest house and to stay there forest department permission is required. Bhojwassa campsite is on open campsite far from any tree line which makes the night colder. Enjoy the cold night in your cosy tents under the open sky.
Day 5: Bhojwassa to Tapovan via Gomukh
Altitude gain from 12,441 ft. to 14642 ft.
8 Km Trekking.
7 hours of Trekking.
Lunch and Snacks at midpoint.
Accommodation and food in tents.
After Bhojwassa, proceed to Gaumukh which is located at an elevation of 3890m and then to Tapovan which is located at an elevation of 4463m. Tapovan (a Sanskrit word) comes from the two root words tapas - meaning penance and more generally spiritual practice, and vana, meaning forest or thicket. So, basically Tapovan translates to ?forest of austerities? or spiritual practice. Tapovan is a high-altitude alpine meadow below Mt. Shivling, spread over 2 km in length and situated at an elevation of around 4463m. Trekkers will enjoy the view of Kriti and Meru glaciers, magnificent snow-capped peaks, flora, fauna and the mountain landscape.The trail from Gaumukh to Tapovan is often said to be the most difficult part of the trek. The trail is a combination of hard ice and boulders and can get slippery in certain sections. The climb in trail till the top of Gaumukh glacier is a 100-metre ascent. Gaumukh, the terminus or snout of the Gangotri Glacier, from where Bhagirathi River originates, is one of the primary sources of the Ganges River. Gaumukh is mentioned in the Puranas. It is said that once there was a shepherd boy searching for his lost sheep when he reached near a glacier in Gangotri, the snout of which exactly looked like the mouth of a cow, and thus it got its name 'Gaumukh'. From then many saints, holy travellers, as well as religious people went there to worship the place. After trekking 4.5 kms from Bhojwassa, one reaches Gaumukh, the snout of the Gangotri Glacier. After about 80-100 metres into the climb, look for path from where you can cross Akash Ganga and once, you find it, cross the stream and then take a break. The panoramic views from the Tapovan campsite are always astonishing. Mt Shivling is on the right and to the right of Mt Shivling is the Meru, while, on the left side of Mt. Shivling, a little behind, is Sumeru Parbat.
Day 6: Tapovan to Bhojwassa
Altitude descent from 14,642 ft. to 14,010 ft.
8 Km Trekking.
4-5 hours of Trekking.
Lunch and Snacks at midpoint.
Accommodation and food in tents.
Continuous descent through this section of the trek always produce challenge towards the trekkers. One need to descent back to Gaumukh and then follow the same trail to Bhojwassa. The trail is around 8-9 kms long and may consume 4-5 hours.
Day 7: Bhojwassa to Gangotri
Altitude descend from 12,441 ft. to 14,010 ft.
13 Km Trekking.
5-6 hours of Trekking.
Lunch and Snacks at midpoint.
Accommodation in Guest House / Hotel.
Trek down to Gangotri. Gradual descent makes it a moderate gradient trek. This trek takes far less time than to cover the ascent i.e., from Gangotri to Bhojwassa.
Day 8: Gangotri to Deharadun (241 kms/ 8-9 hrs)
Altitude descend from 3799 ft. to 1220 ft.
241 Km / 8-9-hour drive.
Stay at Guest House / Hotel.
After morning breakfast to be followed is the journey back to Dehradun which takes almost 8-9 hours and you will reach Dehradun by 5 pm.