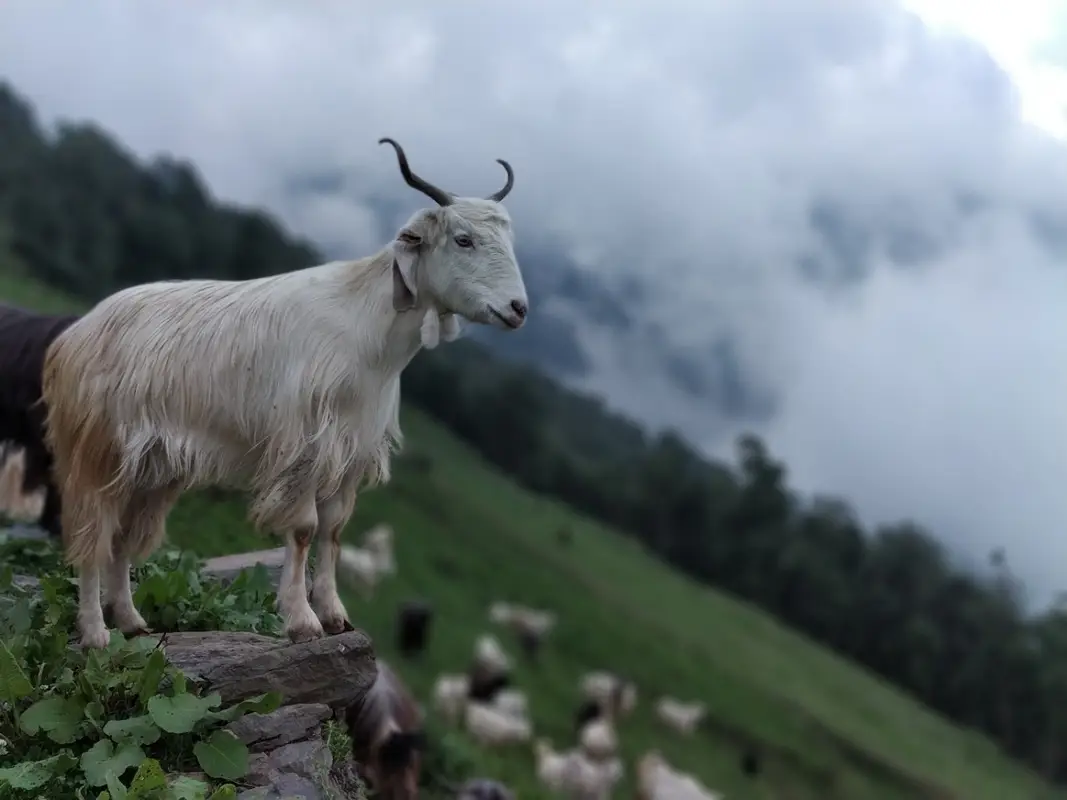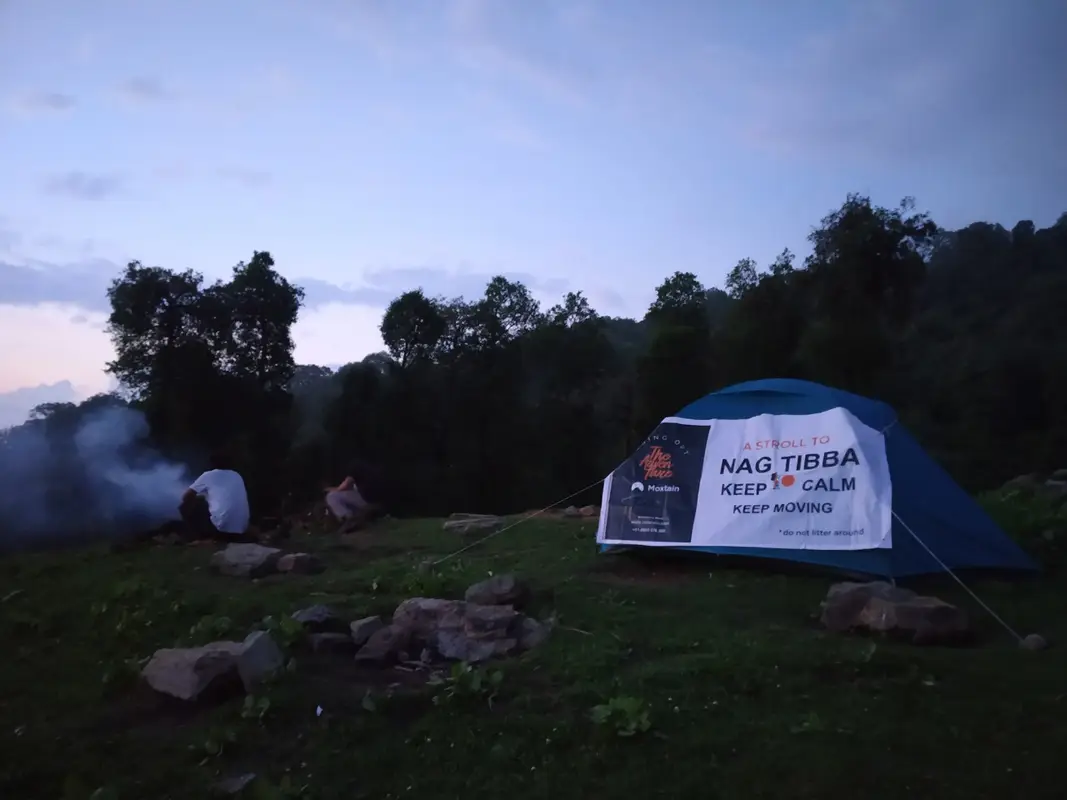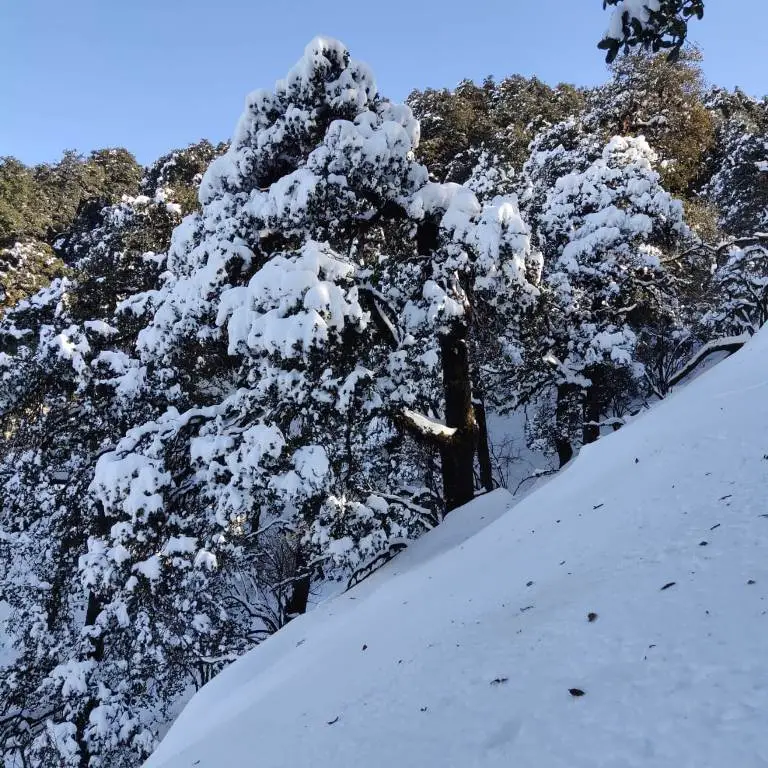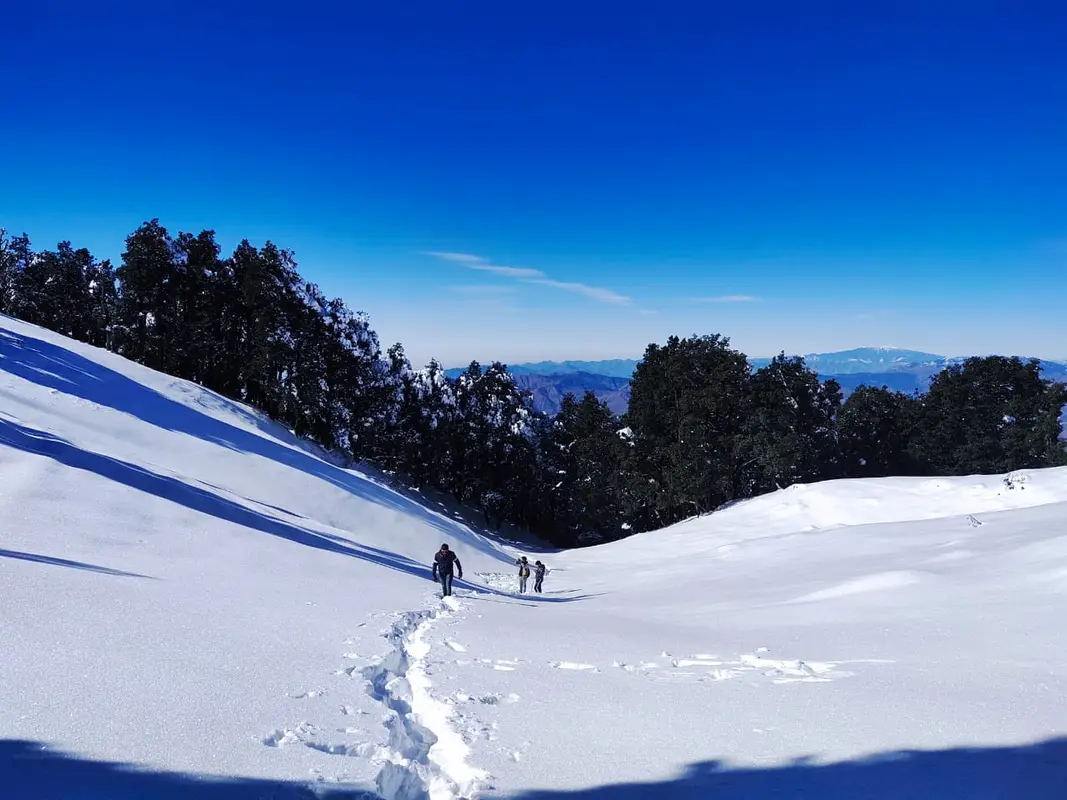 About Nag Tibba Trek
Indian mythology is rooted deep in traditions and beliefs. Snakes or Nagas, as they are called in the local tongue, are highly revered in Hindu mythology. With festivals, temples, scriptures, Gods and Goddesses dedicated to snakes and snake deities, there is no surprise that we have sacred mountains and hilltops that are central to popular religious beliefs. As luck would have it, adventure junkies looking for some spiritual insight can undertake a trek to the snake mountain, made popular by the name Nag Tibba.
Nag Tibba or Serpent's Peak, standing at an elevation of 9,915 feet is your calling if you are seeking a quick rendezvous in the Himalayas! It is the highest peak in the lower Himalayan ranges and in the Bugyal region of Uttarakhand.
Beautiful camping locations with glimpses of colossal mountain ranges such as Swargarohini, Bandarpoonch, Srikanth, Black Peak, meandering trails through thick Deodar jungles and some remote stretches interspersed with wild flora and exotic wildlife, Nag Tibba is flavored with all the elements of a great Himalayan trek. Being a circular trek, Nag Tibba trek treats you to a brand new vista and fresh trails while descending from the summit. There is no overlap of terrain and this contrasting landscape is the complimentary perk of this trek.
It is feasible to accomplish the Nag Tibba trip in one day, according to experienced hikers. While returning most of the hikers opt to stay back at the camp overnight. It enables them to recuperate and rest before departing for Dehradun. You may also enhance your adventure spirit by participating in bonfires as well as other events.
This trek prepares you well before jumping into the bandwagon of challenging treks and adventurous expeditions. In a nutshell, Nag Tibba is a refreshing trailer for amateur trekkers who are yet to experience the potpourri of a full-fledged trek.
Quick facts
Region- Uttarakhand Himalayas
District- Tehri Garhwal
Altitude- 9,915 feet
Duration- 2 days and 1 night
Trekking Distance- 16 Km
Difficulty Level- Easy
Start Point- Dehradun
End Point- Dehradun
Base Camp- Pantwari
Nearest Railway Station- Dehradun Railway Station
Nearest Airport- Jolly Grant Airport Dehradun
Last ATM- At Mussoorie
Mobile Connectivity- The whole trek is connected with the mobile network but the network tends to get erratic at times
Best time to visit- summer months: April-June and the winter months: October-December. Snow lovers can do the trek from January to March
The forest permits for international clients will be as actual and is to be paid by the trekker at the basecamp only.
About Nag Tibba
Nag Tibba translates to "Abode of the Snake God or Nag Devta". Local villagers have a deep reverence for the serpent deity. A temple dedicated to Nag Devta on the mountain summit carries a significant value for the local populace. Every day devotees throng to offer their obeisance to Him with a staunch belief that Nag Devta is the protector of their land and cattle.
Pantwari is just an overnight journey away from Delhi. A 3-day journey from Delhi brings you to Nag Tibba and back, which makes it one of the most sought after weekend treks. The Distance between Nag Tibba and Delhi is just 355 Km
How to reach Nag Tibba
By Train

Reach Dehradun by train. Dehradun is well connected to all the major cities of India like Delhi, Lucknow, Allahabad, Mumbai, Kolkata, Ujjain, Chennai and Varanasi through the train.

From Dehradun, drive to Pantwari (89 km), which takes around 3 hours and 30 minutes. Patwari is the mountain village from where the Nag Tibba Trek commences.
By Road

There is a flight of buses that connect Dehradun to major cities of India such as Delhi, Shimla, Haridwar, Rishikesh, Agra, and Mussoorie.

You can choose between Volvo, Deluxe, Semi-deluxe and Uttarakhand State Transport Buses. From Delhi ISBT, located at Kashmiri Gate or Anand Vihar, you can take buses up to Dehradun. You can either book at ISBT or even book online. It takes 6 to 7 hours from Delhi to reach Dehradun, which is at a distance of 275 km.

There is a regular bus service, every 15 minutes to 1 hour from Dehradun Inter State Bus Terminal (ISBT) near Clement Town. Mussoorie Bus Station, located near Dehradun Railway Station and Delhi Bus Stand on Gandhi Road also provides bus services.

Reaching Dehradun, drive to Pantwari (89 km), which takes around 3 hours and 30 minutes.
By Flight

Jolly Grant Airport is located 26 kilometres away from the main city of Dehradun. It is well-connected to Delhi through major airlines like Indigo, Air India, Jet Airways, Spice Jet and 7 to 8 flights are operating each day in this sector. It takes 1 hour to reach Dehradun from Delhi by air.

Dehradun is connected to Mumbai and Lucknow through direct flights too but the frequency of the flight is less as compared to Delhi.
Star attractions of Trek
Scenic Drive

A 3 to 4 hour-long scenic drive from Dehradun to Pantwari village along the Yamuna river valley traverses through curvy mountain roads lined with the exotic Himalayan flora. You pass through the Queen of Hills, Mussoorie, and journey along the beautiful Kempty Falls.
Goat Village

Experience the Garhwali village lifestyle in this unique farm retreat snuggled in the Himalayan lap at the height of 7,000 feet. This traditionally curated and artistically crafted paradise takes you back in time. Indulge in rural farming practices, participate in regional cooking with the locals, milk the goats, explore the local terrain and enjoy the full moon nights under the vast expanse of star-lit skies. The goat village has some artistic cottages constructed in an old architectural technique called 'Koti Banal', which is indigenous to the Garhwal Himalayas. Spending a few days in these cottages will give you an excellent living experience of the simplistic local lifestyle.
Lush flora and fauna

The Nag Tibba trekking route boasts of some dense forest covers in Uttarakhand. Splendid forest trails are replete with beautiful mountain flower rhododendron aka buransh in the local language. Tall pine trees and mighty oaks guard the trails with their majestic grandeur. The terrain is also rich in useful herbs like Ashwagandha and Vajradanti. Sightings of exotic Himalayan animals and chirping of mountain birds is an added essence of the trek.
Temple

Dedicated to the Snake God or Nag Devta in the local dialect, Nag Tibba Temple is the star attraction of the Trek. Surrounded by rhododendron forest on one side and Deodar forest on the other, it is located one kilometre before the Nag Tibba Summit.
Summit and Mountain Views

Enthralling 180-degree views of Lower Himalayan Ranges and the evergreen Bandar Poonch, Gangotri, Swarg Rohini, Chanabang, Kedarnath and Kala Nag Ranges from the summit are bound to take your breath away.
Best time to visit Nag Tibba
Nag Tibba is an all-season trek that can be enjoyed all-year-round. Each season is bejewelled with a distinct panorama; the landscape transforms itself beautifully with spectacular scenic views exclusive to that season.
NAG TIBBA IN WINTERS
December to March is the most beautiful time to do this trek when the trail is speckled with snow. This trek stuns you with the beauty of pristine white patches and snow-dusted trees standing tall against the magical solitude of winters. It is one of the most popular winter treks soaked in tranquillity and bliss.
Your hardcore winter thrill is incomplete without a bonfire. Light a bonfire, crack some jokes, click memorable snapshots and make some wonderful memories under the galaxy of stars before retiring in the comforts of your tents.
NAG TIBBA IN SUMMERS
Embarking on Nag Tibba trek in the summer months of April to June greets you with some astonishing views. The mountain ranges resplendent against the backdrop of transparent azure skies are refreshingly divine.
High-altitude farmlands are salubrious with fresh air and the trails peppered with multi-hued wildflowers look splendidly inviting. Dense forests and a thick canopy of trees provide ample shade against the bright mountain sun. You may even spot Himalayan Black Bear, Himalayan Leopards and exotic Himalayan birds such as Himalayan Eagles during summer months.
NAG TIBBA IN MONSOONS
Monsoon months of July and August are a bit tricky with mudslides and muddy slopes along the trails ofNag Tibba Trek. Since the trek does not journey through any challenging hikes, you can undertake the Nag Tibba trek in the monsoon months if looking for some adrenaline rush. The landscape is lush with fresh foliage and the entire region sparkles with a green glow. Fresh mountain air thick with crisp fragrance invigorates you inside out. Colossal mountain peaks and terraced fields shrouded by a cover of dark clouds are the unique beauty witnessed during monsoon season. However, monsoon months call for some precautions as the trails tend to be wet and slippery. Ensure that you are carrying proper trekking equipment, gear, and footwear.
NAG TIBBA IN AUTUMN
Fall in love with fall in the months of September to November when the whole landscape is ablaze with crimson hues. Clear skies, fresh breeze, chirping birds and camping with a slight nip in the air is an enriching trekking experience in the fall months.
Nag Tibba is blessed with the most salubrious weather throughout the year. While summer boasts of pleasant and clear weather, winter mesmerizes you with a crisp nip in the air. Cool mountain breeze and pleasant weather all year round make Nag Tibba Trek an ideal choice for nature enthusiasts.
Nag Tibba temperature
Winter months

In the winter months from December to March, the weather varies from -5 degrees minimum to 13 degrees maximum. It is freezing cold and you are required to carry thick woollens to keep yourself warm.
Summer months

In the months from April to June, the temperature ranges from 2 degrees minimum to 20 degrees maximum. The pleasant weather in the summer months makes the Nag Tibba trek seem easier and even more comfortable.
Monsoon months

July and August are the monsoon months in which the temperatures range from 8 degrees minimum to 16 degrees maximum. It is recommended that you carry light woollens as the temperatures tend to dip in the night time.
Fall months

In the months of September, October, and November, the temperatures vary from -4 degrees minimum to +15 degrees maximum. Overall the weather is pleasant but gets very cold in the night. It is important to carry woollen clothes to keep yourself comfortable and warm. You can even experience snowfall in the month of November.
Difficulty Level of Nag Tibba Trek
Touted as the beginner's trek, Nag Tibba is one of the easiest treks that bestow upon you the alluring beauty of Uttarakhand Himalayas. The terrain being gentle-sloped without any long stretches of steep hikes, anyone with a little trekking or absolutely no trekking experience can undertake this trek. However, it does require a basic level of fitness.
Is Nag Tibba Trek safe?
A short-duration trek with easy trails, it can be planned comfortably with children as well as elders of the family. The trek journeys through mountain regions that are absolutely safe.
Can Naga Tibba trek be done alone?
Yes, Naga Tibba is a perfect choice for solo trekking if you plan to cover the trek in one day but you want to stay at the base camp and extend the trek to 2 days then it is advised to undertake the trek in a small group.
Water availability in Trek
Water is available at two or three water points on the first day of the trek. There is only one water point on the trekking route of day 2. It is recommended that you carry two bottles of 1 litre each to meet your water requirements.
Is Nag Tibba Trek recommended for beginners?
The answer is big YES! Nag Tibba is that ideal trek that perfectly trains the beginners before they are ready to explore the difficult trekking domain with zest. Let's find out why-
Easy terrain

A gentle terrain interspersed with gradual ascends and very short steep hikes makes Nag Tibba an ideal choice for beginners and amateur trekkers. First-time trekkers enjoy the experience without feeling too fatigued as a few steep ascends don't last very long.
Duration

As a beginner, you want to take a plunge into the trekking arena with a trek that is of short duration and not very physically demanding. Nag Tibba is just a 2-day trek with ample resting points after a few kilometers.
Well connected

Nag Tibba's proximity to Delhi is also an icing on the cake. First-timers are maybe a little nervous about their journey to the unexplored mountain region. The trekking trail does not take you too far from civilization and you can head back to Pantwari even in the middle of the night.
Wholesome

Nag Tibba trek is flavoured with all the trek ingredients such as jungle trails meandering through dense forests, exotic Himalayan flora and fauna, splendid mountain peaks, quaint Himalayan villages, sacred temples, scenic campsites bedecked with sheaths of snow in the winter season. It is a positive experience for the first time trekkers to savor all the flavors of the trek in their very first trek.
Fitness required for the Trek
This moderately easy trek requires a minimum level of fitness. Anyone with normal physical stamina and mental endurance can undertake this trek. It is recommended that you do a basic preparation at least 3 weeks prior to taking this trek. Nag Tibba Trek entails that you follow the below-mentioned benchmarks that are a prerequisite of any mountain trek-
Prepare yourself by jogging or running 3 km every day, for 30 minutes
Do basic stretching exercises to condition your muscles such as stretching your neck, shoulders, arms, backs and legs. Be careful not to strain too much as it may cause injury.
Climbing stairs, skipping exercises and cycling helps build your stamina and improve fitness.
Note: Lack of preparation and poor physical fitness will result in a dissatisfying trekking experience.
How to prepare for the Trek
Ensure that you have decent physical and mental endurance before you set out on the trek. Getting fit should be one of your top priorities before undertaking the trek.
Regardless of the month, it is recommended that you carry warm clothes as the temperatures may dip at night.
Even if the Nag Tibba trek is of short duration, planning the trek with an experienced guide holds you in good stead. These guides are well versed with the local terrain, natural water-sources (rich in essential minerals) and points of interest. They can be of great help if you are planning the trek during monsoon and winter months. It is important that you are well equipped with all trek essentials such as trekking gear, proper clothing, footwear, and trekking accessories in the monsoon and winter seasons.
It is highly recommended that you trek in a group of three or four people.
Day 1: Dehradun to Pantwari village and trek to Nag Tibba temple campsite .
Altitude gain from 4640 ft. to 7610 ft.
Time taken- 3 to 4 hours drive and 5 hours trek
Distance- 99-kilometre drive and 7 kilometre Trek
Highlights of the day- Drive from Dehradun to Pantwari, trek to Nag Tibba base camp, feast on lip-smacking dinner of Garhwali dishes, enjoy bonfire
Evening snacks at campsite
You start from Dehradun and drive to Pantwari village. The scenic drive mesmerizes you with the rich Himalayan landscape dotted with zigzag roads, lush flora, and pretty mountain villages. Queen of Hills, or Mussoorie spellbinds you with its beauty and Kempty Falls refresh you with their cascading exuberance en route Dehradun to Pantwari. Pantwari, a typical Garhwali mountain village is surrounded by a thicket of trees. Just before reaching Pantwari you come across "Goat Village", a perfect tourist spot.
Day 2:  Nag Tibba Temple to the summit of Nag Tibba and return to Pantwari.
Altitude gain from 7610 ft. to 9910 ft to Nag Tibba top and back to Pantwari.
Distance- 3 km (Base Camp to Summit) and 10 km (Summit to Pantwari)
Time taken- 2 hours and 8 hours
Breakfast at camp, lunch and snacks on the way
Visit the Nag Tibba Temple, explore the Summit, descend to Pantwari village, drive back to Dehradun
After feasting on a sumptuous breakfast, you are geared to traverse the 13-kilometre trek. The day needs to start early as you have to cover a lot of ground today. The initial 1.5 km trek is smooth and journeys through different forest trails. One hour into the trek and you come to the sacred Nag Devta Temple, located halfway to the summit. Nag Devta temple is replete with Indian Mythology and beliefs. Here, you can offer prayers to the Serpent deity who is held in high esteem by the local villagers. They believe that the deity protects their cattle from snake bites. There is a small water body near the temple.
The trail from the Nag Tibba Temple to the Nag Tibba Summit traverses through a dense forest. A steep climb brings you to the Nag Tibba Summit which is flanked by a Nag Tibba jhandi (flag). Every minute of this steep climb is worth it as you are treated to an absolutely magical panorama of Himalayan ranges from the summit. Click some memorable shots and soak in the beautiful ambiance before heading back to Nag Tibba base camp. Gorge on a delectable Gharwali lunch before taking a downhill trek to Pantwari village. Drive back to Dehradun from Pantwari revelling in the memories of the past 2 days spent in the magical precinct of this Himalayan hub.