Nag Tibba Trek: Everything you want to know
Mountains are the most sought out destination to escape from realities of life and seek shelter in the lap of nature. In order to achieve such peace, Nag Tibba proves to be an alluring and most appropriate trekking destination for the weekends. The first name of this trek is "Nagg" which means 'snake' and the second word is "Tibba" which refers to 'hill or peak' in local Garhwali dialect.
According to the old mythological tale, Nag Tibba is actually the holy abode of 'Naag Devta'. You can usually find the villagers here who come to pray for the protection of their cattle. Since Nagg Tibba trek has an altitude of 9,915ft so the trek is one of the most popular treks near Dehradun. This trek is also called Serpent's Trek and is unique because it can even be done during winter season whereas most of the other treks are usually closed due to heavy snowfall.
Nag Tibba trek begins from Dehradun or even Mussoorie if you are planning to enjoy the rejuvenating views at "the Queen of Hills" too. There are some of the most beautiful views from Nag Tibba like you can clearly look at Bandarpoonch, Kedarnath, Kala Naag, Swargarohini, and Chanabang—all mesmerizing snow peaks of the Garhwal Himalayas.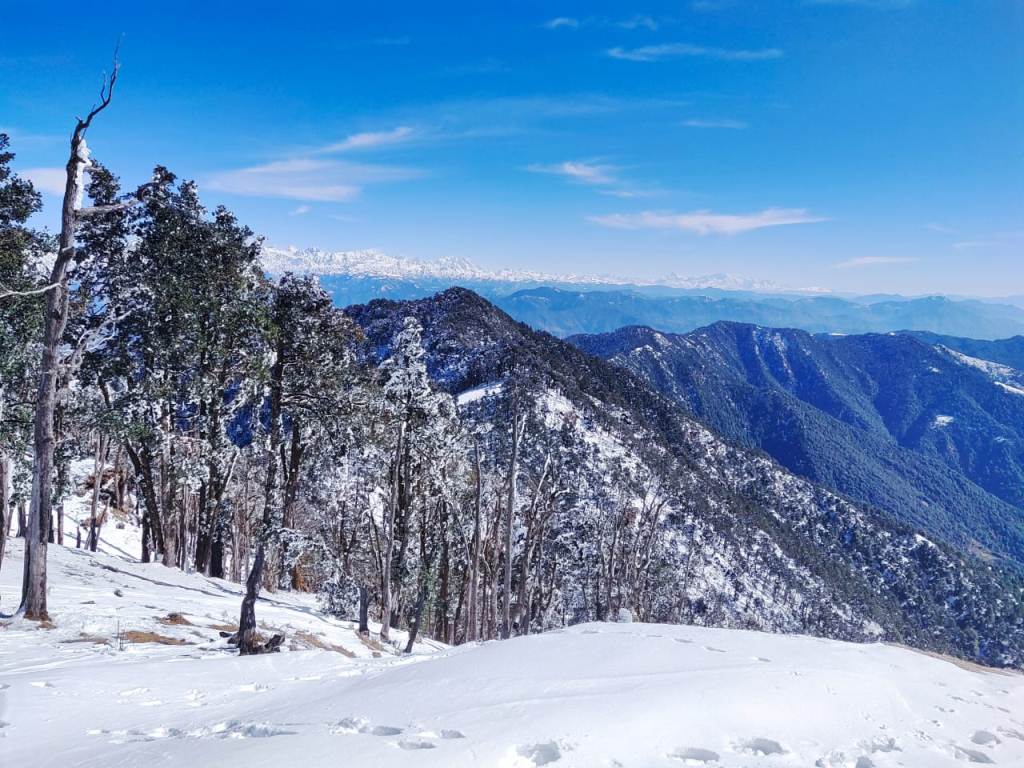 Nag Tibba from Delhi is only a 4 days hike which makes it the best weekend trek. Along with that, this place offers some of the best camping locations as the trail of this trek passes through dense forest and takes you to a very solitude location with no habitation. Though the total trek distance to Nag Tibba is 20 km yet the difficulty level is regarded as easy for beginners or people with average fitness can easily survive throughout.
This trek has a very unique trail as you go up one side of the mountain and come down from another side and in between this you get to experience a variety of landscapes like walking through dense forests, alongside clearings and lake, also ridge walks. It is one of the best weekend treks to cover as it is the most ideal trek from Delhi and Dehradun. This trek is famous for its spell bounding sunsets. Since it is a four-day trek, it is a very great option for those who are office going people and so have very few days with them. The trek is especially good as you will find snow on the very first day of the trek.
Delhi to Nag Tibba Trek Itinerary:
Nag Tibba Trek from Delhi is a 4 days trek. And the itinerary goes like this:
Day 1: Drive from Delhi to Dehradun. Start your journey at night. It's around 257 kms which takes 5-6 hours.
Day 2: Dehradun to Pantwari. It is a 99 kms drive which takes 4-5 Hours. We at Moxtain provide you with lunch at our homestay, followed by a 7 kms trek to Nagtibba Temple campsite. Dinner is served at the campsite by us.
Day 3: After breakfast, trek from Nag Tibba temple campsite to the summit which is 3 kms trek. Returning to Pantwari is a 10 kms trek from Nag Tibba summit. Lunch on the way and reach Dehradun from Pantwari by the evening.
Day 4: Drive from Dehradun to Delhi. Start the journey at night and reach Delhi by morning.
Nag Tibba Trek is accessible from Delhi and is well connected if you are looking for local commutes like buses and hired cabs.
Best Time To Visit Nag Tibba
Though Nag Tibba trek can be done through all the seasons the best time to do Nag Tibba trek is the winter season when the trail is all covered in snow.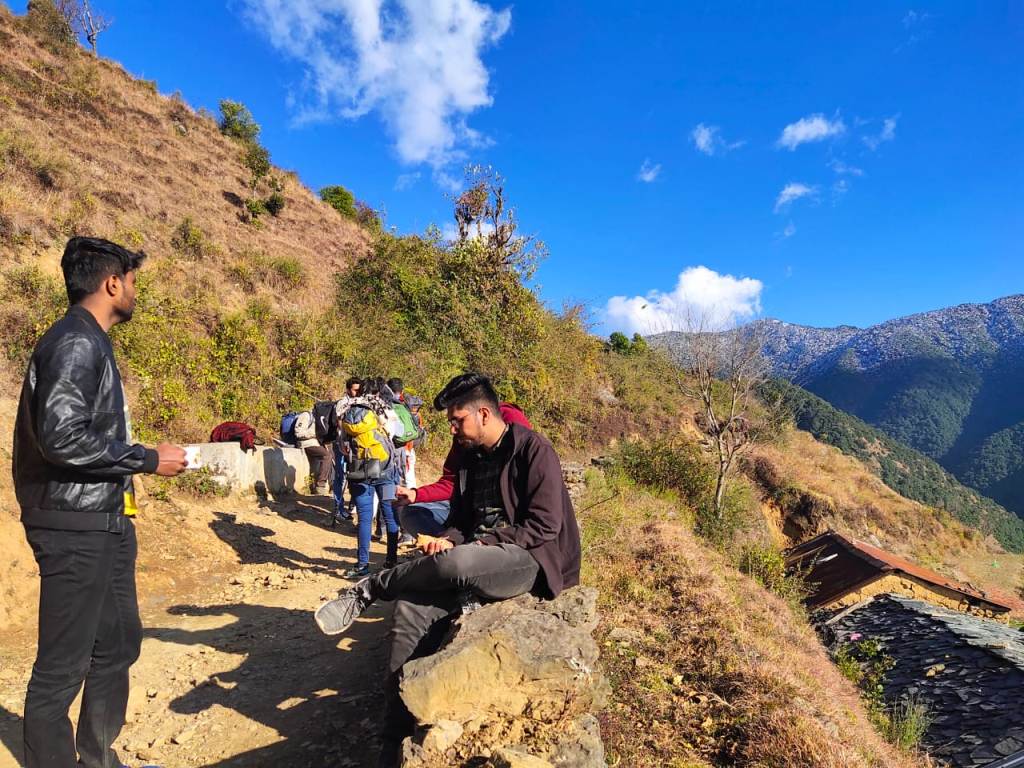 Nag Tibba in Summers
The summer season means that the temperature would be much more suitable for trekking and the views would be pleasant. The summer season from April to June you will get to experience a cool breeze blowing all the time to comfort you. The dense forest cover provides adequate shade, and you can also rest near sources of natural water.
Since the trek is easy, you won't feel much heat. In fact, you'll be able to catch mesmerizing views of the Himalayas with clear skies. You will also be able to spot Himalayan Leopards, Himalayan Black Bears, and other such animals. Since these creatures are living in their natural habitat, they usually don't bother trekkers, and also keep a distance from the enthusiastic crowds.
Also, Nag Tibba in summers do not require any heavy woolen clothing but as a safety measure, you should carry some light woolen clothes in case the night becomes cold. Allthrough, you will be able to see snow-covered Himalayas at a distance.
Nag Tibba in Monsoons
Though monsoon might not sound a good idea for trekking yet during this season the entire region gets a new lease of life. You will catch mesmerizing views of the Doon valley. The monsoon season from July to October you will get to see lush greenery and irresistible views. You can watch heavy rainfall while sipping your coffee in a small cottage. The monsoon season welcomes you with the muddy and slippery trail and you will have to take a lot of precautions and carry high quality trekking gear, footwear, and equipment.
The Himalayan mountains will still be visible yet be covered with raindrops all throughout. Due to heavy rains, there can be landslides that can result in the blockage of the roads and traffic, yet the views that Nag Tibba offers during monsoon are breathtaking and worth taking a risk for. Do not forget to carry your raincoats and umbrellas.
Nag Tibba in Winter
Out of all the 12 months in a year the best time to visit Nag Tibba is from October to March. However Nag Tibba temperature will drop at night and you need to be extra cautious. The peace that this valley offers you along with beautiful snowfall is really worth its value. Though winters are freezing and the temperature goes down to great extents yet the solitude and serenity offered by Nag Tibba during winters are worth it. Carrying heavy woolen clothing becomes a necessity.
Nag Tibba Trek in winter season offers you clear skies and you would be able to catch mesmerizing views of Srikanth, Gangotri, Swargarohini, Bandarpunch and Kedarnath peaks. Along with that while camping at the edge of the forest, chirping birds and fragrance of Rhododendrons would give you company. Carry your most comfortable and warm clothing if you are choosing the Nag Tibba Trek in winter.
The best time to visit Nag Tibba is always the winter season i.e, between October to March because you get to experience the most mesmerizing snowfall.
Nag Tibba Weather
The weather of the Nag Tibba trek usually depends upon the months you visit. Nag Tibba Trek is accessible throughout the year but as mentioned earlier that the best time to visit Nag Tibba is always the winter season between October to March yet you can even choose other months as well. So let's see in detail about the maximum and minimum of Nag Tibba Trek temperature -: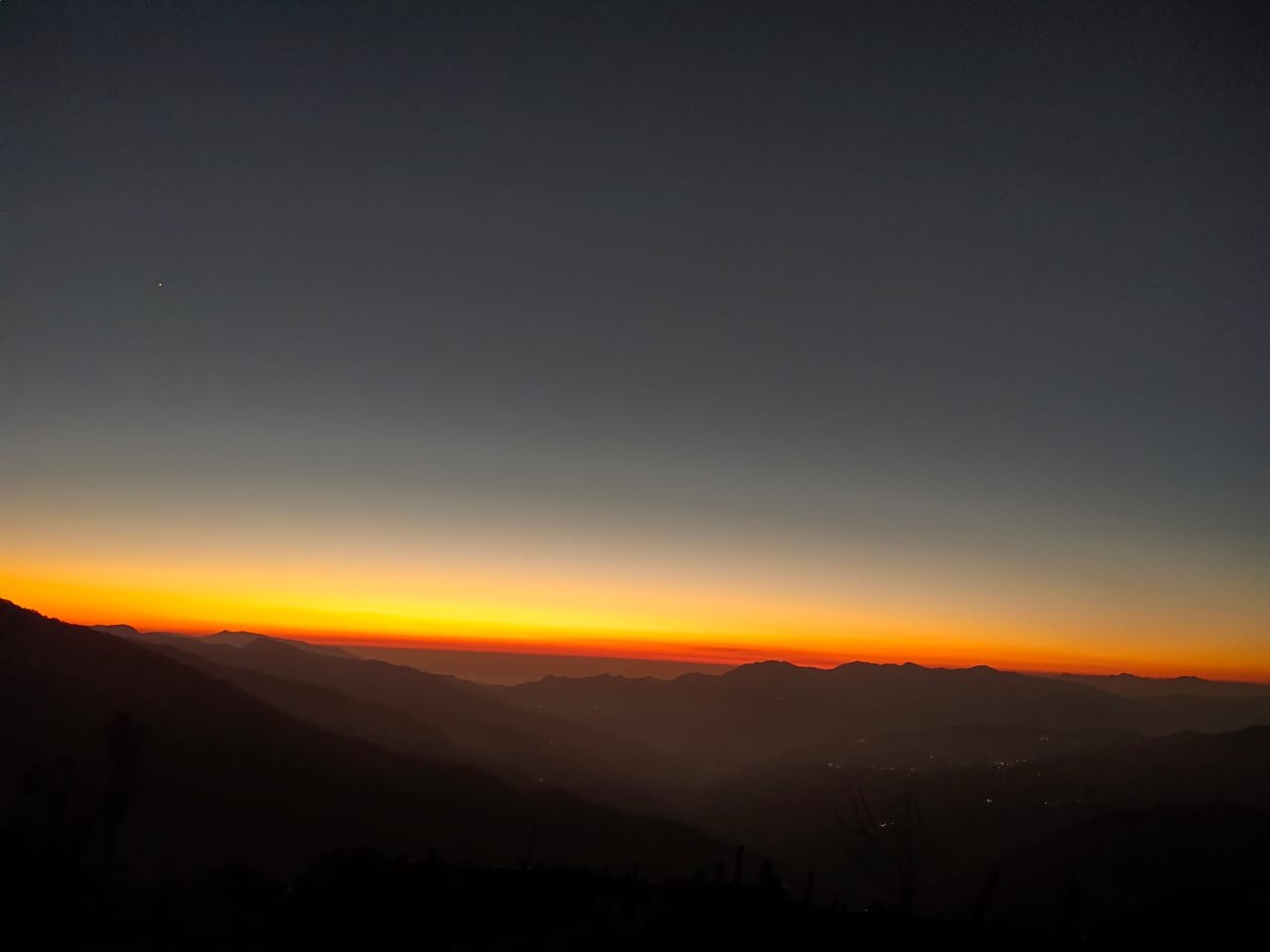 Nag Tibba Temperature in Summers
In summers during the months of April to June the temperature of Nag Tibba varies from 0 to 20 degree Celsius. A cool breeze will always be there to help you in need.
Nag Tibba Temperature in Monsoons
During July to September, the minimum temperature at Nag Tibba will be 3 degree Celsius while the maximum is 19 degree Celsius. Carrying monsoon equipment like raincoats and umbrellas are strictly advised.
Nag Tibba Temperature in Winters
In winters from November to February the temperature at Nag Tibba dips till -7 degree Celsius and the maximum wil be 9 degree Celsius.
How To Reach Nag Tibba
By Air: The nearest airport to the hill station Mussoorie is the Jolly Grant Airport which is situated 60 kilometers from Mussoorie. Even after being situated at a great altitude yet this airport is well connected with metalled roads. Taxis are also conveniently available from the airport to the city of Mussoorie.
By Railway: Dehradun Railway station is the nearest to Mussoorie which is at a distance of 36 kilometers. Though there are just two trains that run between Delhi to Dehradun and vice-versa on a daily basis yet they are time-specific. Mussoorie is located 36 kilometers from Dehradun Railway Station. The two major trains that connect Dehradun with other major cities of India are the Shatabdi Express and Mussoorie Express.
By Road: Mussoorie is well connected with motorable roads that are very well maintained and built. At ISBT Kashmiri Gate, Delhi one will be able to find both luxury and normal buses for Mussoorie.
The trek for Nag Tibba starts from Mussoorie. You can also come by Delhi to the Pantwari bus which would take approximately hours. Pantwari is a village which is at a height of 4,640 ft. You can reach Pantwari in many ways- you can either take a bus or even drive from Dehradun or Mussoorie. The distance from Dehradun to Pantwari is approximately 100kms and it will take you 3-4 hours. If you start your trek from Mussoorie then Mussoorie to Nag Tibba distance is relatively lesser as it is just 56kms and it will take you only 2 hours or even less.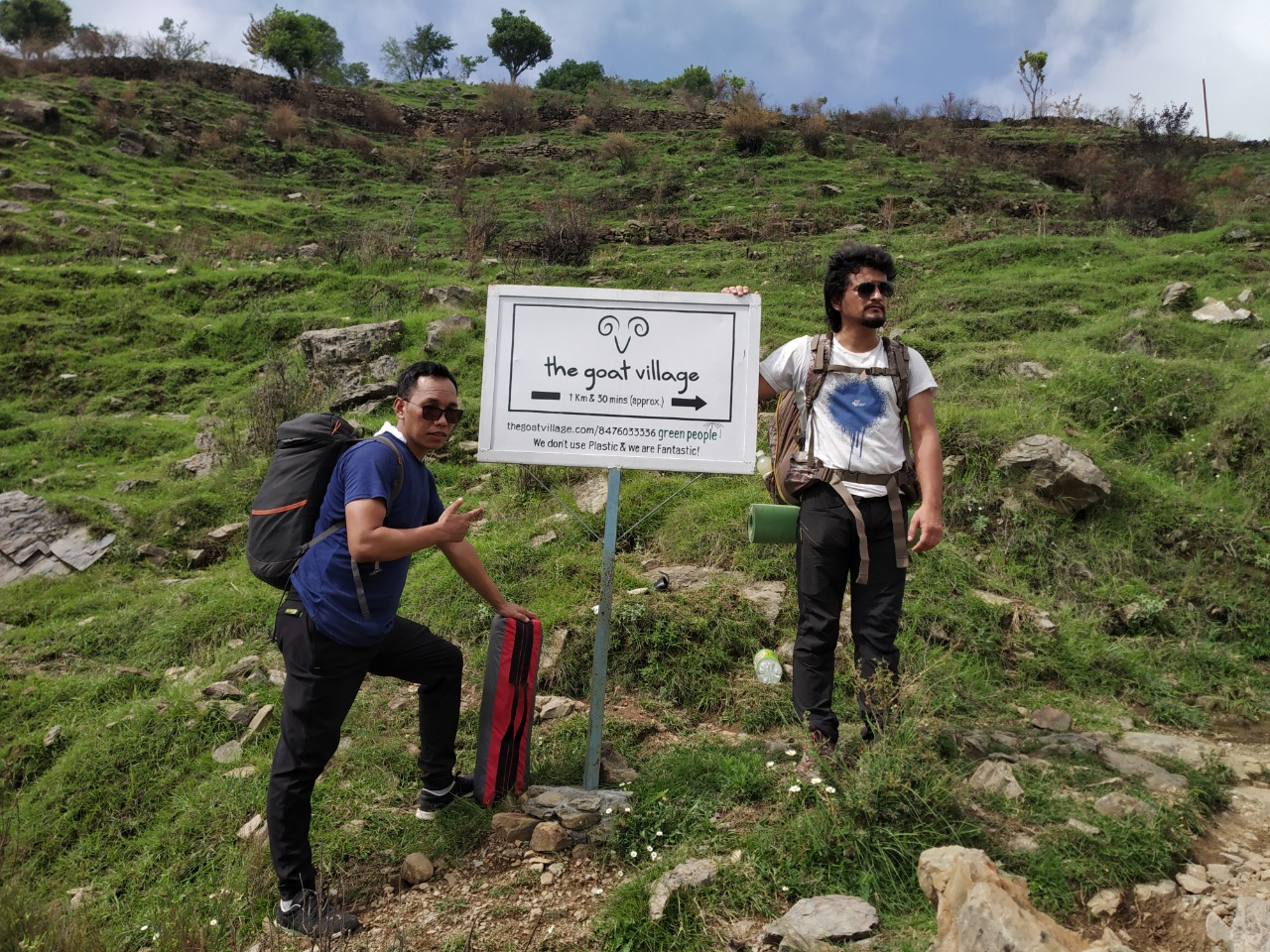 The Nag Tibba Trek route has various stops like the Pantwari Village and the famous "Goat Village" which is located at a height of 6500ft and is the midpoint of the famous trek route to Nag Tibba. Goat Village is one of the most peaceful locations for homestay as you are surrounded by layered mountains on all sides and thus it is called as 'an interesting eco-tourism resort'.
Before starting the trek you must know that the last ATM is at Mussoorie and there are no ATMs in the village so you must keep your cash handy. Also, the whole trek has a phone network but it is erratic, so inform your loved ones beforehand and then enjoy the trek peacefully.
Things to do in Dehradun and Mussoorie
Since you will be going tthrough Dehradun and Mussoorrie, you can as well do some sight seeing at this famous hill station. There are a number of places that you can visit in Dehradun and Mussoorie like Sahastradhara which is a 'thousand fold water spring' in Dehradun and is believed to have medicinal properties. Robber's Cave or Guchhi Pani is a famous picnic spot for fun-loving enthusiasts. You should also visit the holy Tapkeshwar Temple on the bank of Asan River which is believed to have one of the oldest Shivling.
You can even enjoy the water splash at much-toured Kempty Falls in Mussoorie. The highest place in Mussoorie which is Lal Tibba is a place where you can enjoy the panoramic views of the mountains. You must also admire the Kumaon and Garhwali Art & Culture at SOHAM Heritage and Art Centre.
Nag Tibba Trek Difficulty Level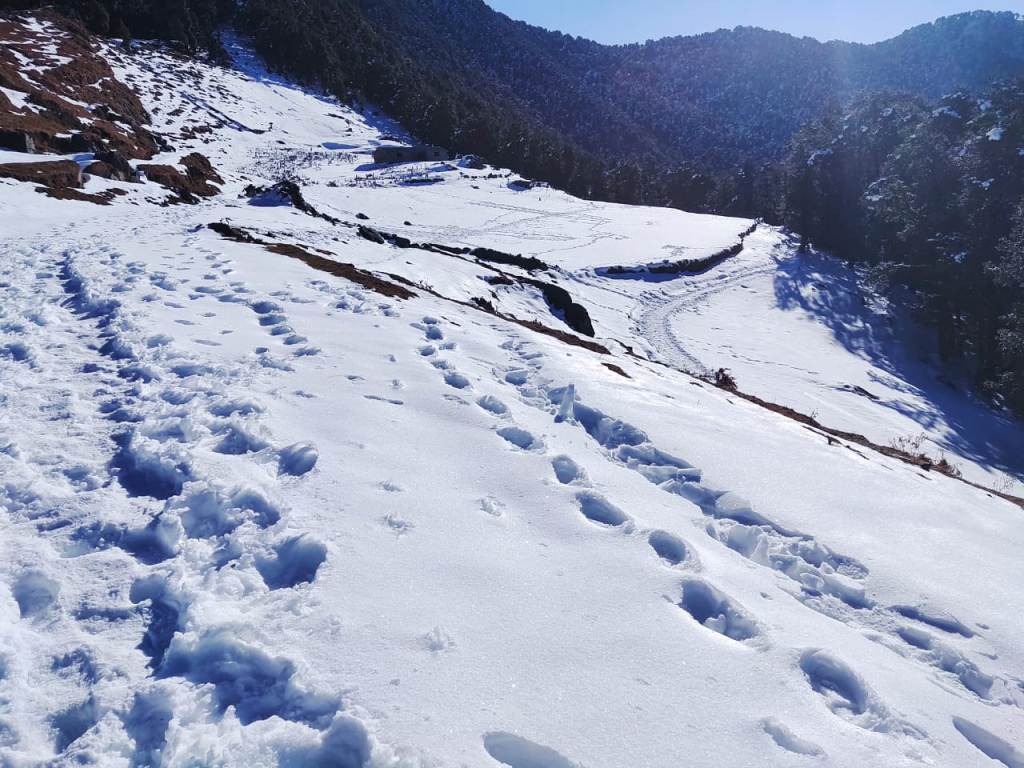 Nag Tibba trek is regarded as one of the easiest treks for beginners because of its easy trail. Since it is a beginner's trek, you do not need any kind of special prior experience. Although it will be beneficial if you prepare yourself mentally and physically before you begin this trek. Running exercise is recommended. But still if you require some fitness benchmarks then refer to the points below for preparation-
You must jog or run every day for 3 Kms in 30 mins and,
You must try to hold your breath for 20 seconds