Roopkund Trek: Everything you need to know before going on the trek
The Roopkund trek unarguably falls under one of the most saleable and quintessential treks that India has to offer.
For years it has enthralled travellers all across the globe to see the infamous skeleton lake with their naked eyes. Yes! You may be wondering why skeleton lake. It is believed that during the occurrence of a catastrophic event, ancients humans from 1000 years ago have perished there and ever since then the remains of the skeletons are still visible when the snow melts. There are plenty of articles on the internet about this lake and how it has been a fascination to the rest of the world. Quite the chills!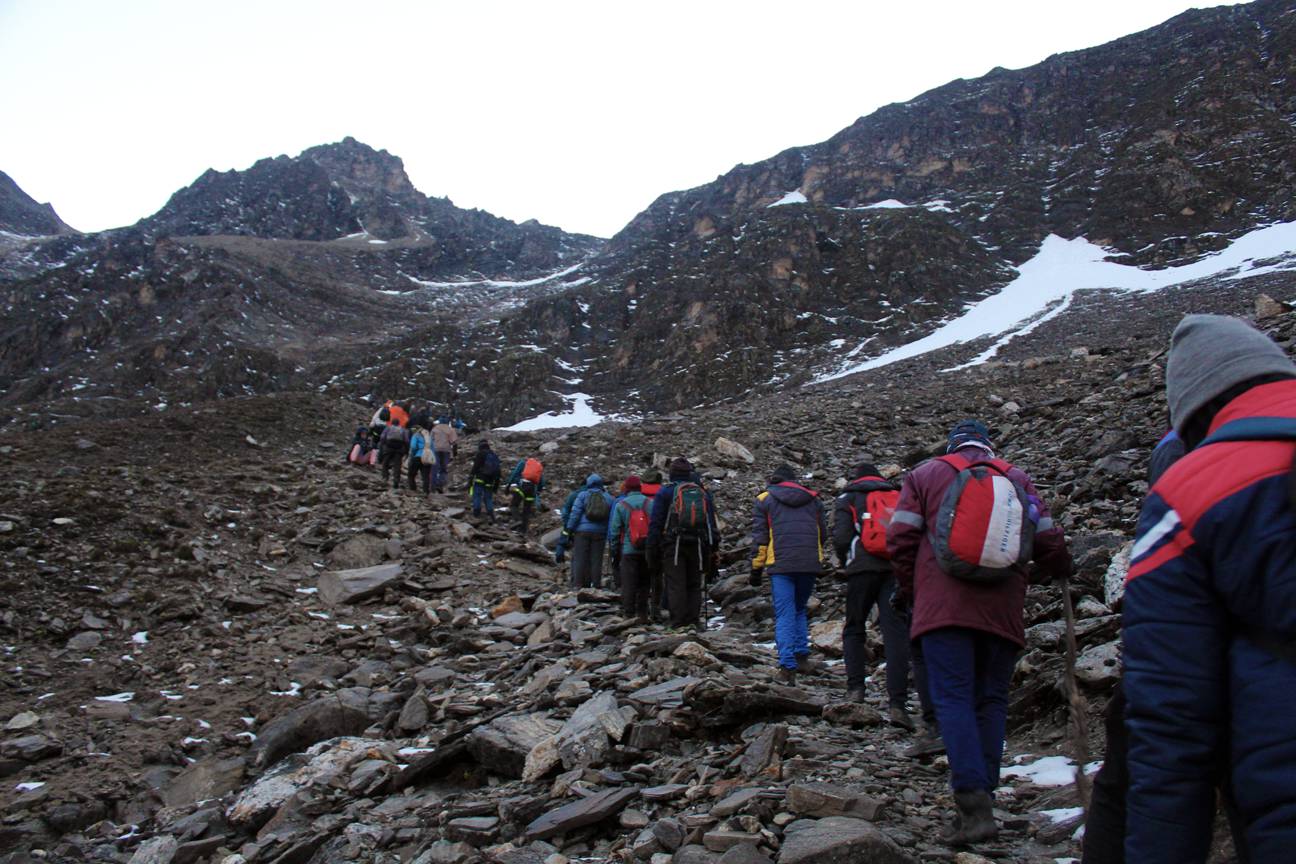 Roopkund lake also known as the mystery lake is situated in the Chamoli district of Uttarakhand in India. It is a glacial lake with an altitude of 5072 metres.
This location provides an outstanding panoramic view amidst the lap of mountains and paddocks. Over the years, Roopkund has evolved to become an excellent renowned trekking destination in Uttarakhand, attracting hundreds of visitors every year. This is undoubtedly a true natural delight that is worth every penny and time. The exquisite ginormous alpine meadows, the varieties in the terrains, picturesque skies, snow-clad mountains and a lot more will cleanse your mind and soul with its purgatorial effects. It's true as they say, there is nothing comparable with the mighty Himalayan elegance.
In this article, we have briefly answered some of the most asked questions related to this trek thereby to make it an ultimate hassle-free experience for the trekkers.
What can you see in the Roopkund Trek?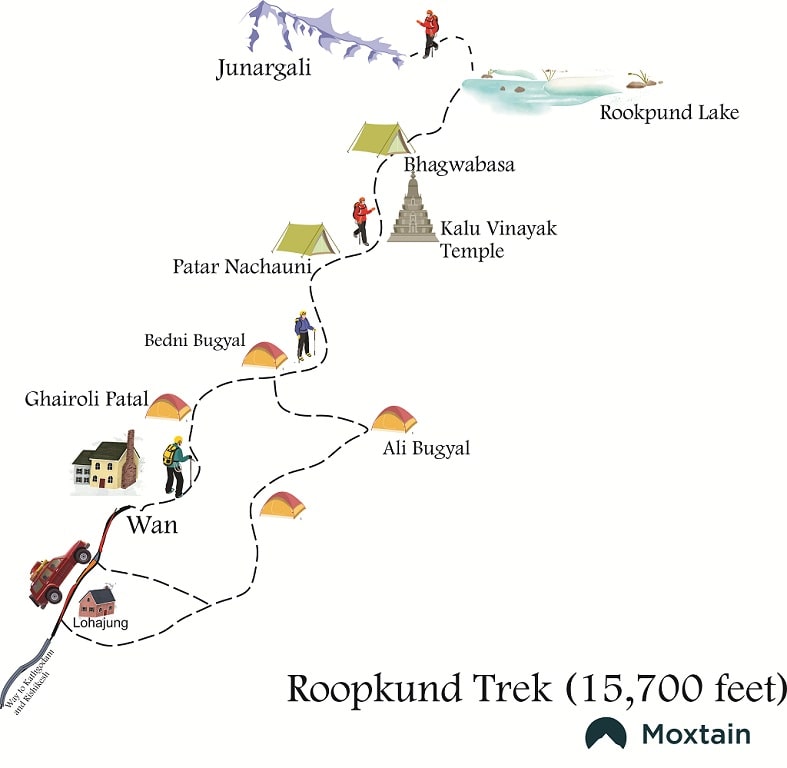 Note:Below descriptions are laid in the order of the trekking route towards the Roopkund lake.
Lohajung (beginning point of the trek) - Lohajung offers a breathtaking view of the Didina Valley, you also get the sight of Mt. Nanda Ghunti which lies on the outer rim of Nanda Devi Sanctuary. Add to that the peaks of Trishul, Ronti, Chaukhamba and more.
Wan to Ghairoli Patal - Wan is a small village situated at an hour's drive from Lohajung. Initially, it has become the stoppage point for many trekking groups. You can witness the locals engaged in their daily shenanigans like farming and animal grazing. The oak trees here are one of the densest in India. From wan, a 3-hour trek will lead you to Ghiaroli Patal which consists of dense commendable forests and water streams. It is also an ideal location for campsites.
Ali Bugyal to Bedni Bugyal - As you descend from the forests of Ghairoli Patal, the next trail opens up to a huge lush green meadow, this is Ali Bugyal. Miles and miles of beautiful pastureland is truly a bolt out of the blue.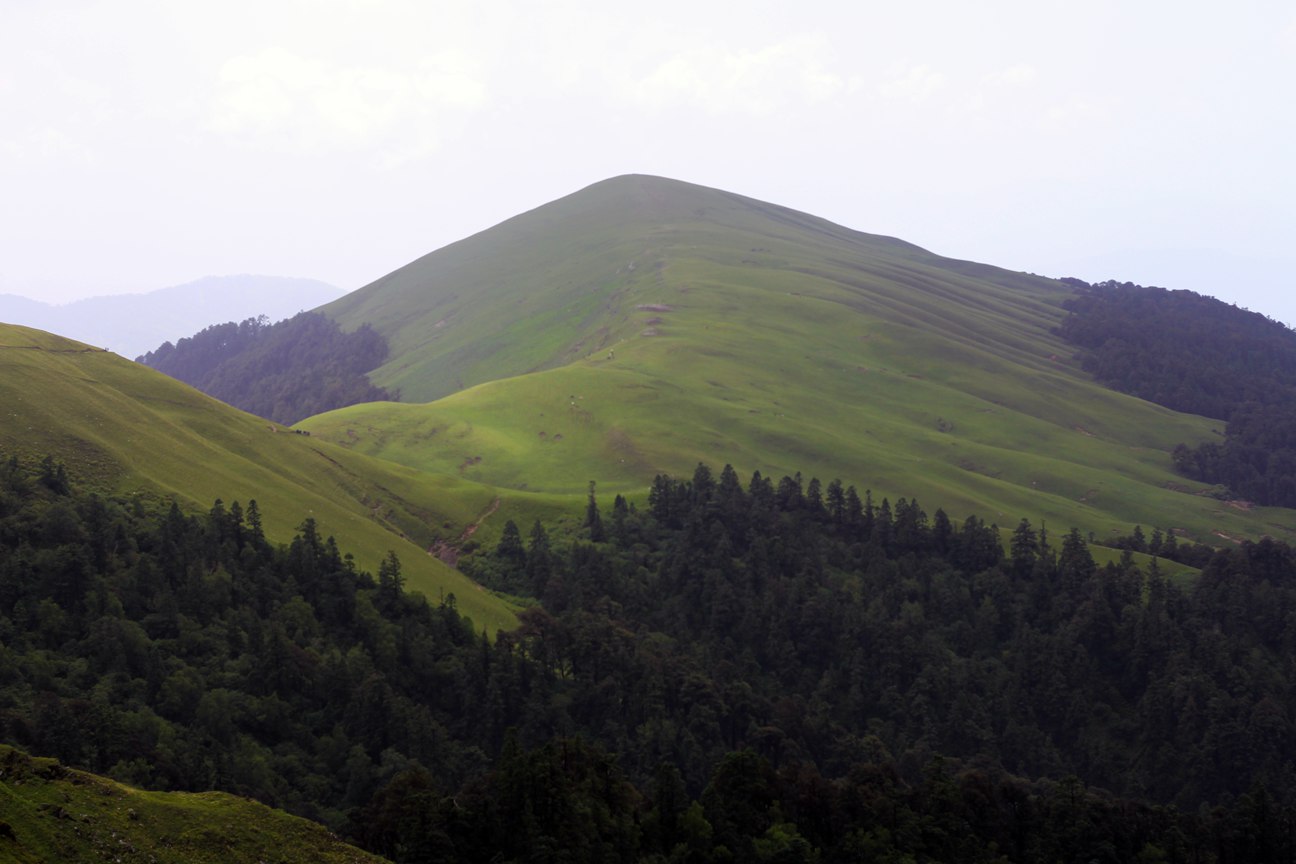 From this point, it takes about an hour and a half to reach Bedni Bugyal. You will halt to camp at the Bedni campsite which has a spectacular bird's eye view of the entire mountain range. These two twin grasslands are the largest high altitude meadows in India.
Patar Nachauni to Bhagwabhasa - Patar Nachauni also means 'dancing girls' in the local language. This trail makes a way out of the Bedni campsite. You will also notice the meadows of Ghora Lotani, with bewitching horses all around. The next path follows to a steep ascent to Kalu Vinayak and a gentle slope downwards to Bhagwabasa.
Roopkund - From Bhagwabhasa it takes 3 hours to trek to Roopkund. Bed of snow-covered mountains will leave you awestruck. These moments will certainly leave you wondering how giving mother nature is! You finally get to see the infamous mystery lake of Roopkund. The bones of the skeletons add to the spooky vibe which makes it an unforgettable experience for a lifetime.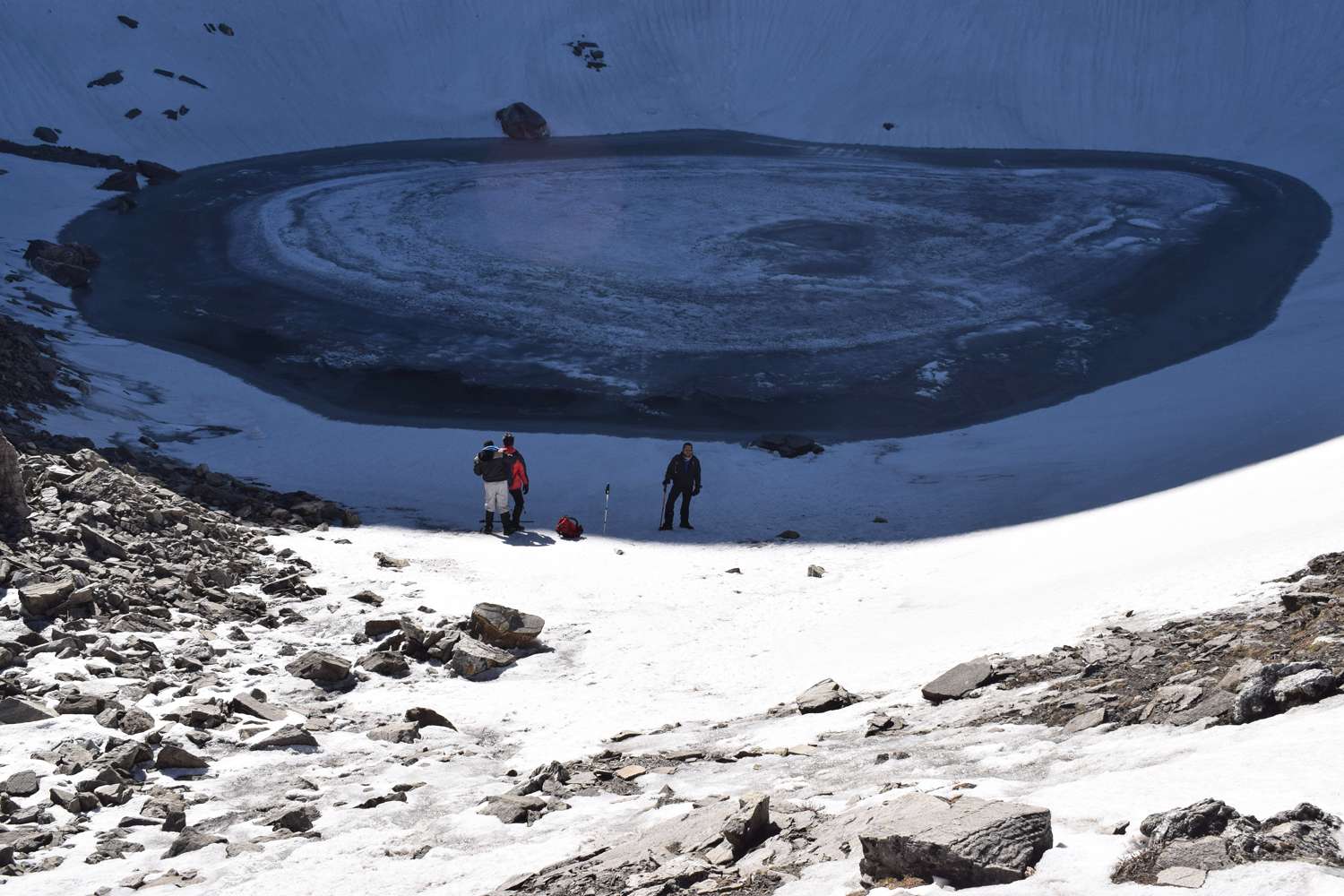 You follow the same trail and return to Lohajung!
Best Time to visit Roopkund Lake Trek
Due to the climatic changes, Roopkund is accessible for only 3 to 4 months a year. It depends totally on one's personal preference, whether you'd want to trek in the thick white blanket of snow or clear vibrant fields.
Should you choose to trek in the snow, you must go there between mid-May to the end of June. Regardlessly, the best time for trekking would be in autumn which is in mid-September until October, simply because of the magnificent crystal clear view and lesser crowds in the trails. You must also not forget that this is the time when the snow melts and you witness the skeletons near the lake. Nevertheless, it depends upon one's comfort zone. You should also avoid trekking during the monsoons.
What is the temperature in Roopkund?
In the month of May to June, the temperature at your campsites during the day will be somewhere between 5°C to -1°C and 3° to -4° C at night time.
In September to October, the temperature at your campsites in the day will be somewhere around 6° to 1° C and 4° to -4°C at night respectively.
How to reach Roopkund?
You will usually be asked to assemble at Kathgodam or Lohajung which is considered as the starting point of the trek.
By air -The Jolly Grant Airport which is known as the Dehradun Airport is the primary airport in Uttarakhand. Dehradun Airport serves as the gateway for the towns and cities of Yamunotri, Kedarnath, Mussoorie, Nainital, Haridwar, Rishikesh, etc. Dehradun Airport is well connected with all the major cities of India.
You can further take a train, bus or car from Dehradun to reach Kathgodam.
By train -The last railway station nearest to Roopkund is Kathgodam railway station. You can either take a train from Delhi or Dehradun which takes you to Kathgodam directly. There are also train stations at Haridwar or Rishikesh which is well connected to Roopkund.
By road -There are overnight Volvo buses available directly from Delhi to Kathgodam. You can also break your journey into parts by halting at Haridwar, Rishikesh or the nearest town of your preference.
And as mentioned earlier, buses, shared taxis, and private cars are readily available if you are beginning the journey from Dehradun.
Note
If your base camp is at Lohajung you can take a bus, shared taxi or private car directly from Kathgodam. The distance is 218 km which should be covered in approximately 7 hours 30 minutes.
Is Roopkund trek for you?
The difficulty level of this trek is moderate. You may run short of breath very frequently given that there are quite a several steep climbs and zig-zag rocky paths.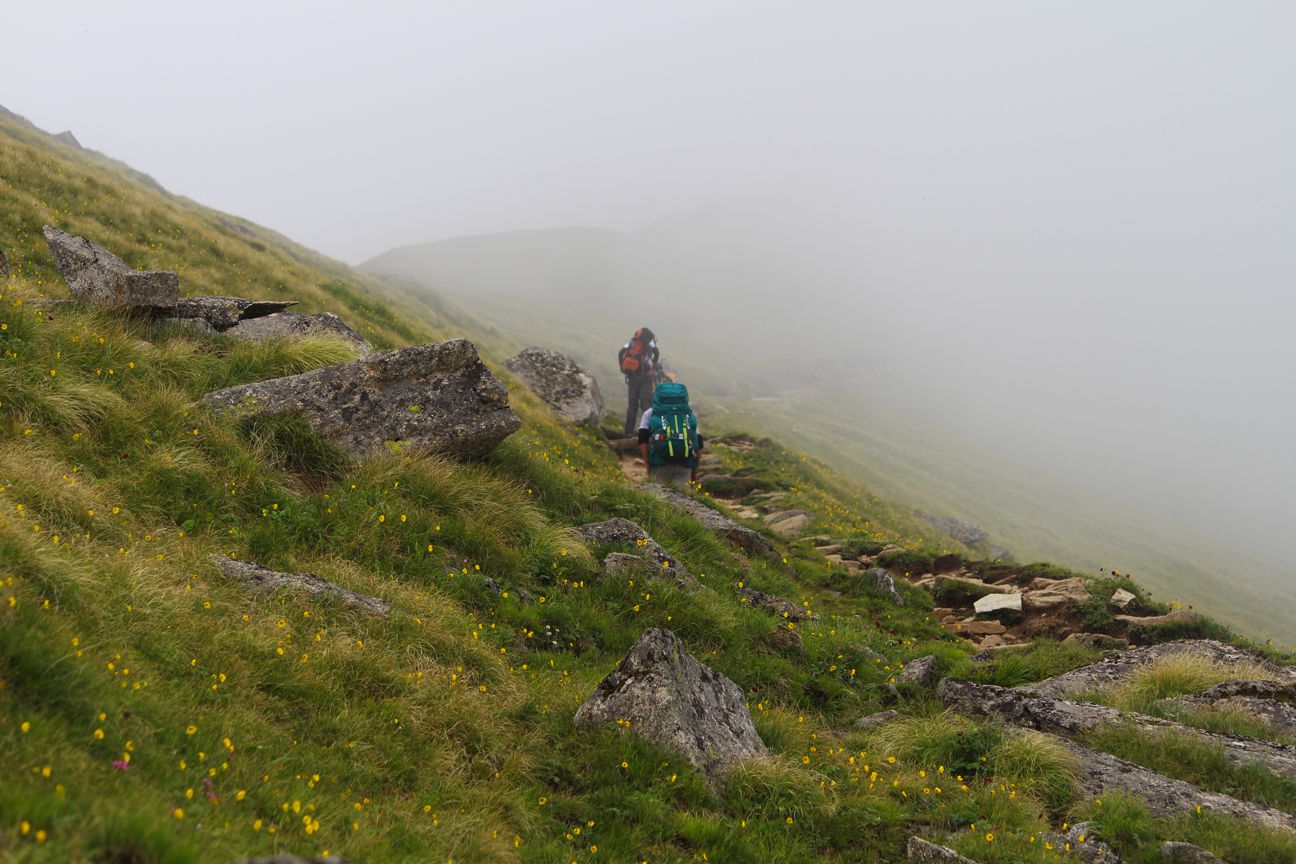 If you aren't used to walking for long hours without panting or gasping for breath or isn't leading any active lifestyle at the present you may want to switch to other easier trek options.
But if Roopkund trek is the only thing you'd want, then you should start working out at least 3 to 4 months prior.
Every trekker needs to do the trekking on an average of 5 to 6 hours, prevailing weather conditions.
Nevertheless, this trek is safe and doable for a beginner, with a basic fit physique.
You should also not have any issues related to the heart and lungs. A healthy physical condition is an absolute necessity for a smooth trekking experience
Every trek to Roopkund takes about 7 to 8 days.
I hope that answers most of your questions regarding the Roopkund Trek.
Trekking is magical and if you are an avid mountain person we definitely suggest you to attempt this thrilling adventure at least once in your lifetime.