Trek Overview
ROOPKUND - Where Mystery Resides
Roopkund - Most Popular Trek in India
As a major adventure destination in the Garhwal Region of Uttarakhand, Roopkund happens to be a ideal site for a rigorous trekking during the summers. It is located in the Himalayas and at an elevation of about 5,000 meters above the sea level. Roopkund features a famous glacial lake that has earned some tourist interest after the discovery of human skeletons that lay scattered as the vestiges of the past. Some of the nearby places include Nainital, a popular hill station, which is just over 200 km from Wan, the starting point of the trek. Haldwani is another major town from where you enter the hilly tracts to reach the base camp of this arduous trek.
Skeleton Lake - The Mystery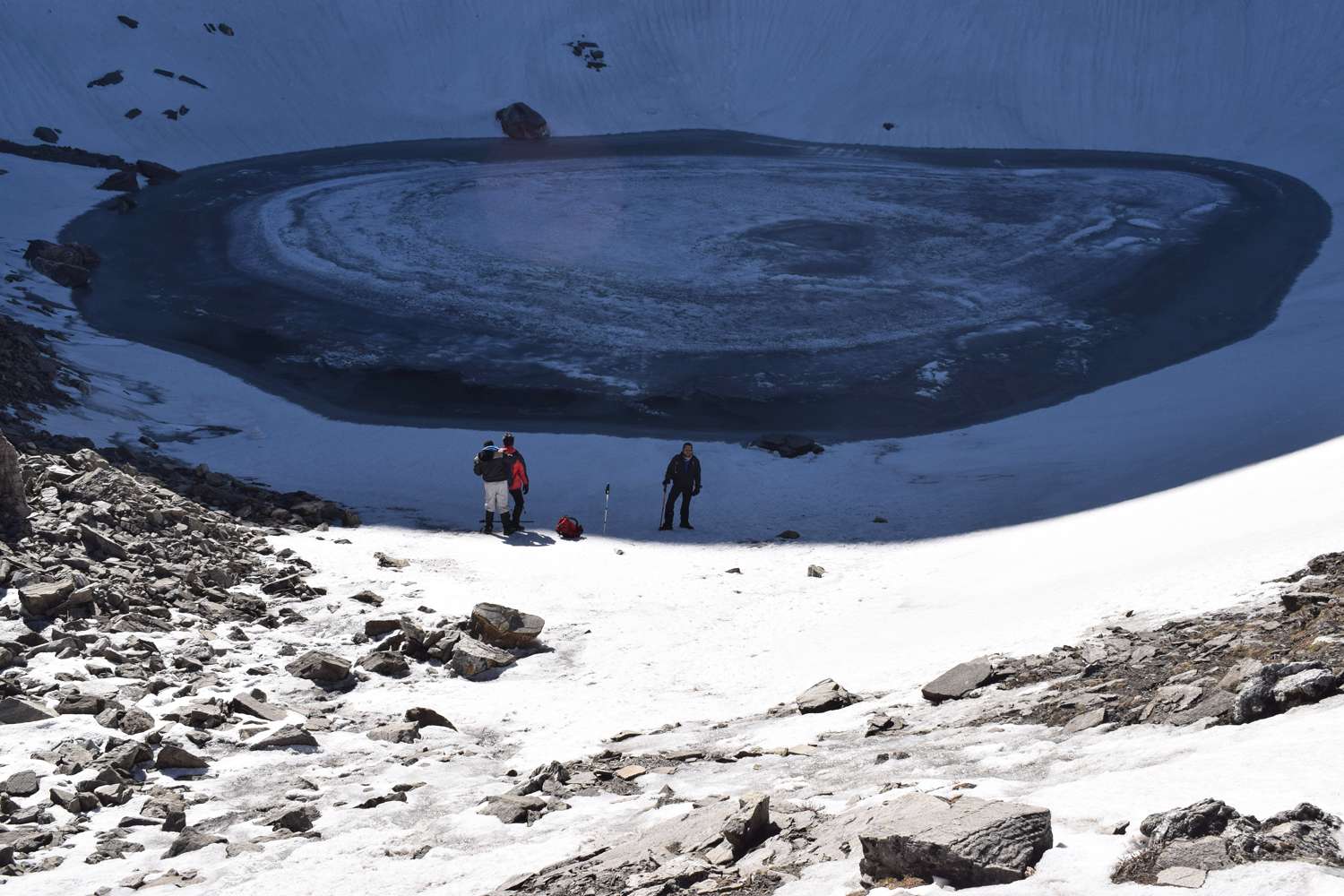 Roopkund Skeletons Lake
Mysteries abound about the five hundred skeletons that some believe belong to the Paleolithic age. But it is perhaps the scenic beauty and the natural splendor of the mountains encompassing the Roopkund trek that has kept the visitors and adventure in awe with this Himalayan wonder. So as you prepare yourself for the "skeleton" trek, in the Land of the Gods, it would always be a great idea to acquaint yourself with the trekking itinerary. En route, you would come across lush green meadows and conifer forests as the Pindar River would keep you enthralled with its bouncing waters. The snow clad mountains and icy glaciers are equally mesmerizing.
Reaching Base Camp, Wan via Lohajung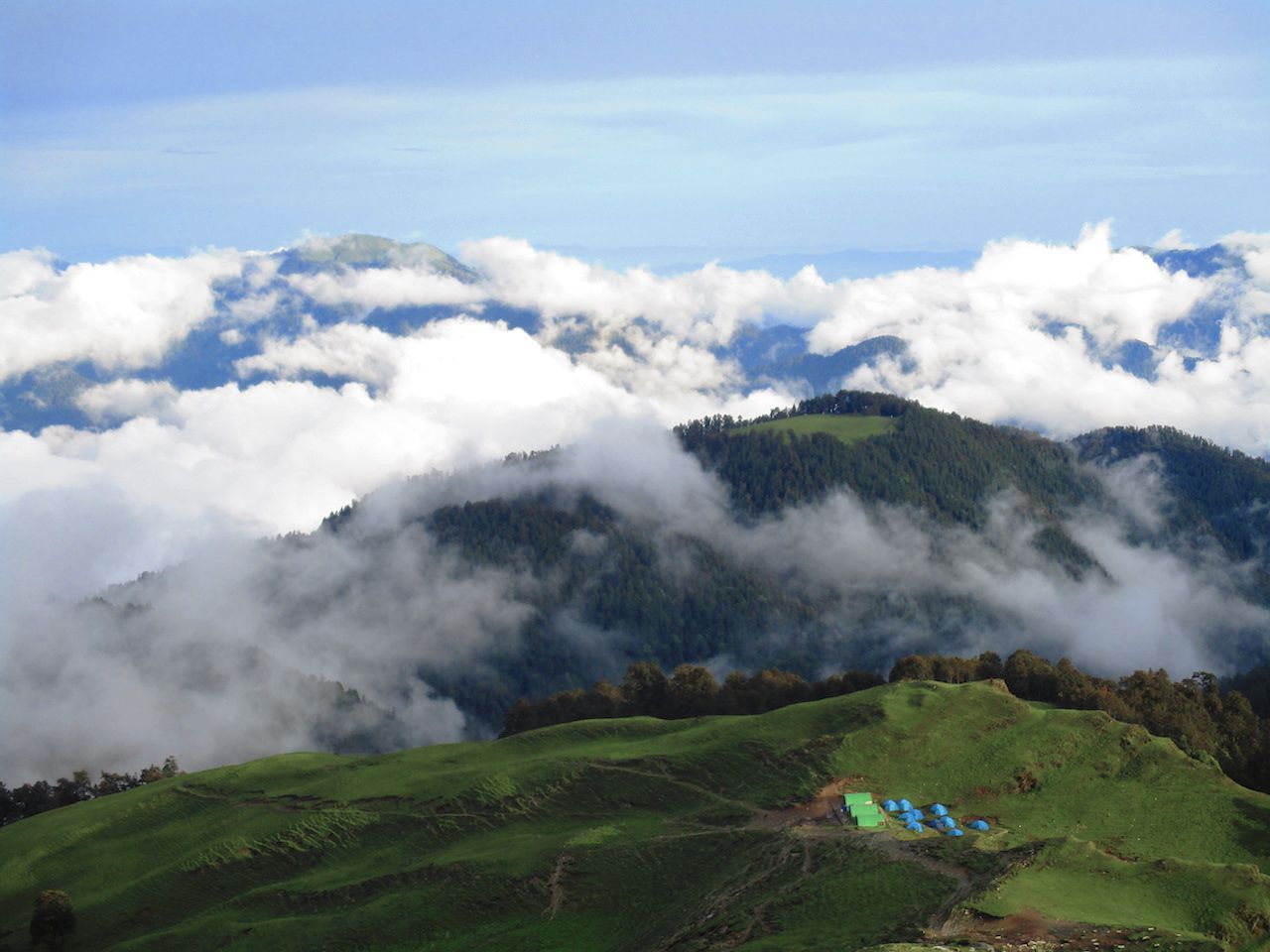 Beginning from Wan, this six day of trekking would conclude at the Roopkund Lake, a journey that elevates you from 8000ft to 16000ft. You can travel up to Wan through road as Sumo and other modes of transport are available for ten-hour journey from Haldwani and its neighbouring town of Kathgodam, the last terminal for trains from New Delhi. One of te best ways to reach here would be boarding the Ranikhet Express that leaves Old Delhi Railway station at 10.20 pm On reaching Kathgodam, you may hire a Sumo in case you are traveling in a group. This 230 Km journey begins along the NH 209 and would take you to Wan via Bhimtal,Ranikhet,Kausani, Gwaldam, Tharali, Deval and Mundoli. Just as you are set on this journey, you would come across Bhimtal lake, the largest lake in Kumaon.
At Wan
On reaching Wan, the base camp, you may rejuvenate yourself with a nightlong stay here as you prepare yourself for the ultimate trip. The neighbour place,Lohajung derives its name from "Loha" and "Jung" as the legend has it that Goddess Parvati had a battle (Jung) with Lohasur in these hilly tracts. It lies at the heart of a cluster of 12-15 villages and you'll probably have mobile networks here. You may also buy some trekking necessities like caps, gloves, jackets and shoes from a local shop here. The road from Lohajung to Wan is quite motorable and it is from Wan where the real trek begins.
The Himalayan Panorama
If weather permits, you'd get to see a clear view of the iconic Trishul, a group of three imposing peaks. The sprawling meadows of Bendi Bugyal lie just along the Garhwal-Kumaon border in Chamoli district. The temples, lakes and grazing lands with sheep, horses, and mules would make for a pleasurable sightseeing. Wan, the starting point, lies at a height of 8000ft. Six days of trek you take you to Roopkund, standing at 15,750ft. Major stops include Ghaeroli Patal, Bendi Bugyal, Patar Nachauni and Kalu Vinayak.
The Roopkund trail offers some spectacular sights to behold where alpine meadows, high mountains, and dark forests will take your imagination to the extreme wilderness of nature. The meadows of Ali Bugyal and Bendi Bugyal brings a soothing relief from rugged tracks and dense forests. The sights of Trishul peaks and Mt Nandagunti are worth capturing during the dusk. Then there are the imposing peaks of Neelkanth, Chaukhamba, Kedarnath and Kedar Dome with sun filtering the through the dark forests rife with conifers.
Itinerary
What's Included
Inclusions
Mountain course certified and experienced Trek Leader.
Supporting staff.
All meals on scheduled time(Vegetarion and Delicious Only )
Quality equipments for Trekking.
Fully equipped medical kit and safety equipments.
All kind of permits and camping charges.
Exclusions
Personal expenses done by the trekkers while on the trek.
Food items purchased by trekkers during the trek at local canteens or during the drive.
Mules or porters to carry personal luggage.
Anything not mentioned in Inclusions.
Health and Safety
For any Himalayan Trek, Ideal BMI for a trekker should be 18.5 to 24.9
To keep a check of this please calculate BMI here
Below given Safety checks should be done to get prepared for any Himalayan Trek.


Balance : As well said a balanced mind and body gives out best in every condition and that too works in Himalayan treks as well.
Legs Strength : Body and Legs Strength is required to carry body weight as well as the backpack while trekking in uneven multi terrains. Generally, a good strength on legs works out good in any Trek. One can gain legs strength by doing simple Squats.
Muscle Flexibility : While trekking in Trans Himalayan region with a flexible body one can easily achieve full range of movement and this can be really helpful for trekkers as well as trek leads. A good flexible will be an advantage while walking on trails, climbing and river crossing etc. Flexibility can be achieved by simple stretching, yoga etc.
Cardiovascular Endurance : Cardiovascular endurance is defined as the ability of lungs and heart to transmit oxygen to the body muscles. All Himalayan treks are basically ascending descending the slopes and for this trekkers should be having a good cardiovascular endurance. Anyone planning for a Himalayan trek can attain this capacity by doing any cardio exercise like running, swimming, cycling etc.
Cancellation
Cancel up to 30 days before trek start date and get full refund.
Cancel up to 15 days before trek start date and get 70% refund.
Cancel up to 7 days before trek start date and get 50% refund.
Cancel within 7 days of trek start date and the cost of the full reservation is non-refundable.
Refunds will be processed within 7-10 working days from the date of cancellation.
In case of refund, 2.5% (Payment processing charges) will be applicable.
Eligible refund amount will be calculated from the total trek fee offered, in case you have made partial payment only.