Lohajung :The Pathway to the Himalayan Meadows
Into the Village of Lohajung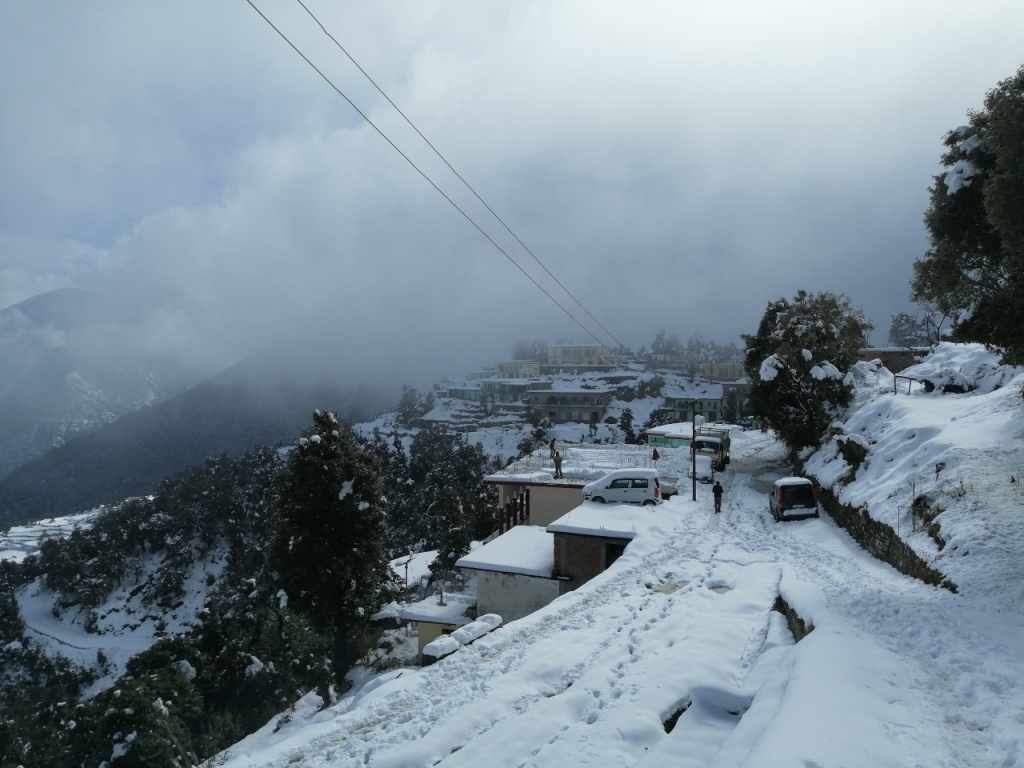 An escape into a medieval tale, a hamlet hidden in the deep mysteries of the Himalayas, a dance with nature is a glimpse of what you will experience in your trip to Lohajung. The village rests an altitude of 2300 m in the Garhwal ranges of the Himalayan mountains of Chamoli district. Along with its picturesque surroundings, it also serves as a campsite for many trekkers.
Beauty and Highlights
Walking through the village exposes you to the vivid and colourful feathers of nature on display. Fields of amaranth, popularly known as chaulai, painted in shades of crimson, pink and ochre are spread across Lohajung. The neighbouring village of Wan runs parallel adding to the beauty of the entire experience with its rivers and valleys making it a perfect tourist spot.
Mythology
Rooted deep in mythology, the locals believe that the goddess, Parvati, fought with the demon, Lohasur, and defeated him at the spot where the village was built. Hence, it came to be called Lohajung, named after the battle or Jung with the Asur(Demon). Some locals, however, believe that the name arose due to the intense rains observed in the village that causes all metallic objects, or Loha, to rust, or Jung.
Things to do in Lohajung
Sight-Seeing and Camping

If the minimalist way of life in a remote hamlet, steeped in the long vines of nature and nestled in the arms of the Himalayas charms you then camping in Lohajung will not be a forgettable experience. You can stay for a night in the village pitching up tents over the velvety verdant fields watching the uncountable twinkling stars scattered over the infinite night sky.
Base Camp

Trekkers usually set up their base camps at the small village of Lohajung to rest and gear up for their trek ahead. Trips to the Brahmatal Lake, Homkund Lake, Ronti Saddle, Auli Bugyal, and a few other spots have routes with the village lying in their path.
Treks starting from Lohajung Base Camp
Brahmatal Trek
The trek to Brahmatal or the Lake of Lord Brahma is famous for its unparalleled collective view of mountains like Trishul, Nanda Ghunti, Chaukhamba and the likes of such. Your journey to the lake where Brahma is believed to have meditated once will be woven with hidden hamlets, ancient forests, melodious brooks, and pristine valleys. The forests are so thick that they seem to form an emerald sky above your head lit under the sun.
Brahmatal trek is recommended to be taken during the winters as you will find your entire climb to be snuggled with a blanket of untouched snow. No other trek will offer you such panoramic views of the magnanimous mountains and massifs of Himalayas.
Trekkers with a passion for photography will certainly find this trip to be filled with endless delights. Brahmatal trek sets up a grand stage with a bird's eye view for not only the most sought after Trishul massif and Mt. Nanda Ghunti but also the mountains of Neelkanth, Chaukhamba, Hathi Ghoda and the Ronti Saddle connecting the Trishul and Nanda Ghunti mountains. Forests of rhododendron and oak, sprinkled with flowers painted in a hundred shades of pink, miles and miles of land steeped in snow and the occasional fields of green meadows await you in this breathtaking journey.
Jatropani Peak Trek
Jatropani peak rests on a grassy ridge that runs parallel to Ali Bugyal and Bedni Bugyal at an altitude of 4071 m. Its name translates to 'the peak of singing waterfall' stemming from the myth that there exists a waterfall near the peak that sings or hums a melody. Even from Gwaldam and Kausani, the ridge offers an enchanting view of the Garhwal and Kumaon mountain ranges.
The trek to Jatropani peak, often known locally as the Khamila Top allows you to experience a rare panoramic view to the mountains of Nanda Ghunti and Kamet, the two highest mountains in the Garhwal Himalayan ranges. You will be offered an unobstructed view to Auli Bugyal, Bedni Bugyal, Roopkund lake, Ronti Saddle, and Junargali pass. Picturesque views of Bethartoli Himal, Trishul massif, Mt. Nilkantha and Mt. Chaukhamba adds to the beauty of the unforgettable trek.
Roopkund Trek
Roopkund Lake, popularly known as the Skeleton Lake, is a water body at the centre of a huge crater, the slope of which is lined with hundreds of dusty bones and skulls of an entourage believed to be caught in a deadly hailstorm. The glacial lake lies in the lap of the Trishul massif in Uttarakhand at an altitude of around 15,700 feet. The trip to Roopkund passes through Auli Bugyal and Bedni Bugyal and serves as a spectacular mountain viewing spot.
The Roopkund trek has, however, been banned by the Uttarakhand high court closing camping on the alpine meadows of the state. This prevents camping at Bedni Bugyal and Pathar Nachuni. Restricting camping at these spots makes it impossible to complete the trek to Roopkund Lake. Alas, the beauty of Roopkund has been locked away from its trekkers for what seems like a long time.
Ali-Bedni Bugyal Trek
The Ali Bedni Bugyal located in the Chamoli district of the Garhwal Himalayas used to be a must-see tourist attraction. It lies on the route to the Roopkund Lake, enriched with an endless stretch of scenic grasslands and a coniferous forest at its slope. The famous Brahma Kamal, the lotus held by the god, Brahma, blooms near the Bedni Lake. By the order of Uttarakhand High Court, however, camping has been disallowed in Bedni Bugyal to protect the grasslands and the local habitat.
How to reach Lohajung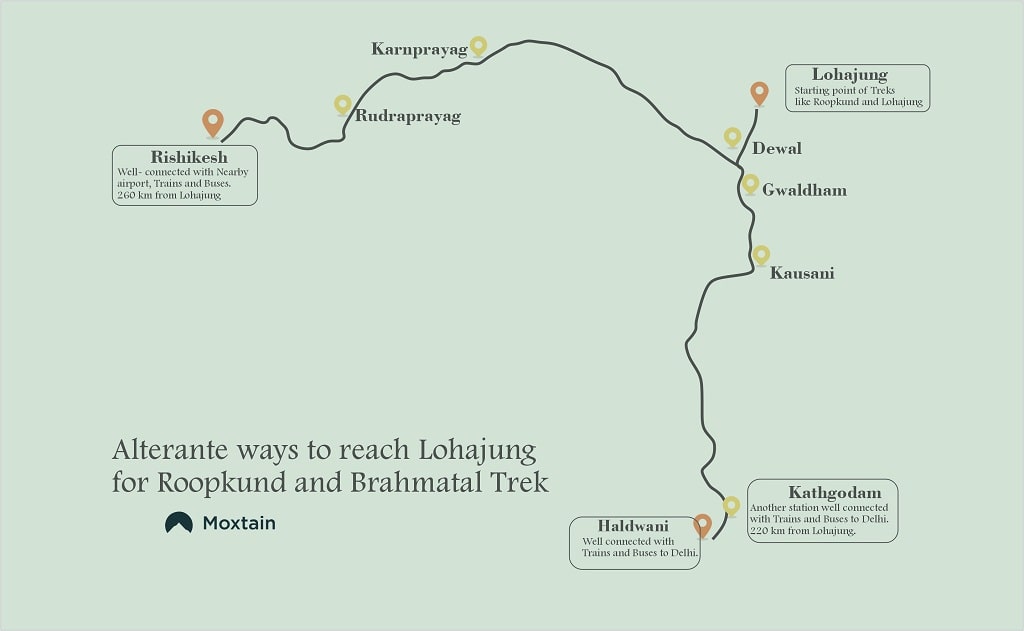 Alternate Ways to reach Lohajung
You can choose from the many trains and buses available that run from Delhi or Dehradun to Haldwani and Kathgodam. Most of these will take you directly to Kathgodam, from where you will have two options to reach your destination, Lohajung. If you make it to Kathgodam before 7 am then you might find a shared cab travelling to Lohajung, or if you plan a more flexible trip then you can hire private cabs that are available throughout the day.
The following trains can be boarded from Delhi, Dehradun, Haldwani to reach Kathgodam:
| Train Name | Boarding Point | Departure Time | Arrival Time | Duration | Price Range |
| --- | --- | --- | --- | --- | --- |
| RANIKHET EXP (15013) | Delhi | 22:05 | 05:05 | 7 Hours | 110-1165 INR |
| UTR SAMPRK EX (15035) | Delhi | 16:00 | 22:45 | 6.45 hours | 110-415 INR |
| NDLS KGM SHT (12040) | Delhi | 06:20 | 11:40 | 5.20 hours | 785-1240 INR |
| DDN KGM SHT (14120) | Dehradun | 23:25 | 07:20 | 7.55 hours | 215-1390 INR |
| NAINI DOON JAN S (12091) | Dehradun | 15:45 | 23:35 | 7.50 hours | 165-555 INR |
| KGM GARIB RATH (12255) | Haldwani | 14:22 | 14:50 | 28 minutes | 250 INR |
| JAT KGM EXP (12208) | Haldwani | 14:22 | 14:50 | 28 minutes | 140-495 INR |
| CNB KGM EXP (12209) | Haldwani | 14:22 | 14:50 | 28 minutes | 140-495 INR |
| LJN KGM EXP (15043) | Haldwani | 07:37 | 08:10 | 33 minutes | 45-635 INR |
| DLI RKSH PASS | Delhi | 17:35 | 04:45 | 11:10 | 55-500 INR |
Private buses for Kathgodam/Rishikesh can be boarded from Delhi as well as Dehradun. It can take anywhere from 6-10 hours with tickets priced at a range of Rs.249-850 when starting from Delhi to Kathgodam/Rihikesh and around 8-9 hours to reach Kathgodam at a range of Rs.500-600 when starting from Dehradun.
You can also choose to take a flight from Delhi. The nearest airport from Lohajung is in Pantnagar, the Pantnagar Airport (PGH). The flight is usually an hour long and can cost anything from 4000-7000
Lodging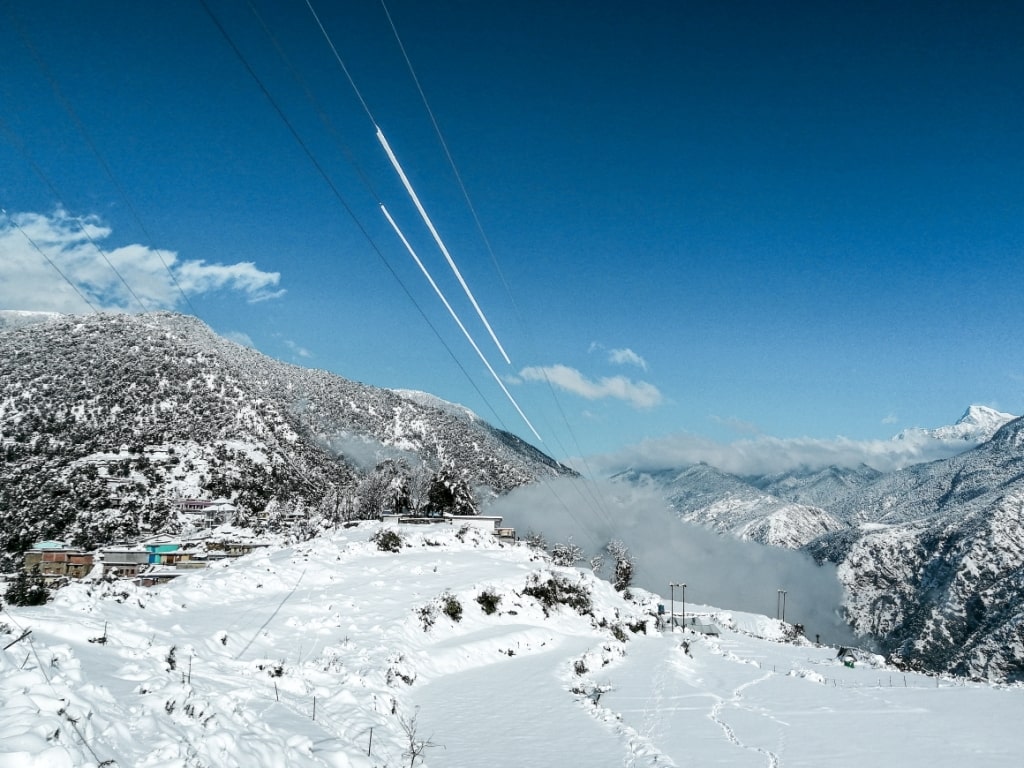 Being a small village in the Himalayas, Lohajung offers few lodging options. You can opt for the Government of Uttarakhand funded accommodation of the village, Garhwal Mandal Vikas Nagar Ltd. (GMVNL). Other than that there are some budget guesthouses with rooms and bedding comfortable enough to give you a good night's sleep after a day of trekking. If you happen to be equipped with camping gear, you can also choose to set up tents to stay the night.
Facilities
There is an ATM, H. K. Bisht CSC, and a bank, Uttaranchal Gramin Bank, providing cash withdrawal and deposit facilities in Lohajung. However, it is advised to carry some money as other than the ones in the village the nearest ATMs and banks are located around 25 kms away in Dewal. Surprisingly, you won't face a network problem in the village.
You might find a shop or two selling affordable trekking gear before the Brahmatal trek route. There are a few restaurants and tea stalls in and around the village, most of them serve local and North-Indian cuisine.
Weather and Temperature
The temperature is usually cool to chilly in Lohajung. In the summers, during the day the temperature ranges from 23 °C to 12 °C and at night it can be anything from 10 °C to -2 °C. Winters can be harsh in this area, the temperature during the day usually soars to a maximum of 15 °C and a minimum of -14 °C, at night it can range from a minimum of -30 °C to a maximum of 0 °C.
Quick facts about Lohajung
Region- Garhwal Himalayas, Chamoli district, Uttarakhand
Altitude- Highest altitude 2300 m
Lodge Duration- 1 day
Nearest Airport- Pantnagar Airport (PGH)
Nearest Railway Station- Kathgodam Railway Station
Facilities- ATM, taxi point, restaurants, lodges
Best time to visit- January to June, October to December
Health And Safety
The low oxygen levels found at high altitude lands can cause problems for people with certain health issues.
People with severe cases of altitude illness are advised not to participate in such treks.
People with heart, lung diseases or diabetes should consult their respective doctors and carry all the required medicines for the trek.
Pregnant women are generally advised against participating in high altitude treks
Tips
It is advisable to check the weather conditions with the local authorities, tour agency and trek guides before packing trekking gears and setting out for the trip.
Lohajung does have an ATM but it is advisable to carry some cash to the trip to avoid inconveniences.
There is a shop at the centre of the village that provides cheap trekking gear but you should always carry at least some of your own basic gear.