When we talk about mountains and hilltops in India, we get a variety of options ranging from easy trekking to the most difficult ones. Among all such treks, there are 2 treks known to stand out for their mesmerizing views. With a height crossing over 15,000ft, both of these places have a difficult trekking pattern yet you would find some of the most peaceful time here.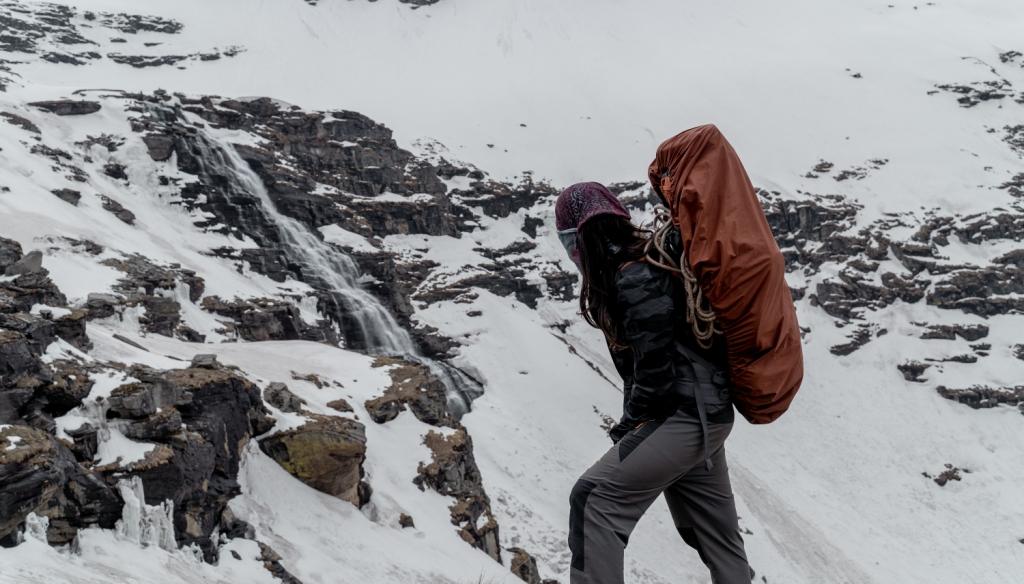 We know that both Rupin Pass and Buran Ghati lie in the Garhwal region and give quite similar views yet there are a few differences between them which we are discussing here:
Rupin Pass Vs Buran Ghati
| Trek Details | Rupin Pass | Buran Ghati |
| --- | --- | --- |
| Altitude | 15250ft | 15000ft |
| Base | Dhaula | Janglik |
| Best Time | May – June/ September – October | May – June/ September – October |
| Trek Type | Crossover | Crossover |
| Days | 8 | 7 |
| Difficulty Level | Difficult | Moderate to Difficult |
| Trek Cost | 13999 INR | 13900 INR |
| Booking Links | Rupin Pass | Buran Ghati |
Key difference between both treks
Starting Point
Rupin Pass is said to be the most classic trek in India as it is a high altitude trek which starts from Dhaula in Uttarakhand and ends at Sangla in Himachal Pradesh. Whereas, the Buran Ghati trek starts with a long drive from Shimla and reach Diude. The trek goes through Janglik, Dayara bugyal, Litham, Chandranahan lake, Dhunda, Buran Ghati, and Barua village. But the actual trek starts from the ancient village of Janglik, which is the base camp and is an old place untouched by civilization. The trek trail from Janglik goes into a delightfully deep forest and then bursts into Dayara meadows. If you are a great fan of glorious meadows of Ali and Bedni Bugyal on the Roopkund trek, then you would be mesmerized after seeing the Buran Ghati meadows.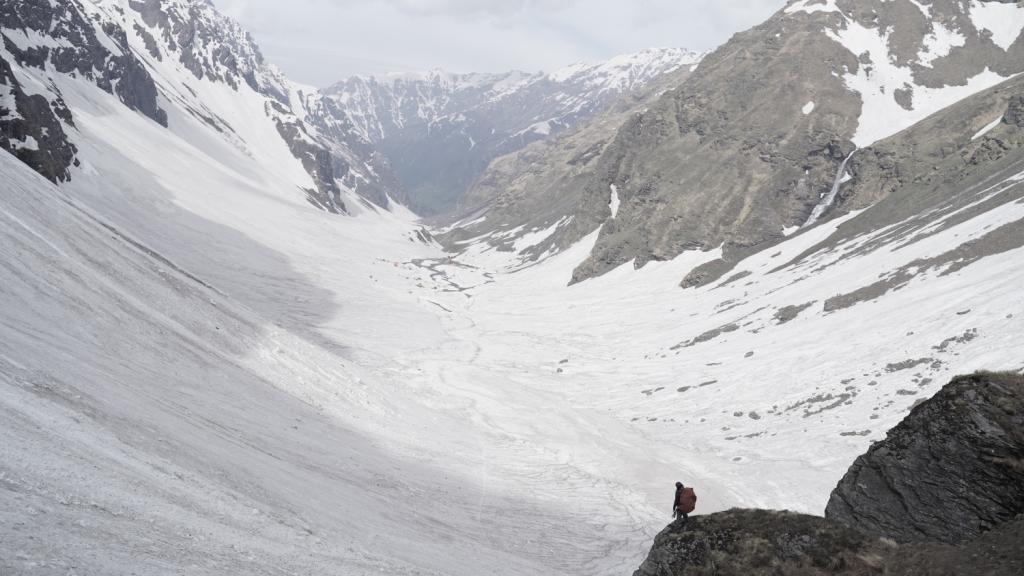 The starting point for the Rupin Pass trek is Dehradun or Mussoorie which can be reached by train, road or by air to Jolly Grant Airport. While the starting point of Buran Ghati trek is Shimla which can be reached by train, road or by air to Shimla Airport located at Jubbarhatti.
Altitude
Though both of these places are located at a height above 15,000feet. The Rupin Pass is nestled at an altitude of 4648m in the surreal Himalayan mountain range of Himachal Pradesh. While the Buran ghati trek is located at an altitude of 4572m. In comparison, Rupin Pass is located at 250 feet higher than Buran Ghati.
Specialities
At both of these places, you would find mesmerizing views with dense forests and meadows. Also, you would get to see Kinner Kailash range, Kinnaur temple, a hanging village (Jhaka village), Rupin River, Dhauladhar ranges, Rupin gully which is a half tube cut out of the mountainside, Sangla Kanda, Ronti Gad campsite and much more. While trekking at Buran Ghati you would find the ancient village of Janglik, Dayara, dense forest of oak & pine trees, the sacred Chandranahan Lake, the fruit trees at Barua village, Dayara, Litham campsite would make you feel like you are in Kashmir.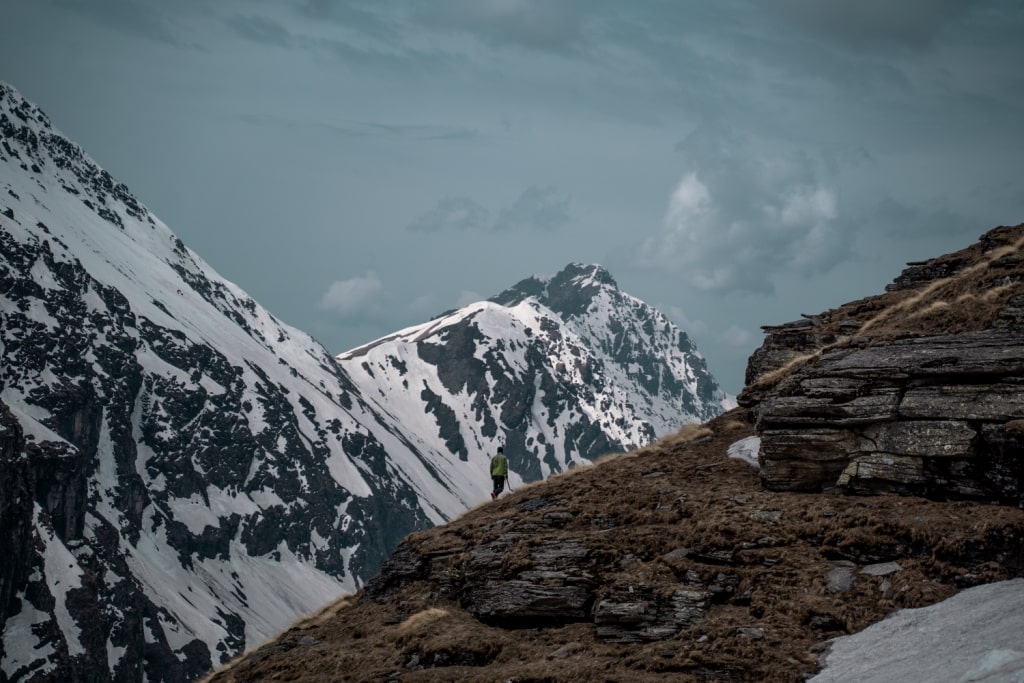 The Rupin Pass trek has some of the most hidden and majestic views of the region with the snow-capped mountains and the verdant valleys. You would be thrilled to find that this trek is similar to an orchestra that builds up momentum with surprises in scenery every hour or so. With every step, the trek would throw up at you a new vista to see and new scenery to unfold. So you never feel bored and never run out of picturesque views. While on the other hand, Buran Ghati is one of the best money-saving alternatives to Roopkund trek. This place gives you an ultimate experience without any boring views which means that every sight is worth seeing and every majestic view can easily allure you in an alternate world.
Though during every trek we find some boring parts but I assure you in this trek you would be awestruck throughout your trek and won't stop gazing at the distant mountains. You would not get disappointed even for a second. I would look like some wise person has taken out all the best parts of our Himalayan treks and stitched them together to make one perfect trek.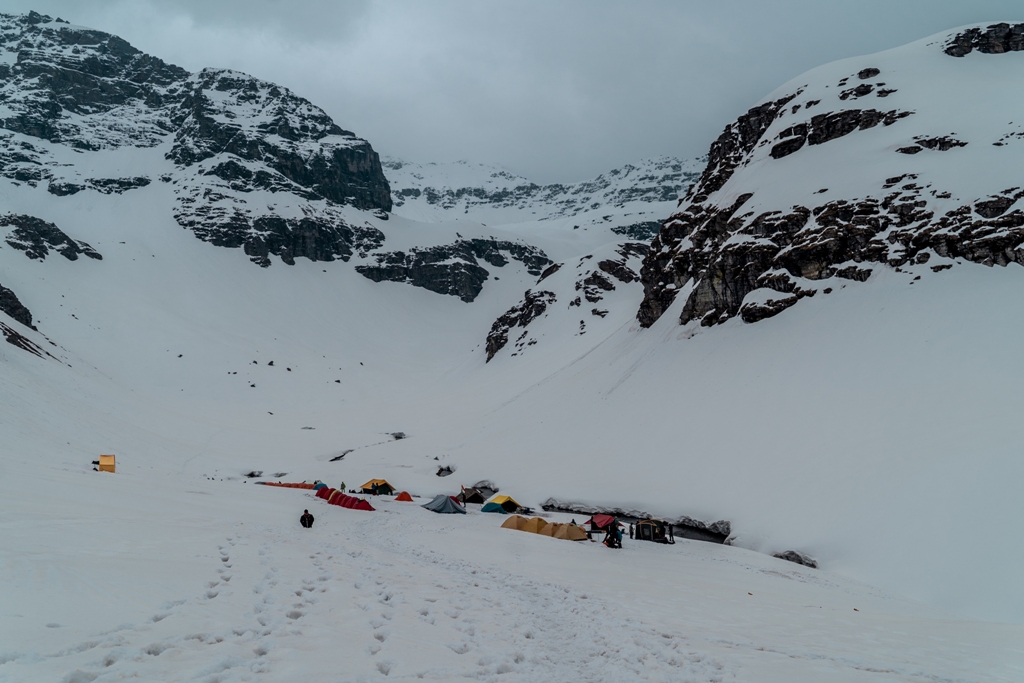 The Buran Ghati pass is a narrow ledge with a sharp 100-metre drop on the other side. When you look down from the pass, you are staring at the near-vertical face of a wall. You will feel your heart sinking to the bottom. In June, when the pass is an ice wall, you ski all the way down. Right after skiing the next round of fun starts. There are five big snow slides to do, each of them more fun than the other. Even if you are among the soberest trekker you will really rediscover an inner child during the Buran Ghati trek.
Places to Visit
Rupin Pass takes you through Mori, a little village that is located at the banks of the beautiful Tons River. You can pay your respects at Pokhu Devta which is a very old and traditional place of worship and then begin your trek with positive vibes. When you are around 20 minutes into the trail, you will see the Rupin River make an appearance. And from here, the trail takes you through hanging villages at Jhaka Village and then suddenly, it plunges into a deep pine, Rhododendron and Oak forests! The trail then wanders through glacial meadows, snow bridges, glacial valleys, snowfields and hundreds of waterfalls.
The only constant thing that keeps you binding throughout the trek is the Rupin River with deep and clear blue waters and this will take you to the famous three staged waterfall of the Rupin Pass which is located in the U-shaped glacial valley. When you see the waterfall from a distance, it appears to be falling from the clouds!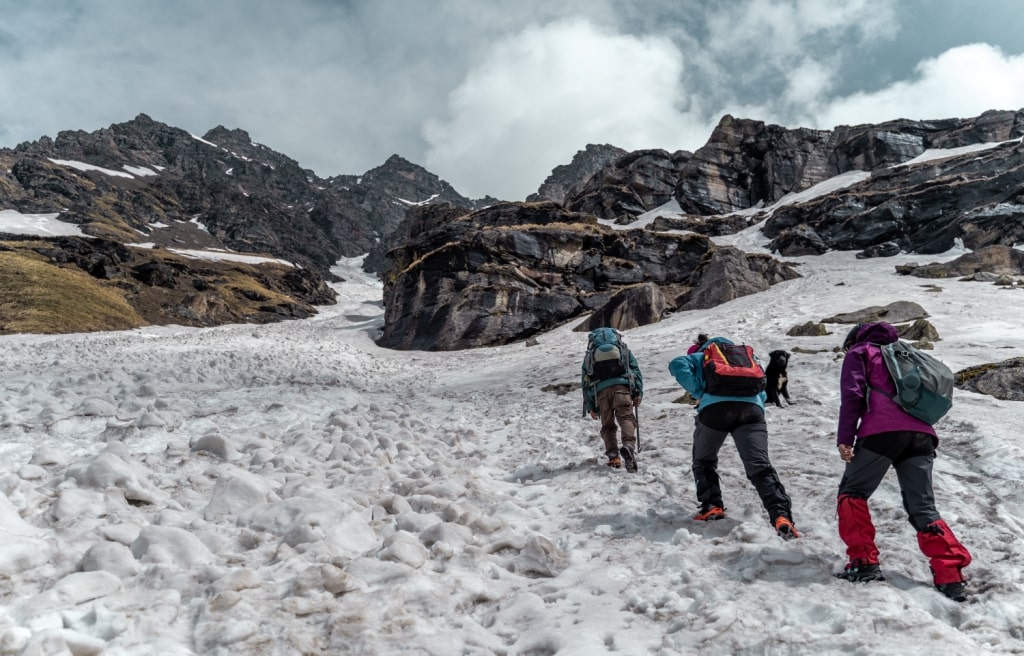 On the other hand, on the Buran Ghati Trek, the main highlight is the Chandranahan lake that is located at a high altitude of 14,000 ft. This lake is considered sacred by many locals in the area. The view you will find from both sides of the Buran Pass is thrilling. After spending some time at the lake you'll also be taking an acclimatization walk nearby. You will also find the spectacular view of Dhauladhar range which is a treat to your eyes with some remote peaks popping above each other to give you their glimpse.
A panoramic view of the Kinner- Kailash peaks can be seen from the top of the Buran Ghati pass. You will be excited to find several fruit trees like The apples, pears, apricot & peaches at Barua village. The people of these villages are known to be beautiful and kind. And they won't hesitate to welcome you to their homes for a cup of chai.
Highlights
Both of these places will help you witness dense forests, green meadows, beautiful lakes, high mountain ranges, and much more. You will be thrilled to encounter many waterfalls and stream throughout your trek at Rupin Pass. One of the best sights that you will encounter at Rupin Valley is of thousands of waterfalls flowing down through a great height and which makes them appear as if they are falling straight from the sky. You will also witness the views of a hanging village called Jhaka Village which is a uniquely positioned village at the utmost edge of the mountain making it appear to hang through the cliff.
Now apart from the abobe mentioned views at Buran Ghati, you will walk through some lush forests of fir, Rhododendron & Oak throughout your trek. The entrance and exit to the forests are so sudden that you will feel that it is a movie set up around you. You will also get to experience once in a lifetime the feeling of walking on the snow bridges during the trek which is phenomenal as you will see a variety of snow bridges.
Trail of the Trek
In both of these places, you will find trekking terrain to be a bit difficult but the views and destination will all be worth the pain. Though Rupin Pass has a snowy trail that will be a challenge for you yet you will get to enjoy the fabulous views of Kinner Kailash range along with the hamlets that dot the Sangla Valley. In summers you can go on this trek starting from early May to the end of June. Even during this month you would likely encounter a little snowfall. The nature of snow will be icy as it melts during daytime and refreezes again in the night. Also, you will fall in love with Rhododendrons in the summer.
The Rupin pass trail is all about following the Rupin river from Dhaula to its origin. When you are following upstream you will not only witness its twists and turns but also go through very interiors of Uttarakhand villages (up to Sewa village) and then villages of Himachal (Jiskun and Jakha). The architecture of their houses and attires has similarities with the Kinnaur region. Most of the people at the small villages of Jiskun and Jakha are the followers of the Satsangi religious sect and are pure vegetarians.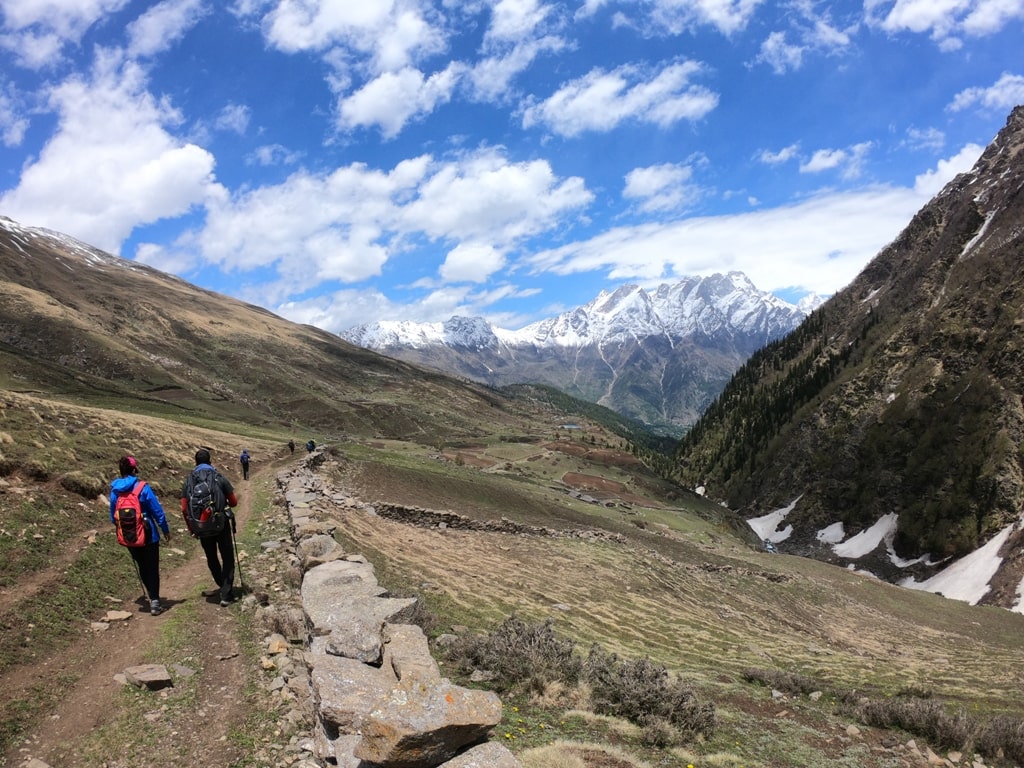 While Buran Ghati trek would offer you an overall experience of the mountain range, forests, and grasslands which are surely going to thrill you to the fullest. Also, a splendid view of the Dayara meadows will greet you with a picturesque view of snow-capped mountains in the background and you will be amazed to witness such contrasting campsites. This is the real beauty of this place. It will give you some alone time and peace. All the trekkers are so awestruck to admire the wonderment that is Dayara meadows.
The trail to Litham is filled with dense forests and green meadows. And then there is the Dhunda. Dhunda would give you the ultimate experience of campsite because with such engaging views you will have nothing more to ask for. Barua, on the other side of the pass, is a charming old little village that will distinctly remind you of Hobbiton from Lord of the Rings movie series(if you have watched it). Old houses, fruit-bearing trees, alleyways – it is a world of its own.
Both of these treks are very difficult to complete and require some kind of professional experience and a trekking guide throughout.
Best time to visit
The best time to visit Rupin Pass is in two seasons. The pre-monsoon season and the post monsoon season. In September, Rupin Pass trek is typically greener and you will get the meadows (called Thatch in local language) at their best. There will be a variety of flowers blooming and it will remain like this till late September. But from October the grass will turn into gold and it will become colder and you can also encounter snowfall. This is Rupin pass during the post monsoon season.
Rupin Pass in the months of May-June, you enjoy the green meadows at the lower campsites. The days are warm and nights are cold. You will encounter a good amount of snow at the higher campsites. You will find a number of snow bridges that will make your trek challenging and full of excitement.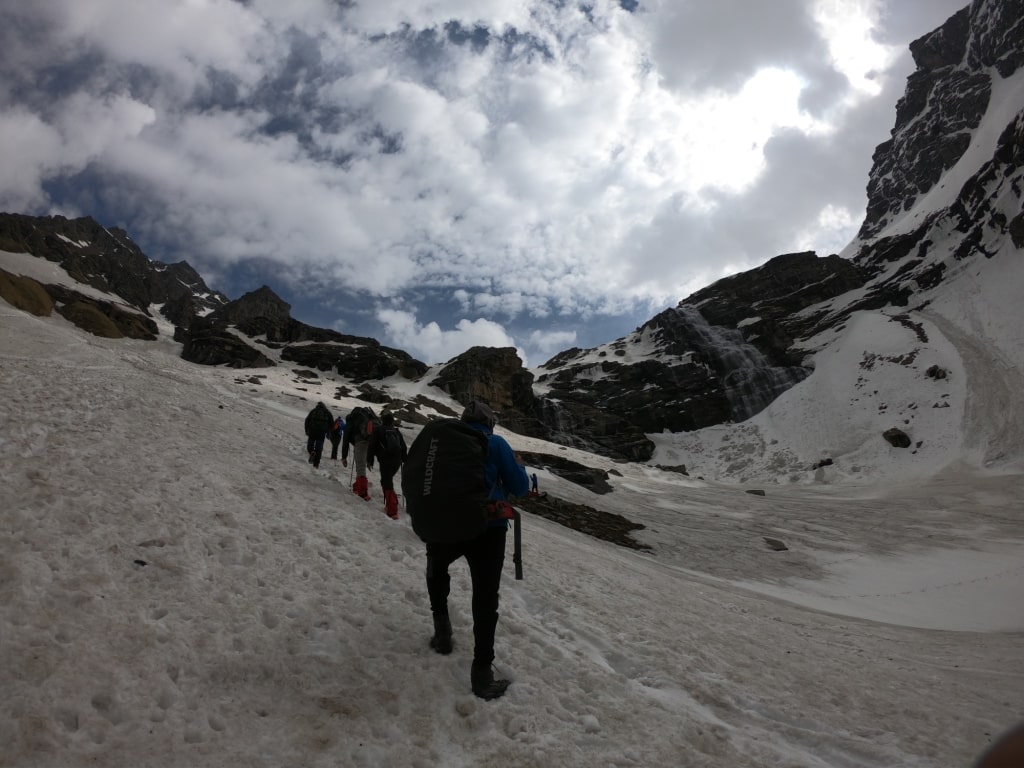 The same is the case with Buran Ghati trek. You should visit it in September and October as you will find the trail of the trek much more descent. Though Buran Ghati is located at a height of more than 15,000 feet and you will find the trek difficult but with an extremely thrilling pass crossing and mesmerizing views, it all together becomes an experience for the life to cherish. The best time to visit Buran Ghati is from the month of May till June and also September to October.
According to me you can visit both of these places whenever you get time but it would be highly recommended to visit Rupin Pass in the months of May-June to enjoy the green meadows and cool breeze and in the months of September – October to enjoy some snowfall. While the best time to visit Buran Ghati is from the month of March till June and also August to October.
Basecamp
The basecamp for Rupin Pass trek would be at Dhaula while the basecamp for Buran Ghati trek would be Janglik.
Usually, both of these treks require a lot of time to be covered but to be exact Rupin Pass trek would take 8 days while Buran Ghati trek would take 7 days.
The trekking distance to be covered on Rupin Pass trek is 52 kms while the trekking distance for Buran Ghati is 39 kms and still you get splendid views.
Written by Parv on 22-Nov-2019