Juda Ka Talab Trek- Kedarkantha
The mountains hide within themselves some beautiful small lakes or ponds that are located at some mysterious spots yet give you the clearest waters to drink. The famous Kedarkantha trek is similar to such mountains and hides within itself a beautiful lake called 'Juda ka Talab' Kedarkantha stands at a height of 12,500 ft and is a majestic peak in the Garhwal Himalayas. To reach Kedarkantha, firstly you have to pass through the famous Govind Wildlife Sanctuary, , where you can inhale up all the rich flora and fauna of this region.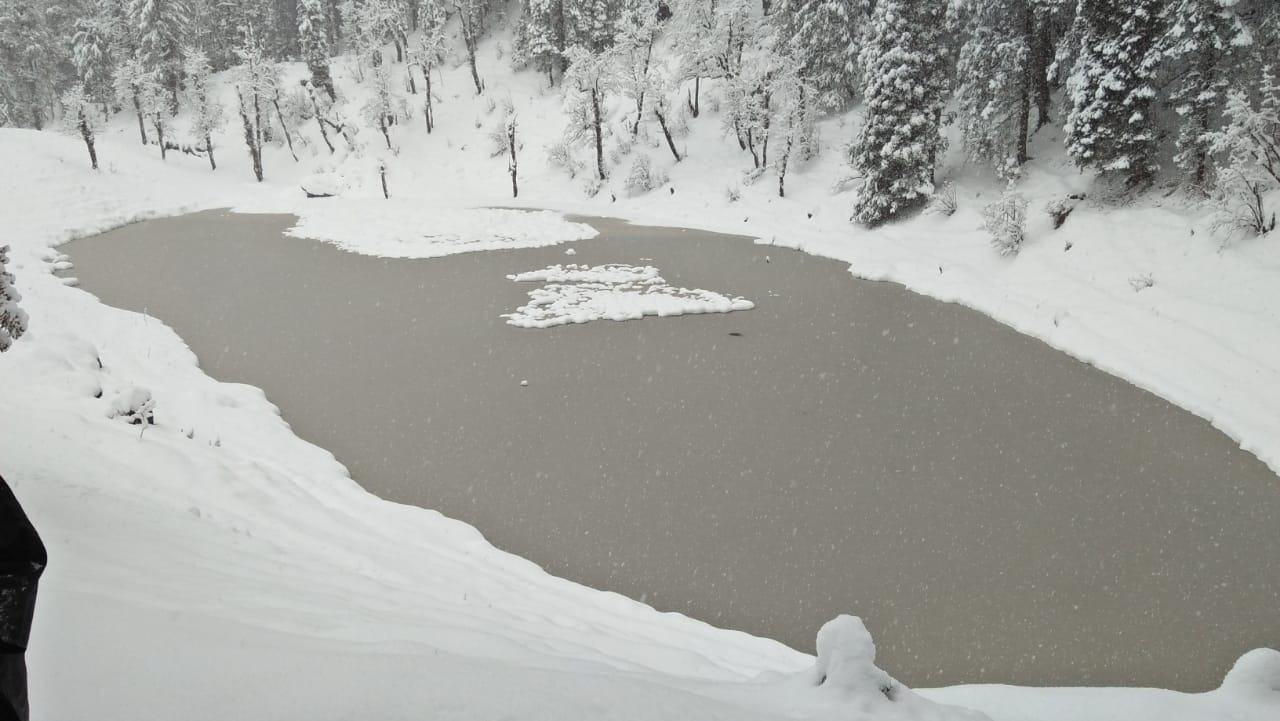 Juda ka Talab is a small high altitude lake between Sankri and Kedarkantha trek summit which is located at 9,100 ft above sea level. This lake is a mesmerizing site that offers scenic Himalayan landscapes. This is a beautiful camping spot for all the trekkers and usually a place to camp overnight. camping spot for all the trekkers and usually a place to camp overnight. Out of all the existing charms of the Kedarkantha Peak Trek, Juda Lake is a place where you would be surrounded by thickets of tall trees and mountain slopes.
Once you reach the top, you would be able to get some extraordinary views of Swargarohini, Banderpooch, Kalanag and Ranglana peaks. You need not be depressed because all along the way to this Kedarkantha peak, you would be accompanied by stunning sights of the Himalayan Range. And in the end, if you are lucky enough, you may even get to spot some wildlife. Also, you would get an opportunity to visit a temple at the summit that houses shrines of lords Ganesh, Shiva and Parvati. Juda ka Talab is so famous because as the legend says that Lord Shiva opened a little of his hair and water flowed out to form this small pond.
Highlights of Juda ka Talab
The most peaceful place during your trek to Kedarkantha would definitely be camping beside Juda ka Talab because you would be surrounded by thick of tall trees and mountain slopes. Since this lake is situated at a height of 2,700 metres, the place gives you some majestic views of the mountains surrounding it. Sleeping under the twinkly night you would be able to find the clearest and densest sky. You would also be able to identify the dense band of stars of Milky Way that form a part of our skies and folklore.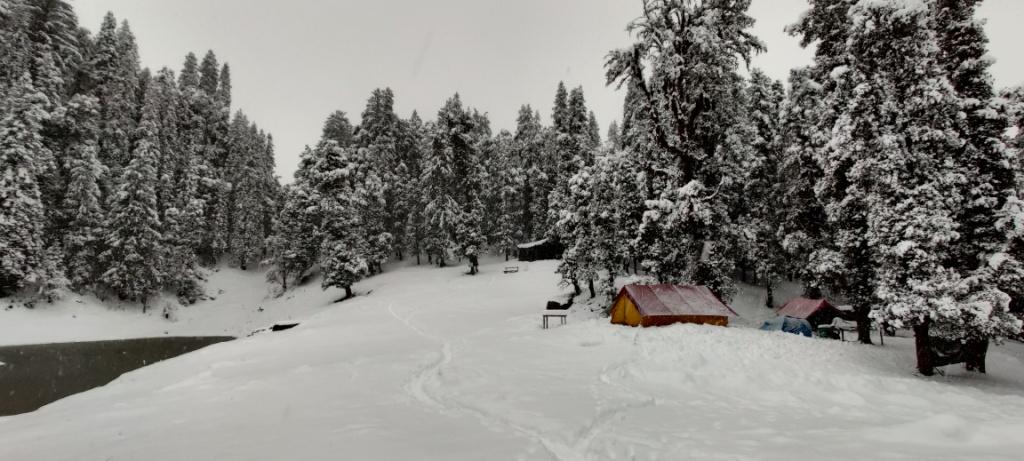 Apart from some captivating and charming sights of great Himalayas, you would be able to experience the verdant greenery, lush landscapes, variety of collection of flora, frozen ponds, to the sights of mesmerizing peaks. This trek would also give you some delightful marvels and views that a trekker always wishes to experience in his journey. Kedarkantha trek is not only for the advanced trekkers but also for all those who are adventure seekers and all those nature lovers who want to bask in the beauty of undisturbed nature and enjoy delightful and blissful moments with exhilarating experiences.
Temperature at Juda Ka Talab
The day time is usually going to be sunny and warm while at night the temperature at the highest campsite would be in the range of 0 to -10 Degrees Celsius. While during the post-monsoon season, the days are going to be sunny with the temperature hovering around (12-20 Degrees Celsius). But the evenings start getting cold with the onset of October and nights are comparatively colder (-2 to 8 Degrees Celsius). This trek is open all year round but the best time to visit the Kedarkantha trek is in the months of December to April. The reason is that in the winter months you would find that the whole valley is covered with shiny white snow and also the foot of the alpine trees are half-submerged in it.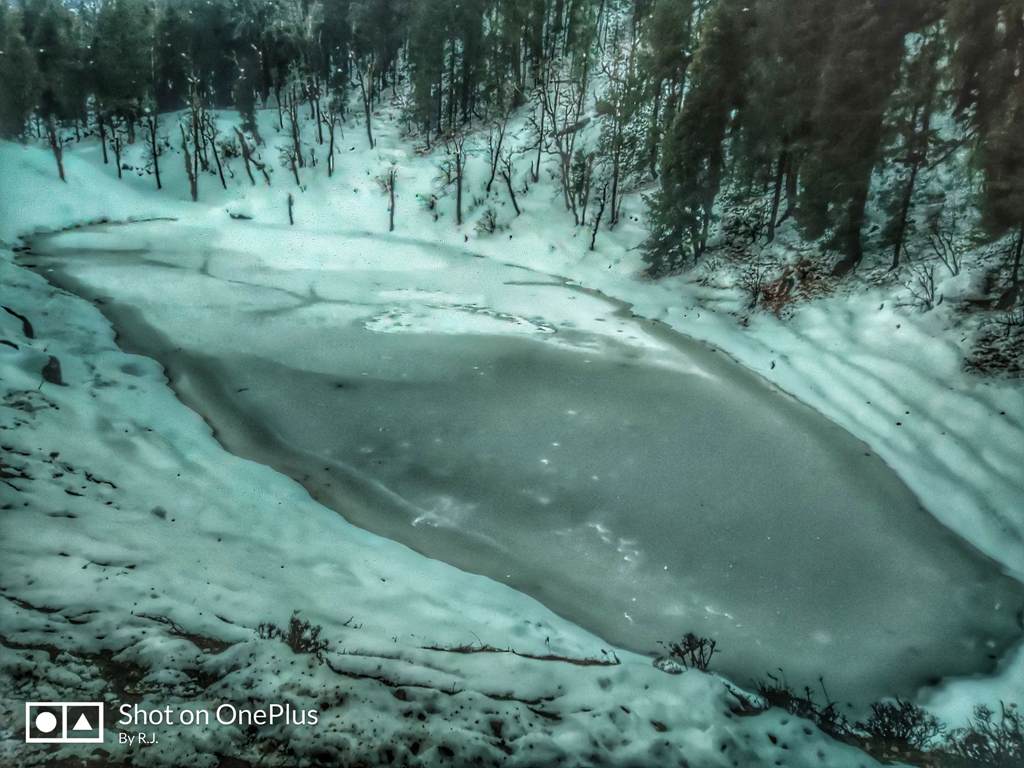 Juda Ka Talab Trek
After reaching Dehradun, you need to reach the village of Sankri which is 200 kms away from Dehradun and would take you approximately 10 hours to reach. The whole drive is a very delightful one because the pathway takes you along the Yamuna and also the exquisite Tons river covered with pine forests alongside. But once you reach Sankri You would feel that you have steeped in a totally different place of natural beauty. While in the evening you can enjoy a stroll in the charming village. The Sankri village is located at a height of 6,400ft.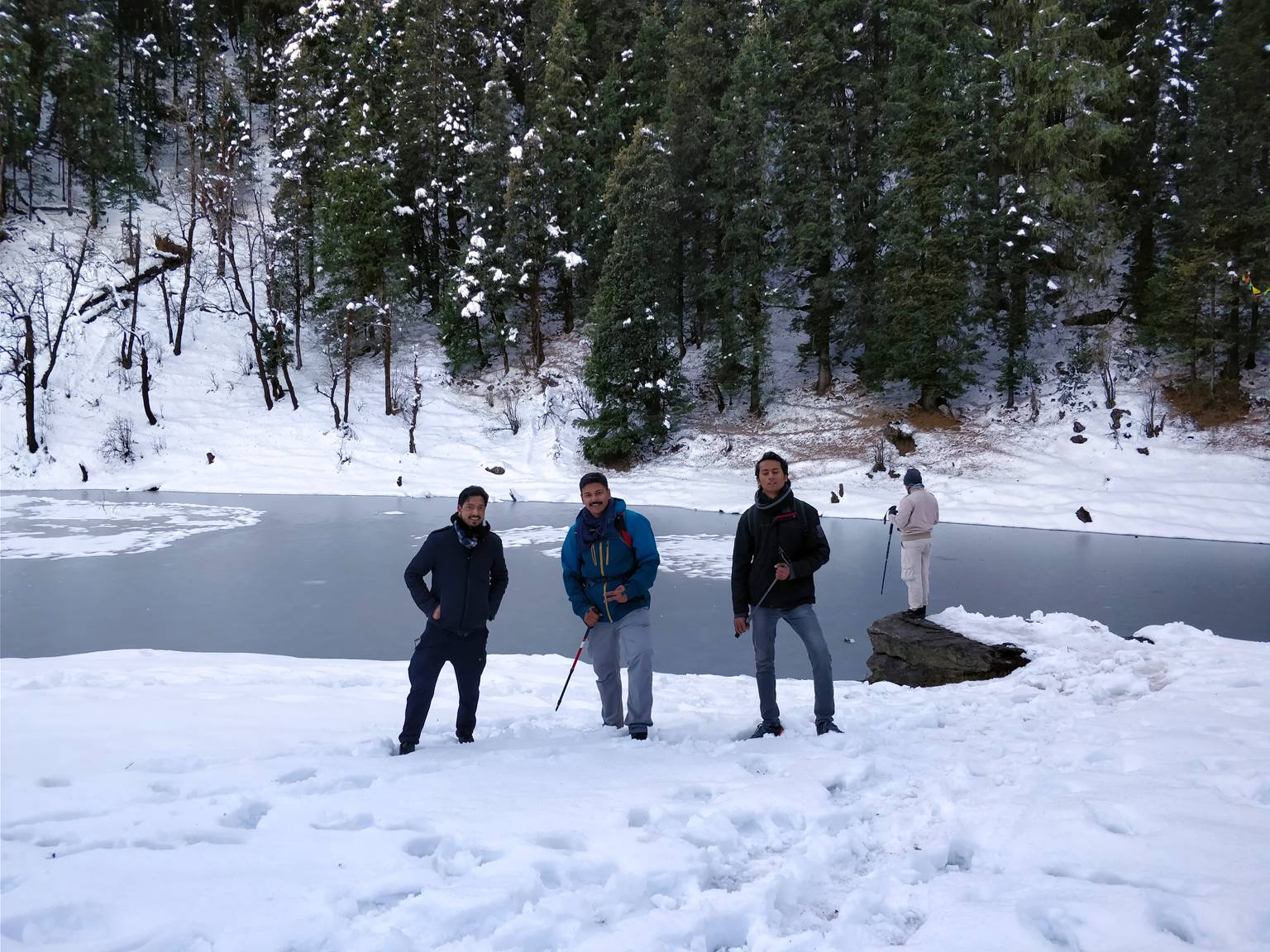 From the next day, you can start with the Juda ka Talab trek which is located at a height of 9,100ft and would take you approximately 5 hours to cover a distance of 4kms. The trail passes through some deep pine forests, maple trees, few streams and finally, opens out to beautiful meadows. The journey begins by moving out of Sankri village with the help of a path of an extension called Sor. Once the Sankri village is crossed, the road takes a wide curve and climbs sharply into a different location. You need to move along the stream and beside the stream is the road that moves towards the Kedarkantha. The initial objective is to first climb the several bridges which are present through the forest of Kedarkantha trek. Along with that, you would find a thick carpet of maple and pine leaves that have turned brown in this season. This would prove to be an exquisite vision and a pictorial view that would leave you all stunned and mesmerized.
The pathway of this trek is wide and you can even hear the sounds of gushing waters in the running streams all through but won't be able to enjoy the view of it till much further. On the way, you can even encounter remote villages where you will find women and kids carrying heavy bundles of wooden logs, wooden sticks and dry leaves which they would utilize for household cooking and also set up night fire to safeguard themselves from the cold temperatures. While stepping and passing above the dried maple and oak leaves on the way up, if you are lucky enough you would encounter some mischievous Himalayan Langurs swinging from one branch of trees to another. Though they are believed to be somewhat a shy animal it is difficult to have a complete view of them as they move quickly from the vision's range.
Apart from langurs, boars, martens, and hares can also be spotted in this region. However, this whole scenario changes enormously during the months of the summer season, when the luscious meadows remain rich green with hilly flowers of a unique kind. Upon crossing some streams and then continuing through the pathway laid, walking through the dense oak forests rich with maple trees smell, one would finally reach the beautiful pictorial spot of Juda Ka Talab which can be even sotted in the dark due to its sharp contrasting and unique beauty.
Juda Ka Talab History
According to the old historic legend Lord Shiva had opened a small lock of his hair and water dripped from his hair forming this huge lake. This place is a usual camping site for all those trekking up to Kedarkantha. Even if you are not trekking to Kedarkantha, Juda Ka Talab still proves to be a perfect picnic spot.
Best Time to Visit Juda Ka Talab
Though this lake is usually frozen all the time during the winter season the temperature varies from -7 degrees to 16 degrees, this place is lush greenery covered spot during the summer season. The snowy season of winter begins in December. Starting from December, snow remains on the trail until the last week of April. If you decide to trek during the winter months, you have to keep in mind that the weather can be harsh. It's worth mentioning that apart from heavy snow and low temperature you would also have to cope up with the strong winds and slippery slopes.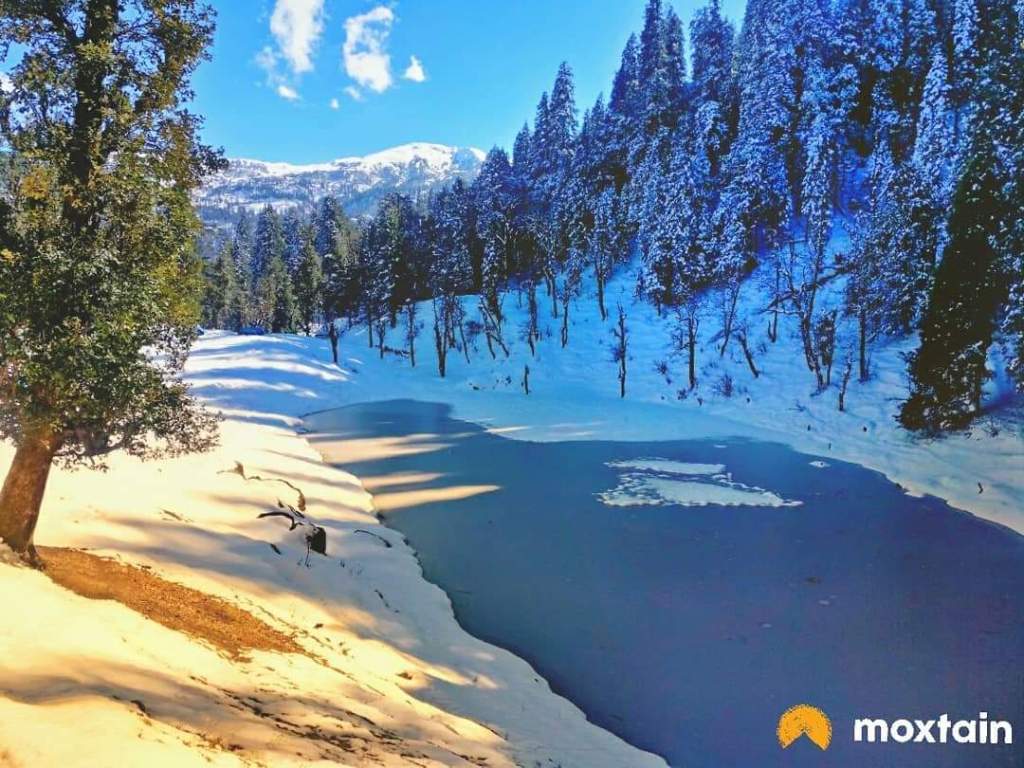 However, you can be sure that you will have one of the best trekking experiences as you make your way through thick snow. Summers also offer trekkers a unique and pleasant experience. From May onwards, the snow begins to melt as the temperature of this place starts to rise. The average temperature in summers ranges from 15 to 17 degrees Celsius. However, you should keep in mind that nights can be colder, and therefore you should carry thermals even during summers. One of the best things about Kedarkantha is that weather in summers turns everything into a lush green. You would notice that there is an abundance of flora and fauna all around you and also the entire trail is dotted with dandelions, rhododendrons, and a variety of Himalayan wildflowers. If you are a true nature lover, you should definitely trek to Kedarkantha during summers.
Monsoon begins in July and stays until the last few weeks of September. During this period, rains can be unpredictable and you may face multiple landslides. Though only experienced trekkers go to Kedarkantha during the monsoon season. But at the end of the day, understanding everything about Kedarkantha weather and then planning your trip will certainly help you throughout the trek. So it is advised that you should plan according to your own comfortability. If you are prepared for the weather then ultimately you would have an amazing trekking experience.
Juda Ka Talab to Kedarkantha
The next step after reaching and enjoying a night under the clear sky at Juda Ka Talab would be starting afresh with the trek to Kedarkantha base camp, which lies at a height of 11, 250 feet. The distance from Juda Ka Talab to this Kedarkantha base camp is estimated at 4kms and moderate speed, it would take you about 2.5 hours to reach the place. This track too begins through some dense forests of oak and pine trees then goes through some steep ridges and much more dense areas that were present before. But on this trek, you would come across many shepherd huts in the open meadows areas which give you a very delightful view. After that, at an altitude of about 10,400 feet, with snow in and around the track only if you are visiting this place during the months of the winter season. You would find enlarged winding roads scrapped through dry oak forests, stretched meadows and also lanes around shepherd huts the pathway of the trek continues to Kedarkantha base camp.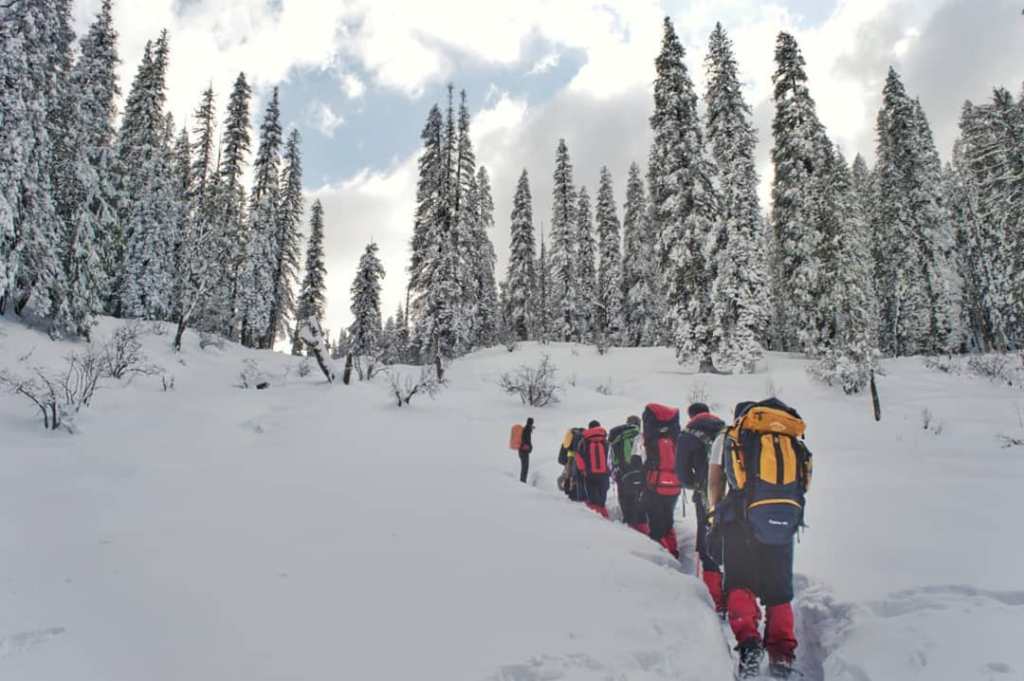 Though trekking can be tiring, you can even take a long break to re-energize your body and get also gain enthralling views of natural extravaganza in the area along with clicking some pictures. The most delightful fact during this trekking would be that just before reaching the Kedarkantha base you would be given a gift of some of the most fascinating views of an arc-shaped range of snow-capped mountains consisting of Swargarohini, Kala Nag, Bandarpoonch, Ranglana standing out proudly showcasing their beauty.
During the evening time, after setting up your camps for the night you would be able to enjoy the sky which is equally beautiful with glowing stars and shining planets ornamenting the sun. As the night grows you would find that the whole sky becomes more charming, lightened up with the Milky Way stretching from one end to the other and also the dense network of stars and the glistening peak of the mountain all came together to provide an awe-striking view that would remain imprinted in your mind forever.
From the next day after packing up your camps you need to start your journey to the most important destination which is the Kedarkantha peak which is situated at a height of 12,500 feet and is located at a distance of 6 kms from the base camp and even at a moderate speed, it would take the trekkers approximately 7 hours to reach. On this trail again the trekkers would come across a few portions of some dense oak forests but instead you would find that the journey through this trail is much easier and also faster. While towards the end of the trail of this trek you would find that the pathway becomes a little bit more difficult than earlier and can be a little strenuous especially for all the first time trekkers. However, the view from the top of the Kedarkantha peak would leave you stunned and also the amazing location is worth all the effort that you put in.
Also, once you reach the top of the peak you would find a small yet beautiful temple dedicated to Lord Shiva and Goddess Parvati. There is a small shrine of Lord Ganesh too. The arresting and stunning 360-degree view of the snow headed peaks of Uttarakhand is intoxicating and beyond words to be penned down. You can take some time off and relax at the top of the peak for some time in order to enjoy the magical beauty of nature which is extremely peaceful and meditating.