Trek Overview
Kedarkantha trek is everything a trekker can dream about; crystal clear mountain, the verdant expanse of rich flora, unexplored mountain terrain of Uttarakhand, jaw-dropping campsites, the serenity of mountain villages and a glimpse into the distinct culture of locals, the trek is a wholesome package of fun and adventure.
Experiencing the local culture and feasting on local meals is another attraction of the Kedarkantha trek. The warm hospitality of locals is such a rewarding experience that it leaves you wondering at their magnanimity.
A quick glance to some amazing facts of Kedarkantha
Region- Uttarakashi , Uttarakhand
Trek Altitude- 12,500 feet
Trek Difficulty Level- Easy to Moderate
Trek Duration- 6 Days
Trekking Distance- 20 km
Temperature- Average day temperatures vary degrees Celsius to 20 degrees Celsius and average night temperatures hover between -10 degrees Celsius to 3 degrees Celsius.
Nearest Railway Station- Dehradun
Nearest Airport- Jolly Grant Airport, Dehradun
Last ATM- Purola near Sankri has the last ATM
Trek Details
Pickup Point on Day 1- Dehradun Railway Station
Departure time from Dehradun Railway Station on Day 1- 7am
2nd Pickup Point on Day 1- Kitab Ghar bus stand, Mussoorie
Pick up time from Mussoorie- 7:45 a.m.
Drop Point on Day 6- Dehradun Railway Station
Arival time on Day 6 at Dehradun Railway Station- 6pm
Base Camp- Sankri
Distance from Dehradun to Basecamp, Sankri- 210 km
Cloak room: There is no separate cloak room available. You can handover your luggage to our team and collect while returning. We will be keeping it safely at Sankri in the same Homestay.
The shared vehicle will be Tata Sumo, Bolero, or so and may be shared with a few other local passengers. The cab will be arranged from Dehradun to Sankri and Sankri to Dehradun.
We charge Rs.950/- per person each side.
The cab is a 7-seater.
The whole cab costs 7500/- from Dehradun (one way).
Trekkers may choose to travel by bus or local cab to reach Sankri.
The forest permits for international clients will be as actual and is to be paid by the trekker at the basecamp only.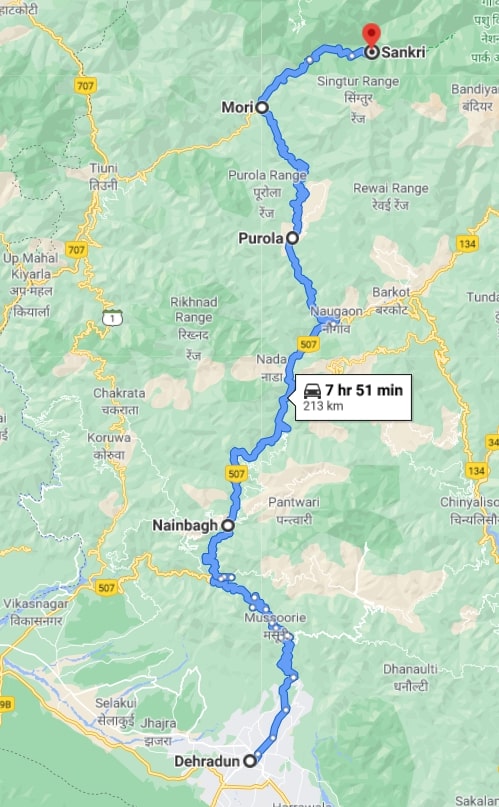 Major Points on the route from Dehradun to Sankri are Nainbagh, Purola and Mori
About Kedarkantha
Kedarkantha, a spectacular Himalyan peak in Uttarakhand, stands towering and formidable at an altitude of 12,500feet, Govind Wildlife Sanctuary and National Park is home to it. Regardless of whether you are trudging on icy wintry routes or crossing your path amid lustrous verdant pine woods, the Kedarkantha journey will thrill you with a diverse assortment of vegetation and animals.
The name Kedarkantha conjures up fantastic images in your head . one of the first pictures that enthrals you is Lord Shiva seated over an enormous Himalayan peak, bestowing his benediction on the earth below. Standing at a height of roughly 12,500 feet, the Kedarkantha pinnacle is the magnificient mountain peak lodged in the Himalays of Uttrakhand.
Even though Kedarkantha Trek is an ideal destination during all seasons, it is one of the most sought-after winter treks in India. Trekkers marvel at this amazing trek which flatters you with snow till the end of April. The snow-capped peaks encompassed by tall trees offer mesmerizing views from altitudes as low as 10,000 feet.
How to reach Kedarkantha
By Road:
Sankri is the starting point for the Kedarkantha trek. To go to Kedarkantha from Dehradun, you must first travel to Sankri. Sankri is around 200 (197) kilometres from Dehradun, and it takes about 8 to 10 hours to travel this mountainous path. To go to Kedarkantha from Dehradun, use the government bus, which departs from Mussoorie Bus stand at 8:00 a.m. After about 7th hour from the starting point, the bus will leave you off in sankri.
If you by chance miss the morning buses then you can also board the Hanol bus which travels via Mussoorie. According to the route availed by this bus, you have to get down at Mori and from there you can book a private taxi to sankri.
By Rail:
You can travel to Dehradun from Delhi in Nandadevi Express which departs at 11:50 pm and reaches Dehradun by 5:40 am in the morning. From Dehradun again, you can take a taxi or board a bus to Sankri.
By Air:
Board a flight from Delhi to Jolly Grant Airport in Dehradun. It will take about 1 hour to reach. From here again, you can follow the directives as mentioned above.
MYTHOLOGY SURROUNDING KEDARKANTHA
Kedarkantha trek is steeped in mythology and that's what makes it all alluring. The place gets its name from "Kedar Khand" which translates to "Section of Lord Shiva". It is the historical name of this region. Kedarkantha literally translates to Throat of Lord Shiva. Legend has that Lord Shiva once meditated in Kedarkantha and then relocated to Kedarnath.
According to Hindu mythology, Juda Ka Talab owes its origin to the water droplets that fell from Lord Shiva's hair. Synonymous with its name, a lake (Talab) was formed where water from Lord Shiva's bun (Juda) touched the ground.
The Godly peak of Swargarohini, one of the glittering attractions of this trek is said to be the stairway to heaven. It is believed that Yudhishitra along with his dog reached heaven trudging up this sacred peak.
About Kedarkantha Trek
The journey to this beautiful abode starts at Sankri which is located at a distance of around 197 km from Dehradun. It takes around 7 hours by road from Dehradun to Sankri and the journey takes you along zigzag roads in the backdrop of lofty mountains with mountain rivers bubbling effervescently in close proximity. Enroute you cross Mussoorie, Damta, Nain Bhag village, Purola, Harsaadi, and Natwad before reaching the remote village of Sankri. Throughout the route, you are treated to the magnificent views of Mussoorie, awe-inspiring views of high altitude mountains and rivers such as Yamuna, Ganga, Kedarganga, Supin and Tons rejuvenate you with their sparkling waters.
At an elevation of about 6,400 feet, Sankri is a quaint village located in the foothills of Himalayas. It serves as the base camp for Kedarkantha trek. Trekking route from Sankri takes you to Juda ka Talab, the sacred mountain lake, as you journey along local trails and dense forests.
You are treated to the magical panorama of amazingly beautiful campsites enroute your trek to Kedarkantha.
Juda Ka Talab, the first campsite, is the picturesque campsite located at an altitude of about 9,000 feet. Juda Ka Talab captivates with a beauty so serene that you blink twice to feel if the place really exists. A thicket of mighty oak and tall pine trees with colossal mountains in the background surround the glacial lake imparting the look of a protective shield. Juda Ka Talab weather ranges from -12 to -1 in winter months, 15 to 17 degrees in spring and summer months and -2 to 8 degrees in the fall season.
From Juda ka Talab you trek around 4 km through pine and oak trees to reach the open highlands just below the Kedarkantha summit. Just as the forest ends, you reach a wide meadow which is Kedarkantha base camp. Located at an elevation of 11,250 feet, Kedarkantha base camp is the second campsite in the Kedarkantha trekking trail.
From Kedarkantha base camp, you take a challenging uphill trek of 3 km to reach the Kedarkantha summit located at an elevation of 12,500 feet. The 360-degree view of colossal mountains ranges from the Kedarkantha summit leaves you awestruck.
It is an ideal trek for that it journeys you through a beautiful vista of Himalayan beauty. Kedarkantha trek base camp leading to the majestic summit treats you to a magical panorama of open highlands, expansive meadows, steep slopes, and lofty mountain ranges.
At the summit, a 360-degree view of mountain peaks sweeps you off; not just the famous peaks like Bandarpoonch, Swargarohini, Kalanag, Gangotri, Yamunotri, and DhaulaDhar ranges but also hundreds of other untouched and untainted virgin mountains welcome you with a warm embrace. This picture-perfect scene is absolute bliss, each frame looks like a postcard image; it is a sight that stays with you for the lifetime.
Kedarkantha Trek is one of the easiest and most alluring treks in the Uttarakhand Himalayas. This all-season trek is one of the best and most comfortable treks in India. But the beauty of the trek is at its best in the winter.
Kedarkantha Trek Length
The Kedarkantha trek length is 20 Km which is covered in the span of 6 days. Kedarkantha Trek is a easy to moderate grade trek which can be done by beginners or the first-timers also if they have the basic fitness level. The trek from Sankri to Juda ka Talab is of approx 4km and from there another 4km trek to the Kedarkantha base camp. The next day you will be trekking 6km in total from basecamp to summit and summit to Hargaon. On your return to Sankri, you will be trekking to a length of 6km from Hargaon.
Kedarkantha Trek in Summer
Kedarkantha is one of the most favoured treks and the summer season also brings an opportunity for the adventure seekers to experience this trek with the awe-inspiring landscape and the dense forest cover of oak and pine. The summer months of April, May, and June is the time when the temperature varies from 0-degrees Celsius at night to 12-degrees Celsius in the day.
Kedarkantha in April: It is time when the leftover winter snow can be encountered throughout the trek route, melting and revealing the beautiful landscape beneath. It is the best time for those who want to experience the pleasing breeze with the perfect amount of bearable chill. Woolen clothes are recommended if you plan to trek in the month of April.
Kedarkantha in May: This is the time when you can witness vast green landscapes throughout with a variety of sweet blossoming flowers. During this month the trek is easiest to perform as there are no thick sheets of snow or the monsoon to make it slippery and difficult to carry out. The temperature during the month of May is generally around 5 degrees to 15 degrees.
Kedarkantha in June: To experience the multitude of vibrant blooming flowers and the freshness of the beautiful Kedarkantha valley this is the perfect time for the adventure enthusiast and nature lovers. The chances of rain are slight during this month but the valley is at its best to enliven you.
Kedarkantha trek in Winters
During the wintertime, the pastures of Kedarkantha are blanketed in heavy snow, giving the are a dreamlike appearance. The snowfall begins early December, and the terrain remains snow-covered until April. Because of the frost, the path turns a bit more challenging, but with due caution and safeguards, even amateurs may attempt a winter trek in kedarkantha.
During the cold season, the streams stay iced due to the hostile weather conditions and heavy snowfall. The bewitching Juda ka Talab turns utterly immobile. The bequilling campground positions allow you to enjoy the imposing panoramas against the starry night sky to your heart's content.
Kedarkantha Trek Best Time
Kedarkantha is an all-season trek that captivates you with a distinct beauty in each season. Spring and summer boast of clear skies and fresh landscapes that treat your senses with the fragrance of blooming flowers. The glossy green pine forests look inviting and the green landscape allures you with a magical freshness that is simply irresistible. The fall season offers a unique experience; trekking on the trail bedecked with dried multi-hued leaves is an amazing experience.
However, winter is still considered the best time to visit Kedarkantha. The snowy trails lined with tall snow-drifted trees, frozen mountain lakes incandescent in the moonlight and snowy peaks glittering at dawn and dusk in amazing hues of golden and red; the panorama of winter landscape leaves an indelible impression on your mind. Kedarkantha peak at an elevation of 12,500 feet shimmers beautifully in the winter sun and at night the moonlight casts a magical glow to the lofty mountain. The panoramic view of the stunning mountain ranges of Swargrohini, Bandarpoonch, Kalanag, Gangotri, Yamunotri, and DhaulaDhar from the Kedarkantha summit looks ethereal in winters.
The beautiful slopes covered with snow during winters make Kedarkantha for a wonderful ski destination as well.
Kedarkantha Weather and Temperature
Trek to Kedarkantha is an all-season activity. However, you can better plan your trip if you visit it during the season that best suits you. You might love to explore Kedarkantha in its greenest glory when the meadows, trails, and campsites are fresh with new leaves and blooming flowers. The region gets enough rainfall during the monsoon months and you witness pretty waterfalls sprout up in the hills. The dark and grey clouds hovering over the mountains make for a beautiful sight. However, heavy rains may cause a lot of landslides during the monsoon months.
If you are seeking a snowy rendezvous then you might want to trek Kedarkantha in the winter months. Kedarkantha trek in December is the beginning of winter when the falling snow transforms the landscape to wintry fairyland. Snow remains in the trail till the last week of April. The temperatures vary from -10 to 8 degrees in winters and you might face harsh weather conditions such as slippery slopes and severe winds. Trudging your way through thick snow is also a divine experience offered by Kedarkantha winter trek.
Summer months of April-June- 6 degrees to 20 degrees
Monsoon months of July-August- 3 to 16 degrees
Fall/Autumn months of September-November- 2 degrees to 15 degrees
Winter months of December-March- -10 degrees to 8 degrees
Difficulty Level Of Kedarkantha Trek
The difficulty level for Kedarkantha Trek is easy to moderate. Kedarkantha Trek is best done in the winter season that is from mid-Dec to the end of April. During this time the temperature can drop till -10 degrees as the weather in the Himalayas is highly unpredictable. One has to carry proper clothing for protection from the rough weather. So, for the beginners, the Kedarkantha trek in winters can be a bit challenging if not properly taken care of. For the summer months that are from April to June, the temperature varies from 0 to 20 degrees celsius. During these months, the weather is cool, breezy, and pleasant which makes the trek easy to do as compared to the winter time.
The difficulty of the Kedarkantha Trek can be decided on the basis of weather and terrain.
On the Basis of Weather: The best time to do Kedarkantha Trek is in the winter season as you get to experience ample snow throughout the trek. From the basecamp, Sankri till the Kedarkantha summit you come across a thick blanket of snow that whets the sense of adventure that trekkers are looking for. The trail during winters becomes somewhat tough but with proper gear and fitness, one can easily reach the summit. Good health is mandatory with no pulmonary or cardio-vascular difficulties to carry out Kedarkantha Trek. The view of peaks like Gangotri, Swargarohini, Yamunotri, Dhauladhar Range, and many virgin mountain ranges welcomes you for a lifetime experience. On the other hand, Kedarkantha Trek in summers becomes an easy trek for both beginners and experienced trekkers.
On the Basis of Terrain: The trail throughout the trek is easy, surrounded by thickets of oak and pine treks. The campsites are mesmerising. Be it the snowy winter trails or the crackling brown leaves covering the forest. One has to trek a maximum of 6-7 km a day. With proper physical fitness to trek the ups and downs, this distance is easy to trek in summers as the trails are non-slippery as compared to treks in winters.
Is Kedarkantha Trek Safe?
One of the easiest treks of the Uttarakhand Himalayas, Kedarkantha trek can be your best bet if you are a beginner. It is a 6-day trek that requires you to trek 4-6 km every day. Kedarkantha is a safe trek to undertake in all seasons except monsoons. The rains are unpredictable and there might be a lot of landslides.
Fitness Required for Kedarkantha Trek
Some basic preparations are required for undertaking the Kedarkantha trek. You should be physically fit, have the endurance to walk 6 km daily and have no medical issues. You can prepare for the trek by doing a brisk walk every day for 30 minutes and then increase your speed each day. This should be done a minimum of 2 weeks prior to the trek.
Trekking is always fun, it takes you back in time. With the right attitude and adequate preparation, you can conquer the invincible. The trick is to be well equipped so that you undertake your trek with utmost confidence and conviction.
Itinerary
What's Included
Inclusions
High-quality trekking gears (Tents, Sleeping Bags, Gaiters, Crampons).
Experienced Staff (Guides, Cooking Staff, Helpers, Porters).
Delicious, Hygienic & Nutritious Meals on scheduled time (Morning Tea, Breakfast, Lunch, Evening Snacks & Dinner).
Warm water for drinking only in the morning and evening. Trekkers can fill up their thermos-flask and bottles accordingly.
All forest permits and camping charges.
Exclusions
Food items purchased by individuals at local canteens on the trek or during the drive.
Any early return travel costs or accommodation except for the days as per the itinerary.
Any expenses for medical treatment of injury or accident before, during or after the trek.
Hearter, geyser, firewood/bonfire are not included or covered in the package.
Hot water for bathing/washing or any other purpose except drinking*
All the cutlery (mugs, spoons, plate,lunch box etc)
To and Fro traveling charges.
*Hot water for bathing/washing on a chargeable basis, but that too only if resources are available
Health and Safety
For any Himalayan Trek, Ideal BMI for a trekker should be 18.5 to 24.9
To keep a check of this please calculate BMI here
Below given Safety checks should be done to get prepared for any Himalayan Trek.


Balance : As well said a balanced mind and body gives out best in every condition and that too works in Himalayan treks as well.
Legs Strength : Body and Legs Strength is required to carry body weight as well as the backpack while trekking in uneven multi terrains. Generally, a good strength on legs works out good in any Trek. One can gain legs strength by doing simple Squats.
Muscle Flexibility : While trekking in Trans Himalayan region with a flexible body one can easily achieve full range of movement and this can be really helpful for trekkers as well as trek leads. A good flexible will be an advantage while walking on trails, climbing and river crossing etc. Flexibility can be achieved by simple stretching, yoga etc.
Cardiovascular Endurance : Cardiovascular endurance is defined as the ability of lungs and heart to transmit oxygen to the body muscles. All Himalayan treks are basically ascending descending the slopes and for this trekkers should be having a good cardiovascular endurance. Anyone planning for a Himalayan trek can attain this capacity by doing any cardio exercise like running, swimming, cycling etc.
Cancellation
In case you wish to cancel your trek please email us at cancel@moxtain.com
Cancellation charges are based on the total trek fee, irrespective of the amount paid either full or partial.
The cancellation policy is based on the original booking time and original start date of the trek.
Cancel before 30 days of trek start date and get full refund after deduction of 2.5% payment processing fee.
Cancel before 15 days of trek start date and get refund after deduction of 20% of total trek fee.
Cancel before 10 days of trek start date and get refund after deduction of 40% of total trek fee.
Cancel before 5 days of trek start date and get refund after deduction of 60% of total trek fee.
Trek fee is non-refundable if you cancel within 4 days before trek start date.
Trek cancellation due to weather:
In case of an incomplete trek due to weather conditions, one can opt for the same trek again throughout their lifetime on all our fixed departure for the same trek.
This attempt only covers the trek fee and will not include any rentals or the transportation amount paid earlier.
This is non-transferable.