Trek Overview
The Himalayas beckon me with a magnetic pull to delve deeper and deeper into their beauty. The majestic Himalayan peaks kissing the horizon amaze me no end. At times I want to scale the lofty summits and sometimes I just want to gaze at the invincible peaks and let their silence speak a thousand words.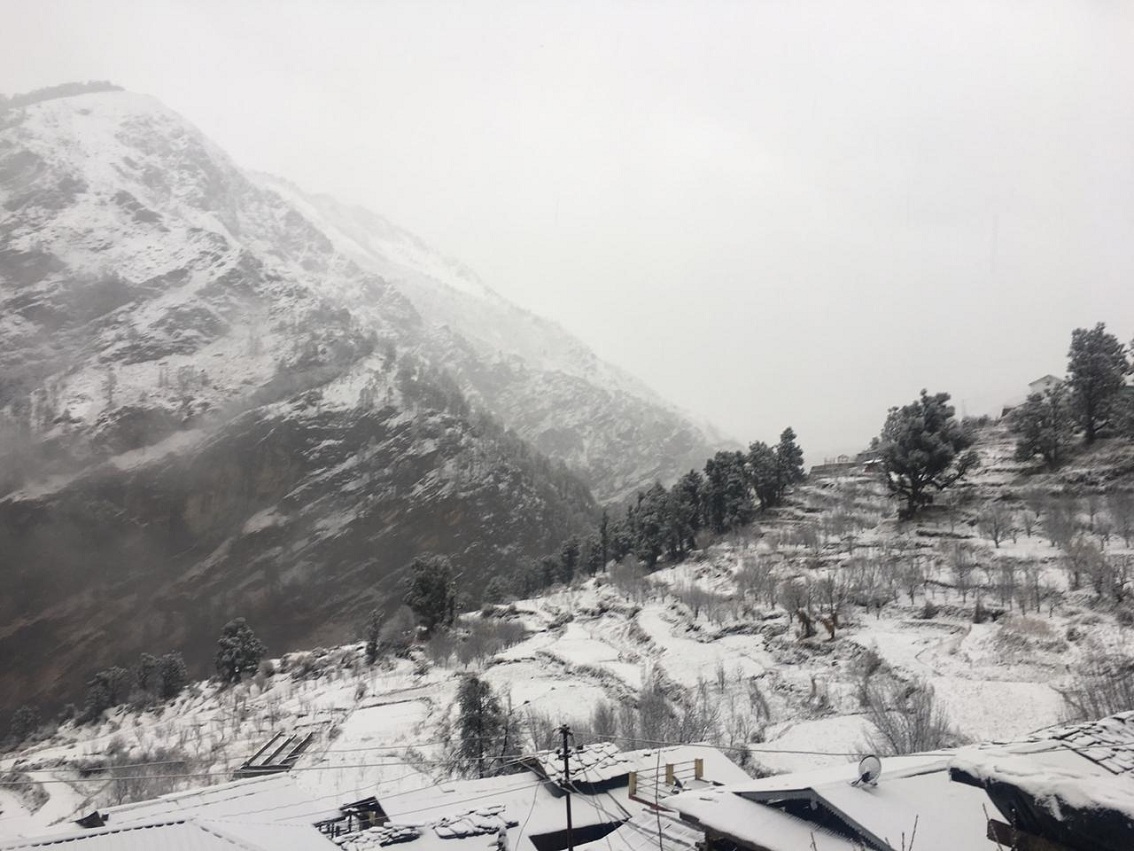 "Sankri Village covered with snow"
Looking for a short fun-filled vacation topped with adventure plus a trek that is easy and comfortable, then Kedarkantha is your calling! An all-season trek, bewitches you with a landscape which is unique to every season. It can easily be eulogized as the "soul" of all Himalayan treks.
The spectacular beauty of mountain lakes, lush greenery of rich flora, the virgin wilderness of untouched landscapes, picturesque campsites, balmy solitude of quaint villages and a sneak peek into the primitive lifestyles of locals; these benevolent offerings from Kedarkantha trek detox your mind and spirit alike.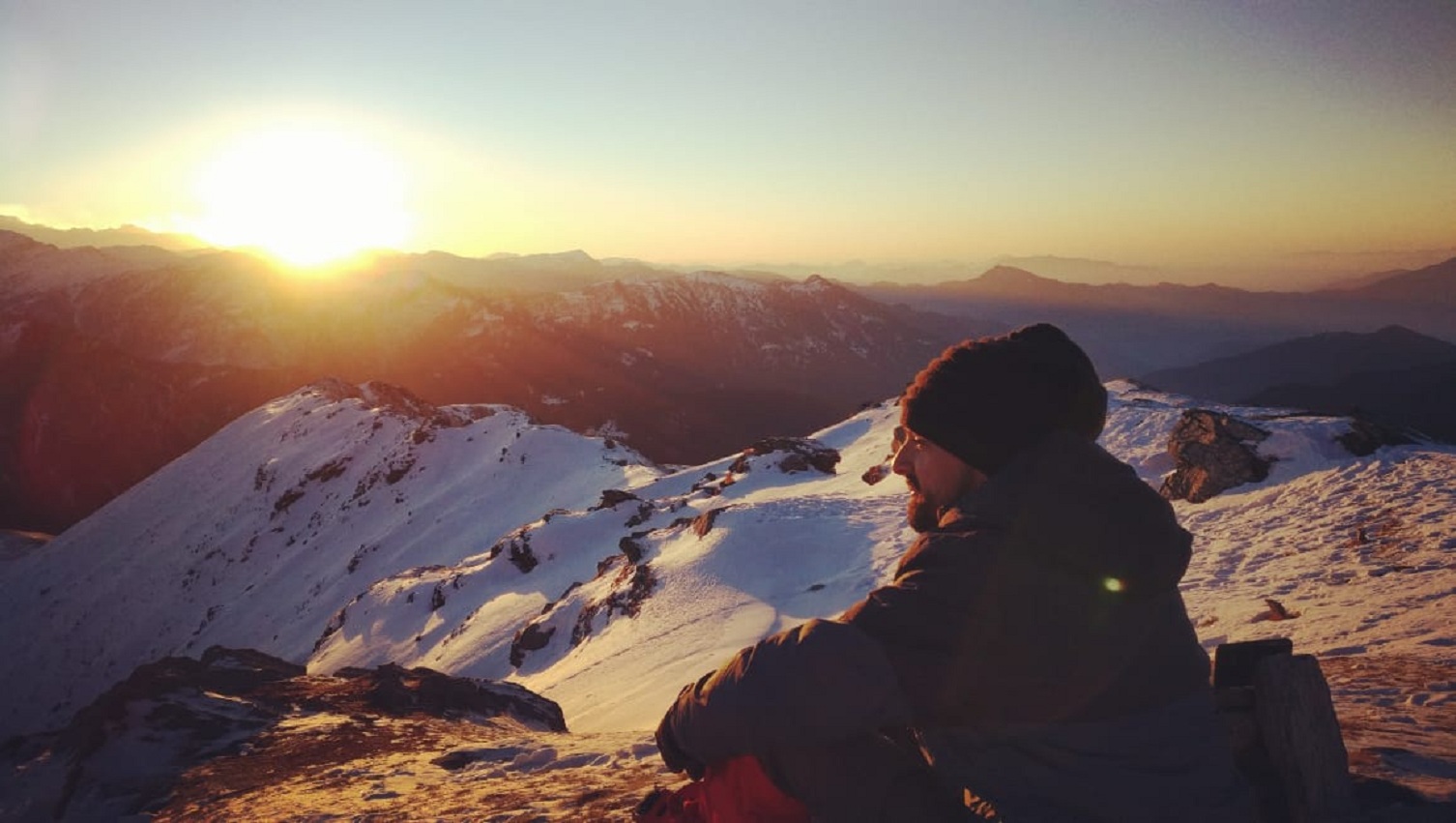 Sunrise at summit
Early morning sunrises showcases a beautiful spectrum of sunlight which illuminates the landscape and mountain peaks in the amazing hues of orange, red and golden. Watching Kedarkantha shimmer at its glorious best during the night is the heavenly treat of this trek. Moonlight casts its silver glow on the mountains against the backdrop of a star-lit sky, this postcard view gets permanently etched in your mind.
Experiencing the local culture and feasting on local meals is another attraction of the Kedarkantha trek. The warm hospitality of locals is such a rewarding experience that it leaves you wondering at their magnanimity.
About Kedarkantha
Standing tall and mighty at an elevation of 12,500 feet, Kedarkantha is a majestic mountain peak of the Himalayas in Uttarakhand. It is located within Govind Ballabh Wildlife Sanctuary and Govind Ballabh National Park. Kedarkantha trek treats you to an exotic array of flora and fauna all through the trek,
Whether trekking on snowy winter trails or traversing your way through glossy green pine forests, Kedarkantha trek is a trekkers delight.
If you are seeking a short rendezvous from the mundane routine of city life then Kedarkantha trek is bound to soar your spirits.
Getting there
Reaching there is pretty easy. The trek commences from Sankri village which is a 10-11 hour drive of approximately 210 kms. from Dehradun. It takes 4 days to reach the summit and come back to Sankri village. There is a proper motorable road till Sankri; beyond that, you walk your way through the scenic terrain.
The legend
Kedarkantha trek is rooted in mythology and that's what makes it more alluring.
The place gets its name from "Kedar Khand" which translates to "Section of Lord Shiva". It is the historical name of this region. Kedarkantha literally translates to Throat of Lord Shiva. Legend has that Lord Shiva once meditated in Kedarkantha and then relocated to Kedarnath.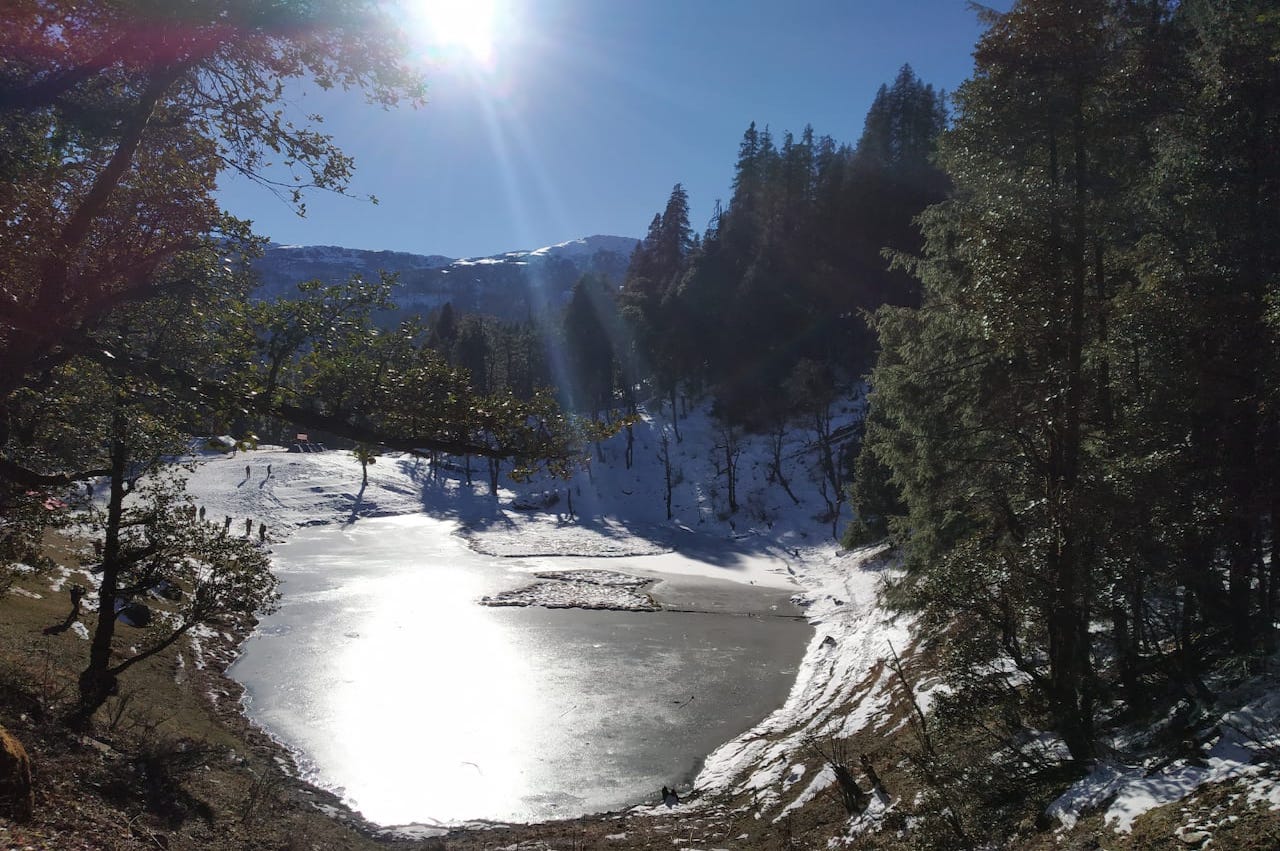 Juda Ka Talab
According to Hindu mythology, Juda Ka Talab owes it's origin to the water droplets that fell from Lord Shiva's hair. Synonymous with its name, a lake (Talab) was formed where water from Lord Shiva's bun (Juda) touched the ground.
The Godly peak of Swargarohini, one of the glittering attractions of this trek is said to be the stairway to heaven. It is believed that Yudhishitra along with his dog reached heaven via this sacred peak.
The trek
This all-season trek is one of the best and most comfortable treks in India. But the beauty of the trek is at its best in the winter. It is an ideal trek for that it journeys you through a beautiful vista of Himalayan beauty. The trek begins at Sankri traversing through local trails and dense forests leading you to Saud village and then to the picturesque campsite near Juda Ka Talab. Juda Ka Talab captivates with a beauty so serene that you blink twice to feel if the place really exists. A thicket of mighty oak and tall pine trees with colossal mountains in the background surrounds the glacial lake imparting the look of a protective shield
Kedarkantha trek base camp leading to the majestic summit treats you to a magical panorama of open highlands, expansive meadows, steep slopes, and lofty mountain ranges.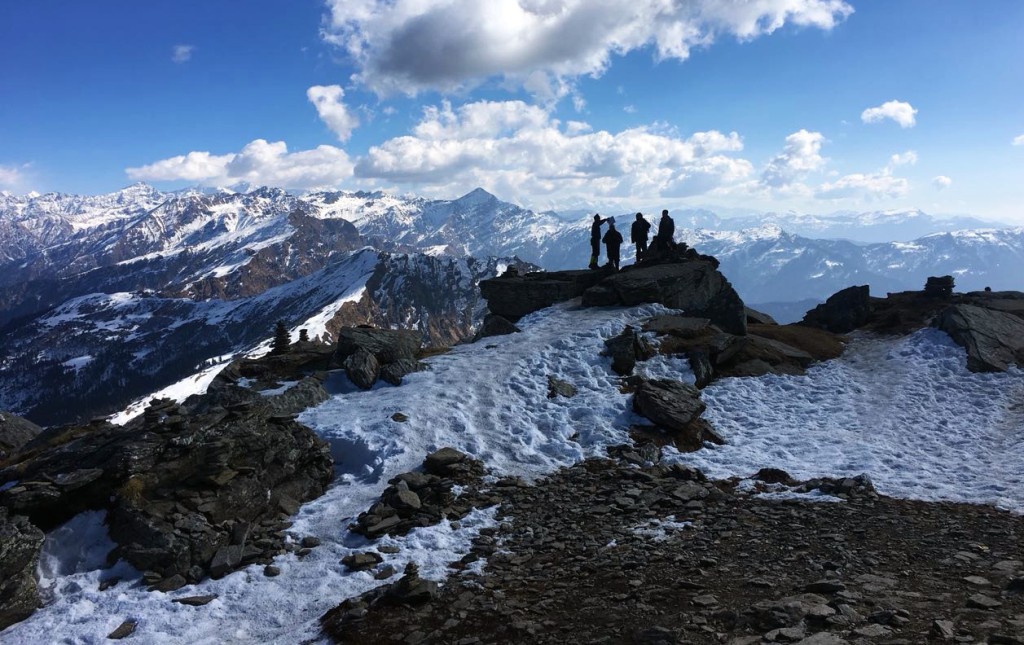 "View from Kedarkantha Summit"
At the summit, a 360-degree view of mountain peaks sways you off; not just the famous peaks like Bandarpoonch, Swargarohini, Kalanag, Gangotri, Yamunotri, and DhaulaDhar ranges but also hundreds of other untouched and untainted virgin mountains welcome you with a warm embrace. This picture-perfect scene is absolute bliss, each frame looks like a postcard image; it is a sight that stays with you for the lifetime.
A trek to remember
Trekking is always fun, it takes you back in time. With the right attitude and adequate preparation, you can conquer the invincible. The trick is to be well equipped so that you undertake your trek with utmost confidence and conviction.
Itinerary
What's Included
Inclusions
Mountain course certified and experienced Trek Leader.
Supporting staff.
All meals on scheduled time(Vegetarion and Delicious Only )
Quality equipments for Trekking.
Fully equipped medical kit and safety equipments.
All kind of permits and camping charges.
Exclusions
Personal expenses done by the trekkers while on the trek.
Food items purchased by trekkers during the trek at local canteens or during the drive.
Mules or porters to carry personal luggage.
Anything not mentioned in Inclusions.
Health and Safety
For any Himalayan Trek, Ideal BMI for a trekker should be 18.5 to 24.9
To keep a check of this please calculate BMI here
Below given Safety checks should be done to get prepared for any Himalayan Trek.


Balance : As well said a balanced mind and body gives out best in every condition and that too works in Himalayan treks as well.
Legs Strength : Body and Legs Strength is required to carry body weight as well as the backpack while trekking in uneven multi terrains. Generally, a good strength on legs works out good in any Trek. One can gain legs strength by doing simple Squats.
Muscle Flexibility : While trekking in Trans Himalayan region with a flexible body one can easily achieve full range of movement and this can be really helpful for trekkers as well as trek leads. A good flexible will be an advantage while walking on trails, climbing and river crossing etc. Flexibility can be achieved by simple stretching, yoga etc.
Cardiovascular Endurance : Cardiovascular endurance is defined as the ability of lungs and heart to transmit oxygen to the body muscles. All Himalayan treks are basically ascending descending the slopes and for this trekkers should be having a good cardiovascular endurance. Anyone planning for a Himalayan trek can attain this capacity by doing any cardio exercise like running, swimming, cycling etc.
More Info
Cancellation
Cancel up to 30 days before trek start date and get full refund.
Cancel up to 15 days before trek start date and get 70% refund.
Cancel up to 7 days before trek start date and get 50% refund.
Cancel within 7 days of trek start date and the cost of the full reservation is non-refundable.
Refunds will be processed within 7-10 working days from the date of cancellation.
In case of refund, 2.5% (Payment processing charges) will be applicable.
Eligible refund amount will be calculated from the total trek fee offered, in case you have made partial payment only.