Sankri: The BaseCamp of many Himalayan Trekking adventures
Ever dreamed about complete peace of mind and bliss, as well as a sense of accomplishment that you scaled the entire earth, well Sankri is a heaven on earth for both tourists as well as trekkers.
People think scaling mountains in foreign locations is thrilling and fun. Well, few people knew about a small village located in the Uttarkashi district of Uttarakhand. It is perched at an estimation of approximately 1,900 metres. One can even spot the majestic Himalayas perched in this serene village that gives one a visual treat.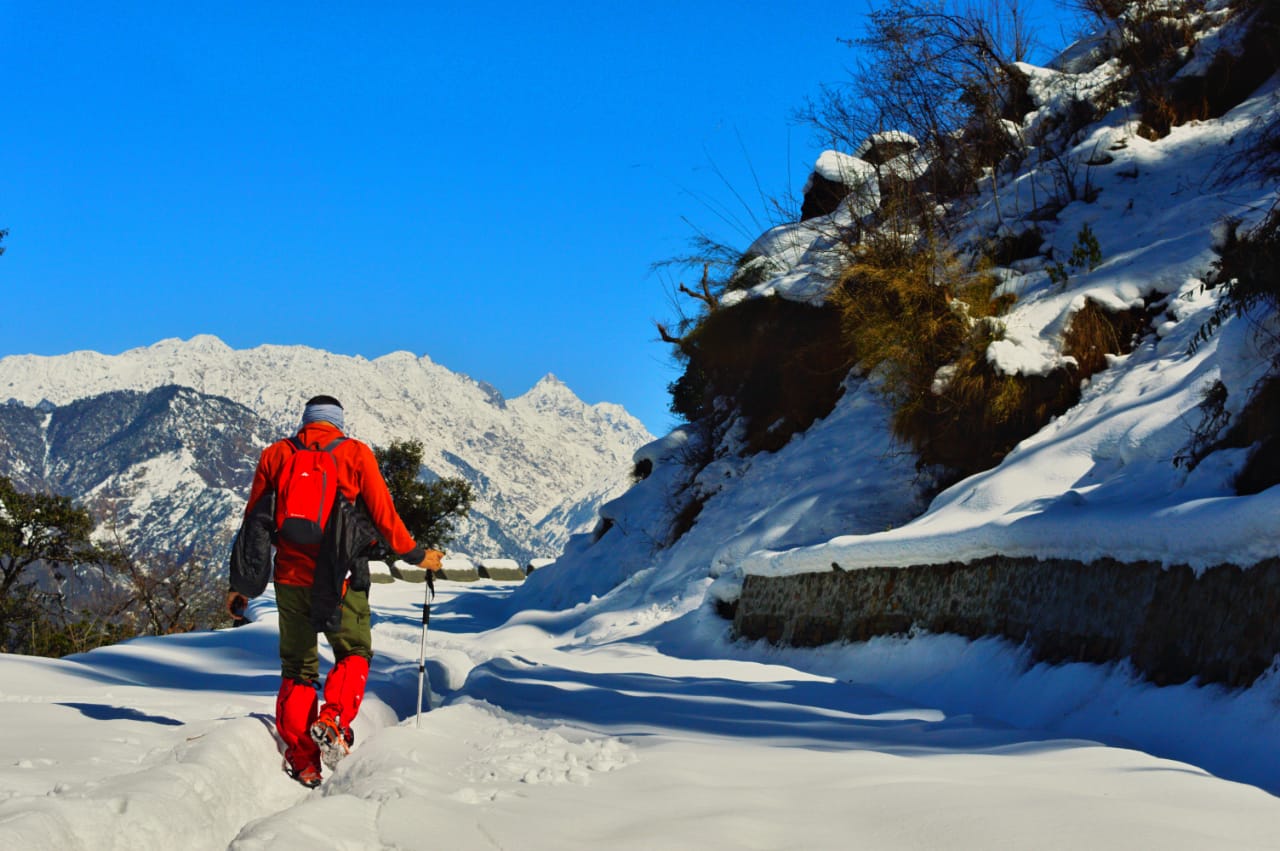 The aerial view of this hilly village looks very beautiful with small umbrella looking houses and pristine pine trees. It is considered a visual treat for any trekker.
Sankri is tucked in the hills of the Himalayas and is the gateway to the Govind Pashu National Park. Sankri is basically a base camp for Himalayan Treks which ranges from easy to difficult.
It's a pretty hamlet located in Uttarakhand where thousands of people flock to every year to explore the charm and tranquility the place has to offer.
Ways to get to Sankri from Dehradun:
Sankri is located roughly 200 kms from Dehradun there are different ways to get to Sankri you can go by bus or private vehicles. Suppose one stays in Mumbai you can take an airplane from Mumbai to Delhi and then from Delhi one can take an overnight train to Dehradun then travel through the beautiful Mussorie till you reach the serene village of Sankri. Then you can opt for a taxi or bus as per your comfort.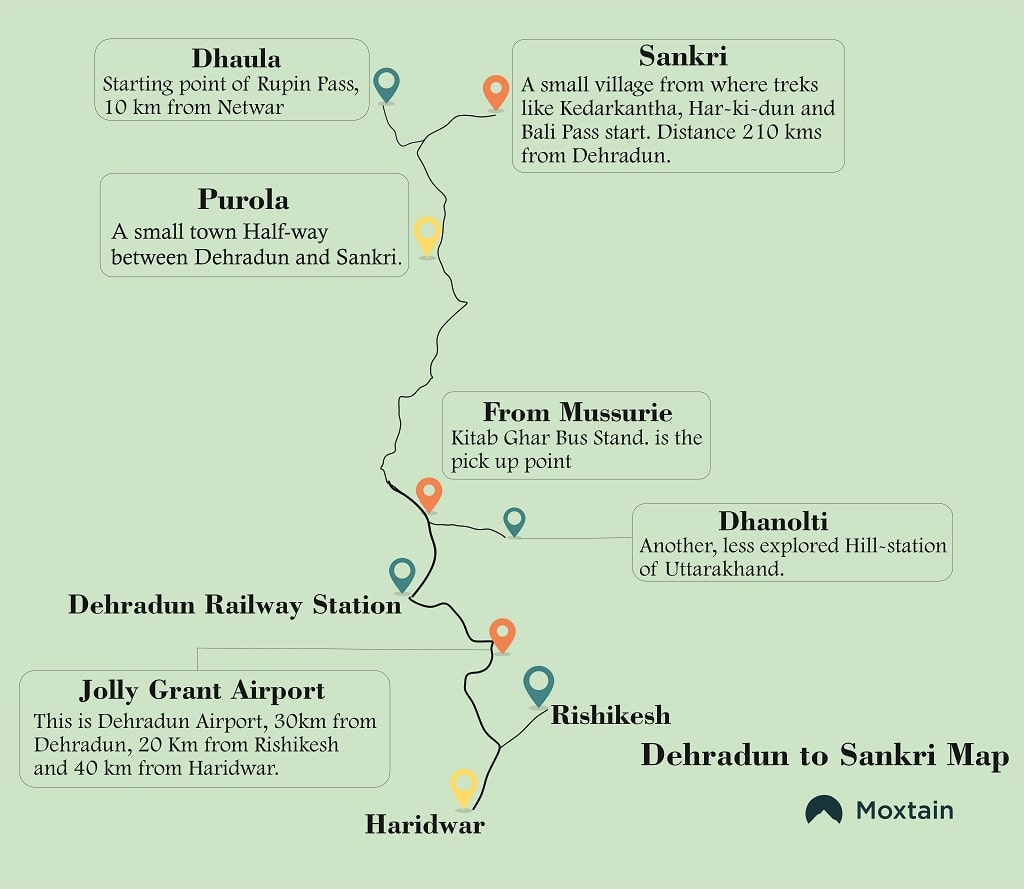 If for instance one is travelling from Delhi then buses to nearest cities like Dehradun, Rishikesh and Haridwar are easily available from ISBT, Anand Vihar.
Buses and taxis to Badrinath are easily available from major cities of Uttarakhand. The nearest railway station to Badrinath is Rishikesh Railway Station and the closest air connectivity is Jolly Grant airport at Dehradun.
Ideally, the best is the Bus as you get to experience the culture of that land in its entirety this gives you insight into the lives of the Himalayan people their culture, cuisine, dressing and other local customs as you can interact with co-passengers.
If you are a bit adventurous you can opt for a jeep that is Tata Sumo, Max, etc. which is faster than a Bus. The cost is a bit higher compared to the Bus it is approximately 800 to 900 rupees per person, whereas the cost of the bus is around rupees 350.
If you are a bit tight on your budget and still want to travel by private vehicle you can opt for a shared jeep which is around 450 rupees. The major route hubs are Dehradun-Vikasnagar-Nuagaon-Purola-Mori-Nitwar and Sankri. One Bus leaves at around 5.30 am, another at 7 am.
As I said the ticket cost is around 350 and it takes approximately 7-8 hours to reach Sankri Village. Some advise that a trekker should take a bus to Purola from Dehradun. Purola is a beautiful pristine city that is well maintained and one can buy necessary items from there. Purola is situated 140 kms from Dehradun. Then one must book a cab from Purola to Sankri as the drive is a bit long and it is not advisable if you suffer from motion sickness or any other travel-related disorders.
During this ride, you pass through some beautiful lush pine forests that will set any traveler's heart soaring. After reaching Mori the road goes against the lavish river Tons and then you enter the valley.
Sankri Weather and Temperature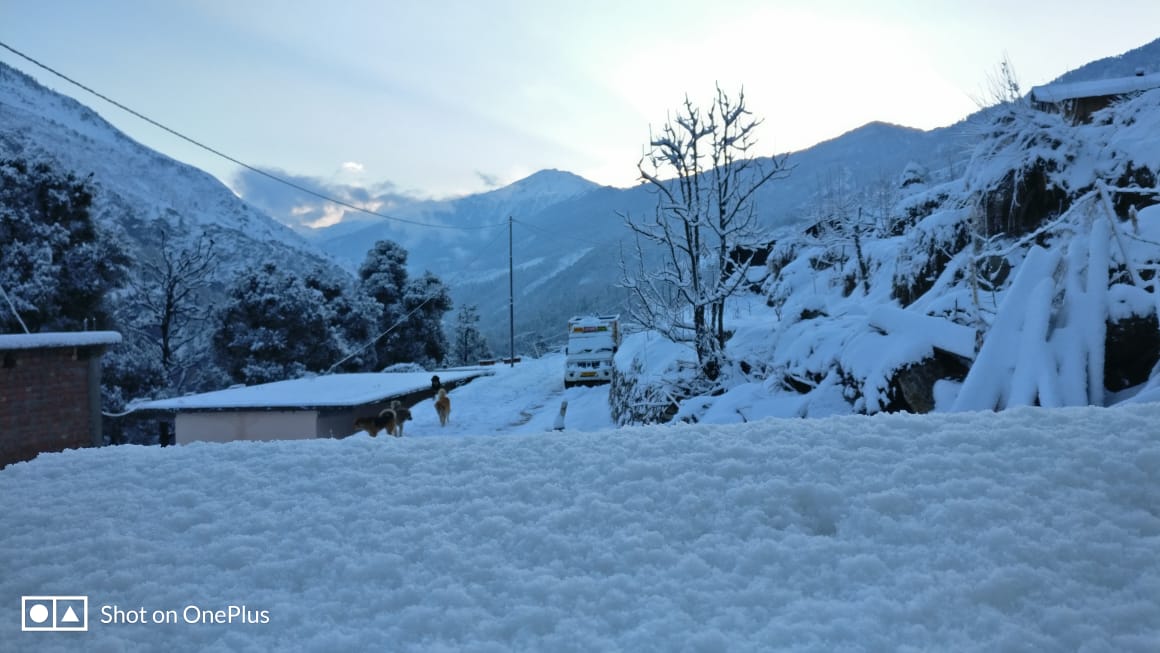 Sankri is of course located amid the Himalayas and is bound to be cold. The approximate Climate is around 10 degrees to 15 degrees. The weather cannot be predicted though there is snowfall it usually snows during December. About 1328 mm of precipitation falls annually.
Where to stay:
Sankri is nestled in the arms of the white Himalayas it is a jubilant village snow-capped and surrounded by mountains. One can check on several websites to know the best deals with hotels. Team 456 is one of the best-rated hotels on the internet it is situated at the main Harkidun road from Sankri Market. Guests get an exquisite view of the Sankri ranges.
You can visit the village too and there are shops that offer trekking gears, sleeping bags, and tents on a rental basis.
If you wish to be a bit adventurous you just need a camping bag a tent and food for the duration that you are staying. Wear proper clothes and some good hiking boots. Trekkers can also set up their tents to enjoy the real adventure.
7 Treks starting from Sankri
Kedarkantha Trek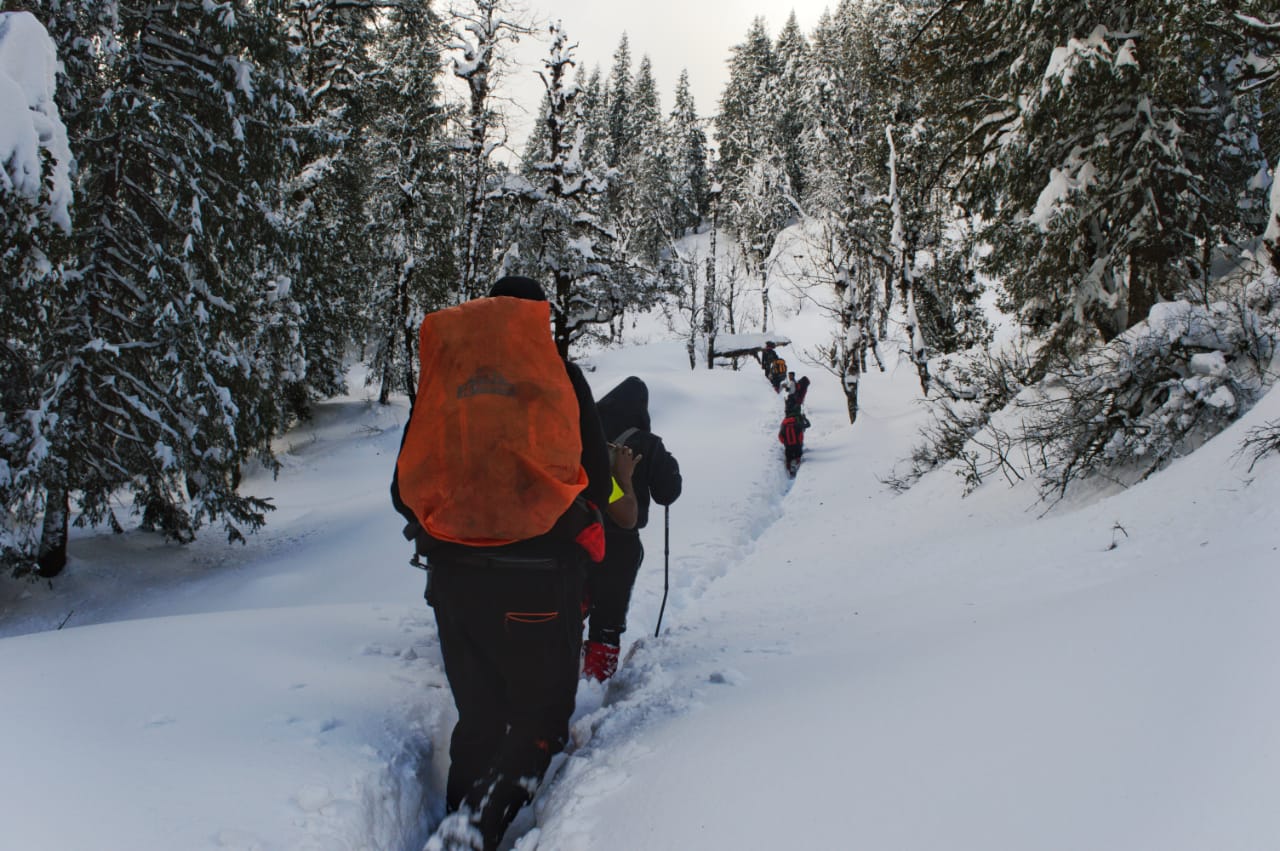 Kedarkantha is one of the most popular treks for visitors. Kedarkantha is usually an easy trek best for beginners of this adventurous sport. However, by easy, it does not mean you can simply get out of your office chair and start walking. It is a perfect picturesque trek in the lap of the Himalayas of Garhwal. The peak of this magnificent mountain is around 3800 meters. The top of this mountain is impeccable you will feel like an eagle with a bird's eye of the surrounding. It is usually good for a winter trek.
Baraadsar Lake Trek
This is at the border of Himachal Pradesh and Uttarakhand. This trek gives you a view of some thrilling ridges, picturesque campsites, adventure-packed summit climb and the ever so beautiful lake of Baraadsar. It is a much difficult trek compared to others, as it is meant for those with prior experience. You should not be beaten by failure but rather strive to achieve success once again if you are that type of a person then this trek is surely meant for you. It has a maximum altitude of 4600 meters and takes around 8 days.
Dev Kyara Trek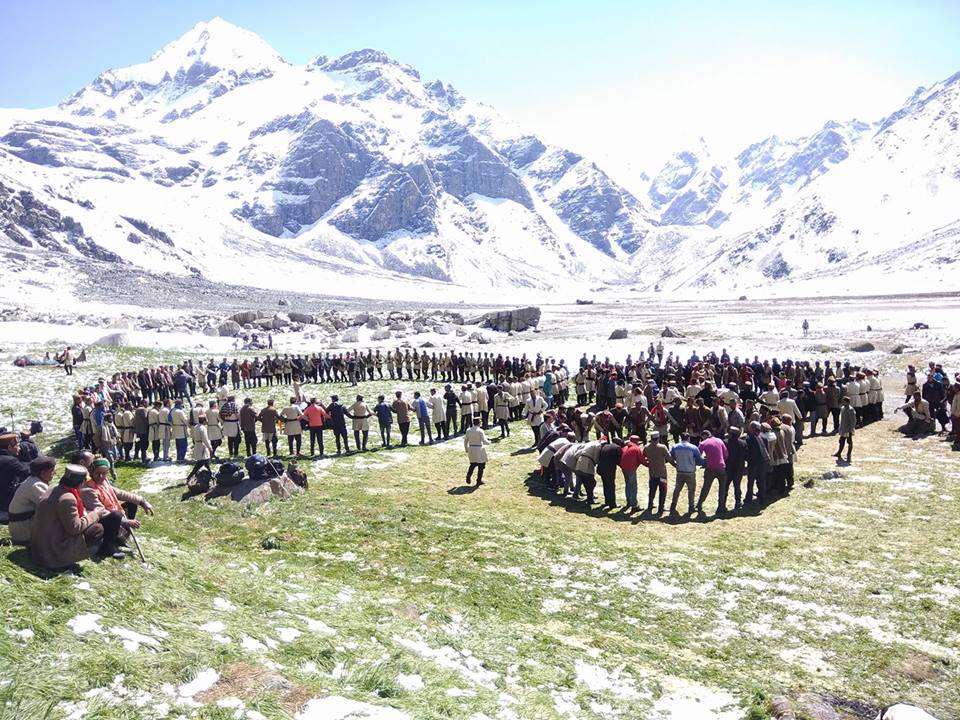 If you like being surrounded by some serene beauty you should try the Dev Kyara Trek. The trail of this trek kisses the roaring Dibra Gad river and takes you to the stunning campsite of Dev Kyara. It is an easy trek and is good for beginners to brush up their trekking skills. It has a maximum altitude of 4100 meters and the trek is for approximately 7 days.
Bali Pass Trek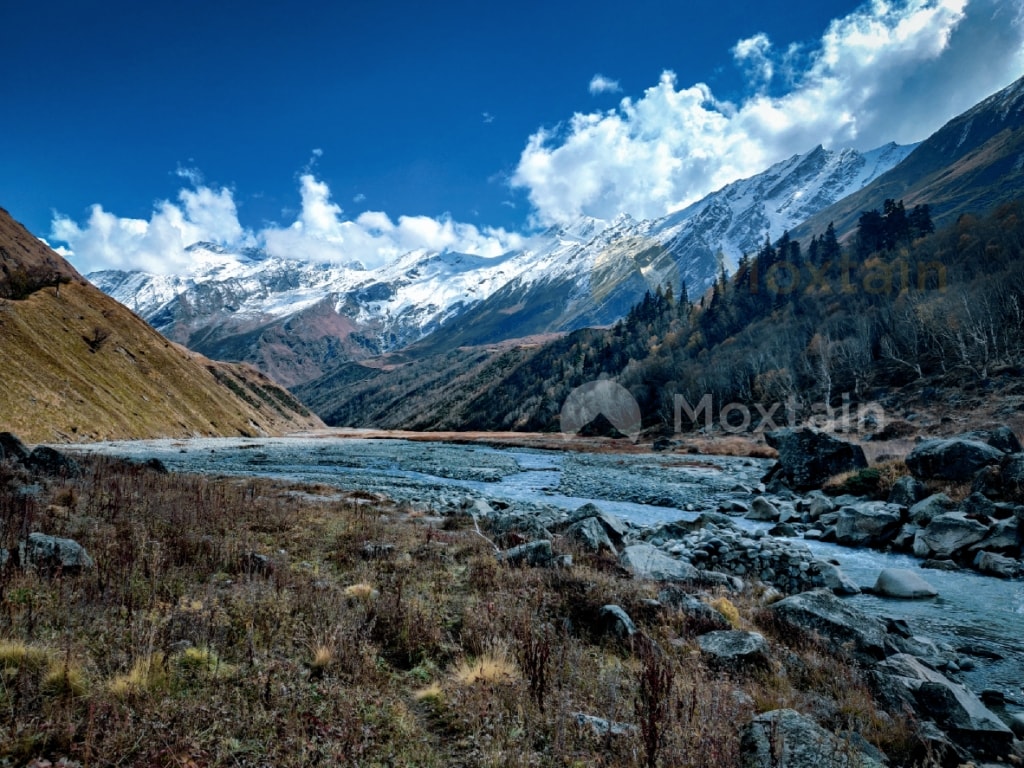 This trek is located between Yamunotri and Har ki Dun Valley and takes you a height of 4950 meters. If you want some thrill in your life you should go in for the Bali Pass Trek as it can be a steep walk towards the Pass. This trek is only meant for those with experience and not to be undertaken by beginners. This trip involves some narrow trails, steep ascents and descents and the thrill of the packed crossing. It has an altitude of around 4950 meters takes around 9 days to complete.
RuinSara Trek
This trek is moderate in the difficulty level. It is located in the Govind Pashu National Park near Har ki Dun valley, the Ruinsara Tal trek takes you around the pretty villages of Seema and Osla showcasing the rich culture and traditions of the local people. You get a lot to learn about the Himalayan people. It offers unparalleled views of the BandarPooch Peak and Dhumdhar Kandi Peak. The altitude of this peak is around 3656 meters and it is located at around 11,696 feet. It takes around six days to complete this trek.
Borasu Pass Trek
This trek is located close to Tibet and is packed with thrill and adventure. It takes you across the Har Ki Dun trail it continues to cross into Chitkul in Himachal Pradesh. It is only meant for adventure seekers and experienced trekkers. It is for those for wish to test their limits. It has an altitude of around 5250 meters and takes around eight days to complete.
Har ki Dun Trek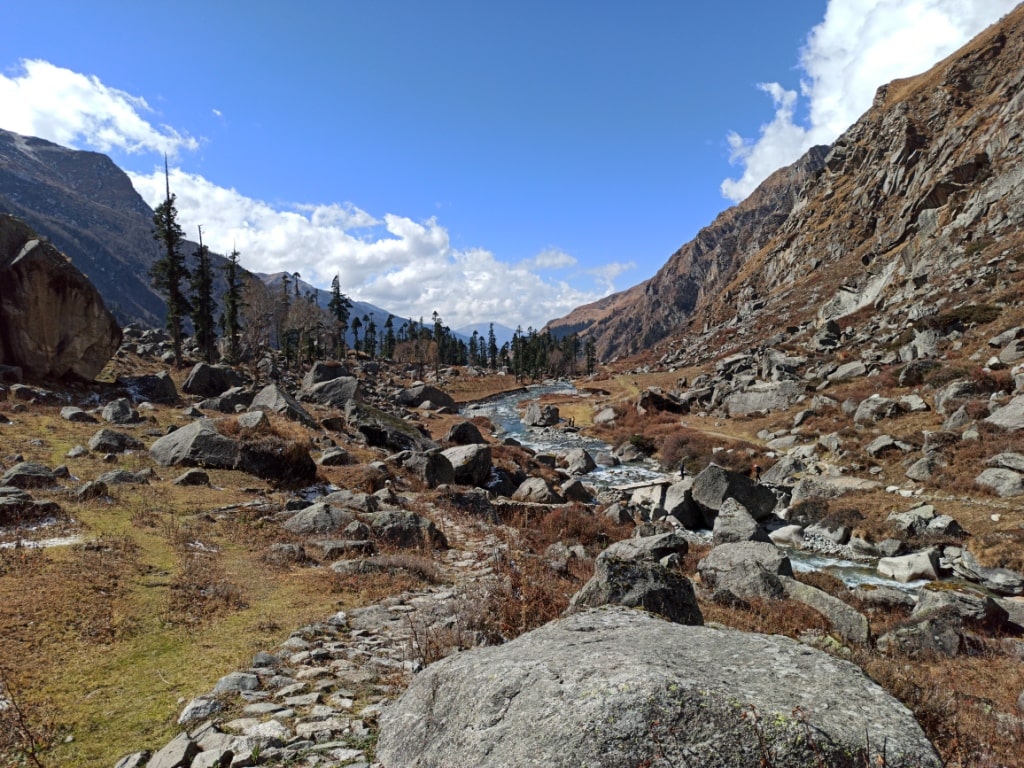 This trek is one of the most popular treks and is considered the valley of Gods. It offers breathtaking views of Swargarohini, Bandar Poonch and Kalang also known as Black Pearl and of course The Hatta Peak. It covers the distance of around 67 kilometers and an altitude of 3500 meters. It takes around seven days to complete. According to Hindu mythology, it is believed to be the place where the Pandavas resided hence it has achieved the name of Valley of the Gods.
It takes you through the Govind Pashu National Park which is richly known for its fauna and flora. This trek is perfect for beginners.
Sightseeing in Sankri
Perfect Places to visit and things to do in this pristine village: Sankri is the base camp for Himalayan treks and one of the few villages which have managed to maintain that rustic charm, thus giving us a perfect glimpse into the past of that particular place, time and age.
Bird Watching

Sankri is ideal for bird watching these are one of the things you can do here to pass time and to enjoy the flora and fauna of the place. There is a wildlife sanctuary here with over 150 bird species. It is a great paradise for bird watchers. One can see different varieties of birds here like Cuckoos, Thrushes, Owls, Finches Parakeets and several other birds to enjoy.



Meraki Café

Meraki Café is part of the Meraki triangle which is the first art house in Sankri. This is one of the first cafés at Sankri village. They serve some lip-smacking local delicacies. One should definitely give this café a try. You get everything here right from Grill cheese sandwich to coffee, to pasta it literally caters to every person's tastes buds. It is a great retreat for creative and likeminded people. One must really visit this café to enjoy and blend in with the local culture.

Enjoy the Zipline

The Zipline at Sankri is the highest of Uttarakhand Himalayas which is full of adventure. The Zipline is handled by experts and one doesn't need to fret about whether it is safe or no. It gives you an excellent aerial view of the Saur Village. Many tourists come here every year to enjoy this adventurous thrilling ride. The Zipline passes through Saur village and it is functional right from 9 am to 6 pm in the evening.



Juda ka Talab

This lake is completely snow-covered during the winter season and it is magnificent to visit during the winter. There is a mythological belief that Lord Shiva once opened his locks of hair. The water from his hair dropped a little and this lake was formed.

This "Talab" is located approximately 4 kilometers from Sankri village and takes one through lush green pine forest. It is an absolute visual treat for tourists and visitors. It takes approximately around 4 hours to reach Juda a Talab from the village.



Someshwar Mahadev Sankri

This is a beautiful temple located in Sankri village in the Mori Block of Uttarkashi in Uttarakhand. This temple is dedicated to Lord Shiva who is the God of the Hindus. This temple is of enormous religious significance to the villagers of Sankri. Thousands of devotees come from different parts of the world to visit this sacred temple. One should definitely add this temple to their bucket list if they wish to understand local culture and architecture.



Jakhol Village

If you want to enjoy some divine beauty visit the Jakhol village. This village lies in the Mori Block of Uttarkashi district of Uttarakhand. It makes your heart swoon with delight when you see this magnificent hamlet nestled against the Garhwal Himalayas.

It falls on the way when one undertakes the DevKyara Trek and starts from Sankri. The houses in Jakhol village are most wooden carved completely with lush green trees. This place is known for its rich cultural heritage and age-old traditions.

It holds a lot of religious significance as it is famous for the Duryodhan Temple dedicated to the eldest of Kaurava Duryodhan. The villagers think that the Kaurava is their ancestor and hence they worship him with all their hearts. You can even camp outside while in this village and feel the divinity of the stars over your head. It's a paradise for photographers as well. The people in the village are very hospitable and kind.



Swargarohini Peak

The Swargarohini Peak like the Jakhol village holds a lot of religious significance as it is believed that the Pandavas travelled through Swargarohini to reach heaven. It is notable for its vivid topography as well as scenic beauty. It consists of two peaks mainly the eastern summit and western summit. It is the crown of GB Pant National Park.

The ideal time to trek would be from December to March. It has an altitude of around 6,252 meters. Swargarohini is well connected by roads.



Olsa Village

Like Jabol Village Olsa village too is a beautiful village. Located at approximately 26 kilometers from Taluka, this pristine hamlet is surrounded by apple trees. This village has some mystic energy attached to it that pulls you closer to it. It has an altitude of around 2950 meters and is mountain sloped. It is the last village in Har Ki Dun Valley which is untouched by civilization. You should definitely give this village a try if you wish to enjoy some pristine beauty.

You can trek, camp stroll around or just sit and gaze at the beauty around you. The people here wear their traditional clothing and this gives us a glimpse at the traditions followed here. You can visit the Someshwar Temple dedicated to Lord Shiva which attracts a number of visitors every here. However one must remember that in this village there is no electricity, limited shops, and no banks so you must arrange everything at the Taluka itself.



Jaundhar Glacier

When one moves from the Har ki Dun valley you will see beautiful rock formations and breathtaking mountains. It is close to the Swargarohini peak. It overlooks glaciers. The Jaundhar Glacier is one sight that will make you ponder over the beauty of nature. It is about 3 kilometers far from the Har Ki Dun valley. If you want an escape from the dull realities of everyday life you should visit the Jaundhar Glacier.



Taluka Village

You can book or hire a jeep or taxi from Sankri to Taluka and start your trek from Taluka.

You can stroll around this village and enjoy the divinity and the simplicity of this village. It has a lot of flora fauna as well and can be a paradise for bird watchers.

You can camp at night to see the beautiful stars shining upon you along with the gentle chirping of the birds at night as well as the melodic sound of the river that flows along. Accommodations are available at the Garwaj Mangal Vikas Nigam GMVK and private guesthouses are also available.



Sankri is indeed a beautiful place that can really imbibe in you a spirit of discovery and adventure especially when you embark on the trek.
In addition to this, you must definitely visit this village as it is pure and untouched by the pollution, noise and sedimentary lifestyle.
Instead, you are overcome with the simple kindness and love meted out to the tourist by the Himalayan people. Such pure love and so simple that reinstates our belief in the greatness of mankind.