Auli-Live, Breathe and Ski in this heaven of snow
Beautiful hill stations, snow-shrouded mountains, the verdant expanse of greens and dense forest housing exotic species of birds and animals. Shut your eyes and you are catapulted into the magical and surreal world of films! Trust me, the state of Uttarakhand is dotted with such mystic spots that are not filmy but REAL! Uttarakhand is a heaven for nature enthusiasts seeking hiking, trekking or adventurous escapades. The fantastic topography of this beauteous state offers myriad opportunities to travel bugs. Auli is one such jewel in Uttarakhand crown, bedecked with fresh snow, dense coniferous forests and surrounded by imposing Nanda Devi and Nar Parvat mountains. An absolute fairy tale setting!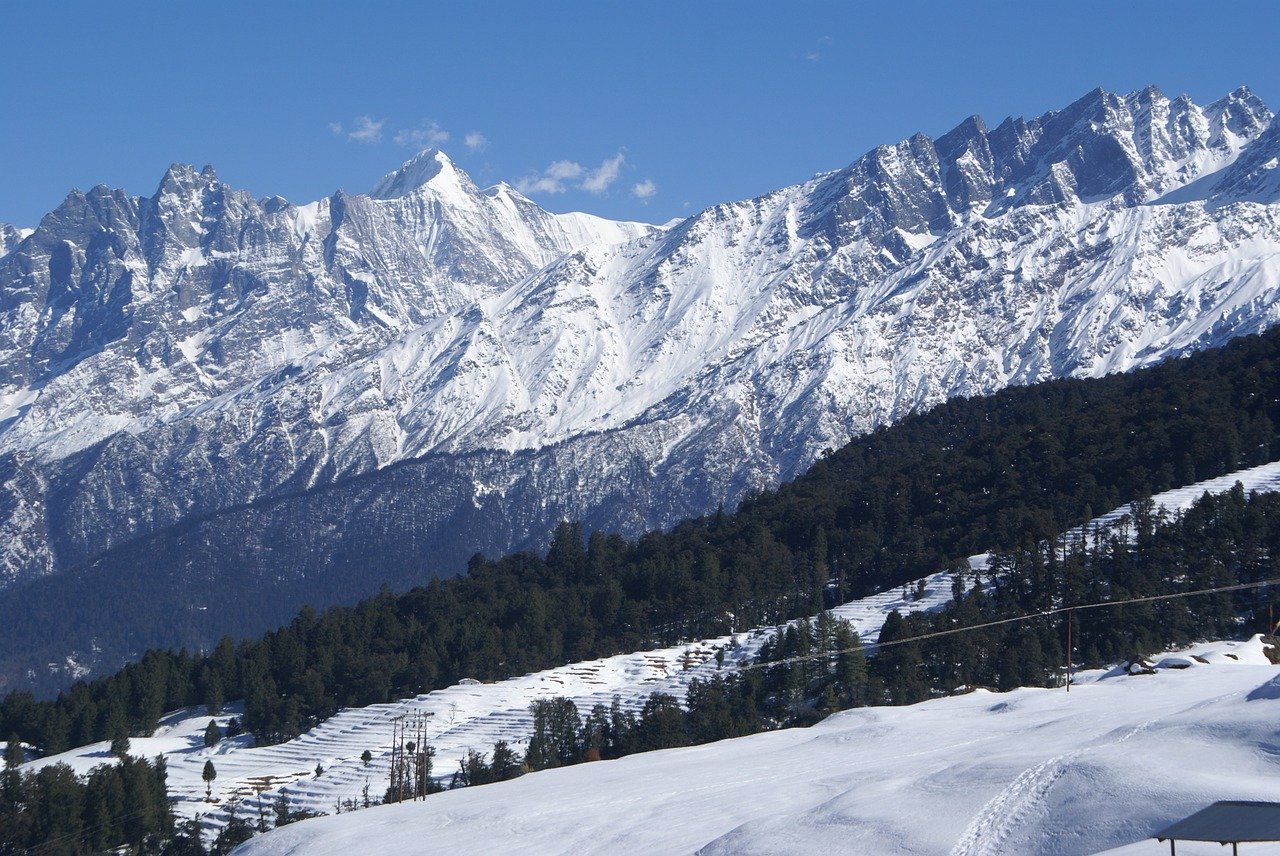 Auli Uttarakhand
Auli, the former training ground of the Indo-Tibetan Police Force is blessed with salubrious weather, glittering ski slopes encompassed with glossy green trees, apple orchards and scintillating views of colossal Nanda Devi, Hathi Parvat, Mana Parvat, Ghori Parvat, Nar Parvat, Mount Kamet and Mount Dunagiri in the background. Amazing ski resorts and jazzy winter carnival serve as an icing on the cake for this picturesque hilly town. It is everything that one can ask for a perfect winter destination! Whether one is a nature lover seeking rendezvous in the lap of nature or a trekking enthusiastic looking for some fun or honeymoon seekers in search of blissful solitude, Auli is the ultimate escapade for thrill and adventure.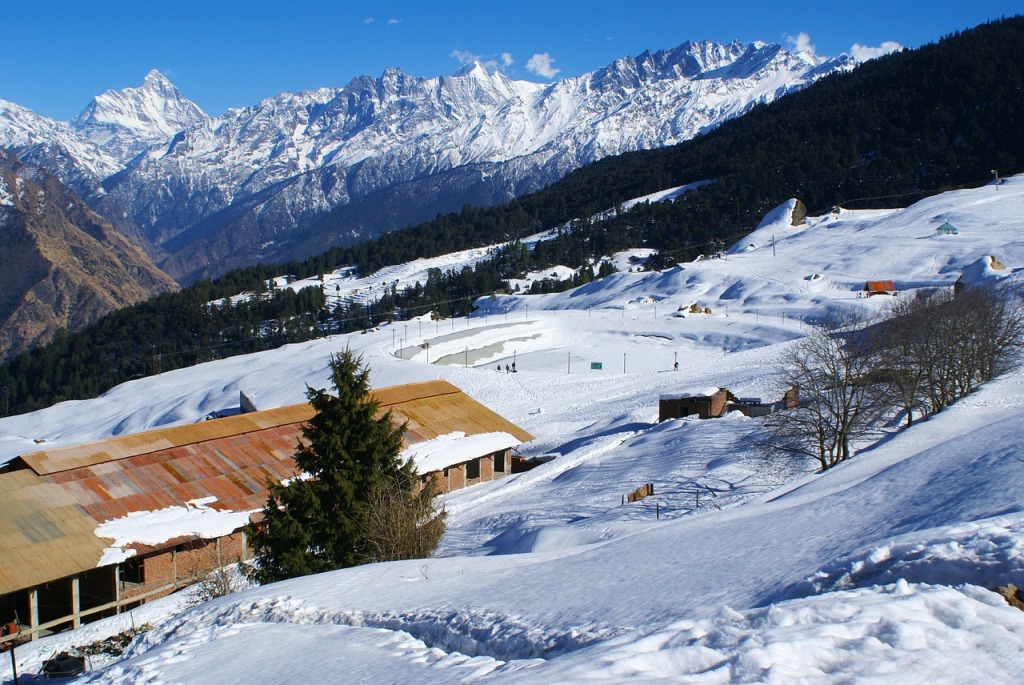 History of Auli
It is believed that Auli was visited by the revered Shankaracharya in the 8th century. He built a temple at Joshimath, known as Shankaracharya Tapasthali, which exists to date.
Later, it became the training ground for the Indo-Tibetan Police Force. The sturdy men of the police force were trained in the skiing slopes of Auli, battling the extreme climatic conditions of this scenic hill station. They were known to be very proficient in skiing.
Details about Auli (aka Auli Bugyal or Auli Meadow)
Region- Uttarakhand Himalayas
Location- Chamoli district
Altitude- 9,850 feet
Popular as- Hill station, Ski destination
Best season- Throughout the year
Last ATM- There are no banks or ATM at Auli. The last ATM is at Joshimath
Culture of Auli
Auli is bordered by Nepal and Tibet, the culture of Auli is the beautiful amalgamation of Nepal, Tibet, and Garhwal traditions. The Nomadic tribe of Bhotiyas was the first to make Auli their home.
The majority of the population of Auli is Hindu. Farming and cattle rearing has paved the way for tourism, which has now become the major source of income for the people of Auli. The locals excel in making beaded jewelry, wooden artifacts, and woolen wear.
What to look out for at Auli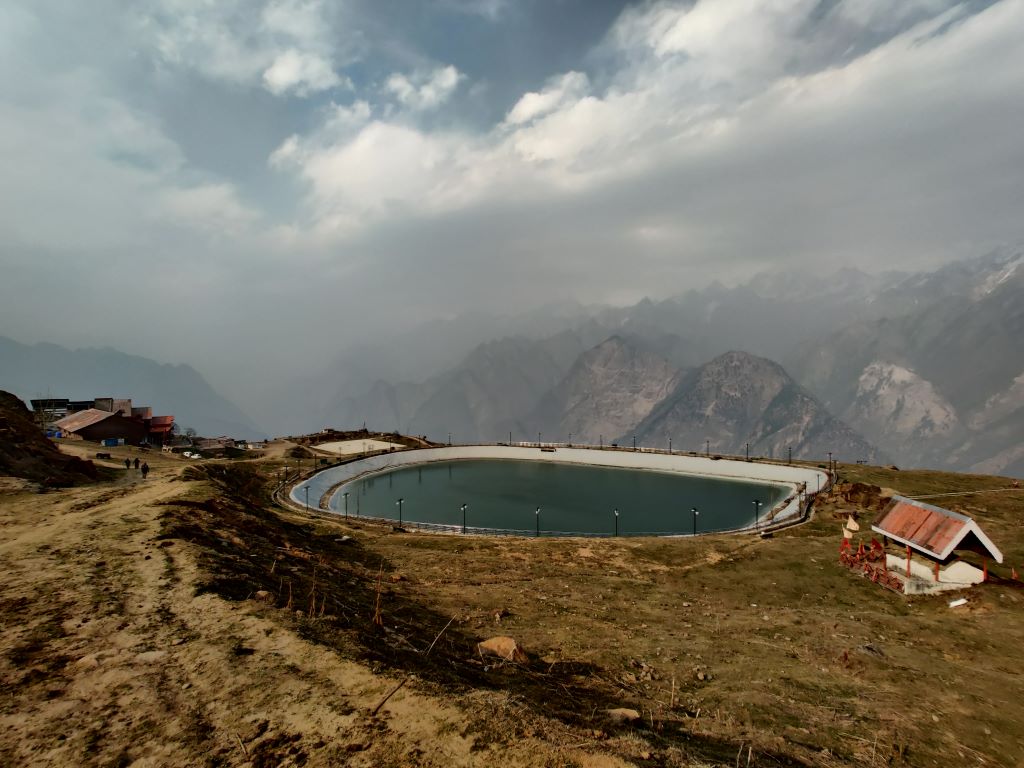 Skiing-

The glittering ski slopes of Auli are rated as one of the best in the world. November to February are the best months to enjoy skiing as the place is covered in natural snow. Expansive snowfields with snow slopes rising as high as 3 km and a strong gush of winds make for a killing combination of thrill and adventure for ski-lovers.

Gorson Reserve Forest-

Gorson reserve forest is a part of Nanda Devi National Park. It is home to rare Himalayan wildlife like Snow Leopard, Musk Deer, Wild Bear, Wild Boar, Fox, WildCat, Jackal, Wild Rabbit, and Hyena. The trek through this dense alpine forest is one of the key attractions of Auli.

Gurso Bugyal-

A trek of 3 km from Auli leads you to the scenic Meadow of Gurso Bugyal lined with the mixed jungle of oak and conifers. At an altitude of 10,030 feet, Gurso Bugyal treats you to splendid views of Nanda Devi, Mount Trishul, and Dron Parvat. Gurso Bugyal offers the opportunity to camp or glamping (glamorous camping)in the lap of nature.

Kwani Bugyal-

Located at an elevation of 11,090 feet, Kwani Bugyal is at a distance of 12 km from Gurso Bugyal. It is a popular trekking route that showcases splendid views of mountain ranges and traverses along Joshimath-Auli-Gurso Bugyal-Kwani Bugyal.

Trishul Peak-

A combination of three peaks of western Kumaon Himalayas form the Trishul peak which resembles the shape of a trident or Trishul, Lord Shiva's weapon. At a staggering elevation of 23,490 feet, Mount Trishul encloses the Nanda Devi sanctuary. The 270-degree view of mount Trishul from Auli is simply marvelous.

Nanda Devi National Park-

Nanda Devi National Park is encompassed on 3 sides by the imposing Nanda Devi peak, the second-highest peak in India. Nanda Devi National Park is home to more than 300 varieties of flora and houses globally threatened species of wild animals. Nanda Devi National Park Trek is one of the most spectacular treks in the Himalayan region which can be easily accessed from Auli.

Chattrakund-

This small crystal clear mountain lake is located in a coniferous forest, just 3 km ahead of Gurso Bugyal.Perched at an altitude of10,830 feet, this small lake is surrounded by lush green forest.

Chenab Lake-

This beautifully serene crystalline water lake is one of the least explored tourist spots. An unbuilt path from the last village of Joshimath, Dang village, leads you to this unexplored marvel of nature. The incredible virginity of Chenab Lake is its ultra selling point. A perfect spot for meditation and setting up the night camp under the blanket of stars.

Auli artificial lake-

This artificial lake at Auli is the world's highest man-made lake. This lake was developed by the government to create artificial snow in the event of low snowfall in the region.

Joshimath-

One of the four 'maths' created by Adi Shankaracharya, Joshimath is home to Shri Badrinath in winters and is a pilgrimage spot for Hindus. At an elevation of 6,200feet, Joshimath is connected to Auli by the highest cable car in Asia. Kalpavriksha and Narsingh Temple, located at a distance of 14 km from Joshimath are a must-visit. Joshimath is also known as "gateway of trekking" as many famous treks like "valley of flowers" are located close to Joshimath.

Hanuman temple

Hanuman Temple is one of the star attractions of Auli. It is believed that Lord Hanuman rested at this place while procuring Sanjivani Buti for Lord Rama's brother Lakshman.

Cable car service-

Cable car service, Gondola ride or ropeway from Joshimath to Auli is an experience of a lifetime. This cable car service-4 km-is the longest and highest in Asia. You get a chance to revel in the beauty of flora and fauna of Nanda Devi sanctuary, Sanjeevani Parvat and majestic snow-covered Himalayan ranges. Auli ropeway has both Gandola (enclosed cabin hanging by a cable) and Chair lift (open bench for 4 people to sit, hangs by a cable).
Best time to visit Auli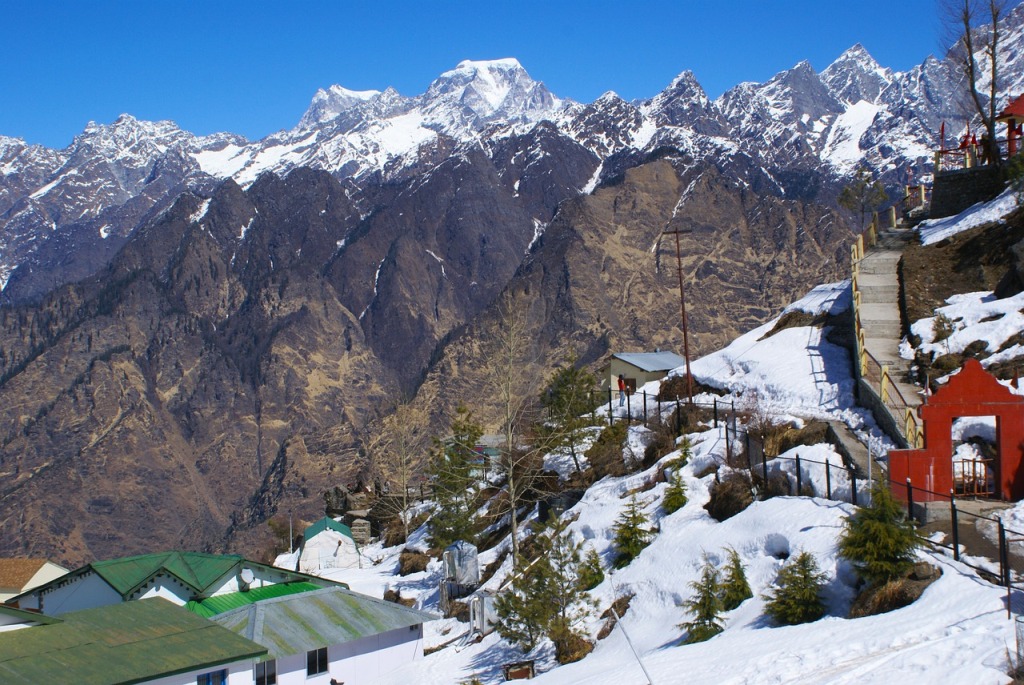 Auli can be visited at any time of the year. The summer months of April to June treat you to salubrious weather. Winter months between late December and February offer perfect weather for skiing. Auli brims with skiing festivals and skiing championships during winter months. Auli maintains its charisma by having artificial snow throughout the year so that skiing can be enjoyed all year long.
Weather at Auli
Season-wise details of temperature and weather at Auli
Summer months of April to June- These months boast of the most pleasant weather with temperatures ranging from +17 degrees to +26degrees. The ideal summer months with a cool breeze and vibrant hues of color make for perfect sightseeing and trekking. While April and May are moderately cold, June is perfectly pleasant for tourist activities.
Monsoon months of July to September- The temperatures vary from +20 degrees minimum to +25 degrees maximum. The beautiful hill station of Auli receives moderate rainfall during monsoon season and therefore makes for a perfect destination even in the monsoon months. Beautiful hiking trails lined by fresh greenery attract tourists/trekkers. However, one needs to be careful while taking walks as roads tend to be slippery. The ropeway that connects Auli to Joshimath treats you to fresh mountain views during these months. The month of July is perfectly pleasant to engage in tourist activities while August and September are moderately cold.
Fall months of October and November- Temperatures range from +11 degrees minimum to +24degrees maximum. Temperatures are very cold and the environment is lit with blazing fall colours of red, yellow, orange and greens.
Winter months of December to February- Temperatures are freezing cold and range from -1degrees minimum to+20 degrees maximum. The snow-drifted panorama of Auli is at peak and the weather is ideal for winter sports.
Spring season in March- Temperatures is very cold and varies from +11 minimum to +23 degrees maximum.
Trekking Destinations in and around Auli
Beautiful trekking routes, mountain bike trails and astonishing views of lofty mountain peaks offer panoramic views to tourists visiting Auli. Gorson, Tali Top, Kuari Pass, Khullar, and Tapovan are some scenic trekking locations in close proximity to each other.
Originating from Joshimath, Kuari Pass Trek takes you to an altitude of 12,000 feet. En route, you are treated to thickets of mountain forests, a tributary of the Ganges and the out-of-the-world view of mount Nanda Devi summit in its magnificent glory.
This moderate level trek that takes you to Pangarchulla peak at 15,450 feet, commences from Joshimath. A 7 to 8-hour trek from Kuari pass will bring you to Pangarchulla peak where the splendid views of majestic Himalayan peaks like Chaukhamba, Kedarnath, Neelkanth, Hathi Ghoda, Mount Kamet, and Dronagiri mesmerize you.
Vishnuprayag
Auli is the base camp to trek to the holy town of Vishnuprayag. It is located at a distance of 11 km from Joshimath. Here you can see the two tributaries Alaknanda and Dahuliganga forming a single river of Vishnuprayag. The distinct colour at the confluence of these two tributaries is the most amazing sight of this trek. Vishnu Temple on the banks of the river is a must-visit.
How to reach Auli
By rail- Rishikesh is the nearest railway station to Auli. Rishikesh is well connected by train with major cities in India. Reach Auli from Rishikesh (265 km) either by taxi or bus. It takes around 9 hours 40 minutes to reach Auli from Rishikesh by taxi or bus.
By road- Auli is well connected to prominent cities of North India through motorable roads:

From Joshimath- Reach Joshimath by road.A 12 kilometre distance between Joshimath and Auli is covered in 30 minutes by drive.
from Rishikesh- 265 km, 9 hours 40 minutes drive
From Haridwar- 287 km, 10 hours 30 minutes drive
From Dehradun- 300 km, 10 hours 40 minutes drive
From Delhi- 500 km, 14 hours 30 minutes drive

By air- Jolly Grant Airport, Dehradun is the nearest airport to Auli. It is well connected to Delhi through major airlines like Indigo, Air India, Jet Airways, Spice Jet and there are 7 to 8 flights operating each day in this sector. It takes 55 minutes to reach Dehradun by air from Delhi. From Dehradun, you reach Auli either by taxi or bus. It takes around 10 hours 40 minutes to reach Auli from Dehradun by taxi or bus.