Best Time to Visit Brahmatal Trek
The Himalayas never fail to amaze us with its mesmerizing beauty, they are so huge and spread over a distance yet they look so humble, they allow us to explore their breathtaking scenic beauty. Walking through these trails you will discover nature's peace, the wind will blow its freshness into you, the sunshine will warm you from inside. Walking on those trails in front of those huge mountains you will feel small but still those mountains will look humble to you, they will make you realize what is important in life.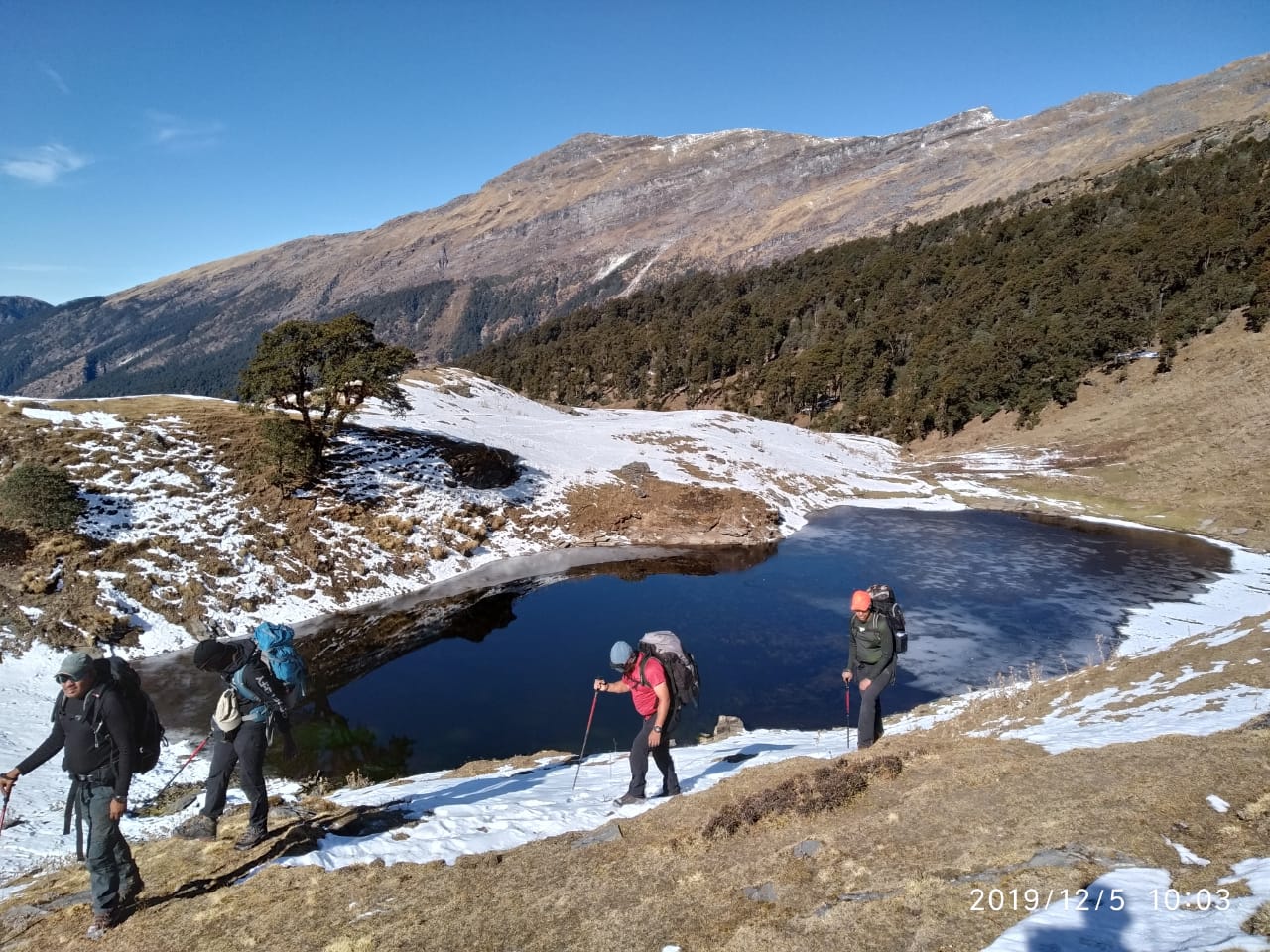 Brahamtal trek is popular for the variety of mountain views that it offers. It is a snowy Himalayan trek with beautiful weather which is located at an altitude of 12,250 ft. The Brahmatal trek begins from Lohajung which is the base camp and it can be completed in 6 days. The most exciting thing about this trek is that the trails are covered in snow along with two surprisingly beautiful glacial lakes hidden in the midst of the trek, one is Brahamtal lake and the second is Bekaltal lake. These glacial lakes are located at an altitude of 3180 m. This trek is a paradise for snow lovers and also Brahamtal trek is on the opposite side of the famous Roopkund trek.
Brahamtal trek offers a spectacular view of Himalayan ranges which attracts many trekkers. On your route, you can see high Himalayan ranges at the altitude of about 7000ft from east to west. On the right towards the eastward direction, you can see Mrigthuni, Devtoli and Maikoti peak of Kumaon. Straight to your north Trishul massif and enormous Nanda Ghunti are utterly captivating. Well, it doesn't end here, on the left westward side we can see the massive Chaukhamba, Neelkanth, Kamet, Hathi and Ghoda peaks.
It will be unfair if we forgot to mention the base camp lohajung, it is a small town at an altitude of 2320 m, this town has a small market and few restaurants to eat and most importantly the beautiful view of Nanda Ghunti mountain and sunset on the southern valley.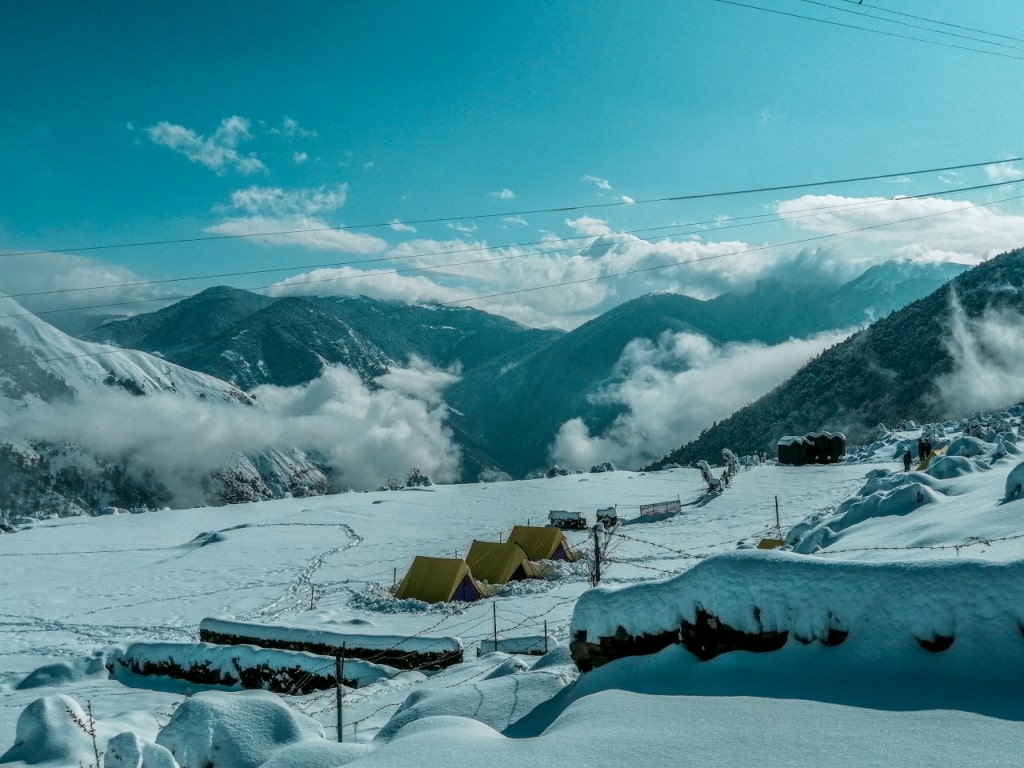 On the second day when you will climb out of oak forest and rhododendron you will get the view of Trishul massif and as you will reach close to jhandi top which is almost the center of mountain views, the view will get clear, to your right you will see massive Mt.Trishul and to your left stands Mt. Nanda Ghunti , you will also see Ronti Saddle, the ridge that connects Mt.Trishul and Mt.Nanda Ghunti . When you reach the highest point of Brahmatal trek you will see other mountains such as Chaukhamba, Neelkanth, Kamet, Hathi and Ghoda peak.
Highlights of the Brahmatal Trek
Brahamtal and Bekaltal lake:

Brahmatal lake is where lord Brahma meditated according to the local people and mythology and another lake you will come across is Bekhaltal it is where Lord Brahma remains hidden. If you will interact with locals you will get to know interesting mythological stories.
Beautiful oak and rhododendron forest:

You will come across the ancient oak forest and lovely rhododendron which is a feast to the human eye. Brahmatal trek consists of a beautiful forest walk.
The exceptional setting of trek:

Brahamtal trek has a unique place as it gives the view of so many mountain ranges and a panoramic view of Roopkund trek.
BEST TIME TO VISIT BRAHMATAL TREK
Winter (December –February)

Brahamtal trek is widely known as a classic winter trek. It is considered as the perfect destination for winter trekking as you will be able to witness the frozen lakes which are so thrilling and captivating snow capped peaks. Brahmatal trek in January receives a huge amount of snow, the snow gets deeper as you climb higher. This makes Brahmatal trekking more exciting and fun. This place is heaven for snow lovers.

During winter the daytime temperature at Brahmatal trek remains cool and nights are cold. Late night/early morning temperature at lohajung, bekaltal, brahmatal can be 0 to 2 degrees Celsius, 0 to -2 degree Celsius and -5degree to -10 degree Celsius.
Summer and fall

After March the amount of snow on the trail reduces and only patches of snow are visible on the trail. From April to June there is no snow at Brahmatal trek. The beautiful pink rhododendron also blossoms during this time which enhances the beauty of the trek. The oak forest looks greener and vistas keep changing and you get a panoramic view of the mountains, valley, and meadows.

During summer the weather at Brahmatal trek remains pleasant during the day but it gets colder at night and temperature will rise as you will climb higher. Night /early morning temperature can be from 10 degrees Celsius to 2 degrees Celsius.
So don't forget to carry warm clothes even if you are going in summer.
Note: From July monsoon arrives so Brahmatal trekking in this season can be very dangerous as there are chances of land sliding.