Trek Overview
There's something mystical about the Himalayas; intimidating yet attractive, invincible yet approachable, hostile yet inviting. The Himalayas, majestic and magnanimous make you feel so insignificant and small; they help you sort what's important in life.
Uttarakhand also called Dev Bhoomi or "The Land of Gods" is blessed with exclusive locales and treks in the unexplored terrains of Himalayas.
If you are still wondering where to head for a vacation of spiritual bliss coupled with a streak of adventure then Brahmatal trek is the right choice baby!
About Brahmatal
Brahmatal, a name that translates to "The Lake of Lord Brahma", is a picturesque lake nestled amidst Uttarakhand mountains.
Legend has that Lord Brahma meditated here, hence the name. Brahmatal lake also known as Khabekhal lake is located at an altitude of 10,440 feet.
Beauty and highlights
Loaded with an amazing scenic vista, Brahmatal trek offers a spectrum of changing landscape which is exclusive to each season. Winter sweeps you off with snow-drifted forests, incandescent frozen lakes complemented with a white carpet of a pristine snowy landscape.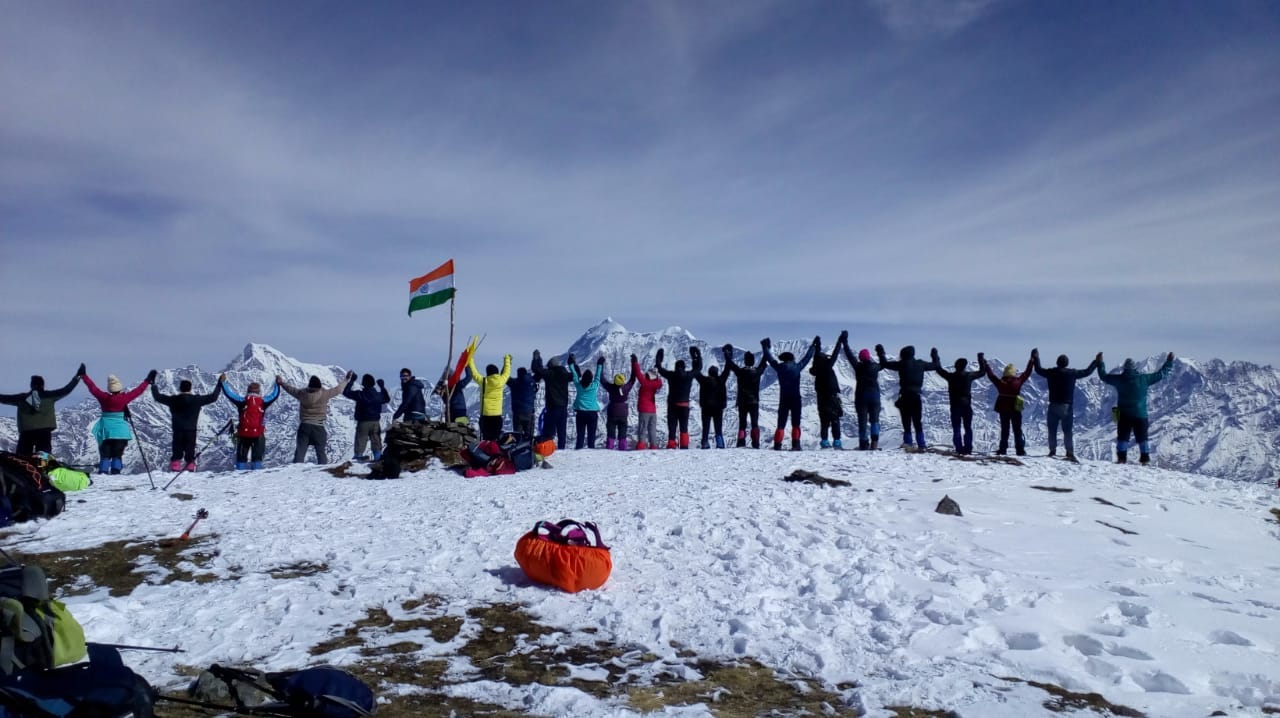 Summer is a stunning exhibit of the verdant expanse of meadows called "bugyals" in the local dialect, glossy green fir and oak trees, bright summer-blossoms, and sun-lit peaks glimmering in myriad hues of orange, red and golden.
Spring and fall offer an interesting amalgamation of winter and summer seasons. You are treated to such diverse frames of nature that you want to capture each set to be able to relish it for a lifetime. Photographers revel in nature's bounty with clear azure-blue skies set against a backdrop of dense forests and lofty peaks shimmering in shades of alpenglow.
Lakeside camping at the oak-hemmed lake of Bekaltal, watching the colossal peaks glow against a brilliant star-lit sky, star-gazing and trekking your way through the breathtakingly beautiful groves of rhododendrons and thicket of oak trees are the ultra selling points of this all-season trek.
Brahmatal Lake overlooked by grand Himalayan peaks and a lone oak tree mesmerizes you with its astonishingly serene and calm beauty. It is one of the few Himalayan treks that stun you with lakeside camping on two consecutive days.
The summit exhibits an illuminating view of magnificent Himalayan ranges and gives close up views of Mt.Trishul, Nandaghunti, Neelkanth, Mt. Kamet and Chaukhamba.
Brahmatal trek showcases stunning sunrise and sunset hues, from Lohajung to Basecamp. It will be unjust if we don't mention the illuminating night sky that offers a golden opportunity to star-gazers to revel in the glittering expanse under a galaxy of stars.
Even though Brahmatal prides itself on being an all-season trek, undertaking this trek in winters is an out-of-the-world experience. The snow-capped panorama of the trek is simply stunning. For someone seeking solitude, Brahmatal trek is an ideal offbeat trek which attracts less crowd than other winter treks. It is touted as the topnotch winter-trek.
Mythology
Rooted deep in mythology, Brahmatal trek allures you with a mystic charm which is hard to resist.
The name Brahmatal owes its origin to Lord Brahma, the Creator who meditated here.
You get astonishing views of the sacred Nanda Devi peak, abode of Goddess Nanda Devi, Mount Trishul resembling a sacred trident (Trishul) and Mount Kamet, the sacred mountain of the Hindus.
Lohajung, the base camp for Brahmatal trek prides itself with the fact that Goddess Parvati had a fight with Lohasur and killed him at this place. The name Lohajung translates to fight (Jung) with demon Lohasur.
The trek
Adventurous yet soothing, easy yet challenging, picturesque yet moderate; Brahmatal trek is a perfect blend that offers an easy terrain for amateurs and also treacherous trails to adventure junkies seeking an element of thrill.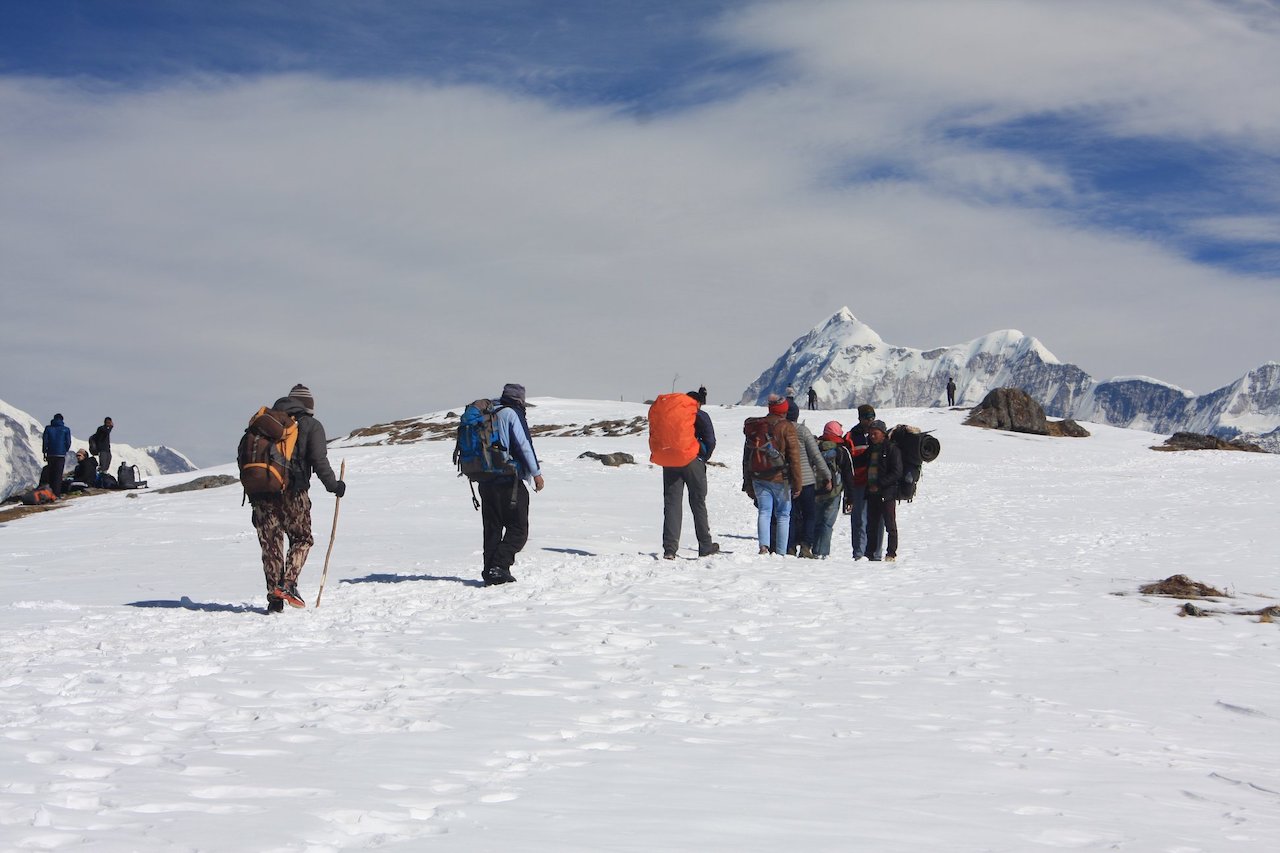 This enchanting trek takes you to a staggering altitude of 12,250 feet through a trekking distance of 30 km. The trek commences at Lohajung, which is at a distance of 210 km. from Kathgodam. It takes 10 hours from Kathgodham to reach Lohajung. The next lap of the trek traverses from Lohajung to Bekaltal and then to Brahmatal. Your onward journey traverses through treacherous trails at Chota Jhandidar and Bada Jhandidar and brings you to Brahmatal summit which flatters you with a front-seat view of grandiose Himalayan peaks which rise above 7,000 metres.
In addition, this trek also treats you to a beautiful vista of the Roopkund trek trail including views of Ali Bugyal, Bedni Bugyal, and Junargali.
Some facts
Region- Kumaon Himalayas, Uttarakhand
Altitude-Highest altitude 12,250 feet
Trekking distance-30 km
Trek Duration-6 days
Difficulty level-Easy to moderate
Base Camp- Lohajung
Best time to visit- November to April
Itinerary
What's Included
Inclusions
Mountain course certified and experienced Trek Leader.
Supporting staff.
All meals on scheduled time(Vegetarion and Delicious Only )
Quality equipments for Trekking.
Fully equipped medical kit and safety equipments.
All kind of permits and camping charges.
Exclusions
Personal expenses done by the trekkers while on the trek.
Food items purchased by trekkers during the trek at local canteens or during the drive.
Mules or porters to carry personal luggage.
Anything not mentioned in Inclusions.
Health and Safety
For any Himalayan Trek, Ideal BMI for a trekker should be 18.5 to 24.9
To keep a check of this please calculate BMI here
Below given Safety checks should be done to get prepared for any Himalayan Trek.


Balance : As well said a balanced mind and body gives out best in every condition and that too works in Himalayan treks as well.
Legs Strength : Body and Legs Strength is required to carry body weight as well as the backpack while trekking in uneven multi terrains. Generally, a good strength on legs works out good in any Trek. One can gain legs strength by doing simple Squats.
Muscle Flexibility : While trekking in Trans Himalayan region with a flexible body one can easily achieve full range of movement and this can be really helpful for trekkers as well as trek leads. A good flexible will be an advantage while walking on trails, climbing and river crossing etc. Flexibility can be achieved by simple stretching, yoga etc.
Cardiovascular Endurance : Cardiovascular endurance is defined as the ability of lungs and heart to transmit oxygen to the body muscles. All Himalayan treks are basically ascending descending the slopes and for this trekkers should be having a good cardiovascular endurance. Anyone planning for a Himalayan trek can attain this capacity by doing any cardio exercise like running, swimming, cycling etc.
Cancellation
Cancel up to 30 days before trek start date and get full refund.
Cancel up to 15 days before trek start date and get 70% refund.
Cancel up to 7 days before trek start date and get 50% refund.
Cancel within 7 days of trek start date and the cost of the full reservation is non-refundable.
Refunds will be processed within 7-10 working days from the date of cancellation.
In case of refund, 2.5% (Payment processing charges) will be applicable.
Eligible refund amount will be calculated from the total trek fee offered, in case you have made partial payment only.