Trek Overview
The mountains of Garhwal come with dramatic formations and diverse geographic regions. Streams of crystal-clear rivers formed by the melting of glaciers, lush green meadows, hamlets, pine forests and rugged terrain form the varied topography of this region. But it is perhaps the mythological aspect of the Har Ki Dun trek that makes this onerous journey more special. It would be a heavenly experience to trek along the Valley of Gods, and follow the track once beaten by Pandavas on their way to the heavens. So how closer you come to heavens is quite impossible to say, but the panorama of the gorgeous settings amid the snow-clad peaks would be no less than a divine experience.
Har ki Dun exists as one of the most spiritual and ancient treks of all time. Being the most beautiful valley in the Garhwal region, this trek attracts a large number of adventure enthusiast every year. It is agreed to be one of the top listed favourable summer treks for the trekkers that takes you through some of the most beautiful scenic views. You would find meadows covered in green patches with orchids, rhododendrons and dense jungle all around you during the trek. Har ki Dun is nested at a height of 11,675ft and still is granted as an Easy trek for the trekkers with little or no experience at all.
Har ki Dun is known as the hanging valley and along with that, this trek would take you through some of the most beautiful scenes. This trek is also known as beginners trek and during your trek, you would come across some lush greenery and the vibrant beauty of the mountains. You can soak in the positive energy dripping from the beauty of the region with the dense alpine forests and the panoramic view of the mountains.
Trek Details
Pickup Point on Day 1- Dehradun Railway Station
Departure time from Dehradun Railway Station on Day 1- 7am
2nd Pickup Point on Day 1- Kitab Ghar bus stand, Mussoorie
Pick up time from Mussoorie- 7:45 a.m.
Drop Point on Day 7- Dehradun Railway Station
Arival time on Day 7 at Dehradun Railway Station- 6pm
Base Camp- Sankri
Distance from Dehradun to Basecamp, Sankri- 210 km
Cloak room: There is no seperate cloak room available. You can handover your lugguage to our team and collect while returning. We will be keeping it safely at Sankri in the same Homestay.
The shared vehicle will be Tata Sumo, Bolero, or similar and may be shared with a few other local passengers. The cab will be arranged from Dehradun to Sankri and Sankri to Dehradun.
We charge Rs.1200/- per person each side per person.
The cab is a 7-seater.
The whole cab costs 7500/- from Dehradun.
Trekkers may choose to travel by bus or local cab to reach Sankri.
The forest permits for international clients will be as actual and is to be paid by the trekker at the basecamp only.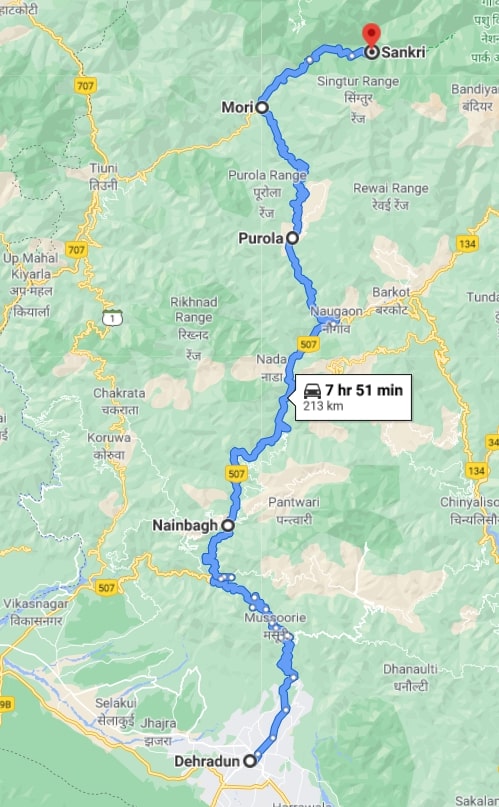 Major Points on the route from Dehradun to Sankri are Nainbagh, Purola and Mori
This trek is one of a kind because it would take you through one of the most unexplored regions of Garhwal Himalayas where civilization has not affected the lifestyles of the simple hill folk here. The forests have decorated the area in such a way that every scene would be picturesque. This place is rich in wildlife and is a heaven for nature lovers as well those people who are deep bird watchers. Har Ki Dun trek can be done both in summers and winters and is accessible through Govind National Park. The Har Ki dun trek takes you through thickets, terraced fields, glaciers, fragrant orchids, and sprawling meadows giving you an overall experience of every kind of terrain. You would get once in a lifetime chance to witness the various species of birds and mammals that thrive in this region.
Har ki Dun: The Hanging Valley
Har ki Dun is located at the base of Fateh Parvat, at an altitude of 3,556 meters which makes approximately more than 11,600ft. Apart from being totally surrounded by dense pine trees, this place offers a special habitat to animals like black bears, langurs, and wild boars.
This place is a cradle shaped valley which is filled with ancient villages that are around 3000 years old. You would not just witness the beauty of the region but also get an opportunity to meet the local people and learn about their day to day life. While on the route of your trek you would come across many horses and cows grazing at the meadows and river banks. You can capture some of your best shots while you head out for this trek.
Har ki dun is one of a kind valley as it is the only place from where one can witness the Swargrohini 1, 2, 3, Bandar Poonch, black peak and Ruinsara peak. You would eventually realize that at this place Nature never skips the chance to amaze humanity.
Har ki dun valley is covered with some of the most ancient villages that are over 3,000 years old. While the locals of Har ki dun valley mainly worship Duryodhana as it is believed that the valley was the home of the worrier Bhog Dat who was a supporter of Kaurava and that is the reason it is among few places where people worship Duryodhana. What makes this trek stand out from others is that this is a valley trek where you trek along the Supin River to Har Ki Dun trek in the Himalayas since the trekking trail isn't treaded upon too often, birds and animals thrive in this region.
The trek would take approximately 7- 9 days to complete. The base camp would be the Sankri village. First, you need to reach Dehradun which you can reach by road, air or even train. After that, you would drive to Sankri and then to Pauni Garaat. From here the trek to Har ki Dun begins.
The Legend
As the age-old mythological story goes, the Pandavas from the Mahabharata once took this route on their way to heaven through Swargarohini, a masiff of four peaks, three of which are clearly visible from several points along your route. It is from here that it derives its title, "The Valley of Gods".
Highlights of this Trek
Being the most popular trek among the trekkers this place holds a lot of secret places to itself and that is the reason it stands out. Apart from being rich in flora and fauna, this place will give you attractive glimpse of Swargarohini and Jaundhar Glacier that are in the south-east of this cradle-shaped valley. Once you reach Har Ki Dun valley, you can explore Morinda Lake, Jaundhar glacier, Borasu Pass.
Also, this trek would offer you some of the most mesmerizing views of the majestic peaks like Kalanag, Bandarpunch, and Swargarohini. The main highlights of this mesmerizing trip would be the traditional villages of Sankri, Saud, Taluka, Osla and Seema that have been culturally preserved for ages. You also would have the chance to witness the local and village culture. You will be entitled to some breathtaking views of Jaundhar Glacier and Morinda Lake.
Also, for people who love to see flowers, you can take a detour on the trek and explore Hata Valley. The meadows here are fully carpeted with alpine flowers that commonly bloom during the spring season and make a very pleasing sight. Though, contrary to the popular belief that Har Ki Dun trek is not a very easy trek and has a long trail on almost all days and so it is said to be suitable for seasoned trekkers as well as beginners.
This trail is situated in the Govind Wildlife Sanctuary & National Park in Garhwal Himalayas. This trek of Har ki dun valley would give you the panoramic view of the Mother Nature and its wonders. The cradle shaped valley of Har Ki dun signifies peace and serene beauty and describes Nature in an ultimate way to attain peace and calmness. Each step that you take while trekking in this magnificent valley would allow you to get the feeling of paradise in the lap of Himalayas.
The beautiful state bird of Uttarakhand, the colorful Himalayan Monal, thrives in the forests here. The Har ki Dun trail takes you back in the medieval times. This cradle shaped valley is populated with ancient villages that are over 3,000 years old. This is also one of the few treks where you would be able to come across the local lifestyle in close proximity and get one in a lifetime of an experience living their lives and tasting their cuisine.
This trek is not challenging and can be said to be a moderate to difficult trek with just 44km to trek. So it can be done by fit beginners or families with children over 9 years.
Though, reaching Har ki Dun would involve about 5-6 hours of walking each day and hence you should be prepared for that. You will spend days walking through the gorgeous landscape, and evenings around campfires under starry skies with the snow-capped mountains around you. But if you choose this to be your first trek, then there might be some problems for you on the trek, so you need to be mentally and physically prepared for it. You can start a regular fitness routine 3 to 5 months prior to your trek and start preparing your body for the trek. This is a widely traversed trek and with a little hard work and dedication, you will be able to complete this trek.
How to Reach Har ki Dun
You have to start your journey from Dehradun and you can reach Dehradun by air, train or road.
Dehradun to Sankri- The first destination is Sankri which is 220kms away from Dehradun and would take you approximately 10 hours to reach. You can even come from Delhi to Sankri by bus. At Sankri you would find the last ATM throughout the trek at Purola.
The next destination is Chilurgad via Taluka which is a 12km drive and would take you approximately 1 hour. After reaching Taluka you would trek to Chilurgad which is 10kms away and would take 6 hours.
The next morning the trek to Simantra begins which is 9kms away and would take 6 hours.
Then from Simantra, the trek to ultimate Har ki Dun begins which is 5 km away and would take you 4 hours at least. From Har ki Dun hilltop you would be able to see snow peaks like Swargarohini, Hata Peak, Black Peak and many more.
Best Time To Visit Har ki Dun
This place is actually a hotspot for trekkers all year round but the best time to visit this place is during summers and monsoons which is from April till November.
The best time to do this trek would be summer (from April to June) & Post Monsoon (from September to December). Although, if you have a different set of plans and are interested in snow trekking then the best time to visit is winters. Since climatic conditions in the high altitudes vary from the plains you need to take adequate time to get acclimatized to high altitudes.
In Summer

You can expect subtle and pleasing weather during the summer season. Though usually, you won't find any fog and sky remains clear most of the time but you really can't make any predictions about the weather here. If you are planning a trek in the summer season then you must carry light woolen clothes as temperature mostly remains low during the night.

Sankri: 5°C
Seema: 1 to 2°C
Har Ki Dun: (-1° C) to -2°C
In Monsoon

During the monsoon season, the trekking trails remain most prone to landslide. The roads usually remain blocked, but the scenic beauty is worth all the risk. The bit when you are travelling in monsoons you must make sure to check with local authorities, tour guides or tour operators about the weather and road conditions before you actually start your trip or trek.
In Winter

The serenity and solitude are at its best during winters at Har Ki Dun Valley. The valley is showered with snowfall during winters and the accommodation options are also few. If you plan on travelling during the winter season then don't forget to carry warm clothes, jackets, raincoats, fleece jackets, and thermals

Sankri: (-1) °C
Seema: (-3) °C
Har Ki Dun: (-15) °C to (-10) °C
The temperature at Har Ki Dun
If you want to trek in the season of spring and be able to experience the rhododendrons and other flowers of the region and you can opt for the months of October and November. If you are looking for a snow trek, which will be a bigger challenge worth taking if you want a more adventurous and thrilling journey to Har-Ki Dun to choose to trek this between March to April. Har Ki Dun Trek Temperature goes from about 15 degrees Celsius in the morning to 2 degrees Celsius at night. The temperatures in Har Ki Dun Trek range in winters from 2-degree Celsius to -2 degrees celsius in the months of December and mid-January, and -5 degrees Celsius to -10 degrees Celsius in February. In summer between the months of May and June, the day temperature is 25 to 30-degree Celsius and at night the temperature is 10 to 5-degree celsius.
Difficulty Level of Trek
This trek can be graded as easy to moderate; therefore, you can think of doing this even if you are a beginner. But if this is actually the first trek of your life, then there might be some problems for you on the trek, so you need to be mentally and physically prepared for it. For this, you can start off with a regular fitness routine 3 to 5 months prior to your trek and start preparing your body for the trek. This is a widely traversed trek and with a little hard work and dedication, you will be able to complete this trek.
Itinerary
What's Included
Inclusions
High-quality trekking gears (Tents, Sleeping Bags, Gaiters, Crampons).
Experienced Staff (Guides, Cooking Staff, Helpers, Porters).
Delicious, Hygienic & Nutritious Meals on scheduled time (Morning Tea, Breakfast, Lunch, Evening Snacks & Dinner).
Warm water for drinking only in the morning and evening. Trekkers can fill up their thermos-flask and bottles accordingly.
All forest permits and camping charges.
Exclusions
Food items purchased by individuals at local canteens on the trek or during the drive.
Any early return travel costs or accommodation except for the days as per the itinerary.
Any expenses for medical treatment of injury or accident before, during or after the trek.
Hearter, geyser, firewood/bonfire are not included or covered in the package.
Hot water for bathing/washing or any other purpose except drinking*
All the cutlery (mugs, spoons, plate,lunch box etc)
To and Fro traveling charges.
*Hot water for bathing/washing on a chargeable basis, but that too only if resources are available
Health and Safety
For any Himalayan Trek, Ideal BMI for a trekker should be 18.5 to 24.9
To keep a check of this please calculate BMI here
Below given Safety checks should be done to get prepared for any Himalayan Trek.


Balance : As well said a balanced mind and body gives out best in every condition and that too works in Himalayan treks as well.
Legs Strength : Body and Legs Strength is required to carry body weight as well as the backpack while trekking in uneven multi terrains. Generally, a good strength on legs works out good in any Trek. One can gain legs strength by doing simple Squats.
Muscle Flexibility : While trekking in Trans Himalayan region with a flexible body one can easily achieve full range of movement and this can be really helpful for trekkers as well as trek leads. A good flexible will be an advantage while walking on trails, climbing and river crossing etc. Flexibility can be achieved by simple stretching, yoga etc.
Cardiovascular Endurance : Cardiovascular endurance is defined as the ability of lungs and heart to transmit oxygen to the body muscles. All Himalayan treks are basically ascending descending the slopes and for this trekkers should be having a good cardiovascular endurance. Anyone planning for a Himalayan trek can attain this capacity by doing any cardio exercise like running, swimming, cycling etc.
Cancellation
In case you wish to cancel your trek please email us at cancel@moxtain.com
Cancellation charges are based on the total trek fee, irrespective of the amount paid either full or partial.
The cancellation policy is based on the original booking time and original start date of the trek.
Cancel before 30 days of trek start date and get full refund after deduction of 2.5% payment processing fee.
Cancel before 15 days of trek start date and get refund after deduction of 20% of total trek fee.
Cancel before 10 days of trek start date and get refund after deduction of 40% of total trek fee.
Cancel before 5 days of trek start date and get refund after deduction of 60% of total trek fee.
Trek fee is non-refundable if you cancel within 4 days before trek start date.
Trek cancellation due to weather:
In case of an incomplete trek due to weather conditions, one can opt for the same trek again throughout their lifetime on all our fixed departure for the same trek.
This attempt only covers the trek fee and will not include any rentals or the transportation amount paid earlier.
This is non-transferable.