16 Reasons to do Hampta Pass Trek
If your trekking diary reads, "A date with the mountains swarming with all the dramatic turns of a phenomenal trek", then Hampta Pass is your true calling. It is one of the most wholesome treks interspersed with the most startling twists in landscapes.
Awash with the most diverse topography a trekker can dream of, Hampta Pass trek bewitches you with an amazing array of assorted landscapes in a short span of 5 days. Vertical rock walls, gorgeous waterfalls, glittering glaciers, rivulets, jagged mountains, lush meadows, pine woods, rhododendron forests, beautiful campsites, desolate Himalayan deserts, tribal Himalayan terrain and a divinely beautiful glacial lake, Hampta Pass trek offers you a crisp motley of breathtaking panorama.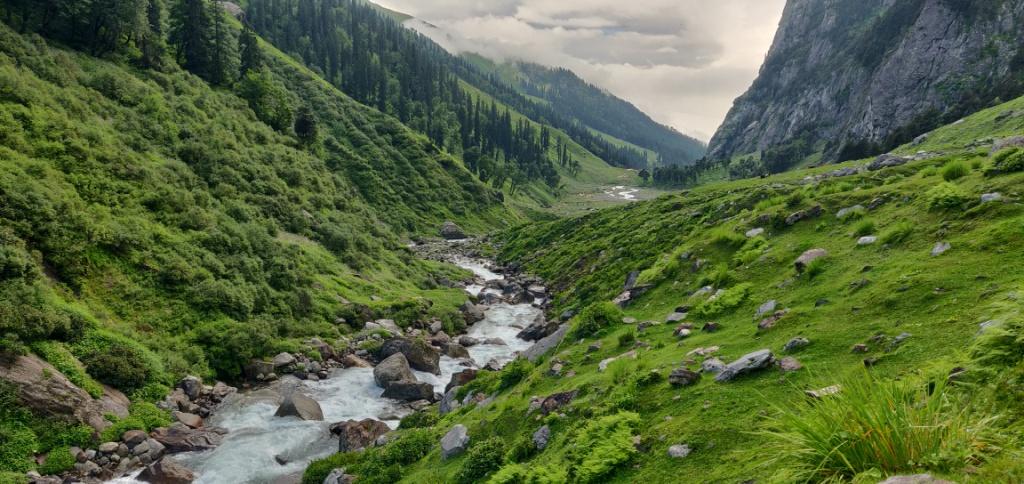 In a nutshell, this heavenly trek snuggled in the pristine lap of nature is short but dotted with all the variants of Himalayan topography.
The trek gets its name from the Hampta village, nestled beautifully in the Pir Panjal Range of the Himalayas at an astounding altitude of 8,400 feet.
Hampta Pass is the crossover corridor between the two lovely valleys in Himachal Pradesh, Chandra Valley in Spiti and Kullu Valley. Many shepherds use this pass to reach Spiti Valley from Kullu Valley.
Let's discover some reason that makes Hampta Pass such a dramatic crossover trek
1. Elevation of the Trek
Hampta Pass is one of those heavenly treks that take you to a staggering altitude of 14,010 feet. For a relatively short trek that can be completed in just 5 days, gaining such an astounding height is quite an achievement.
2. Trek Grade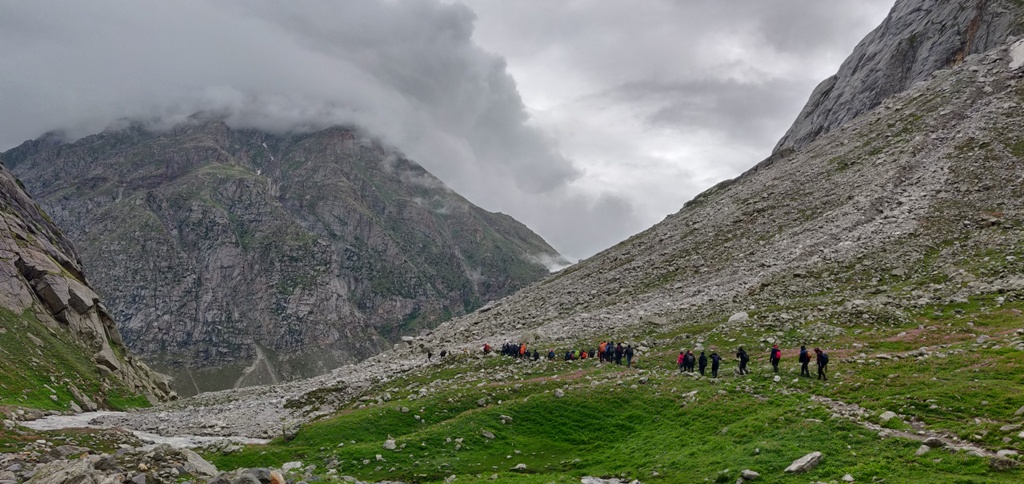 Easy to moderate level of Hampta Pass trek makes it an ideal getaway for trekkers. Trekkers marvel at the fact that they are treated to such crisp contrasting Himalayan vista without having to do any long stretches of treacherous trekking. Most of the trekking trail is moderately challenging except for a few stretches that demand steep ascends and careful descends.
3. Connectivity
Manali is a start point of the trek. It is well connected to all the major cities of India via road, train or flight.
By road-

Manali is around 550 kilometres from Delhi and 310 kilometres from Chandigarh. There are many Volvo, Deluxe or State transport buses that connect these cities to Manali. Cities like Ambala Dehradun, Haridwar, Shimla, Dharamshala have regular buses and taxis going to Manali.
By train-

There is no direct train to Manali. You can take the Shatabdi train till Chandigarh and then hire a cab or take a bus to Manali. You can even take a train to Pathankot and then hire a cab or take a bus to Manali.
By flight-

The nearest airport to Manali is at Bhuntar, located 52 kilometres away from Manali. Many private airlines and Indian Airlines operate regular flights to Bhuntar Airport. The nearest international airport is at Chandigarh. From Bhuntar, you can either take a cab or a direct bus to Manali.
4. Short Trek with all the beauty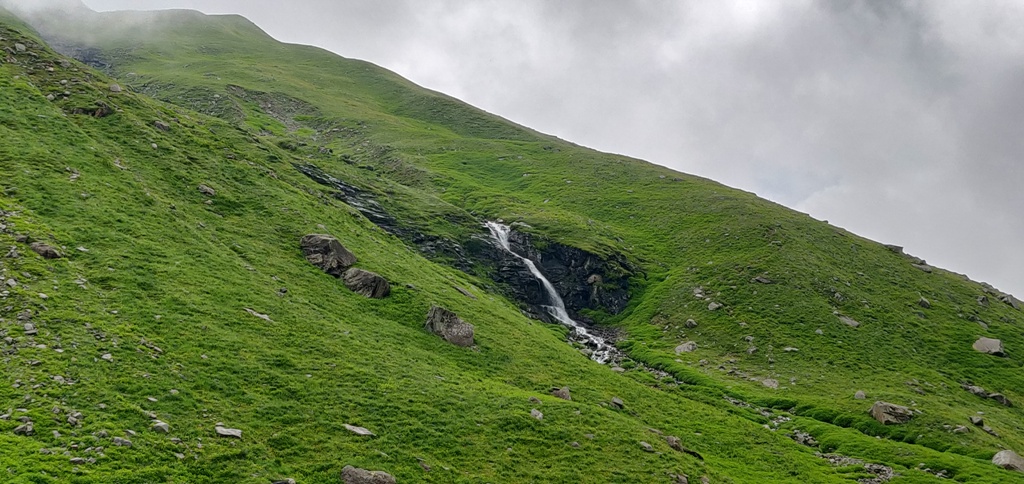 One of the biggest bargains of Hampta Pass Trek is touching an altitude of 14,010 feet in a span of just 5 days by traversing a short distance of 28 kilometres. The trek can be completed in 4 days but mostly we add one more day to visit the divinely beautiful Chandra Taal, a high altitude glacial lake.
5. Perfect for both Beginners and Expert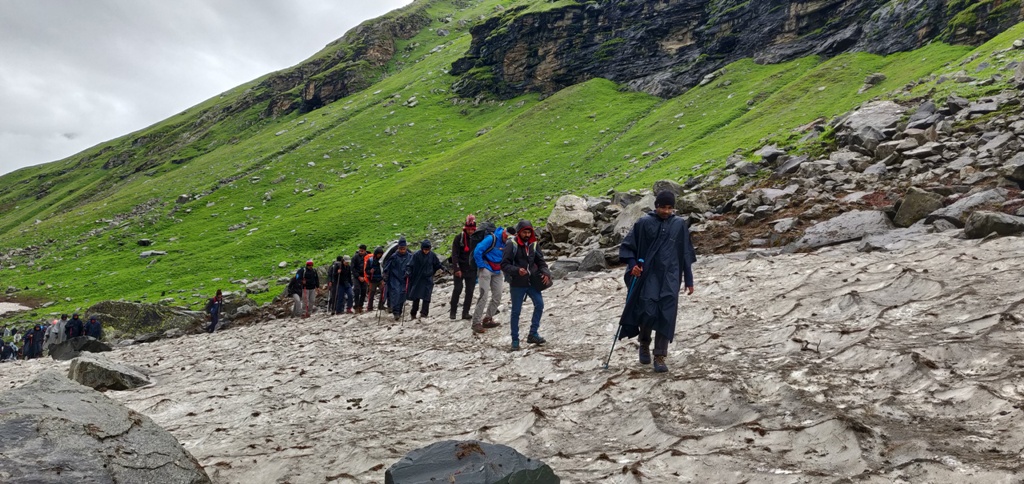 Anyone from beginners/amateur trekkers to seasoned hikers can undertake the Hampta Pass Trek. There is no profound requirement for undertaking this trek. The trek poses fewer challenges as compared to other Himalayan treks and these challenging terrains are evenly spread in stages. The difficulty of the pass is mainly governed by weather conditions and not by its hiking terrain.
6. Dynamic landscapes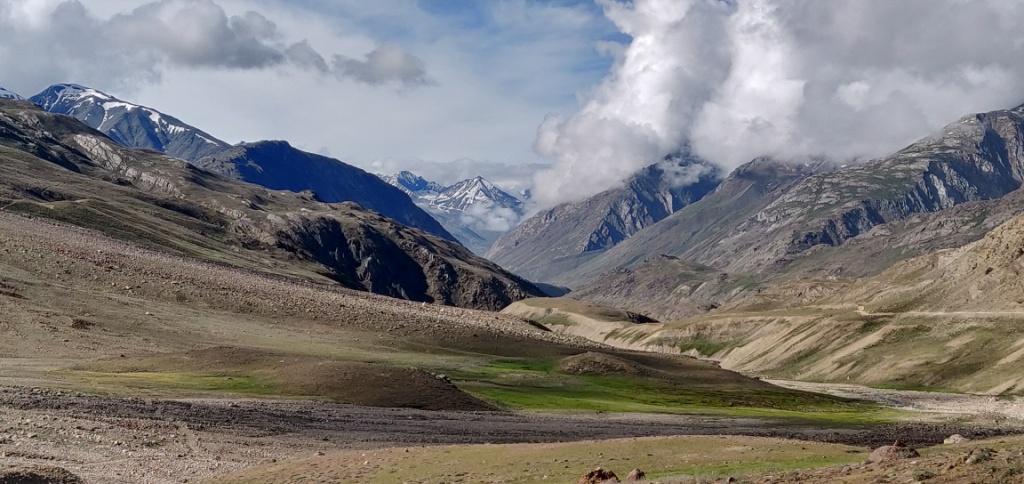 Hampta Valley has a funnel-like narrow terrain enriched with a diverse ecosystem, which is a visual treat to your senses. The most incredible twists in the scenery leave you spellbound. The trek journeys over cascading waterfalls, fast-flowing rivers, hanging glaciers and interesting terrain. From dense forests at Chika giving way to wildflower meadows to desert oasis and lush green valleys of Kullu leading to perpendicular overhang featuring the deserts of Lahaul below and the surrounding mountains at a distance; the rapidly changing landscapes make Hampta Pass one of the most dramatic crossover treks.
7. Hampta and Sethan village
Small hamlets in the Kullu district of Himachal Pradesh, Hampta and Sethan villages give you a sneak peek into the culture and lifestyles of the local populace. The inhabitants of these villages come from a community that has its origins in the Spiti and Kinnaur region of Himachal Pradesh. Lose yourself in oblivion as these villages take you back in time; relax, unwind and soak yourself in the blissful solitude of these tiny Buddhist locations.
8. Interesting terrain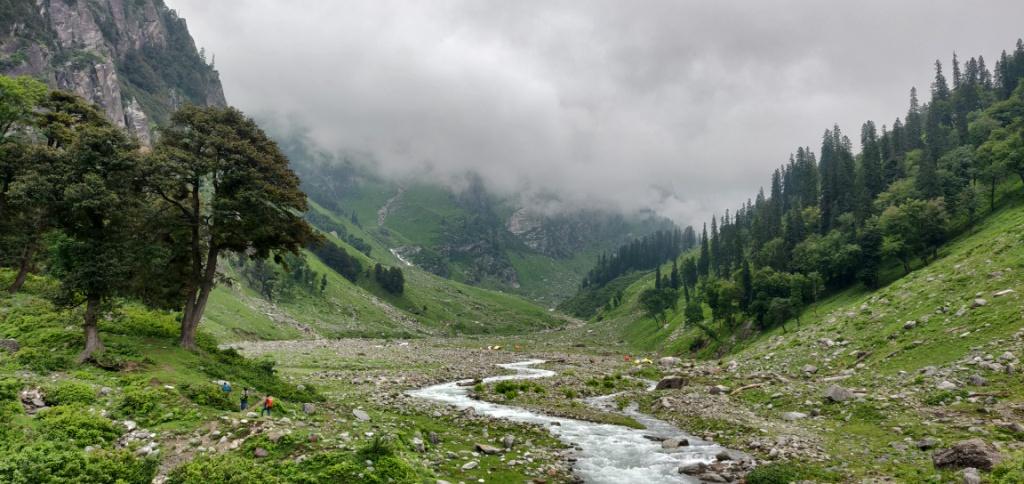 The trek is an interesting mix of discreet hairpin bends, gradually ascends, steep hikes, challenging descends traversing through the beautiful Himalayan landscape. You journey through forest trails, verdant meadows, flat grasslands and walk over huge chunks of rocks, boulders, moraines and on long patches of ice and snow.
Book Now
9. Exquisite flora and fauna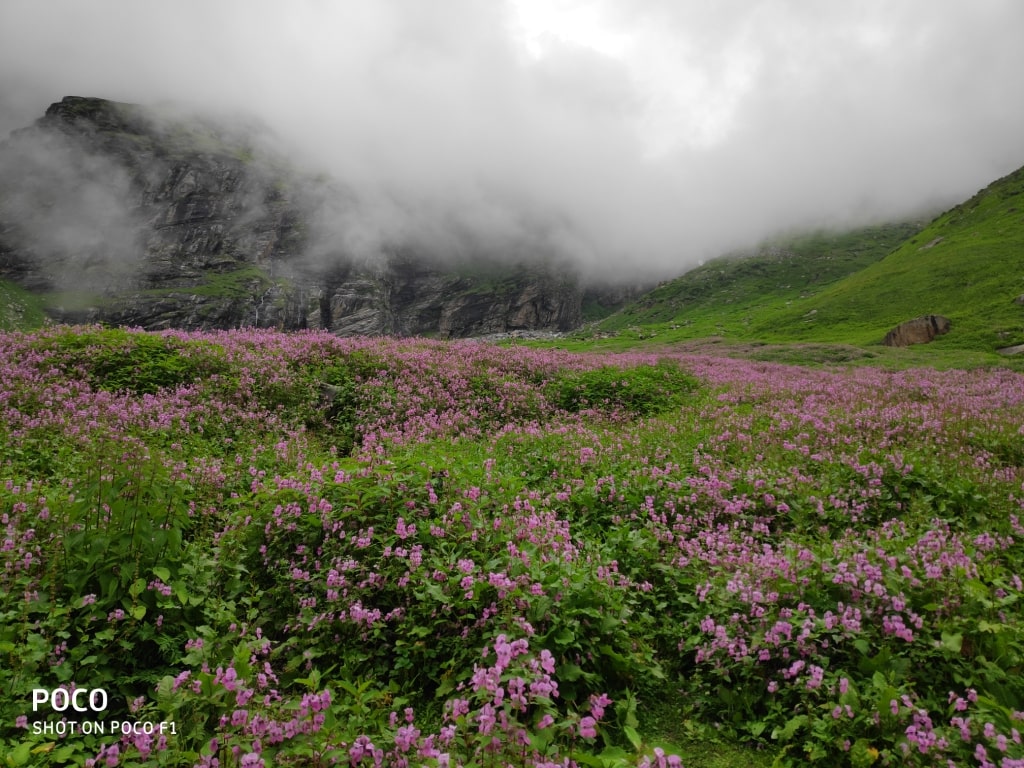 You are treated to a unique variety of exotic mountain flowers and wildflowers all through the trek. Myriad hues of wildflowers in red, white, blue, yellow, pink, orange and lavender scattered across the expansive terrain make for a picture straight out of a storybook. These beautiful flowers embellish the landscape, the mighty rocks standing against the backdrop of delicate flowers make for a unique sight. Dwarf rhododendrons lining the meandering forest trails cast a pretty reddish-pink hue on the landscape. You encounter shepherd dogs, sheep, colourful Himalayan birds like white-capped redstart and whistling thrushes that inhabit the alpine forests. The dense forests of pinewood, tall Deodar trees, maple trees, silver birch, toss and mighty oak pave way for tiny meadows and grasslands cuddled between the colossal mountains. After savoring the breathtaking views of the lush green Kullu valleys, the crisp opposite arid landscape of Lahaul and Spiti dotted with the sparse vegetation smacks you in your face.
10. Impressive Himalayan Ranges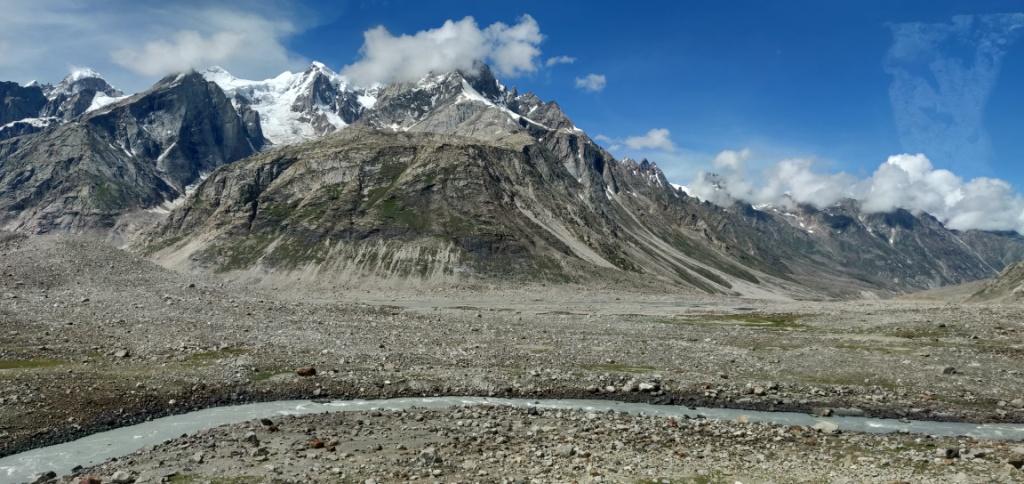 Massive Pir Panjal Range, mountains of the Dhauladhar Range, eerie mountains of Lahaul and Spiti take you on a wholesome expedition around the mammoth Himalayas. The view of the snow-clad peaks of Deo Tibba, Mount Indrasen and it's glaciers from the top of the Hampta Pass is surreal.
11. Splendid campsites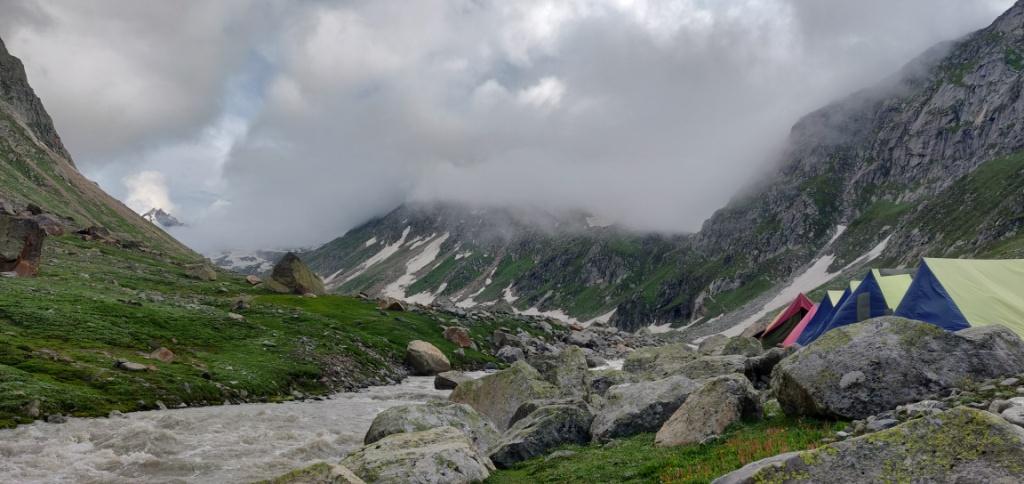 The dramatic terrain integral to Hampta Pass trek flatters you with distinct campsites throughout the trek. Jobra, the first campsite sits on the edge of a forest which is a mix of pine, maple and birch trees. The 2nd campsite Jwara, bejewelled by colorful wildflowers is a beautiful meadow perched at the meeting point of a valley. The campsite at Jwara is shielded by Dhauladhar range on one side, rocky mountains on the other and located right across the gushing Rani Nala.
The next campsite of Balu ka Gera treats you to the very first view of Hampta Pass. The trail leading to Balu ka Gera is covered with sand deposits. It is believed that Balu ka Gera was formed by sand and dust deposited by the river. The name is a misnomer as it seems that Balu ka Gera is a mound of sand. But contrasting to its name, it is a flat plane covered with snow and green grass. The pretty pink and yellow flowers peppered around the campsite, surrounded by sky-high rocky cliffs make for the most picturesque sight. Balu ka Gera is shielded by Mount Indrasen on one side and Hanuman Tibba on the other.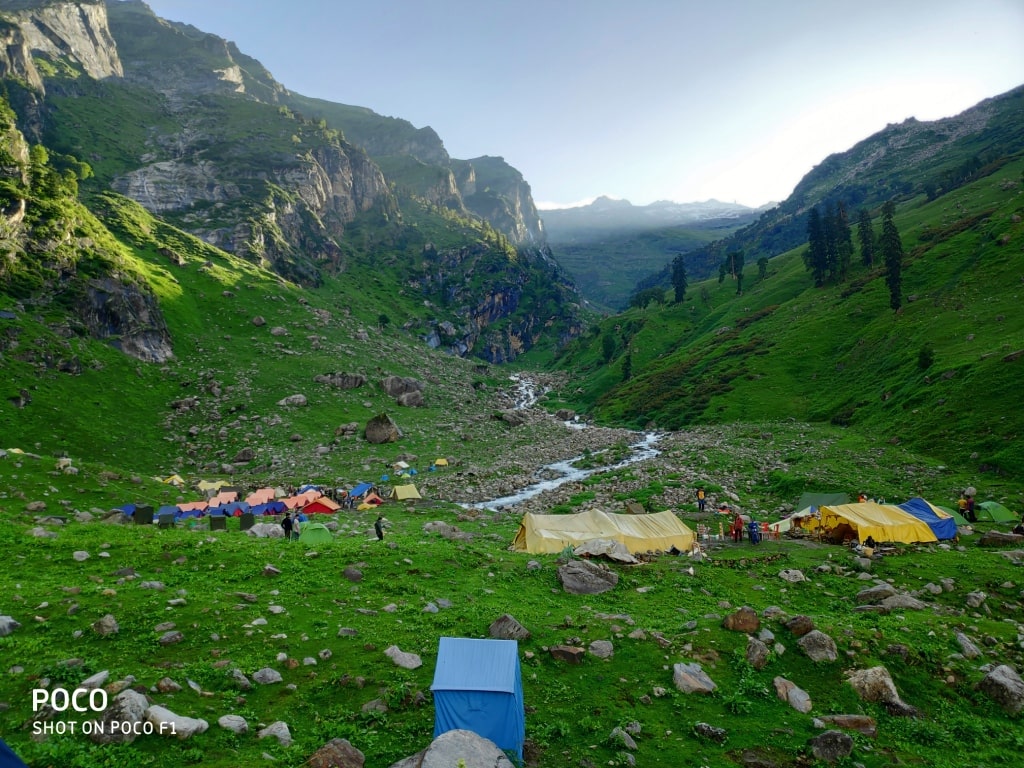 Shea Goru, the last and the most unique campsite is incredibly beautiful. It lies snugged as a single patch of greenery in the dry and cold barren desert of Lahaul Valley. A calm mountain stream flowing across the campsite infuses a quiet reprieve in you. Mount Indrasen peeking through the clouds is the most heavenly view offered by the Shea Goru campsite.
In case you are planning a visit to Chandra Taal Lake, then your last campsite will be at Chatru and not Shea Goru. Chatru is a lovely camping site surrounded by different mountain ranges, with the effervescent Chandra river flowing in full swing. Chatru is known to be an oasis in a cold desert.
Get one with nature by camping under the star-bedecked sky in the immaculate alpine surroundings of these pretty campsites.
12. Stream crossing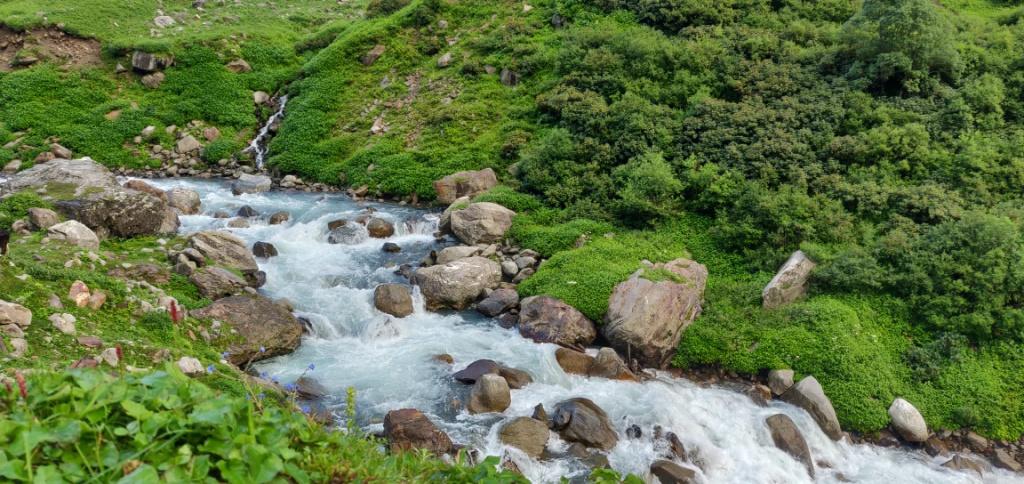 Crossing the mountain streams through wooden bridges, stones, and boulders, or by jumping over the rocks is a mighty experience of Hampta Pass trek. Stream crossing through icy cold waters is one of the most thrilling experiences of Hampta Pass Trek but it can really get tricky. At times the river bed has big rocks and needs careful manoeuvring. Many times you have to navigate when the water is low and currents are weak. Memories of crossing these adrenaline-pumping waterways are bound to excite you throughout your life.
13. A beautiful crossover trek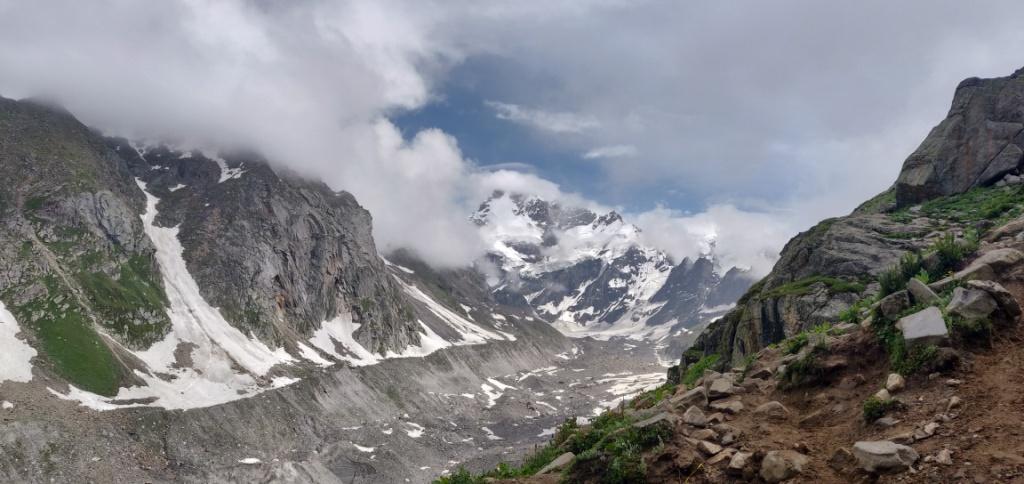 Crossing the Hampta Pass is a hair raising experience. You trek on loose rocks known as scree and on glacier deposits, also known as moraines. As you move ahead, moraines gradually disappear and everything gets covered in a white blanket of snow. The trek to Hampta Pass traverses through steady ascents of moderate and steep slopes, a trekking trail along the mountain stream brings you across two plateaus and two ridges. Just as you cross the second ridge, the climb to Hampta pass goes through a vertical trail and is a bit challenging. As you are nearing the Hampta Pass, a thick sheath of snow forms a bridge over the mountain stream. Crossing this snow bridge requires careful negotiation to avoid falling into the stream flowing underneath. This adrenaline-packed experience is the most electrifying element of the whole trek. The beauty of Hampta Pass beats away all the en-route fatigue. Grandiose Indrasen (The Throne of Rain God), Deo Tibba (The God's Abode) and several sky-high snow-clad peaks stare at you from a distance. The deserts of Lahaul Valley make for the most splendid sight into the abyss of melancholy valleys, at a sharp drop below.
The descent from the pass is a difficult one and requires careful negotiations.
14. Chandra Taal lake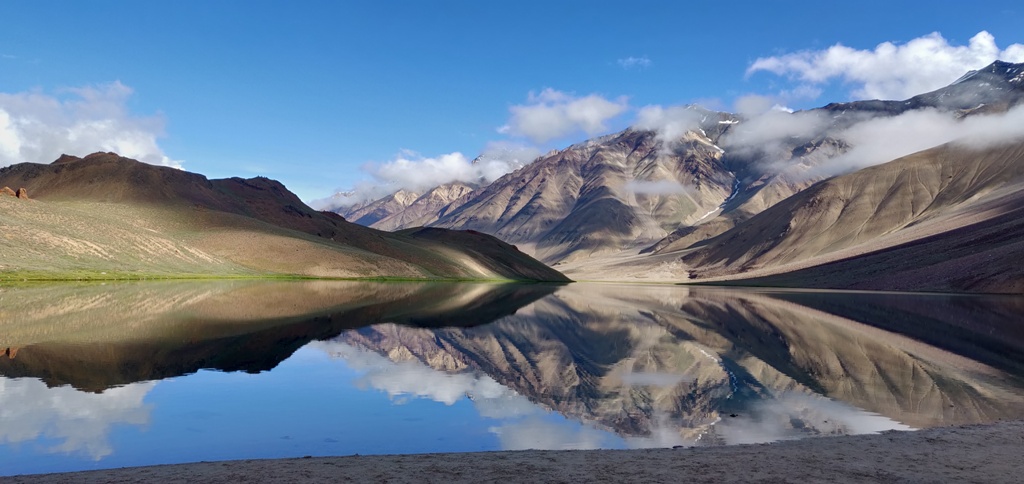 Chandratal lake which means the moon lake is an absolutely stunning piece of marvel created by nature. Visiting this high altitude alpine lake perched at a height of 14,110 feet (literally half the height of Mount Everest) is an absolute must. The lake can easily be touted as the soul and the spirit of the Hampta Pass trek. This crescent-shaped mass of shimmering water sits in the middle of a barren desert surrounded by the mammoth desert mountains. The crystal clear turquoise waters of the lake radiate magnetic energy, you have to visit it to experience the palpable luminance of water. Each moment of the day seems to be painting a new picture on the sparkling waters of the lake. While the daytime reflects the turquoise blue of the sky, dusk paints its waters in a shade of deep emerald and night time casts a silver shimmer on its glistening waters. No picture can capture the magical beauty of this fluorescent splash of blue which seems to be echoing the divine Buddhist prayers in the serene ambience of an arid landscape. The place has many legends associated with it, which makes it even a more enchanting place to visit. Chandra Taal is the source of the fiery Chandra river.
For the more adventurous sorts, there is a camping site available 3 kilometres away from the Chandratal Lake.
15. Lahaul and Spiti Valley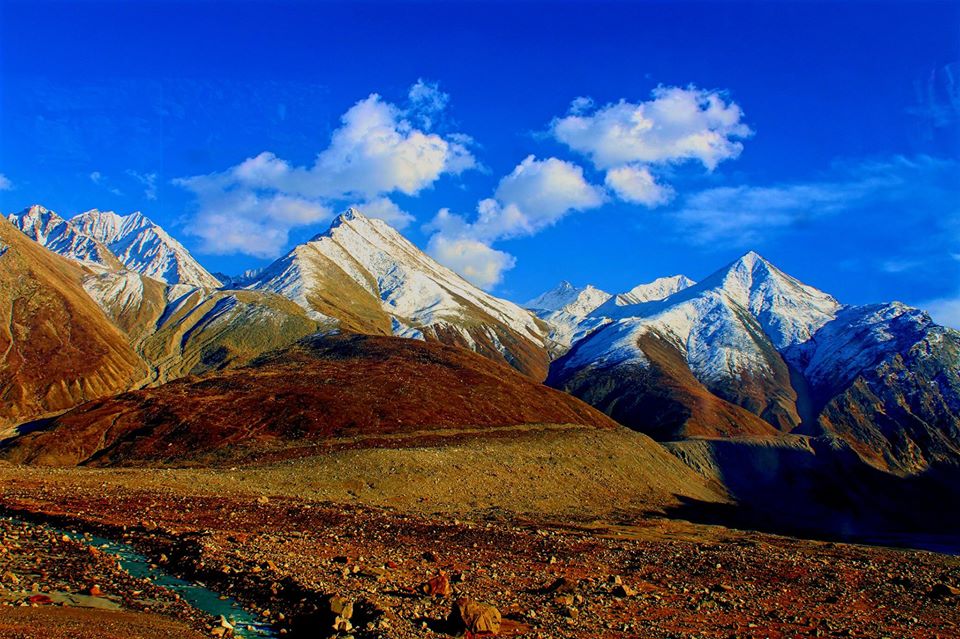 Lahaul and Spiti valleys snuggled in the remotest regions of Himachal are a part of tribal Himalayas. The barren wilderness of these valleys is in impressive contrast with an otherwise glossy green terrain of Himachal Pradesh. Spiti floors you with an enigmatic beauty wrapped in the most deserted solitude. The dry and cold winds add a unique charm to the exquisite beauty of this weather-beaten desert valley. Just as you start your descent from Hampta Pass, a 180-degree change in the landscape takes you by surprise. You enter the Lahaul Valley and lofty multi-hued mountains stand tall as if beckoning you into their embrace. The barren landscape of Lahaul Valley with very sparse vegetation bewitches you with it's a boundless muted spectrum.
16. Rohtang Valley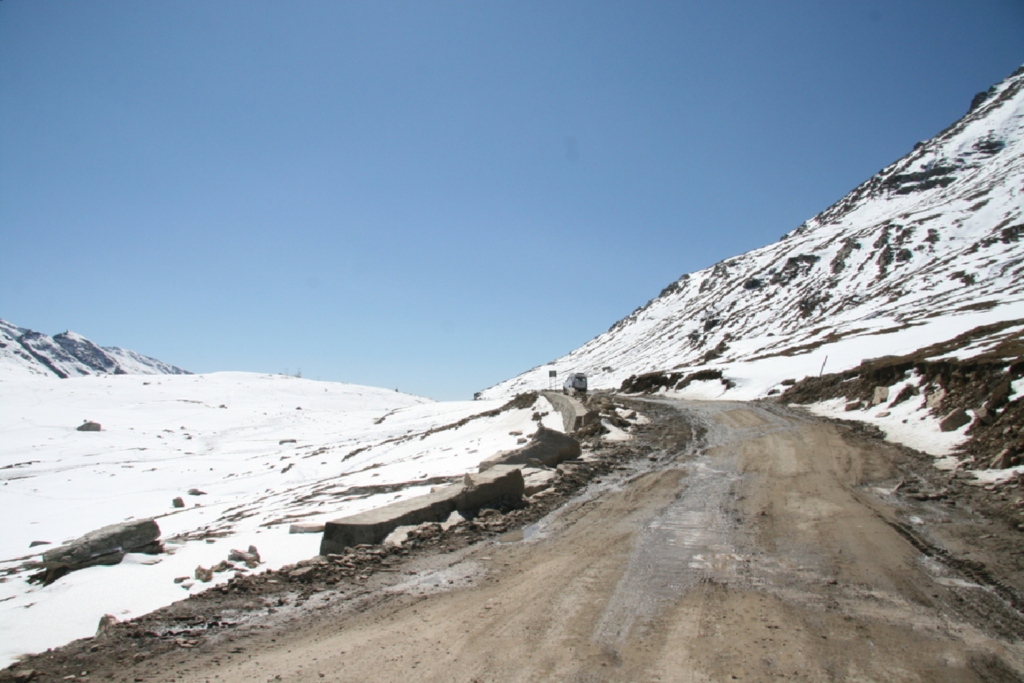 One of the radiant gems of the Hampta Pass Trek is the visit to Rohtang Valley. It is the grand finale of this splendid trek. This high altitude pass connects Kullu Valley to Lahaul and Spiti Valley. One of the hotspots with Bollywood directors, Rohtang Pass has witnessed shootings of "Jab We Met", "Yeh Jawaani Hai Deewani" and many more Bollywood blockbusters. The sheer magnitude of Rohtang's raw charm, big gigantic mountains standing tall against the azure blue skies, massive Himalayan peaks rising into the horizon and magnificence of the sprawling landscapes, leaves you spellbound.
Hampta Pass Trek is one life-changing experience that thrills you with an unparalleled variety and excitement all through the 5-day trekking expedition. Indeed one of the best short treks available! A once in a lifetime experience!