Best time to visit Rupin Pass trek
Rupin pass is a high altitude trek, full of adventures and beautiful sceneries. It is located in the Himalayan ranges at an altitude of 15,250 ft. above sea level. The trek starts from Dhaula in Uttarakhand and ends at Sangla in Himachal Pradesh, known for its apple and apricot orchards. For many reasons, it is one of the most admired treks by trekkers and adventure lovers. Besides its high altitude, you will be astonished by sudden changes in the scenery throughout the trek. Every day is packed with surprise, the journey will begin from Sewa where you will get a beautiful view of Rupin River, the trail is long but easy. While moving towards Saruwas Thatch you will pass through streams, snowy patches and forests. The mix of the terrain is what makes this trek interesting. Dhanderas Thatch is where you will find the green vibrant meadow. Slowly as you reach Upper Waterfall you will find snow, you will cross snow bridge which will be frightening but also fun. When you will reach on top you will find snow all over and best feeling of scaling the Rupin Pass altitude of 15250 ft successfully. . One of the fascinating things in this trek is the distinction you will see in the culture of two states.
Best time to visit Rupin pass trek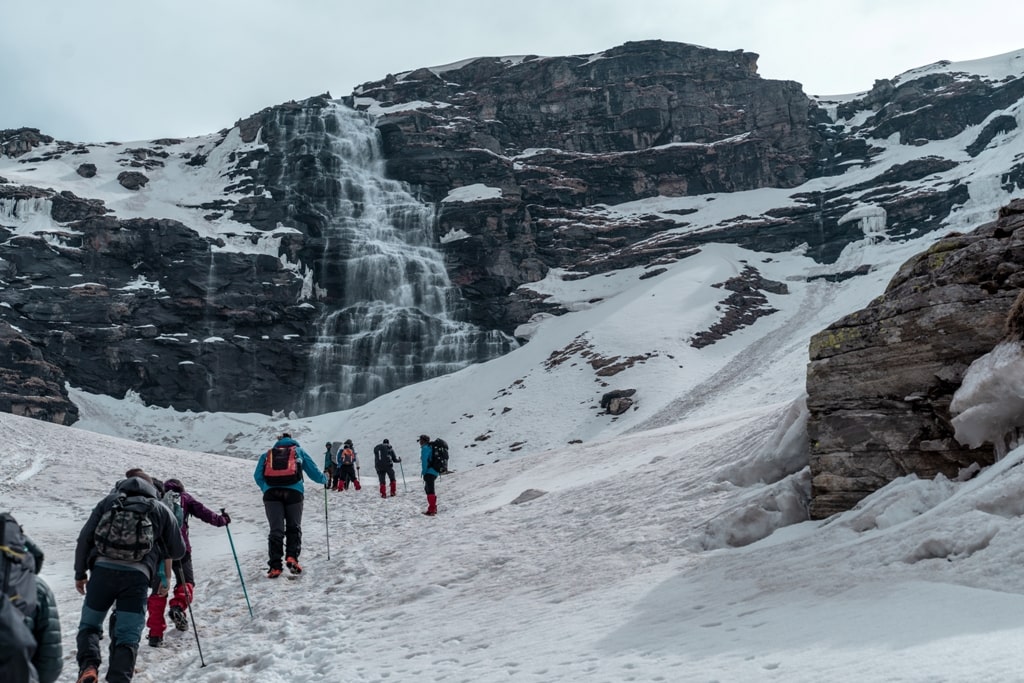 Best time to do Rupin Pass is in two seasons. One is summer before monsoon and the other is Autumn or post-monsoon, You must avoid trekking on high altitude treks during monsoon season as there are chances of flood and landslides.
Rupin Pass in May/ June(Summer):If you want to experience the taste of snow in the summertime then Rupin Pass Trek is the perfect one for you. The trek is adorned with a blanket of snow and a number of snow bridges that makes your experience an exciting and challenging one. The weather is unstable during this season, the nights are chilling and the days can be warm. You encounter the first snow bridge beyond Jhaka. The three stage Rupin Waterfall has a massive snow bridge that you climb to reach the top, making this trek one of the classic treks in India. Rupin Pass trek in May is covered with snow, from Dhanderas Thatch to Ronti Gad. By the Mid June the trek is glorious with the combination of green meadows, wildflowers blooming and the higher campsites like Rata Pheri and Ronti Gad still under the snow spell.

The temperature during the day: 20 to 25 degrees Celsius.
The temperature during the night: 4 to 5 degrees Celsius.

Rupin Pass in Sep./Oct. (Post Monsoon):Rupin Pass trek is closed during the monsoon season due to heavy snowfall and landslides which are common. The trek commences again after monsoon or the post monsoon season. As the months pass by, the Rupin Pass in September turns lush green, the frozen waterfalls are now free falling and gushing with soothing, colourful views of the meadow. The weather is stable and there is no snow during this time of the year. In October, the green meadows turn into crisp golden. By mid of October Rupin Pass experiences its first winter snow and the trek comes to a halt as it is dangerous to trek.

The temperature during the day: 13 to 18 degrees Celsius.
The temperature during the night: o to 7 degrees Celsius.
Highlights of trek
Waterfall: You will witness the famous three-stage Rupin waterfall. At the Rupin valley, you will see thousands of waterfall falling from a height that will appear as they are falling straight from the sky. This view will leave you awestruck.

Kinnaur Temple: It is a two-story temple of Kinnauri culture at Sewa.

Forests: On your trek, you will pass through forests of oak and fir. The forests will appear so suddenly that you will feel that you have entered in a new place. The meadows are covered with many wildflowers too.
Jhaka village, A hanging village: You will encounter this beautiful village on your trek, the position of the village makes it appear as if it is hanging from the cliff.
Snow bridge: Walking on the snow bridge is so much fun. On your way you will come across many snow bridges and crossing them is a lifetime experience that you will always cherish..
View of Kinner Kailash: Through the end of your trek you will get the striking view of Kailash peak which will leave you mesmerized.
How to reach Rupin Pass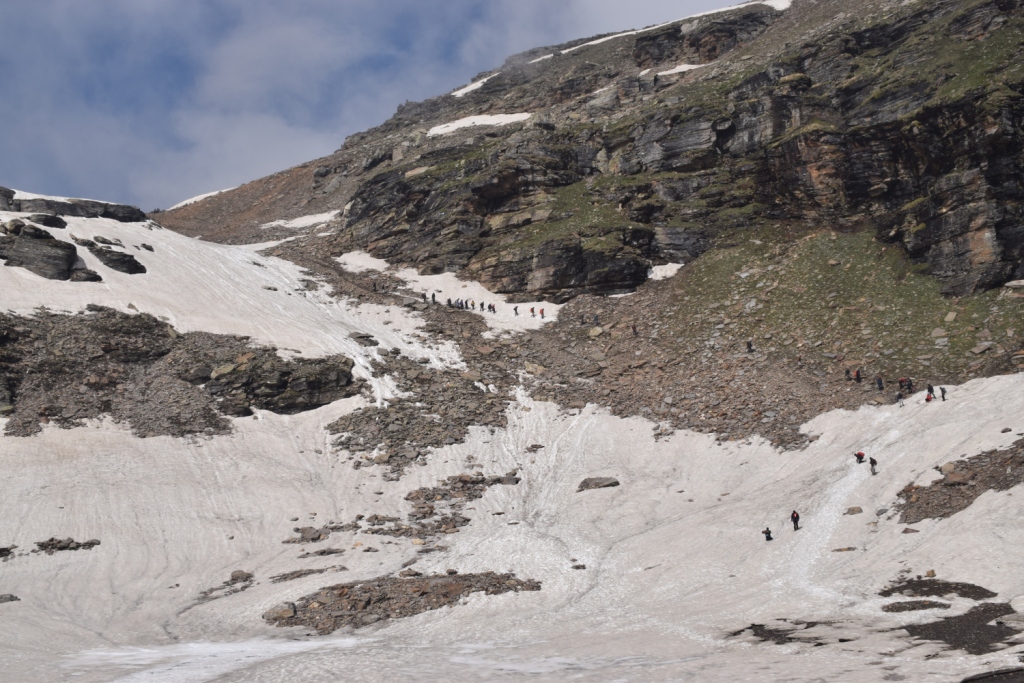 By Air: Jolly Grant Airport in Dehradun is 25km. away from the city. Flight from Delhi to Dehradun is available every day.
By Train: If you are planning to go from train best option is to catch an overnight train from Delhi to Dehradun.

Dehradun Express– departure - 9:10pm; arrival -5:00am
Nandadevi Express– departure - 11:50pm; arrival -5:40am

By Road: There are plenty of bus services available from Delhi to Dehradun. You can easily find a bus from ISBT Kashmiri Gate for Dehradun. There are both private and government buses, but government buses are recommended as they are much secure and trustworthy. The bus will drop you at ISBT Dehradun.
Note:
As there are no direct buses from Dehradun to Dhaula, you can take a bus at 5:30 am. to Sankri. Don't forget to enquire about the bus before leaving, you can get down at Naitwar and from there you can take shared vehicle till Dhaula or hire a cab to Dhaula. It will cost you around 800 -1000.
The last ATM you will find at Purola.
Rupin Pass trek difficulty
Trek to Rupin Pass is rated as moderate to difficult trek grade. You are expected to trek at least 5-6 hours every day. The difficulty of trek majorly depends on the terrain. The trails can get difficult sometimes from easy walking to steep climbing. The trail will challenge you as some climbing will be slippery or muddy. You have to walk on snowfields, water streams, rocky surfaces, and beautiful meadows.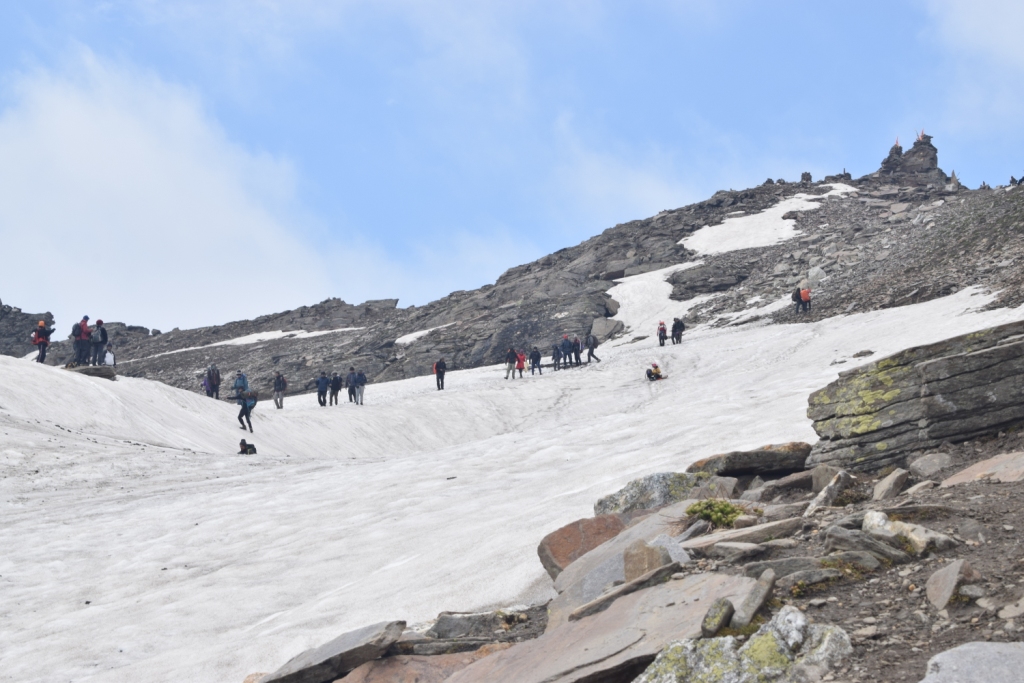 So if you are planning to trek to Rupin Pass you must be prepared because it is going to challenge you. If you have an active lifestyle in which you workout on a daily basis then the trek is moderate for you but if you spend your day just sitting in the office or classroom then it will be difficult for you. So, prepare your weekly workout schedule including both cardio and strength training.
To be mentally strong is very important aspect of trekking. We know that the trails and weather will surely challenge you and there are chances you might get AMS ( Acute Mountain Sickness ). It can happen to anyone, during these times keep drinking water, keep breathing, trust yourself that you can do this.
At the end of the trek, you will be glad for the experience that you had.
Book Now