Trek Overview
A crossover trek with surprises and changing scenery on every turn; that's what a brief description of Rupin Pass would be like. Considered as one of the best trek routes of India, this high altitude trek is a favorite amongst the adventure-seeking souls. At an elevation of 15,350ft, this trekking route transverses through two different states of India, passing through vivid features of nature and offering breathtaking spectacles along the way. The trek route of Rupin Pass starts from Dhaula in Uttarakhand and ends in Sangla in Himachal Pradesh. The beauty of the trek route lies in the fact that it lets you experience the uninhabited snow-covered Himalayan region as well as the two very distinctive local cultures of the two adjoining states.
This high altitude trekking experience of Rupin Pass offers you diversity in every form. During the trek, you experience every kind of terrain with sudden variations. From snow cover fields to rocky terrain; from lush green meadows to deep folds in the mountain; from glaciers, snow bridges, icy slopes to habitations, and religious sites- you have it all in one trek. Although summits are a highlight of most trek routes, Rupin Pass' diversity and the experience it offers all through the trek route has proven to be the attraction of the trekkers from all over the world. Even with trekking for 5 to 6 hours on an average while advancing 10 km each day can prove strenuous for some, but the thrill of adventure and the experience it offers along with the marvelous sights makes it all worth the effort.
Even though it is considered as a trek of a difficult in terms of difficulty level, Rupin Pass in India attracts lots of adventure-seeking souls. After starting from the greener parts of the region with a moderate temperature, the trek route takes you to snowfields and valleys of lofty peaks with the temperature taking a significant dip.
Quick Facts about Rupin Pass Trek
Region- Dhauladhar range of the Himachal region
Trek Altitude- 15,250 ft
Trek Difficulty Level- Difficult
Trek Duration- 7 Days
Distance- 52 km
Start Point- Shimla
End Point- Sangla (Shimla)
Temperature- Average day temperatures vary at rupin pass from plus 18 degrees Celsius to plus 10 degrees Celsius.
Nearest Railway Station- Shimla Railway Station
Nearest Airport- Jubbarhatti Airport Shimla
Network– Shimla is the last spot where you will find network. With increasing altitude, you might not get a network on your cellphones.
Last ATM- Rohru
Trek Details
Pickup Point on Day 1- Shimla old Bus Station
Departure time from Shimla old bus Station on Day 1- 7a.m.
One-way cab from Shimla to Bawta at standard traveling charges INR 1,250/- per person
One-way cab from Sangla to Shimla at standard traveling charges INR 1,250/- per person
The vehicle model will be informed a day prior to your trek date.
The vehicle model depends on availability and the group size.
Trek Starts from Bawta on Day 2
Distance from Shimla to Basecamp, Bawta- 195 km takes around 8-10 hours.
Treks ends at Sangla on Day 7 at around 11p.m.- 12 a.m.
Departure to Shimla from Sangla on same day at around 3 p.m., 220 km takes around 8-10 hours.
Arrival time on Day 7 at Old/new Bus station Shimla- 11 p.m.
Drop Point on Day 7- Old/new Bus station Shimla
Buses are available for Chandigarh and Delhi from New Shimla Bus Stand.
If you are planning for a stay in Shimla, Old Shimla bus station will be a good option.
Distance between Old to New Bus stand is 4.5 km, takes around 15 minutes.
Cloak room: There is cloak room available in Shimla.
Buffer day can be used if trip gets delayed due to of road block, bad weather or any unforeseen circumstances. Buffer day is not included in the cost. If buffer day is not used in the Expedition then it can be used to explore Shimla or Sangla
The forest permits for international clients will be as actual and is to be paid by the trekker at the basecamp only.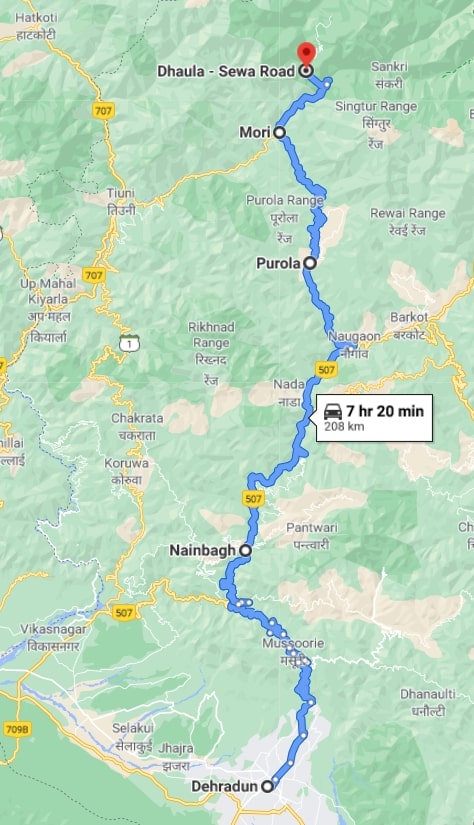 Major Points on the route from Dehradun to Dhaula are Nainbagh, Purola and Mori
About Rupin Pass trek
Stretching across the two Himalayan states of India, Rupin pass trek is a high altitude trek that features a brilliant spectacle of natural diversity and the wilderness of nature. This trek is highly popular among the Indian as well as foreign trekkers and those planning this arduous journey this summer season could expect a great expedition ahead. The journey begins from Shimla, Himachal Pradesh and concludes at Sangla and would require you to cross the state border for entering Himachal near Kinnaur.
With the Rupin Pass trek starting from Shimla and Bawta serving as a basecamp, you pass through small secluded hamlets and get to see the likes of beautiful waterfalls all through the trek. In this route, you get to visit the famous hanging village at Jhaka and experience standing on a snow bridge with river Rupin flowing right below you and falling off the edge of the mountain and forming a beautiful waterfall in front of your very eyes.
After hiking through the dense forests of fir, rhododendron, and oak, the woodlands open up to a magnificent view of the Kailash Peak as you reach towards the end of the trek. After the summit day, you pass through Ronti Gad and Sangla with your trek ending at Shimla, and after an experience in the mountains, the local culture feels distinctively different from the place that you started. Your trek route will be of 52kms in length with beautiful scenic beauty to treat your eyes. The Rupin Pass trek is divided into 7 days, with you covering about 7 to 8kms on an average each day.
On the trek trail, you will experience a distinctive change in landscape and terrain with changing altitude. At first, the trail takes you through the Govind National Park or Govind Vanya Pashu Vihar. The trek route is through coniferous woodlands and small towns and villages that have settled on the banks of the stream valleys at lower altitudes. You experience the mesmerizing view of vibrant and rich colourful meadows, also known as Thach; wildflowers with a varying range of colours; waterfalls; vast stretches of ice-covered fields overwhelm you as you reach a higher elevation. In the summer season, these stretches of land stay covered with snow while in the post-monsoon season you can find wildflowers blossoming along your trek trail. This looks beautiful and creates a serene ambience as you experience the beauty of nature in your trekking route. From the Rupin pass summit, it's a different spectacle altogether. The view of the Kinnaur Kailash range and Charang Ghati ridges from the pass will leave you spellbound.
It is not only the sudden changes in the features of nature that add to the serene ambiance of Rupin Pass trek but also places like Poku Devta temple, the two-story temple of the Kinnauri culture at Sewa adds a different dimension to this trek altogether. As your trek route takes you through remote villages, your cell network, along with the temperature, starts taking a dip as you gain altitude. As the Rupin Pass trek transverses through secluded villages to the lofty Himalayan peaks, you can draw your required bit of cash from the ATM at Rohru, which is on the way to Bawta, before your trek commences.
Alternate Rupin Pass Trek Route
Rupin Pass trek route provides adventurous thrill as well as a serene and calming experience. The trail passes through ancient mountain villages, which are quite essential and has been referred to multiple times in the Hindu religious texts and epics, to the rich alpine meadows and valleys where mountain peaks soar above Rupin Pass. The mountainous terrain of the region is perfect for an adventure-seeking soul as the trail advances through rough terrain and three different valleys of Rupin, Baspa & Pin, with each having its unique feature.
Rupin Pass trek trail in India takes you on a trek route that's along the river Rupin. The trail starts from Dhaula, where the river Supin and Rupin merges and forms the Tons river which flows along and acts as Yamuna's tributary. The trail takes you through an adventurous journey to the river Rupin's origin. As you walk along the river banks upstream, you will experience the river's sharp turns and twists as it flows through the mountain terrain.
On following the river to its origin, the route takes you through remote villages of Uttarakhand like Sewa, and Jiskun and Jaskha of Himachal. You get to experience the local culture and lifestyle of these villagers as the people of Jiskun and Jakha belong to the religious sect of Satsangi and lead a vegan life. These villagers exhibit the norms and rituals that are quite similar to the Kinnaur locale, and their houses and attires do say the same. On your last day as well, you will pass through the villages of Baspa valley in Chitkul. During your trek route and campsites at Dhaula, Sewa Jiskin and Sangla, try to interact with the locals nearby and get to know more about them, their culture and their history, to get the maximum out your trek. Trust me, on your way back home you will have an adventurous trek experience with loads of interesting stories to share.
The trek commences from the hamlets of Dhaula and goes through Sewa, Jiskun And Surwas Thatch. This route takes you to Dhanderas Thatch and is a much comfortable trekking route than the others with occasional steep climbs and rugged terrain, but proving you the best views of the region itself. From Dhanderas Thatch campsite, you can see the mesmerizing waterfall, on top of which you climb. It is an exciting adventure in itself to climb on top of the Rupin Pass Upper Waterfall. The view one gets from the top is something one cannot forget. From the Upper Waterfall campsite, the trek moves on to Ronti Gad, crossing the Rupin pass via the Rati Pheri. The trek then ends at Sanga, which a thorough descend from Ronti Gad. From here, you can take a bus or a cab which can drop you off to Shimla.
Highlights of the trek
With the starting point and the ending point of the Rupin Pass trek being different and in two different states, you get to see the intertwining and the transition from one local culture and traditions to another. The basecamp of Rupin Pass is at Dhaula, which a small hamlet in the Himachal region. The first day of the trek will take you through the rhododendron, fir, and oak woodlands and fields with apple and apricot trees beautifying the sight of the Rupin river flowing past you. Not only that, you will experience the serene ambiance of the vast stretches of meadows as well.
On the second day, you cross the border of the two states and experience frequent topographical changes. As you hike through forests, and descent to cross streams and runlets, you reach the riverside at Haldi Khad. You experience the thrill and the entrancing sights as you the trail to Jiskun village is along the edges of a cliff as from here, you can see the river Rupin take its course.
The campsite at Suruwas Thatch is quite famous for the view it offers. You get to see the valley and the famous Rupin waterfall. If you are looking for streams, waterfalls, and rivers, you get that in abundance at Rupin Pass trek. There are numerous waterfalls along the rugged terrain. Not only that, in this trek, you get to trek from the base or the Lower Waterfall to the top of the waterfall with an ice axe and trekking pole.
The trek is an adventure in every way. The campsite at the Upper Waterfall campsite is set on the top of the waterfall at a vast meadow. Here you can see various smalls streams join together to form river Rupin which dropdown below as the river falls down from such a great height and disappear into the horizon after flowing through the meadows. It's an experience with a view that gets imprinted in any trekkers' mind. After that, you feel that all your effort in the trek was worth it. As you reach towards the end of the trek, the beautiful view of the Kinner Kailash is bound to render you speechless.
Throughout the trek, you will experience beautiful forests and trees of oak, fir, golden leaved maple, and multi-shaded rhododendron trees, along with several other coniferous trees. Rupin Pass trek's beauty lies in the fact that it not only lets you experience snow in an adventurous trek through rugged terrain, but there is a snow bridge in itself that you have to cross to get on the other side of the river Rupin. It is a beautiful experience as you can feel the river rushing under the bridge and the rocks tumbling one over the other under your very feet.
How to reach Rupin Pass
The base camp of Rupin pass trek is Bawta. But with Shimla being a more accessible location, we arrange a pickup from Shimla itself. You can contact our team for further details.
By Flight

Nearest airport- Chanigarh Airport. From the airport, there are several bus services as well as cab services available to Shimla. From Shimla, it is a beautiful 198km drive of 7 to 8 hours.
By Train

Nearest railway station- Kalka Railway Station and the Chandigarh Railway Station. From the railway station, there are several bus services as well as cab services available. It is a beautiful 198km drive of 7 to 8 hours.
By Road

Shima is accessible with all the major cities of India by road, and there is bus service available from most of the major cities of India. After reaching Shimla, you can opt for a bus or a cab as there are several bus services as well as cab services available. It is a beautiful 198km drive of 7 to 8 hours.
Best time to Visit
Since it's a crossover trek, it is always advisable to visit in the summers or post-monsoon season. Although open throughout the year, except the monsoon season (for landslides and slippery trenches), the Summer season has been proven to the favorite of all the trekkers because of the pleasant weather conditions. Trekkers ideally prefer to visit Rupin pass from mid-April to June and from September to October.
Weather and temperature round the year at Rupin Pass
In summer, the average temperate of rupin pass reaches the highest of 20 degrees Celsius and the lowest of 3 degrees Celsius, while in winter 18˚C to minus 7˚C. Average day temperatures at Rupin Pass vary from plus 18 degrees Celsius to plus 10 degrees Celsius. At night, average temperatures range from 0 degrees Celsius to minus 7 degrees Celsius. With gaining altitude, expect to see a drop in temperature, which takes as a further dip after the sun sets down behind the horizon. So, pack your bags accordingly. You can always wear clothes in layers to retain body heat and have a pleasant and comfortable experience during the trek.
Difficulty level of the trek
With a vast stretch of 52kms being covered within 8days, by trekking 7-8kms per day, the Rupin Pass trek in India is considered moderate to difficult in terms of difficulty. It is important to note that 'difficulty' can be a relative term. People with proper fitness and an active body often find the trek to be smooth and enjoy a peaceful summit climb and descend. The trek does cover a variety of terrain, from pleasant, tranquil meadows to rugged terrain and hikes on the narrow roads at the edges of cliffs. It also has occasional descends and climbs that be overwhelming for some but can be equally exciting enough for trekkers to come back again to experience something new that the trek has to offer.
Is the trek safe?
Absolutely! Yes, there are steep climbs, sharp descents, and walk through narrow trails at the edge of the cliff. But, the trek route that has been chosen for you is safe enough for trekkers and provides beautiful views. With necessary, proper precautions and good trekking shoes (which is a must in mountain trekking) along with the help and guidance of our trek leaders, you will have a great experience in the trek. Since the trek involves steep climbing and sharp descents, you must wear proper mountain trekking shoes that are waterproof. They must be waterproof because you will cross snow-covered fields, and it will be uncomfortable for you if your feet get wet.
Is it recommended for beginners?
Well, it depends. Mountain trekking is more about mental endurance than about experience. There are many first-timers or complete beginners who have completed the trek successfully and have reported to have a beautiful experience. There are stories of how they fell in love with mountain trekking after Rupin Pass trek and have started trekking often.
That being said, it is essential to note that a bit of experience of trekking before this does help to know what to expect in a high altitude trek. At high altitude treks, the biggest worry is Acute Mountain Sickness or AMS, which has nothing to do with being first-timers or experienced professionals. You can easily stay away from any such problems if you keep yourself hydrated throughout the trek and listen to the tips of the trek leaders.
Preparation Tips for a successful Rupin Pass trek
Trek essentials

It is essential that you carry a proper waterproof trekking bag, along with your winter clothes, and basic camping essentials. Wear proper trekking shoes and break them in before you go off for trekking. Contact our team to rent trekking shoes along with other mountain gear.
How to dress up

The trick is to layer up. Yes, you will be carrying winter clothes to beat the cold temperatures. But, while trekking, you might feel hot. So it is important that instead of wearing one heavily insulted winter wear, you layer up light winter wears so that you can take them off as per your convenience during a day's trek.
Fitness

Rupin Pass is a high altitude trek. It involves 7-8 km of trekking per day with occasional steep climbs and sharp descents. It means that you will require stamina and proper fitness to have a smooth and comfortable experience. A month before the trek, you can start exercising and build up your body fitness and stamina. An hour's session of strength and endurance building exercises for a month should be enough for you. If you are a smoker, since the mountain air is thin, it is better if you cut back on your smoking and stop a month prior to your trekking dates so that your lungs function at full capacity.
Itinerary
What's Included
Inclusions
High-quality trekking gears (Tents, Sleeping Bags, Gaiters, Crampons).
Experienced Staff (Guides, Cooking Staff, Helpers, Porters).
Delicious, Hygienic & Nutritious Meals on scheduled time (Morning Tea, Breakfast, Lunch, Evening Snacks & Dinner).
Warm water for drinking only in the morning and evening. Trekkers can fill up their thermos-flask and bottles accordingly.
All forest permits and camping charges.
Exclusions
Food items purchased by individuals at local canteens on the trek or during the drive.
Any early return travel costs or accommodation except for the days as per the itinerary.
Any expenses for medical treatment of injury or accident before, during or after the trek.
Hearter, geyser, firewood/bonfire are not included or covered in the package.
Hot water for bathing/washing or any other purpose except drinking*
All the cutlery (mugs, spoons, plate,lunch box etc)
To and Fro traveling charges.
*Hot water for bathing/washing on a chargeable basis, but that too only if resources are available
Health and Safety
For any Himalayan Trek, Ideal BMI for a trekker should be 18.5 to 24.9
To keep a check of this please calculate BMI here
Below given Safety checks should be done to get prepared for any Himalayan Trek.


Balance : As well said a balanced mind and body gives out best in every condition and that too works in Himalayan treks as well.
Legs Strength : Body and Legs Strength is required to carry body weight as well as the backpack while trekking in uneven multi terrains. Generally, a good strength on legs works out good in any Trek. One can gain legs strength by doing simple Squats.
Muscle Flexibility : While trekking in Trans Himalayan region with a flexible body one can easily achieve full range of movement and this can be really helpful for trekkers as well as trek leads. A good flexible will be an advantage while walking on trails, climbing and river crossing etc. Flexibility can be achieved by simple stretching, yoga etc.
Cardiovascular Endurance : Cardiovascular endurance is defined as the ability of lungs and heart to transmit oxygen to the body muscles. All Himalayan treks are basically ascending descending the slopes and for this trekkers should be having a good cardiovascular endurance. Anyone planning for a Himalayan trek can attain this capacity by doing any cardio exercise like running, swimming, cycling etc.
Cancellation
In case you wish to cancel your trek please email us at cancel@moxtain.com
Cancellation charges are based on the total trek fee, irrespective of the amount paid either full or partial.
The cancellation policy is based on the original booking time and original start date of the trek.
Cancel before 30 days of trek start date and get full refund after deduction of 2.5% payment processing fee.
Cancel before 15 days of trek start date and get refund after deduction of 20% of total trek fee.
Cancel before 10 days of trek start date and get refund after deduction of 40% of total trek fee.
Cancel before 5 days of trek start date and get refund after deduction of 60% of total trek fee.
Trek fee is non-refundable if you cancel within 4 days before trek start date.
Trek cancellation due to weather:
In case of an incomplete trek due to weather conditions, one can opt for the same trek again throughout their lifetime on all our fixed departure for the same trek.
This attempt only covers the trek fee and will not include any rentals or the transportation amount paid earlier.
This is non-transferable.