Trek Overview
Stretching across the two Himalayan states of India, Rupin pass trek is a high altitude trek that features a brilliant spectacle of natural diversity and the wilderness of nature. This trek is highly popular among the Indian as well as foreign trekkers and those planning this arduous journey this summer season could expect a great expedition ahead. The journey begins from Dhaula in Uttarakhand and concludes at Sangla in Himachal Pradesh and would require you to cross the state border for entering Himachal near Kinnaur.
You will start trekking from greener landscapes and as the journey proceeds, these greener tracts would give way to snow patches, followed by the vast snow fields as you head towards Rupin Pass. The trek would become more and more difficult and the weather equally challenging with every progress that you make. Hence, acclimatization, adequate hydration and snow-trekking tools would always come handy.
The Natural Diversity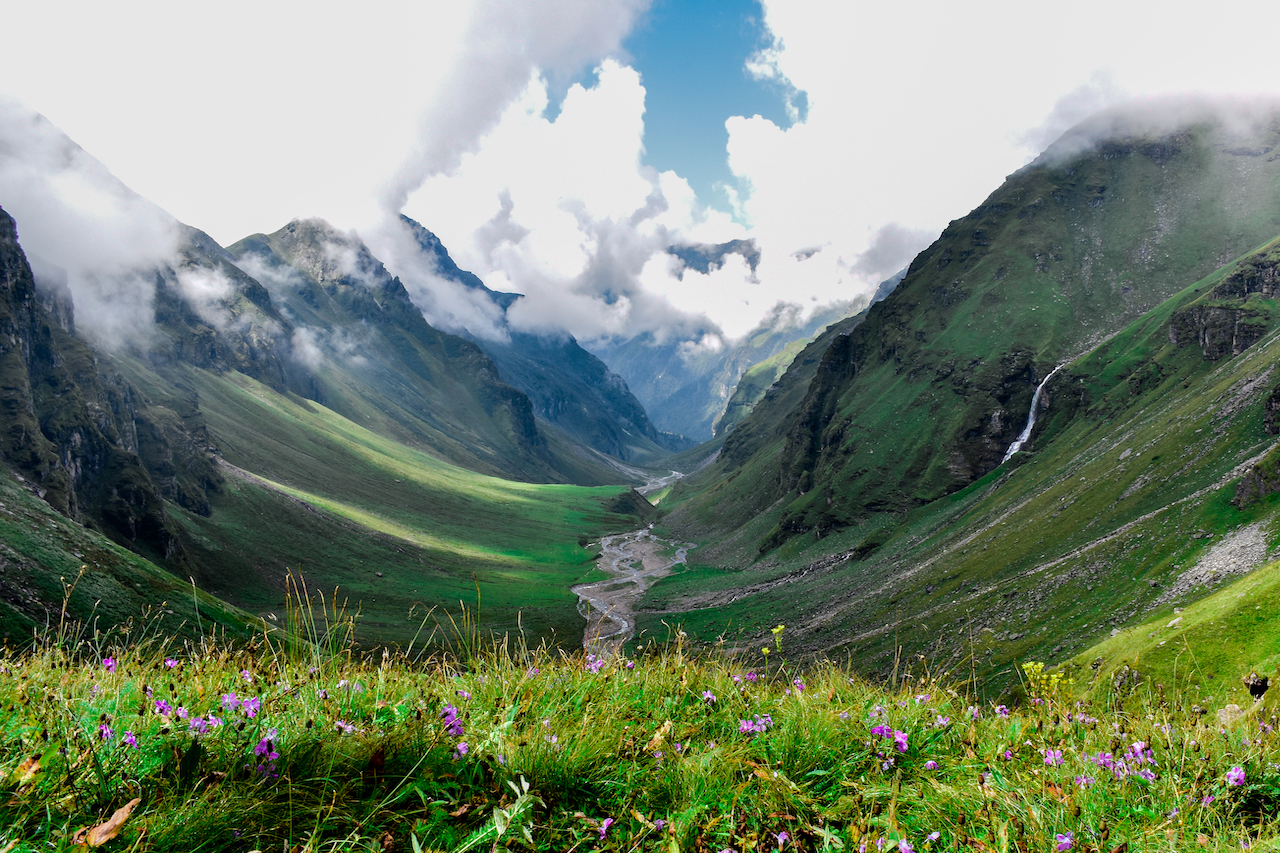 About 80% of your journey would be in Himanchal and you would get to know about the diversity as well intermingling of the local cultures of the two states. Rocks, snow bridges, waterfalls, streams, habitations, forests, religious sites, lofty peaks - its all there for you to explore and admire. While trekking 5-6 hours on an average while advancing 10 kms each day could be severely demanding, the gifts of nature would always be rewarding. With opulence of the Himalayas in full display, the nature teaches us how the travails of life are proportionately rewarded.
The Scenic Beauty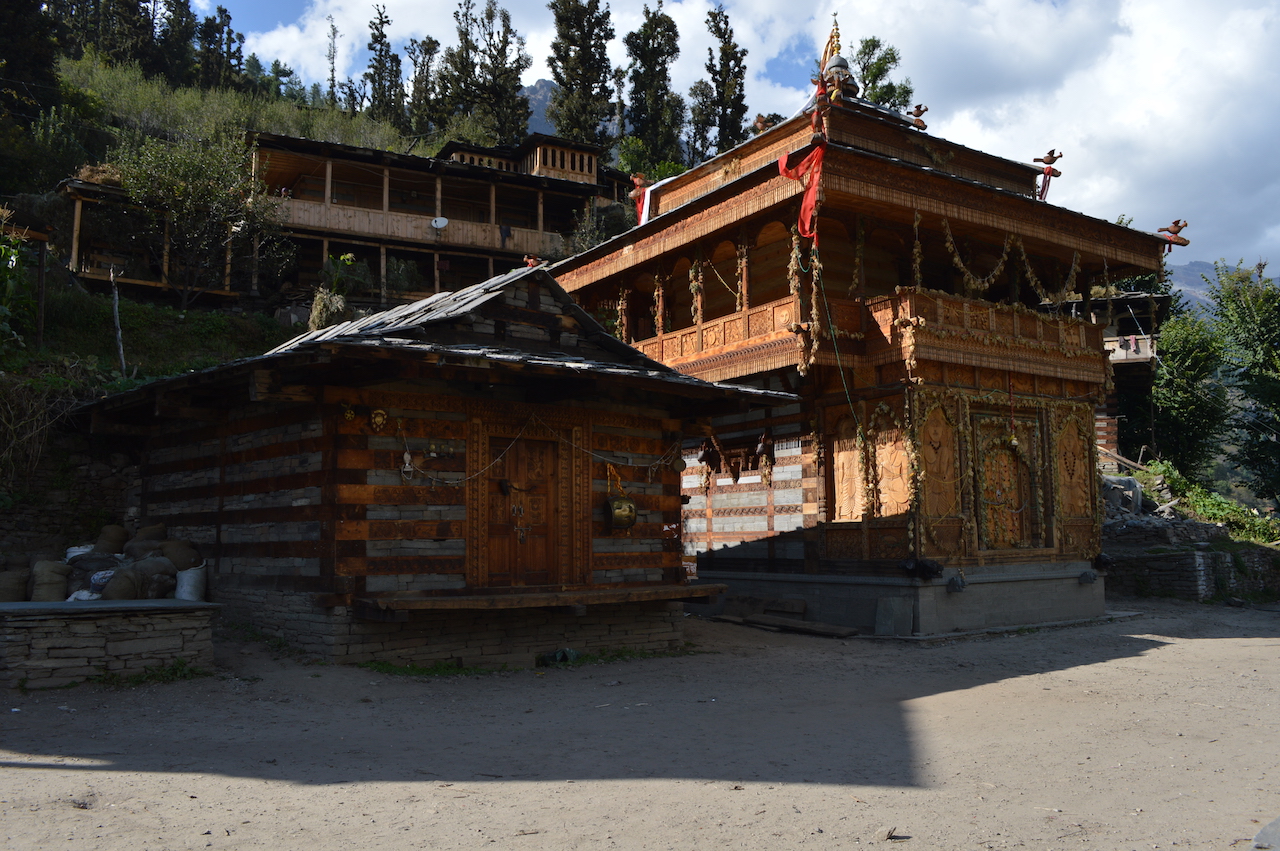 Pokhu Devta temple enroute Rupin pass
The Rupin Pass lies at an elevation of about 4600 meters. As the trek begins, you can stop by the temple of Pokhu Devta, revered and worshiped by the people of these hills. The lofty peaks of the Himalayas would offer fabulous scenery and walking through the woods rife with conifers and Rhododendron trees would be a magnificent experience. What makes this trek quite special is the wilderness and extravagance of nature in the form of waterfalls, snow bridges and snow fields. It would an experience of a lifetime to stand on the snow bridge with Rupin flowing down below you after falling from a waterfall in front of you. The gushing waters of this river and its tributaries would mark much of this journey.
How to get There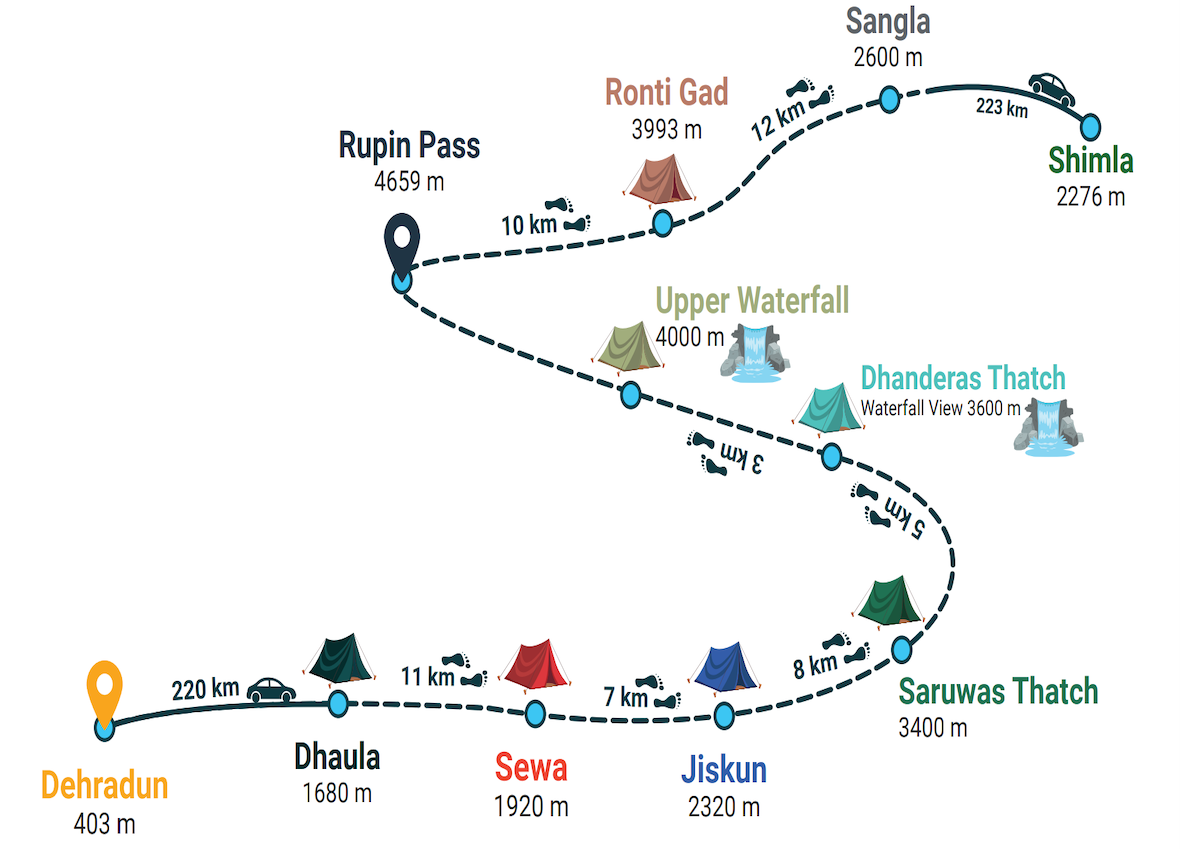 The camp for the Rupin Pass Trek would be Dhaula, a small village in Uttarakhand. You may reach there from Dehradun by a 10-11 hours drive through the hilly tracts. There several trains from New Delhi to Dehradun each day and Nanda Devi Express will land you there early in the morning.
Itinerary
What's Included
Inclusions
Mountain course certified and experienced Trek Leader.
Supporting staff.
All meals on scheduled time(Vegetarion and Delicious Only )
Quality equipments for Trekking.
Fully equipped medical kit and safety equipments.
All kind of permits and camping charges.
Exclusions
Personal expenses done by the trekkers while on the trek.
Food items purchased by trekkers during the trek at local canteens or during the drive.
Mules or porters to carry personal luggage.
Anything not mentioned in Inclusions.
Health and Safety
For any Himalayan Trek, Ideal BMI for a trekker should be 18.5 to 24.9
To keep a check of this please calculate BMI here
Below given Safety checks should be done to get prepared for any Himalayan Trek.


Balance : As well said a balanced mind and body gives out best in every condition and that too works in Himalayan treks as well.
Legs Strength : Body and Legs Strength is required to carry body weight as well as the backpack while trekking in uneven multi terrains. Generally, a good strength on legs works out good in any Trek. One can gain legs strength by doing simple Squats.
Muscle Flexibility : While trekking in Trans Himalayan region with a flexible body one can easily achieve full range of movement and this can be really helpful for trekkers as well as trek leads. A good flexible will be an advantage while walking on trails, climbing and river crossing etc. Flexibility can be achieved by simple stretching, yoga etc.
Cardiovascular Endurance : Cardiovascular endurance is defined as the ability of lungs and heart to transmit oxygen to the body muscles. All Himalayan treks are basically ascending descending the slopes and for this trekkers should be having a good cardiovascular endurance. Anyone planning for a Himalayan trek can attain this capacity by doing any cardio exercise like running, swimming, cycling etc.
Cancellation
Cancel up to 30 days before trek start date and get full refund.
Cancel up to 15 days before trek start date and get 70% refund.
Cancel up to 7 days before trek start date and get 50% refund.
Cancel within 7 days of trek start date and the cost of the full reservation is non-refundable.
Refunds will be processed within 7-10 working days from the date of cancellation.
In case of refund, 2.5% (Payment processing charges) will be applicable.
Eligible refund amount will be calculated from the total trek fee offered, in case you have made partial payment only.