Did you know 'Rupin' is originally Sanskrit for handsome! And so it was. As I made my final descent, I felt emotions whirling a cocktail in my stomach with a punch of nostalgia, fatigue, fulfilment, pride and soreness. The journey to Rupin Pass was nothing short of a thriller movie except there was a climax every hour. A week back, I remember waiting for the bright red clock on my damp office wall to strike 6. It was time. And like the hands of the clock, I was set into motion. Some last minute packing and a late night bus to Shimla, I was all set to begin my adventure.
Rupin Pass Trek Itinerary
DAY 1: Shimla to Rohru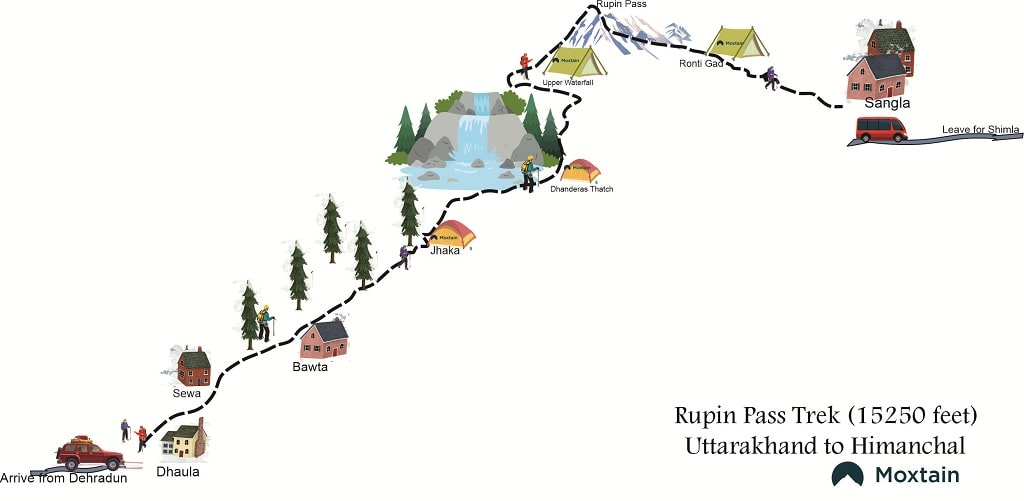 Rohru is a town in Shimla district, located about 115 km from Shimla city. I, along with my four comrades decided to take the local bus. We travelled alongside the Pabbar River at one side and the lush green pine and deodar trees at the other. It took us 6 hours to reach Rohru where we stayed at a local homestay. After exploring Rohru for some time, we had our food and planned to take some rest and be prepared to start our trek on time the next morning .
DAY 2 : Rohru to Bawta to Jiskun
We decided to start early today and took a taxi at 10 AM (early by my standards) for Bawta. The road to Bawta is through the Chanshal Pass, also known as The Chanshal Valley which is an excellent site to see the scenic beauty of the Himalayas.
The Pass sits atop the Chanshal Peak, at 4520 metres and is thus the highest peak in the Shimla District. Apart from the awe inspiring view of the snow-capped mountains at par height, the strong winds had me reaching for a rock to prevent me from flying off into the infinity.
Bawta, which is basically lower Jiskun, we arrived here at around 5 PM. It was decided that we would set camp at Jiskun Gaon, which was barely a 3 km trek uphill. However, we underestimated the plight of first day trekking. We hadn't even covered 2 kms and I started panting like a winded dog. It was already dark and we seemed to have lost our way. Floundering about for an hour in the wilderness with our headlights on, we were exhausted and couldn't even find a place to set camp to continue the trek tomorrow.
Thankfully, we met a family who were trekking towards the same destination. They led the way and we finally reached Jiskun at 10 PM. The flat ground to set camp was already occupied and we had to settle for some huts to spend the night in. We collected firewood to cook but of course, they were all wet so late at the night. Again, the family helped us with the wood and we cooked mushroom pulav and savoured every morsel of it. After a hearty meal, it was time to sleep.
DAY 3: Jiskun to Jhaka village
The route to Jhaka was through the forest with a mixed plantation of Deodar and Walnut. Two hours into the trek, we arrived at the hanging village of Jhaka which is quite literally hanging. I did not know that looking at a village could be so exciting. It looks so delicate, as if hanging by a thread and yet, has been there since ancient times. However, there's more to this village than just the scenic beauty-its rich culture and warm people.
Check out the swaggerer on the left.
From deep rooted conversations with the old uncle serving chai on how city life is overrated to playing cricket with the jolly kids returning from school, I felt sheer happiness and a sense of acceptance. The cherry on top was praying in the Kinnaur temple, an ancient temple giving a glimpse of the Kinnauri heritage.
By the time our local sightseeing was over, it was too late to start for Saruwas Thatch. So, we stayed at one of the hanging houses and made a new 14 year old friend with a toothless dog. Did you know that the people in Jhaka do not consume any alcohol? Even in winters. Going by the local story, once upon a time, a baba visited the village and inscribed into the minds of the villagers that "yeh sab moh maya hai"
Peace.Love.Happiness
DAY 4: Jhaka to Saruwas Thatch
The trail to Saruwas Thatch was a 6 km trek and it was one of the most difficult ones yet. The trail initially had us trotting in the woods. The fragrance of the trees, the chirpy birds, the rustling leaves and the shade upon our heads made the time fly by quickly and we encountered River Rupin again. Then, it was a steep downhill climb along the waters of River Rupin. After a quick lunch nearby the river, we began our ascent into the rocky mountain which would take us high above the River. The passage got really narrow allowing only one person to pass at a time. It was a daunting climb and my knees had started to hurt and it felt as if my backpack weighs a 100 pounds. However, I kept climbing, taking the tiniest steps and soon, we were at Saruwas Thatch. From here, you can view the Upper waterfall and the Lower waterfall simultaneously.
Saruwas Thatch has beautiful scenery and it lies on a riverbed. For a second I was looking at the water and next second I was jumping into it. The water was cold, 'you can catch pneumonia' kind of cold. Was I chilled to the bones? Yes. Would I do it again? Probably not. Did I regret it? Definitely not. It felt as if the water had cleansed my soul and I was sterile like a hospital needle. After making fun of each other quivering and chattering our teeth, we dried ourselves, drank hot soup and later, slept like a baby.
DAY 5: Saruwas Thatch to Dhanderas Thatch (Lower Waterfall) to Rati Pheri (Upper Waterfall)
We were already behind schedule. Today, we had to make up for all the lagging. We started the trek with determination and high spirits which were soon diluted by the tyrannous uphill climb. After about two hours, we crossed a bridge and then, no surprise, there was some more climbing. What lay in front of my eyes, had me wondering if I had been teleported to an entirely different location.
We had arrived at a beautiful green meadow with mules grazing on the grass. We took a quick break to take a mental picture and then marched towards a 3 tier climb for Rati Pheri. The gain in altitude from Dhanderas to Rati Pheri is about 4000 metres stretched across a 4 km trek. In some places, it felt as if the climb was literally vertical. After making multiple stops for catching some air, we finally reached the Upper Waterfall at about 4 PM. It was time to eat and rest for the coming day.
Kitchen at Upper waterfall
DAY 6: Rupin Pass
We started the climb in high spirits. The climb is mostly rough and rocky as there is very little snow, this time of the year. The route takes you high up on a ridge which is followed by some steep slopes. We crawled through the naked mountains and climbed for what seemed like an eternity. It was around 5 PM and hikers with some other agencies had started setting up camp. We debated upon whether to continue further or call it a day. After much dilemma, excitement got the better of us and we decided to conquer the Rupin Pass today itself.
"Tonight, the camp would be set at the top beneath the stars" said Rahul or so we thought. As, we marched towards our destination, there was a fork in the road. We were thoroughly confused and took the wrong turn. The elevation for this climb (4800 m) was even higher than the correct route (4650 m). We realized this after half an hour of almost vertical climb. To climb any further, we would need to become Spiderman. Everyone was visibly upset. As we sat at the top cursing ourselves for wasting our time, the clouds were blending into the mountain peak. The last remnant of the twilight was marking the onset of night. Suddenly, there was a comfortable silence and we knew we would never forget this moment.
However our filmy moment didn't make the descent any easier. If climbing was difficulty level x, then going down was 100x. My knees were on the verge of giving up. It had been a very long day. It took us almost twice the time to get back to where we started from. We spent another 30 minutes looking for a plane site to set camp and reluctantly settled for a location nearby.
DAY 7: Rupin Pass to Rontigadh
We were based just at the bottom of the Pass. Most of the hard work had been done yesterday. We were taking the final steps towards our destination and it felt like I was climbing the steps of a temple and up above, I would find God. The climb was as gruelling as it looked. After about an hour of crawling, we reached at the top. Yes, we did it. Oh, what a feeling it was! The sweet feeling of victory.
As we stood at the top, in front of us, lay the beautiful Kinner Kailash Ranges and at our back, lay the magnificent Dhauladar Ranges. We began our steep descent towards Rontigadh. This one will really test your knees as the altitude drops really fast and it appears to be an endless stretch for a good four hours. Again, I went weak on my knees when Rontigadh arrived, but this time the fatigue disappeared. The scene was straight out of my window, wallpaper-lush green meadows & clear blue sky. It was simply beautiful and exotic.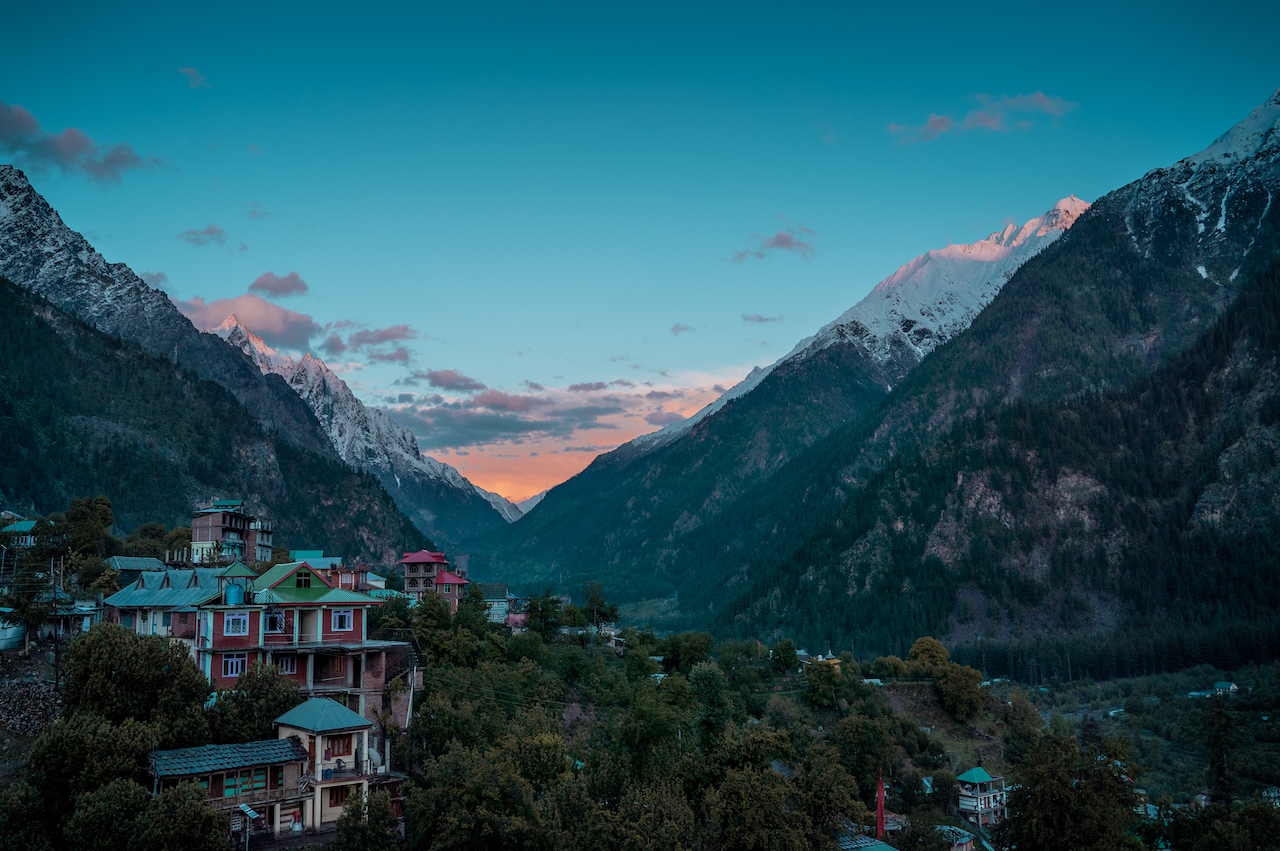 Sangla Village at Rupin pass end
Our next and last stop would be at Sangla Valley which is a 12 km trek from Rontigadh. The trail is quite clear and simple from here onwards. It was tiring but the happiness we shared for having almost completed our journey successfully and safely made up for it. Sangla valley is really famous for its apples popularly known as "Kinnaur ke seb". These are the kind of apples which, if had once a day, would definitely keep the doctor away. Here, plucking apples from the orchard is a serious offence. This, however, did not stop us and we managed to grab some of these amazing apples and ended this magnificent journey on a sweet note.
~Till the next time~
Written by Mohit on 25-Jan-2018