Nag Tibba Trek Route
Nag Tibba Trek Route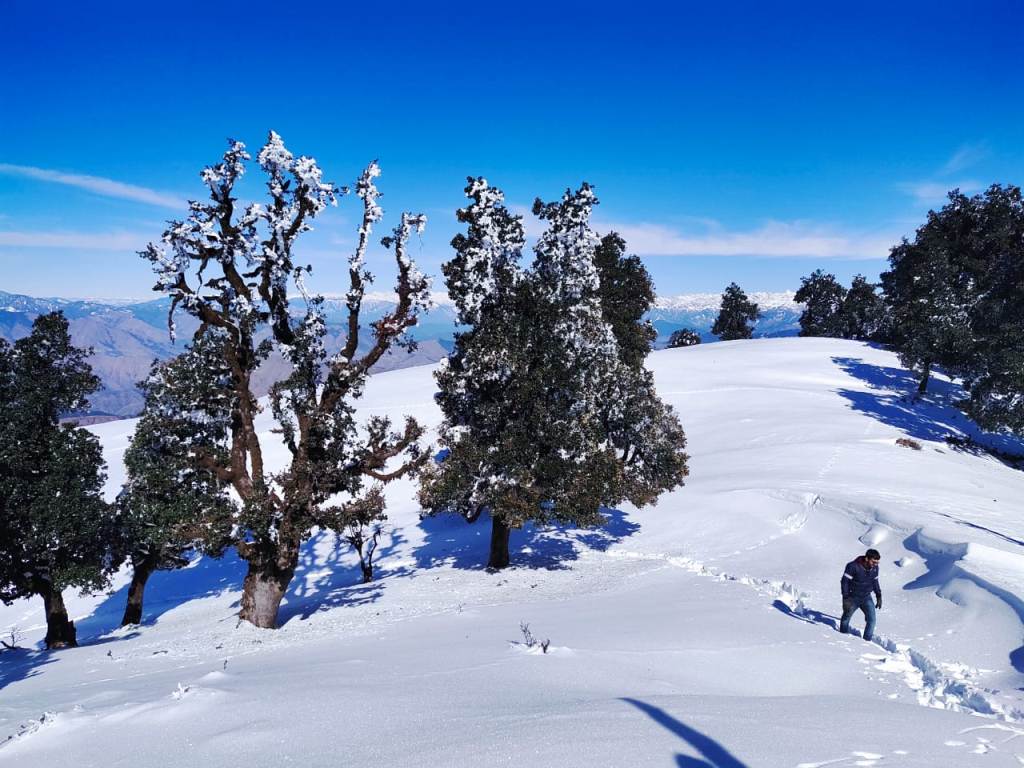 Nagtibba or the Serpent's Peak Trek is an easy grade trek and is highly recommended for beginners and even trekking enthusiasts. Nag Tibba is a 2 Days 1 Night trek and the Nag Tibba summit is located at an altitude of 9915 ft. The total trek distance covered in 2 Days is 20 kms.The trek for Nag Tibba starts from Dehradun or Mussoorie. Though Mussoorie is closer to Pantwari village, which will be your first stop for the trek, yet you can start the trek from anywhere you want. If you start your trek from Dehradun, you must drive to Pantwari village which is approximately 99 kms away. It takes about 3-4 hours to cover this distance. From Pantwari the real trek starts.
The hike begins at the end of the road till which you can reach by car. After which the rocky trail of the trek starts. You will find 2-3 water points in this way where you can fill your bottles from here and move ahead. After trekking for like 7 kms that are approximately 4-5 hours you would reach Nagg Tibba Temple. Your Nag Tibba temple campsite is at an altitude of 7610 ft.You reach your campsite by the evening, where your food and camping is taken care of by Moxtain. You can camp here and then resume your trek from the next day.
The next day you start your trek to Nagg Tibba hilltop which is 3kms away and will take you approximately another 4-5 hours,the Nag Tibba summit is at an alluring height of 9915 ft. You can enjoy some mesmerizing views from Nag Tibba like Swargarohini, Bandarpoonch, Srikanth, Black peak and see many more peaks from here. After spending some time there you can either camp for the night or head back to Nag Tibba Temple.
Alternate trek route
You can also choose another route for descending from Nag Tibba to a village called Bhatwadi. This route is extremely picturesque because in just an hour into your descent, you would enter a clearing called Moriana where there is a stream on one side and you see a couple of shepherds' huts on the other side. This place is surrounded by dense forests. It is an extremely lovely spot for taking photographs. From here onwards this trail goes through a lovely forest covered with oak trees and alongside runs a stream of clear cold water. After trekking for another couple of hours you will reach the end of the trail and be quite disappointed to see a lot of habitats around you.
The major attractions of the Nag Tibba Trek is the 180 degree view of the majestic mountain peak like Swargarohini, Kedarnath, Bandarpunch, Gangotri and many more.The Nag Tibba temple is another attraction of the trek which has its own significance and mythology with the local people around.
Best time to Visit Nag Tibba
The best time to do Nag tibba trek is throughout the year except the monsoons as the trek trail becomes slippery and difficult to walk on which can be dangerous.Else the best to do Nag tibba trek is in the Winters from December to March. During this time you get to experience good snow and snowfall too. Else the best to do Nag tibba trek is in the Winters from December to March. During this time you get to experience good snow and snowfall too.
Is network available during Nag Tibba Trek
The mobile network throughout the trek is available. But the reception can be erratic depending on the weather mostly and with the altitude gain the signals can be weak.