Trekking Bags: Best Trekking Bags in India
Have you ever thought about the uncomfortable feeling that most travel bags provide us? One of the basic ideas about packing for trekking is to be light. With the usual trolley bag or duffle bags, one can be anything but light. That is why there are trekking backpacks which you may also know by the name of rucksacks which make things easier. These bags are designed in a way that allows you to carry them on your back throughout your trek. They are also quite spacious and have many compartments to fit your things.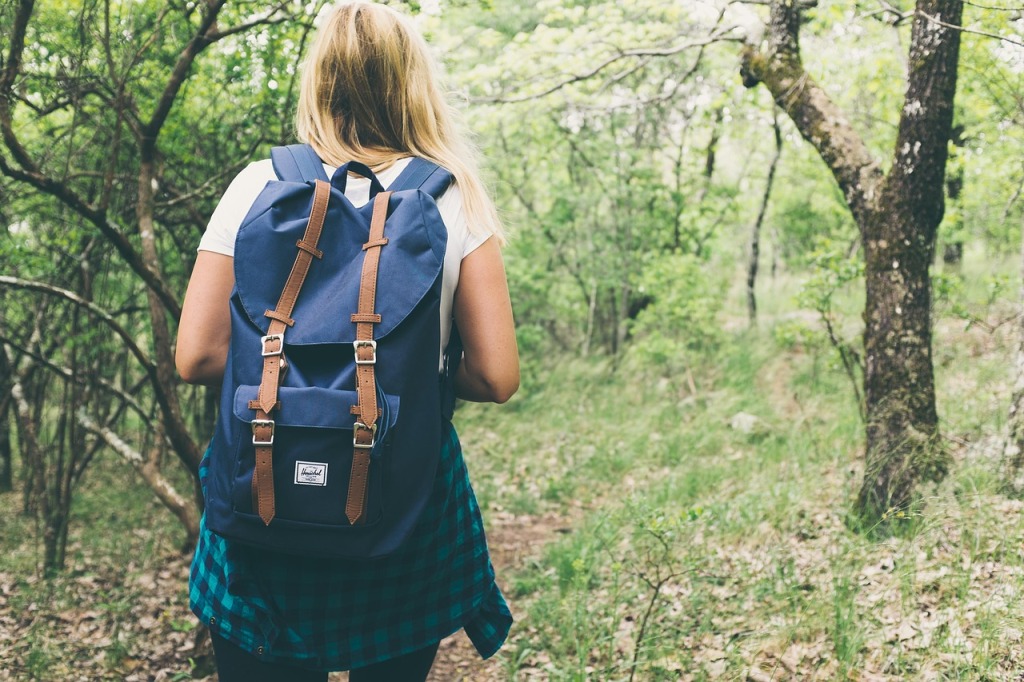 While buying a trekking bag you need to be careful about choosing the design aspects of it so that it really remains useful for you. So, let us know a bit more about trekking bags and then move on to look at some of the best trekking bags available in the market right now.
Choosing a Trekking Bag:
We have to tell you that choosing a trekking bag is more intricate than just looking at its design. So, it is quite important to spend some time on your requirements and researching about the bag to secure the perfect one. When you are looking into a trekking backpack you need to be careful about several things, such as the comfort, the size, the usefulness, the fit and also your budget.
So, here are some things that you should look in the rucksacks.
Size and Capacity: The size of the backpack is quite important when you are choosing it. The size does portray the number of things that you can carry in the backpack. Along with that, one should also choose a size that goes with their height. People may also buy multiple backpacks as they might not need a 70+ L backpack when they are going for a 2-day trek. Women may get backpacks that are specially designed for them.
Frames: To make the backpack stable companies often add frames in them. It is always better to get backpacks with internal frames as they are lighter and do not put additional weight and they do help in balancing the bag during trekking. If you are someone who likes to travel light, then you can also get a backpack without any frames.
Fit: A backpack should always fit well as you will be trekking with it for long durations at a time and along with it you want the bag to be comfortable. While buying a backpack check the adjustment options that are available in the backpack. If you pack well, then the fit can actually make the bag more comfortable.
Comfort: As you are packing everything into a single backpack you do need to think about comfort. One of the foremost things that make a rucksack comfortable is the correct padding present at the back. It needs to have the perfect amount of padding. Along with that, some backpacks will also have a mesh layer to make it breathable for times when a person is sweating.
Pack Access: Depending on the model you choose, your bag will either provide you access from the top or there will a zippered section in the front that you can open up to load and unload things. So, choose one that specifically goes with your needs.
Fabric: It is quite important to get a backpack that is waterproof as you will be carrying a lot of things in the bag. Some backpacks also come with additional rain covers. Just check that the fabric is light so that it doesn't add extra weight to your back while carrying it.
So, here are some things that you should keep in mind while you are looking forward to buying trekking bags. Along with these do keep a check on the price that you are paying for it. Look out for reviews from trekkers who are experienced about the backpacks to get the best one rather than just opting for an expensive option. We have mentioned backpacks from popular companies such as Wildcraft, Decathlon, Aristocrat and many others.
Best Trekking Backpacks in India:
1.Amazon Basics Internal Frame Backpack with Rain Cover: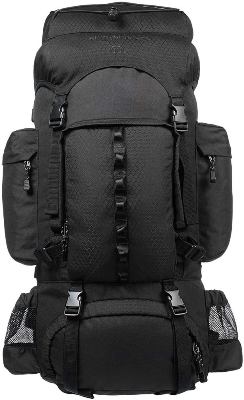 Amazon is a renowned name over the world and this basics backpack from them is something that you should look into because it has good quality and it also comes with an internal frame. So, one can understand that this bag will be great for people who are seeking to attain great altitudes. Let us have a look at it.
Features:
Made of durable polyester
Comes with Sleeping bag compartment
Internal Frame
Adjustable Straps
Available in different sizes of 55L, 65L, and 75L
Extension collar
Several pockets and compartments
Pros
Durable
Several Compartments
Spacious
Comfortable
Cons
2.Wildcraft 45 Ltrs Grey and Orange Rucksack: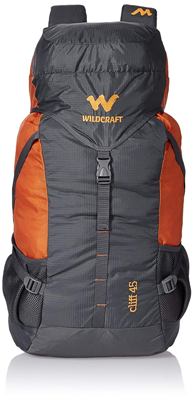 Wildcraft is a known brand in India that produces bags and other accessories. This backpack is quite preferred by people who go on short trekking trips and it will last for a long time. The lightweight nature of the bag makes it a perfect companion. The bag from Wildcraft is ideal to fit the essentials and belongings of a single person.
Features:
Made of water-resistant Nylon
The size is 45L
It has adjustable straps
Haul loop to strengthen during heavy loads
Numerous pockets throughout the body
Back Cushioning
Pros
Lightweight
Back Support
Spacious
5 Years Manufacturer Warranty
Cons
No cushioning on the waist
No Shoe space
3.Quechua Forclaz 60 Backpack: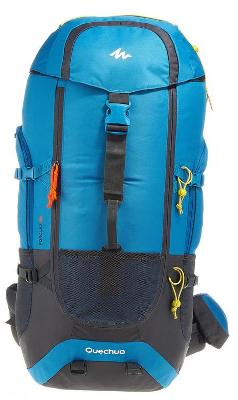 Quechua from Decathlon is another well-known company in India that is known for its trekking bags that have a unique design and on top of that, they are quite durable. The Quechua bags can become great travel companions especially for those who want to go on longer trips.
Features:
The backpack is formed of 100% PU-coated PES
It has 100% EVA padding
1 inner, 3 outers, 1 on belt pockets are present
Capacity is 61L
Both compression strap and chest straps are present
The back is adjustable and there is a mesh layer
It is a front-loading backpack
Pros
Front Loading
Lightweight
Spacious
Durable
Several Pockets
Cons
4.Chris & Kate Black Travel Rucksack Backpack: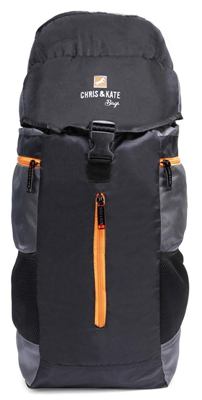 If you want a backpack that is affordable and has great quality, then this product from Chris & Kate can become one of your best choices. The spacious bag is perfect for a day trip or a long trip depending on the items that you need. It is great for a trek, hiking and also for backpacking. The rucksack has been designed in a way that will be perfect for both men and women.
Features:
It is made of lightweight and durable polyester
Comfortable because of the padding
There is a mesh hip belt for support
Capacity is of 45L
2 side mesh pockets and 2 big Zippered side pockets
Back padding for extra comfort
Pros
Durable material
Mesh Bottle pocket
Spacious
Padded Straps
An extra compartment on top
Cons
5.Mufubu Presents Get Unbarred 55 LTR Rucksack: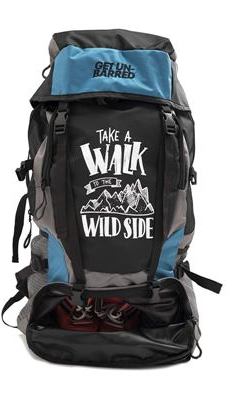 Everyone isn't able to afford the pricey backpacks before they are going on a trekking trip. Mufubu is a company that works is a saviour as they produce affordable rucksacks and they have the quality to them. This product is quite spacious and is good for a long trekking trip as well as for hiking or biking trips. The weight is definitely its plus point as it doesn't add additional pressure on the trekker.
Features:
The capacity of the backpack is 55 LTR
It is made of water-resistant polyester
8 Adjustable straps are present and they are broad
There is an additional shoe compartment
Honeycomb padded structure on the backside
Pros:
Front Loading
Several Pockets and Mesh pocket
Durable polyester material
Adjustable straps
Shoe compartment
Lightweight
Spacious
Cons:
Zips can be a little problematic
6.Impulse Inverse 65L Blue Rucksack: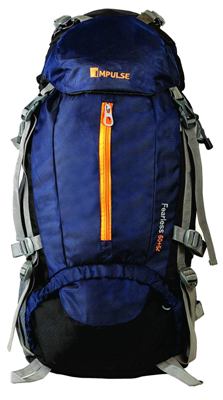 When you are planning to travel outside, you need a backpack that can withstand the weight of the things that you are carrying and on top of that, it should also be able to bear the weather.
Impulse is known for producing bags that have the strength because of the materials used. A 65L rucksack is definitely worth buying as it will help you in longer trekking trips and you can put it to multipurpose use while travelling.
Features:
The capacity of the bag is 65L
It comes with one front zip pocket, 2 Side Compression Straps, and 2 Side Mesh Pockets
A rain cover is included along with a separate pocket
Ergonomically designed 'S' shaped shoulder straps
It has one main compartment with drawstring closure
The material is a water-resistant polyester
Ventilated Back Panel is also there
Pros:
Durable material
Ergonomic design
Comfortable
Spacious
Numerous pockets
Adjustable strap
Cons:
7.Aristocrat Hike Polyester 45L Hiking Rucksack Backpack: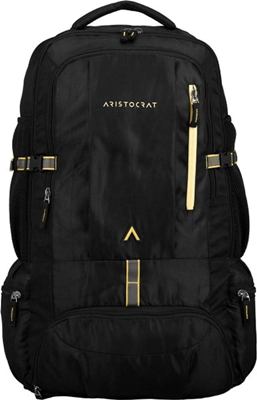 Aristocrat is a company that is synonymous with luxury and durableness of their products. They have made luggage accessories for a while, so they came up with this design. A 45L backpack is perfect for trekking trips as well as hiking trips especially for women and young people. The aesthetic feel and the different compartments of this bag will make it a good companion.
Features:
Capacity is 45L
It has a laptop compartment
Made of Premium Durable Coated Polyester which is water-resistant
The shoe compartment is present
Compression and waist straps
Adequate back padding for comfort
Mesh Pockets and organizer
Pros:
Looks great
Durable
Spacious
Comfortable
Adjustable straps
Organizing compartments
Laptop compartment
Cons:
8.Gleam 0109 Climate Proof Mountain Rucksack 75L: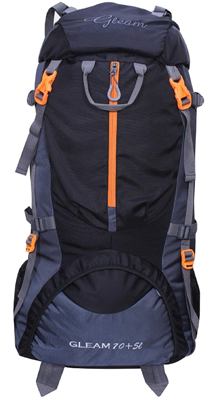 Are you getting to go on a pretty long trekking trip that will require you to pack quite a bit? If yes, then this 75L rucksack from Gleam will definitely become your companion that doesn't let you down. Along with trekking, this is also the perfect bag to take on a backpacking trip as you can pack all the essentials and even more.
Features:
It has a metal frame for support and stability
The capacity is 75L
Adjustable belts are present
A separate shoe compartment
Numerous pockets on the body as well as on the inside
The material is polyester
It has a laptop sleeve
The back is fibre padded
Pros:
Spacious
Water-resistant
Comfortable and Stable
Laptop sleeve
Durable
Cons:
9.POLESTAR Trek 44L Rucksack: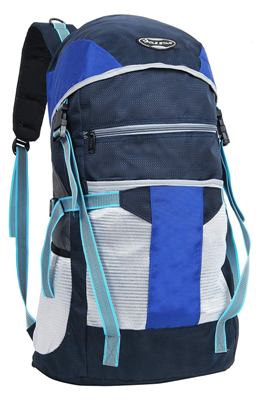 POLESTAR has become a well-known name in India when it comes to backpacks and travel accessories. They have simple products that promise to work great and this rucksack is nothing different. At 44L this is the perfect size product when you are going on a weekend trekking trip or a hiking trip. It is also great for packing a single person's belonging for a weekend trip.
Features:
The capacity is 44L
The material is a premium polyester material
It has a drawstring closure
Adjustable shoulder straps and back padding is provided in this backpack
It is water-resistant
Comes with a 12-month warranty on manufacturing
Made for walkers and hikers
Pros:
Durable
Spacious
Great design
Comfortable
Adjustable straps
Mesh Pockets
Cons:
Top Loading
No rain cover
10.TRAWOC NOVICZ 60 Ltr Black Rucksack: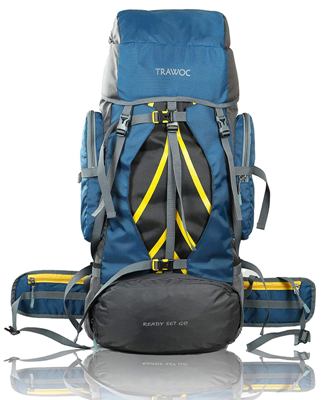 This backpack from TRAWOC is one of the best-rated trekking bags that you can purchase right now in India. It doesn't only look good but also can provide a spacious and comfortable experience to a trekker. The backpack can easily fit the essentials and belongings of a single person for up to a week. The premium quality of the backpack makes us recommend it to you.
Features:
The capacity is 60L
Premium fabrics have been used inside and outside
The zippers and adjustable straps are of premium quality
It is water-resistant
There are convenient pockets everywhere
Breathable mesh padding in back and shoulders
Laptop Sleeve is there
Pros:
Lightweight
Spacious
Durable
Numerous pockets
Comfortable
Cons:
So, here are some of the best backpacks or rucksacks that you can get in India. The products that we have mentioned are great for going on trekking or hiking trips in India and abroad. The companies have taken their time to design bags which turn out to be helpful for people who like to travel. If you take good care of your backpack, then it will have the potential to last a long time. We hope that you will find the best backpack for yourself that you can take on a trekking trip.