Uttarakhand allures you with a magnetism that is hard to resist. Blessed with an array of hotspots, Uttarakhand offers a myriad variety to trekkers seeking a sojourn from the mad rush of city life. From challenging terrains for seasoned trekkers to an easy topography that appeals amateurs, Uttarakhand's platter has delectable flavours for one and all. If you are an adventure junkie seeking some thrill or simply looking for an escapade to soothe your senses then Uttarakhand is your calling.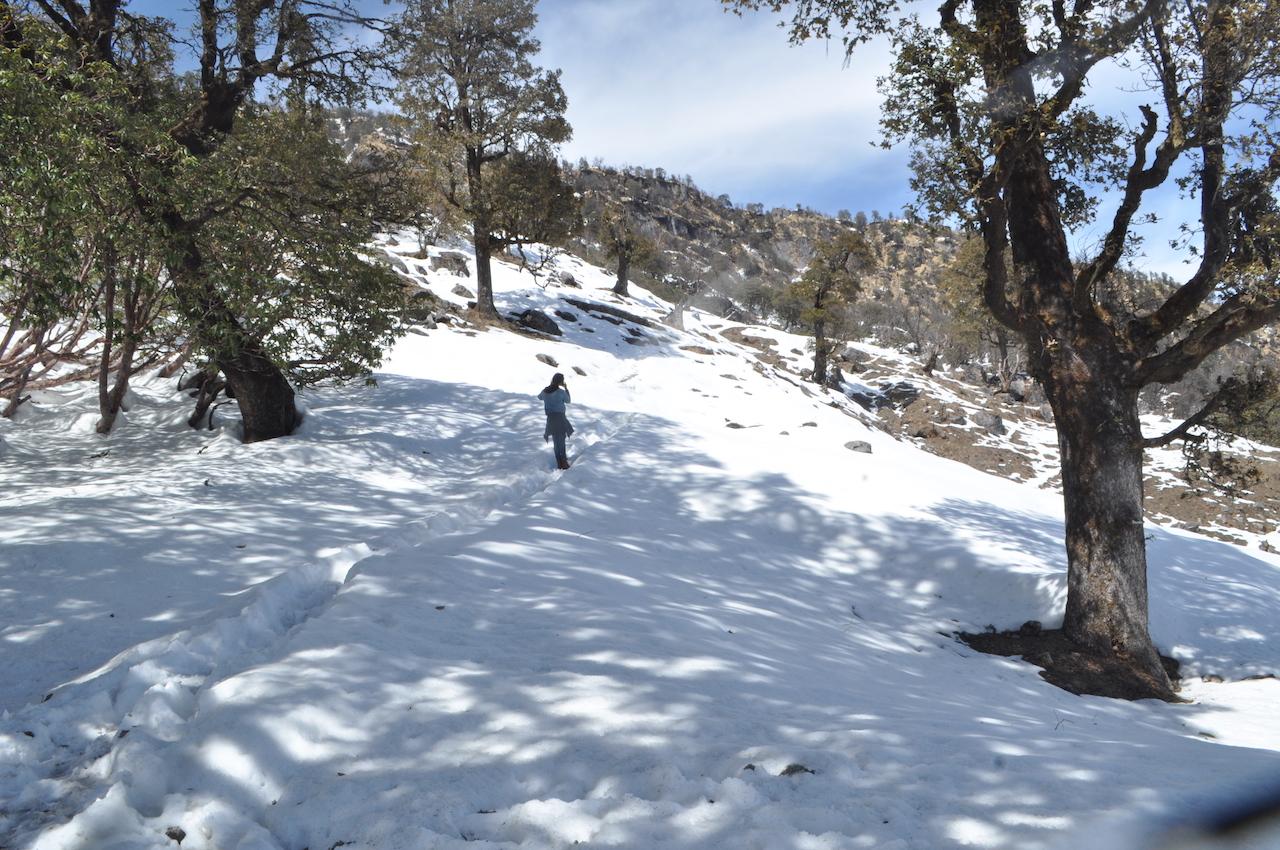 In Michael Palin's words, "Once the travel bug bites there is no known antidote, and I know that I shall be happily infected until the end of my life". Let's get infected by this bug and undertake a virtual tour of a heavenly delight called Khalia Top.
Some facts-
Region-Kumaon Himalayas, Uttarakhand
Altitude-13,125 feet (Zero Point, 2.3 km from Khalia Top)
Trek Level-Beginner
Trek Grade-Easy
Trek Distance-16 km
Duration-5 to 6 days
Route- Kathgodam-Munsiyari-Bhujani-Khalia Top-Balanti- Munsiyari-Madkot-Kathgodam
Start Point-Munsiyari (Base Camp)
End Point-Balanti
Best Season-Spring, summer, fall and winter
Best months-All months except for July and August
Khalia Top Trek
An easy trek, Khalia Top floors you with all the ingredients of a wholesome Himalayan Odyssey. Khalia Top is located at a distance of 10 km. from Munsiyari, a small hamlet in the Pithoragarh district (Kumaon region) of Uttarakhand. This popular trekking route journeys through rich Himalayan vegetation, winding trails, scenic waterfalls, vast meadows, a few steep ascents and easy to moderate gradients with majestic Himalayan peaks serving as a perfect backdrop.
Khalia Top trek offers a perfect ambiance for beginners as well as for urban-dwellers seeking a quick getaway from the stress of routine city life.
Interesting facts about Khalia Top
Kumaon Spectrum-Khalia Top showcases an uninterrupted view of snow-clad mountains of Kumaon spectrum and overwhelms you with a dazzling vista of pristine mountains. The mountain ranges set against the backdrop of azure blue skies look absolutely stunning; rising sun amidst these untarnished peaks casts magical hues of golden and orange on snow-capped summits. You are rarely flattered with such grandiose views of Himalayas on such short treks.
Exotic Himalayan flora and fauna-Thick-furred Himalayan sheep, unicorns, mountain goat called Baral in local dialect along with Monal, Ghurar, Kajar and yellow-breasted marten delight you all along the route. Trekking through fiery red rhododendron (during spring and summer) jungle, thick oak forests, cascading waterfalls with colossal mountain peaks in the background is an experience of a lifetime. Tall pines, spruce and cypress trees add a unique beauty to the trekking trail.
Kumaon Villages and culture-You journey through picturesque towns of Almora, Bageshwar, Choukori, Tejam, and Munsiyari. Feast on mouth-watering delicacies of Baal mithai, Singuadi, Danya parathas, Mandue ki roti, Bhat ka Jaula and much more. Revel in the rich culture of Kumaon by listening to melodious Pahari songs of 'Ber Pako, bar maasa' and 'Kaile baji muruli, o benra'. These songs reverberate in the Kumaon region and are the essence of the unique beauty of this magical place.
Beautiful campsites-Oak hemmed campsites at Bhujani and vast meadow of Khalia Top are a treat to experience and offer you a serene ambiance to rejuvenate your body and mind.
Khalia Top-The expansive meadow of Khalia Top mesmerizes you with a 360-degree view of mountain ranges. The stunning views of Panchachuli massif, Rajrambha, Hardeol, Nanda Kot, Nanda Devi peaks and Milam Valley are one of the star attractions of this trek.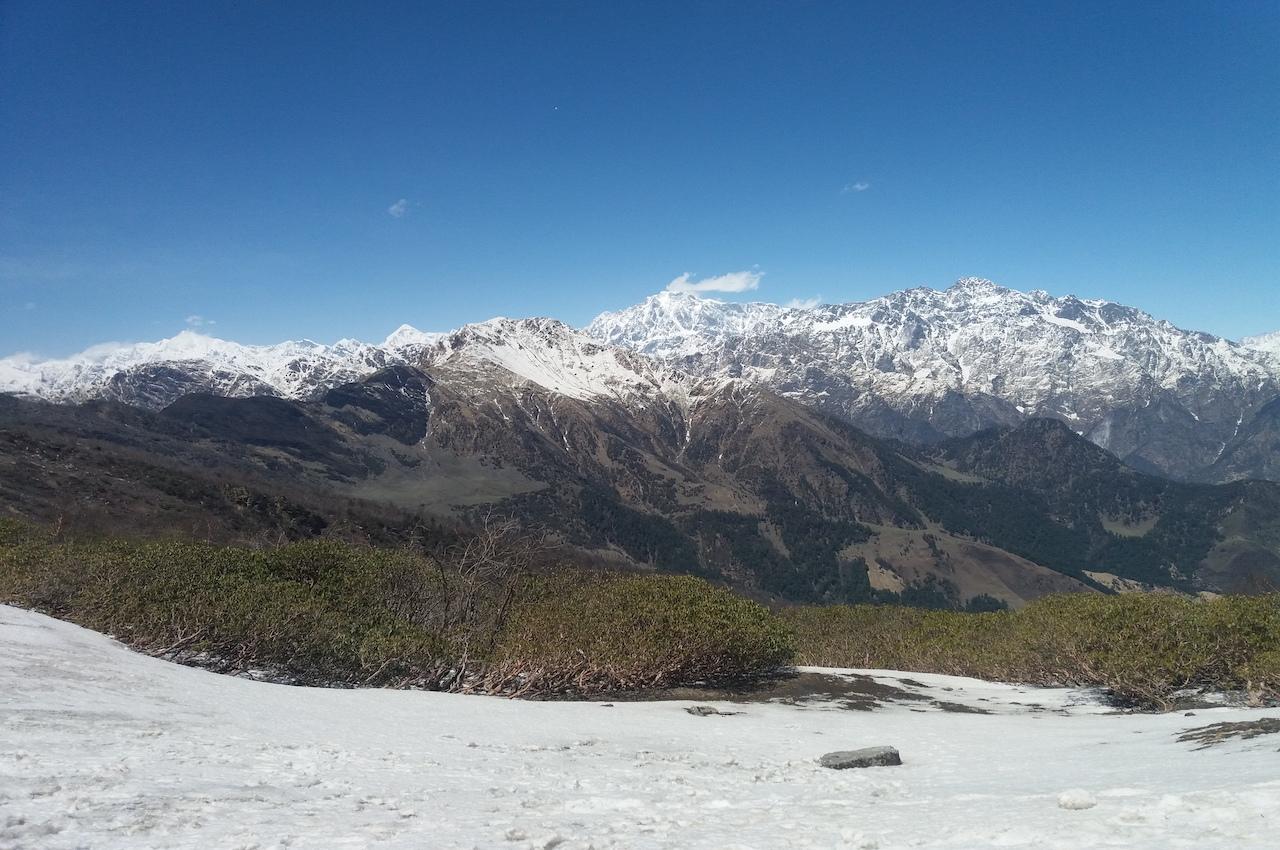 Camping at Khalia Top has its own charm; witness the most glorious sunrise and soak in the early morning sun, enjoy the clear view of Munsiyari or simply laze around inhaling the fresh mountain air. If the weather is clear, you can even see the distant towns of Berinag and Kausani from Khalia Top.
Zero Point-A little higher up from Khalia Top (2.3 km), located at an altitude of 13,125 feet lies Zero Point which offers a much closer view of the lofty Himalayan ranges. The picture-perfect view will stir your senses; take some pictures from your camera or just close your eyes to savour the stunning panorama around you.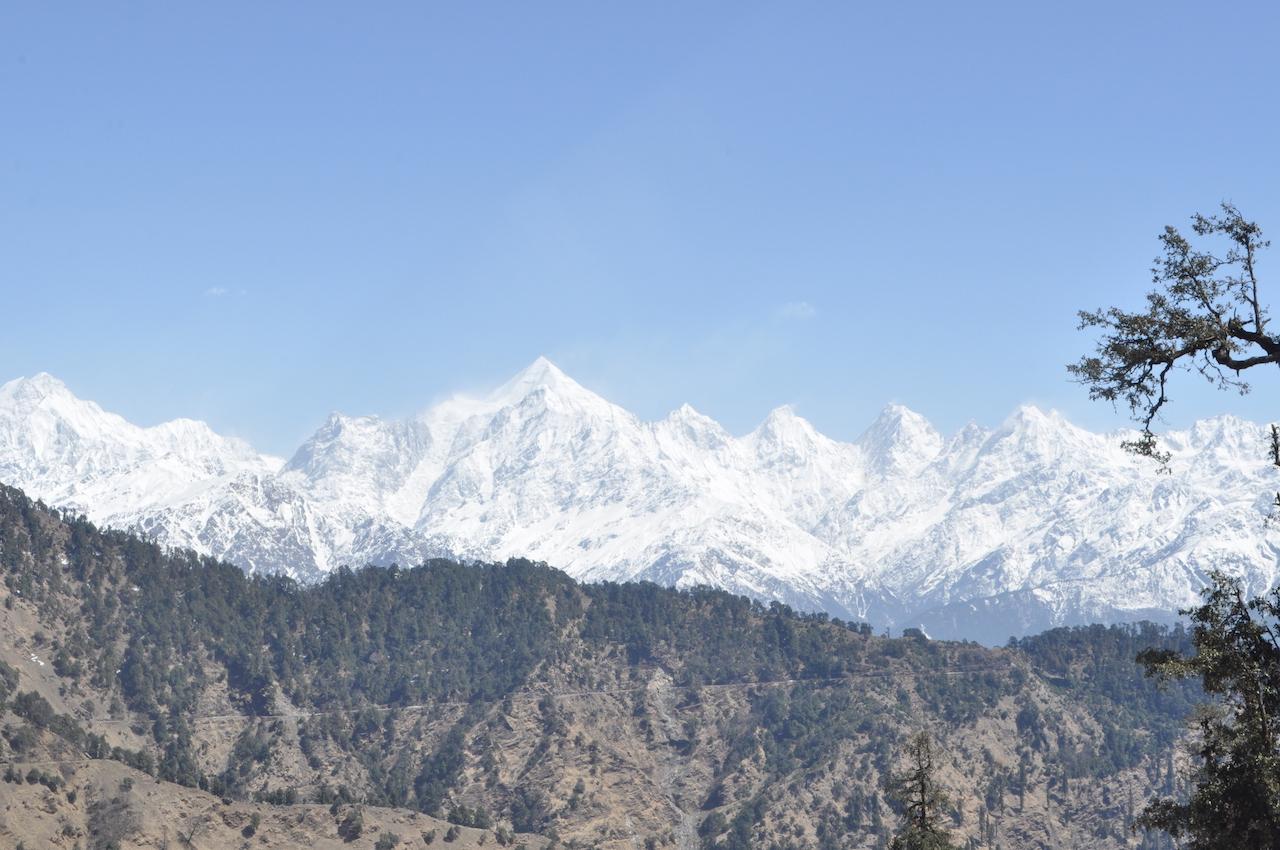 Hot springs-Explore the scenic hamlet of Munsiyari, mingle with the local Johar tribe and take a bath in the hot springs at Madkot (21 km from Munsiyari), known for curing skin diseases and many bone disorders.
Weather
Trek route to Khalia Top is blessed with salubrious weather throughout the year barring July and August when heavy rainfall disrupts trekking activities and the area becomes landslide-prone. While Summer, spring, and fall provide amazing trekking trails, winters offer perfect slopes for skiing on a snow-laden terrain.
How to reach
By road- Reach Kathgodam by road from Delhi (310 km, 7-hour drive) and drive 210 km to Munsiyari from Kathgodam
By rail- Reach Kathgodam by an overnight train from Delhi and drive 210 km to Munsiyari from Kathgodam, or drive to Munsiyari from Delhi (575 km, 16½ hour drive)
By air- Arrive at Pantnagar Airport (1-hour flight from Delhi) and drive to Munsiyari from Pantnagar (312 km, 10 ½ hour drive)