Blissful morning with chants around the mountain, Stunning view of the snow-capped Himalayas with deodar forest, and here's me, enjoying my morning sip of tea in Chopta and enhancing the beauty of nature.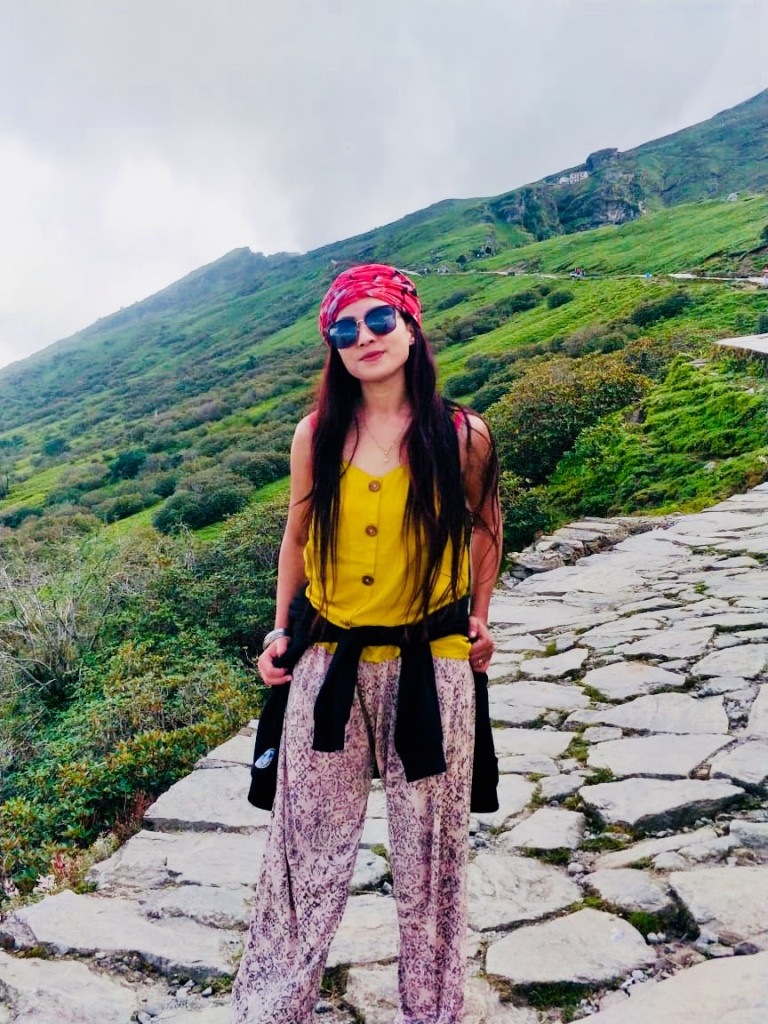 Sometimes it's worth ditching your hectic schedule and getting lost somewhere in the Majestic Himalayas. Chopta Chandrashila trek is one of those treks which make you feel like it's just another world with so much peace and positive vibes. Of Course, this is all because we are in the "Land of Lord Shiva" So it has to be like heaven on earth and the aura of spirituality in every drop of nature.
Also Check: Kedarkantha trek: Best winter trek in Uttarakhand
About Chopta Chandrashila
A stunning panoramic view of Majestic Himalayas with lush green meadow has made my trek so amazing. Chopta Chandrashila trek is situated in Rudraprayag district of Uttarakhand at an altitude of 13100 ft above sea level. This small village is full of beauty and authentic traditions of Uttarakhand which I have experienced during my trek.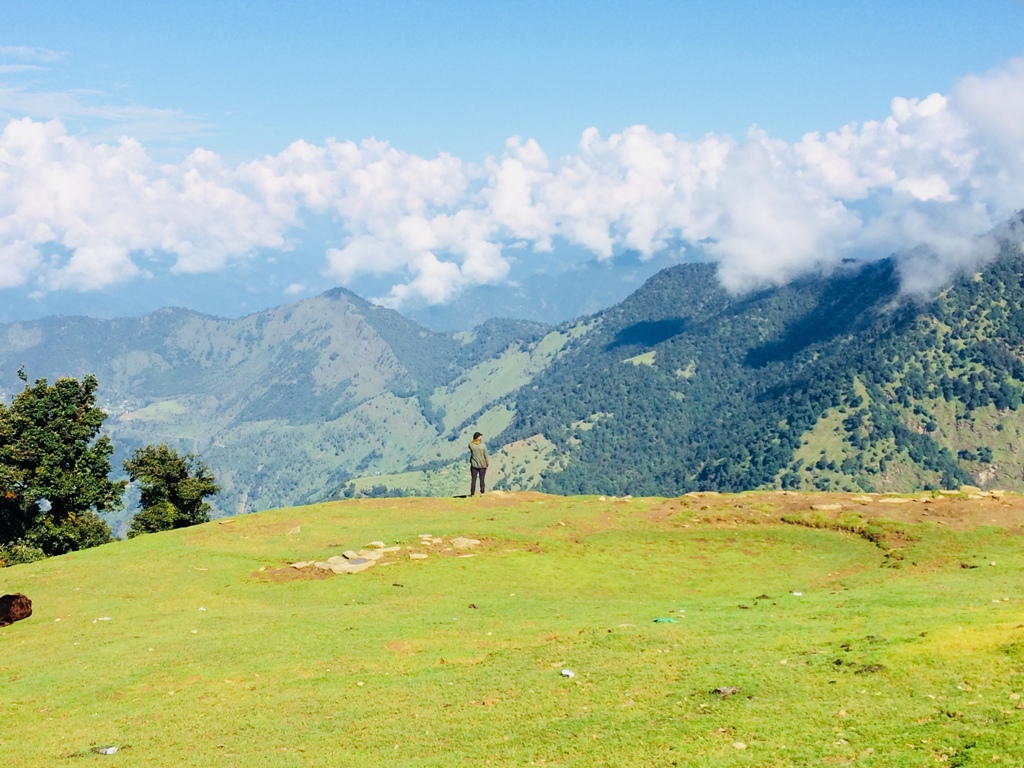 Chopta to Chandrashila trek distance is approx 5.5 km and I rate this trek as easy. I was without my rucksack because the Chopta Chandrashila trek is a one-day trek, so it was quite easy to trek the mountain. Chopta to Tungnath trek distance is 4 km and Tungnath to Chandrashila distance is 1.5 km, which takes around 4 hours on average to cover the distance. Chandrashila is the summit point of Chopta Chandrashila Trek. The basecamp of Chandrashila trek is in Chopta. It will take approx 8 hours in both ways to trek from Chopta- Tungnath- Chandrashila and back to basecamp. Capture the beauty of snow-covered 360 views of Himalaya peaks like Mt Trishul, Nanda Devi, Kedarnath, Nanda Ghunti, and Chaukhamba from the summit point Chandrashila.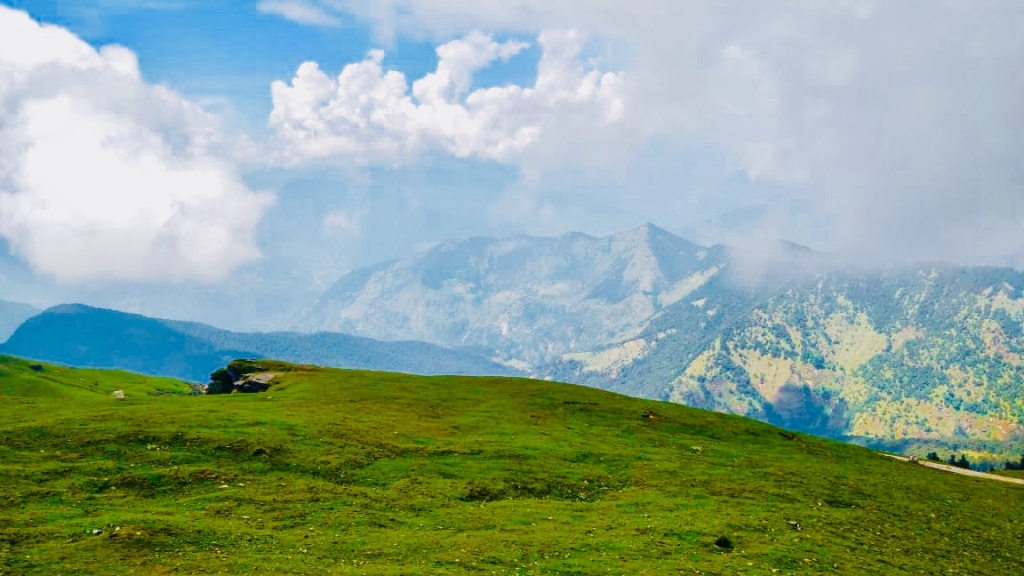 According to Hindu mythology, Lord Laxman (Younger brother of Lord Ram) meditated at Chandrashila for years after defeating the Ravan. Some say Chandra Dev "Moon-God'' spent time at this place, so this place is named Chandrashila.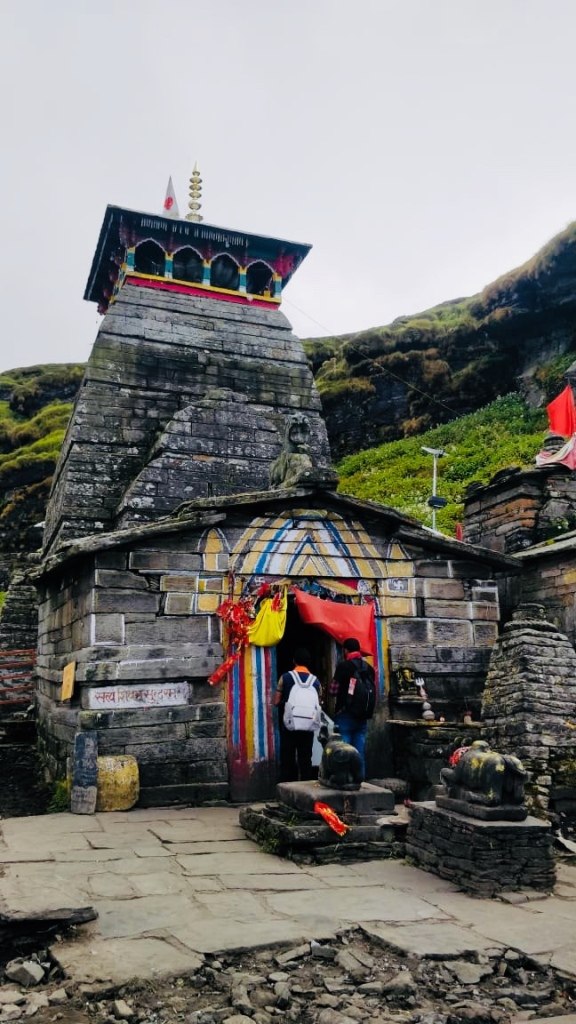 Also Check: Tungnath: Trek to highest temple of Lord Shiva
How to reach Chopta
By Air-You can take a flight to Jolly Grant airport Dehradun. The distance from Jolly grant airport to Rishikesh is 14 km where you can take Bus/ Cab early in the morning, So if possible try to reach there one day before departure from Rishikesh.
By Train-You can take a train to Rishikesh/ Haridwar or Kathgodam. After reaching there you can take a Bus/ Cab early in the morning.
By Road-There are 2 routes which you can take to reach chopta. Either you can take Rishikesh- Srinagar- Agastmuni- Ukhimath- Chopta which is approx 256 km, it will take 8-9 hours of drive or you can take Kathgodam- Ranikhet- Gairsain- Karnaprayag- Rudraprayag- Ukhimath- Chopta with the distance of 261 kms. I was searching how to reach Chopta from Rishikesh because at that time there were some constructions happening on the National highway 7 due to which the roads were closed. So we took the Rishikesh- Srinagar-Rudraprayag- Ukhimath route to reach there. At a place near Rudraprayag, we got confused about which one is the correct way to the basecamp of Chandrashila.
Note:There are 2 chopta that will come on your route. So don't get confused between them. One chopta is a village that comes near Rudraprayag and the other which is the basecamp of Tungnath Chandrashila comes after Agastmuni- Ukhimath. So follow the Agastmuni- Ukhimath route to reach the basecamp of Chopta Chandrashila.
Attractions of the Trek
Panoramic view of Himalaya with snow-capped peaks Tungnath temple
Alpine meadows
Snow skiing
Forest species
Things to Carry on Chandrashila Trek
2 lts of Water bottle per person
Windproof Jacket
Dry food
Energy bars
Extra pair of clothes
Small medical kit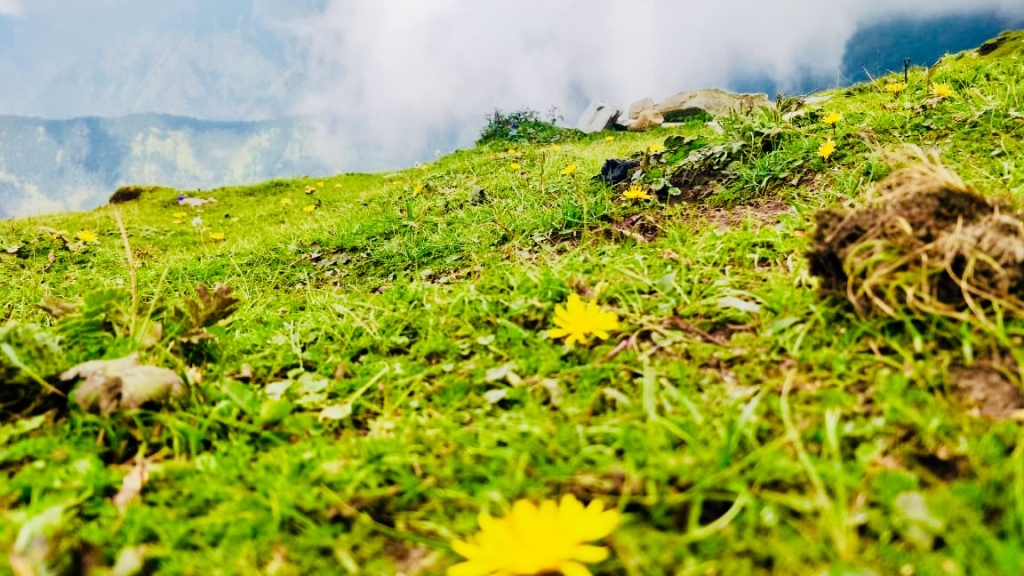 Best time to visit Chopta Chandrashila Trek
It was post-monsoon (End of Sept) When we went to the Chopta Chandrashila trek to see the beauty of lush green alpine meadows after the monsoon and bloomy wildflowers on the meadows. But if you like snow trek, this is one of the best winter treks for you. You will see all the meadows and peaks covered with snow in winter and that time it is little difficult to climb up to Chandrashila because of the slippery and the trek will be covered with a thick layer of snow. But I'm more a meadows person where I can see all fresh wildflowers blossoming on my way till Chandrashila, So we choose post-monsoon for Chopta Chandrashila Trek, and according to me post-monsoon is the best time to visit Chopta Chandrashila because of the pleasant weather and serene beauty of alpine meadows with snow-capped Himalaya peaks.
Chopta Chandrashila Trek Itinerary
Day 1: Rishikesh to Chopta
So finally the day has come after trying for years in planning and canceling this trip and now it is the time to execute all the pending plans for the Chandrashila trek. We started our trip from Rishikesh in the morning after breakfast. We took the Srinagar-Rudraprayag- Ukhimath- Chopta route. The route was followed by the beautiful New Tehri Lake which expanded like 10-15 km approx. It was late in the evening when we reached Chopta. We booked a hotel there; you will also get some campsites in Chopta. After the hectic day, we took some rest to gear up for the next day.
Note:If you're out of cash, you'll get the ATM in Srinagar/Rudraprayag/ Agastmuni/ Ukhimath. There is no ATM machine in Chopta, Ukhimath is the last ATM point.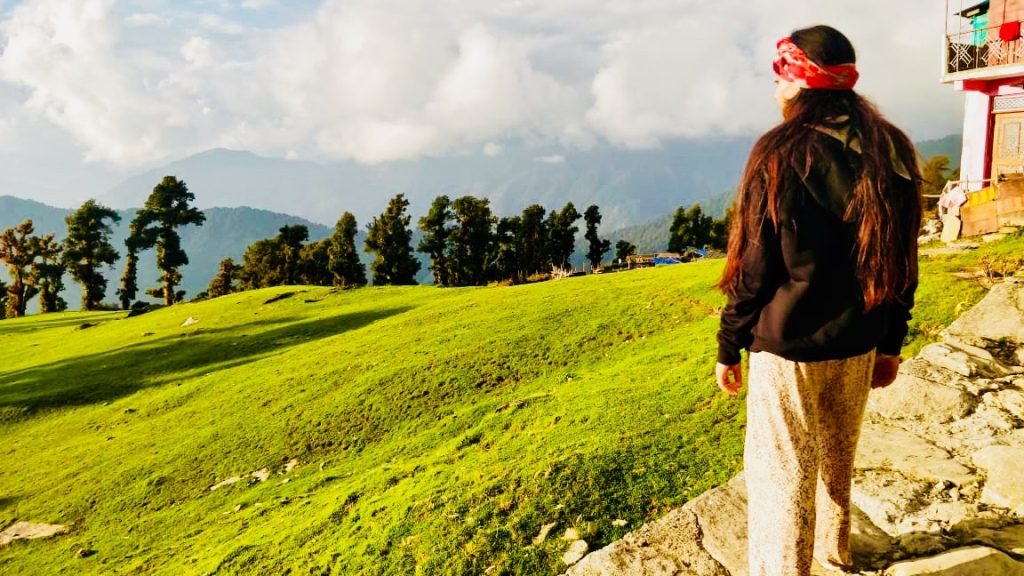 Day 2: Chopta to Tungnath to Chandrashila peak and back to Chopta
Pleasant morning with a fresh cold breeze, sun rays falling on the glittery tiny drops of water sprinkled on the grass, astonishing view of the Himalayas with a cup of tea in my hand is just a next level of feeling for me which I always crave for. After our breakfast we packed our backpack because it was a one-day trek so I just took some stuff in the backpack like a water bottle, some short munchies chips, juice, chocolates, bread, of course, bluetooth speakers.
We started our trek at 9 am in morning from chopta. The trail was followed by the Oak, Deodar forest, and Rhododendron with wildflowers blooming on the trek. After covering some distance we took some rest in Green alpine meadows with a spectacular view of the Himalayas. The eye-catching beauty of meadows and the Himalayas will hypnotize you with its charm. So we decided to sit back and take out our short munchies. Yeah, we were having the Bluetooth but we were so lost in the music of nature and Stillness around us so we dropped the idea of playing music because sometimes it's good to connect more to nature and enjoy the silence… peace… Again we started our trek and after covering the 4 kms of distance in 3 hrs we reached Tungnath Temple.
Tungnath temple is one of the highest Shiva temples in the world with an altitude of 11385 ft above sea level. It is one of the panch kedar situated in the Rudraprayag district. Indulge in the aura of spirituality surrounded with vibes of shiva in tungnath temple.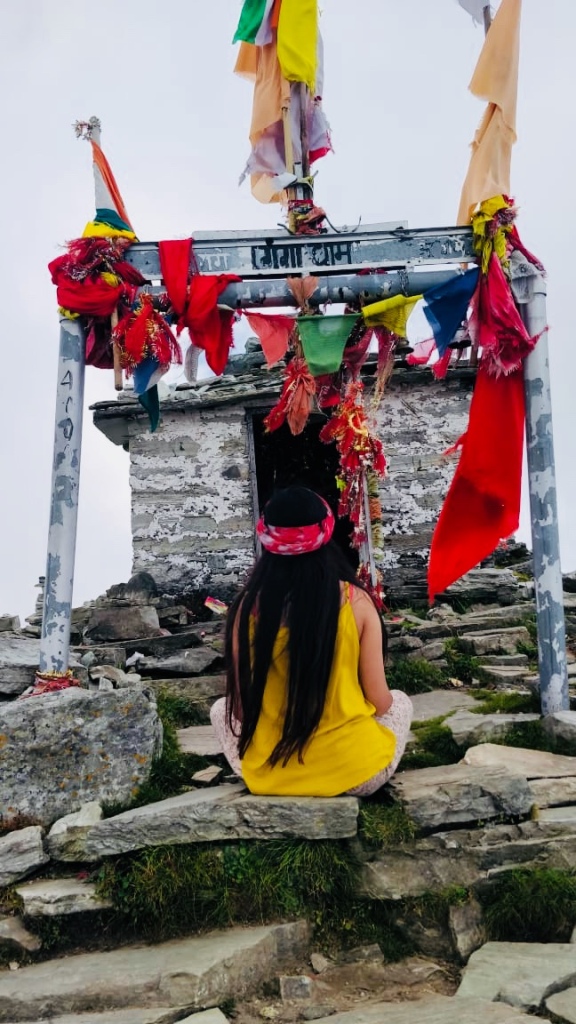 We spent some time there and then headed towards Chandrashila summit which is 1.5 km from Tungnath and it takes around 1hr to reach there. Crossing the alpine meadows, there is a steep climb of 500 mts. Here we reached tothe summit point of Chopta Chandrashila trek at the altitude of 13100 ft. Panoramic views of Himalayan ranges and snow-capped peaks like Nanda ghunti, Kedarnath, Nanda Devi, Mt Trishul , Chaukhamba embrace its beauty. There is a temple on the summit point and the place is surrounded by lots of stone pebbled pyramids where the stones are lined in the shape of a pyramid. This symbolizes harmony, zen, balance.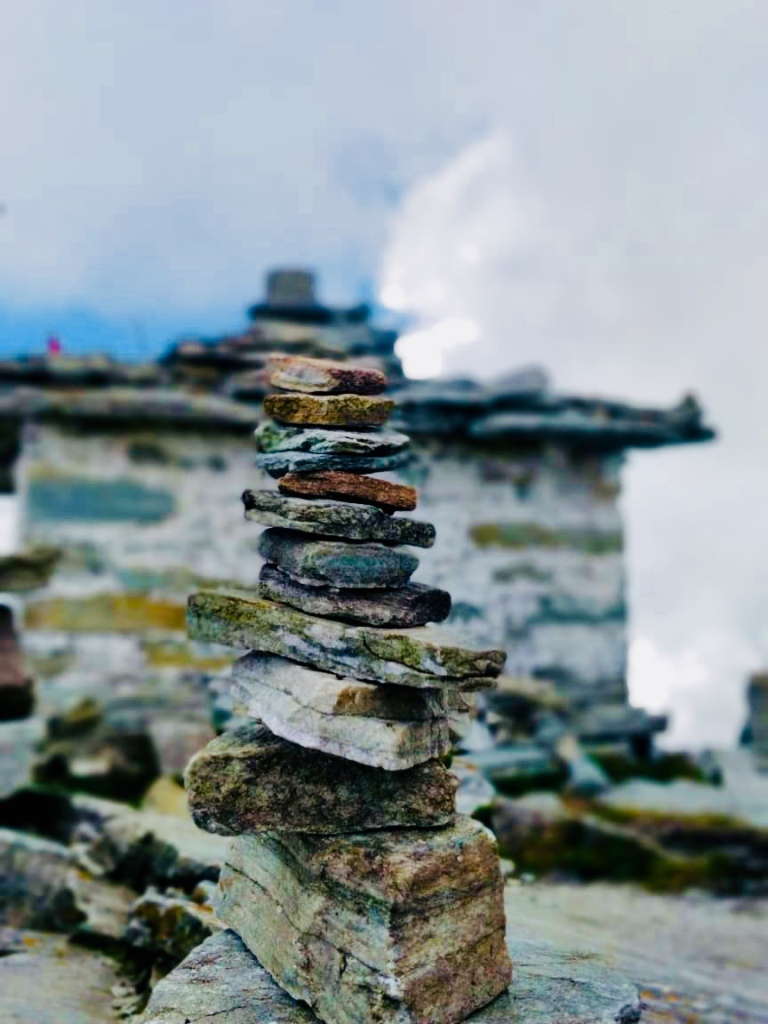 We took some rest there; the calmness around me was something that connected us so much into nature. It was late noon so we started heading back to our base camp in chopta. Because it was the inclining part of the trek so we covered 5.5 km of distance in 2-2.5 hrs approx. In the evening we reached the chopta, where we took some rest and explored some nearby café. It was a clear sky and we were sitting outside the café in the dark night under the millions of stars. A perfect place for Celestine objects and star gazing. I have never seen such a beautiful sky with millions of stars. It was truly amazing. After having our dinner at the café, we went back to our hotel and dozed off.
Day 3: Chopta to Rishikesh
The day to see off this mesmerizing trek to Chopta chandrashila. I have packed my bag with my memories of the Chandrashila trek to cherish them. After having breakfast we left for our pavilion with a hope of coming again to this place and some beautiful moments from this trek are captured in my eyes like an untold story but still very close to me.
Conclusion:
This trip was totally uncertain for me because of the weather, we didn't know anything about this trek like what will happen next and it was my first visit to Chopta Chandrashila trek but I really enjoyed my first experience full of adventure and surprises. All of a sudden it was cloudy and in the next moment it was all clear sky. You'll get to explore the locals and the traditions of Uttarakhand. I would definitely suggest you take out some time from your working schedule, come to this place to admire the beauty of nature, and spend some time in a stress-free life.