Chandratal Trek Duration: 4 Days
Chandratal Lake Trek Difficulty: Moderate
Region: Manali, Himachal Pradesh
Chandratal Trek Height: 4,270 m (14,100 Feet from the Sea Level)
Chandratal Lake Trek Distance:- 26 Kms
Chandratal Trek Activity: Trekking, Camping
Accommodation Type during Chandratal Lake Trek via Hampta Pass: Tents
Chandratal Trek Temperature: Day time: 13°C-18°C; Night Time: 0°C-7°C
Chandratal Trek from Manali, Himachal Pradesh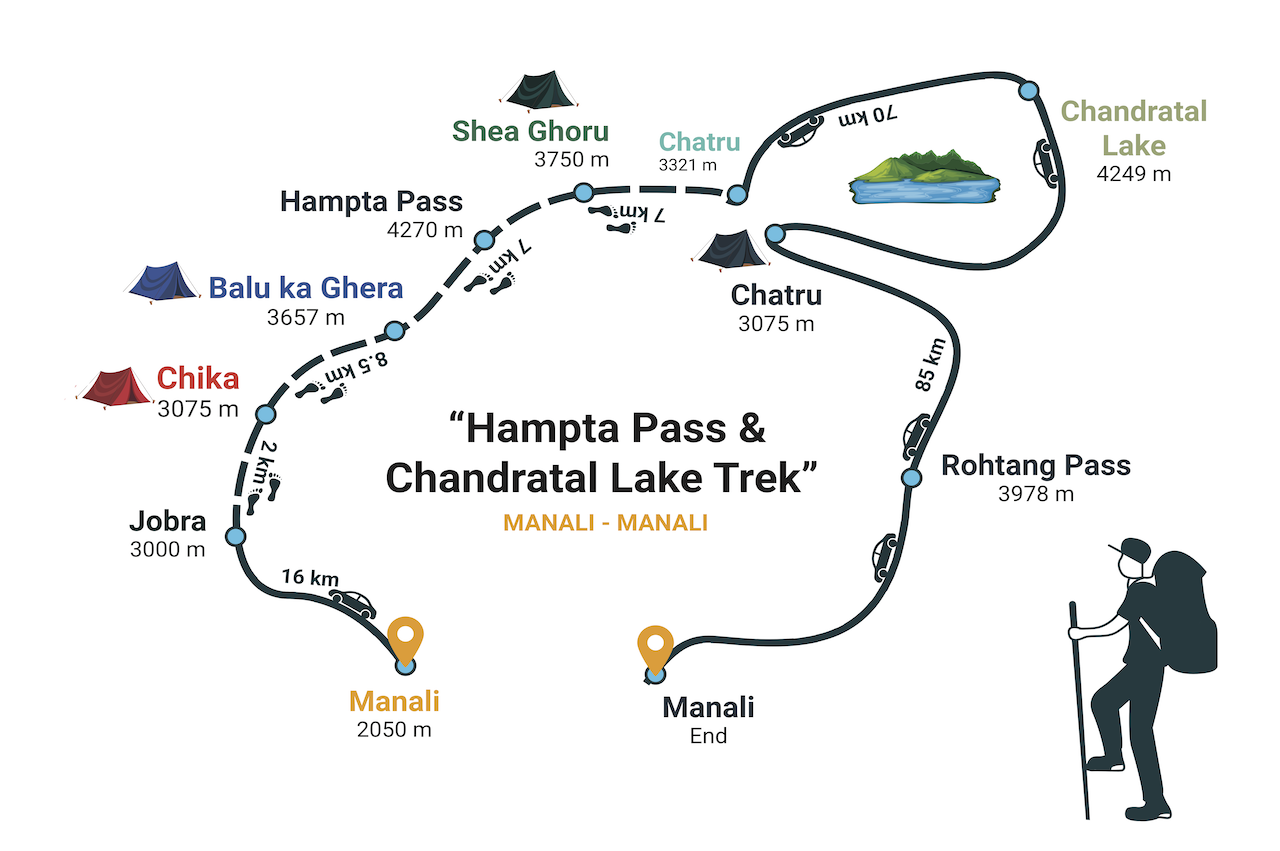 Trek map of Chandratal lake trek via Hampta Pass
How to reach: The nearest station is Manali. Therefore, the trip starts from Manali to Chika via Jobra and ends back in Manali.
Himachal Pradesh is one of India's most popular States, having a pristine range of snow-clad mountains, breathtaking landscapes, dozens of Hindu Temples and riverside camping sites, apple gardens, etc are a major source of tourist attraction. People all over from India and around the globe came here to explore and refresh their souls in the lap of the Himalayas.
Why I choose Hampta Pass – Chandratal Lake Trek?
I'm not the kind of a Solo Traveler, so I need someone with whom I'm comfortable. So I decided to take some break from my day-to-day work schedule. Mountains are my favorite place to explore myself. The Chilling & foggy morning, valley wrapped in clouds like you are in another world, rainbows, the waterfalls coming down far from the hills are the key factors.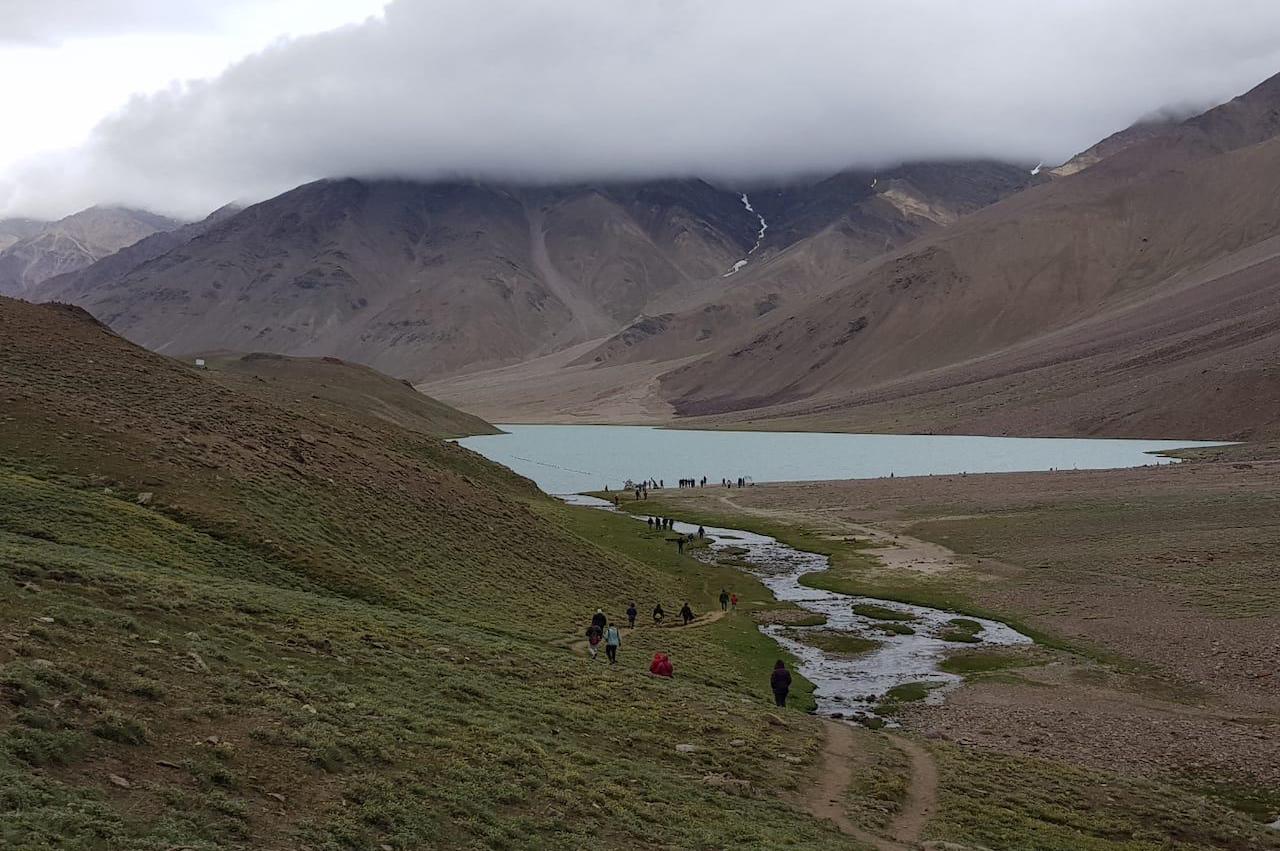 Chandra Tall
Also Check: Chandratal: The Crescent Shaped Lake
With more than 200 defined trekking trails from easiest to most challenging, the Hampta Pass trek is at a moderate level of around 26 km of trekking distance. Some other popular destinations for trekking and campings are Dhaulandhar (Triund Glacier)trek, Parvati valley trek, Bhabha pass trek, Sari Pass trek, Beas Kund trek, trek to Chamba and Pin Parvati, Kakeri lake trek, etc.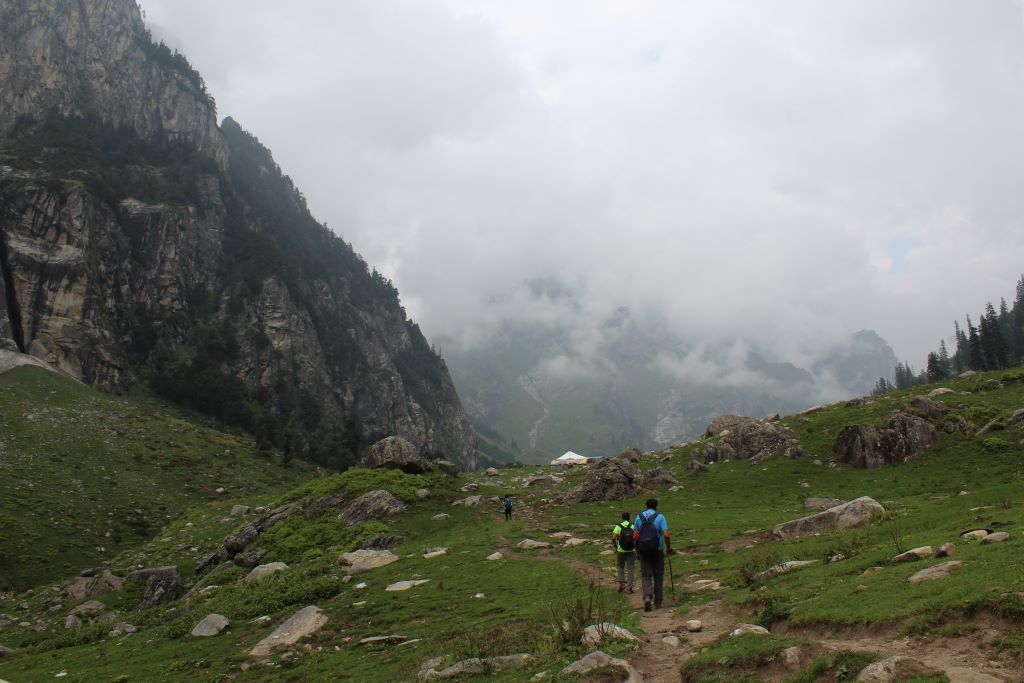 Tea Point before Chika Campsite
Preparation and Boarding Day for Chandratal Trek – 13th September 2019
Abhishek and Me (Hitendra) rushed from home at 5.30 pm to reach Majnu ka Tila, Kashmere Gate. Sharp at 7.30 pm, we reached Kashmere Gate Metro to board our bus at 8.30 pm. Now we have to find the Indo-Canadian (Snow Region Travels) office, which is opposite Gurudwara. But we reached another Snow Region Travel office which was situated 2km ahead of Gurudwara. We crossed the road to the opposite side and walk swiftly in traffic with our load of 15kg bag-pack. We ate two plates of momos as our meal for that night. Finally, we board on Volvo Bus. I'm very excited about the trip, leaving Maa & Papa far behind for 4 days without any phone connectivity. At 8.30 pm our journey to Manali begins. Although, the bus seat was very comfortable. We are unable to take sleep as our feet are not fitting there; that was a very rough night.
Day 1 (14th September 2019, Saturday): Manali to Chika Via Jobra
Altitude:- Jobra 9,800ft to Chika 10,100ft
2-hour drive to Jobra from Manali
2km, 45 minutes trek from Jobra to Chika
Reporting time at Manali was 12 pm
Early morning our bus stopped for 15 min at Beas River Point for some tea. After a rough night, I'm feeling sleepy, so I decided to take some tea and what I saw- Huge mountains covered with clouds and white water river flowing between them – Ek Pahadi ko Our kya chahiye
Welcome to Manali, Himachal Pradesh
Around 9 am, we reached the Manali Bus stand. Now we have to report our Team at 12'o clock at Nehru Park, Mall Road. So we have only 3 hours to get ready, no time for rest. We arrange a budgeted hotel at Rs 300 for 3 hours. As we didn't take any dinner last night, we are hungry, so we decided to visit a good Dhaba for Breakfast.
Also Check: Trekking in Manali
Around noon we reach Nehru Park – 200 m from our hotel. So we waited. At 12.30 pm, a battalion of 39 Gujjus came! We are going to trek with them. Interesting!
Tip: For dining and Breakfast avoid lavishing restaurants. Go and check out for clean Dhabha. They will serve you hot and good food at a reasonable price.
The Amazing part of this group is nearly 8 or 9 people are below 30 age, including me and the rest of them are above 45 to 65 years of age.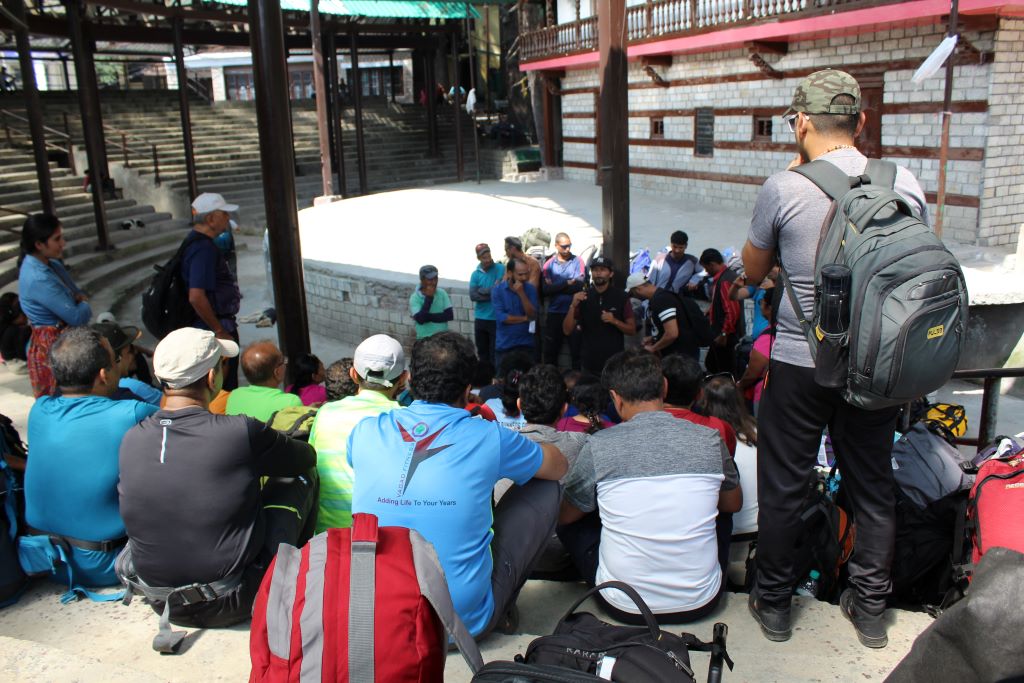 Team Moxtain: Pre-trekking session
Jobra Point during Chandratal Lake Trek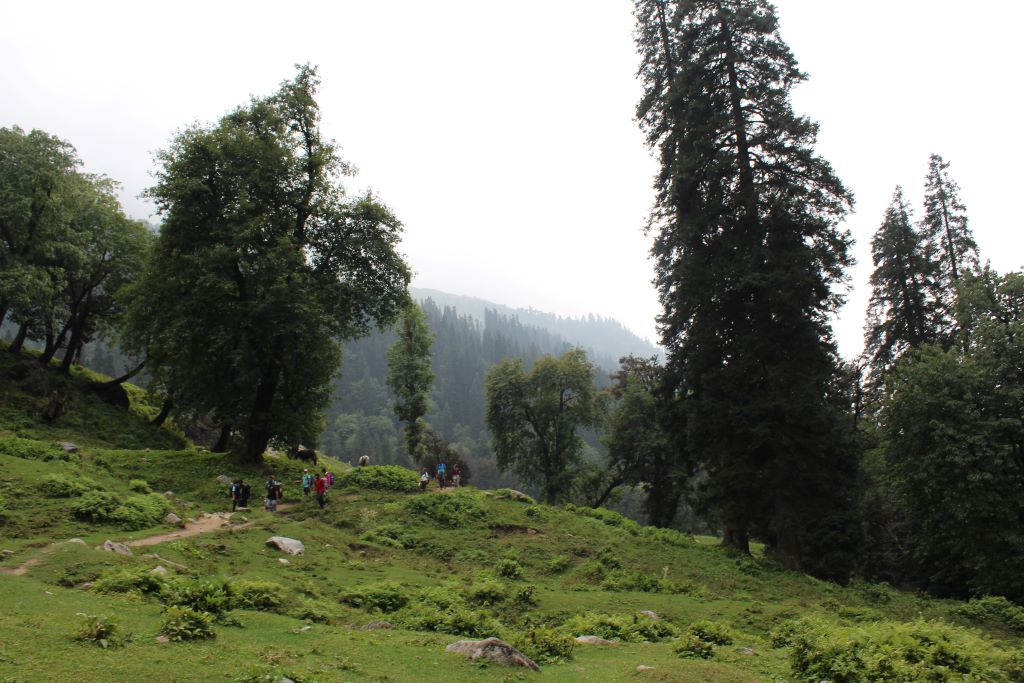 Jobra to Chika Trail
Boleros are ready to take us to Jobra, where we will start our journey with our bag pack. Kiran and Atul joined us; they are from Delhi soon we became friends. At 2 pm, we reached Jobra Point, from where trekking starts. We took our lunch there.
Chika Base Camp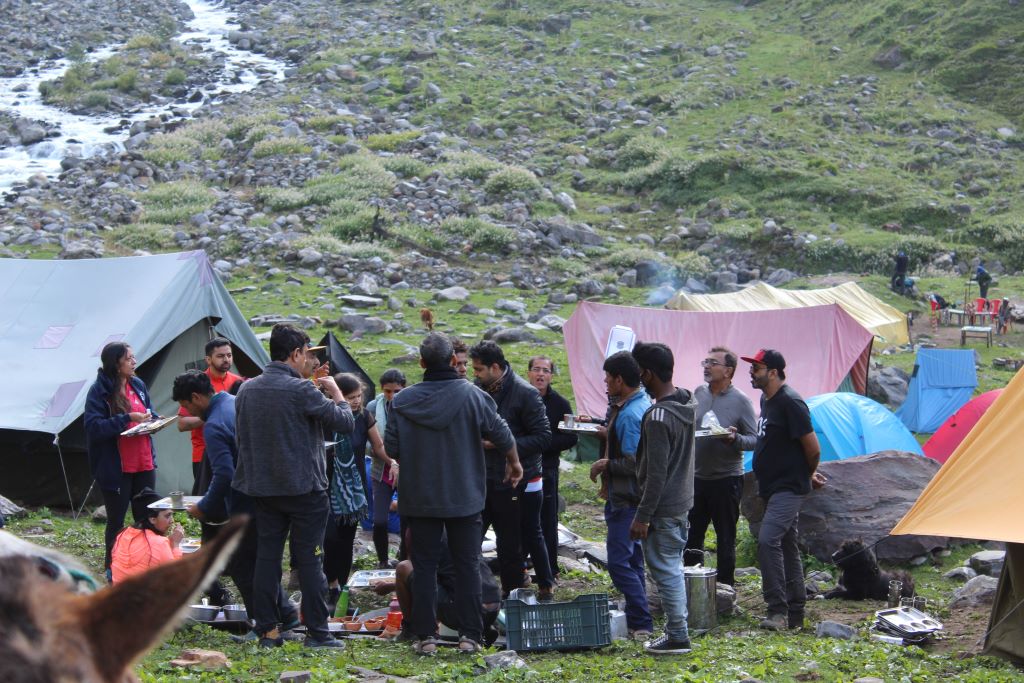 Evening Snacks at Chika campsite
After that, we headed towards the Chika base camp with our 15 kg of Bags. Starting day was an easy trek of nearly 2.5km continuous, which ends easily at 4 pm. After reaching Chika base camp, we halted there. Dinner, which was so delicious – Chapati and Dal that I never expected! Early morning we have to trek more than 8 km to Balu Ka Ghera (11,900ft), so we need to go to our tents early. Here are the first-day glimpses.
Tip: During camping in hilly areas, avoid littering and plastics. Put in a lunch box and stainless steel water bottle.
Day 2: Chika to Balu ka Ghera
Altitude:- 10,100ft to 11,900ft
Level: Moderate, 8.5Km, 6hr trek
River crossing, boulder walk, and colorful tiny flowers on the way
Majestic Peaks, peace, and beauty would make anyone fall in love with them. Starting our day at 6 am with a nutritious breakfast of Milk, honey, Poha with Paratha.
We are ready to set on an easy trekking trail that is supremely impressive! With the true beauty of the Himalayas, breathtaking views make everyone feel refreshing and rejuvenated.
We are following the left bank of the river that will appear on your right-hand side. We walked through flowering meadows and valleys, Dhauladhar ranges, the outer Himalayan chain of mountains. Now the Canon works begin; started with few clicks, I captured the beautiful landscape, fast-flowing mountain stream.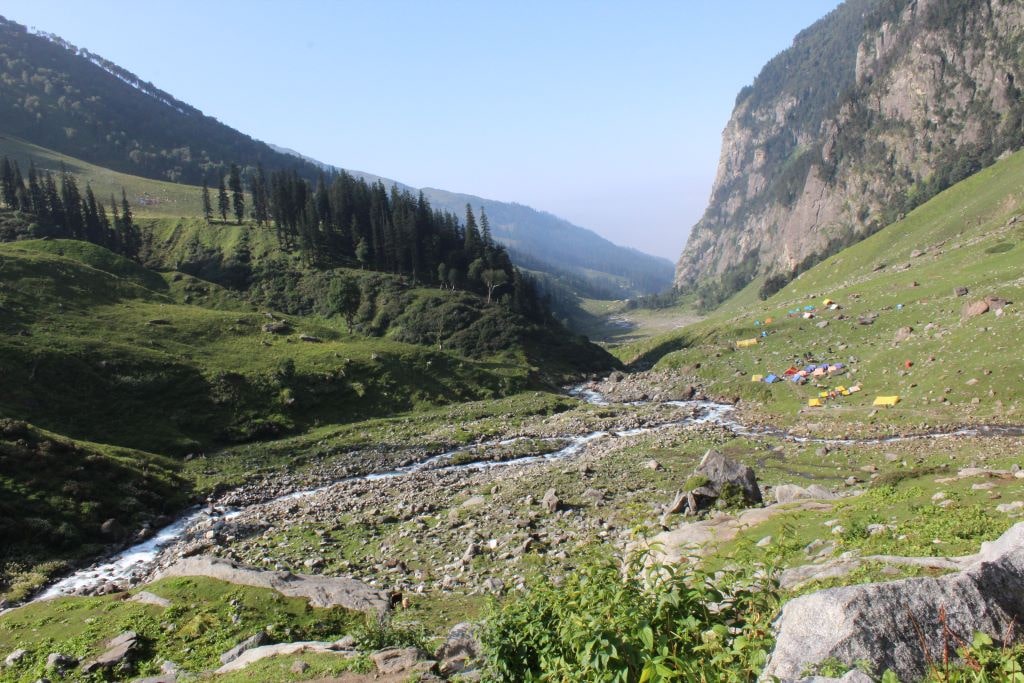 Chika campsite from uphill
There is around 2km of easy uphill to reach another side of the mountain. Slowly but continuously, we are moving. After crossing it, our next task is to cross a fast and chilled flowing river. Daring Delhi team (Abhishek, Me, Kiran, and Atul) reached early at that point. We waited for our group there for 30 minutes. There was another group also, who are trekking from Hampta Pass -> Chika -> Jobra.
We have enough time to wait, so I take a bath at the river. It was so cold that even my legs and hand jammed, my ears gone blocked. Sun is at the top with a cold breeze on the move. I got a cold and headache in this cold water. As soon as our Gujju Gang arrives, we make a human chain to cross the river. It takes 20 minutes for our group of 42 people to cross the river. Our half of the trek is now completed. We entered Jwara is a beautiful scenic valley, a wildflower meadow at the meeting point of a valley!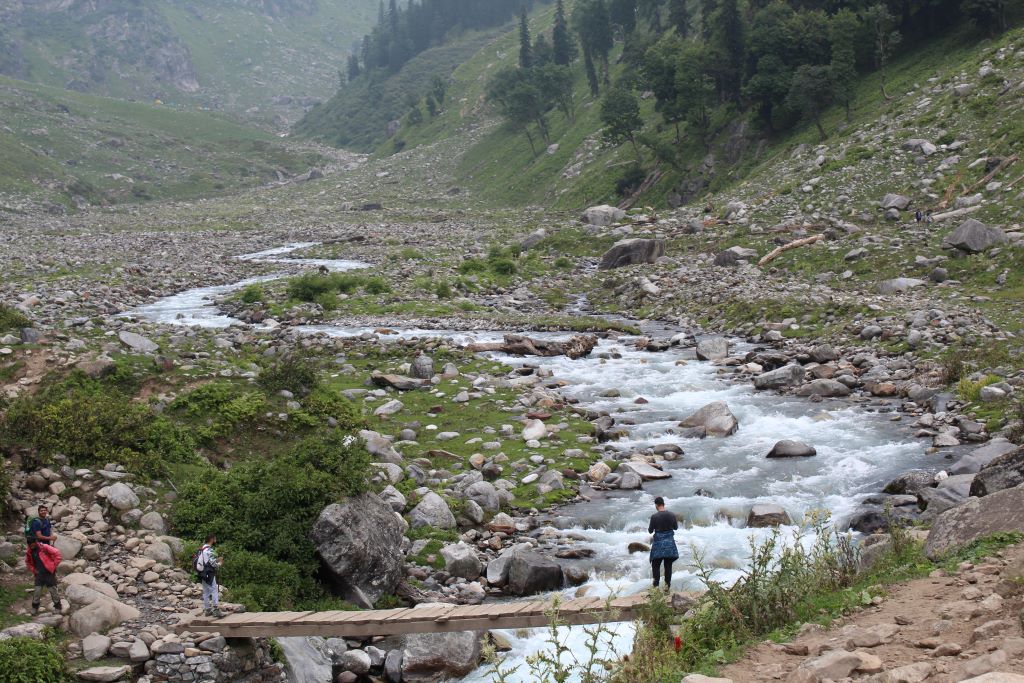 We decided to move slowly instead of resting at the meeting point. Moving alongside the river, we stopped at some point to take lunch, Chapati, and Bhindi (Ladyfinger). It is at 4 pm now.
The weather is changing with a little cloudy. It will take another hour to reach the end of the valley, the finishing point Balu ka Ghera.
At 5.30 pm, as we reached Balu Ka Gera campsite, I just headed towards our tent and rested nearly 2hrs. Meanwhile, Abhishek brought up hot soup for me, which is helps me boost. It was showering, and the temperature is going down. In the dining shade, our Gujju team is playing antakshri. The night was horrible for me as continuous pain in my head due to the cold. That night I skip dinner. Nearly at 1 am, I woke up for the toilet, which was installed along the riverside. It was a full moon, and the moonlight showers the entire valley. While going back to the tent, I've taken medicine for a headache. The morning begins as fresh as usual, but still, I'm feeling too tied. My breath is getting shorter as we start out the next toughest part of the trek.
The next day begins with trekking along with more than 15kg of weight, which is too harsh for me, especially when I'd shorter breath. Taking our tiffin box, our batch is moving slowly from the valley towards Hampta pass.
Day3: Balu ka Ghera to Siagoru (12,900ft), Crossing Hampta Pass (14,100ft)
Altitude:- 11,900ft to 14,100ft (Hampta Pass) to 12,900ft
7 km, 12 to 15hr trek
No water point on the way.
We have to move faster this day as it is the toughest and longest of the rest of the days. As we move on, there is a gradual ascent that becomes steep uphill after we reach Hampta Pass.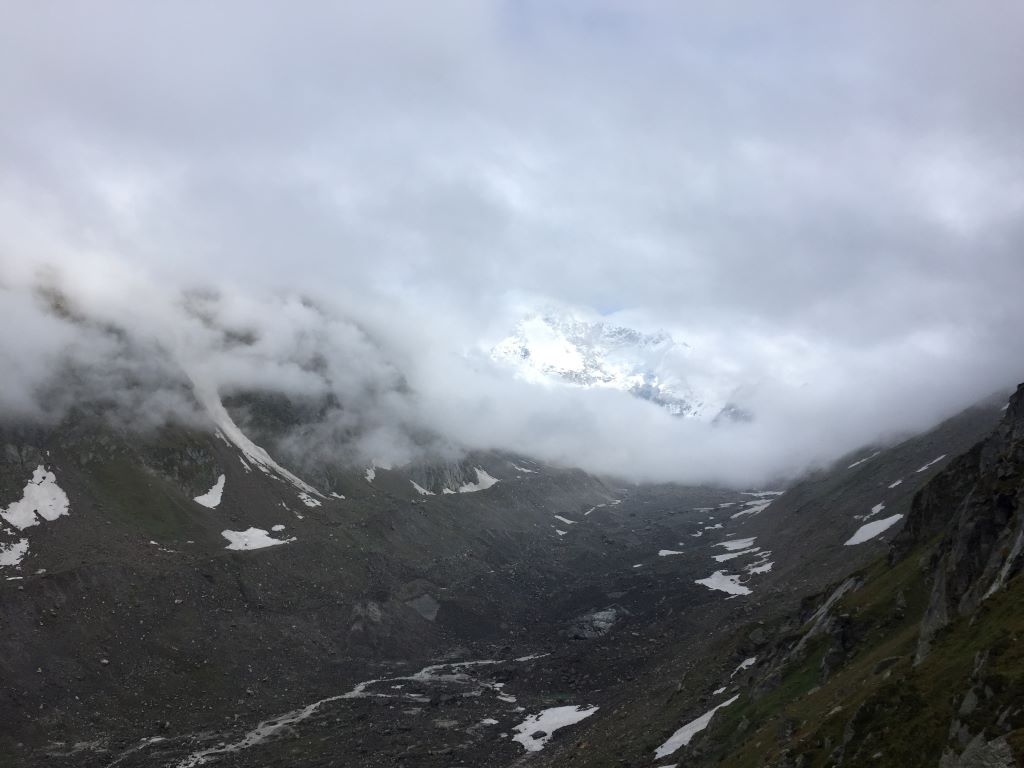 Hampta Pass
While crossing the Hampta pass, we walked in the snow, and the weather is changing minute to minute. Snowfall happened, then another minute it's raining. Challenges and trek level has been increasing. Heartbeat was noticeable; each breath was conscious.
I was losing breath because of lower air pressure, and at every 10 steps, I stopped to gain some more oxygen, and it was too tough to reach the top. Pushing myself so hard and I said myself – "If you want to get the top, nothing is easy. Chase it and achieve it ". I was the last 3rd person to reach the top of Hampta Pass – 14,100ft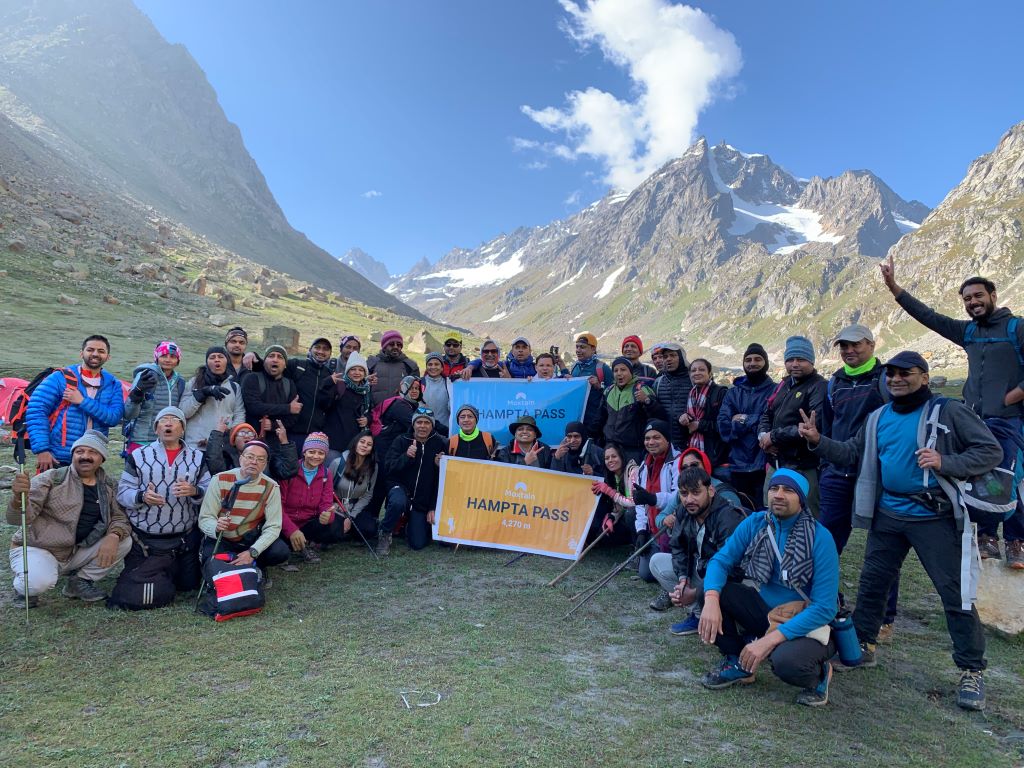 Hampta Pass Trek
Now the scariest part comes – nearly 80-degree sharp descent. No water sources; chilling winds almost froze my hands. Pushpa offered his gloves to me. It takes more than 2 hr to come down from the steep slope. Somehow I reached the ground where Abhishek waited for me. The Shea Goru campsite was clearly visible from that point. After reaching the ground, we have to walk over the solid rock glacier. All our group members already reached the campsite, including the 50's and 65 years young uncle. Now my spiritedness gave up there. Due to a slip disc issue, my lower back was burning.
Abhishek holds my luggage. He has now carrying double weight on his shoulder.
Somehow after crossing the Lahaul Valley flat surface we finally reached Siagoru basecamp. Totally scenic and relieved. The day's trek was about 10 hours for me.
The Siagoru campsite is also by the riverside.
Tip: Climate at Hampta Pass changes gradually. Get a Poncho or Waterproof Jacket and gloves.
Day 4 – Trek from Siagoru to Chatru (11,000ft), Drive from Chatru to Chandra Tal
Altitude:- 12,900ft to 11,000ft
7Km, 5hr trek
In the morning, we joined up for group photographs.
The last day is an easier one! Beginning with the trek (after Breakfast), feeling energetic as Pushpa (Our guide) gave me a dose of pill to overcome my short breath problem. There is a hilltop/sightseeing where we take photos of the magnificent Himalayas Mountains.
Shea Goru is located at the height of 3,920m (12, 900ft), and Chatru is at 3,320m (11, 000ft). It is a gentle trek downhill from Siagoru. It is all barren. The trek leads us alongside Chandra River. Roads were clearly visible.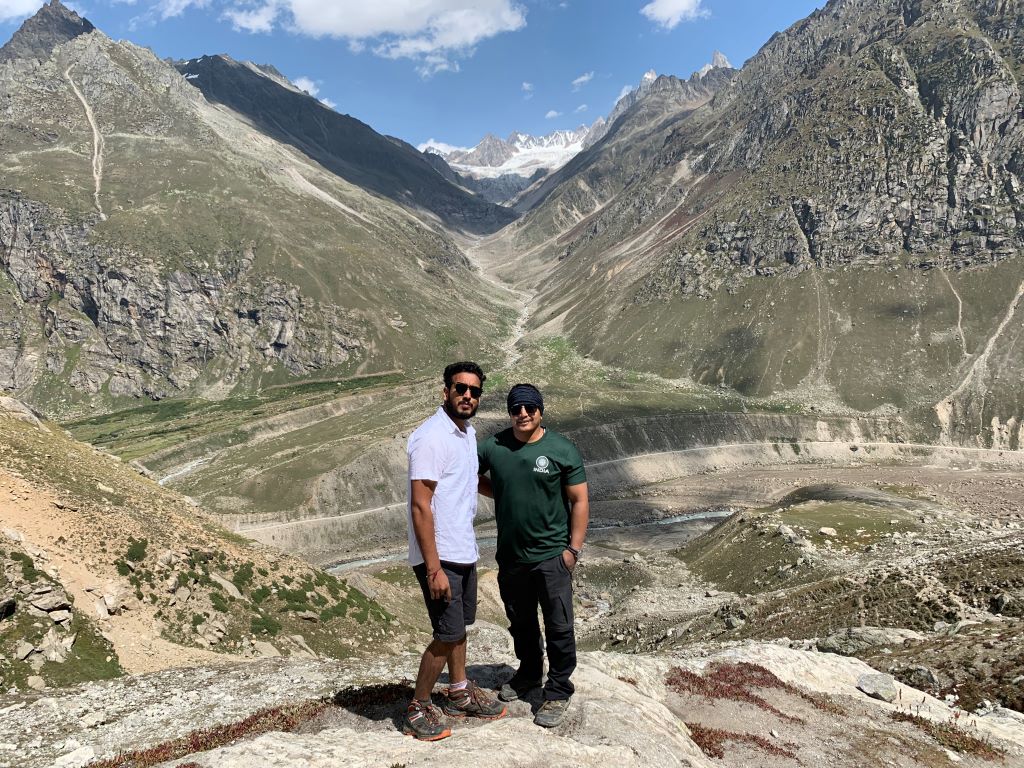 Me at Hampta Pass
Getting down from the mountains is an easier one from the steep slope of Hampta Pass.
Arriving in Chatru, our next stop is Chandratal…. after taking lunch at Chatru, our Team is ready to Chandratal via Jeep. Most of our fellow Gujju friends returned to Manali.
The NH was too dangerous; roads are broken, one of the dangerous roads in the world. Moving ahead, one of our Jeep was stuck in the rocks, and its oil tank is leaking. Simultaneously there were hailstones. After struggling with this and bad weather, we couldn't move to Chandra Tal lake and our journey ends at Chatru.
A big thank you to our all cooks who serve so much delicious food and guide who made this possible.
कुछ कहानियां अधूरी रह जाती हैं | नयी कहानियों को आकार देने के लिए
Written by Hitendra on 09-Apr-2021