Rani Sui Lake Trek Itinerary
Himachal Pradesh is synonymous with beauty and adventure. You cannot help but drool over the diverse landscape, endless possibilities of trekking, and the distinct culture when you think of it. Feel free to choose from a variety of treks- ranging from weekend treks to long-duration treks. If you have enough time in hand, Hampta Pass and Deo Tibba can be your ideal pick. But if you want a quick getaway, you can go for Beas Kund, Lamadugh Peak, or Patalsu Peak. Some more short treks in Himachal Pradesh are Triund Hill, Kareri Lake, Karol Tibba, Kheerganga, Prashar, Vashist Yogini Waterfall, Churdhar Peak, and so on.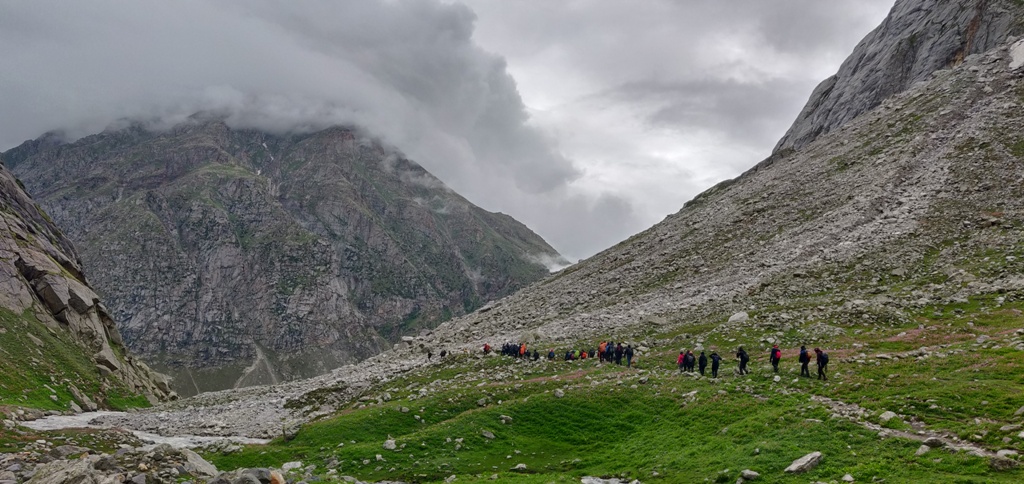 The region is also famous for its high altitude lakes, one being the stunning Rani Sui Lake. Also known as the Saurkundi trek, the lake lies in between the route to Bara Bhangal and Kalihani Pass and above the beautiful town of Manali. Rani Sui Lake is at an elevation of 11,154 ft. It is one of the very few high-altitude treks in the valley of Kullu. Many pretty wildflowers bloom on the vast pastures and surround the lake, making it appear no less than a paradise. It is a lesser-known trek of the region.
Our journey begins from Old Manali, and we trek our way to our first destination- Lamadugh, a high altitude plateau. En route, we will come across many snow-capped peaks like Deo Tibba, Indrasan, and Bara Sigri Glacier. The route to Rani Sui Lake from Lamadugh is steep but also offers panoramic views of Manalsu Galcier, Dhauladhar and Pirpanjal range, and the town of Manali. It takes you through the untouched, beautiful alpine meadows and the dense forests of the region.
Also Check: Trekking in Manali: 10 best treks in Manali
There are quite a few routes to reach Rani Sui Lake. The number of days ranges between 3 to 7, depending on the route you choose.
How to Reach the basecamp: Manali
The base location for the Rani Sui Lake Trek is Manali.
By Air:
Kullu - Manali Airport or the Bhuntar Airport is the closest. It is at a distance of 52 km from Manali and 11 km from Kullu. Very few airlines operate from Delhi to Kullu, so the number of flights available is also limited. But the prices of these flights are pretty high. You will find cabs at an affordable rate from the airport that will drop you off at Manali.
By Train:
Jogindernagar Railway Station is the nearest railway station to Manali. It is at a distance of 50 km from the beautiful town of Manali. Many significant cities connect to Manali through this narrow railway gauge. You can also get down at Ambala Cantt Railway Station (350 km).or at the Chandigarh Railway Station (310 km) to reach Manali.
By Road:
It is more accessible to reach Manali from Delhi via road. You can choose from a wide range of government-run and private buses. Some of the buses available are HPTDC buses, HRTC buses, and the semi-sleeper AC Volvo buses. The journey is around 540 km, and it takes a whole night to cover the distance. It will take approximately 12-14 hours. The buses start from the ISBT Kashmere Gate in Delhi. You can also drive your car or rent a car for the trip if you want comfort and privacy and do not mind spending the extra amount.
Best Time to Visit Rani Sui Lake Trek: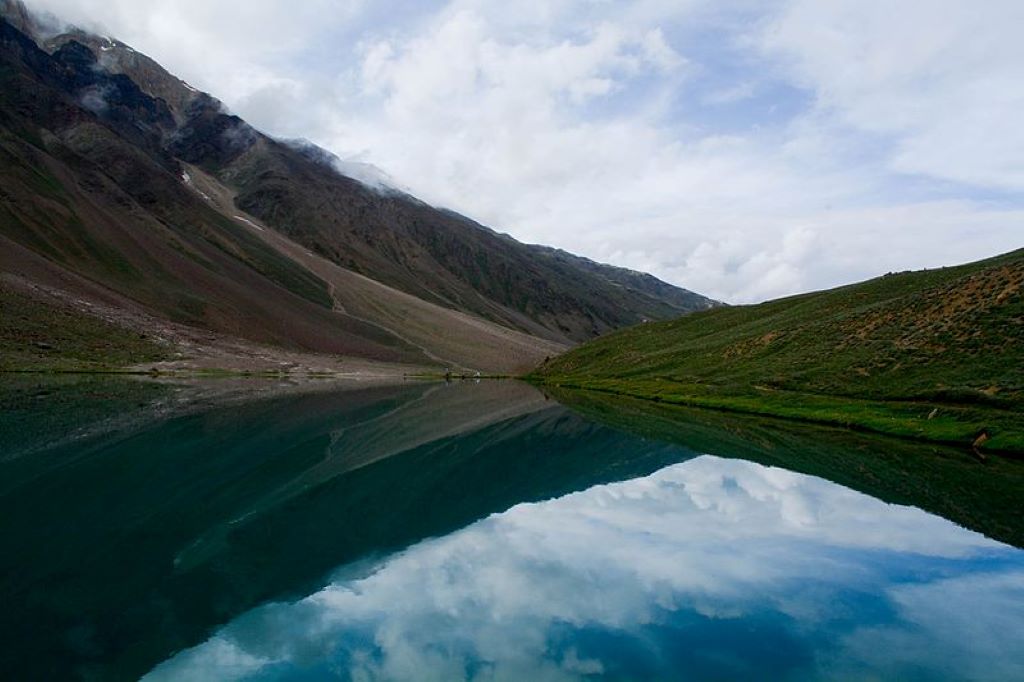 If you want to go on the Rani Sui Lake Trek, make it a point to visit it sometime between May to October. Summers are pleasant, with the occasional calm winds passing by. Flowers also bloom during this time and add a vibrant splash of color to the meadow's lush greenery. You can also spot many birds and animals in this season. In winters, snow covers the region, and the weather is also unpleasantly cold. The lake freezes in December and is so thick that you can even walk on it without the fear of the ice breaking.
Rani Sui Weather and Rani Sui Temperature:
In summers, the temperature at Rani Sui Lake falls between 0 degrees to 20 degrees Celsius. While in winters, the temperature lies around -10 degrees to 10 degrees Celsius. However, the average annual temperature is 13 degrees Celsius during the morning hours to - 9 Celsius at night.
Difficulty Level:
The Rani Sui Lake Trek is a trek near Manali. It is an easy to moderate trek. It is perfect for beginners as well as for trekkers with moderate experience. You will only require a basic level of fitness. The difficulty in this trek is primarily due to the high altitude of the trek. So, acclimatization is essential. The ideal way to deal with this problem is to give the body enough time to rest and adjust to the changing temperature.
Rani Sui Lake Trek Itinerary
Day1: Uphill Trek from Manali (6398 ft) to Lamadugh (9900 ft).
Distance- 8 km
Time Taken- 4 to 5 hours
The first day of the trek starts from the Hadimba Temple, also known as the Dongri Mata Mandir. In case you are not carrying enough water, this is your spot to fill up your bottles. The temple is the last water source until we reach Lamadugh, so make sure you are hydrated. The steep and narrow climb towards Lamadugh starts from this temple. The journey may be draining, but we will cover significant altitudes with every few footsteps.
Beautiful views of snow-clad Deo Tibba, Bara Sigri Glacier peaks, Hanuman Tibba, Manalsu Glacier, Rohtang Pass, Dhauladhar, Pirpanjal, and Indrasan mountains will greet us on our way and make the journey enriching. We will continue on the same trail and cross dense forests of deodar and pine till we arrive at a ridge. We cross it and reach our destination- Lamadugh. It is a high-altitude alpine meadow with vibrant, colorful flowers, perfect for shepherds to graze their cattle. Thick forests surround Lamadugh, so if you are lucky, you can also spot many birds and animals. A picturesque view of the beautiful town of Manali will also be available for us during our climb. It will be an overall easy trek for Day 1, so you will get enough time to soak in the beauty of this vast pastoral land. We stay the night in tents.
Day 2: Uphill Trek from Lamadugh ( 9900 ft) to Rani Sui Lake( 11,154 ft), and then descend to Duddu Thatch ( 10, 500 ft),
Distance- 11 km
Time Taken- 8 to 9 hours
We will start early in the morning for our trek to Rani Sui Lake. The trail will get steeper after we cover 1 km from below the ridge at Khanpari Tibba. Mesmerizing views of the resort town of Manali and the upper valley of Kullu are visible from here. We trek further for a few hours till we reach Rani Sui Lake, an oval-shaped lake. Located on the Dhauladhar range in Manali comes with a brilliant view of the Dhauladhar and Pir Panjal ranges. We spend some time here and then descend towards Duddu Thatch (10,500 ft). Duddu Thatch's trail consists of vast meadows and dense forests of maple, walnut, pine, and horse chestnut. We stay the night in tents.
Day 3: Descend from Duddu Thatch (10,500 ft) to Khaniyal ( 7545 ft), and then to Manali ( 6398 ft).
Distance- 3 km
Time Taken- 3 to 4 hours
The descent from Duddu Thatch to Manali will take us through pine forests, alpine meadows, and rock formations here and there. It is an easy trek, so there is not much to worry about. Our trek ends at Manali.
Conclusion:
If you are thinking of taking a break from your everyday busy life but do not have much time to spare, Rani Sui Lake Trek can be your go-to trek. Despite being a moderately easy trek, the experience is thoroughly enjoyable and enriching.