Best Places For Paragliding In India
Paragliding has found a permanent spot in every Indian traveller's bucket list. There can be little more temptation than the idea of soaring and gliding through the sky while the fresh mountain air plays with your hair, birds zoom past you, clouds seem almost too close to touch, and the inexplicably gorgeous sight beneath your dangling feet. Here, you are one with the sky. Paragliding in India is a dream waiting to come true. But with the influx of interest in the sport, it is hard to choose wherefrom one should experience their first flight. Here are the best places for paragliding in India – take your pick.
Paragliding in Uttarakhand
If you're travelling to Uttarakhand, there's simply no way you can miss out on all of its adventure sports. The most popular places to go paragliding in Uttarakhand are Rishikesh, Mussoorie, Naukuchital, and of course Nainital.
Nainital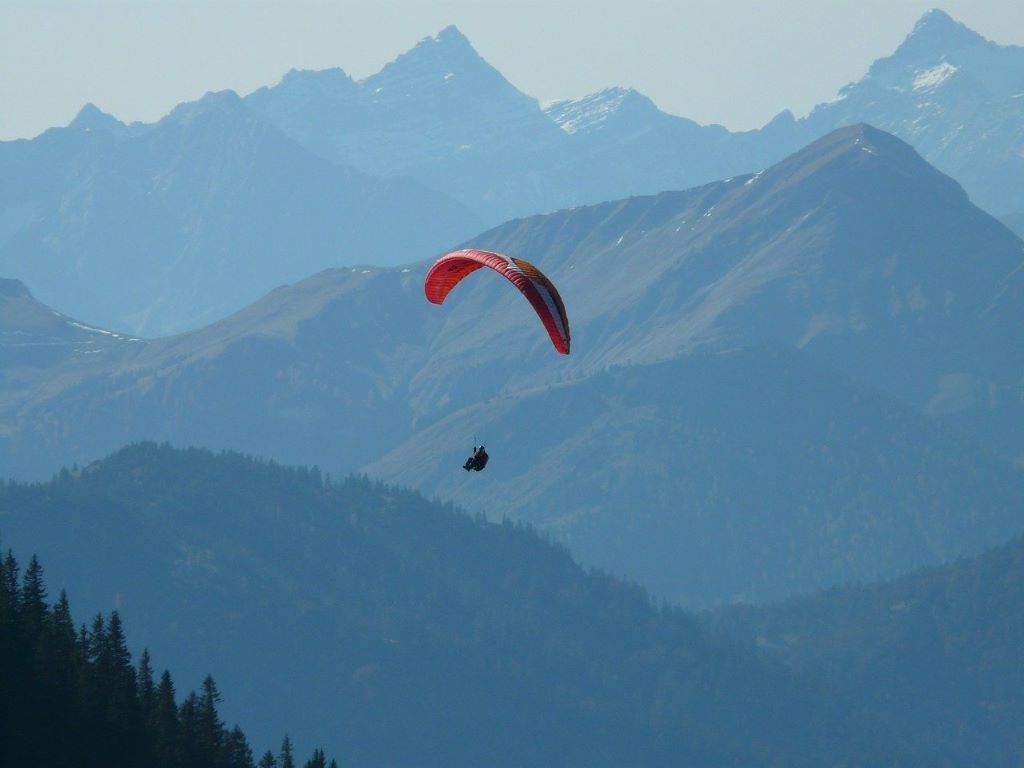 Scores of people travel to the evergreen Nainital from all over India to witness the emerald green lakes of the town. Add to that the snow-cloaked mountains, stunning sunsets, and amicable local people, and it becomes the perfect winter vacation spot. The gorgeous locale and otherworldly beauty of the place make paragliding in Nainital an elite choice. More importantly, you can experience this thrilling adventure at Nainital at the most pocket-friendly rates. A 10-12 minutes joyride in the air will cost you only 1000-2000 INR. Although the hill town can be visited round the year, the summer months of March – June and winter months of September – November are the best months to go paragliding in Nainital.
Rishikesh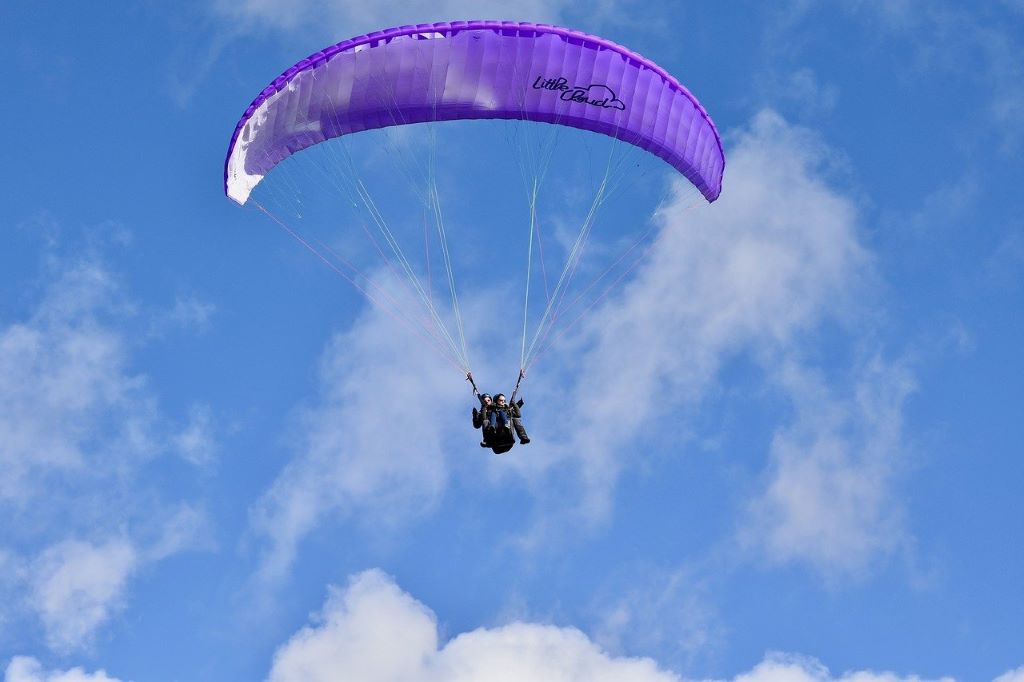 If you're on your way to Rishikesh, Uttarakhand, it would be a folly to miss out on powered paragliding. Imagine taking a flight from 1500 ft in the air. It's an inexplicable journey and feeling. The price is a little on the steeper side here as it ranges around 4000-4500 INR, but hey, it is definitely worth it. The peak time to go paragliding in Rishikesh is September to June.
Mussoorie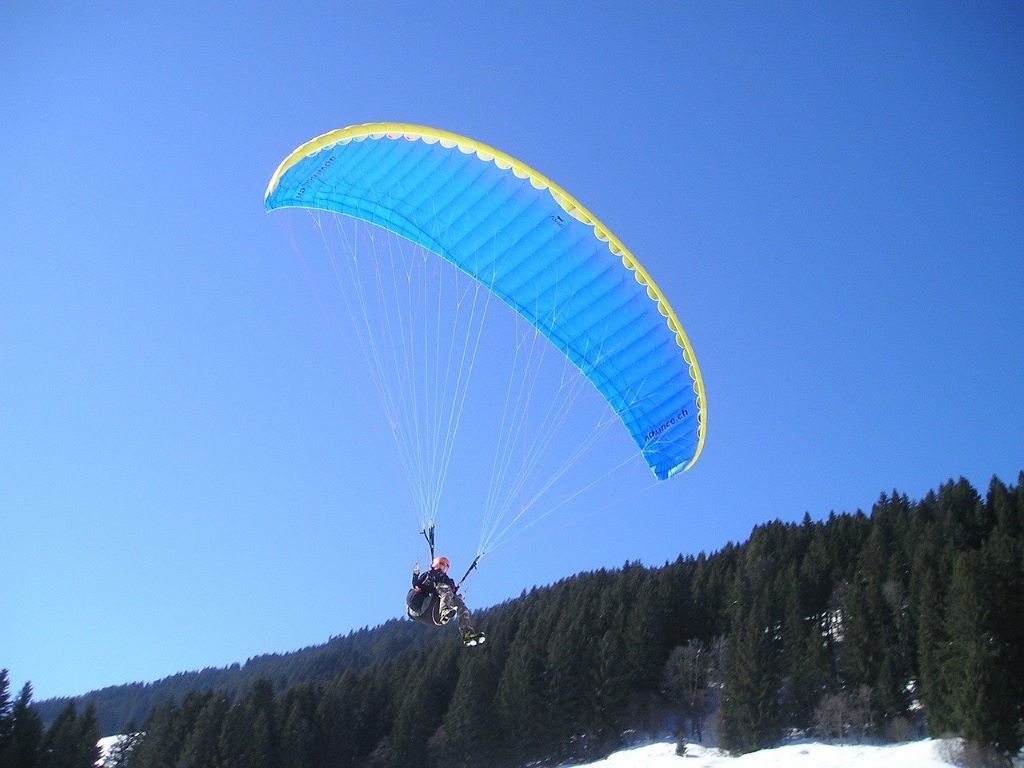 Paragliding is a must if you want a 360-degree view of the Himalayas in Mussoorie. The thriving vegetation, tiny hamlets, and stretches of blue lakes add to the beauty of the experience. Paragliding in Mussoorie, Uttarakhand can be a pocket-friendly or costly affair depending on how much time you want to spend in the sky. The prices are fixed between 2000 INR for 5 minutes to 10000 INR for an hour. Months from March to June are the best time to go paragliding here.
Paragliding in Himachal Pradesh
Himachal Pradesh is easily one of the most popular places in India for paragliding. Many come to visit this north Indian state with the sole intention of participating in as many adventure sports as possible, and paragliding habitually tops the list. Since paragliding in Himachal Pradesh is so sought after that, centers are set up in multiple locations throughout the state.
Bir-Billing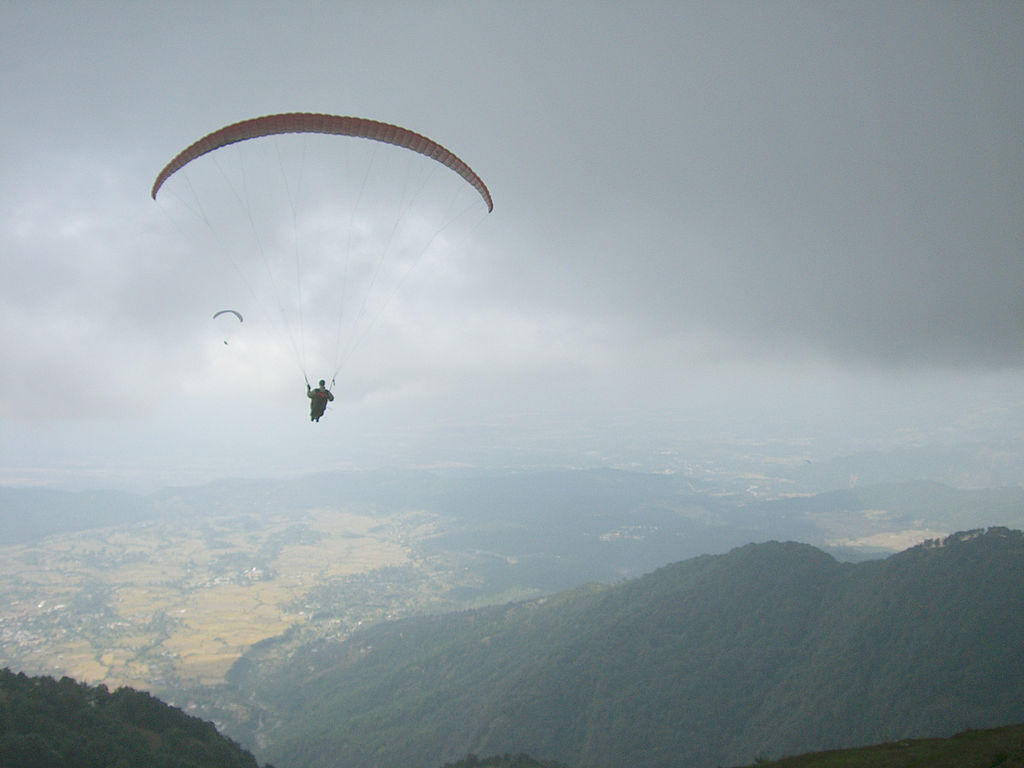 Many choose to hike or trek mountains before paragliding to heighten the experience and get the best of the Himalayan adventure. Such is the thrill that awaits you when you climb to Bir-billing – a tiny hamlet that is famous for its sublime beauty and paragliding activities. Bir Billing also happens to be the highest paragliding point in India and all of Asia. An aerial view of the vast deep green forests of the region, coupled with the dizzying mountains and meandering rivers all in one frame, is a sight that hardly anyone can say no to. But when you couple it with the prices, it simply becomes irresistible. Paragliding at Bir-billing costs around 2500 INR, inclusive of transportation and GoPro shooting. Now, that's an offer impossible to refuse. The best time to go on your paragliding adventure in Bir-Billing, Himachal Pradesh, is from the first week of October till mid-December.
Manali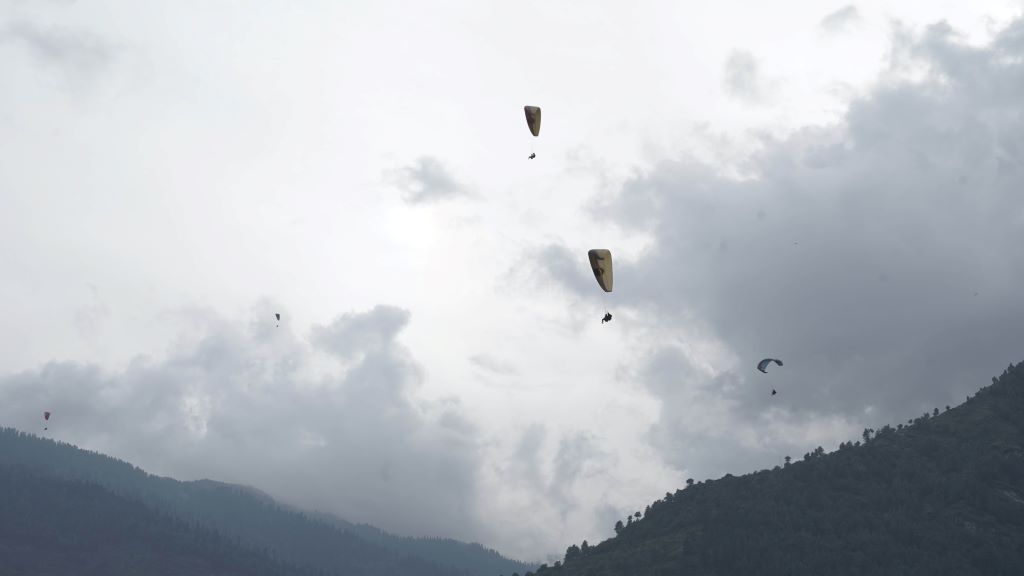 Paragliding in Manali needs a unique and exclusive mention as it just so happens to be one of India's most popular paragliding spots. The Himalayan town offers paragliding services in Rohtang Pass, Marhi, Kangra Valley, Fatru, Bijli Mahadev, and most famously, the Solang Valley. It goes without saying that a bird's-eye view of the lush valleys, snowy mountains, and tranquil rivers of Manali is nothing short of a fairytale. The cost of paragliding at Himachal Pradesh, Manali, starts from 2500 INR. Paragliding at Manali is most suitable during the March-June summer months when the weather is at its comfortable best.
Paragliding in Meghalaya
A popular tourist hotspot, Meghalaya is known for its emerald green rivers, enchanted forest feel, and picturesque hill towns. But did you know adventure sports like paragliding are also gaining popularity here?
Shillong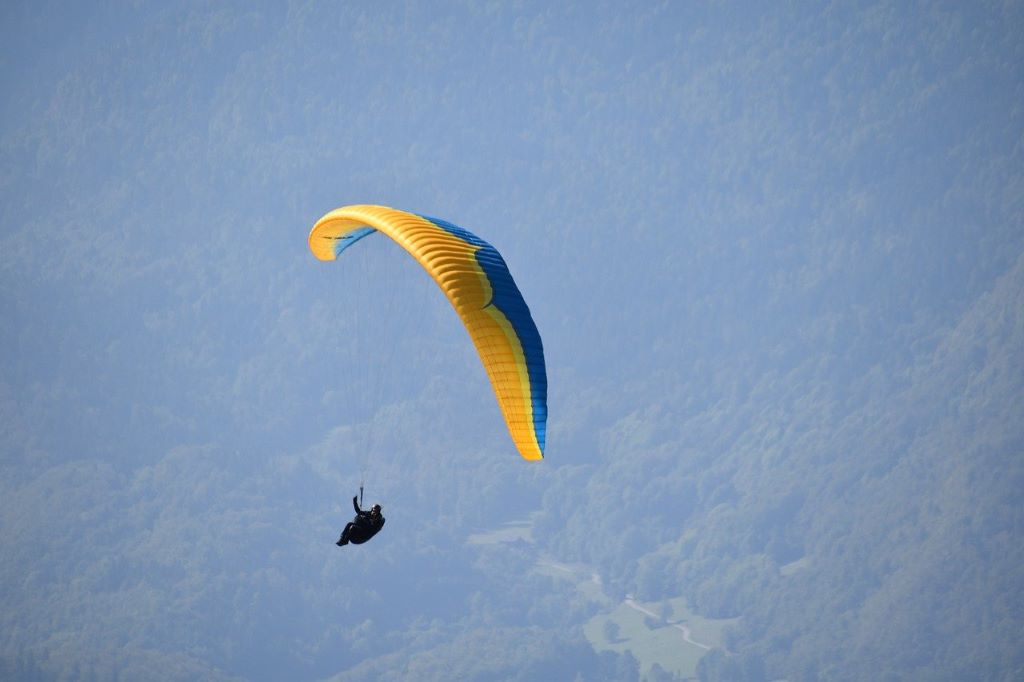 Many take a trip to Shillong for the sole purpose of paragliding, and many do it on a whim. After all, who can say no to soaring in the clear blue sky as they lay witness to the town's transfixing beauty? The best time to do paragliding in Shillong is the summer months of April, May, and June, when the weather is sunny. The skies are clear, giving you a perfect view of Shillong's beauty. The cost to paraglide in the hills of Shillong is anywhere between 2000-2500 INR.
Dos and Don'ts of Paragliding
As fun as paragliding may sound, it may come quickly into one of your worst nightmares if you do not exercise proper precaution. Selecting a trustworthy agency that organizes the activity isn't enough; you must be vigilant when it comes to extreme sports such as these. Here are a few quick dos and don'ts for you to remember before you go paragliding in India.
Dos of Paragliding
Do keep tabs on the sky and weather of the locality. There's no better feeling than paragliding in a clear blue sky, and there's nothing scarier than being stuck in the sky in rough stormy weather.
Make sure that the organization you're paying for the activity is legit. Look them up on the internet, scroll through the reviews. It's wise to be cautious.
Ask your guide and pilot to share their name and flying license with you. Get familiar with them, especially if you are feeling a little jittery. Having a conversation with an expert can put your mind to ease.
Have a quick look at your flying equipment. Make sure they are relatively new and do not look worn out. If you have any concerns about your gear, don't be afraid to voice them.
Double-check your safety harness. Despite what it might look like, paragliding can be pretty jerky. You must ensure you are safely secured before you take your flight.
Do wear a helmet that fits you right.
Have a positive mindset.
Don'ts of Paragliding
Steer clear of the sport if the weather forecasts predicate a cloudy, stormy, or rainy day ahead. Mountain weather is unpredictable and dangerous, and paragliding under such circumstances can only mean trouble.
Once in the air, do not coerce your pilot into doing stunts in the air. Such tricks are only meant for professionals.
Do not try to be too adventurous. Listen to your instructor while you're up in the air.
If you find yourself uneasy or uncomfortable while you're up in the air, do not start panicking. Alert the guide of your condition and mention that you'd prefer to land at the earliest possible time.
The landing can be pretty tricky, and it might even hurt you if you are not wearing the correct shoes. Do not dress your feet in casual shoes like sandals or flip-flops.
It is best not to opt for paragliding if you have a heart or lung condition.
FAQs for paragliding
What is paragliding?
Paragliding is a recreational adventure sport popular in the hill stations of India. The pilot, along with their passenger, sits on a harness and are secured by buckles. The pilot guides the paraglider, and gravity acts as the force or engine that ensures the equipment stays afloat.
How safe is paragliding in India?
Paragliding in India is a highly safe sport as a professional and licensed pilot always accompanies you. The organizations that run these businesses have been in the industry for years and have served uncountable adventure lovers. They keep constant tabs on the weather and do a routine of their gear. Paragliding in India is safe as it can be.
How much does paragliding cost in India?
Like most extreme sports, paragliding in India does not come at a cheap price. That being said, the place is a huge factor. In popular and lavish hill stations like Rishikesh, the cost is very high and ranges around 4000-4500 INR. Meanwhile, there are multiple popular places such as Manali and Nainital where the rate drop to as low as 2000-3000 INR.
Can I go paragliding at night?
No, paragliding is a daytime activity and can only be accessed on a clear, sunny day.
Is age or weight significant in the process of paragliding?
Anyone aged from 14 to 65 is eligible to opt for paragliding in India. A person must weigh anywhere between 25-90 kg to be suitable for the sport.
What are the things I should carry while paragliding in India?
It's all too simple to believe that you can turn up at the paragliding site, pay for your ride and hop on the harness. The reality is a little different because no matter how the sport feels, one needs to be a little prepared. For starters, wear or carry the correct shoes. Track pants and jackets are a must because they can be pretty chilly up in the air. Make sure you have your sunscreen and sunglasses packed because the sun will not go easy on you. A motion sickness medicine is highly advisable as well. Lastly, carry your GoPro camera or selfie stick if you want to document your adventure in the sky.
Paragliding in India is an exhilarating experience. It might seem a little scary or daunting, but it's a once-in-a-lifetime experience that you wouldn't want to miss out on. And we promise that once you go on this thrill ride, you will want to keep coming back.