pawna-lake-camping
A
true traveler or trekker is always on the lookout for an opportunity that will let them experience the thrill and adventure of exploring a new locale. Unfortunately, we are always time-starved. In between work, university, and various other responsibilities, we always tend to miss out on the hobbies and activities that make us feel most alive.
And the fact that we are all bound to concrete jungles where trekking spots are rare and numbered certainly does not help the situation. But worry not, we have just the trip for you.
Did you know that there are one-day treks near Mumbai? The Pawna Lakeside camping is a gorgeous hiking spot near Mumbai and it takes only two days and one night! I'm certain the name rings a bell but where is Pawna Lake?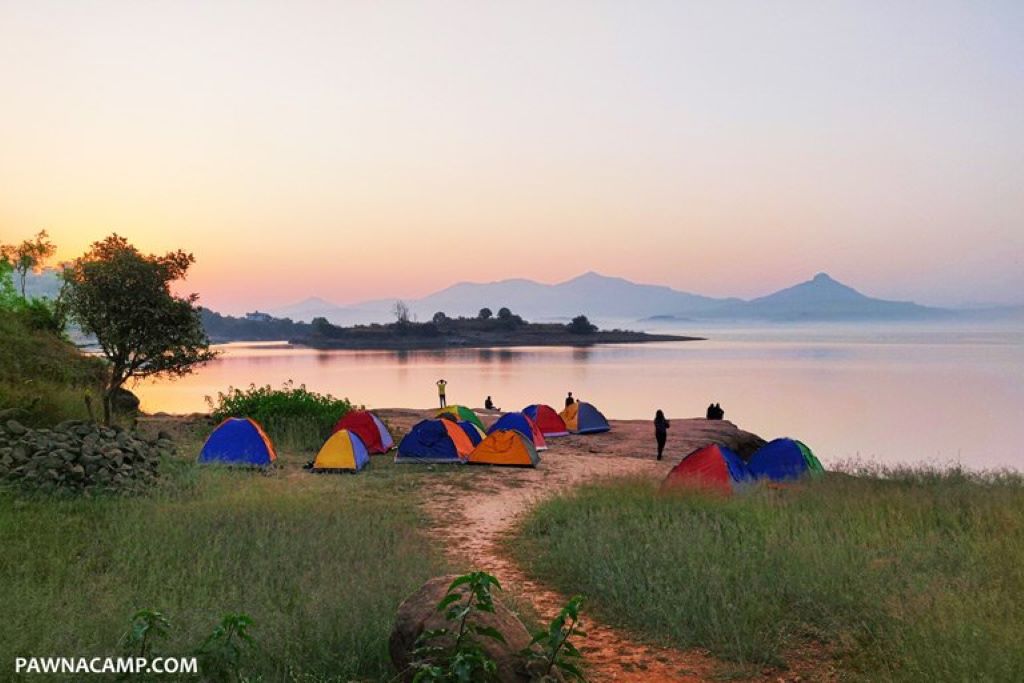 Image Source: PawnaCamps
Located a little ways from Pune & Mumbai, the Lake Pawna lies in Lonavala, a popular tourist destination of Maharashtra. The surreal campsite is situated on a beautiful lush valley, nestled in the lap of the Western Ghat Mountains. The tranquil waters of the lake, the chilly breeze, and the vibrant flora and fauna attract nature lovers in droves, every weekend to the campsite.
And although many find it hard to tear themselves away from the serenity of the scene that lies before them, there is much to do at this little campsite. A treasure trove for history lovers, the place is home to many forts namely Lohgad Fort, Tung Fort, Visapur Fort, and Tikona Fort.
That's not all. You can choose to participate in fun outdoor activities such as horse riding, trekking, and paragliding or settle in and get busy playing indoor games with your friends and family. Shutterbugs too have a field day here shooting the hourly changes in the setting of the lake.
No matter how you choose to spend your day by the Pawna Lakeside, your night simply must end by the bonfire enjoying delectable BBQ dishes, cold beverages, chill music, and lots of stories and laughter. Private camping at Pawna Lake is easily one of the best available one-day treks near Mumbai.
How to Reach Pawna Lakeside
Pawna Lake From Pune
To get to Pawna Lake from Pune, you need to board a train bound for Kamshet from the Pune railway station. The distance of 45 km from Pune to Kamshet can be covered within an hour. After landing at Kamshet, you can hire a private jeep to the campsite. Pawna Lake lies 22 km away, a distance that is easily covered within half an hour. The one-way jeep ride might cost you anywhere between 1000-1500 INR.
Pawna Lake is also a driving distance from Pune if you're willing to make a road trip out of it. The lake is located at a distance of 55-57 km from Pune and takes roundabout 1 hour 40 mins to reach the destination via Aundh – Ravet BRSTS Rd or NH 48.
Pawna Lake From Mumbai
The distance from Mumbai to Pawna Lake is approximately 120 km – double the distance of Pune.
To save up on time, you may choose to travel to Lonavala from Mumbai via train which takes roughly 1 an hour and 30 minutes. From Lonavala, you may cover the rest 30 km of the journey to Pawna Lake via a cab or shared/private jeep.
If you prefer a bus journey, you may travel to Lonavala or Khandala via a private bus and cover the remaining distance via road.
If time is not a factor, you can choose to travel to the Pawna Lakeside via road as well although it will take you approximately 3 hours to reach your destination no matter which route you choose.
There are two possible routes you may opt for if you are planning to hit the road – the Kamshet route and the Dudhiware Khind route. The Dudhiware route is relatively shorter at 108 km but is avoided by many due to unfavorable road conditions. The Kamshet route is 122 km long and is marked with prominent landmarks making it a much simpler and feasible journey to Pawna Lake.
Best Time to visit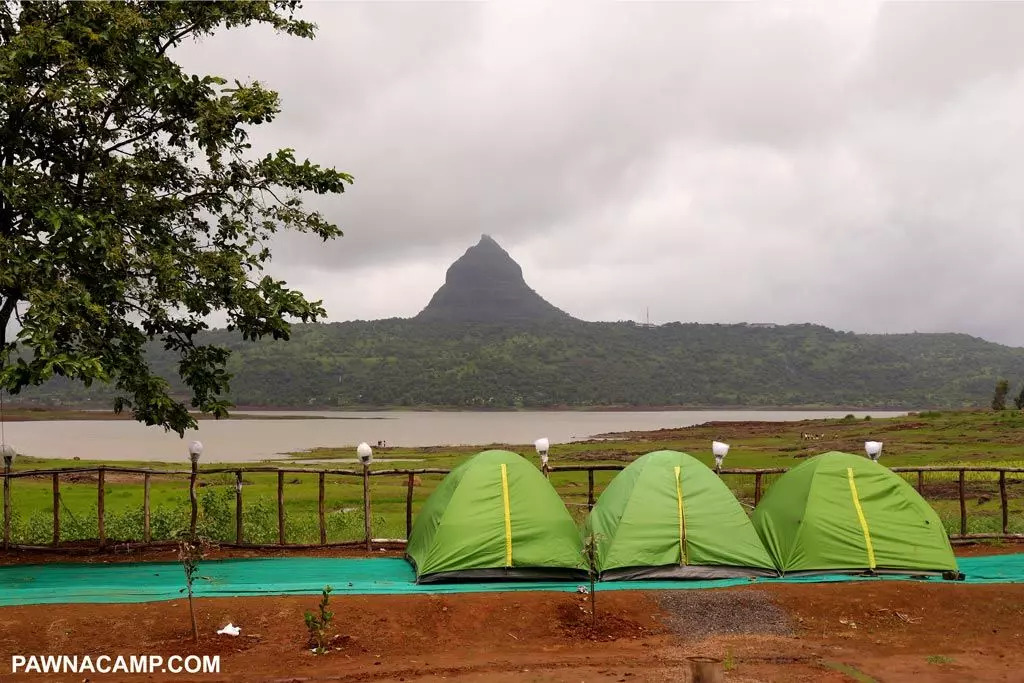 Image Source: PawnaCamps
There's no hard and fast rule when it comes to what time you should opt for the Pawna Lakeside Camping, as it remains evergreen and enjoyable round the year. However, the best time to visit Pawna Lake is during the monsoon or right after the monsoon season. The heavy downpour adds to the idyllic beauty of the landscape as the area multiplies in greenery and birds.
That being said many do not enjoy the rain and would not find it lucrative to venture out into the cold and damp. If you're someone who falls under this category, you may enjoy cozy summer nights spent near a raging bonfire, under a starlit sky then the months from January to March will suit you the best.
The early winter months from October to December also make for an ideal time to spend away on a weekend retreat at the Pawna Lakeside.
Some tips to keep in mind while camping
Although tents are set up by the guides and employees, many wish to try their hand at the activity. If you wish to be one of them, familiarize yourself with the process, read up on it and learn of the gear and mechanics. Pay attention when the guide provides you with a demonstration.
Camping essentially means you will have to fend for yourself. There will not be hotel personnel at your beck and call. Make a checklist and ensure you carry everything on the list.
Try to reach the camping ground while the sun is still up.
Avoid severe weather and unpredictable seasons. Camping can quickly turn into the stuff of nightmares if the weather isn't on your side. Check the weather forecast in advance to avoid any mishap.
Observe the campground rules. Do not try tricks near the bonfire. Enjoy yourself, but make sure the party doesn't get too loud. And most importantly, do not litter.
Here is a list of things you cannot forget to pack
An extra pair of each clothing item
Warm clothes for the night. It's not always necessarily cold at the lakeside but the waterbody and the encircling mountains do help generate a chilly breeze at night.
So, it's always wise to pack accordingly
A pair of swimwear in case you want to go for a dip in the lake
Sandals or floaters are useful whilst camping but remember to carry the appropriate trekking shoes if you're planning on trekking
Your bag of toiletries
A first-aid kit with all common medicines
Sunblock
Bug spray
Torchlight
Camera
Board games and Bluetooth speakers for recreational purposes
Itinerary with attractions and activities
Day 1
Your Pawna Lake camping adventure begins once you reach Kamshet from Pune or Mumbai. From here you make a small 30 minutes trip to the lakeside via road. Upon reaching the lake you can choose to spend your time as you desire. You can go sightseeing and visit the forts in and around the location. The forts of Tung, Lohagad, Visapur, Morgiri, Korigad, and Tikona are ripe with historical tales and make for popular tourist attraction spots. And the fact that you have to trek to these forts makes the whole experience even more adventurous.
You can also choose to stay back near your campsite and participate in the fun outdoor activities organized by the lake. Boating, canoeing, swimming, paragliding, and horse riding are some of the popular activities you can plunge into. The sunset you will witness here will remain etched in your mind forever and is unmissable by all accounts. Once the sun sets you can sit circling the campfire with your friends and family while enjoying delectable dishes. The idea of Pawna Lake camping for couples becomes irresistible when you think about enjoying the starlit night sky with your respective other. Your night ends as you fall into a deep slumber in your cozy tent.
Day 2
Wake up early in the morning to watch what is soon to be your favorite sunrise. Take a stroll by the lake. Go exploring. Indulge in any water activities that you missed out on the previous evening. And enjoy a filling breakfast before leaving the Pawna Lakeside to make your way down to Kamshet, where your weekend trip concludes.
The beauty of this trip is that it is perfect no matter how you look at it. It is pocket-friendly, adventurous, and acts as a perfect weekend gateway. The Pawna Lakeside camping is perfect for family, couples, or a group of friends. We promise you that your night spent by the Pawna Lake will be a night to remember!