Located in the state of Uttarakhand, Rishikesh is one of the most popular tourist hotspots in India. It is renowned as the ancient city in India that is blessed with the holy Ganges and Garhwal Himalayas. It homes some of the most popular Indian adventure sports like air safari, river rafting, and bungee jumping.
Apart from being a spiritual hub, Rishikesh India is also known as the 'Yoga Capital of the World'. The Beatles, the famous English rock band, visited Rishikesh back in the 1960s. To nurture their spiritual growth, the band spent some time at the Maharishi Mahesh Yogi Ashram.
The weather, Rishikesh stays pleasant throughout the year except for May-June when the Rishikesh temperature touches 35°C. While the list for the best places to visit in Rishikesh may never end, we have picked the top 10 places to visit in Rishikesh Uttarakhand.
How to Reach Rishikesh
Rishikesh Uttarakhand is easily accessible from any part of the world via road, rail, or air. The Rishikesh to Delhi distance depends on the mode of your transportation.
Delhi to Rishikesh
The Rishikesh to Delhi distance is the shortest when travelled by air. However, there are various travel options while traveling from Delhi to Rishikesh, such as —
By Air
Popular carriers such as SpiceJet, Air India, and Jet Airways have regular flights from Delhi to Dehradun. Jolly Grant airport, Dehradun, is the closest airport to Rishikesh located about 35 kilometres away. You can avail of any regular bus or taxi service from Dehradun to Rishikesh.
By Train
The Rishikesh distance from Haridwar is the shortest when travelled by train. Haridwar is linked to Delhi by train lines which makes Rishikesh tourism affordable for many tourists. The Rishikesh to Haridwar distance comes to approximately 25 kilometres which can be covered either by taxi or bus.
The Rishikesh to Haridwar distance can be covered by taxi in about 30 minutes whereas a bus would take around 45 minutes.
However, you can avail of trains from Delhi to reach Dehradun railway station. You will find many trains to Rishikesh from Dehradun railway station. You can also spend a day or two in Dehradun before heading over to Rishikesh.
By Bus
New Delhi, Haridwar, and Dehradun have a good network of connecting them to Rishikesh, Uttarakhand. You will find many buses from the Kashmere Gate ISBT in New Delhi to Rishikesh. You can choose from a luxurious, regular, or deluxe coach.
Dehradun to Rishikesh
The Rishikesh distance from Dehradun can be covered either by bus or taxis. However, the availability of buses from Dehradun to Rishikesh is minimal. It takes around 1 hour 25 minutes to cover the total Rishikesh distance from Dehradun. You can also opt for shared taxis instead of relying on public transport.
Places to Visit in Rishikesh
There are several tourist places in Rishikesh Uttarakhand, that allow travelers to unsung and submerge themselves in the tranquillity. Read ahead to know more about the best places to visit in Rishikesh.
Ram Jhula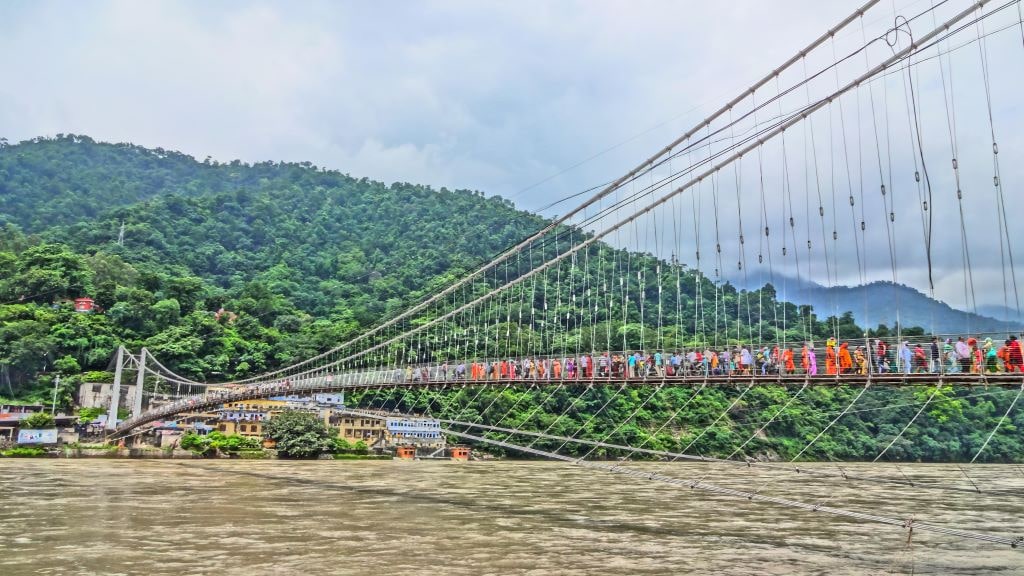 Ram Jhula is one of the best places to visit in Haridwar Rishikesh. This suspension bridge dates back to the 1980s. Tourists visit this place to dive into the scenic beauty of the Himalayas peeking out from the dense clouds and the Ganga streaming down with full force.
The Ram Jhula also links the two famous ashrams of Rishikesh namely the Sivananda Ashram and the Swarg Ashram. Walk slowly down this 450 ft long bridge to register all the breathtaking views of the temples and valleys around.
Neelkanth Mahadev Temple
Devotees of Lord Shiva consider this place as one of the most prominent pilgrimage places in India. Situated at about 30 kilometers from Rishikesh, this place is considered to be constructed at the same place where Lord Shiva had drunk the 'Halahala' venom. The venom is believed to be the elixir of life that was churned out of the ocean.
Laxman Jhula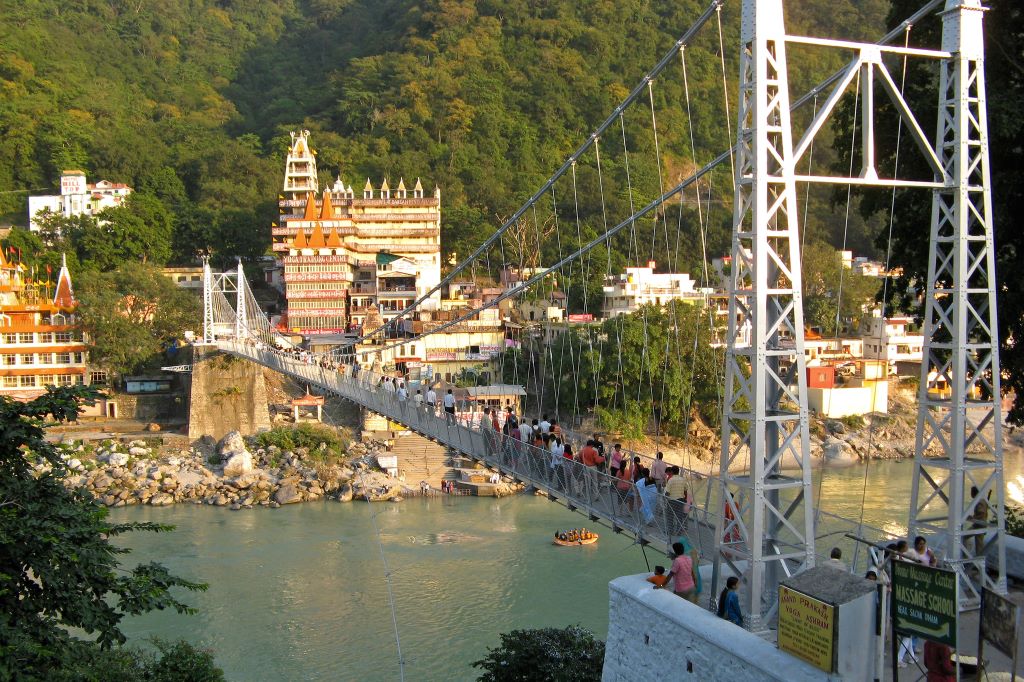 Laxman Jhula ranks as one of the most popular places to visit in Rishikesh. Built at a height of 70 ft from the Ganga river, this 450 ft long bridge allows you to soak in the beauty of the surrounding hills.
This suspension bridge is believed to be built at the exact historic place where Lord Laxman once crossed the river of Ganga on a jute rope.
Famous tourist places like Tera Manzil Mandir and Laxman Temple are located close to this bridge. Many cafes have also sprung up on both sides of the suspension bridge.
Shri Bharat Mandir
One of the oldest temples in Rishikesh, Shri Bharat Mandir is a tribute to Lord Hrishikesh Narayan. There are various mythological stories relating to this place that intrigue tourists to come here. One such story is that the Pandavas stayed here and worshiped Lord Hrishikesh Narayan while going to heaven.
Another fascinating story believed by the commoners that when Lord Buddha visited the Shri Bharat Mandir, this place was turned into a monastery for some years.
The Beatles Ashram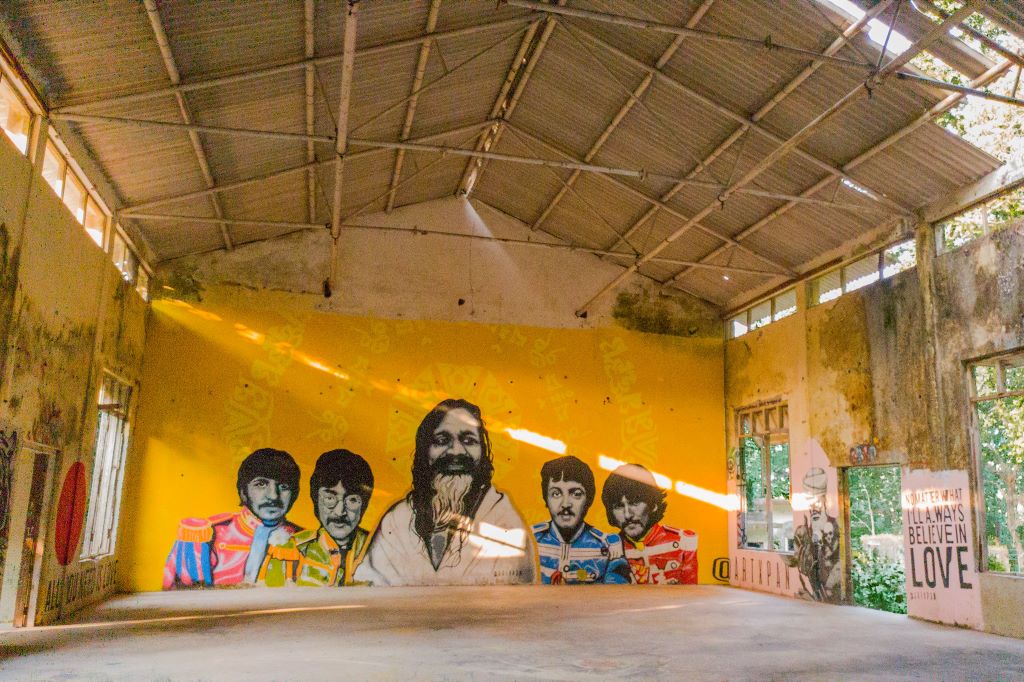 The Beatles Ashram is located at a distance of approximately 18 km from the centre of the main city. The Beatles visited this place to indulge in some transcendental meditation. The Beatles claim that they were at their productive best when they stayed at the ashram.
Even though this place lacks proper maintenance, Beatles fans often come here to soak in the tranquillity of the place. The best time to visit this place will be March to April when the Rishikesh temperature is splendid and calm.
NeerGarh Waterfall
This gem is hidden inside the dense woods of the serene hill town of Rishikesh. It is the amalgamation of three beautiful waterfalls. The waterfalls off the cliff at a height of 25 feet which makes it a real beauty to watch.
The untarnished surroundings of this waterfall give the visitors a virgin and raw experience. You can reach this place by trekking through the dense woods for around 15 minutes. You will find a stream of water and two bridges along the route.
Shivpuri
Shivpuri is one of the most popular tourist places in Rishikesh. This place will fuel your adrenaline rush. Water sports lovers often visit this place to indulge in one of the best river rafting experiences. You can choose from the long 21 km or short 9 km expedition. Besides river rafting, Shivpuri homes many other adventure activities.
The weather, Rishikesh from mid-September to mid-November is best suited for river rafting. You can book a camp for one or two nights in Shivpuri. After indulging in water sports, you can spend your evenings in the tents around a bonfire.
Rishikund
Popularly known as the 'pond for rishis', Rishikund is a holy water body. It is situated near the Raghunath Temple. The Temple's entrance tower is reflected on the pond making it a relaxing place for tourists. People also believe that the blessings of the River Goddess Yamuna have been extended to this pond.
Triveni Ghat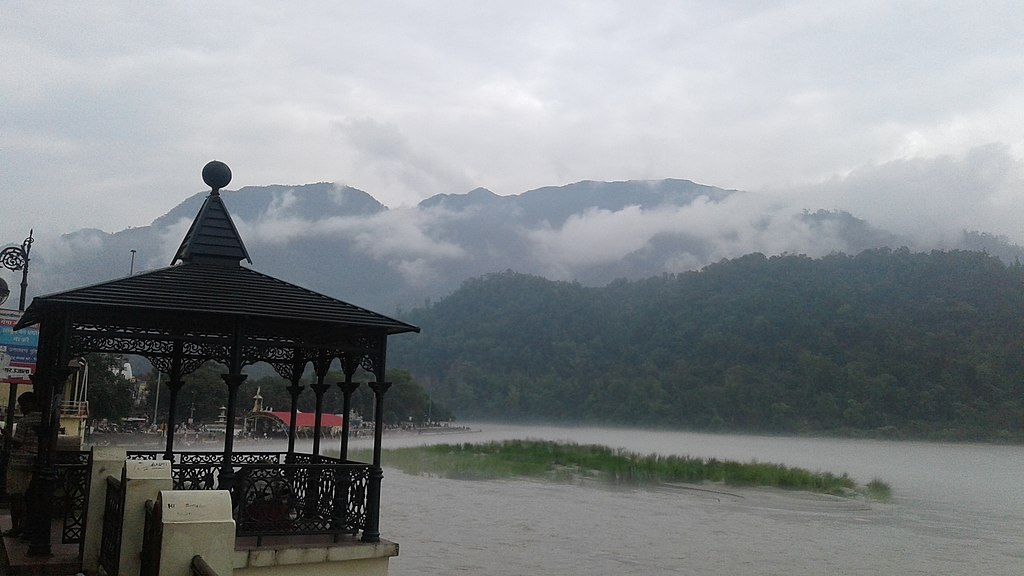 No Rishikesh tourism is complete without a visit to the Triveni Ghat. Tourists come here to submerge themselves in the beautiful Ganga Aarti and sanctity of the Ganga ghat. The confluence of the Ganga, Saraswati, and Yamuna rivers make this ghat a sacred place.
According to Hindu mythology, it is believed that if you take a dip into the holy water of the Triveni Ghat, you can purge your sins.
Omkarananda Ashram
Situated on the river Ganga bank, the Omkarananda ashram was established about 50 years ago. If you want to experience something spiritually enlightening, then this ashram is a must-visit.
Tera Manzil Mandir
Commonly known as the Trimbakeshwar Temple, this place is one of the most popular temples in Rishikesh. As the name suggests, Tera Manzil Manzil had 13 stories with mesmerizing architecture. The colourful facade and serenity of the place make it a must-visit tourist attraction in Rishikesh.
Jumpin Heights
Rishikesh homes some of the most exhilarating yet daunting sports activities. If you are interested in bungee jumping, then this place is a must-visit for you.
Jumpin heights also have provisions for activities like giant swing and flying fox. From right gears to expert instructors, this place is rightly called an adventurer's paradise. The weather, Rishikesh in March to April is best suited for adventurous activities.
Kunjapuri Devi Temple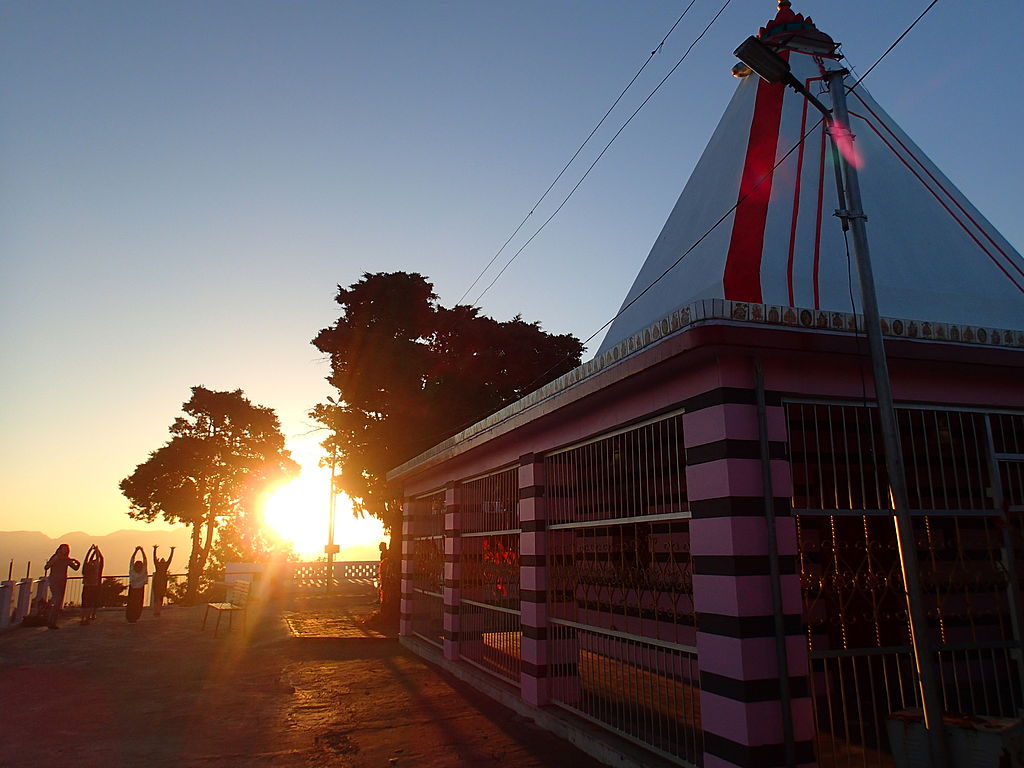 It is constructed at the top of a small hill. To reach this temple visitors have to climb around 80 steps. Kunjapuri Devi temple is one of the fifty-two Shakti Peets. This place is situated at a height of 1645 meters and is quite famous for trekking.
Sivananda Ashram
Situated at a 3 km distance from Rishikesh, Sivananda ashram is a famous yoga centre. Several famous personalities have visited this ashram and participated in powerful yoga programs. Visitors often come here to indulge in the empowering yoga sessions conducted by the yoga gurus.
Parmarth Niketan Ashram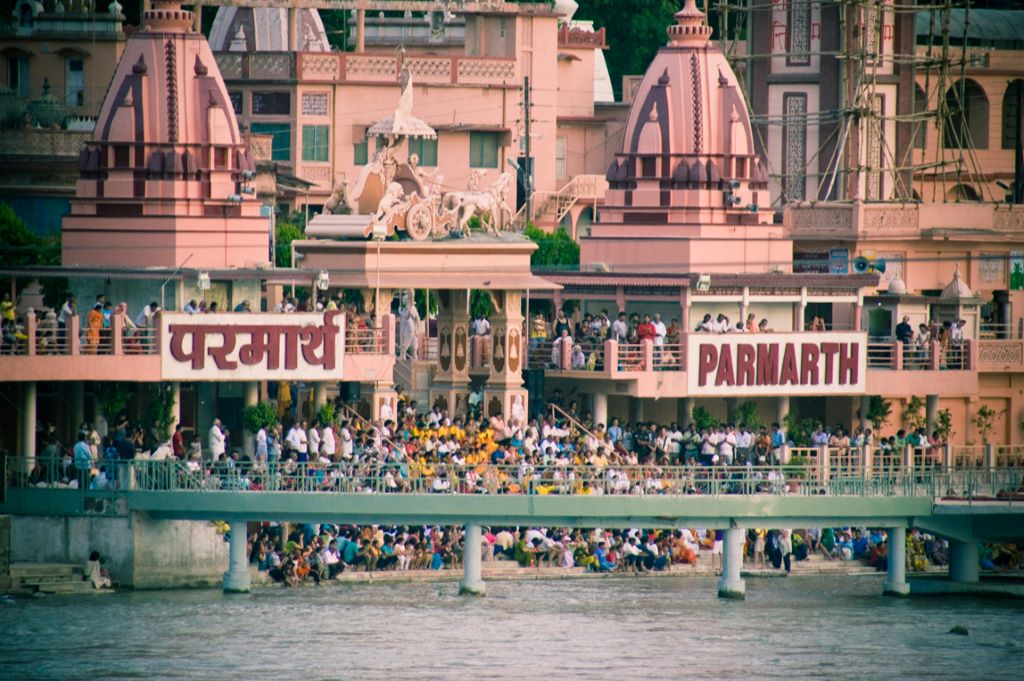 Rishikesh is home to ardent yoga enthusiasts and followers. Formed in 1942, Parmarth Niketan has now become a top spiritual place in India.
Best Hotels & Resorts in Rishikesh
It is essential to find the right hotels or resorts as Rishikesh, Uttarakhand is spread out over a large area. Whether you want a place that brings out your spirituality or a place that is easily accessible, you have got you covered. Some of the Rishikesh hotels also run a discount during the non-peak seasons.
Atali Ganga
Situated 30 kilometres away from Rishikesh, this place overlooks the Ganga valley. The USP of this place is its sports activities like yoga, rafting, mountain biking, kayaking, abseiling, and 24 feet wall climbing. You will find here 22 private and independent cottages and a luxurious 60-seater restaurant.
Ellbee Ganga View
Offering a scenic view of the river Ganga and serene hills, it is one of the most popular Rishikesh hotels. It also has a pen-roof-themed restaurant known as 'The Sitting Elephant'. The price starts at Rs. 5,500 per night and is located at the Haridwar road.
Dewa Retreat
Situated in the Tapovan area, this place is a luxury boutique resort with Ayurveda and yoga retreats. You will also find here a swimming pool, meditation, and yoga studio, library, organic cafe, and an ayurvedic spa.
Ganga Kinare
Situated right on the Ganga riverbank, this hotel comes with its own garden, esplanade, and ghat. You can take part in the Ganga aarti, meditation sessions, pranayama, and complimentary yoga. There are also provisions for an open-air Jacuzzi, Ayurvedic spa, and kid's games.
Sanskriti Vedic Retreat
From organic cafes to spa treatments, this place ranks as one of the top Rishikesh hotels. The best time to visit here will be September to November when the Rishikesh temperature is pleasant.
The vibrant city of Rishikesh is popular among the tourists for its magnificent places, spiritual aura, sanctity, bountiful beauty, and adventure options. Jotted with tranquil ashrams, evergreen forests, and pious ghats, this city is rightfully called the 'Gateway to the Garhwal Himalayas'. Whether you are seeking the divine blessings of the Gods or fueling your adventurous spirit, Rishikesh tourism has something for everyone.