River Rafting In Rishikesh 2023: Best Rafting Places In Rishikesh
River rafting, an adventure sport very dear to those who are fond of daring activities on rough terrain and turbulent current of mountain rivers. The idea of navigating a raft against the stormy river water and riding the roller-coaster ride of waves after waves in an inflatable buoyant platform is definitely going to make an awe-inspiring experience.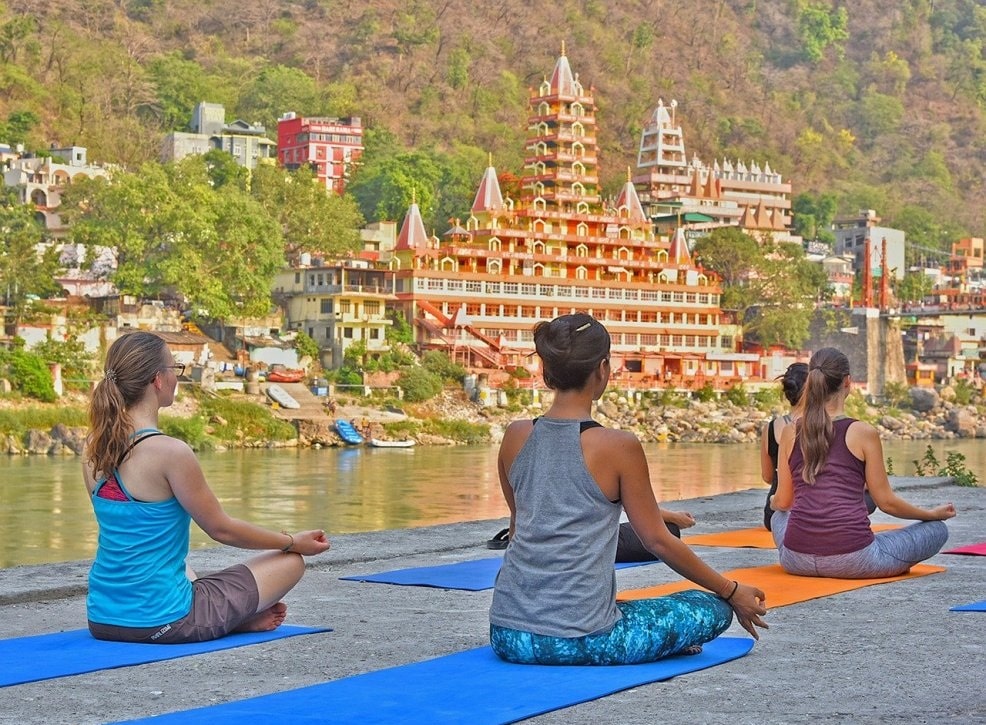 Rishikesh has been famous in the whole world for yoga, temples, and ashrams of sages for a long time. In the recent day's popularity of adventure sports especially River rafting in the Ganges has pulled up the holy place of Rishikesh in the first row of the destinations of adventure junkies.
Rishikesh, situated in Dehradun district of Uttarakhand, is one of those very few places where both the spiritual seekers and the thrill-seekers flock together. Rishikesh can be termed as the yoga capital of the world as the hamlet has myriad yoga centers and religious sites spread across the town. The town offers various adventurous and breathtaking outdoor activities such as bungee jumping, rock climbing, cliff jumping, camping, and rafting in Rishikesh under the open sky.
The holy Ganga, flowing by the side of Rishikesh is of utmost importance for both the pilgrims and adventure sports enthusiasts. Doing meditation or just talking with yourself on the serene banks of Ganga gives otherworldly peace. In Rishikesh rafting in the fiery water of the Ganga and camping at the riverbank under the star-studded night sky is a lifetime experience.
Best Time to Visit Rishikesh for Rafting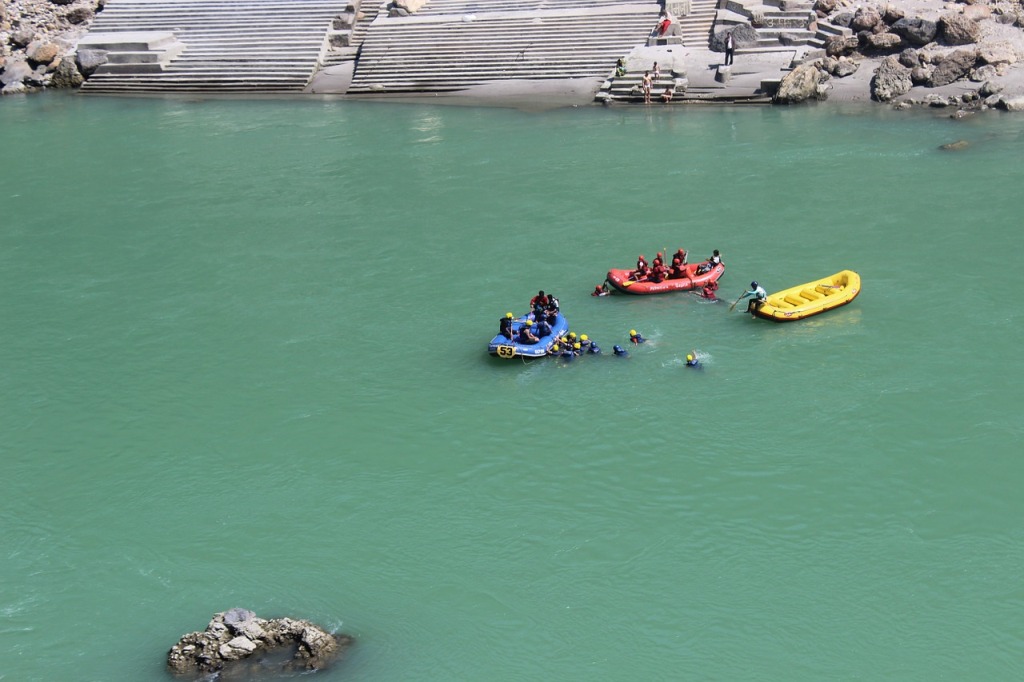 Rishikesh's climate is pleasant throughout the year. Trips to Rishikesh can be made at any time of the year. But if your aim is rafting in Rishikesh then the best time for you is from February to June and from September to November. This much flexible rafting in Rishikesh.
The summer months of May and June are a bit hot in Rishikesh as the temperature remains around 35 degrees and the sun shines brighter in these months.
In the monsoon season from July to early September the place witnesses heavy rain gushes down the town. In August rainfall is maximum. All nature-based activity is suspended during this time and tourist presence remains very low.
Also, in the month of July, people celebrate a festival named Savan in Rishikesh. During this time of the year, roads are crowded, and hotels remain jam-packed. Avoid visiting Rishikesh at this time of the year.
The time from September to November, in autumn and early winter the weather is not so cold and not so warm. This is a perfect season for rafting in Rishikesh.
In December and January, the climate stays extremely cold and is not fit for the river running. During winter months, especially in December, the temperature of water roams between 10 to 15 degrees Celsius and it is advisable to avoid rafting in this season. But river rafting can be done in December too by strictly adhering to the rules and under the professional guidance.
Rafting in Rishikesh Rapids and its grade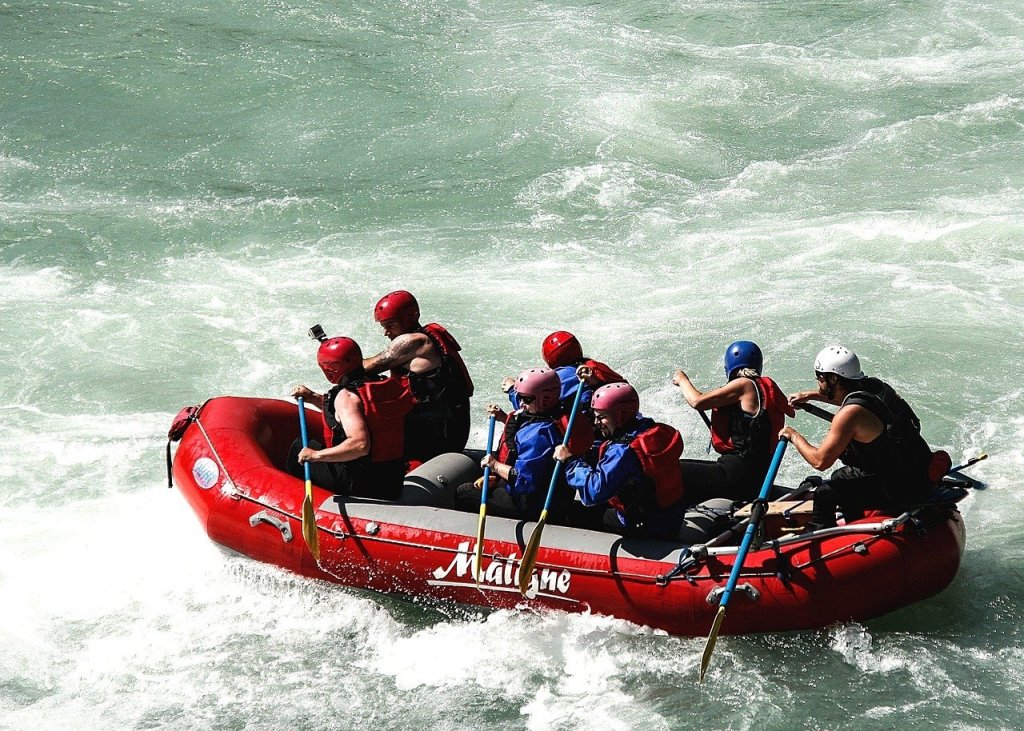 The fast-flowing water of Ganga provides the scope of whitewater rafting in Rishikesh. This adventure sport has developed and gained popularity worldwide since 1970.
Sailing through the speedy splashing water of a river taking a raft especially through those parts of the river where the current is faster, and the riverbed has steep slopes is technically called rafting. These wild and boisterous areas of a river are known as rapids.
Three factors make rapids, they are constriction, gradient, and congestion. In the presence of constriction, the waterline is pressured up from both sides, and as a result, water speed goes up. Also, when the gradient of the water channel rises water flows faster. In the presence of congestion like big rocks, the water whirl around the rocks to find a way to flow downhill following the gravity. Thus, the water is whisked continuously in a confined stretch of the river giving rise to froth which makes the water white. White water rafting is nothing but balancing the boat and surfing this untamed water without being capsized or dragged away by the water current.
The rapids have gradation depending on how much difficult, dangerous, and risky they are to raft through. The gradation starts from one to six. One being the easiest with hardly any presence of rapids whereas the six is almost impossible and life-threatening.
Rafting in Rishikesh Uttarakhand gives you the experience of rafting in rapids from grade one to grade five. Therefore, the first-timers as well as kids can also join river rafting in Rishikesh through the rapids of grade one or two.
There are multiple sites in Rishikesh having different grades of rapids in rafting. One can opt for any of these based on their likings.
Brahmapuri
Brahmapuri is a small quiet village where the river Ganga has made grade 1 rapid. This stretch concludes at the famous spot of Ram Jhula 8 km away making it the shortest as well as easiest rafting route of all. The water throughout this trip is not speedy at all therefore this route can be considered as best river rafting in Rishikesh for all age groups, from ages 14 to 75 and especially for beginners.
Some famous rapids encountered by rafters in this trip are Sweet Sixteen, Terminator (Grade II), Double Trouble (Grade II), and Hilton (Grade II). Rafting from Brahmapuri is ideal for beginners and can be taken as a family trip. This stretch remains open to the public for the longest duration in the year- from mid-September to June. It sometimes opens in August depending upon when the monsoon ends.
Length: 8 Km
Trip Duration: 1.5 hours to 2 hours
Starting Point: Brahmapuri
Ending Point: Ram Jhula
Rapids Present: Double Trouble, Hilton, Sweet Sixteen, Terminator, Jail No Bail
Grade of Rapids: Grade I and II
Difficulty Level: Easy and Beginner Friendly, suitable for family and Kids.
Best Time: From mid-September to June
Shivpuri
Shivpuri is a small quiet village 18 km away from Rishikesh. The stretch from Shivpuri to Nim Beach takes about 2-3 hours to complete. Having prior experience in rafting is preferred for this section but beginners can participate also and are preconditioned to having physical strength. Shivpuri is an ideal spot for rafting camping in Rishikesh.
Some well-known rapids faced by rafter in this stretch are Golf Course (Grade III), Sender, Roller Coaster (Grade III+), Initiation (Grade I), and Club House (Grade III). Additional activities like cliff jumping, swimming, body surfing can be enjoyed besides rafting this way. Shivpuri stretch opens after almost a week of opening the Brahmapuri stretch and closes at the beginning of June.
Length: 18 Km
Trip Duration: 2 to 3 hours
Starting Point: Shivpuri
Ending Point: Nim Beach
Rapids Present: Golf Course, Roller Coaster, Club House, Initiation, Sender
Grade of Rapids: Grade I, II, and III
Difficulty Level: Having experience is a plus point but beginners can opt for this particular trip under proper guidance and safety. Not suitable for kids and family.
Best Time: Last week of September to the first week of June.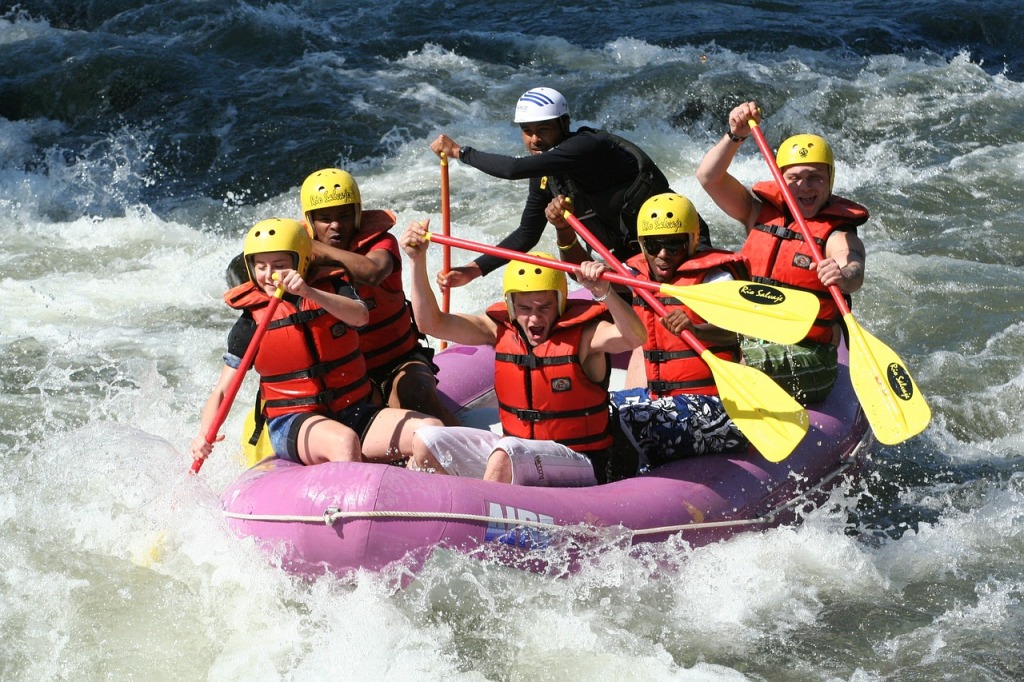 Marine Drive
From Marine Drive to Lakshman Jhula of Rishikesh, this particular rafting belt of 26 km almost covers all the prime rapids of rafting in the Ganga of Rishikesh. Now it takes around 4 or 5 hours to cover the distance by rafting. Here, adventure lovers hit rapids of Three Blind Mice (Grade III), Black Money (Grade I), Golf Course (Grade III), the wall (Grade IV), and all other rapids present in the way from Shivpuri to Rishikesh. The stretch from Marine Drive opens around the same time as opening the Shivpuri stretch. From October to May it remains open for tourists.
Length: 26 km
Trip Duration: 4 to 5 hours
Starting Point: Marine Drive
Ending Point: Lakshman Jhula
Rapids Present: Three Blind Mice, Golf Course, Sender, Terminator, Black Money, Body Surfing, CrossFire, and more.
Grades of Rapids: Grade I, II, and III
Difficulty Level: Moderate. The stretch from Marine Drive to Shivpuri is not suitable for beginners, kids less than 12 years of age, and family.
Best Time: From the beginning of October to May
Byasi
Distance from Byasi to Rishikesh in 35 km. Byasi is a small settlement at the bank of Ganga. Rafting from Byasi is popular for having more distance that offers a thrill-stuffed experience. This place is well-known for white water rafting. To experience the thrill of the white water rafting people visit Byasi from all over India and abroad. The best time to set out for rafting from Byasi is September to May.
Length: 35 km
Trip Duration: 6 to 7 hours
Starting Point: Byasi
Ending Point: Rishikesh
Rapids Present: Three Blind Mice, The Wall, Roller Coaster, The Golf, Sweet Sixteen
Grades of Rapids: Grade III, IV
Difficulty Level: Difficult. Not apt for beginners, family, and kids.
Best Time: September to May
Kaudiyala
Kaudiyala to Rishikesh is 36 km long rafting stretch, full of excitement and awe. This is one of the longest routes of rafting in Rishikesh. This rafting trip needs 6 to 7 hours to be completed. The Wall which is a grade IV rapid is located in this way from Kaudiyala. A total of 13 rafting stretches are present in this long way. The Kaudiyala trip can be best enjoyed from mid-October to mid-May. Rafting from Kaudiayala needs great stamina, physical fitness, and substantial experience in rafting.
Length: 36 km
Trip Duration: 6 to 7 hours
Starting Point: Kaudiyala
Ending Point: Rishikesh
Rapids Present: The wall, Daniel's Dip, Eddy Whirlpool, Three Blind Mice, Roller Coaster, Sweet Sixteen, Golf Course, Terminator, Hilton, and more
Grades of Rapids: Grade of I, II, III, and IV
Difficulty Level: Difficult. Not suitable for kids, first-time rafters, and family
Best Time: From mid-October to mid-May.
Apart from these rafting points, there are Devprayag, Mohan Chatti suitable for rafting and camping in Rishikesh.
How to reach Rishikesh
By Air
The airport in the proximity of Rishikesh is Jolly Grant Airport in Dehradun. It is a domestic airport connected with major cities like Delhi, Mumbai, Kolkata, Bangalore, Chandigarh, Chennai through the air route.
The airport is 22 km away from the holy city of Rishikesh. Regular bus and taxi service to Rishikesh are available from the airport. It will take only one hour to complete the journey from the airport to Rishikesh.
The airport of New Delhi is the closest international airport connected to places all over the world. From Delhi airport bus service is available.
By Train
Nearby the rail station from Rishikesh is the Haridwar railway Junction. This is a well-connected station with trains running from Delhi, Lucknow, Varanasi, Mumbai, Amritsar, and Rajasthan. Some trains that halt in Haridwar station are Jan Shatabdi Express, Mussoorie Express, Shatabdi Express, etc.
Again, Haridwar is 21 km away from Rishikesh and this distance can be easily covered by taking a bus or cab from outside of the station. A Bus journey takes only 45 minutes and if you take a cab then it will arrive in Rishikesh within 30 minutes.
Though Rishikesh has a small railway station and connectivity with Haridwar, only three trains from Haridwar run daily. But the problem is these trains are slow, so it is suggested to take the train up to Haridwar and then reach Rishikesh by road.
By Road
Being a famous tourist destination, Rishikesh is connected by bus from Delhi, Haridwar, and Dehradun. From Delhi, Rishikesh is 230 km away and the bus takes around 5 to 7 hours.
Why Go for Rafting in Rishikesh?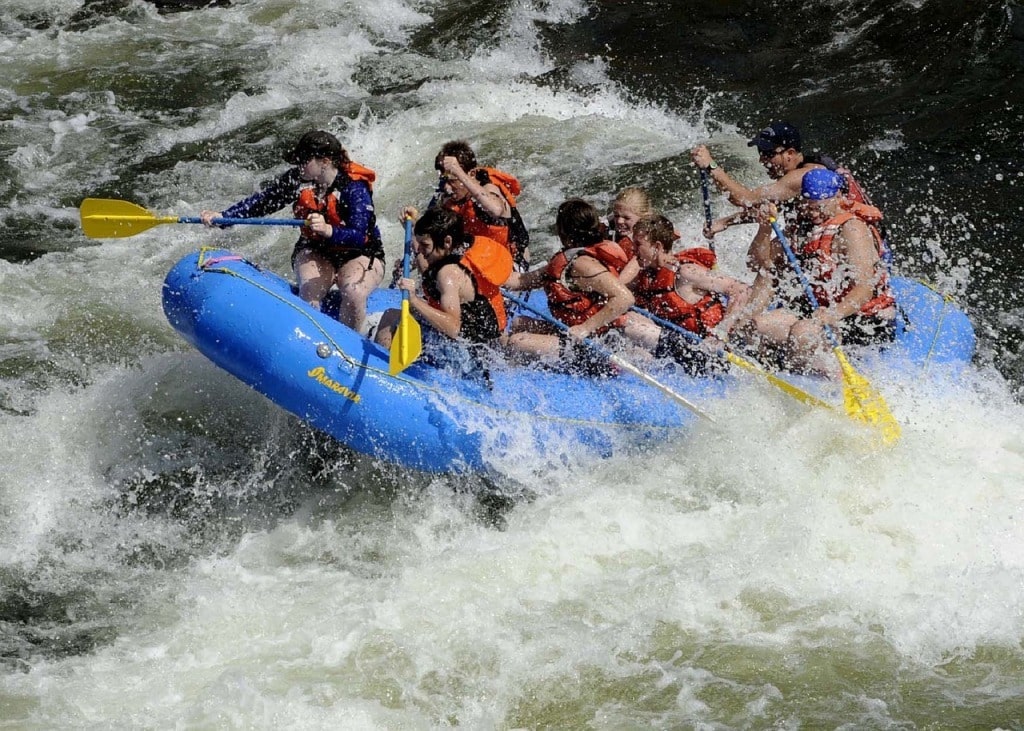 India has some selected places that offer white water rafting but among them, Rishikesh is considered the best. The name is synonymous with rafting among adventure lovers. Rishikesh has several different factors that have made this place a heaven for water sports.
Ideal Location
Rishikesh, at the foothill of the mighty Himalayas, is blessed with the holy water of Mother Ganga. The sacred river after flowing through the narrow Himalayan valley emerges at Rishikesh with its full strength, speed, and splendor. The sloppy terrain and glacier melted water of the Himalayas has prepared the section of the Ganga flowing through Rishikesh quintessential for kayaking and rafting.
The Enchanting Ganga
River Ganga is worshipped in the whole Indian subcontinent. In Rishikesh, the water of the holy river is unadulterated, clean, and unaffected by pollution. Temples, ashrams, spiritual centers at the bank of Ganga are seen while rafting through the river rapids. Rishikesh fosters a spiritual and pristine culture where alcohol, non-veg foods are absent. With no traffic jams on roads, no urban chaos, immaculate surrounding, and the divine unmatching vibe that the water of Ganga and the town itself presents is like a magnet that draws countless venturous tourists.
Presence of rapids from grade 1 to 5
The stretch of river alongside Rishikesh alone houses multiple river rapids from grade one to five. Thus, it is an ideal location to begin rafting and building experience for a newcomer as well as for the mavericks to delve deeper into the pleasure and satisfaction of conquering natural forces. The timing of rafting in Rishikesh also lasts long- year-round except the monsoon when water is unmanageable.
Affordability and availability of ample tour operators
Rafting in Rishikesh package is another reason why adventure sports junkies rush to this place. A lot of tour operators are active in the region to give tourists better service than the others. Prices were not fixed before but now with the formation of a new governing association for rafting prices are fixed and within anyone's budget.
For coronavirus pandemic rafting and other activities were postponed for a long time since March in Rishikesh. But recently Uttarakhand tourism has declared on social media that river rafting has been resumed for the public.
What to bring in rafting
Synthetic and quick-drying pair of clothes to wear during the sport.
Sturdy shoes preferably those with straps so that the footwear retains its place.
Sunglasses with straps and small sunscreen tube for sunny weather
Comfortable dry garments pair to wear after the sport.
Plastic bag to carry wet cloths.
Water bottles with a carabiner so that you can attach the bottle with the raft.
Do's in rafting
Helmet- This is the first and foremost sports gear that is required in river rafting. Wearing a proper helmet ensures the safety of the most vital part of your body in case the boat flipped or hits a rock.
Life Jacket- Knowing how to swim is not essential for rafting but knowing is a plus point. Regardless of swimming is known to you or not wearing a high-quality life jacket can be lifesaving because the fast and furious river current will not listen to any apology for not wearing a proper life preserver.
Right kind of clothes- Wear light clothes that dry very quickly. Also, carry some extra clothes with you to wear once the rafting is over.
Follow the instruction of your guide- Listen when and how your instructor says to paddle and when not.
Don'ts in Rafting
Never panic when fall out of the raft- DO NOT panic if you fall into the water. Generally, instructors give safety talks before the beginning of the trip. Do listen to their talk carefully. If you drop into the river, keep your brain calm and act as per the instructions given.
Don't take something that you have an emotional attachment with or something expensive. You should not carry a mobile, wristwatch, moneybag, jewelry with you on the boat.
Don't be anxious. You are with a group and in the safe hand of your instructor. Trust them because they are experienced.