Khaliya Top is a snow-covered alpine meadow at a staggering altitude of 3500 meters of the Kumaon Himalayas. The spot is located near Munsiyari village in the Pithoragarh district of Uttarakhand.
Khaliya top or Khuliya top is a hidden gem in the mountains of the Kumaon range of the Himalayas. Though Khaliya top trek is not unheard of among trek lovers it is not very much popular like other famous summit climbing treks in Uttarakhand. Yet, the outstanding views of mountain peaks, steep climbing through dense forest, exotic mountain animals, and birds' sightings, pristine white snow even in the summer adorn the trail of this trek. These make the trek a special one among the list of many.
The trek to Khaliya top from Munsiyari is a 4-day trek. Khaliya Top trek distance is 15 km from Munsiyari. The actual trek begins from a location named Balati Bend. From Balati Bend trekking of nearly 6km will take you to the Khaliya top. The trek is classified as an easy trek though there are some parts of steep ascents.
What is Khaliya Top famous for?
Trekking for unmatched summit view and Zero Point:
Khaliya Top is a stunning trekking and hiking destination for the otherworldly view of mountain peaks lurking through the sea of clouds. This view has something to leave you wonderstruck at the end of the trek. Five famous mountain tops- Panchachuli, Nandadevi, Hardeol, Nandakot, Rajrambha are visible from Khaliya Top. This view is the reason for the popularity of Khaliya Top among trekkers. The Khaliya Top elevation will make you feel like at the top of the world. During the evening setting sun paints these peaks in orange and gradually fiery red which is worth all your exertion.
If extra time remains after visiting Khaliya Top, then trekking one kilometer ahead up to Zero points would be another memorable experience. From Zero point 360 degrees view of the surrounding terrain is available. Zero-point is the highest point in the Munsiyari region. It is perched at an altitude of 4000 meters above sea level. Zero-point offers an exclusive birds-eye view unlike the view from Khaliya Top where the majestic peaks are present but the full-circle panoramic view is inaccessible.
Winter sports activities: Skiing and paragliding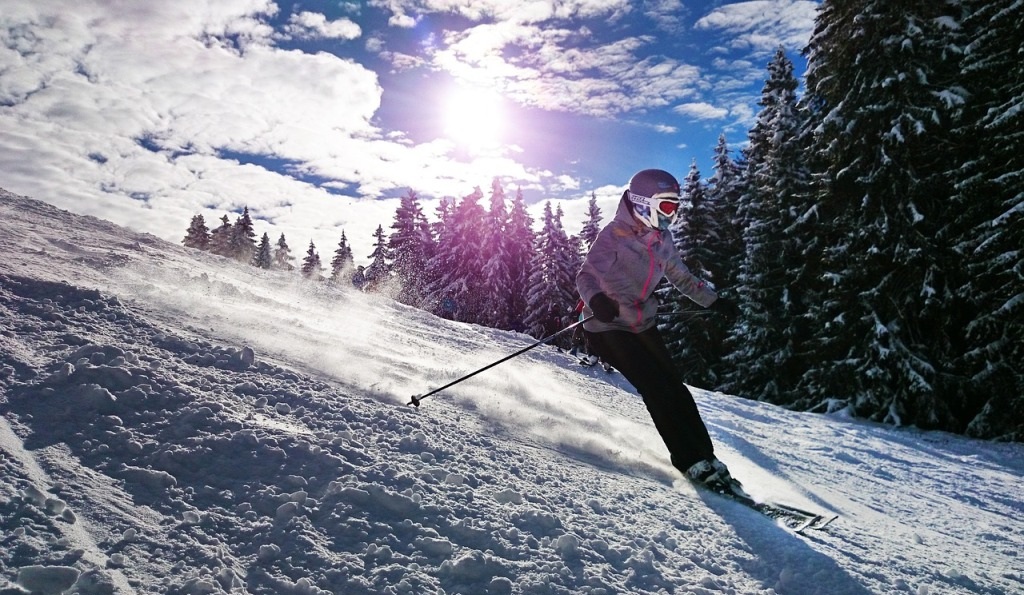 The Khaliya Top snow is a perfect ground for skiing in the winter. Khaliya bugyal is a high altitude pasture covered with thick snow year-round. The mountain slopes here are quite challenging for which adventure-seeking skiers throng at this place. Ski training associations also operates in this region.
In summer, Khaliya Top offers paragliding for tourist entertainment. Besides trekking one can undertake these adventurous sports activities.
Heaven for nature lovers and wildlife enthusiasts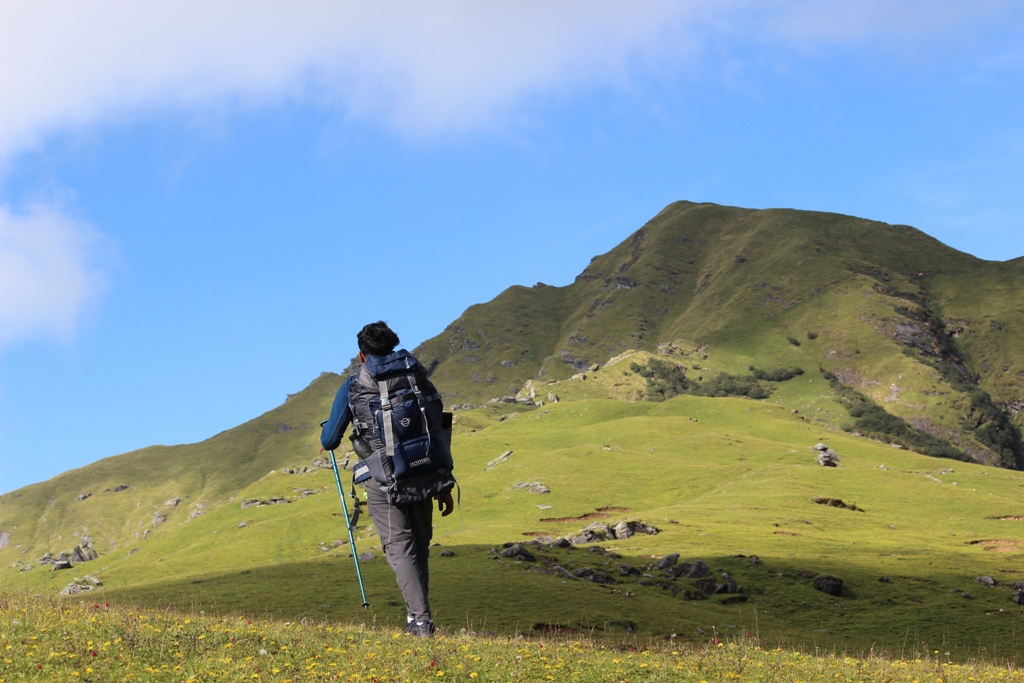 Rare and exotic Himalayan animals and birds are native to this region. So, it is kind of the cherry on the top of the cake situation for avid wildlife photographers, bird watchers, and animal lovers. Monal, mountain antelope, yellow fronted marten, Baral, Ghurar, Kakar, barking deer can be seen during the trek.
Tall alpine trees of rhododendron, oak, cedar, cypress, pines, and spruce line up at the dense forest all the way to Khaliya top. In the spring the fiery red flower of rhododendron makes the trail beautiful and the trip unforgettable.
Tips for Khaliya Top Trek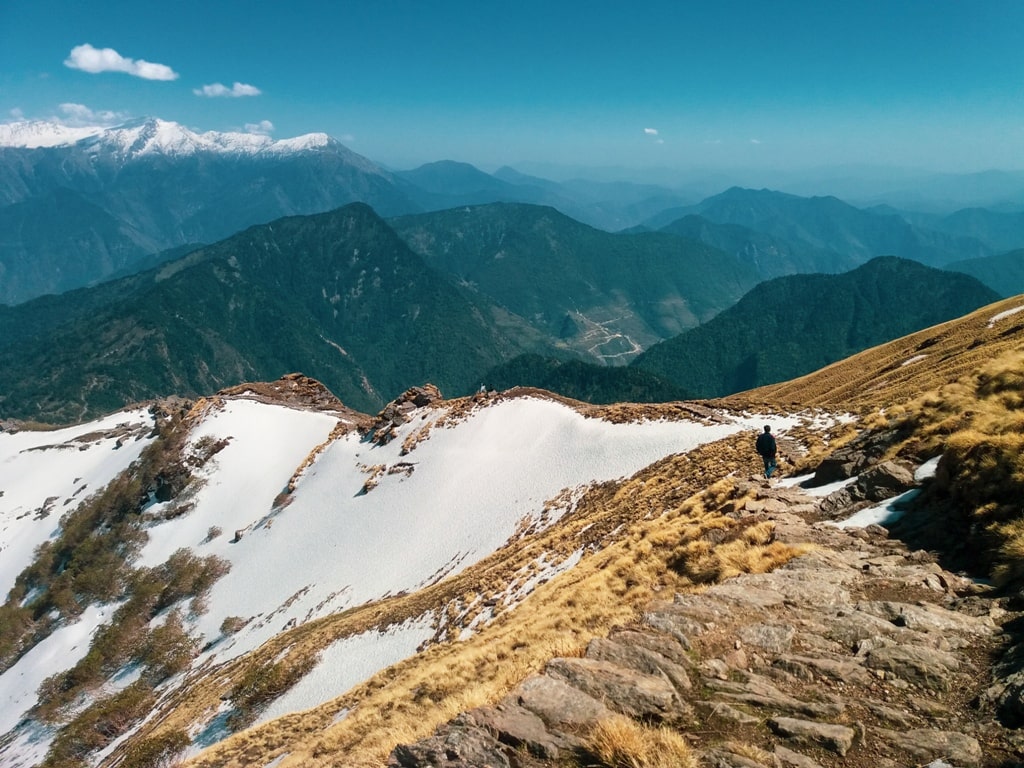 Carrying some cash may come in handy to you because even though there are ATMs in and around Munsiyari they become out of service sometimes.
Carry winter warm clothes even in the spring and summer season. As the Khaliya Top elevation is remarkably high the temperature remains exceptionally low at the top all the time
Khaliya Top trek is for both beginners and experts. Still, during the winter the trek can be a bit tricky for beginners for slippery trail and fog-covered weather. So, it is advised to have one experienced person or one guide leading the team.
The trail to Khaliya Top has a steep gradient at some parts for which pre-planning and fitness of the body are of utmost importance. Good cardiovascular exercise and other fitness training for three months can build the strength and physique required for trekking.
Since trekking to Khaliya Top takes place at a remarkably high altitude, beginners can experience headaches, dizziness, vomiting, muscle pain, and breathlessness. If these symptoms appear then the person is suffering from Acute Mountain Sickness (AMS). This can be treated by following some simple measures such as drinking more water, resting before moving towards a higher altitude. The best way to prevent it is acclimatization. Medicines are effective to ease the symptoms.
First aid kit and some basic medicines are a must. In a waterproof sturdy plastic bag or container pack some pain reliever, antiseptic gel, antibiotic ointment, sting and bites crème, electrolyte powder. Carry some band-aids in your pocket within the easy reach of your arms. Beginners must carry antiemetic drugs for nausea and vomiting prevention.
Some accessories are required to carry in this trek for sure. One of them is the trekking pole- it is an important gear when trekking in the slippery snow-covered terrain like that of Khaliya Top. You should carry sunglasses, trekking shoes, raincoat, warm woolen jacket, woolen gloves, hat, and reusable plastic bags.
How to reach Khaliya Top
Moxtain offers a pick-up and drops facility from Kathgodam Railway Station. Now, to reach Kathgodam Railway Station railway, roadway and airway are available.
By Train

Express trains run from Dehradun, Delhi, and Kolkata. From Delhi NDLS Kathgodam Shatabdi, Ranikhet Express, Uttar Sampark Express are available. These trains take nearly 5 to 7 hours to reach Kathgodam.

Bagh Express runs daily between Howrah station and Kathgodam railway station. Lucknow Junction - Kathgodam express is a tri-weekly train that connects Kathgodam with Lucknow.

From Dehradun two direct trains are available. Naini Doon Jan Shatabdi express and Dehradun Kathgodam Shatabdi express. There is no direct train from Mumbai. If traveling from Mumbai, taking a direct train up to Delhi and then changing the train for Kathgodam will be one solution.

By Road

Khaliya top distance from Delhi is around 572 km by road. Bus service from Delhi to Khaliya top is easily accessible. Buses cover this distance from 6 to 10 hours.

From Dehradun, buses are available and take nearly 8 or 9 hours. Cabs and local passenger buses are the transportation mediums between Kathgodam and Munsiyari. Both private taxi and budget-friendly shuttle cabs are available from Kathgodam. However, by road, the journey takes 9 to 11 hours from Kathgodam to Munsiyari.

By Air

Pantnagar airport is the closest one from Kathgodam. Pantnagar airport is around 32 km away from Kathgodam. It is well connected with Delhi and Dehradun. Cabs and local buses for Kathgodam are easily available from outside the airport.
Plan your stay at Khaliya Top
You can plan your staycation by either camping in Khaliya Top or by staying at the guest house built by KMVN Khaliya Top.
KMVN guest house is 1 km before the Khaliya Top summit. The guest houses have 8 to 10 rooms with amenities like heated water and solar lightings. Food is also served by the guest house. You can stay one night at the guest house and at dawn go to witness the mesmerizing sunrise at the Khaliya Top. Trekking from the guest house to Khaliya top takes less than one hour.
Camping at the summit of Khaliya Top and staying one night under the open sky and twinkling stars is a thrill-stuffed experience. This is an affordable option too.
As for Khaliya Top hotels, there are many guest houses, lodges in the town of Munsiyari where you can stay at night and start trekking for Khaliya top from early morning.
KMVN has a tourist rest house in Munsiyari which can be a pocket-friendly option if you plan to stay at Munsiyari during the Khaliya Top trek. It is located at Thal road, only 800metersaway from Munsiyari bus stop. The average room rent here is around 1200 rupees. The guest house offers an amazing picturesque view of the Panchchuli peak right from the room window round the clock.
Another guest house within just one kilometer from Munsiyari bus station is the PWD guest house. Being a government-operated guest house it's also affordable.
Pandey lodge is a private property located at just 2 minutes' walking distance away from the bus stop. The view of the mountain and green forest of oak, rhododendron from here is spectacular. Munsiyari market and post office are in proximity from here. Room rate range is from 450 rupees to 1500 rupees based on amenities and facilities.
Other budget-friendly hotels are Bijlu Inn (Rs.1000 to Rs.2500), hotel Hayat Paradise (Rs. 300 to Rs.800), and Ma Nanda Devi.
One of the best resorts in Munsiyari is the Zara resort or Zuha resort. It offers rooms from Rs.1450 to Rs.2800 with prime facilities and various services. Just one km away from the bus stand this resort can arrange for trekking, skiing, river rafting, and paragliding programs if one seeks for so.
Vijay Mount View Resort can be the best fit for you if you want to stay in the heart of town, near the main market area. From the tranquil open lounge of this deluxe resort snow-clad mountain peaks especially Panchaculi can be seen. Room rent starts from Rs.300 to Rs.2800.
Wayfarer Mountain resort is famous for exceptional cottage and hut style accommodation arrangements for its guests. It is one and a half km away from the bus stand. Cottage room amidst the lush green forest area costs around Rs.3550.
Short Day-wise Khaliya Top Itinerary
Day 1: Kathgodam to Munsiyari
On the first day, you will be picked up from Kathgodam railway station. After a long drive of 300 km, you will arrive at Munsiyari. The Lush green mountains and cool wind welcome you to the Kumaon region of the Himalayas. You will come across several temples and Birthi falls while driving on the scenic roadways. This journey usually takes 9 to 11 hours to complete.
Day 2: Drive from Munsiyari to Balati Bend and Trek to Bhujani
On the second day of your trip, you will be moving to a location named Balati Bend, approximately 9 km away from the town of Munsiyari. From Munsiyari a short drive will take you to Balati Bend. Balati Bend is the place from where trekking starts. The base camp of this trek is in Bhujani. After relatively easy trekking for 2km from Balati Bend, you will reach Bhujani. However, some patches of the trail before Bhujani is steep and need gradual climbing.
Day 3: Bhujani Basecamp to Khaliya Top and Back to Munsiyari
This is the most important day of the trip when you will witness the rare Himalayan flora and fauna on your way of trekking from Bhujani base camp to your destination Khaliya Top. The trek rewards you with the mesmerizing view of high altitude alpine forest, rare and exquisite mountain animals, and above all the bird-eye view of mountain peaks of Kumaon and Tibetan range. You will return to Balati Bend trekking through the same trail and from there to Munsiyari by car. A total of 15 km distance is covered in the process.
Day 4: Munsiyari to Kathgodam
On the last day of the journey, you will go back to Kathgodam from Munsiyari driving through the same path which was taken to reach Munsiyari earlier. Thus, the trip ends at Kathgodam Railway station.