Different Flavors Of Dayara Bugyal In Different Seasons
Bugyals considered as an epitome of beauty, are in the form of pasture lands in Uttarakhand. A beautiful trek yet undiscovered is a phrase that describes Dayara Bugyal, the best. Dayara Bugyal Trek stands in the North-West part of Uttarakhand. These alpine meadows, considered the best in India give us a stunning panoramic view of the Himalayas.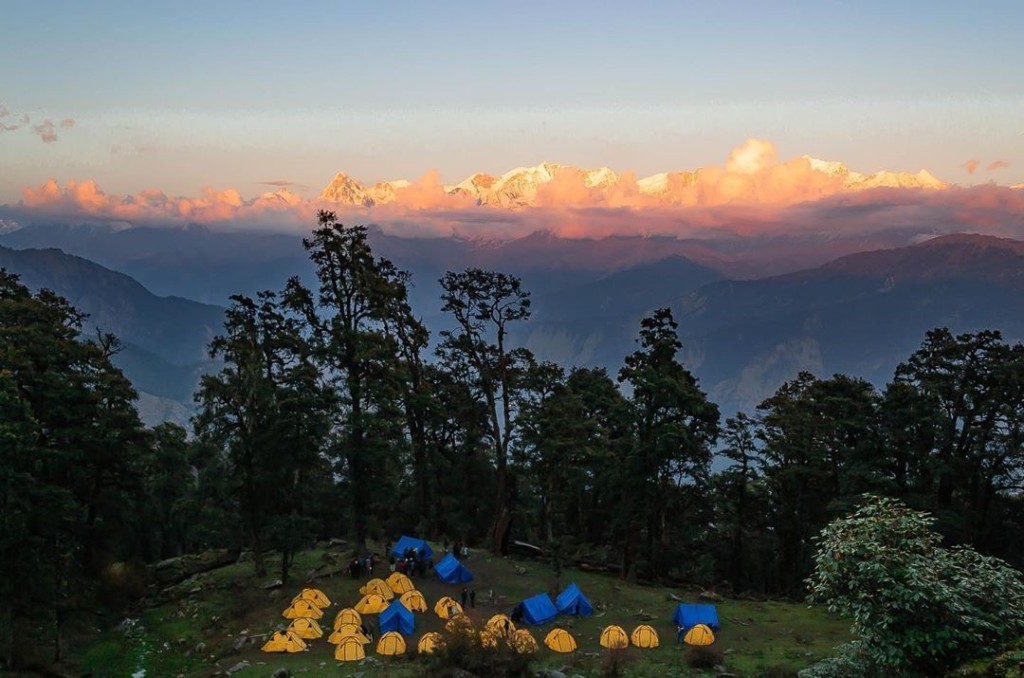 Image Source: On His Own Trip
The trek should be on the bucket list of all beginners as it has a lower level of difficulty. Apart from that, the trek comes to life in different seasons with mesmerizing colors. Dayara Bugyal's altitude is at an elevation of 3,408 meters (11,181 ft.) and covers an area of 28 square kilometers, which is 11 sq. miles.
Dayara Bugyal Trek trails over the golden-green grass hillocks, clear water bodies, and Oak forests. Dayara Bugyal blessed with Flora and Fauna, experiences it from the wildflowers to the rustling of dry leaves under the feet. Apart from these gorgeous frames, Dayara Bugyal is a stunner for mountain viewing. These peaks will be, Kala Nag, Bandarpoonch, Mahadev, Shrikhand, Gangotri peaks, and Srikanth peak. Dayara Bugyal offers an opportunity to witness Himalayan cultures through the views of the village too.
How to reach?
Dayara Bugyal from Delhi takes a total distance of 445km, out of which transportation covers 433km.
By Train:

Dehradun has a great Railway line connectivity with major Indian cities like Lucknow, Kolkata, Delhi, etc. The trains connecting till Dehradun are Dehradun Jan Shatabdi Express, Dehradun Express, Allahabad Link Express, Varanasi Dehradun Express, Mussoorie Express, Kathgodam Express, Nanda Devi Express, etc. It's a drive of 6 hours 30 min to Barsu from Dehradun.

By Road:

There are two starting points to reach Dayara Bugyal Trek, one is from Barsu village and another is from Raithal village. Their location is at 12km from Bhatwari if you are planning to reach by the road.

There are two routes to drive till Barsu village. The first one will start from Delhi and cover places like Haridwar, Rishikesh, Chamba, and Uttarkashi until Barsu village. The second will be from Dehradun after reaching Dehradun through train or by roadways. It covers places from Dehradun like Suwakholi, Chilianisaur, Uttarkashi, until Barsu village.

Buses can be an option to reach Dehradun, with many AC buses, Volvo buses, and Standard buses. These buses connect Dehradun to various places like Haridwar, Delhi, Kolkata, Lucknow, Punjab, Rajasthan, and Himachal Pradesh. Personal vehicle, taxi, and shared taxis from Dehradun to Barsu village are available too, for covering the rest distance. The bus fare from Delhi to Dehradun will be Rs. 280, One can also get a bus from Uttarkashi at Rs. 260 and from Dehradun to Uttarkashi is Rs. 250. There is an availability of Jeeps too from Rispa Paul to Uttarkashi is Rs. 300 and from Uttarkashi to Bhatwari is Rs. 60. One can take a local bus for a minimal price from Bhatwari to Barsu or take a shared Jeep, which is available at a very cheap price.

By Flight:

Flights are a better option too, that connect Dehradun with Delhi. The flight time will be taking 55 minutes to reach Dehradun and afterward, it's a 6 hours 30 minutes' drive to Barsu. The nearest airport is the Jolly Grant, which is 22km Southeast of Dehradun. Many flights are available from major cities like Bangalore, Chennai, Hyderabad, and Delhi.
Short Itinerary:
Day 1: A 6.5 hours' drive from Dehradun to Barsu.
Day 2: Trek from Barsu to Barnala Tal of 20km, at an altitude from 3,048 meters to 8,000 ft. along with an overnight stay in camps near Barnala meadows.
Day 3: Trek from Barnala Tal to Dayara Bugyal of 5km and 4 hours, along with an overnight stay in camps, from 8,000ft to 11,181 ft.
Day 4: Trek from Dayara Bugyal to Bakaria Top and back to Dayara Bugyal, from an altitude of 11,181 ft. to 12,000 ft. The distance and the time is taken altogether back and forth will be 6 km and 4 to 6 hours.
Day 5: 8km Trek from Dayara Bugyal to Pichkiya takes 6 to 7 hours. Reaching at an altitude of 7873 ft.
Day 6: Ending with a Trek from Pichkiya to Barsu.
Day 7: Drive from Barsu to Dehradun, with a bag full of memories.
Dayara Bugyal Best time to visit: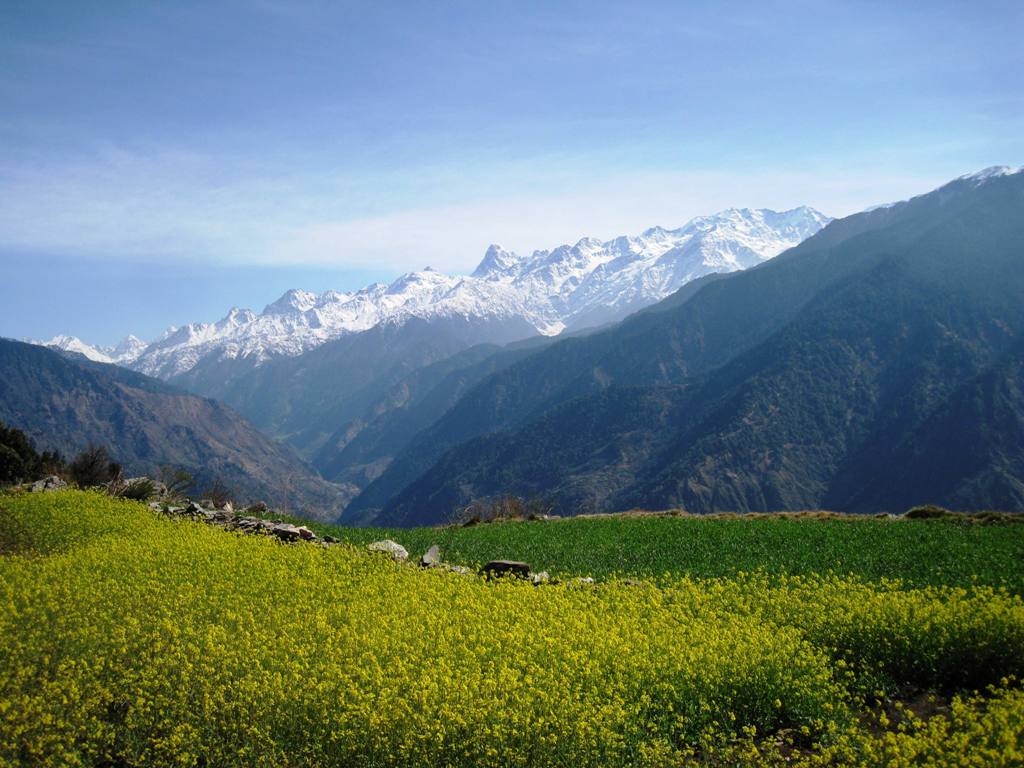 The Trek receives most footfall during winters, especially from skiers. If you are not fond of cold weather, then Spring Season will be best too. The best time to visit Dayara Bugyal is subjective to an individual, so here is the information about the condition of Trek in different seasons.
The Dayara Bugyal weather is stunning all around the year, except during monsoons. The trek best time is during four distinct seasons. The trek in winters, spring, autumn, and summers has a unique and lovely beauty to experience.
Dayara Bugyal in Spring:
Dayara Bugyal in April from Mid-March invites the enchanting spring season. It marks the beginning of green meadows as the snow melts. One can witness tiny flowers letting their heads out and rhododendrons blooming on Dayara Bugyal in April. The Himalayan Monal and the sweet chirps of other birds create an alluring atmosphere. Be ready to experience, the thick canopy of green and brown oaks in the forest section, while visiting here.
Dayara Bugyal in Summers:
Summers are too warm on Dayara Bugyal in May and June, with meadows toasting in the sun. Dayara Bugyal in May is to be easiest without worrying about cold temperatures. There is a distinct fragrance refreshing the trekkers, here during summers. The trek witness meadows filled with white, yellow, and violet flowers.
Dayara Bugyal in Autumn:
The time from Mid-September to Mid-October marks the awakening of autumn in Dayara Bugyal. The Dayara Bugyal Trek best time for witnessing sharp views will be in the autumn season. The picturesque view of peaks like the Gangotri range will leave you in awe for sure. The rioting colors will make you believe that someone has dropped colors on the meadows. Such a beautiful play of nature, you will try to take it with you in your camera lens. The fiery red maple trees, golden meadows, and pine-scented autumn air is a sight to behold.
Dayara Bugyal in Winters:
One of the Dayara Bugyal Trek best time will be the beauty of Dayara Bugyal in December and January. Dayara Bugyal in January and December turns into heaven, with diamond-like snowflakes sprawling around. The soft, powdery snowflakes at Dayara Bugyal in December, make a perfect moment for a snowball fight. The snow at Dayara Bugyal in January especially raises the level of difficulty on the trek. Dayara Bugyal in winters, experiences snow-clad pine trees, transforming it into fairyland.
Dayara Bugyal Skiing: An experience felt never before:
Dayara Bugyal Skiing is lesser-known but is a complete package of adventure and beautiful views. The evergreen slopes of Dayara Bugyal in winters get covered in a sparkling sheet of snow. This makes a perfect setting for skiing. The highlight of Dayara Bugyal Skiing is the natural slopes cladded with sparkling snow. The Dayara Bugyal Skiing does not have proper infrastructure. Yet, the natural beauty of Dayara Bugyal has pulled many professional skiers from around the world. The people new to skiing can enjoy this beautiful experience too, as slopes for novices and experts have different categories.
Dayara Bugyal weather and temperature: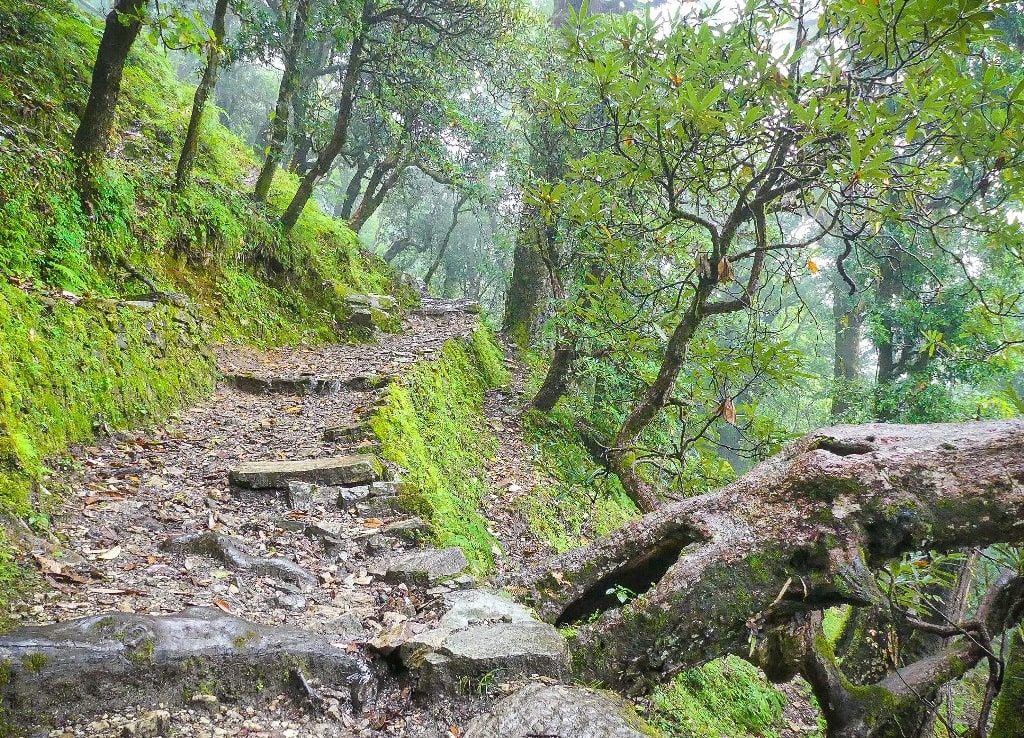 Dayara Bugyal in Spring:
One can expect cold nights, especially on a higher altitude, varying 1-5 degrees or even 0 degrees. The daytime is generally pleasant, with clear weather and temperature at 15 to 20 degrees.
Dayara Bugyal in Summers:
Summers are pleasant with temperature during the daytime hovering between 20-25 degrees. The night will become frosty, even though it's Summer, with temperature varying between 7-10 degrees.
Dayara Bugyal in Autumn:
Dayara Bugyal weather in Autumn is like spring but a couple of degrees colder. The temperature at night drops to 2-3 degrees and it gets colder as November approaches. The Dayara Bugyal weather during daytime is pleasant varying between 13-18 degrees. Dayara Bugyal Trek can have a drop of temperature of 8-12 degrees if it experiences a slight drizzle.
Dayara Bugyal in Winters:
The temperature during evenings is at a sub-zero degree and during the night is minus 7 or 8 degrees. Dayara Bugyal Trek in the daytime is easier with a temperature reaching during the day at 8 to 12 degrees.
Dayara Bugyal in a nutshell, whispers a tune of wilderness in the heart of trekkers. The wanderers venturing in this untouched beauty will carry back more than they brought. The Dayara Bugyal Trek marks perfection for trekkers in search of tranquility and a long week adventure.