Kolad River Rafting 2023: Rafting In Kundalika River
Are you interested in adventure sports like river rafting? If yes, Kolad must be there on your travel list. Kolad is a beautiful village located on Mumbai- Goa highway in the Raigad district of Maharashtra. This place is famous for its adventure activities in the Kundalika River which is ideal for water-based adventures. It offers adventure sports like rafting, rappelling, kayaking, and rock climbing. Kundalika is one of the fastest flowing rivers in India. It is one of the few locations where rafting is available throughout the year. Kundalika flows through the valleys and ranges of Sahyadri and is an ideal spot for white water rafting. This rafting will take you 14 km along the Kundalika River. Along with adventure sports, the Kundalika valley treks make it a popular destination for adventure seekers.
What is the best time for river rafting in Kolad?
The weather in Kolad is pleasant throughout the year. It offers visitors different experiences in different seasons.
Kolad is at its best during the monsoon from June to October for white water rafting in the Kundalika river. This is because with heavy rain the water levels are high and the currents are stronger. The beauty of waterfalls and lush greenery can be enjoyed the most at this time of the year. The variety of flora and fauna in the region can also be enjoyed in monsoons.
Winters are cool and comfortable here. November to February is the best time for adventure activities. It is the best time to enjoy the cool nights in Kolad lighting a campfire with your friends.
If you prefer lesser crowds and a short trip, visit Kolad in the summers. Kolad in summer has lesser tourists. Though March to May is hot here because of the rafting options in the morning you would be not affected by the heat of the sun.
How to Reach Kolad from Mumbai?
Kolad is 120 km away from Mumbai and would take around two and a half hours to reach.
By Road

There are two routes to reach for Kolad river rafting from Mumbai.

Route 1: Mumbai—Vashi- Kalamboli- Panvel Bypass- Karnala-Pen-Vadhkal – Naka – Nagaothane- Kolad.
Route 2: Mumbai- Panvel- Mumbai Pune Express Way–Khapoli - Pali Road – Turn left to NH66-Mumbai Goa Road – Turn left for Kolad.

The state transport buses and private buses also provide transportation to Kolad.

By Rail

Kolad is connected to the major cities through rail. The train journey to Kolad is full of beautiful sights. There are two passenger trains running for Kolad, which proves of great help for the people looking for rafting near Mumbai.
How to Reach Kolad from Pune?
The easiest way to reach Kolad from Pune is to travel by road. It takes about three hours. You can go either via Paud Road or via Mumbai- Pune Express Highway and Khapoli- Pali Road. There are no direct trains from Pune to Kolad. You can board a train to Lonavala station and then hire a taxi to reach Kolad. Transport buses are easily available on this route.
Kundalika River Rapids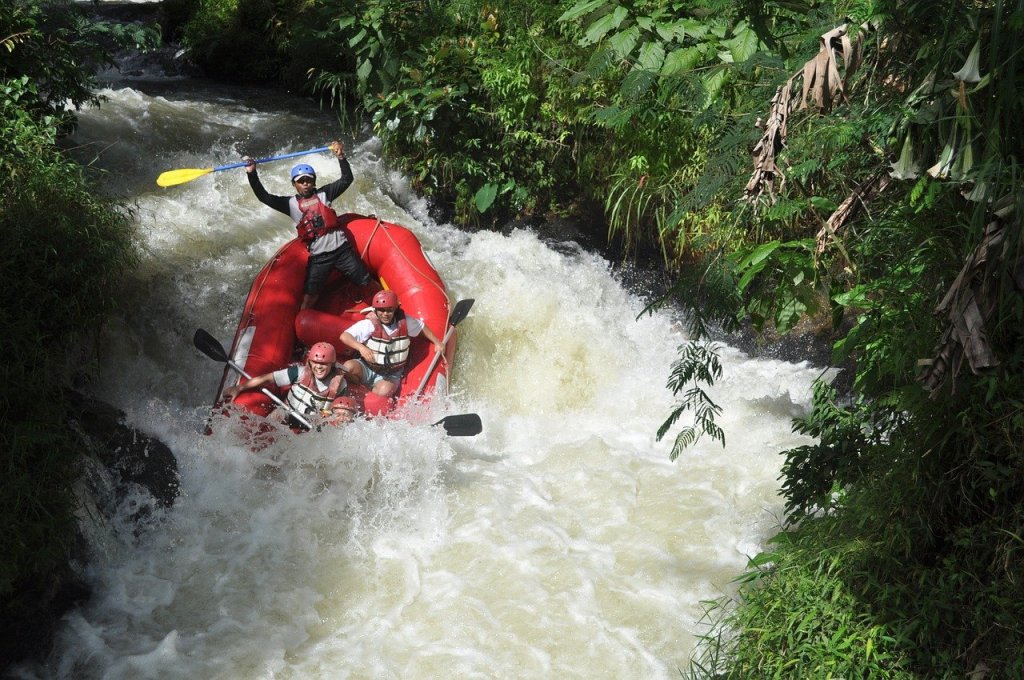 River rafting in Kundalika takes you through different levels of grades. Rafting here is carried out mostly on rapids categorised as Grade II and Grade III. Grade II refers to the levels in rafting with slight challenges and gradual bends. Grade III has high waves and easy falls
River Rapids and Grades
Rapids are fast-moving parts of the river. The levels of challenges they give are represented by various grades. Ranging from simple to very dangerous they are based on levels of difficulty from I to VI. The grade of a rapid in rafting is based on the size and type of waves, water temperature, the hazards, and the nature of the river. The hardest rapid decides the overall grade of the river. Rafting in Grades I to III requires basic swimming skills whereas experience in white water rafting is required for the higher grades.
Grade I have fast-flowing water with small waves/ripples. Grade II is easy, III is difficult and IV is very difficult. Grade I rapids are the best suited for beginners. They have fast-moving water and fewer obstacles. The curves are gentle in this grade. Grade II has small, regular waves less than 2 feet. They can be handled by rafters who have a sound understanding of manoeuvring canoes and rafts. Grade III Rapids are for those who have had training and expertise. It is moderately difficult and is not recommended for beginners. Grade IV Rapids are for those who have gone through advanced training.
The fifth grade is extreme and should be attempted by experienced teams. It is dangerous at times. The most difficult is the sixth where chances of a fatality are high. The sixth grade is recommended for adventure sports.
Dangers of white water rafting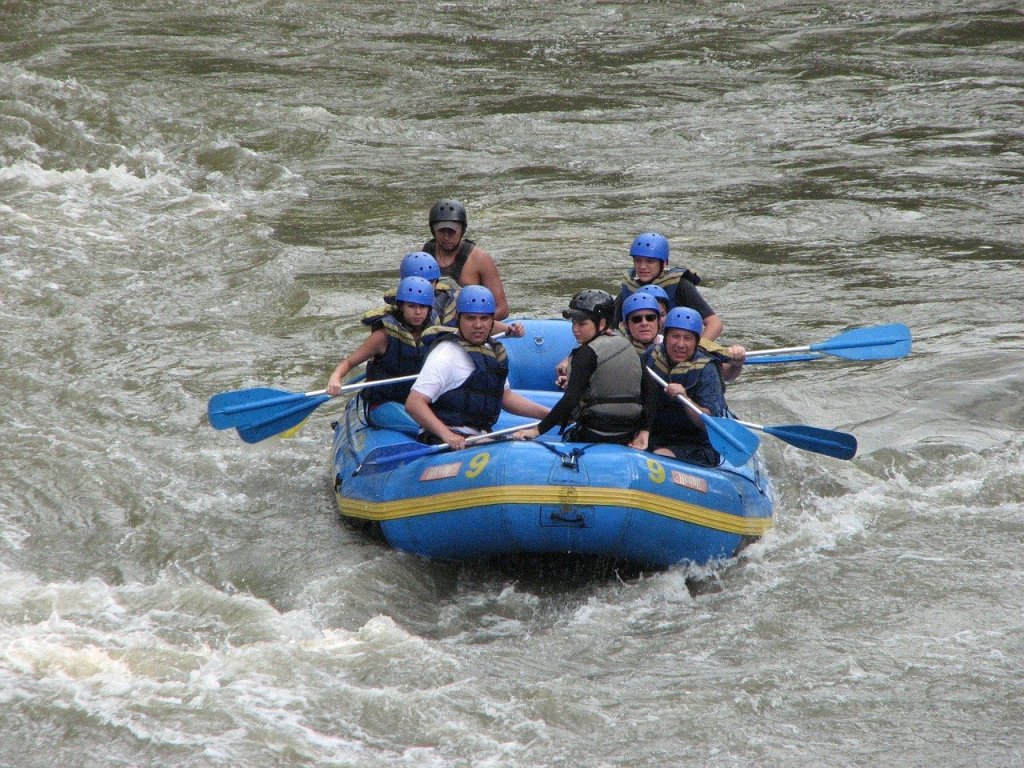 White water rafting like all outdoor activities involves an element of inherent risk. The most common rafting injury is either sunburn or while getting in and out of a boat. White water rafting will not be completely safe because of the risk factors. And isn't that that what adventure is! However, there are a few simple things you can do to keep yourself safe when you go rafting. Most importantly choose a river appropriate for your physical fitness and be honest with yourself about your limitations. Listen carefully to your guides and follow their instructions.
Is rafting in Kolad Safe?
The rapids in Kolad are fast. But, you needn't worry. It is safe to river raft in Kolad when you have high-quality safety equipment. Being accompanied by experienced swimmers and rafting experts make it safer.
Things to carry in Rafting
You should wear comfortable clothes in which you can get wet while rafting. It's good to carry quick-dry shorts. It is good to avoid cotton clothes as it gets cold when cotton gets wet.
Carry a towel and change of clothes.
It is compulsory that you have to wear helmets and life jackets when they are provided at the rafting site.
Wear sturdy sandals with straps. It is advisable to carry river shoes, trekking shoes, slippers, and socks.
You can also carry caps or hats. It will help you protect yourself from the sun.
Carry your sunglasses.
Carry warmer clothes to wear after the trip if the temperature is cool.
You must also carry a bag for wet clothes.
Taking along a small tube of Sunscreen lotion that fits in a pocket can be of great help.
Carry water bottles, energy bars, and snacks if they are not provided.
Carry soap, lotion, and other toiletries to get fresh.
Carry medications if any. You can also carry hand sanitizer.
Do's and Don'ts in Rafting
You should always wear your life jacket while on the river. Your safety gear can protect you. Tell your guide about your medical conditions. Make sure you choose the right trip. Do eat a good meal that will give you energy for the day. Stay hydrated. Ask questions to your river guide if you have any doubts regarding rating. Expensive items are ought to be left behind.
If you fall off a raft do not panic, your jacket will immediately bring you to the surface. There is a high possibility that you will surface right next to the raft. If so, hold off the raft because it is your biggest life jacket on the river. If you are close to the raft and know to swim, swim to the raft. Listen to your guide. Follow their instructions. Your guide always gives priority to your safety. Help if your fellow rafter falls into the water.
Don't stand up while in moving currents. Do not place your feet in the safety line outside the raft while paddling and hold the paddle properly. Don't carry alcohol or illegal substance while on a trip. Don't carry with you anything you would mind losing.
Other Adventure Sports in Kolad
Kolad is a great place for those who are new to trekking. The Sahyadri range provides a great opportunity to trek enjoying the beautiful flora and fauna of the region. You can also enjoy bird watching here. It is one of the safest places to trek. Kolad provides the Kayaking option both in still and rushing waters. It is both a recreational activity and adventure sport in Kolad. This water sport lets you fly over the river with the help of ropes. Try flying fox at Kolad if you have courage and focus. Kundalika is an ideal place for the river crossing. It is done with supervision by experts' instruction in Kolad. You can experience the underwater world at Kolad. Scuba diving in Kolad lets you enjoy the beautiful marine life. It is a great activity for adventure seekers. Kolad also lets you enjoy adventure sport's like zip line, mountain biking, paintball, and wall climbing.