Har-ki-Dun valley (also known as Valley of Gods) is a cradle shaped hanging valley in Garhwal Himalayas. The valley is about 3566m (11700ft) above mean sea level. It is told that the path through Har-ki-dun valley to the Swargarohini mountain was the path taken by Pandavas on their way to heaven. (There is a similar story from Satopanth lake near Badrinath). The trek along the Valley of gods is one of the spectacular trek trails in Uttarakhand and can be done all year round except during heavy monsoon. It is nestled in Govind National Park which offers rich fauna and flora and will take you through 3000 years old ancient villages. The difficulty of this trekking trail is easy to moderate and can be attempted by first-time trekkers. Since it is a long trek of 27 km each way, one needs to be fit to enjoy the experience. Summertime has its own charm as you can enjoy the various colours of nature, the music of busy birds, and the sound of flowing river as the glacier melts into crystal clear water.
After reading up about the Har-ki-Dun trek, I was very keen on going on this trek. Myself, my husband and my daughter decided to do this trek in the month of May 2019. I was confident of being fit enough to complete this trek since I had already completed another trek successfully in the Himalayan region in the previous year. After learning about our plans, one of my husband's friends also decided to join us. Though he had done many treks in the western ghats of southern India, this was going to be his first trek in the Himalayan region.
Day-1 Bangalore to Dehradun
We started our journey from Bangalore and reached Dehradun around 3 pm. We had booked a hotel room in Dehradun for one night. The program by our trek handling company was going to start the next day morning.
Day-2 Dehradun to Sankri
We started the next morning in a vehicle from Dehradun, a 187 km drive. We passed through Mussoorie, the popular hill station of Uttarakhand, and had a view of the Kempty falls from a distance. Our team of 4 members from Bangalore was joined by a brother-sister duo from Rajasthan at Mussoorie. The road was initially along the side of river Yamuna and later the Tons river, the largest tributary of Yamuna. Rupin and Supin rivers converge at Netwar and downstream it is called Tons river.
We passed through many small towns and villages and were getting excited at the sight of snow-peaked mountains from a distance. We had our lunch in a small town called Purola and continued our journey. Beyond Purola, most mobile networks are not reachable. Later, we entered the Govind Pashuvihar wildlife sanctuary. We passed through a thick pine forest and could feel the drop in temperature as we gained height.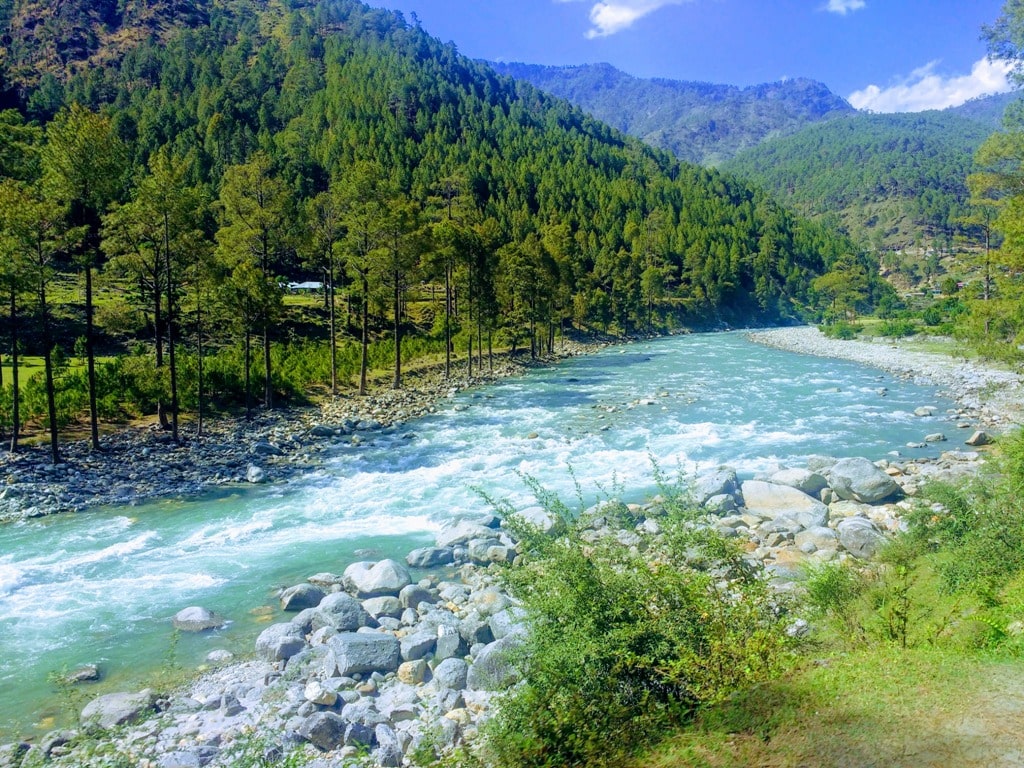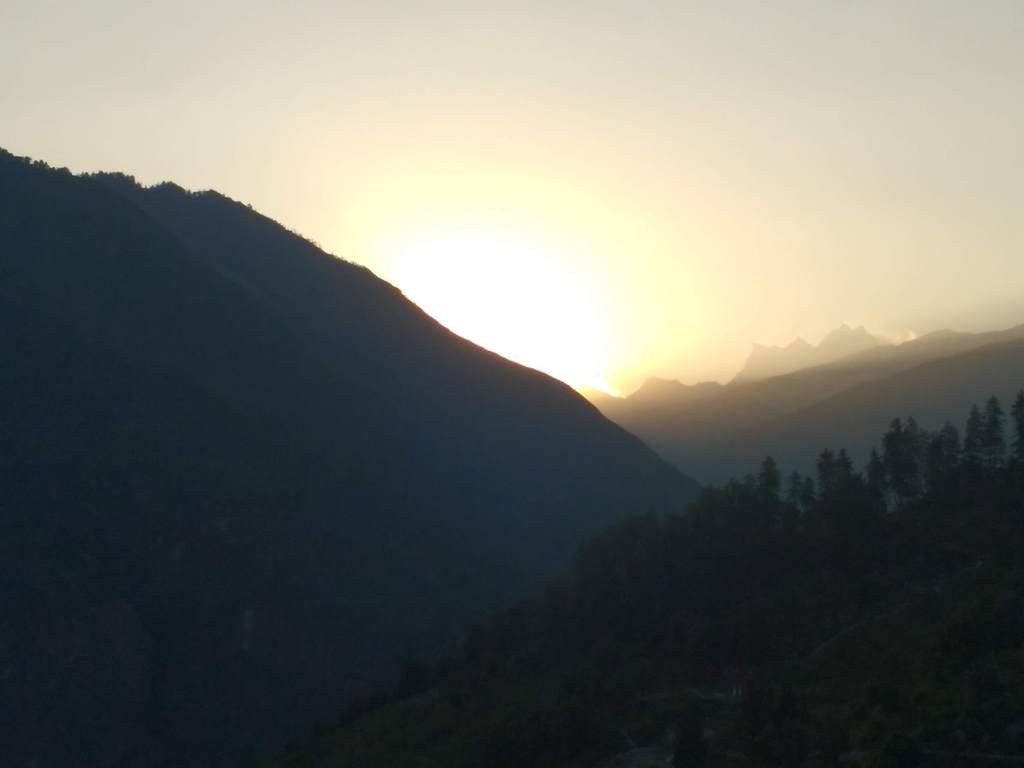 We reached Sankri by evening and checked into our room in a resort where we were going to spend that night. The view of the mountain ranges in front of our resort was awesome.
Late in the evening, a team of about 12 members from Hyderabad joined us. This team consisted of a group of school children along with their parents.
Day 3 Sankri to Taluka, Taluka to Osla
The next day morning after breakfast and picking our packed lunch and enough water for the trek, we started towards Taluka in a vehicle. Our group size was about 20 and the youngest member was just 7 years old. The road at some points was just wide enough for one vehicle and was bumpy-dusty. At some points, we had to cross streams and wait for a big group of goats to pass. Repair work was in progress due to a landslide. This road is not motorable during monsoon.
After more than an hour's drive, we reached a small village called Taluka. We offloaded our baggage here and started the trek. There is a forest guest house in Taluka and this was our starting point for the trek.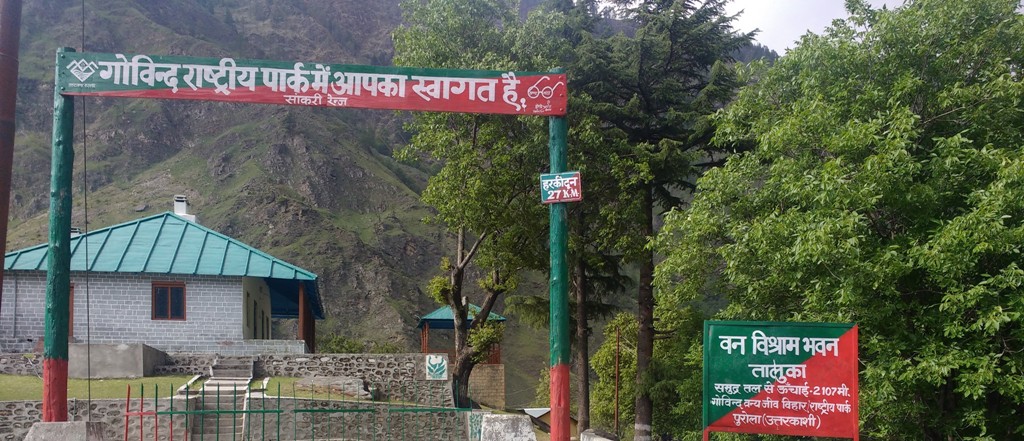 Soon, we were walking through a forest of walnut, pine trees after crossing a stream over a broken bridge.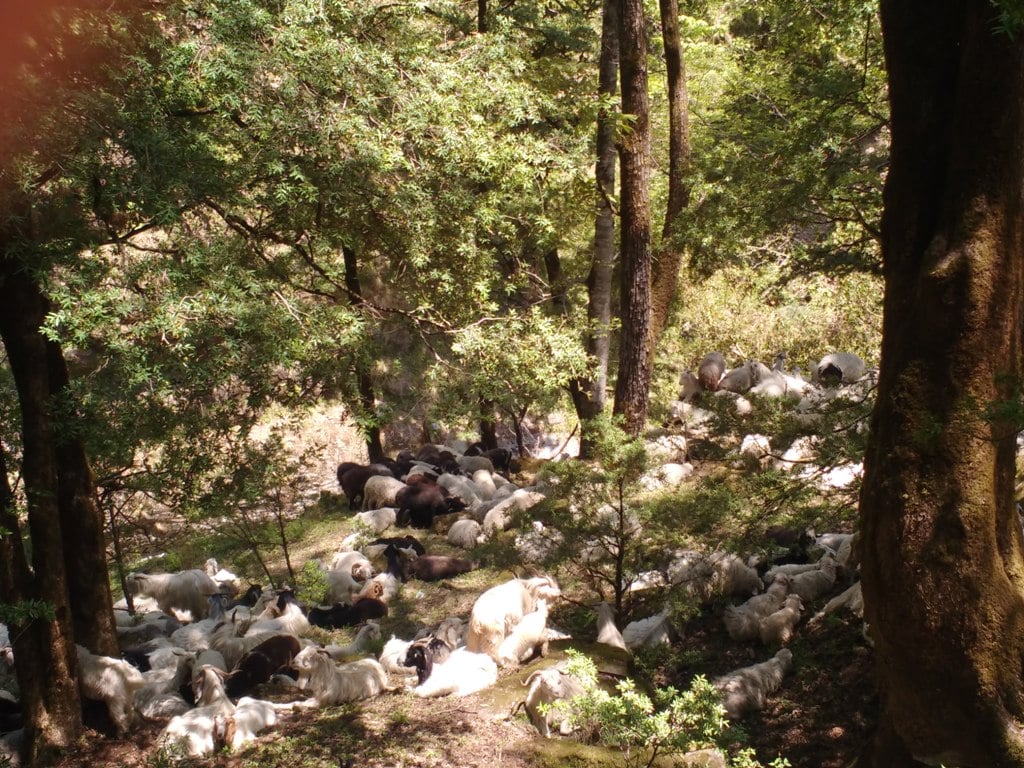 The trail is mostly in shade along the gurgling Supin river with a few climbs and descents almost touching the river at some points. I used to wonder why the trail has so many ups and downs as every time you go down you have to climb even higher. The sun was shining but the air was cool. There was a tea shop nearby a stream. We stopped for lunch at this place. After lunch, we rested for half an hour and then continued our trek with renewed energy. There were few wooden bridges and steep steps on our path. The beautiful rhododendron flowers welcomed us all along the path.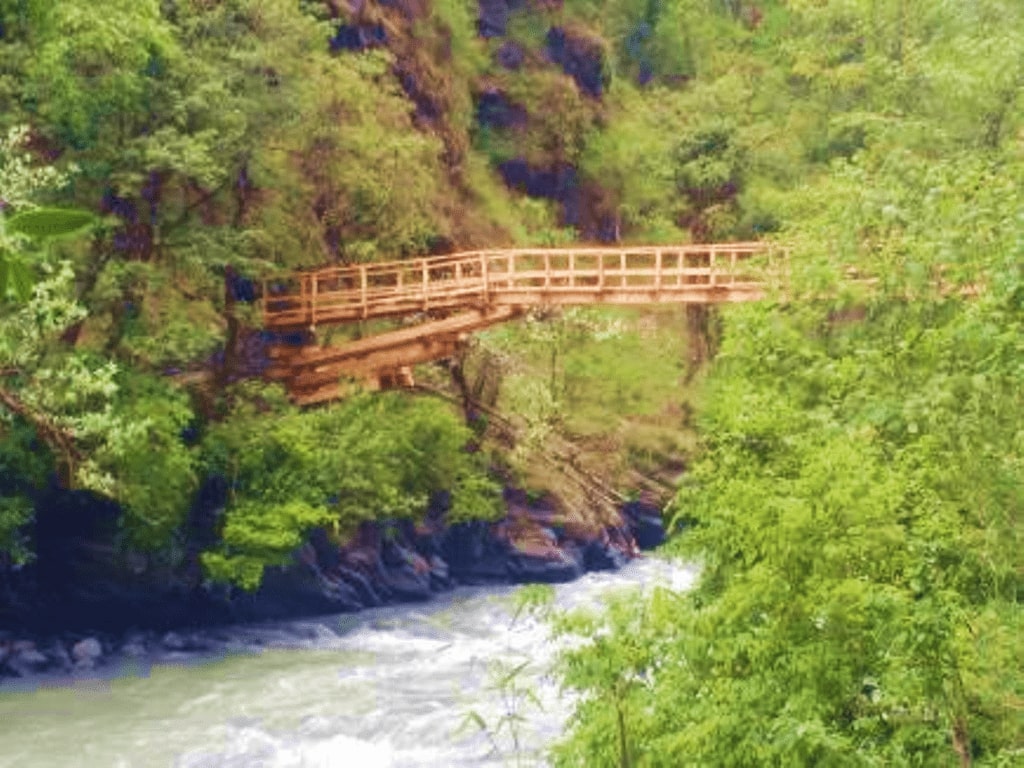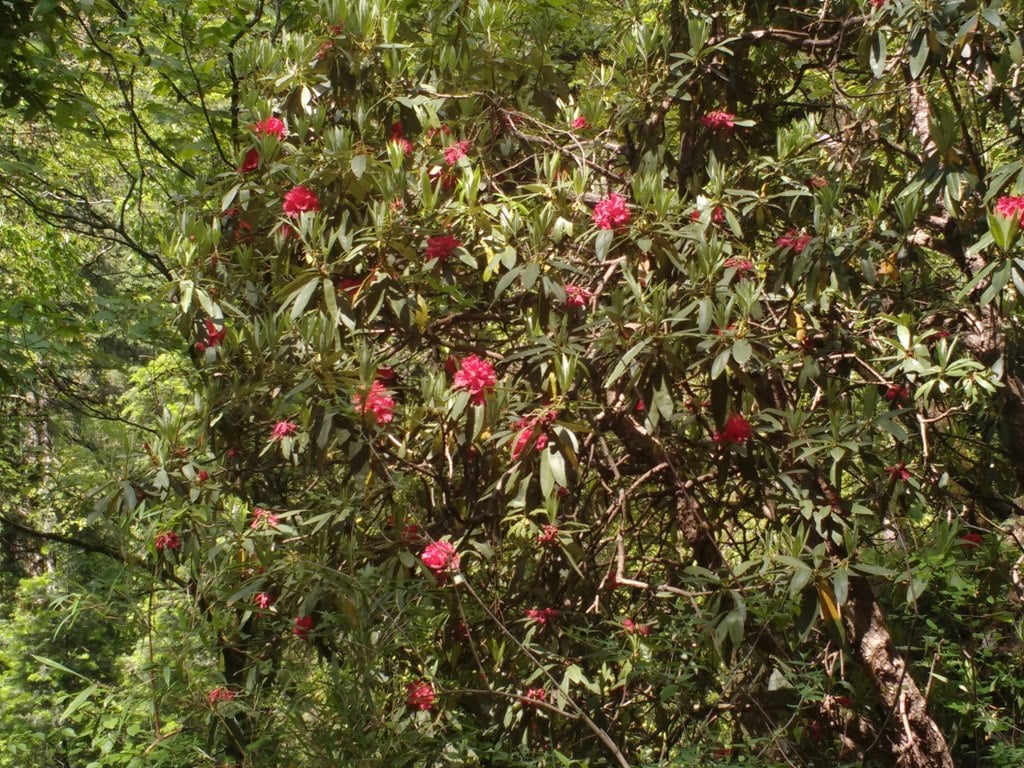 As we walked, we could see Gangad village with wooden houses on our left across the river. I could see electric poles erected near the village and it seems they got electricity only two years back and recently they got their cooking gas connections too.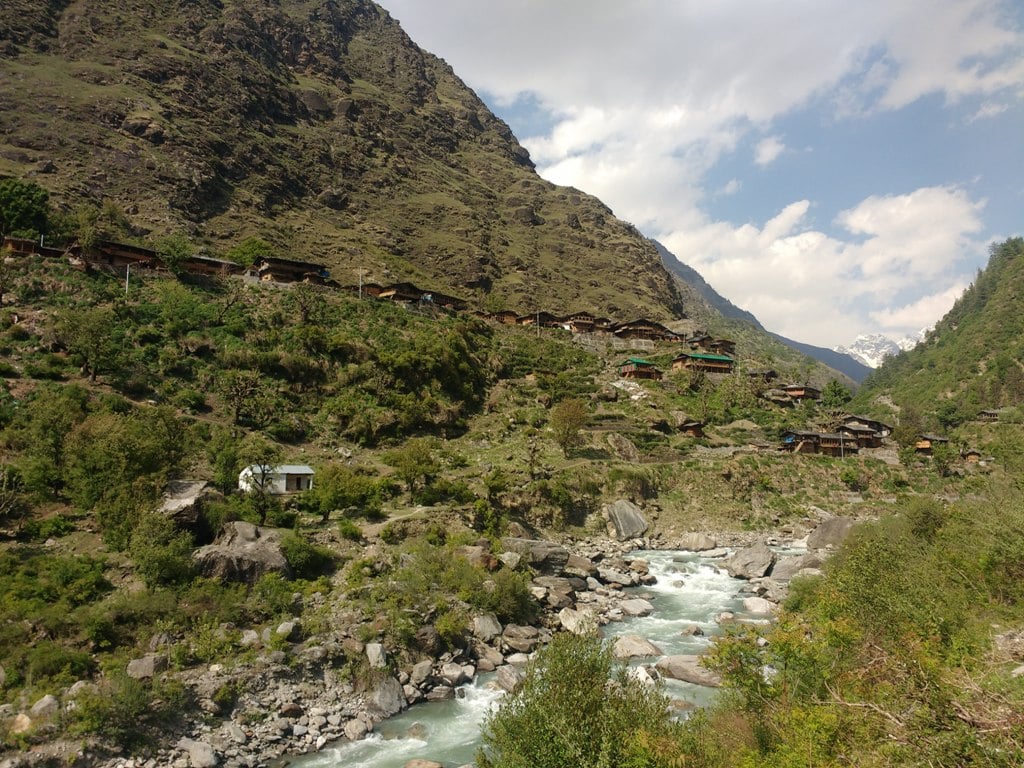 After about more than 6 hours of trek from Taluka covering a distance of about 14 km, we reached our campsite near Osla village. My daughter and two other youngsters from Rajasthan had reached the campsite earlier and were seen helping in setting up tents. The place was picture perfect with mountains on both sides and the river flowing close by. We watched a herd of goats passing by our camp followed by the shepherd and the dogs. The dogs had an unusual belt around their neck with spikes which was to protect them from wild animals.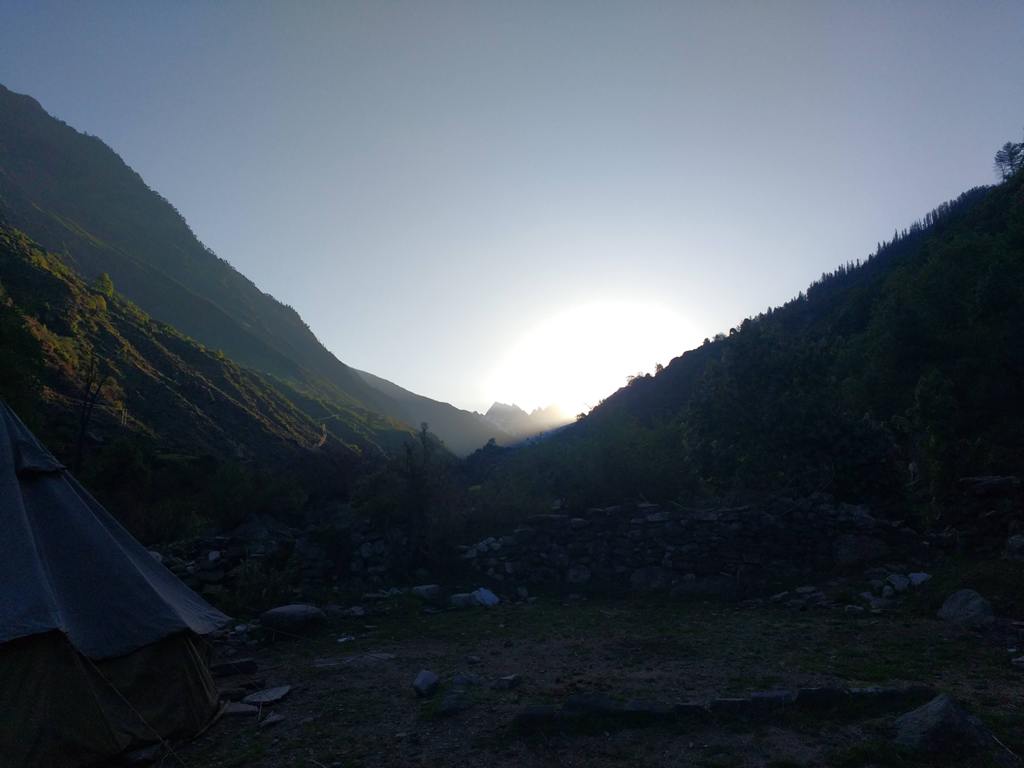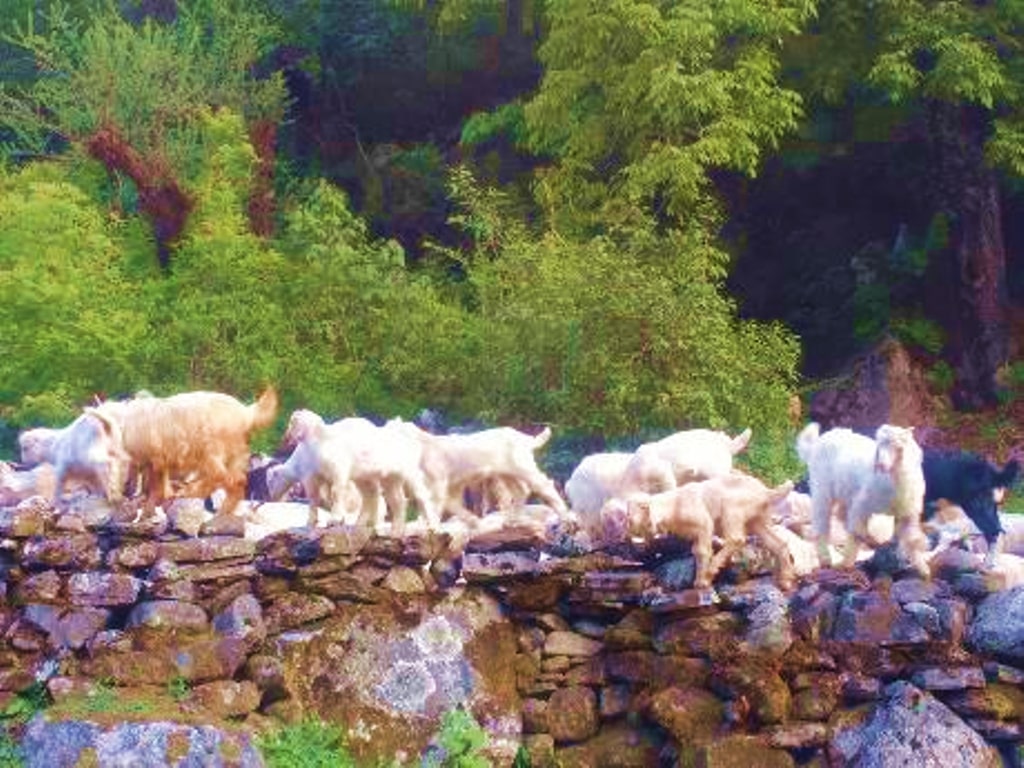 After enjoying our tea and snacks we were asked to take a small walk-up for acclimatization. This was the first time I was going to stay in a tent and I was super excited and equally concerned. I got some comfort after we were assured that it was a safe place.
After dinner, we watched the night sky unfold, with a milky way clearly visible after the moon set behind the mountains. I had never seen a night sky with so many stars and couldn't take my eyes off them. It was a beautiful experience to look at a clear night sky up in the mountains far away from cities.
All the trekkers were tired due to the long trek during the day and soon enough all of us retired into our individual tents.
Day 4 – Osla to Kalkatidhar
The next day morning, I woke up to the sounds of birds chirping and came out of our tent to see that it was bright outside. I checked the time and it was only 4 am. It was not very cold and I could enjoy the morning scenes and sounds.
After our breakfast, we collected our packed lunch and started trekking towards our next campsite through some open step fields. I learned that the main crops grown in this region are wheat, potato, rajma (kidney beans), and mandua (ragi/finger millet). I was surprised to know that ragi is grown and consumed in these regions too. Till then I was under the impression that it is the staple food only of southern Karnataka.
Most of the trek on this day was going to be in the open meadows and hence we were warned to apply sufficient sunscreen and cover our head with a cap.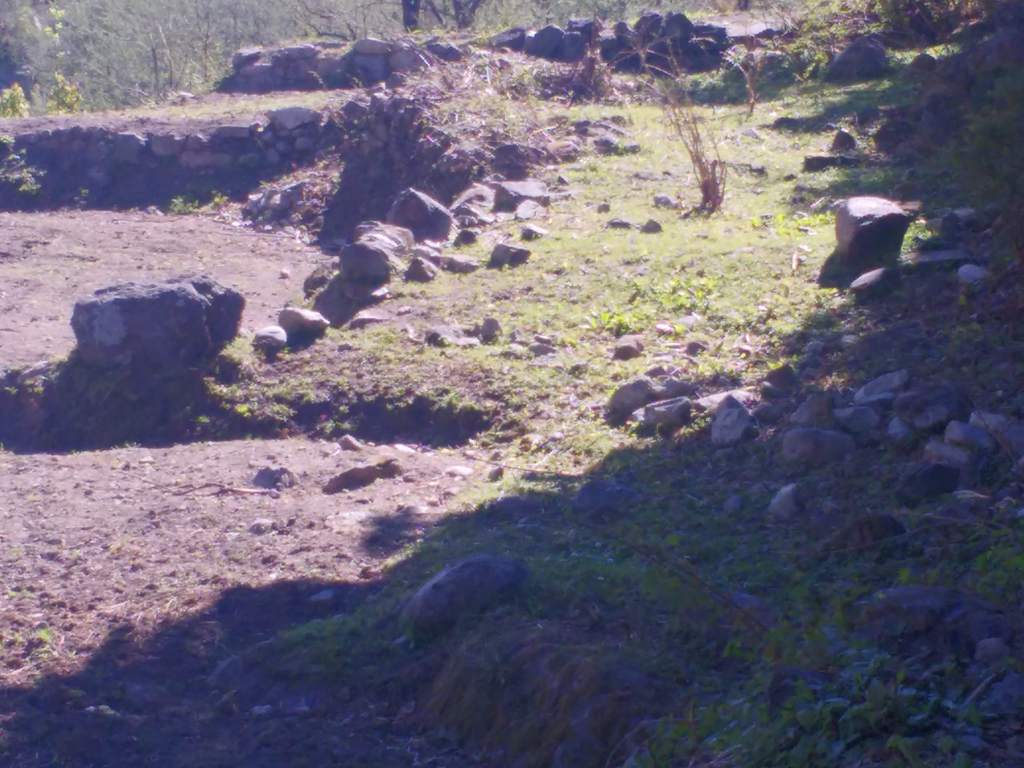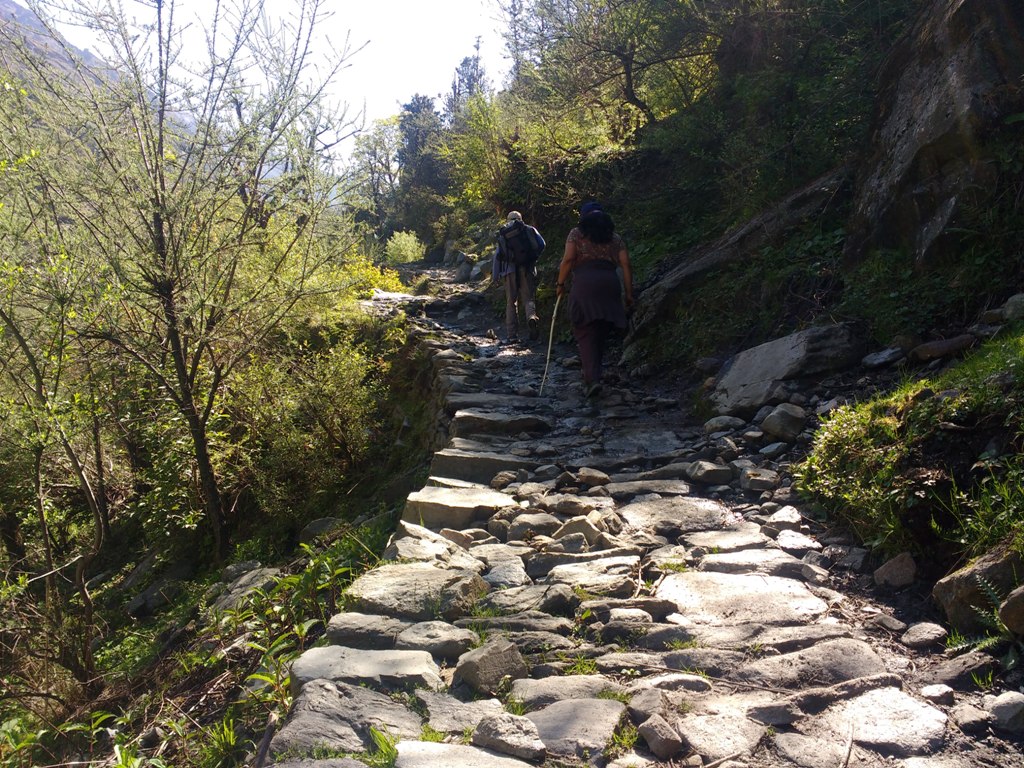 The trek till the bridge across river Supin at Osla village was less strenuous. Once we crossed the bridge, the trail turned very steep and most of us had to take breaks very frequently. These breaks gave us much-needed rest and also an opportunity to enjoy the landscape around us.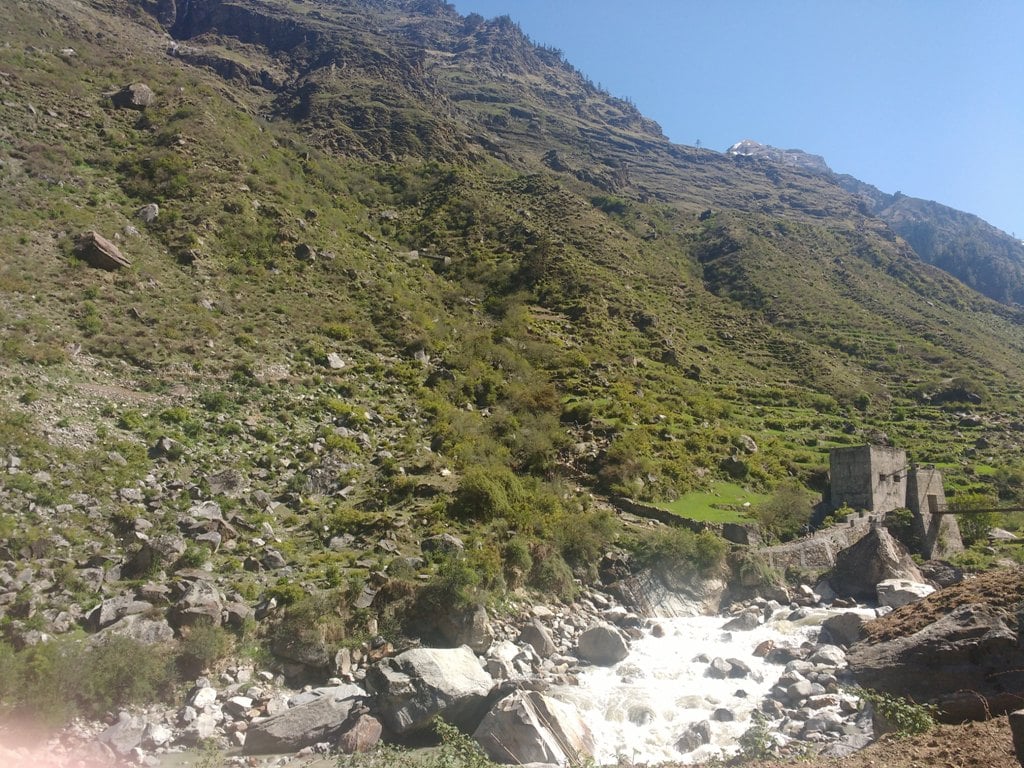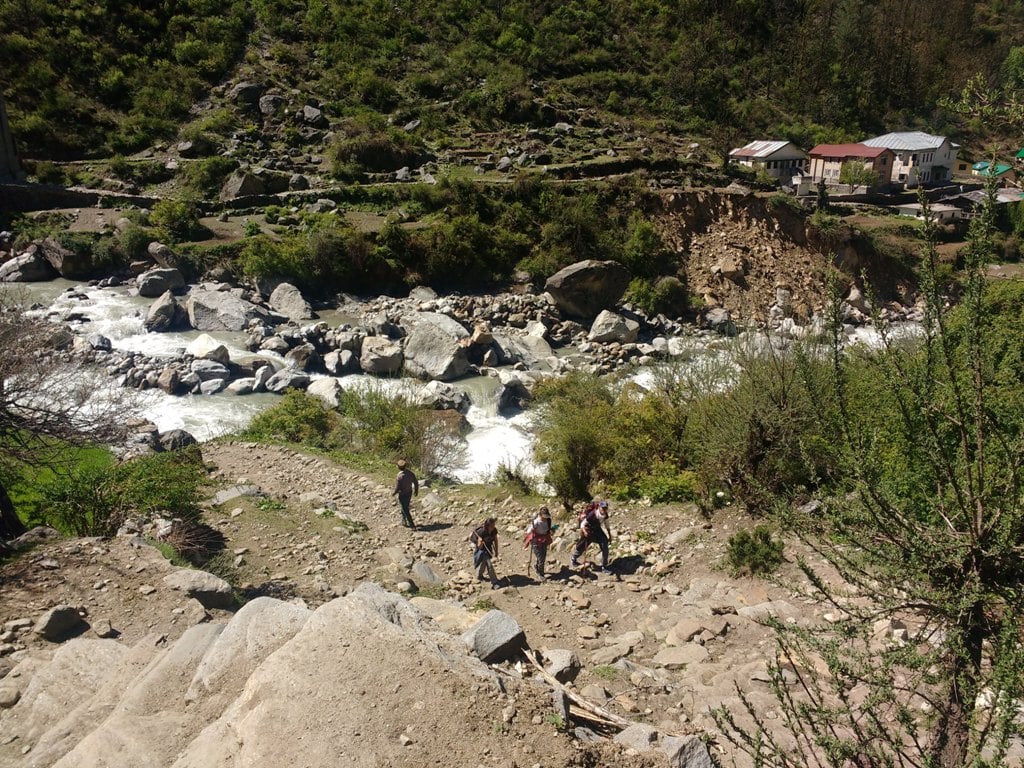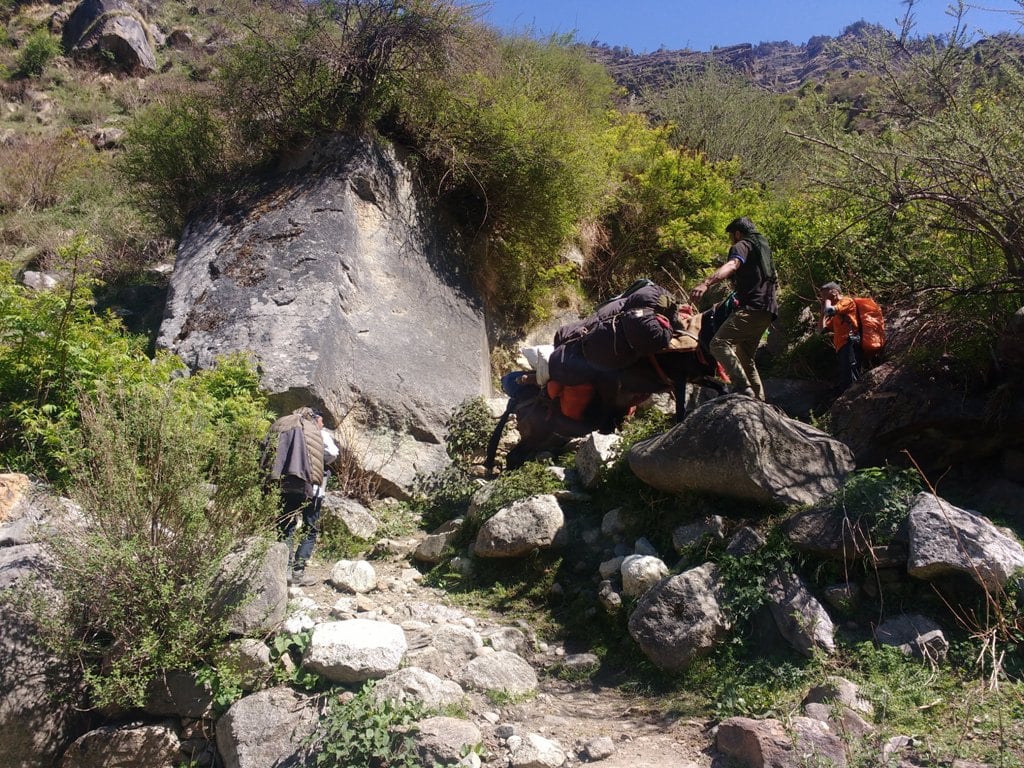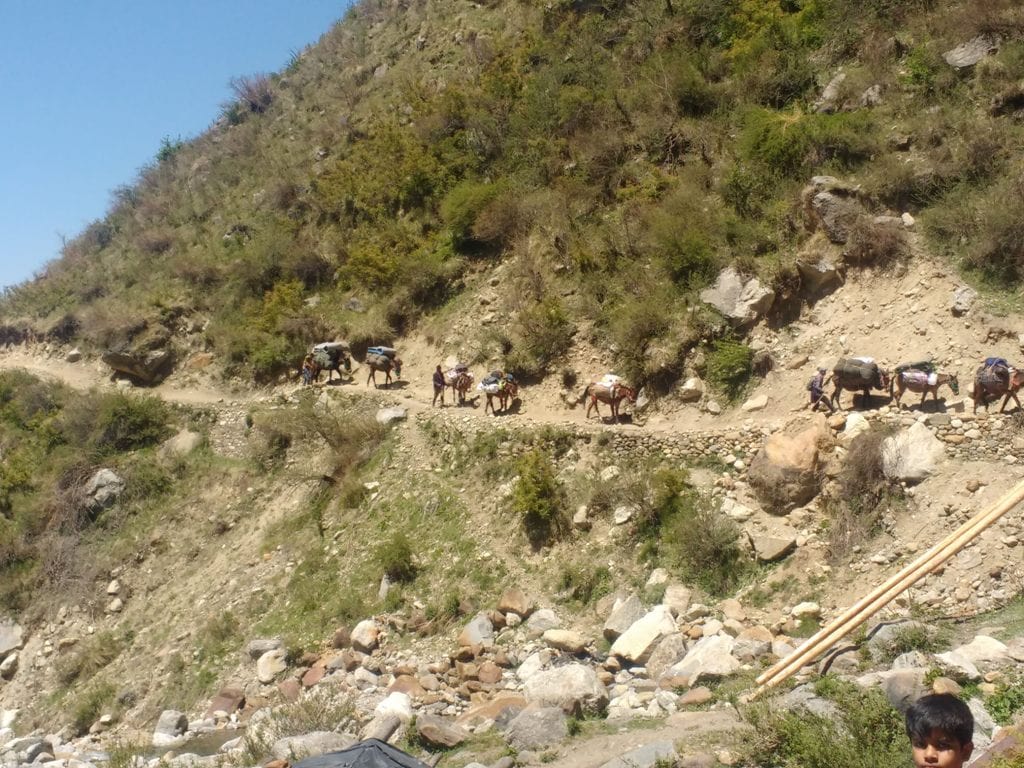 At some places, due to landslides, the trail had become very narrow and we had to be very careful. We walked almost parallel to the river Supin but almost 100 meters above. There were some old houses with stone tiled roofs and also water fed flour mills for the locals. We could see quite a few women shepherds running behind the goats and sheep. Trekking in this mountain region was part of their everyday life and some of them were wondering as to why we left the comforts of the city and roaming in the mountains!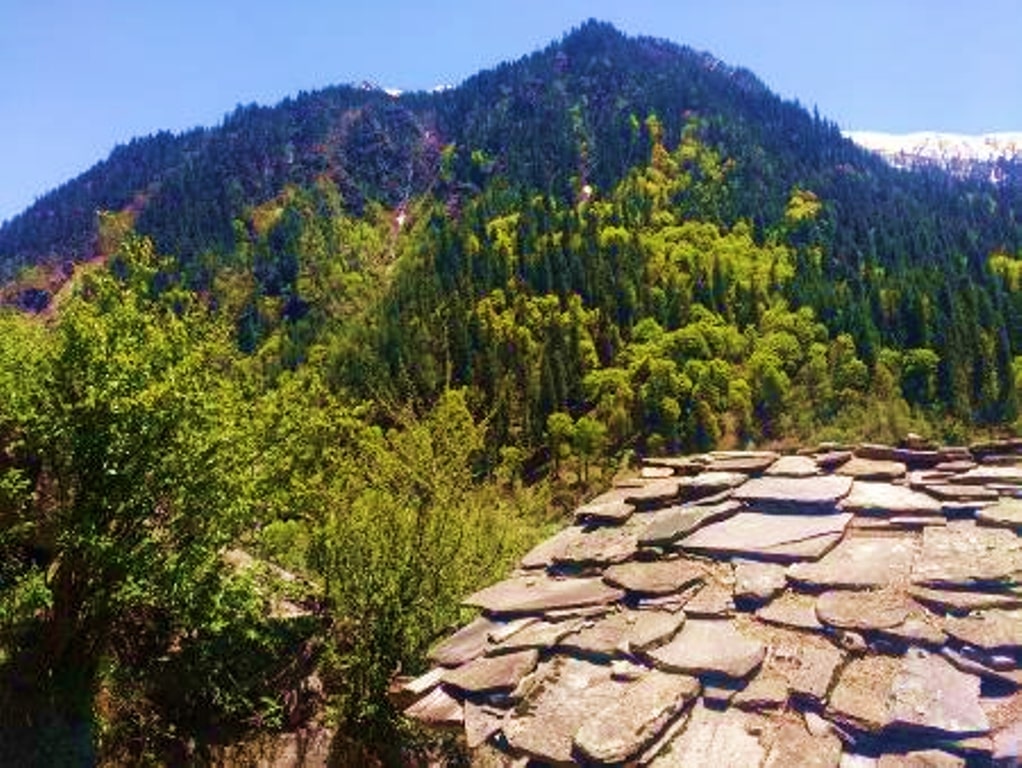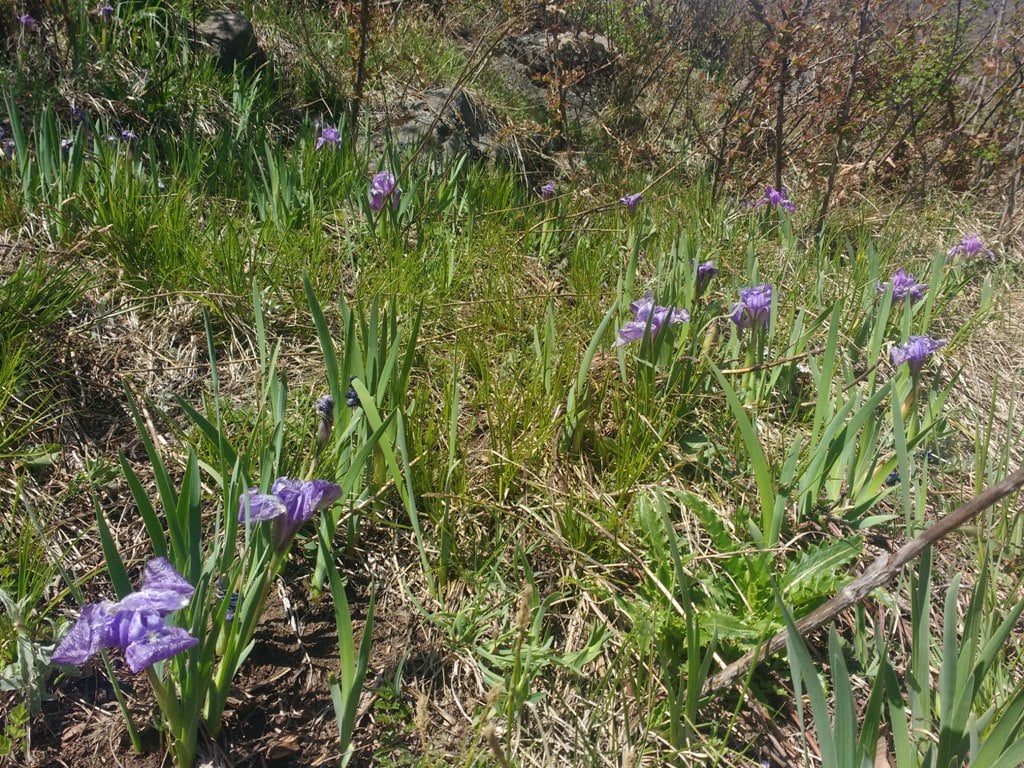 There were quite a few wildflowers along our trail. The Rhododendron trees were full of flowers and were seen as red patches on the mountains from a distance. We could see quite a few small birds and butterflies sucking the nectar.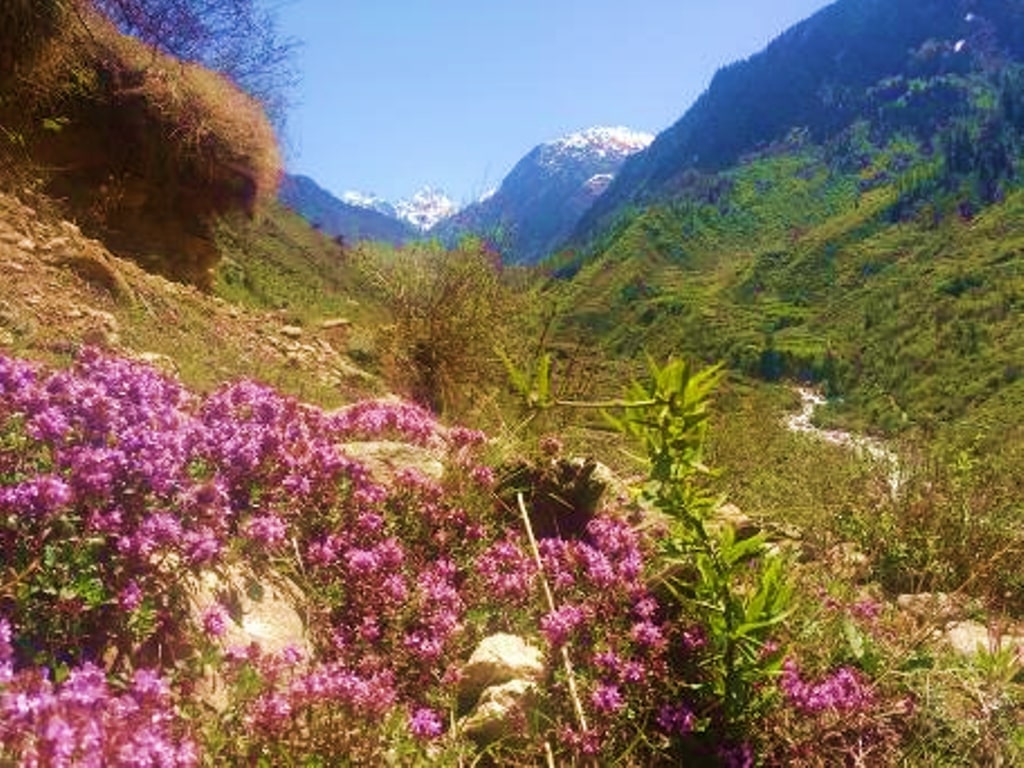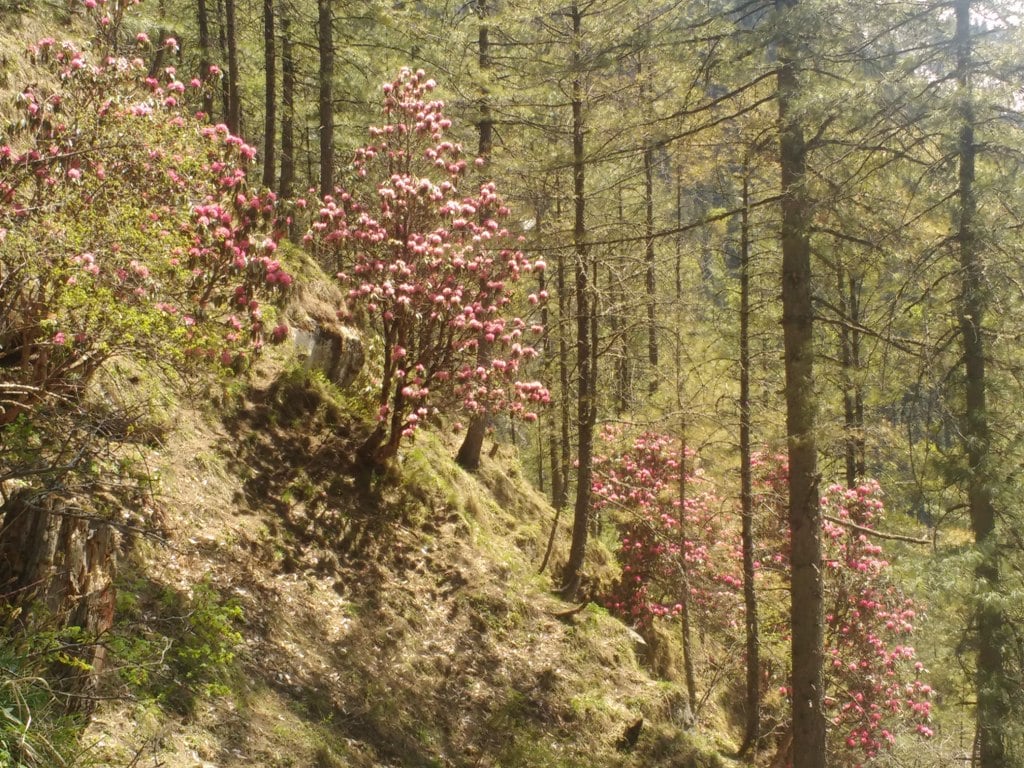 There are quite a few tea stalls throughout the trail and we stopped by most of them to sip in hot tea and also to have some rest. The children in our group were enjoying Maggi, Kurkure, biscuits at these tea stalls. They were feeding our constant companions, the dogs.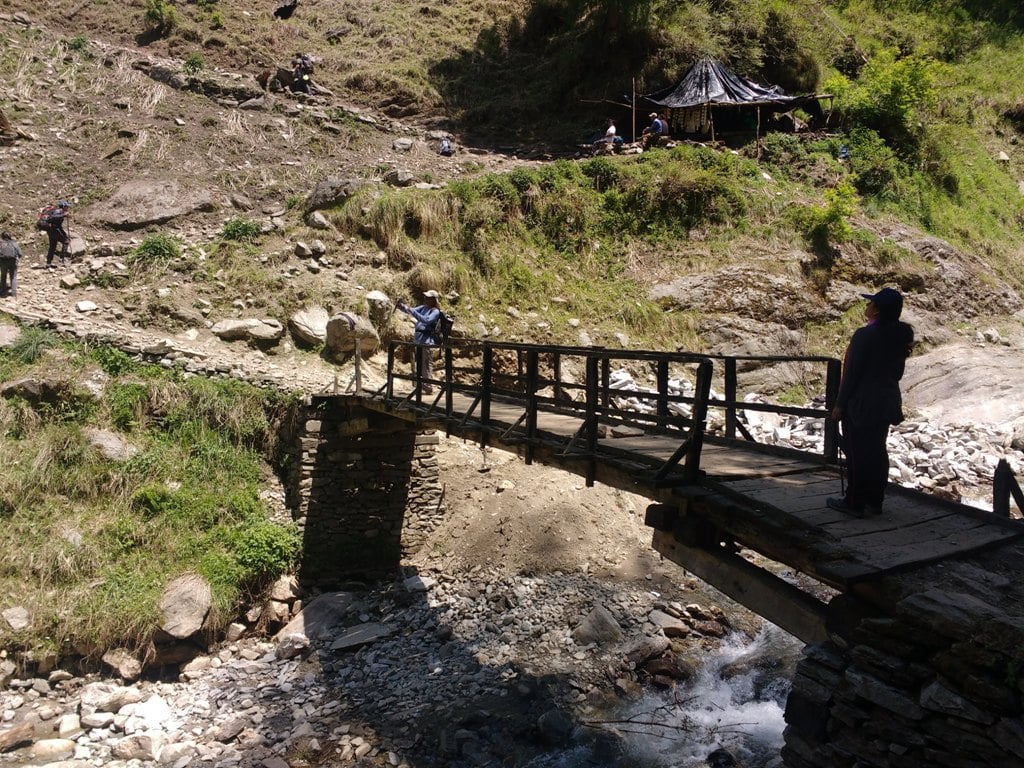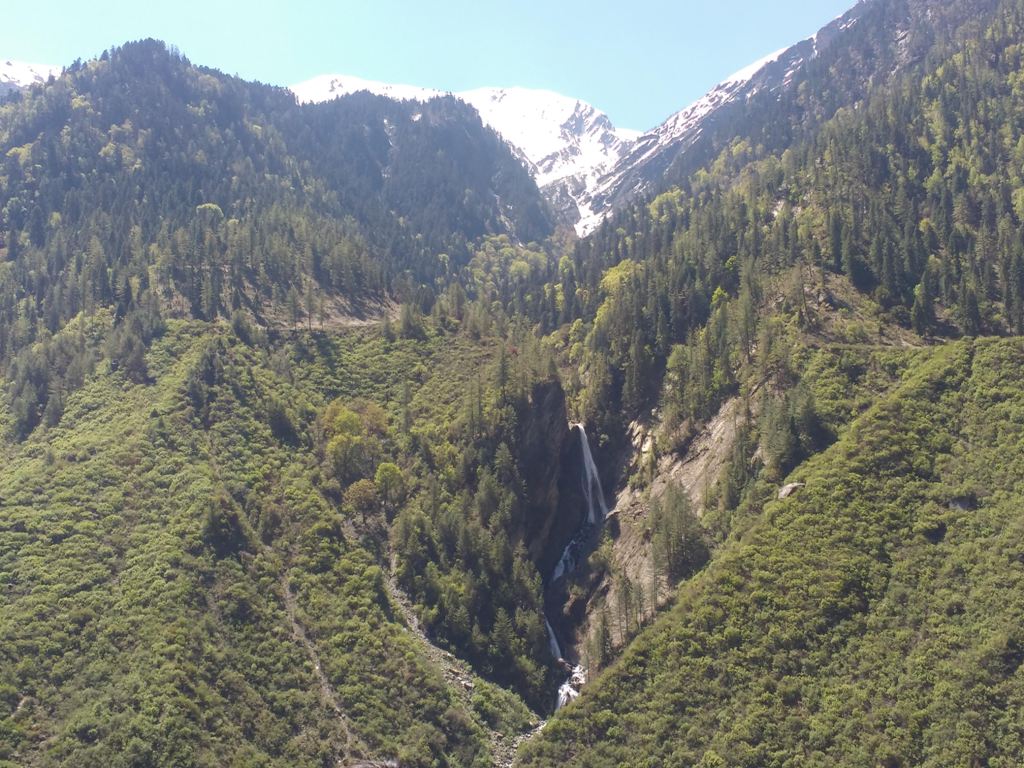 Finally, we reached our campsite at Kalkatidhar around 3 pm. Though this day's trek was short, we had gained almost 800 meters in height while covering a distance of 4-5 km.
We had plenty of time to enjoy the surroundings of the beautiful campsite before dark. The constant sound of the river flowing below us could be heard from this place. Kids were ready to play cricket and they also had a couple of furry friends (dogs at the campsite) to play with.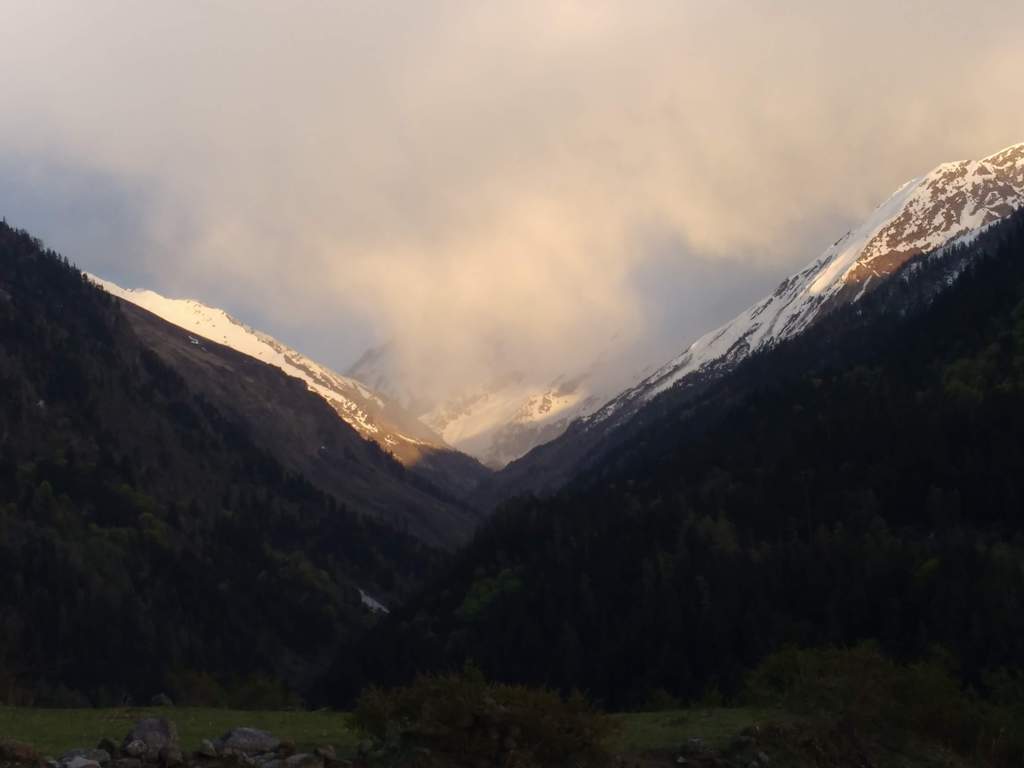 Some of us were busy trying to watch the distant mountains using a binocular. While the snow-capped mountain peaks were still shining beautifully in the evening sunlight, we could see clouds gathering gradually on Har-ki-dun. As the evening passed, the cool breeze was replaced by cold wind and we had to cover ourselves with layers of warm cloth. By dinner time we were shivering as the strong winds made matters worse. Finally, we had a bonfire and we all gathered around it. After having dinner sitting near the bonfire, we chatted with others for some time and then retired to our sleeping bags listening to the constant sound of the flowing river, the barking of dogs, and the sound of bells tied around the neck of mules as they were grazing near the campsite.
Day 5 Kalkatidhar – Har-ki-dun , Har-ki-dun – Kalkatidhar
The next day we had to start early as we had to cover about 9 km to reach our trekking target point gaining a height of about 450 meters and then come back to the same camp. This trail is a mixture of steep boulder walk, gradual incline, quite a few waterfalls, thick forest, and streams crossing the path. There was a steep assent at the start of this day's trek. While the adults were struggling to cover this part, most of the youngsters were in full spirit.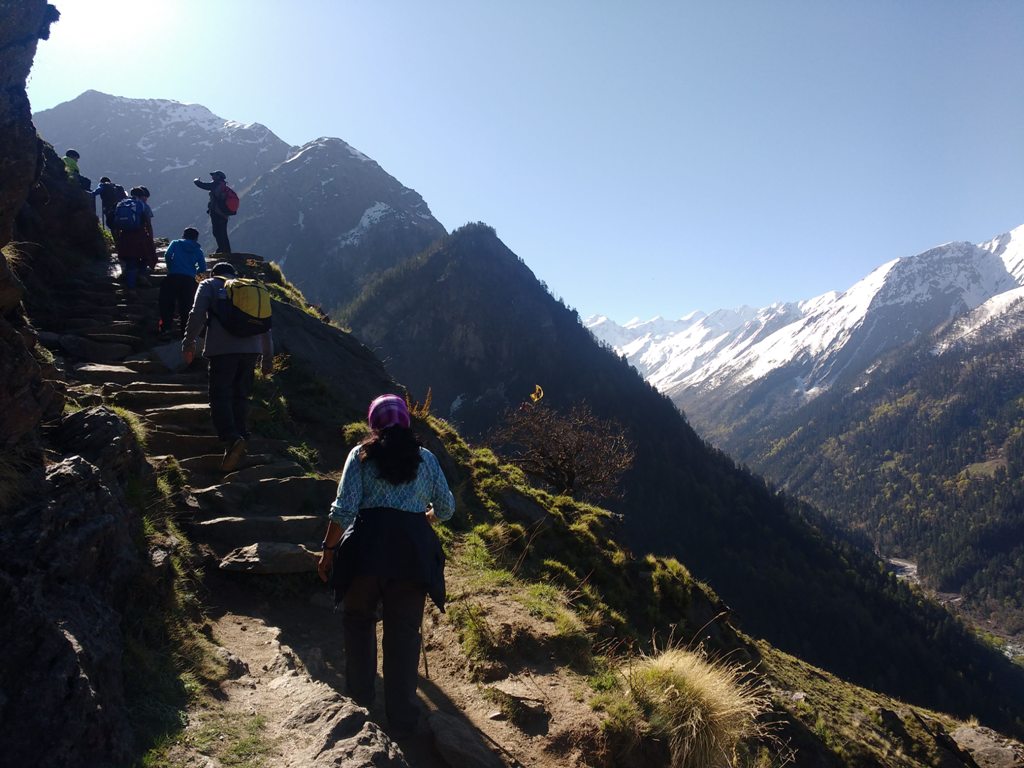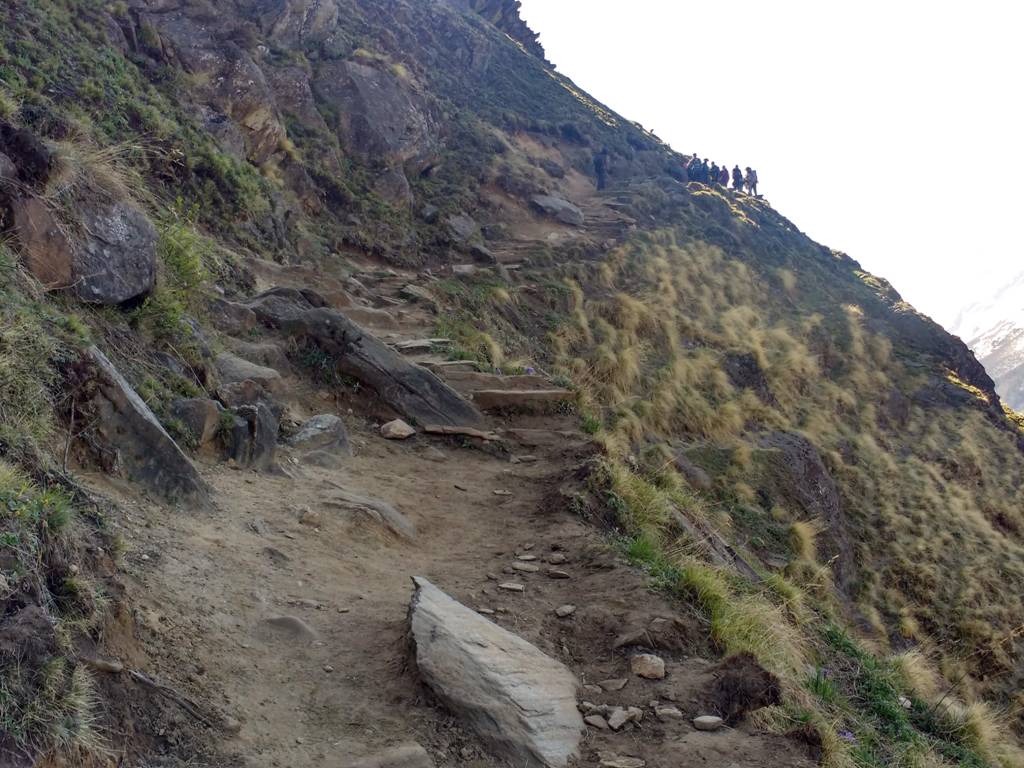 After a while, we came across a beautiful waterfall hidden behind a big rock the roaring sound of which we had been hearing from a distance. Later we entered a thick forest where the incline is very gradual and we were able to enjoy our walk watching beautiful flowers along our trail.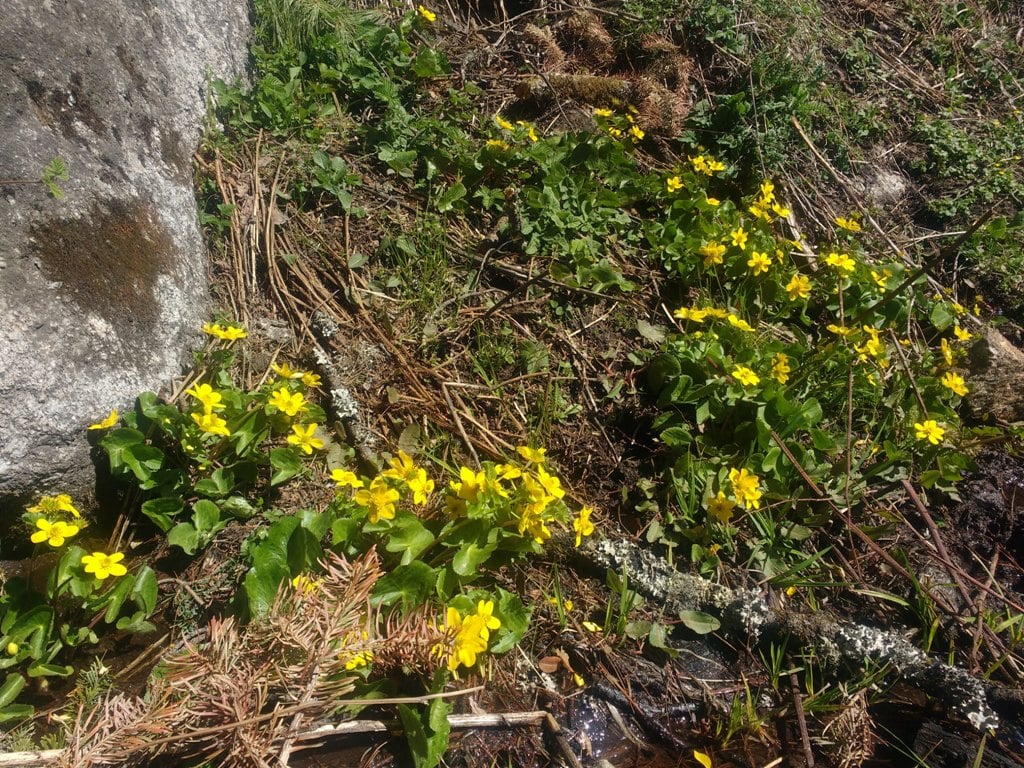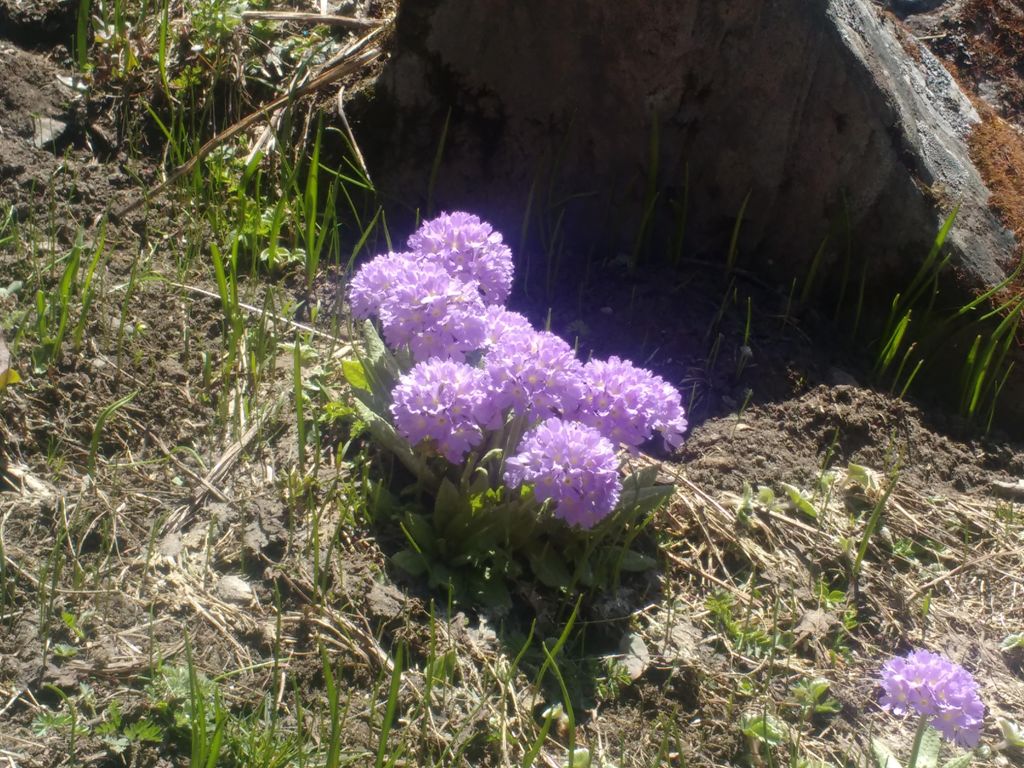 After we crossed a snow bridge, we continued our trek encountering a few patches of snow on our way. There was an open area where we could get to see a panoramic view of Har-ki-Dun peak with Hata peak on the left which is always snow-covered. The Swargarohini peak is not visible from this point. A ridge with bojpatra trees stood in front of us that partially blocked the view of the mountains.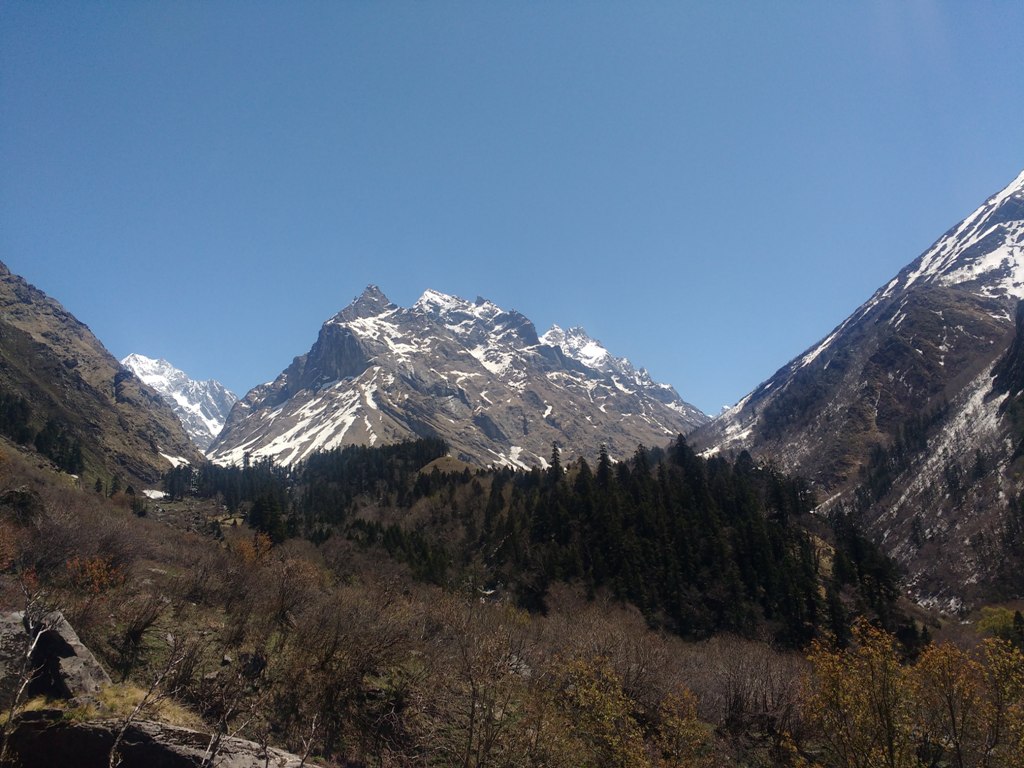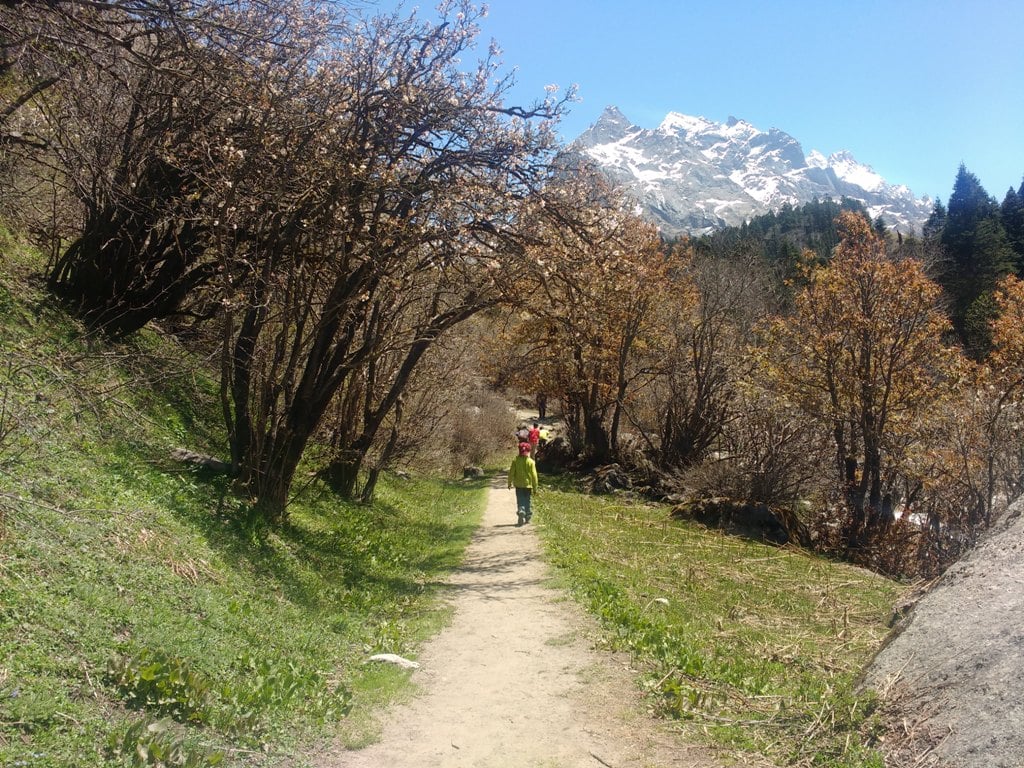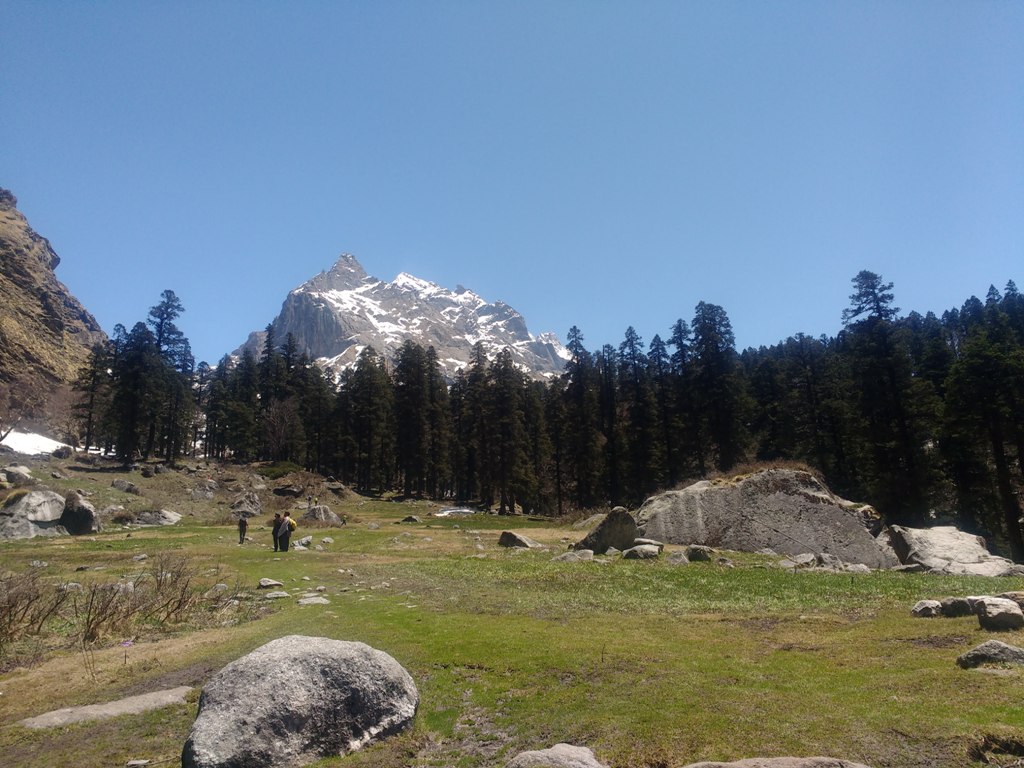 As we moved further, there again was a steep climb followed by almost flat land. The walk further was most enjoyable with both the peaks visible. We had reached the start of Har-ki-Dun valley and the view was very beautiful. The small green speck that is seen in this view is actually the forest guest house.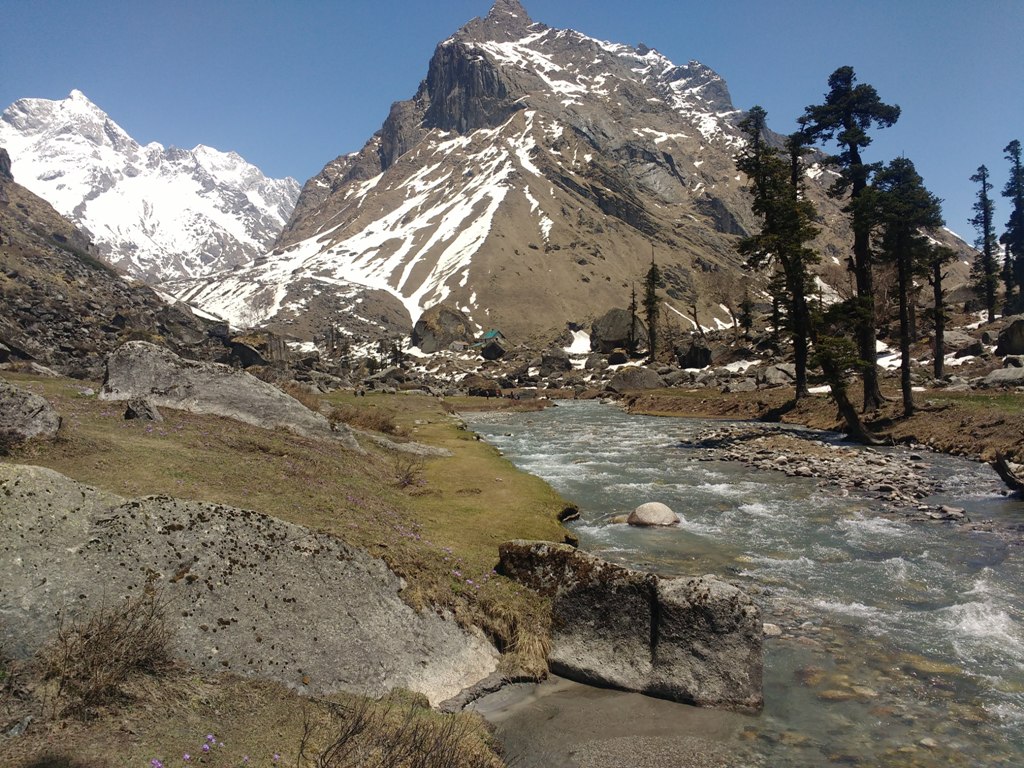 After a while, we reached this forest guest house and this is the perfect place to get a beautiful view of the whole valley. The North face of Swargarohini peak is clearly visible. It stands at a height of 6252m and its north face drops 2000m in just 2km and is yet to be climbed. Some of the trekkers had moved ahead and were seen sliding in the snow near the base of Har-ki-dun peak. We spent some time soaking ourselves in the beauty of the place.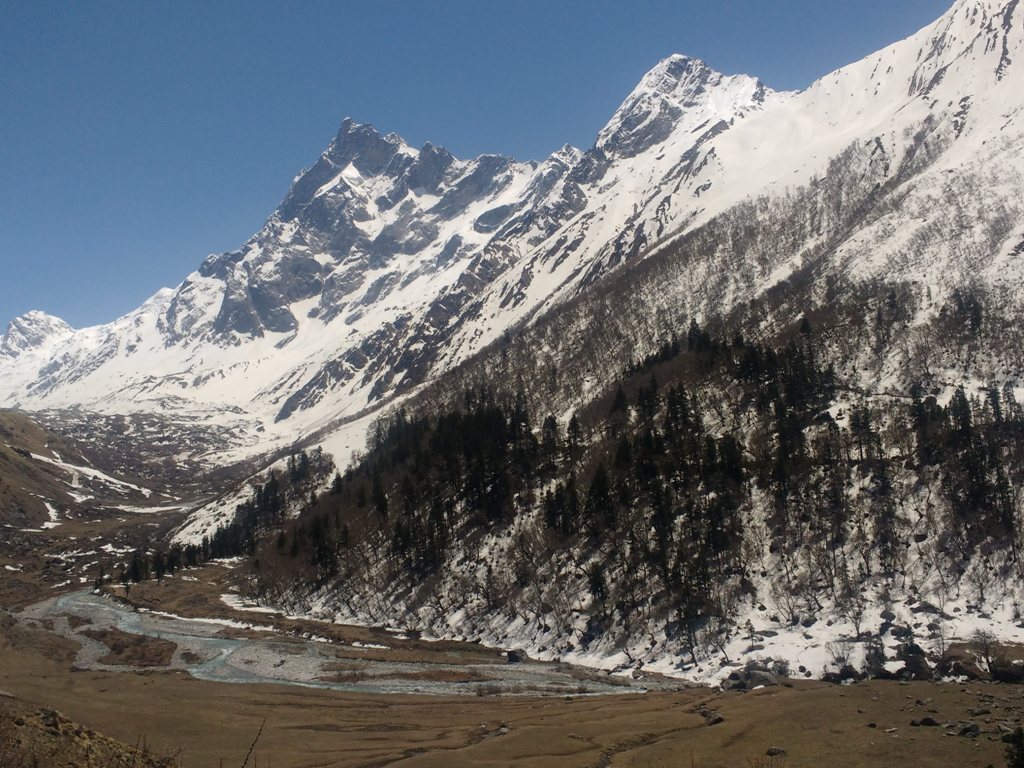 After clicking a few photographs, we finished our lunch and started trekking back. On our way back, few trekkers took a slide in the snow bridge adding some adventure to the experience.
As we walked back a different picture of the mountains unveiled. We saw many trees fallen and burnt, which might be due to lightning. While walking through the forest, I spotted many small birds. I also spotted a large number of crows with yellow beak circling in the sky. The state bird is monal, a colourful bird, but I was not fortunate enough to spot any during our trek.
As we walked further down, a large panoramic view of the valley soaked in the evening sun unfolded in front of us. There was a flat land on the right side in this view at the bottom of which we could spot tiny yellow dots that were actually trekkers' tents at the Kalkatidhar camp site. The beauty of this view from the elevated point was awesome and we just couldn't have enough of it.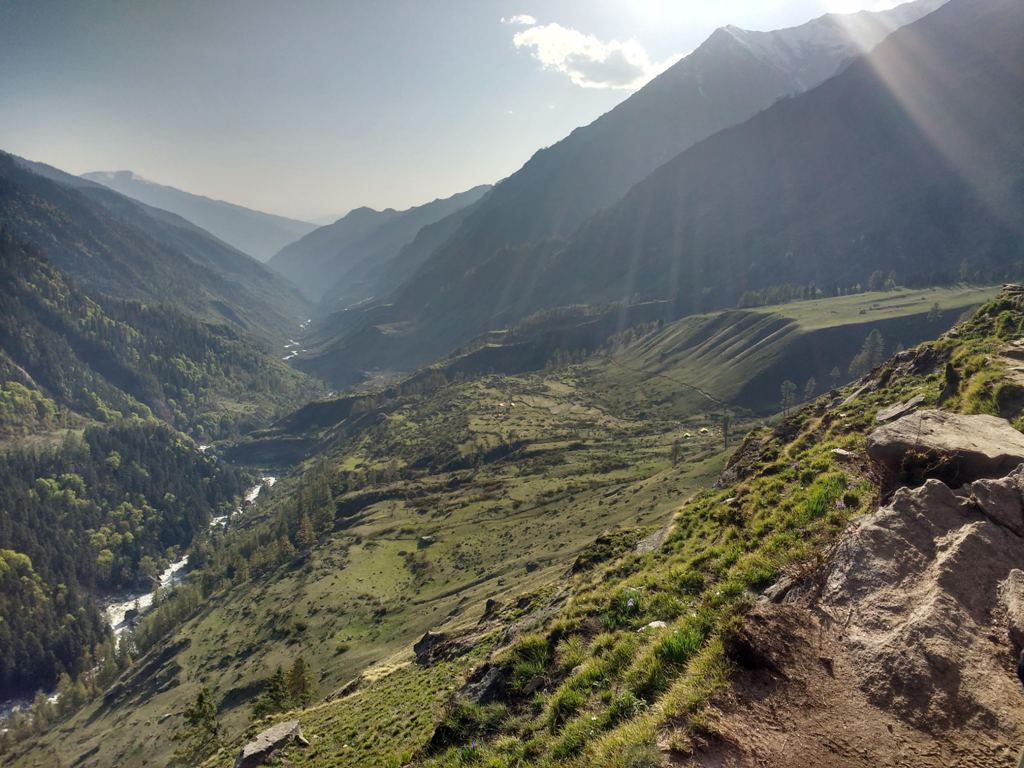 We reached our campsite by 6 pm and were treated with snacks. Each of us had a lot to talk about the day's experiences. We enjoyed our dinner having accomplished our mission.
Day 6 Kalkatidhar – Osla
The next day morning after having breakfast and clearing the campsite we started our journey back to Osla. The sun was shining bright and the sunscreen applied only once in the morning did not last long. Walking for long in the harsh sun, we all had sunburn (learning the hard way that sunscreen needs to be applied once every 2 hrs to be effective).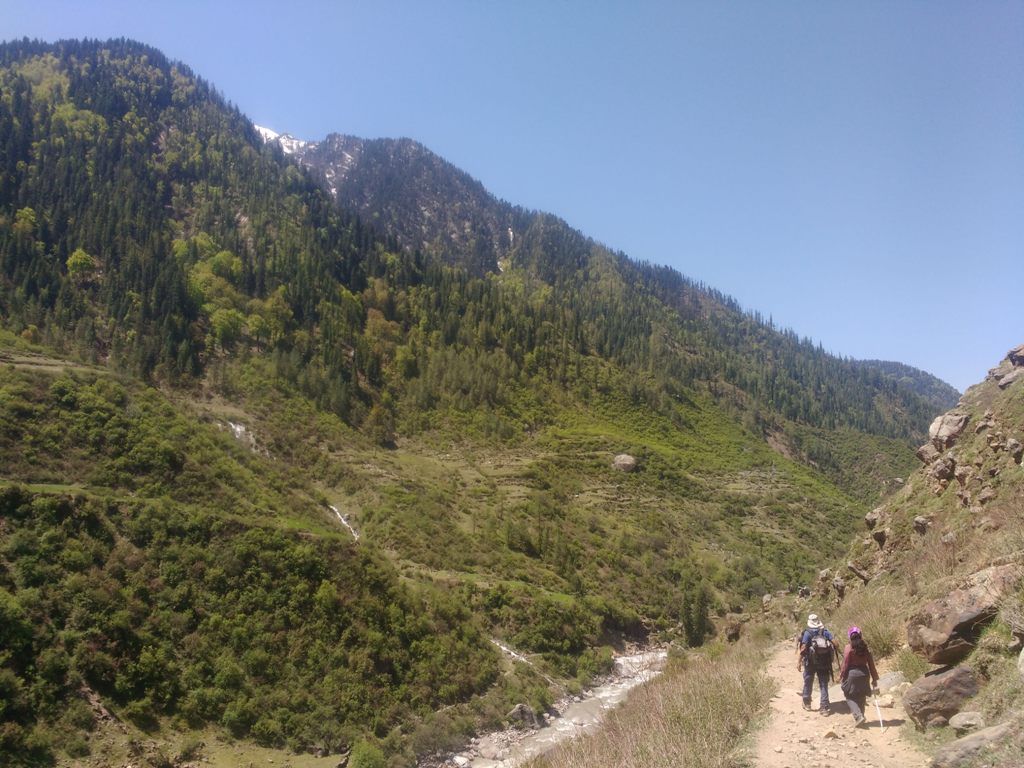 Instead of going down to the bridge, we took the path leading to Osla village. We moved around the village and met the kids offering them toffees. There was a beautiful wooden temple dedicated to Duryodhana at the centre of the village. We waited at the temple for the rest of the group to join. The houses and storehouses to store grain and potatoes during winter were all built with wood.
The Osla village has home-stay accommodations for trekkers. In addition, there are GVMN guest houses at Taluka, Seema, and Har-ki-dun. With these facilities, an experienced trekker could plan this trek on their own in summer since the trail is well marked.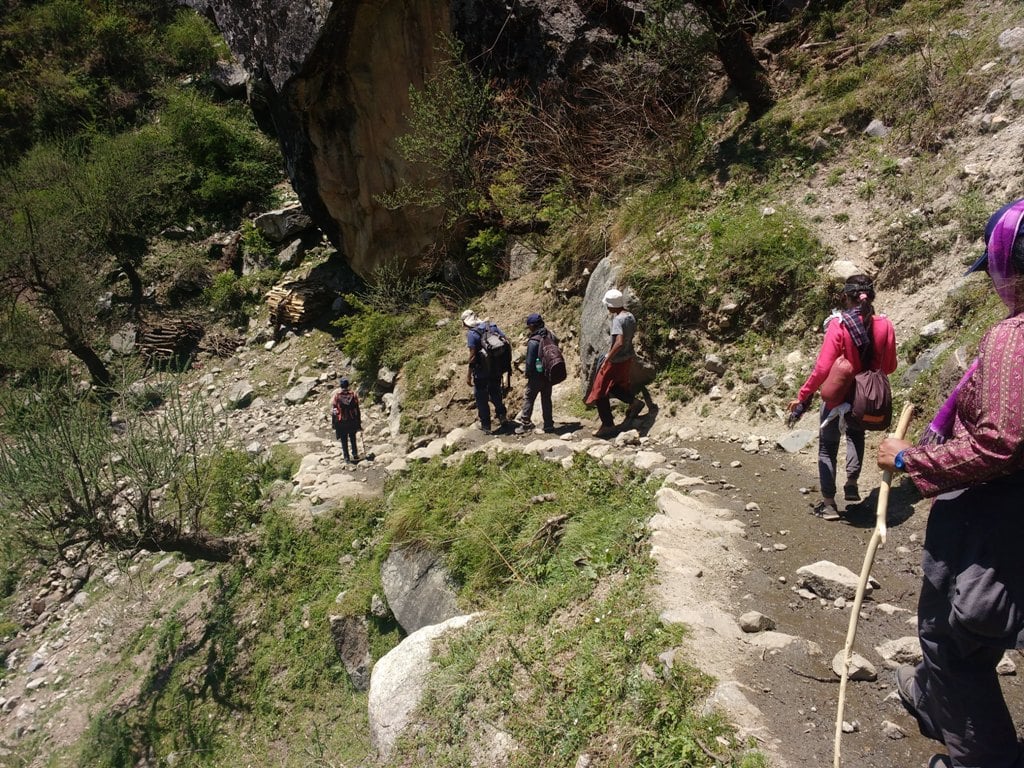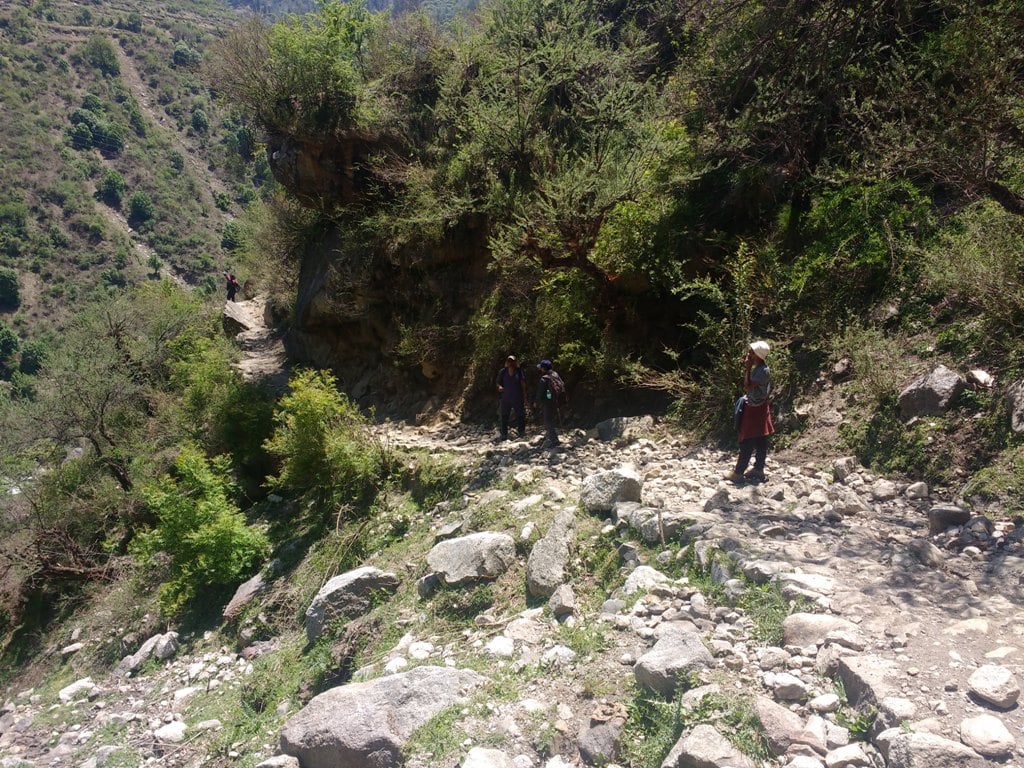 The trail leading to the campsite from Osla village was narrow and muddy. Parts of this trail had loose stones and climbing down took a toll on our ankles and knees. Finally, we reached our camp in the afternoon after crossing the river over a wooden bridge and jumping over the streams. Since it was a descent, we covered the same distance in about half the time we took to climb to Kalkatidhar camp.
After lunch, it was too hot to stay in the tent, and hence we explored the surroundings. The midday sun was harsh, the evening was pleasant, the night was cold and the view of the clear night sky full of stars was fabulous. This was our last night to be spent in a tent on this trip.
Day 7 Osla – Taluka, Taluka - Sankri
The next day morning after breakfast, we started our journey back to Taluka. Since the most part was downhill and through thick forest, it was very pleasant for trekking.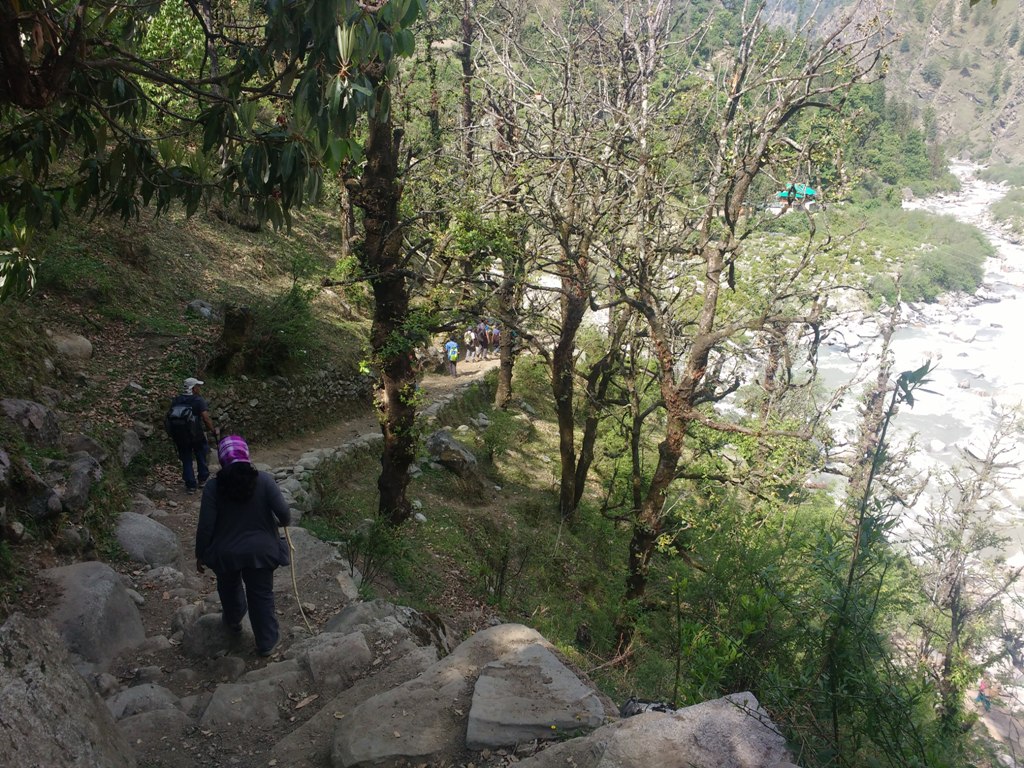 On the way, we stopped at a tea stall for tea. The boy at the tea stall told us that he didn't have any milk. We asked for lemon tea but he confessed he didn't lemon either. Then we settled for simple black tea. The tea stall boy was very apologetic and charged only Rs 10 per tea. We had a chat with him and he told us briefly about himself and life in the village. He also told about the various crops grown in his village.
After a brief walk from the tea stall, there was a small grocery shop where we bought local rajma that was a mix of seeds of various colours. I grew these Rajma at home and they are very tasty and colourful.
We met small children accompanied by elders, returning to their village as it was the start of summer vacation. We spoke to one of the cheerful grandmothers who tried to explain in her own language the route they have to take every time as a school for older children was not available in the interior villages.
After lunch, we had to rush as clouds were gathering and it was about to rain. We managed to reach Taluka before it started to rain. We got a vehicle immediately for our return journey to Sankri. The youngsters including my daughter preferred to sit in the open carriage to enjoy their adventurous journey back on the bumpy road. We reached Sankri by evening and, I headed to the bathroom to have a much-needed bath after 5 days!.
Day 8,9 Sankri – Dehradun, Dehradun to Bangalore
The next day morning after breakfast we headed back to Dehradun and a day after from there to Bangalore with our minds full of pleasant memories from the mountains.
Quick facts about Hari-ki-Dun trek
Trek Duration: 5 Days 4 nights
Trek Difficulty level: Easy to moderate
Trek Distance: 54 km
Trek Altitude: From Taluka 2109m(6920 feet) to Har-ki-Dun 3566m(11,700 feet)
Best time and weather: All year round except during peak monsoon (July to August). ``Snowfall from December to April.
Trek start point: Sankri (187 km from Dehradun)
Nearest Railway station & Airport: Dehradun, Uttarakhand
Last ATM: Purola Village
Written by Sudha on 26-Nov-2020