Satopanth Tal: Trek To The Prestine Glacial Lake
The Western Himalayas are home to numerous out-of-this-world trekking trails, and several of them feature high-altitude glacial lakes. Satopanth Taal is one such pristine body of water, located in Chamoli district of Uttarakhand, near Badrinath Temple.
The virgin landscape of Satopanth Taal is tucked within a triangular region at an elevation of 4.600 metres (15,100 feet). Mighty peaks of Garhwal Himalayas such as Neelkanth, Chaukhamba, Swargarohini, and Balakun surround the emerald green waters of the lake, and they can be seen once you reach the summit of the trek.
The trek towards Satopanth Taal starts from Badrinath Temple, and you can even pay a visit to the Lord and take his blessings before you start your journey. The base camp for the trail is at Mana by the River Saraswati, the last village of Indian territory before the Indo-Tibetan border starts.
Do keep in mind that you will find no permanent establishments for a night stay on your Satopanth Taal Trek. So, you will have to carry tents, food, cooking materials, and sleeping gear along with you.
Satopanth Taal Trek – An Overview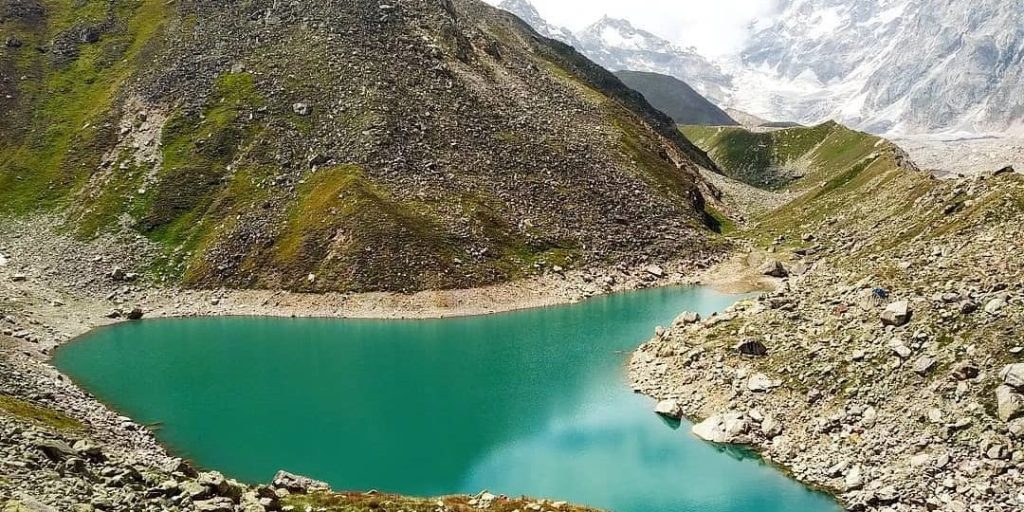 Image Source: On His Own Trip
A heavenly destination amidst the snow-capped mountains, the route to Satopanth Lake offers an isolated yet stunning trekking trail spanning for a little less than 50 kilometres there and back again. Along with being an offbeat trekking destination, Satopanth Lake is also a spot of great spiritual veneration for the inhabitants of Mana Village.
Other than the local legends explained later, the trek route to Satopanth Taal is also known for being the path taken by the Pandavas in Mahabharata. After their time on Earth was over, the five brothers and their wife Draupadi started walking from Mana Village to reach the steps to heaven, which is believed to be on the Swargarohini glacier. Three out of the seven steps they took can be seen from the summit of Satopanth Taal trek.
Swargarohini is not the only important glacier in this region. As you start walking from Mana upstream along the River Alaknanda, you will come across Satopanth Glacier itself, as well as Bhagirath Kharak Glacier. Both the moving streams of ice are fed by the snow from Chaukhamba peaks.
Satopanth Glacier, originating from the Chaukhamba peaks at 7,068 metres and melting at 3,810 metres, has an expanse of 13 km and gives birth to the Alaknanda River. The river stream goes on to meet Uttar Ganga at Alkapuri and then Saraswati near Mana to drain in the Badrinath basin.
Brief Details about the Trek
Duration: 6 Days
Difficulty: Difficult
Distance covered: Around 50 km
Maximum Altitude: 4,600 metres (15,100 ft)
Start and End Point: Badrinath via Rishikesh
Base Camp: Mana Village
Last ATM point: Mana Village
Nearest village: Mana Village
Nearest Airport: Jolly Grant Airport, Dehradun
Nearest Railhead: Rishikesh
Best Time: May-June, September-October
The Legend of Satopanth Taal
The moniker of Satopanth Lake has a special meaning behind it. 'Sat-o' in traditional Sanskrit means 'Of truth' and 'Panth' means 'Pathway'. So 'Satopanth' together means the pathway towards the ultimate truth.
The lake resembles a triangular shape, and legend says each of the three corners of Satopanth Lake is presided by one of the Universal Holy Trinity of Hindu Dharma. Brahma, the creator, Vishnu, the preserver, and Shiva, the destroyer, are believed to be meditating at three corners and charting the course of the cosmos towards the Greater Good.
Locals of the Mana village believe that the trinities take a holy dip in the water on the lunar day of every Ekadashi. The water of the lake is therefore auspicious and is regarded by the Mana village inhabitants as a resting place for their dead. After someone passes away and their corpses are cremated, the villagers scatter the ashes in the water of Satopanth Lake.
There exist other myths about the lake, which have come down from one generation to another as part of the common folklore. It is believed that some special species of birds often visit the shores of Satopanth Taal, which are actually Gandharvas from heaven. They come over to pick through the dirt and pollution, keeping the lake clean and guarding it against evils.
If you ask around in the village, you will hear more such stories about the landscape at Satopanth, such as Lord Vishnu's Sudarshan Chakra caused the indent at Chakrateertha, and hence was given the name.
The Best Time to do Satopanth Taal Trek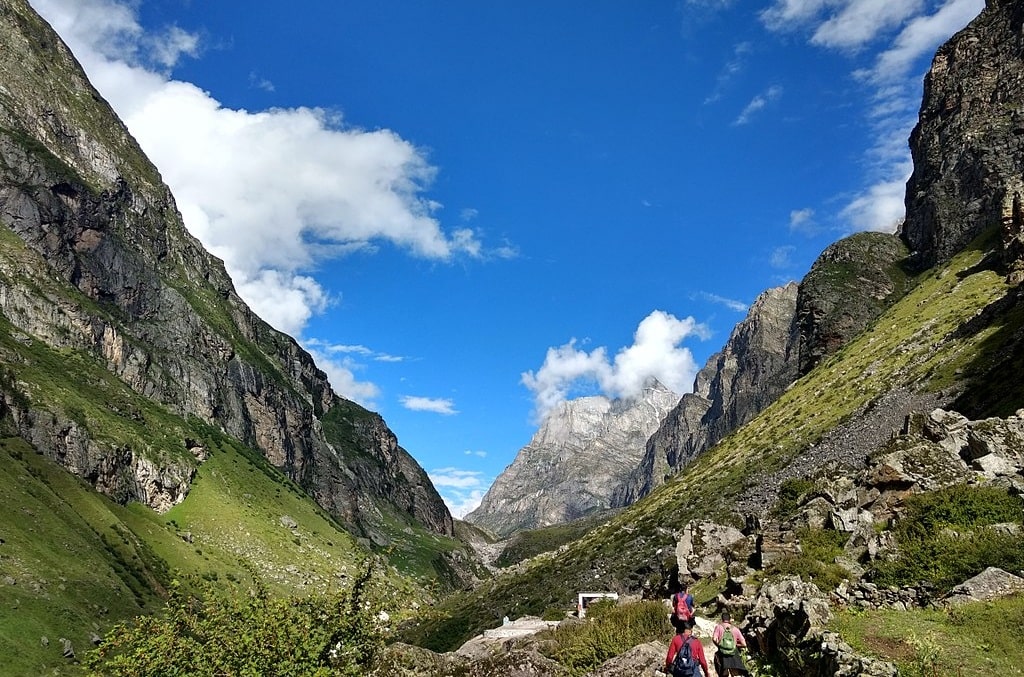 Way to Vasudhara fall
Overflowing with beauty all year round, the Satopanth trek is a high-altitude trek best undertaken during either summer or post-monsoon.
Summer (May to mid-July): The clear skies offer clear views of the snow-capped Mt. Chaukhamba, Mt. Neelkanth, and Mt. Swargarohini. The view of the night sky full of stars is just as enchanting. Trekkers can enjoy nature in its glory during summers with beautiful alpine flowers blooming all around. The trails along the banks of Alaknanda and through dense forests and lush meadows are irresistibly alluring.
Summer is also one of the best times to visit Satopanth lake. This is a glacial lake located near the Badrinath shrine, at an altitude of 4600 meters above sea level. This triangular lake with pristine bluish-green waters is stunningly beautiful. It is considered to be sacred and believed to possess mystical powers. Its tranquil beauty also attracts beautiful exotic birds exclusive to this region.
It is one of the best summer treks through the Indian Himalayas. With average summer temperatures ranging between 12⁰C in the day and 7⁰C to -5⁰C at night the weather remains pleasant. It is still important to carry warm clothes though as nights can get quite chilly.
Post Monsoon (September to October): The post-monsoon season is another ideal time to undertake the Satopanth trek. Autumn reveals yet another aspect of the natural beauty of this region. Trekkers can enjoy trails covered in rich fall colors while the sky remains clear.
This is the best time to witness the Alaknanda River at its glorious best its powerful amalgamation with the Vasundhara falls. This 400 ft waterfall is a sight to behold and the Satopanth trek is incomplete without paying a visit to it.
Satopanth taal in October possesses a mesmerizing quality with the onset of snowfall covering the landscape in a light cover of white. With temperatures ranging between 5⁰C in the day and -15⁰C at night it remains cold throughout the day. Therefore, it is advisable to be well equipped with thermal and heavy woolen wear and dress in warm layers.
Monsoons and Winters are not recommended due to extreme weather conditions. Heavy rainfall in monsoon causes landslides making routes inaccessible. Since the trek reaches very high altitudes, it is common to find a lot of snow in winter. This also leads to the shutting down of trails dangerously slippery with ice.
How to Reach Satopanth Taal Trek
The Satopanth Trek begins at Mana in Uttarakhand, the last village on the Indo-Tibetan border. It is just 4 km from the town of Badrinath, which is well connected with most major cities of the country. Badrinath is easily accessible via air, train as well as road.
By Air

The nearest airport, the Jolly Grant Airport near Dehradun is about 317 km away from Badrinath. It is well connected to all major cities in India with multiple direct as well as connecting flights available throughout the day. Regular Helicopter services are also available from Sahastradhara in Dehradun, which is 146 km away.

If you're travelling from Delhi, the easiest way is to reach Dehradun in under an hour by flight. Taxis are easily available from outside the Jolly Grant Airport which will take you to Rishikesh in approximately one hour. You may then travel to Badrinath, which is about 300 km away via bus or taxi which may take about 6-8 hours to reach.

By Train

Badrinath does not have a railway station and the nearest station is at Haridwar which is well connected to different parts of the country.

Several trains are available from Delhi to Haridwar daily, with transit times ranging between 4 to 6 hours. You can then travel to Rishikesh which is just 25 km away by taxis easily available near the railway station. From there you will get multiple options of taxis as well as buses that can take you to Badrinath in about 10-12 hours.

Direct trains are available from Dehradun to Haridwar as well as Rishikesh. These will allow you to reach your destination in approximately an hour. From there it is relatively easy to reach Badrinath, which is about 300 km away, by either taxi or bus.

By Road

Badrinath is well connected to all surrounding States via NH-58 highway and is easily accessible by road.

The excellently maintained roads are safe and make travel easy.

Badrinath is 528 km away from Delhi and is connected to Delhi via the NH-58. It is a long drive of approximately 15 hours, thus taking a bus is more convenient. AC, non-AC as well as AC sleeper buses to Rishikesh are readily available from ISBT Kashmiri Gate. Once you reach Rishikesh you can opt to travel to Badrinath by either taxi or bus which are both easily available.

Badrinath is 340 km away from Dehradun and can be reached in about 12 hours via road. You can take a taxi from Dehradun to Rishikesh and then take a bus or car from there to Badrinath. Rishikesh is about 300 km away from Badrinath and will take about 10-12 hours to reach.

The easiest route to reach Badrinath is via Rishikesh with multiple transportation options like buses, shared as well as private taxis available from there. Once you reach Badrinath, Mana village is just 3-4 km away and you can either take a bus, taxi or simply enjoy a picturesque walk to the little village.
Satopanth Taal Trek Itinerary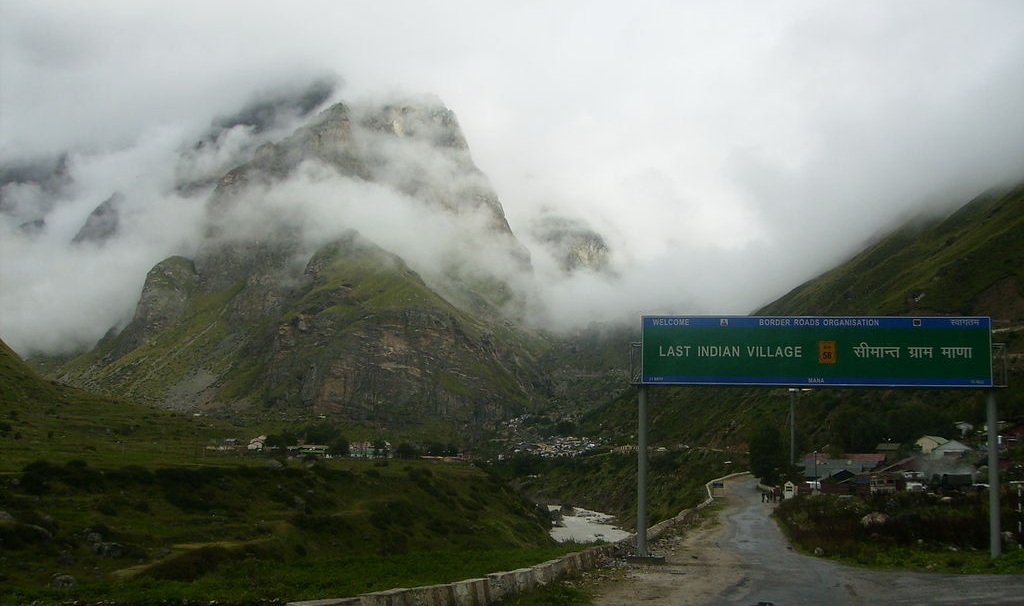 Mana Village: Startig point of Satopanth Tal
Following is a brief 6-day Satopanth Taal trek itinerary that you will be following.
Day 1: Rishikesh to Badrinath – Drive for 300 km (approx.)
On the first day, you will be travelling by road for around 11 hours or so to reach Badrinath from Rishikesh. To reach within a reasonable time and get some rest for the next day, start early. Catch the morning bus or start your car trip at dawn. Pay a visit to the shrine before having dinner and settling down for the night at your hotel.
Day 2: Badrinath to Lakshmi Van – Trek for 5 hours (9km) – 11,900 ft
You can either start walking from Badrinath or take a cab for 3 km to Mana Village. From here starts your actual trail for Satopanth Taal. You will be walking along the left bank of River Alaknanda. After 3-4 km, you will come across the majestic Vasundhara Falls. Crossing the cascading waters of the Falls, keep walking towards Lakshmi Van campsite at 11,900 ft where you will tent for the night.
Day 3: Lakshmi Van to Chakrateertha – Trek for 4 hours (7km) – 14,000 ft
Today you will walk along with the green grasslands along the moraines of Dhano Glacier. Expect to see patches of colourful wildflowers and glimpses of Bhagirathi peaks on your way. Towards the end of the trek, you will reach Sahasradhara – the place of limestone stalactite monoliths along which drip thousands of water streams – giving it the name Sahasradhara, which means a 'thousand-fold spring'. You can get a view of the mighty Neelkanth peak from here on a clear day. The Chakrateertha campsite is half an hour's trek away from here.
Day 4: Chakrateertha to Satopanth and back – Trek for 8 hours (10km) – 15,100 ft
This day's trek starts off on a flat and easy gradient but takes off towards the end. Boulders and moraines trace your path towards the top of the ridge from where you get the first glimpse of the pristine lake. Stay prepared to be greeted with a scintillating view of a lifetime, with Neelkanth behind you, Swargarohini on the left, Chaukhamba straight ahead, and Balakun on the right. Climb back to Chakrateertha once you are done taking the place and clicking photographs.
Day 5: Chakrateertha to Badrinath via Mana – Trek for 6 hours (15km)
Climb down the same path to reach Mana village in about 6 hours this time. You can take a direct cab or jeep to Badrinath if you are too exhausted, which you probably will be.
Day 6: Badrinath to Rishikesh
On the last day of your trip, you will be taking a bus or a cab back to Rishikesh for your further journey towards home. You can pick up some last-minute essentials or souvenirs from either Badrinath or Rishikesh before you leave Uttarakhand.
Difficulty of the Trek
Altitude Gain
Steep altitude gain can be one of the most challenging things on a trek. As you climb up, oxygen levels in the atmosphere decrease. The respiratory organs and the heart are forced to function more heavily. Acute breathing problems might also occur.
Day 3 has the steepest climb in the entire itinerary. From Lakshmi Van to Chakrateertha, you will be gaining more than 2500 ft in altitude, so be prepared for some heavy legwork. Keep water within reach and pack dry snacks for the way to keep the body going.
There is no need to be scared if breathing gets troublesome. Take a small break and breathe normally through the nose, if still not in control then descend to the camp. Panic breathing through the mouth makes it even worse at such times.
Weather and Temperature
While at Chakrateertha campsite, be prepared for a sudden drop in the temperature, especially at night. You will be climbing more than 2500 ft in one day and your body might take a while to acclimatize to the extra cold. Temperature can go down around -5 to -7 degrees Celsius at night. Cover yourself in warm clothes properly while going to sleep, and cover your head and ears as well.
Acute Mountain Sickness
There is quite a bit of altitude gain in Satopanth Taal trek and the most common challenge faced by the trekker is Altitude Motion Sickness. It usually happens at high altitudes due to a lack of oxygen or a drop in the oxygen level in the body at high altitudes. AMS is just like motion sickness causing nausea and headache among the travelers but may become dangerous on ignoring the primary symptoms.
When having the signs of AMS it is advised to descend immediately to a lower altitude as a safe side. Consult your physician you have ever encountered AMS signs before taking any medications.
Snow
The stretch from Chakrateertha to Satopanth Lake is likely to have a lot of snow, no matter the season. Prepare yourself with good trekking shoes that will not slip, UV-protected sunglasses to deal with snow blindness, and synthetic gloves with padding to keep your hands warm and help with handling snow.
Physical Fitness
Trekkers must be in good physical condition, capable of climbing 2000-2500 ft on one day's ascent. Moreover, the terrain is covered with boulders, loose rocks, and moraines, making the walk quite stressful on the knees and ankles. A high level of fitness and prior experience in trekking is required. The final stretch towards the summit of the trek is especially steep, with nothing beneath the feet except loose moraine soil from the glaciers.
Highlights of the Satopanth Trek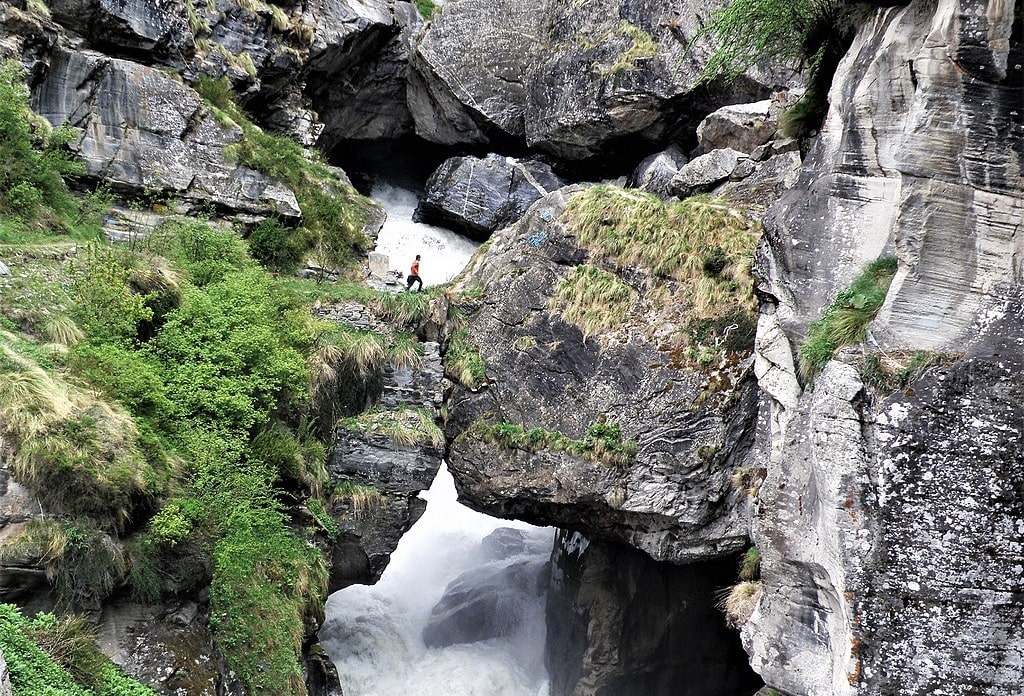 Bheem Pul eroute Satopanth Tal Trek
The remote trail leading to the ethereal Satopanth Lake will take you through some divine landmarks such as the Vasundhara Waterfall, the Bheem Pul, and Mana Village.
Satopanth Lake
Situated at an altitude of 15100 feet above sea level, this sacred glacial lake is located near the Badrinath shrine. The Satopanth lake is surrounded by the snow-capped peaks of Chaukhamba, Neelkanth, Swargarohini, and Balakun.
According to Hindu Mythology, Brahma, Vishnu, and Shiva meditated at the three corners of this triangular lake. It is considered especially auspicious to bathe in it on the 11 days of the solar and lunar fortnights. The lake's dazzling crystal clear emerald waters are also believed to possess healing and wish-fulfilling powers.
Vasundhara Waterfall
Located at a distance of approximately 10 km from Badrinath, is the Vasundhara Waterfall. This astounding 400 feet waterfall unleashes icy droplets of water that seem to vaporize into thin air.
This is another sacred site bearing religious significance. According to mythology out of the five Pandavas, only Yudhishthira and his dog were righteous enough to cross the waterfall and reach heaven. Due to this, it is still believed today, that the water from the Vasundhara waterfall only touches the pure of heart.
Bheem Pul
The Bheem Pul is a rock bridge near Mana Village. Created from a massive boulder, it is a natural bridge over the Saraswati River. It is located at the confluence of the Saraswati river with the Alaknanda River.
The Bheem Pul is another structure steeped in mythology and is believed to have been placed there by Bheem. As the story goes, Draupadi accompanied the Pandavas on their journey to heaven. However, she was unable to cross the Saraswati River, so Bheem placed a huge boulder over it to aid her.
The natural beauty of this massive rock bridge affords a breathtaking view of the Saraswati as well as the Alaknanda Rivers. This makes it a major attraction of the trek.
Mana Village
The Satopanth Trek starts at a quaint little village snuggled in the foothills of the Himalayas, 3 km away from Badrinath. It is the last village on the Indo-Tibetan border originally set up by Indo-Mongolian tribes. Its proximity to the Ganesh and Vyas caves makes Mana a favorite tourist spot.
It is seasonally inhabited by 200 people who relocate to the plains in winter to avoid the extremely harsh weather conditions. Rich in culture and tradition, Mana is famous for its handicrafts with women adept at knitting and weaving all kinds of merchandise. The locals are very hardworking, friendly, and welcoming.
FAQs Related to Satopanth Lake
1.Where is Satopanth Taal?
Satopanth Taal is located in the Chamoli district of Uttarakhand. It is situated nearby the revered Badrinath Dham shrine and can be accessed from Mana village, the last Indian locality along the Indo-Tibet border.
2.How do you get to Satopanth Lake?
The trek towards Satopanth Lake starts at Mana Village which can be reached from Badrinath. From Mana, you will have to cross two campsites, first at Lakshmi Van and the second at Chakrateertha, and on the fourth day, you will reach the ridge of Satopanth Lake. The trail follows the banks of the Alaknanda River all along.
3.How high is Satopanth?
Satopanth Taal is located at a height of 4,600 metres or 15,100 ft amidst Garhwal Himalayas.
4.What is the itinerary of the Satopanth Taal trek?
The itinerary of Satopanth Taal trek is as follows
Day 1- Rishikesh to Badrinath
Day 2- Badrinath to Lakshmi Van
Day 3- Laxman Van to Chakratirtha
Day 4- Chakratirtha to Satopanth and back to Chakratirtha
Day 5- Chakratirtha to Mana and then to Badrinath
Day 6- Badrinath to Rishikesh