Are you an outdoor buff who seeks pleasure in hiking and climbing?
Outdoor activities, for most people, are a source of pleasure. Given an opportunity, they are ready to backpack and head outdoors to revel in the midst of nature.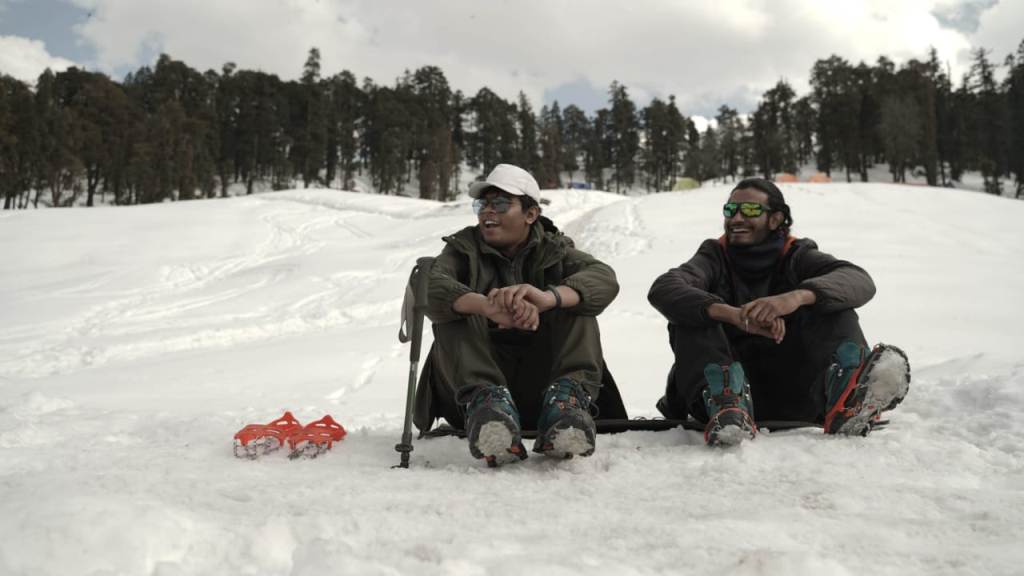 Outdoor activity may be a trek in the bounty of nature, undertaking challenging activities, or simply getting a whiff of fresh air.
Among all other activities, trekking, hiking, biking, and climbing are the outdoor activities that find their way on the top of the list for most people. While the benefits of these are manifold, the activities are at the same time rife with risks and challenges.
So, one may think, is there a way to minimize these risks?
Well, you'll be happy to know that there certainly is a way out. You can minimize the risks by using varied equipments, gears, and products that are designed specifically to increase safety. Today we will talk about two such products- Crampons and Microspikes.
People commonly believe that both Crampons and Microspikes are the same. But there are clear differences in the design as well as usage of the two products.
You may also like: How to wear crampons and types of crampons
You may also like: How to dress up for a Himalayan trek
Through the following article, you will get an overview of what Crampons and Microspikes are and how they differ from each other. Let us explore!
But before that, let us quickly understand the reason why you need Crampons or Microspikes in your outdoor activity.
Why do you need Crampons or Microspikes?
Navigating challenging surfaces like ice or snow is strenuous and poses a higher risk as compared to covering flat or grassy terrains.
By improving your grip on such tricky terrains, you can minimize the risk of slips and falls. Therefore, hikers, climbers, trekkers, and backpackers need that extra grip and traction.
Crampons and Microspikes are essential for a good wintry hike because they-
Increase traction- Crampons and Microspikes offer the ideal solution as these traction devices enhance safety by providing a greater grip on slippery surfaces.
Increase surface area- In addition to increasing traction, Crampons and Microspikes also increase the surface area of your shoe. This holds you back from sinking into the snow. This also reduces the exhaustion that you suffer by lifting your feet high every time to clear the ground for the next step.
So far so good! But what is the difference between the two, are they to be used together or individually?
We will come to that discussion later. Let us first explore these two products a bit more.
What are Crampons?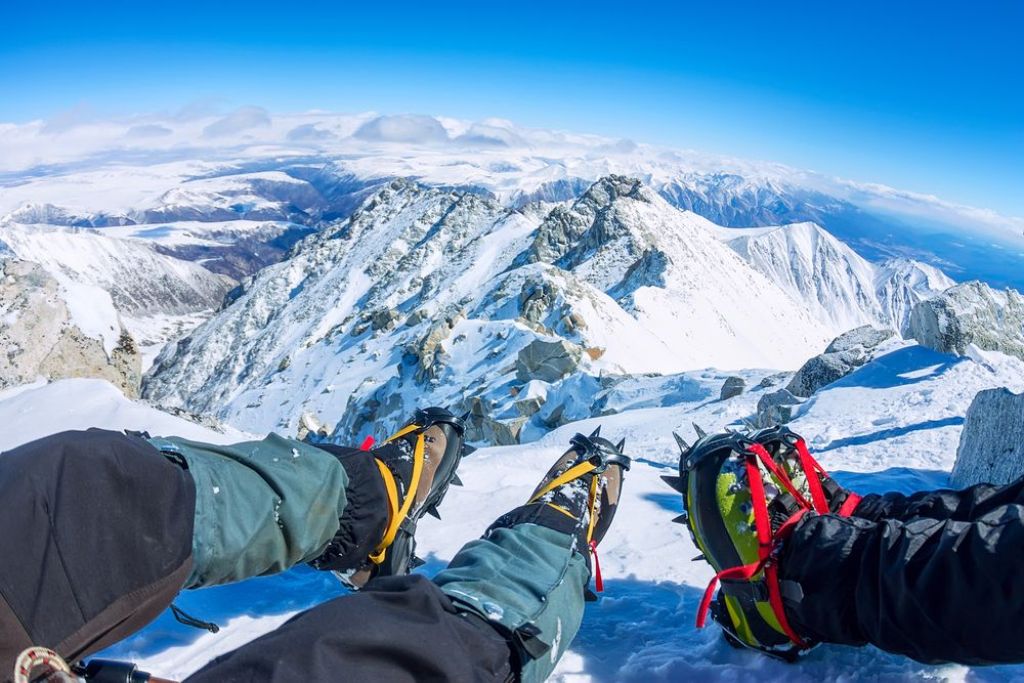 Image Source: Much Better Adventures
Crampons are foot frames that come with large spikes on the bottom. These are used by backpackers, hikers, and climbers. While most crampons require typical mountaineering boots with welts, certain types of crampons adapt well with sturdy, ankle-length boots. Crampons are not used with hiking boots. This is because crampons require boots with stiff shanks to remain attached to your boots safely.
Where do you use Crampons?
Crampons were traditionally designed to be used for ice-climbing. Crampons are attached to the footwear which improve grip while navigating the challenging terrains of ice and snow, such as glaciers, snow slopes, ice-covered rocks, ice fields, and snowfields.
What are Crampons made of?
Hiking Crampons are commonly made of two materials-
Steel: If you will be going for general technical mountaineering in steep and icy terrain, steel crampons are your best option. By opting for stainless-steel frames, you get the same benefits of steel crampons in addition to corrosion resistance.
Aluminum: The aluminum hiking crampons are lightweight; they are perfect for alpine climbs. The flip side is that they wear out quickly if used on rocky terrain.
What are Microspikes?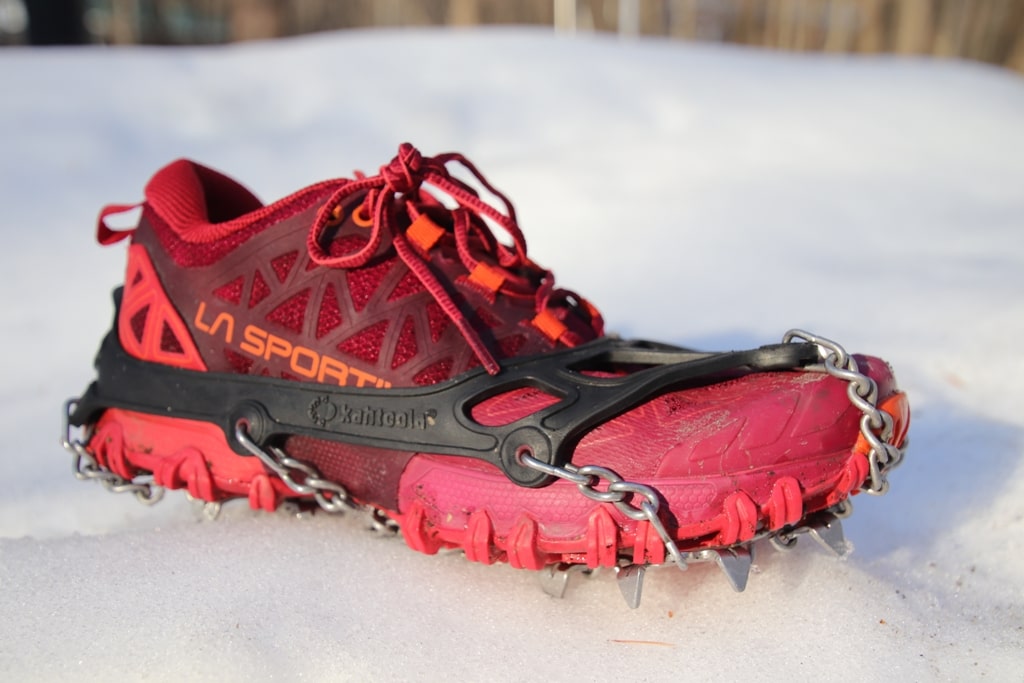 Image Source: Trail Space
Just like crampons, Microspikes for hiking are also traction devices used to tread adventurous trails. They comprise of small spikes and chains and are worn over your mountaineering or trekking footwear for providing extra traction.
Microspikes for snow and hiking are designed with a concept similar to that of using chains over tires to improve vehicle traction.
Where do you use Microspikes?
Microspikes for hiking are best worn on level hiking trails covered in snow or ice. They provide greater traction that you need when your boots fail to provide the traction required to tread these surfaces.
What are Microspikes made of?
Microspikes for snow commonly have-
Heat-treated stainless steel spikes- These are durable, resistant to corrosion, and they bite into icy terrain aggressively.
Welded stainless steel chains-These provide extra traction in the snow while being extremely flexible. They are portable too.
What are Snowshoes?
Though we are not discussing snowshoes in this article, it is good to distinguish them from Crampons and Microspikes.
Snowshoes are also used for the same purpose; they help increase traction and foot surface area. However, snowshoes are used more for powdery conditions and deep snow. Snowshoes have a bulky design that is very uncomfortable for covering long distances on foot.
Getting back to our main discussion, the following section will throw light on how one can choose between Crampons and Microspikes.
How to choose between Crampons and Microspikes?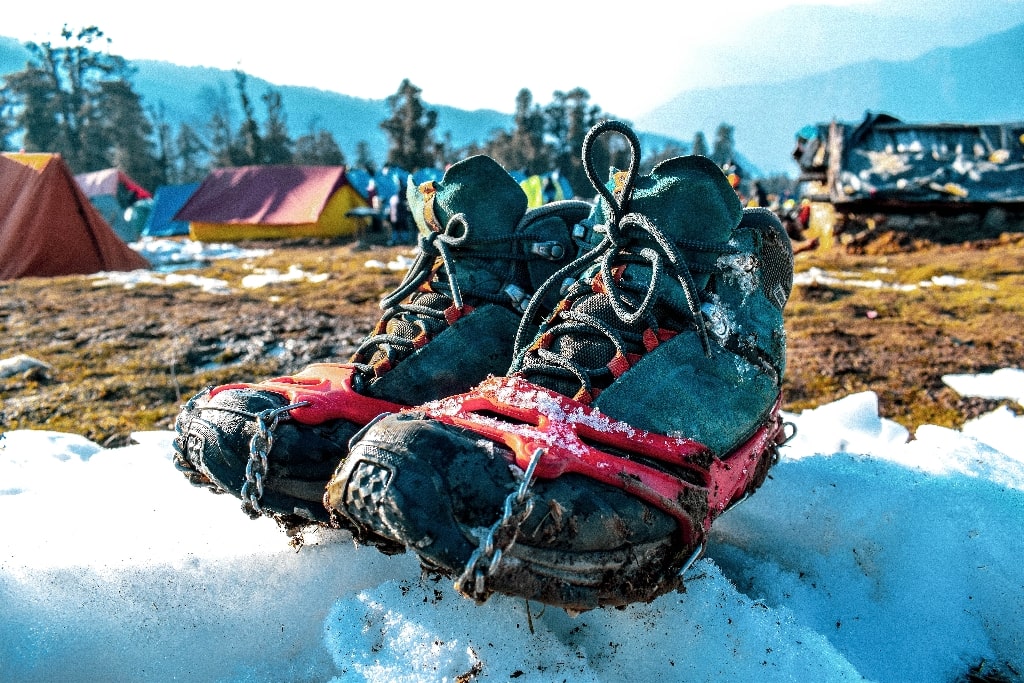 Hope you have a better understanding by now that Crampons and Microspikes are quite different from each other.
The following points will give more insight into these differences in terms of design, usage, and pricing of the two products.
Crampons vs Microspikes
Design

The difference in the design of Crampons and Microspikes is related to their different uses. Crampons have fewer but larger spikes (usually 1" in length) that improve grip on ice and snow by embedding well into them. On the other hand, as the name suggests, Microspikes come with smaller spikes (¼" or ½" in length). Sometimes Microspikes also make use of chains to boost traction, but this is not the case with Crampons. Crampons have spaced-out heavy spikes and thick straps that help navigate steeper slopes, heavy snowfields, rocky surfaces, and aid technical climbing on icy terrain.

Usage

You cannot trek with Crampons. You can only climb with them. Microspikes are lighter and very comfortable to use in hiking and trekking activities that involve trail running, backpacking on moderate snowy or icy paths. While Microspikes are very easy to use, Crampons require training to use safely. One can jog and run with Microspikes but it is not safe to do these activities with Crampons.

Price

Crampons are far more expensive than Microspikes. However, it is not an option to choose either between Crampons or Microspikes. This is because they are fashioned to be used in different situations. Therefore, you should buy the product that best suits your needs. If you need both, then it is advised to buy both, price should not be the deciding factor.
Before we wrap up, here are some of the Best Crampons and Microspikes for hiking.
5 Best Crampons
●BLACK DIAMOND Sabretooth Clip Crampon- This lightweight stainless-steel crampon is perfect for moderate icy climbs as well as alpine approaches. The new model of Sabretooth comes with a more durable and lighter weight feature of front dual-density and rear ABS (Anti-lock braking system). It also has Micro-adjust heel bail and the new clip version that makes it one of the best crampons for high-altitude mountaineering.
●Grivel G12 Cramp-O-Matic Crampon- If you're looking for quality as well as style then these crampons win hands down. This is a very lightweight Crampon that requires toe and rear welts on boots. The crampons made of Chromoly steel are highly durable and ideal for general mountaineering.
●OUTAD Traction Cleats/Crampon for Snow and ice- If you're looking for sturdy Crampons that are lightweight as well as durable and also very easy to wear then this one is your best bet. These stainless steel crampons adjust in any kind of condition, they are very good for winter hiking because of their tolerance at low temperatures. The advantage is that they have sturdy ice cleats and aluminum alloy spikes that make them ideal for any adventure outdoors. The crampons also fit into your pocket as you can put them down to a smaller size.
●Camp Stalker Universal- One of the most perfect crampons for high-altitude hiking, this one is a favorite with adventure seekers. Of course, they are heavy-duty because of thermoplastic universal bindings that secure your toe and heel with wraparound nylon straps. These crampons work great on rocky beds as well as steep snow. They come in striking colors at a very affordable price.
●Petzl Vasal Crampon- These are ideal crampons while navigating glaciers to snow couloirs in steep icy slopes, pitches, and also hard snow. The flex lock bindings make it easy to attach to any type of boots. The teeth have excellent grip and dig deep into the snow while providing maximum security.
The lightweight factor of these crampons makes them very portable. Another feature that makes them stand out is that it is very easy to put them on as well as take them off.
5 Best Microspikes
●Kahatoola Microspikes Footwear Traction- These sturdy stainless-steel microspikes are great both for uphill and downhill terrain. Their stretchy and ergonomic design makes them very comfortable. They are very lightweight thus easily portable.
●Yaktrax Pro Traction Cleats- These provide the best traction on packed ice and snow with their multiple steel coils. They fit very well around shoes, are easy to put on and take off, provide a good balance, and offer the best value for the price.
●Hillsound Trail Crampons Steel Spikes- These microspikes come in durable carbon steel material and provide aggressive traction with a secure footing. Their buckle binding system is very convenient to put on and take off. They are highly adjustable to fit all types of shoe sizes.
●Ice Trekkers Diamond Grip Traction Cleats- The steel cable provides secure grip as well as traction. They are very easy to put on and take off, easy to clean and maintain. They provide multi-direction stability.
●STABILicers Walk Traction Cleat for Snow and ice- These steel cleats provide 360 degrees tractions. Their flexible perimeter rubber offers an excellent adaptation to all shoe sizes. They are stable, offer wholesome protection, and are appealing to wear.
In conclusion
Outdoor activities engage us in experiences that influence our lives in positive ways. To make our outdoor experience a memorable one, it is important that we use the right equipment and gear, or else it can result in accidents.
Crampons and Microspikes may come across as similar items to an amateur. However, they are very different.
An outdoor enthusiast must first assess the type of ground to cover and then decide whether to buy Crampons or Microspikes.
If your outdoor activity involves covering flat as well as an uphill surface covered in snow and ice, then you will need to purchase both Crampons and Microspikes for your safety.
By investing in such essential products, your enjoyment and safety will go hand-in-hand!