If roller skates facilitate you on a smooth road, have you ever wondered what helps you on climbing a steep-snowy mountain or dangerous slippery snowy tract? Well, the answer is Crampon.
They resemble their function and structure with a roller skate. The difference is that instead of having a rollerblade, crampons have toothed metal devices on their sole ends. Crampons fit in the soles of the winter shoes and give the wearer the stability to walk on the slippery snow.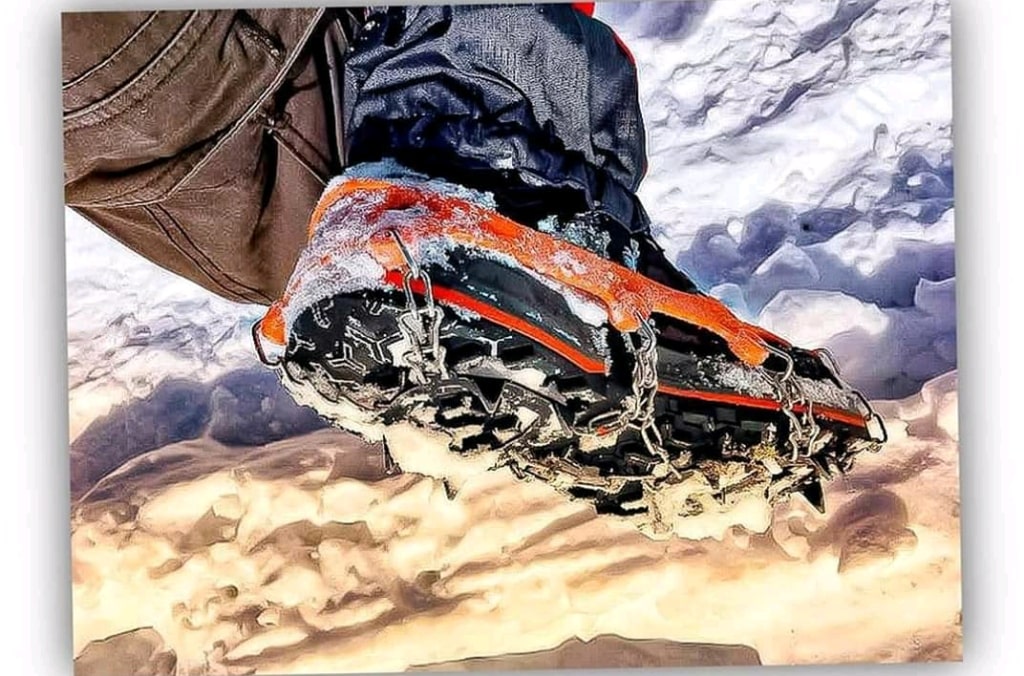 Crampons differ depending on the need of the trekking. Hence, it is important to get the right pair to prevent any damage or mishap. Are crampons really that necessary? Of course, crampons are those traction devices that provide a good grip in trekking. It provides stability which is a necessity to enjoy the bumpy-overwhelming journey of discovering nature amidst a hike.
How do you choose the ideal crampon for yourself? Well, that depends upon the kind of hike or trekking you would be going to. Depending upon that, you will prefer a specific kind of boots, which will further lead to your specific kind of crampon.
Types of crampons
Crampons consist of two distinctly separate sections- the spiked base and the binding. The binding section relates to the C rating of the Crampons. The C rating decides on what boot a crampon will fit, regardless of the spike pattern.
C1 Crampons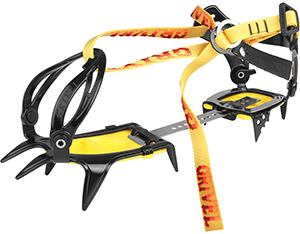 Image Source: Ellis Brigham
These are compatible with B1, B2, & B3 boots. Also known as flexible crampon, however, they can wriggle out of the flexible summer hiking boots. B1 hiking boots can be an ideal match. C1 crampons have a webbing tape tether that pulls flexible cradles around the heel and toe to create a secure binding.
Pros: Cheap, flexible, and easy to put on, these crampons are highly recommended to save one's energy for long, smooth, and tiring snow walks. Light in its weight, it provides the gear the flexibility for a comfortable hike.
Cons: These are best used for lower surface paths and tracts; hence they lose their efficiency for steeper grounds. These have the chances of breaking up in situations of high- technical climbing These also won't be able to fit large boots; hence one must have the precaution for its boot size and the type it fits.
C2 Crampons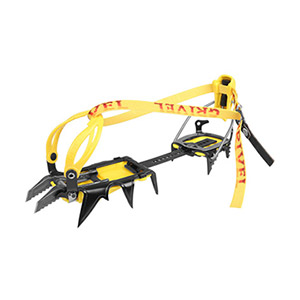 Image Source: Ellis Brigham
These ones are specific for B2 or B3 boots. These use a plastic heel lever and a flexible toe cradle. These crampons are stiffer as compared to C1, which in turn leads to stiffer boots to handle the grip and traction on snow. These crampons have a clip on the back which in turn makes it necessary for the boots to have them. These have longer secondary spikes and sharper front points. These are the best for steep winter walking or exploring glaciers.
Pros: C2 is heavier and can survive every season of hiking.
Cons: They might get tiresome because of their weight. These have nonreplaceable front points, so once these wear out, one has to buy a whole new set. These can be a bit difficult for steep icefalls for some users as the horizontal points are not as effective as vertical points.
C3 Crampons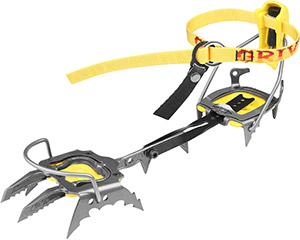 Image Source: Ellis Brigham
This is the stiffest of all of them. Hence, with that, B3 is the best choice for these crampons. These crampons like C2 have a clip at the end of the heel, which B3 helps support it, along with that it provides a ridge at the toe end for the front crampon part. These are a definite go-ahead for aggressive hikes or treks, with sharp vertical ice climbing scenarios.
Pros: These are perfect for steep-terrains as they can easily sustain in those environments. Solid, stable, and strong, these provide support for calves.
Cons: Quite difficult to adjust to different boots, it makes walking quite a task. The built-up rail design makes it a bit difficult to make the climb.
How to wear and walk on crampons
You recognize which one of the crampons is for left or right by the position of the slight curve on the middle bar. Otherwise, a label is written off distinguishing between the two. Get the straps and the clips in the outward position so that you can easily sneak in your heel without any obstruction. Followed with that, get your heel tucked in, strapping everything tightly. If in the need, make a knot to avoid clumsiness.
Now, when you are wearing those crampons, make sure you keep a more than usual space between your feet while walking. Also, you have to pick up your feet. There are chances that you will trip but isn't life comes with the motto- if we fall for seven, then get up for eight-time. When should one wear crampons during the trek- Recognizing the situation to get the crampons on is important for safety and hiking experience! One should keep in mind the following observations- the angle of the slope one is trying to ascend/descend, the distance of it, the type of terrain- whether it is frozen or compacted, can you afford a slip in the particular hike in front of you?
These are important determiners in making a choice of getting the crampons on at the right time and at the right place. A conversation with an experienced guide, winter hiker regarding the same won't be a bad option either.
Crampon Accessories
Anti-balling plates:

Highly recommended by the UIAA ( the International Mountaineering and Climbing Federation), these plates are necessary gear for the traction on the snow. It prevents snow from sticking to the bottom of the crampon.

Crampon cases and point covers:

Typically made of rugged, puncture-resistant nylon, these help in protecting you from the sharp crampon points. Rubber point covers are much better for the backpack as they are less bulky and affordable.

Gaiters:

These are used to protect your lower legs and apparel from getting any hurt from the sharp crampon points. They are made of waterproof/ breathable fabric and also help prevent snow and dirt from entering your boots. Gaiters are firmly attached to the boots through instep straps and lace hooks and hence maintain the grip of the hiker.

Spare parts:

What never hurts is the preparation for the worst! Getting that extra toe and heel bars, screws, and center bars can reduce the stress of treacherous and high-pressure situations.
Best crampons
Black Diamond Sabretooth Clip crampon: It is a redesigned crampon with stainless steel construction giving it a lightweight quality to handle alpine treks. During the climb up, the frontal horizontal points provide help, while in the descent, it is the secondary points. Sabretooth's new improved clip version has dual-density and rear ABS which is even lighter. It can accustom those boots as well which do not have a toe welt.
Grivel G12 Cramp-O-Matic Crampon: This one requires both toe and rear welts on the boots. Highly durable makes the tread on the ice quite efficient. It has 2+2 front points, 3D relief stamped for increased rigidity, the strength of the frame as well as the horizontal frame. It can be easily stored, and it is fully adjustable by hand.
Outad Traction Cleats Snow and Ice Crampons: These are made of lightweight stainless steel that is very durable, and very easy to strap on, adjust in any kind of condition. These have tolerance in low temperatures. These contain 14 aluminum alloy pikes which are abrasion-resistant. Quite multidimensional in use as they can go for hiking, running, walking on trails that are packed with now.
Camp Stalker Universal: It is considered the best for high altitude hiking. The universal bindings are complete with toe and heel that is thermoplastic. These crampons have all-new dynamic anti-balling plates and include a handy carrying case to keep it. Quite light in weight, easy in wearing, and putting it off, it also provides 12 points for security.
Petzl Vasak Crampon: This is designed for every kind of treacherous terrain of snow from abrupt climb-ups to vertical steep slopes of ice. These crampons have an anti-snow system which prevents the accumulation of snow. It also features 12 horizontal points that will provide solid purchase while also has the knack of reducing its weight making it compatible to walk in hard snow. These can be easily worn even with the gloves on.
Crampons Vs microspikes
Microspikes are designed for icy flat terrains. These are chains with small spikes that are placed under footwear. The spikes are ¼ to ½ inch long, providing the efficacy to dig into icy surfaces. The spikes are small, hence they make good traction tools for flat terrain. They are quite heavy, hence can wear out the hiker. It is recommended to wear them at the right time. These require low maintenance and just enough time to get dry to store itself with care.
Crampons, on the other hand, are used for technical mountaineering. The foot frames have large spikes at the bottom, making sure for the traction on volatile icy terrains. These involve a strapping system, for the fastening with the boots. The spikes on crampons, numbering about 6-12, are about ½ inch to a full inch in length.