Sandakphu or sandakfu or sadakpur is the highest point of the Singalila ridge of elevation 11,950ft. It is located in the Singalila national park in West-Bengal, near the Indo-Nepal border. Sandakphu is the only trek in our country which offers an amazing view of the four highest mountains in the world. Sandakphu is the highest peak in both in state of West-Bengal and Mechi in Nepal.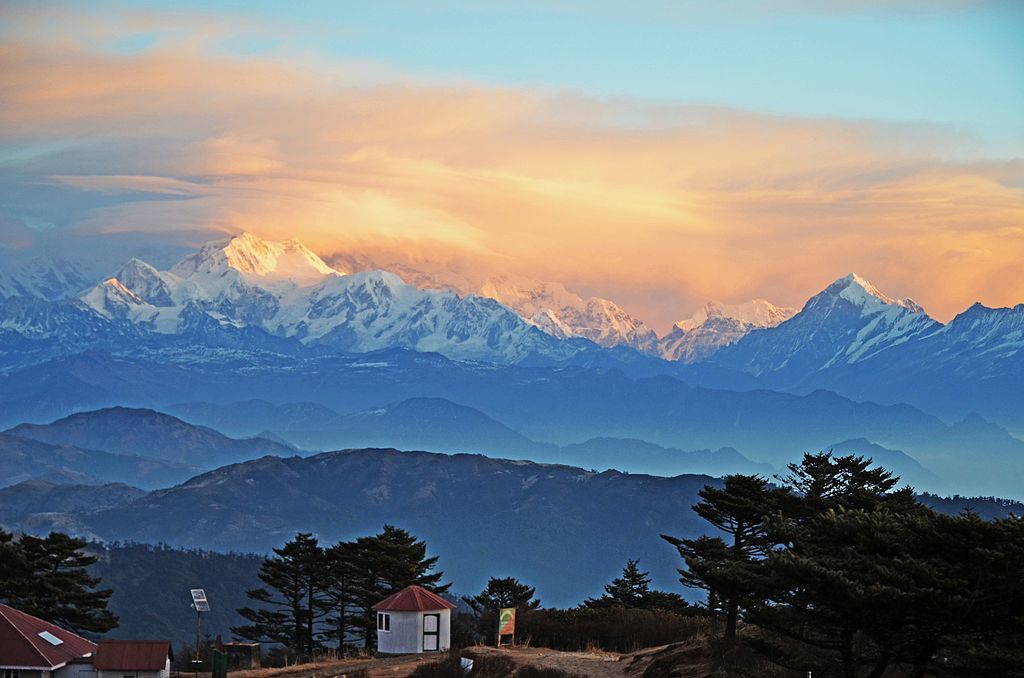 If you stand on the peak of sandakphu on your left you will see the Everest cluster. There you will see Lhotse and Makalu, the fourth and fifth highest peak of the world trying to outshine the world's tallest peak. Then there is a view of majestic Everest standing in full glory. On your right you will witness the view of the third highest peak, Kanchenjunga, standing along with its family of peaks. This family of peaks is famously known as sleeping Buddha. Many few spots in the world can offer you such a delightful view of the mountains along with a moderate trek route, that's why it is also called trekkers paradise.
The deep blue sky with lush green forest and snow-capped mountains and freezing weather create an incredible atmosphere. Besides its stunning views of mountains Sandakphu is also home of beautiful alpine vegetation the trail is covered with the verdant green forest of fir, birch, and bamboo. Sandakphu is also called the "mountain of poisonous plants" because of the profusion of Himalayan cobra lilies here. This trek is a paradise for nature lovers, on this trek you will come across varieties of vibrant wildflowers, rhododendrons, magnolias, primulas, etc, it has about 600 varieties of orchids alone. Sandakphu trek can be rated moderate but it can also be quite exhilarating, as it is an extremely long walk and you will find steep ascend at some places. It is a six day-long trek which starts from NJP.
Places to visit in Sandakphu
Sandakphu is trekker's wonderland and a true paradise for adventure lovers. It offers an excellent view of mountains, a surreal trek starched over a long distance; there are some unique and beautiful places that you must visit on this trek to make your journey epic.
Tonglu
Tonglu is one of the higher peaks of the singalila Ridge; it is a small settlement that also acts as a resting point for trekkers. The refreshing sight of shimmering Tonglu Lake with crystal clear water will leave you awe-struck. The place is picturesque with oak and pine trees surrounding the lake. From here you can see the view of snow-capped peaks of the singalila and Kanchenjunga range. This magical scenery will refresh your tired sense. It is a great resting place where you can sit and admire the beauty of nature.
Tumling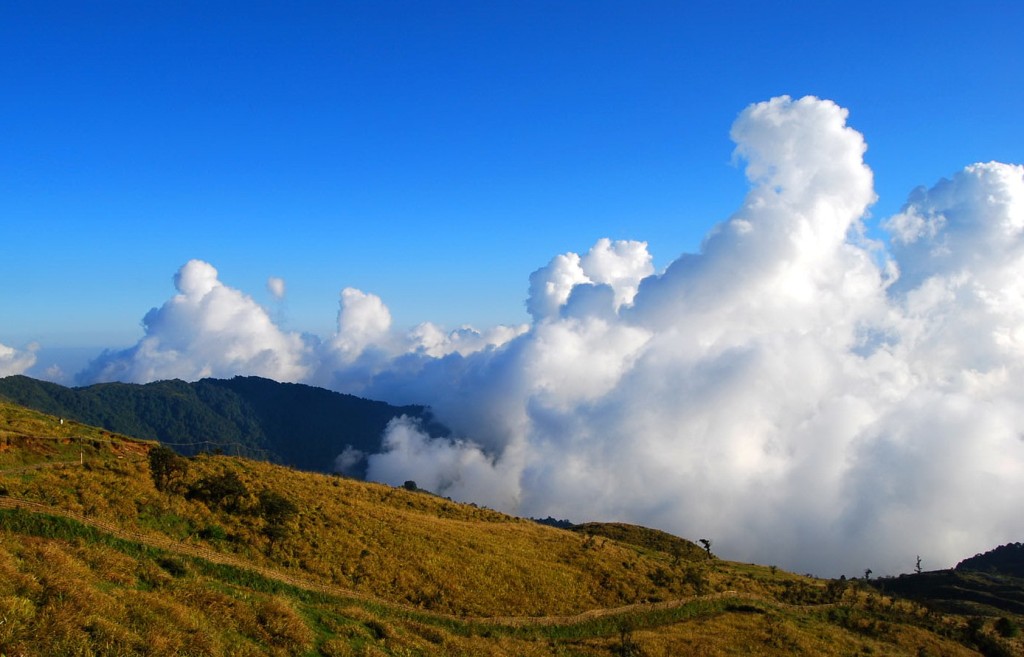 Image source=Flickr
&nbsp
It is a small village in Nepal. Tumling is located near sandakphu, it is few kilometers away from singalila national park check post. It provides an excellent opportunity to explore the cultural atmosphere of Nepal. The trek towards tumbling is consisting of colorful flora and light and heavy specks of greens and browns.
Bikeybhanjan
Bikeybhanja is the last point that you need to cross before arriving at the dazzling village of sandakphu. The trail of bikeybhanjan is quite challenging, it has steep slopes and rugged terrains. It is an intimidating task to accomplish. The trek is marked with colorful and lively flora and majestic views of mountain peaks, which will accompany you throughout this difficult trek.
Chitrey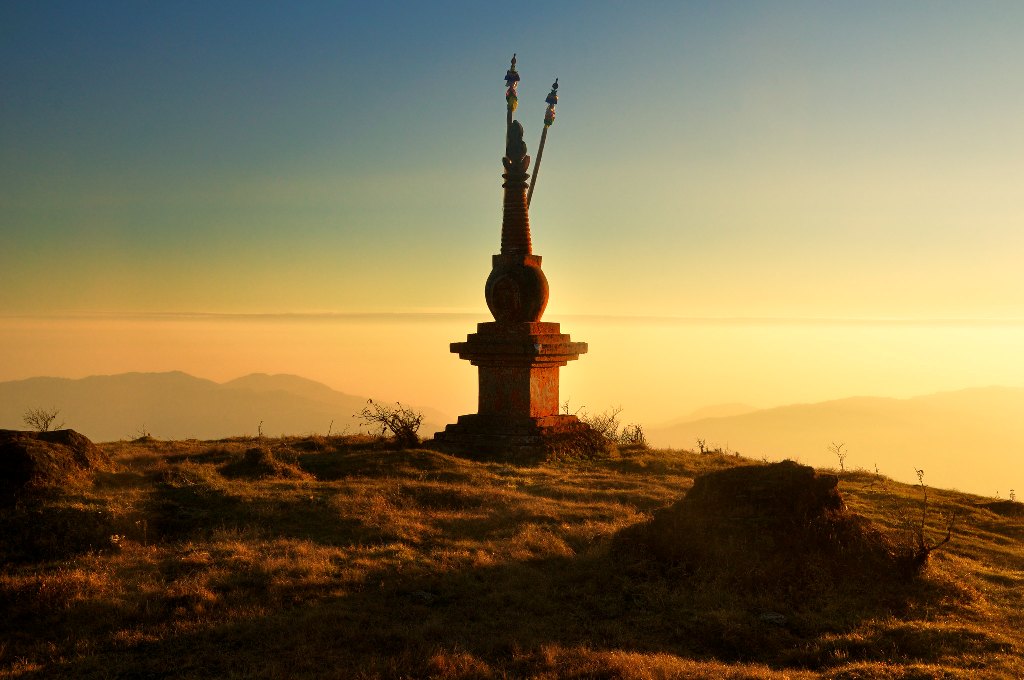 Image source=Flickr
&nbsp
Chitre is a small village which is located at an altitude of 8,340ft. And it is almost 3kms from Manebhanjan. It is 1.5 hours trek which is quite steep and will warm you up. The trail is decorated with pine, oak, and fir trees. The place also has a well-crafted monastery; spending a few peaceful hours in the tranquil monastery will certainly rejuvenate your mind and prepare you for the trek. And in chitrey you will spot the pillars marking the India Nepal border.
Manebhanjan
Manebhanjan is a small town located near Darjeeling. This place lies on the border of India and Nepal. It is a place surrounded by mountains and jungles, it is a picture-perfect place with enthralling vistas. Here you will find lots of trekking shops and homestays and also an unusually high number of vintage Land Rovers. This is the place from where the marvelous sandakphu trek begins.
Phalut
Phalut is quite an exciting place it is the second-highest peak of west-Bengal. It lies close to west-Bengal, Sikkim, and Nepal border. Phalut is located in singalila national park. It is a home of a local tribe called falutians, they worship the peaks as a god and refer to it as "Omna Re Ay". The trail is beautified with blooming rhododendrons. Perhaps you will also come across a small bunker of the Indian army.
Meghma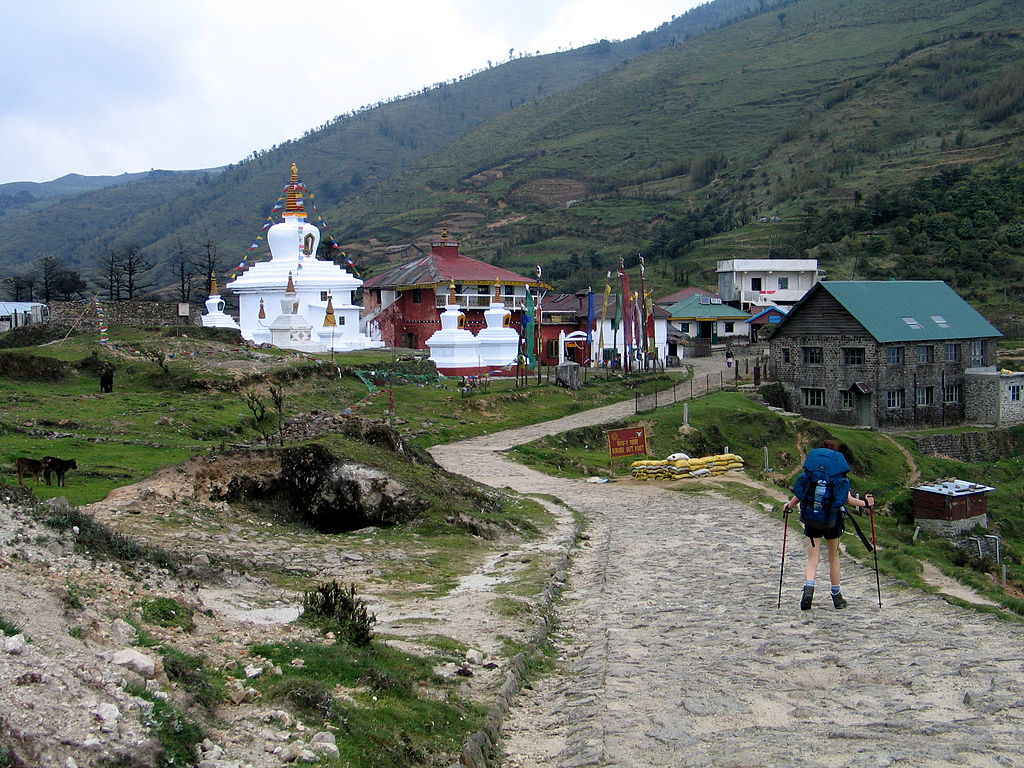 &bsp;
This is a comparatively larger settlement than any other place on a trek. Here you will find a large camp of SSB(security agency ), a beautiful monastery along with a primary school. At Megham the trail bisects the right uphill route leads to Tonglu and the left route passes through Nepal.
Srikhola
It is a lovely village in Darjeeling district with the mesmerizing landscape, this sleepy village is surrounded by magnolia, chestnuts, oaks, birches, pines, and rhododendrons. A gorgeous river flows here with the same name, enjoys the river amidst nature, sit beside it, and have lunch, you can also do fishing. Another attraction of his place is the hanging wooden bridge of sirkhola.
Key details- Sandakphu trek
Maximum altitude - 11,950ft
Trek distance - 47km
Min/Max Temperature : 8 – 15 degree Celsius/ -5to 5 degree Celsius
Starting point /Ending point - New Jalpaiguri
State - West Bengal
Difficulty level - Moderate
Last ATM - New Jalpaiguri
Trek duration - 6 days
Best time to visit Sandakphu
Sandakphu is a small trekking village situated amidst greenery and tranquility, a place unaffected by pollution. The fresh clean air and beautiful lush green forest welcome you throughout the year. Every season has some unique beauty to offer its visitor.
From April to June the weather remains pleasant and the temperature stays over freezing point. As it is late spring all the flowering trees are in full blossom the mountains are covered with red rhododendron and other colorful flowers.
October to December will give you the real flavor of trekking when the day will be sunny and the temperature at night will reach below freezing point.
If you are looking for adventure and adrenaline rush then you should go for January when it will be snowing all day the temperature will be below freezing point, the roads will be covered with knee-deep snow. But there might be problems with electricity and water sometimes.
Sandakphu trek takes you through the picturesque landscapes and locations which are untamed; it will take you through some of the unexplored parts of Sikkim and Nepal. On your way, you will see the towering peaks touching the sky. Sandakphu is definitely the trek you must try this season; it will give you an unforgettable lifetime experience.
Written by Shivani on 05-Jun-2020